I'm checking in on this beautiful Thursday with a rocking chair update!
I'm so happy to see some blue skies today after all the snow yesterday. We ended up with right around a foot of the white stuff! I stayed inside all day organizing, relaxing, and drinking gallons of tea. It was pretty nice.
If you recall, Matt and I decided to forego our original decision to buy an upholstered nursery glider in favor of a family heirloom that his Great Aunt passed onto us before she passed away.
It would take way less room than the glider, and we loved the idea of having something so sentimental in the space. I knew I could make it as comfortable as the glider with a few cozy pillows and a nursing stool or ottoman.
Here she is, sitting in the guest room before we did anything to spruce her up. You can kind of see where the seat was starting to break down and fall apart.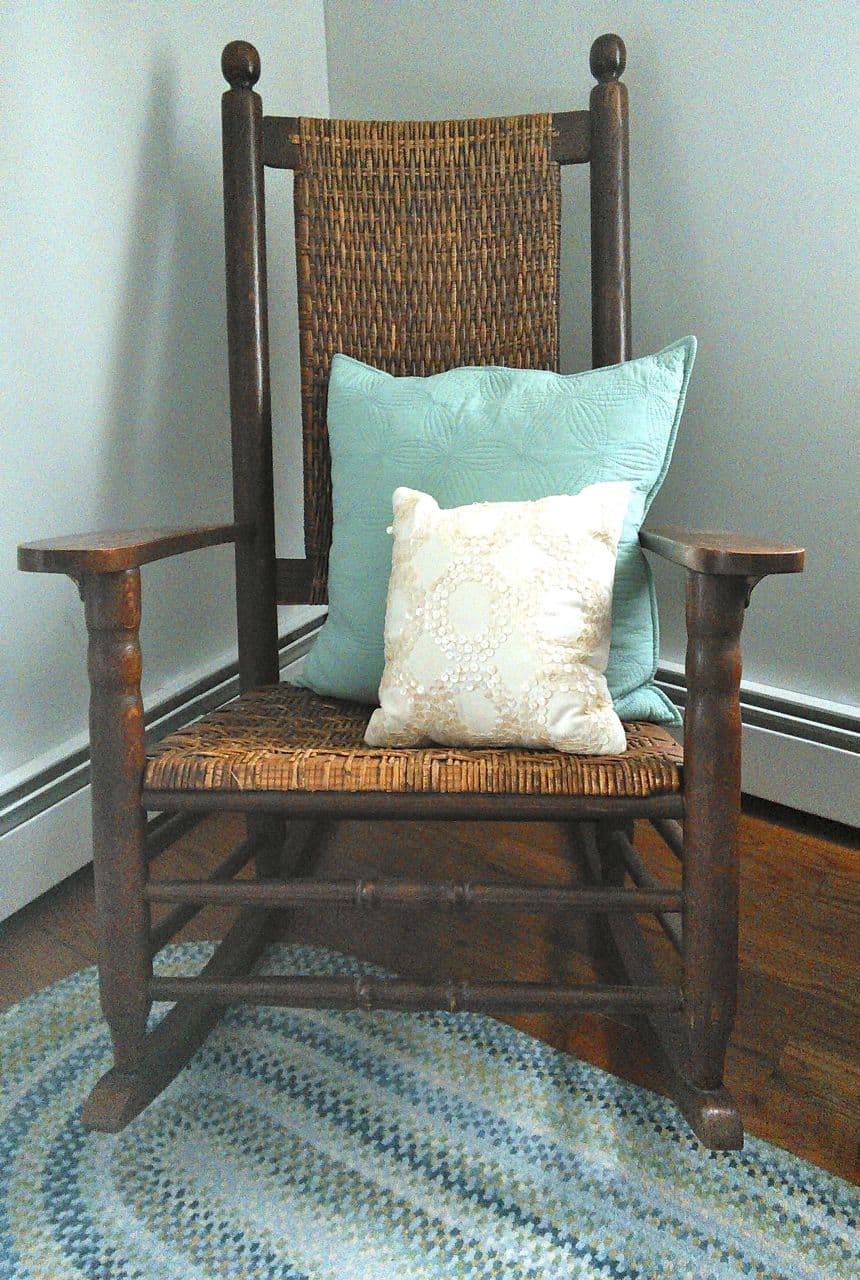 After removing the seat, we were left with this…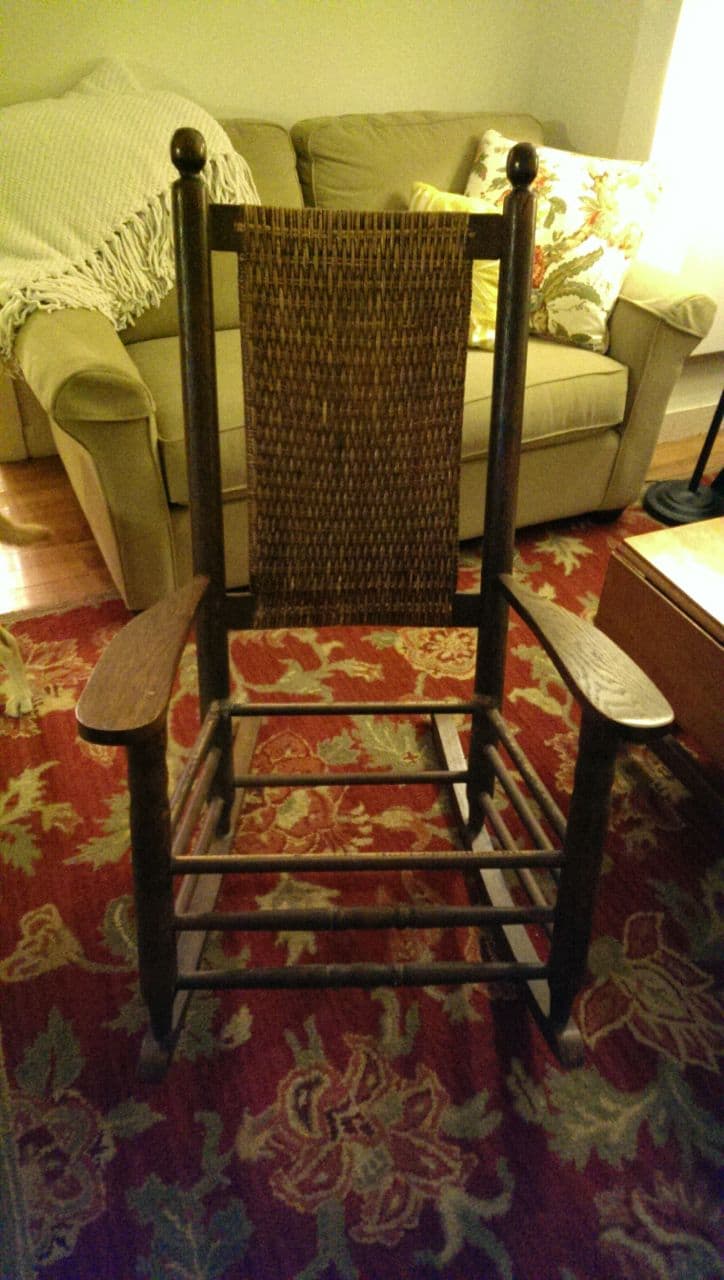 …and after cutting off the back, she was looking naked as the day she was made.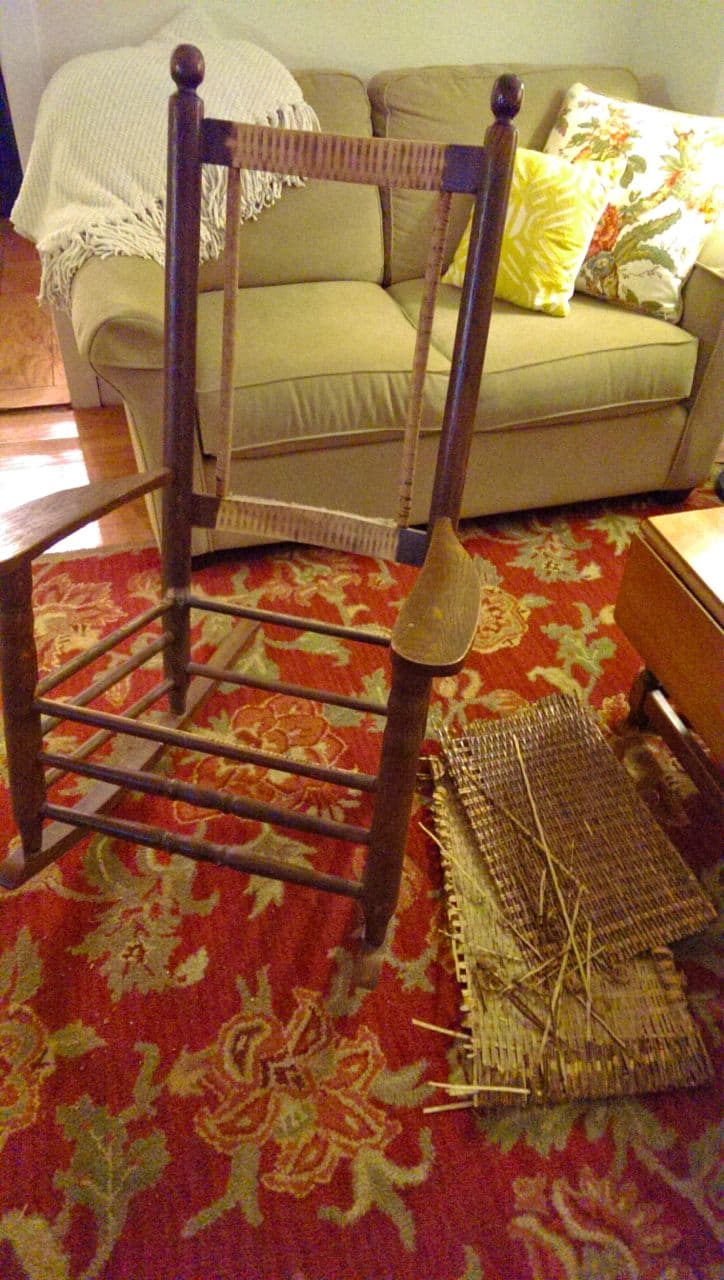 For phase 2 of this refinishing project, it was all about the paint. In order to get this rocker painted, I knew I'd need an indoor work space that was as close to room temperature as possible. Unfortunately, our garage is not heated. Fortunately, Matt's Grandma offered her basement workspace up to me, which happens to be in same vicinity as the furnace, keeping me and my prep space quite cozy.
Matt helped me get the rocker over there and I was anxious to get the first coat on.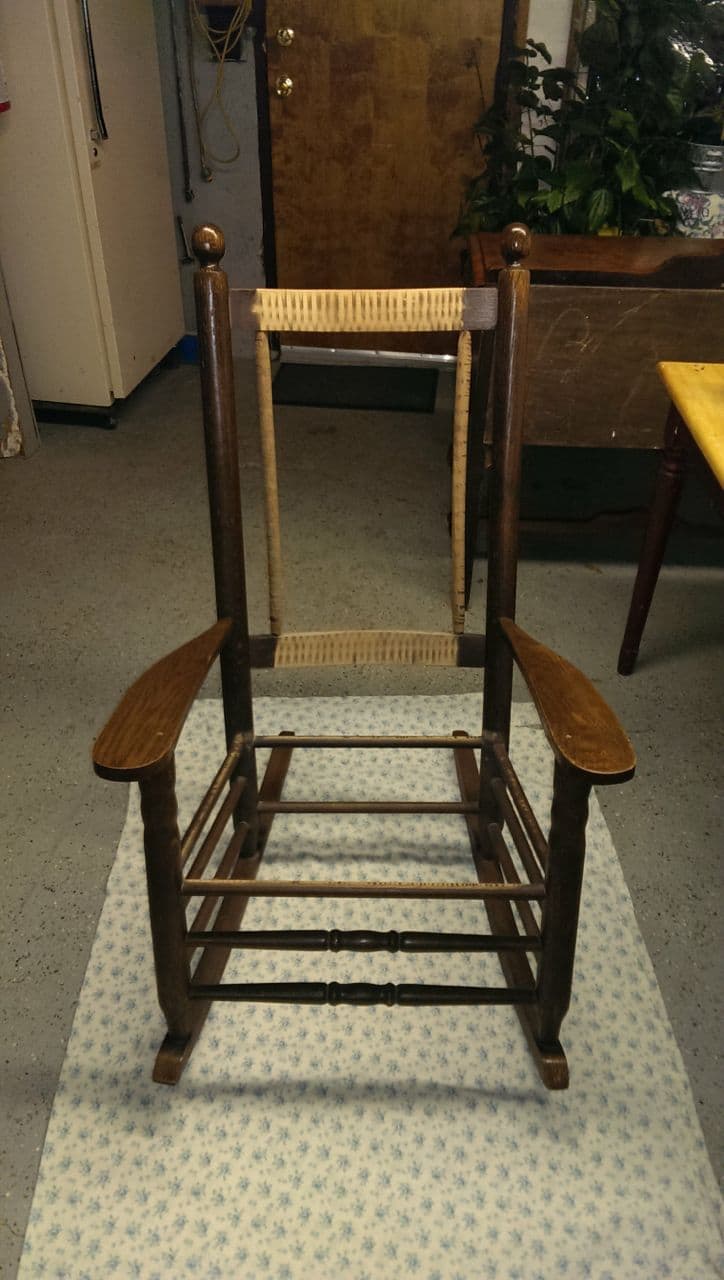 I chose to use Annie Sloan's Chalk Paint in Pure White. You can read a bit about why I love her paint here but basically, it's low-VOC, amazing quality, and for 99% of the projects, you don't need to prime or sand. That's key right there - especially for a Momma-to-be that doesn't want to be around harsh primer or flying sawdust.
I flipped the chair upside down and dug in (after wiping off any dust and dirt with a scrub brush).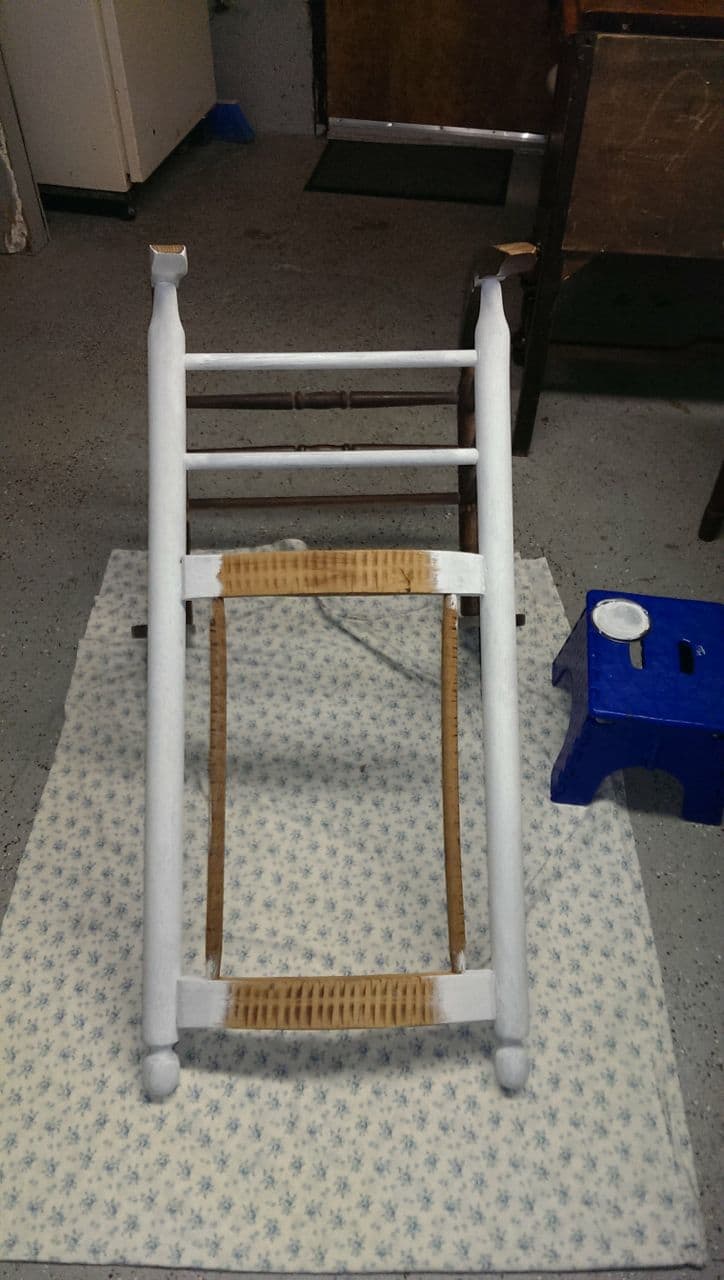 While the chair was upside down, I noticed another clue as to the chair's history. It's a "Carolina Rocker," made by P & P Chair Company. For a two-paragraph history lesson about the company, I found this blurb online.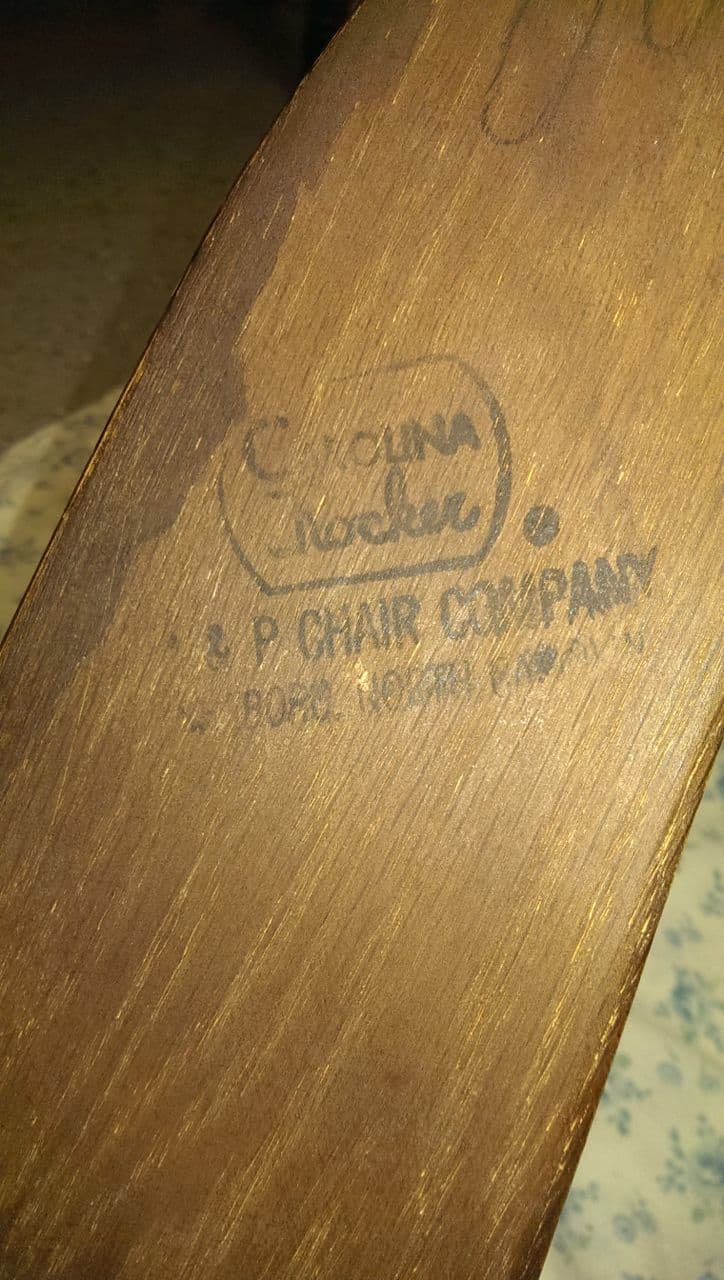 Here I am in action…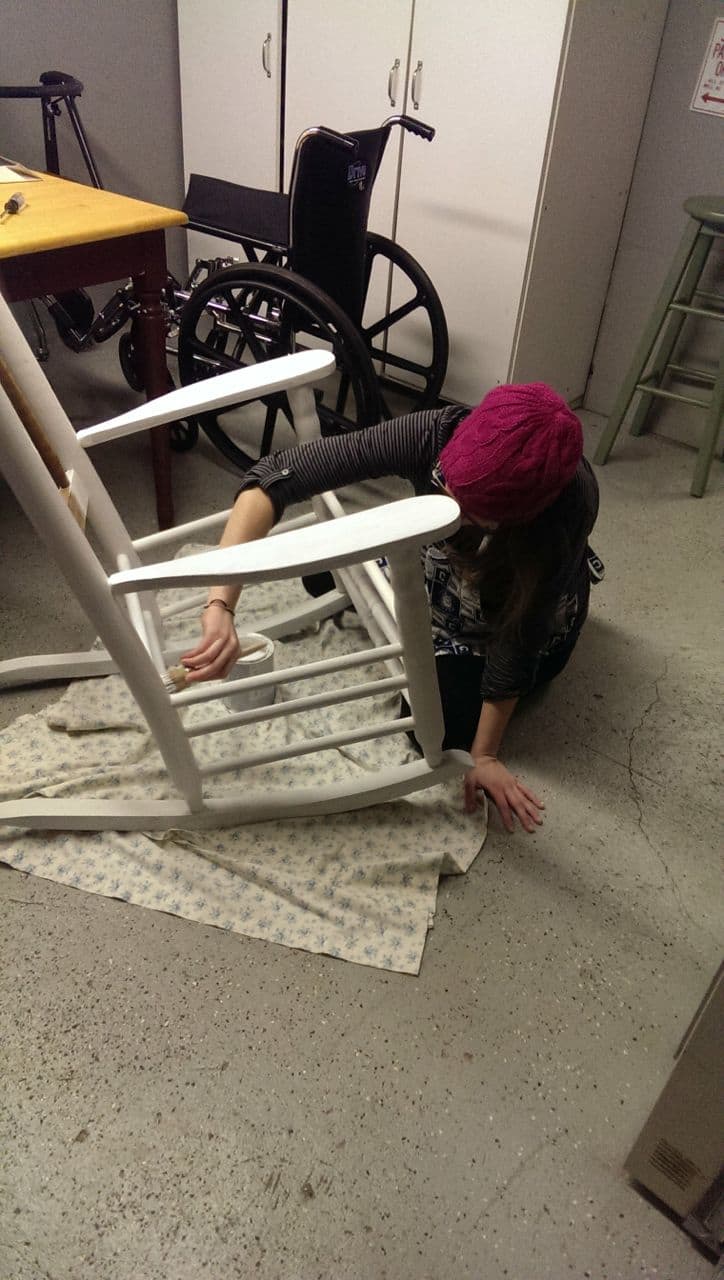 …and here I am, smiling like a fool.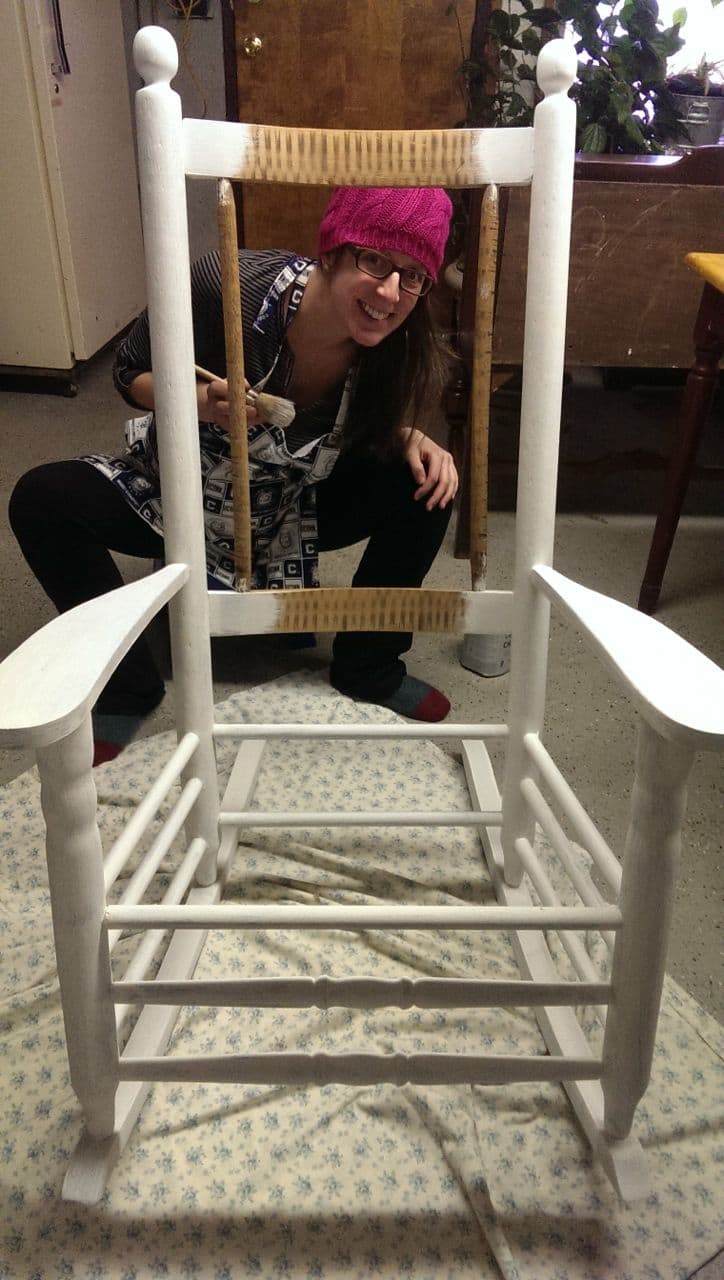 Here she is after a couple of coats…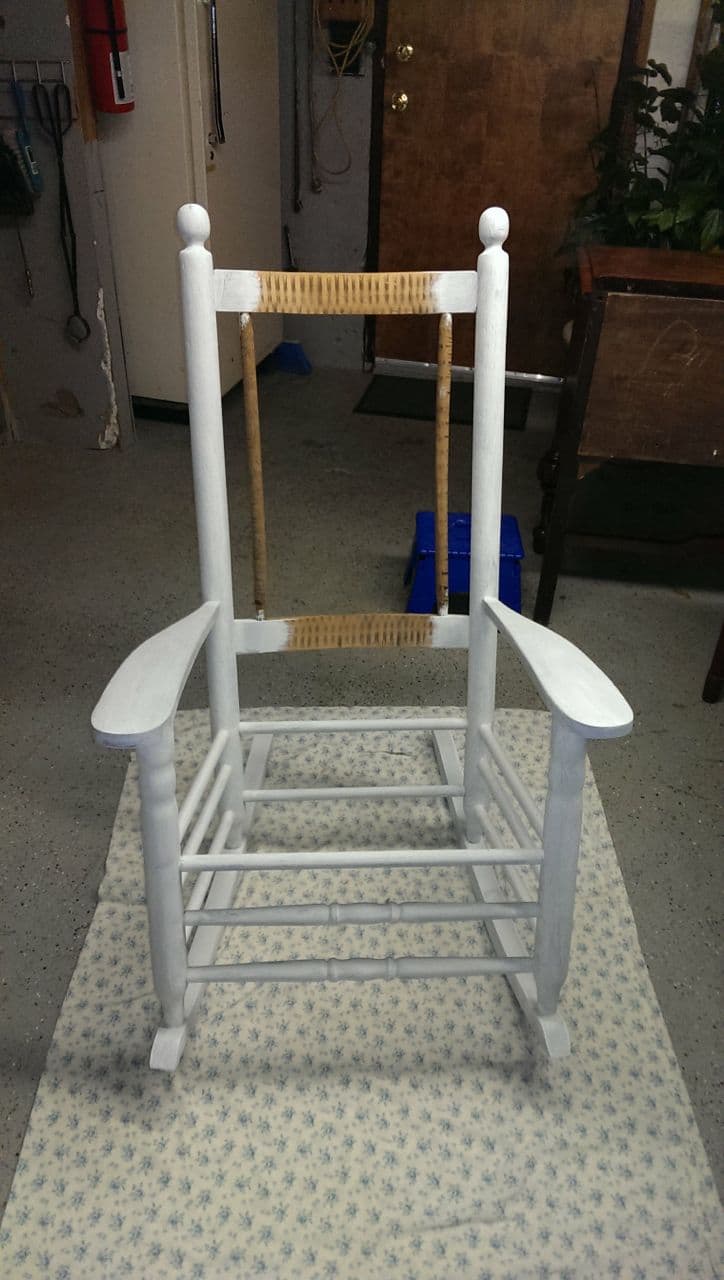 Looking good, right? I ended up doing four coats, just to ensure that it would have that pop of white I was looking for. I might add some soft furniture wax onto the arms to protect them, but that can be down the line.
I had Suzan at LaSilla Design recane my front porch rocker, and knew she was the woman for the job (and all subsequent jobs!) after how seeing her amazing work.
I left the middle section natural, since the caning work that Suzan will do will cover that area. I figured that since the cane will be of a similar natural color, you'd notice the unfinished wood less than if I had painted it and the white paint was showing through the tiny spaces of cane.
We'll have to wait a few weeks for Phase 3: The Caning and Final Reveal! I can't wait to see it all finished. We're 32 weeks today - before I know it, I'll be rocking my little guy in this beautiful labor of love.
As far as the nursery check-list and what I need to tackle in the next 6-8 weeks… here's were we stand:
Rip up carpeting (2009)
Install new hardwood floors (2009)
Paint the closet doors and trim (2009)
Replace windows (2010)
Install new trim (2011)
Paint the trim (2011)
Paint the walls (2012-2013)
Paint the baseboard heaters (2012-2013)
Switch out the almond-colored outlets with white outlets (2012-2013)
Buy a cozy rug
Set-up crib & changing table
Paint the frames red and fill with custom art
Create an accent wall
Purchase a rocking chair cushion
Sew new curtains
Paint the rocking chair
Recane the rocking chair
Paint, hang and style a shelf currently being neglected in the garage
Make a custom crib mobile
Purchase a floor lamp for the dark corner of the room
Paint the closet interior
Build custom shelves for the closet
There ya have it. The art, curtains and shelf are in progress, so hopefully by the end of the weekend, I'll have some of those items knocked out! Until then, we're taking one day at a time as the anticipation builds.
Thanks for stopping in, have a great day!