Before we can start the backsplash to complement our new counters, we needed to figure out our range hood situation.
Why not tackle it on a weeknight? That's how we've been rolling this Spring.
Our current range is old, ugly, and loaded with old grease. You can decide what's grosser: the old grease or the fact that I lived with the old grease for 3 1/2 years.
We are going with an over-the-range microwave to replace this bad boy. Our current microwave is in the pantry.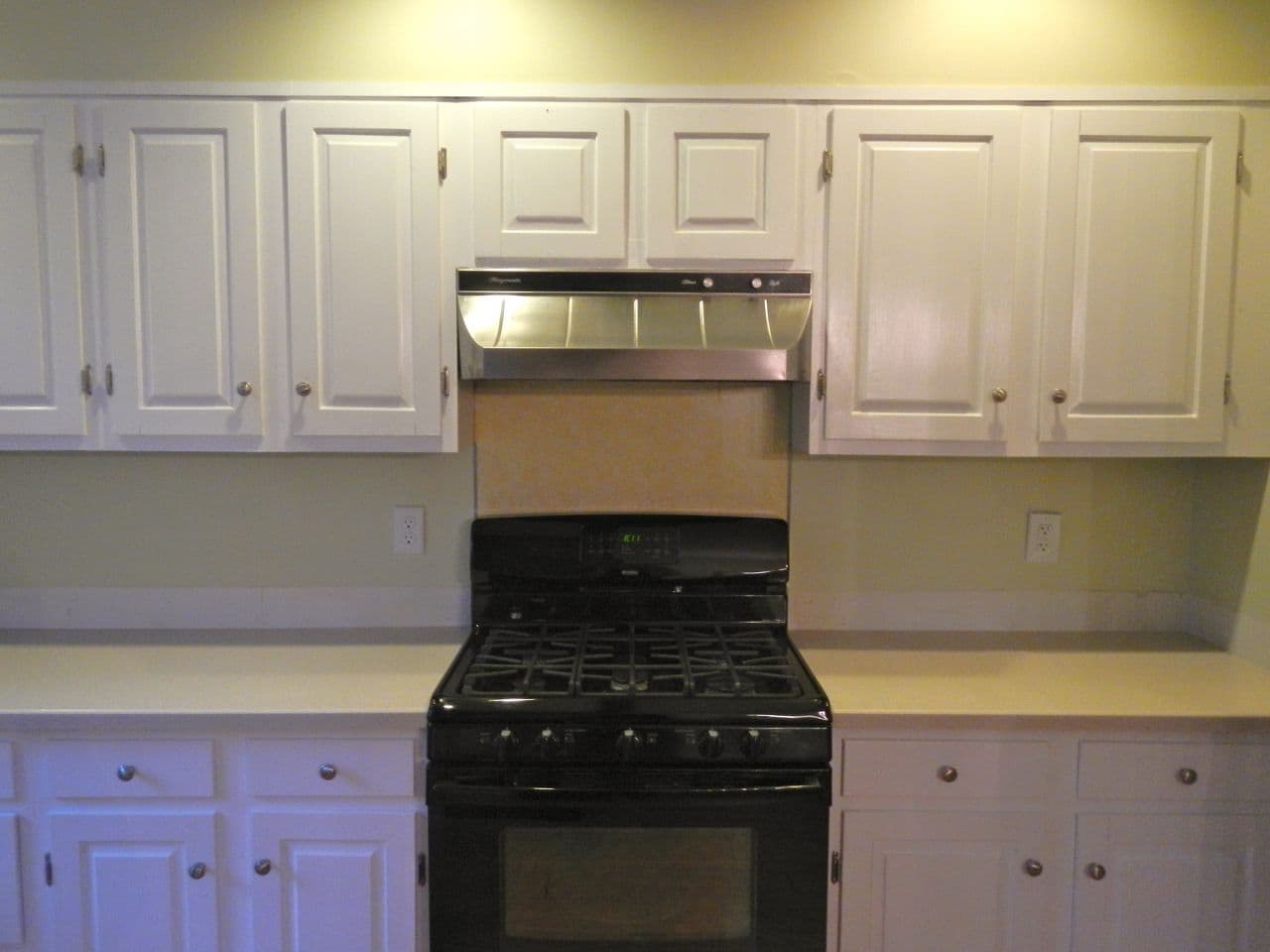 We had to cut the power first (which took away some overhead lighting, so the pictures kind of stink). While Matt was down in the basement at the circuit breaker yelling, "Yes?" (Me: "No!") "Yes, now?!" (Me: "No!") I was busy taking pictures of the underside of the range hood. Just for the gross factor.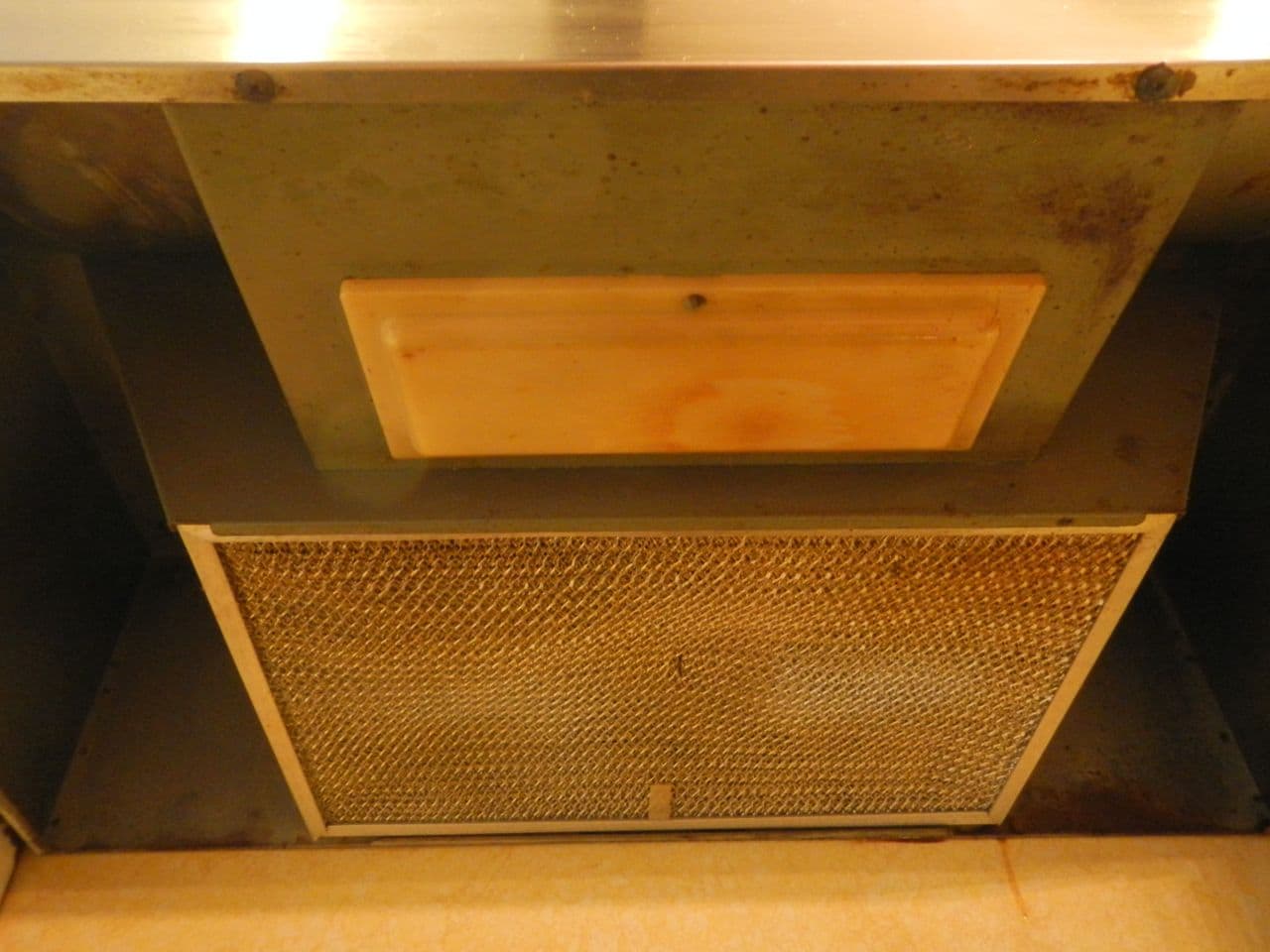 The laminate backsplash behind the stove was yellow, to match our old counters, and every time I boiled water, a little stream of grease slipped down. I wiped it away each time, but I left this one out from tonight's dinner so you can fully appreciate the word gross. Blech.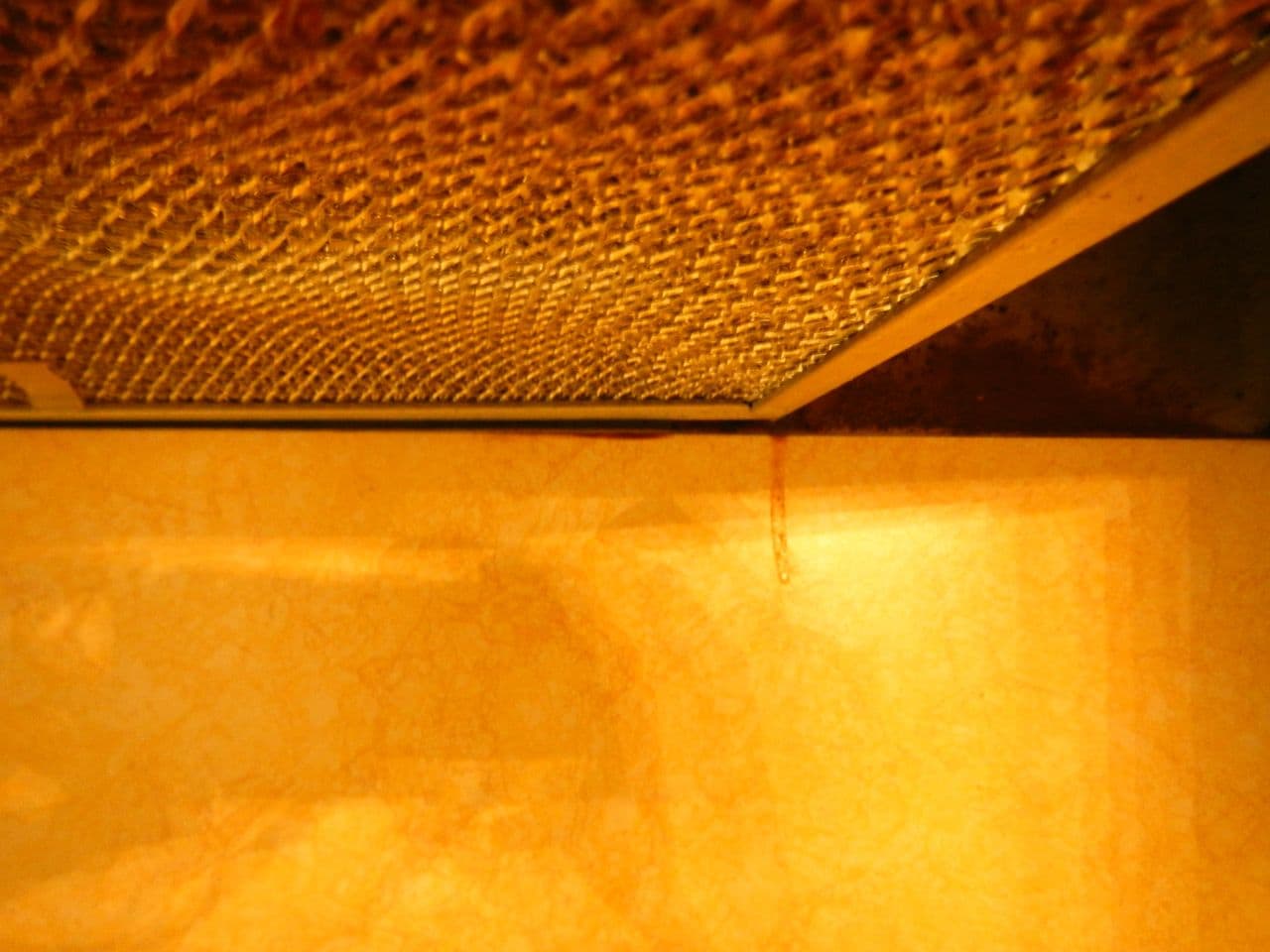 With Matt back upstairs from the basement, he started to unscrew the four screws holding the hood in place.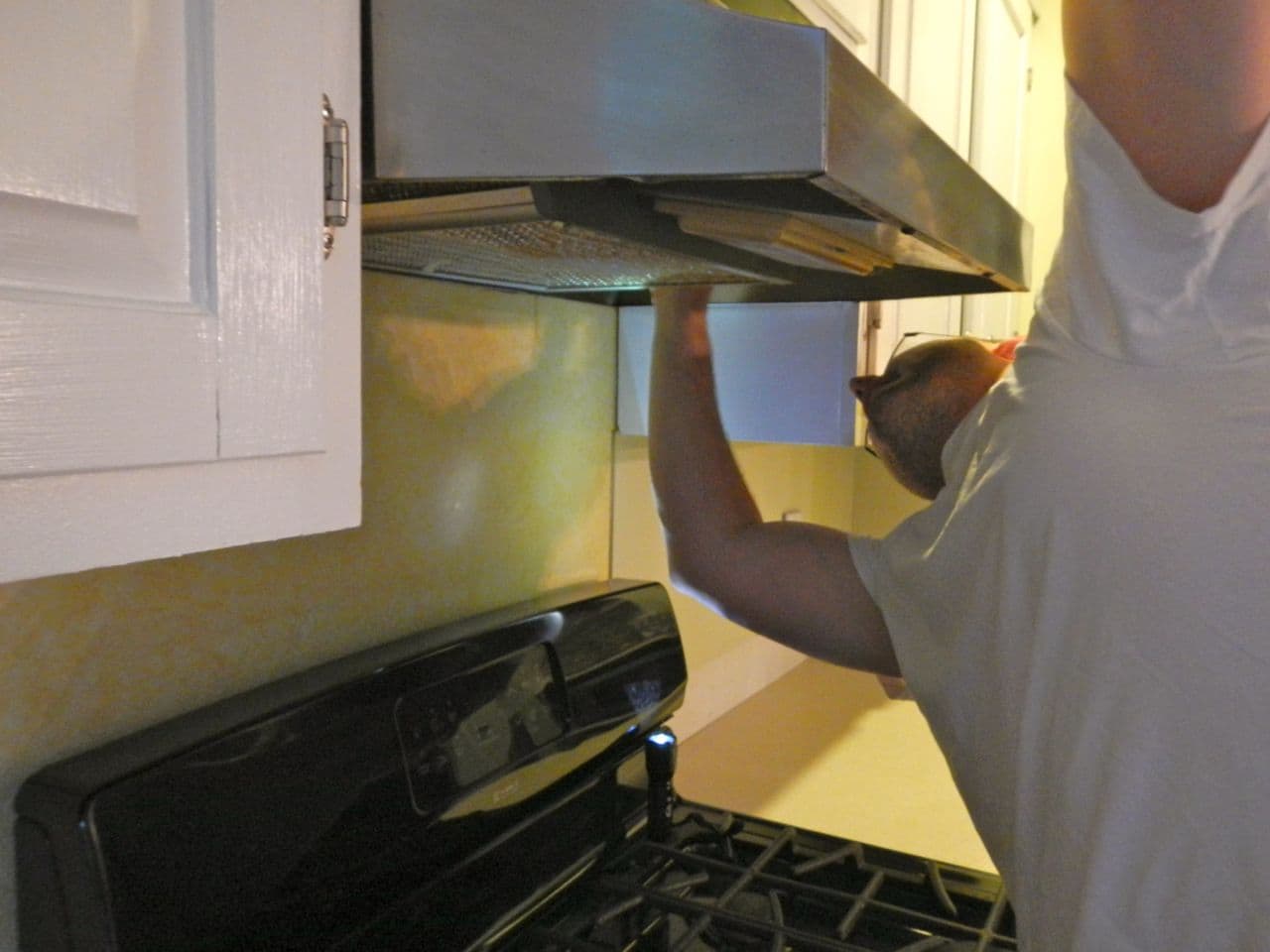 With the screws loosened but not removed, Matt pried off the "faux cabinet covers" above the hood. "Faux cabinet covers." That's what I'm going with.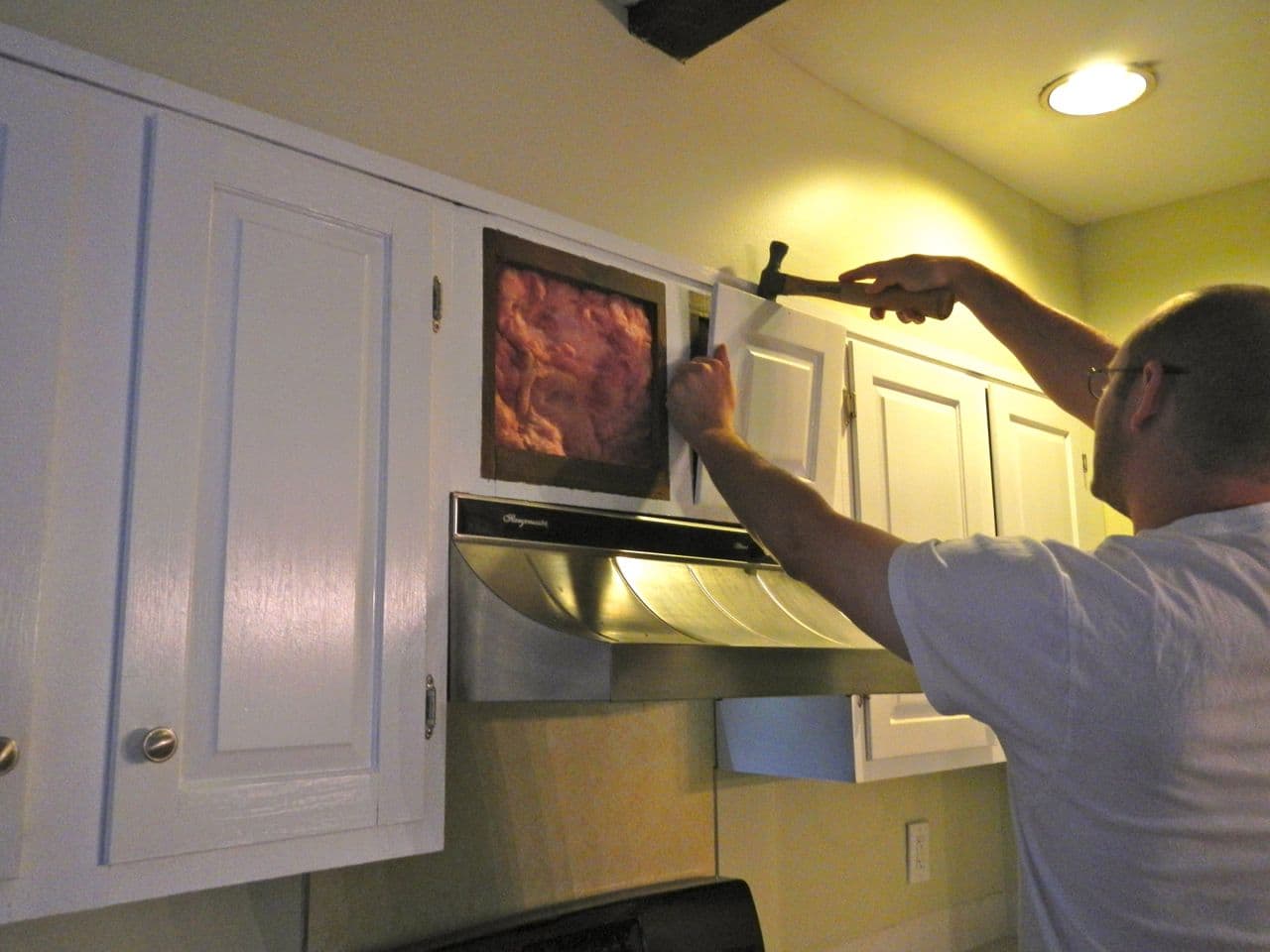 There was some insulation, as you can see, so we started pulling that out and laying it on a garbage bag next to our work site. Gotta protect the new counters. At all costs.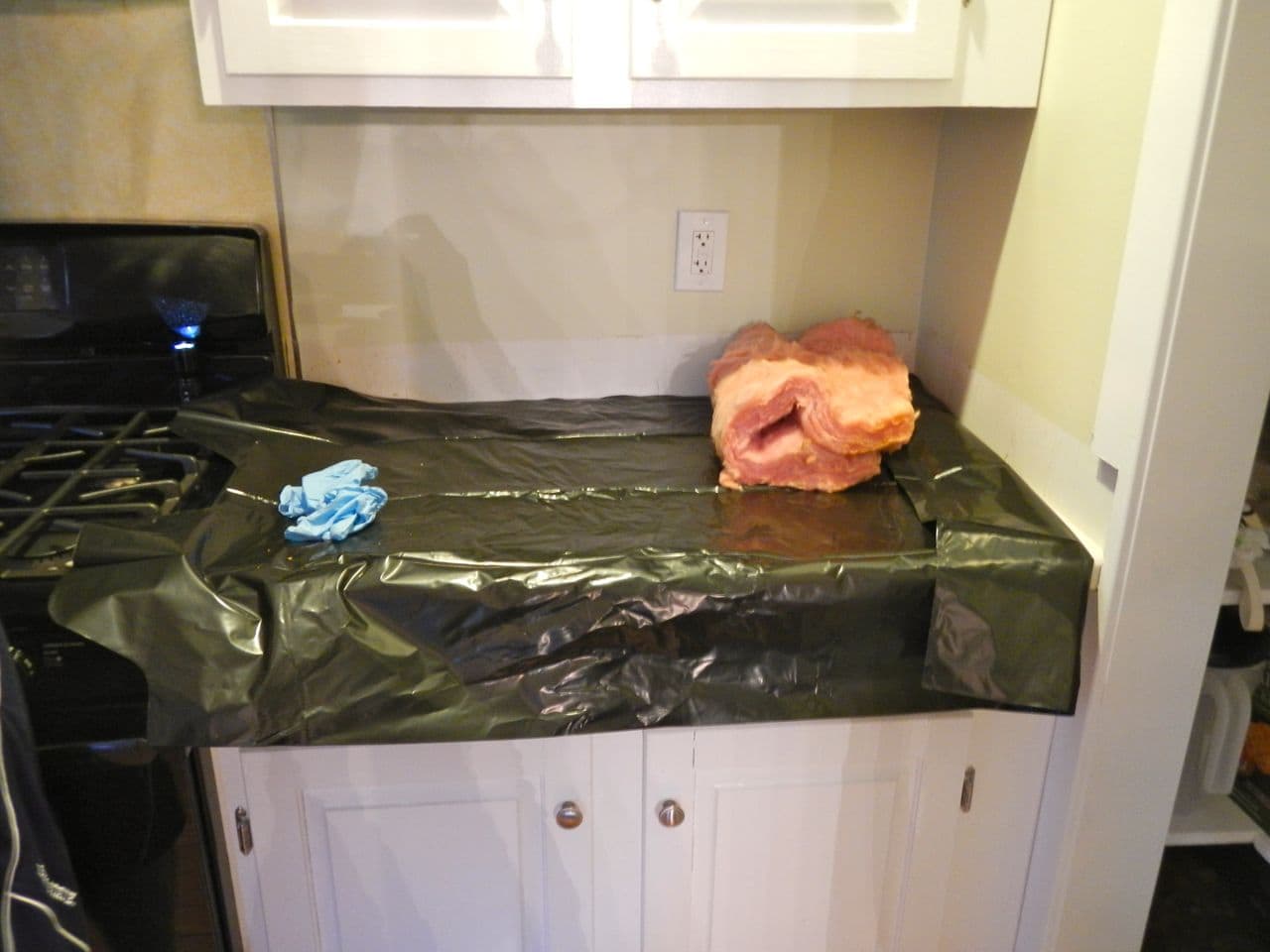 Eventually, we decided not to try and save it. Since it is such a small space, it wouldn't be too much money to replace the insulation with new stuff.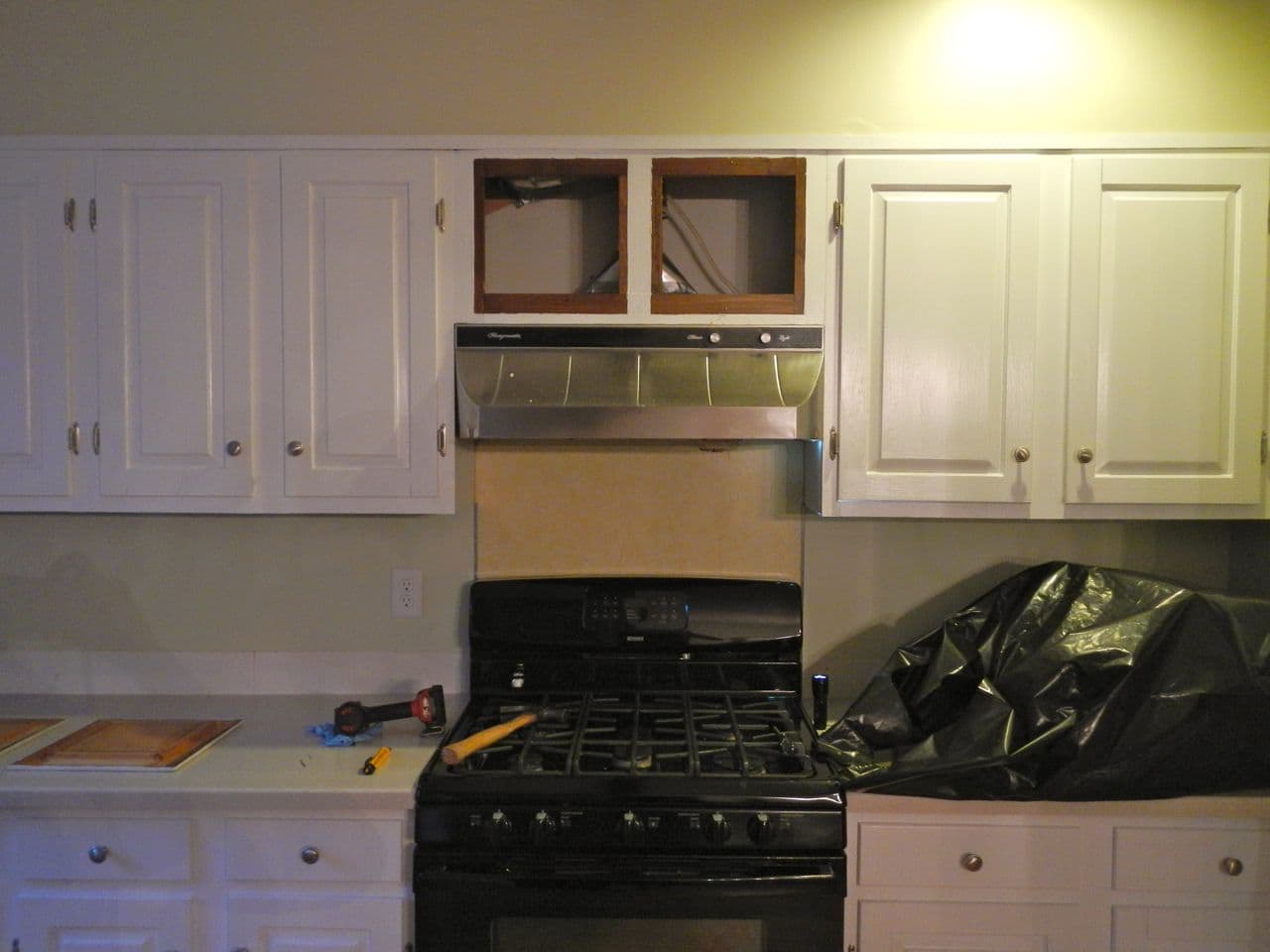 You'll notice the hood is still installed in the picture above. Seconds after I took that shot, Matt took out the last screw and the hood came crashing down to the top of the stove. He swore profusely (like he did here and here) and it put a tiny scratch in the top of the stove. I can hardly see it. He says he'll notice it every time he looks at the stove. I asked if it bothered him enough to buy me a new, snazzy, stainless steel stove. He said no. Pfft.
Here we are post-dramatic hood crash.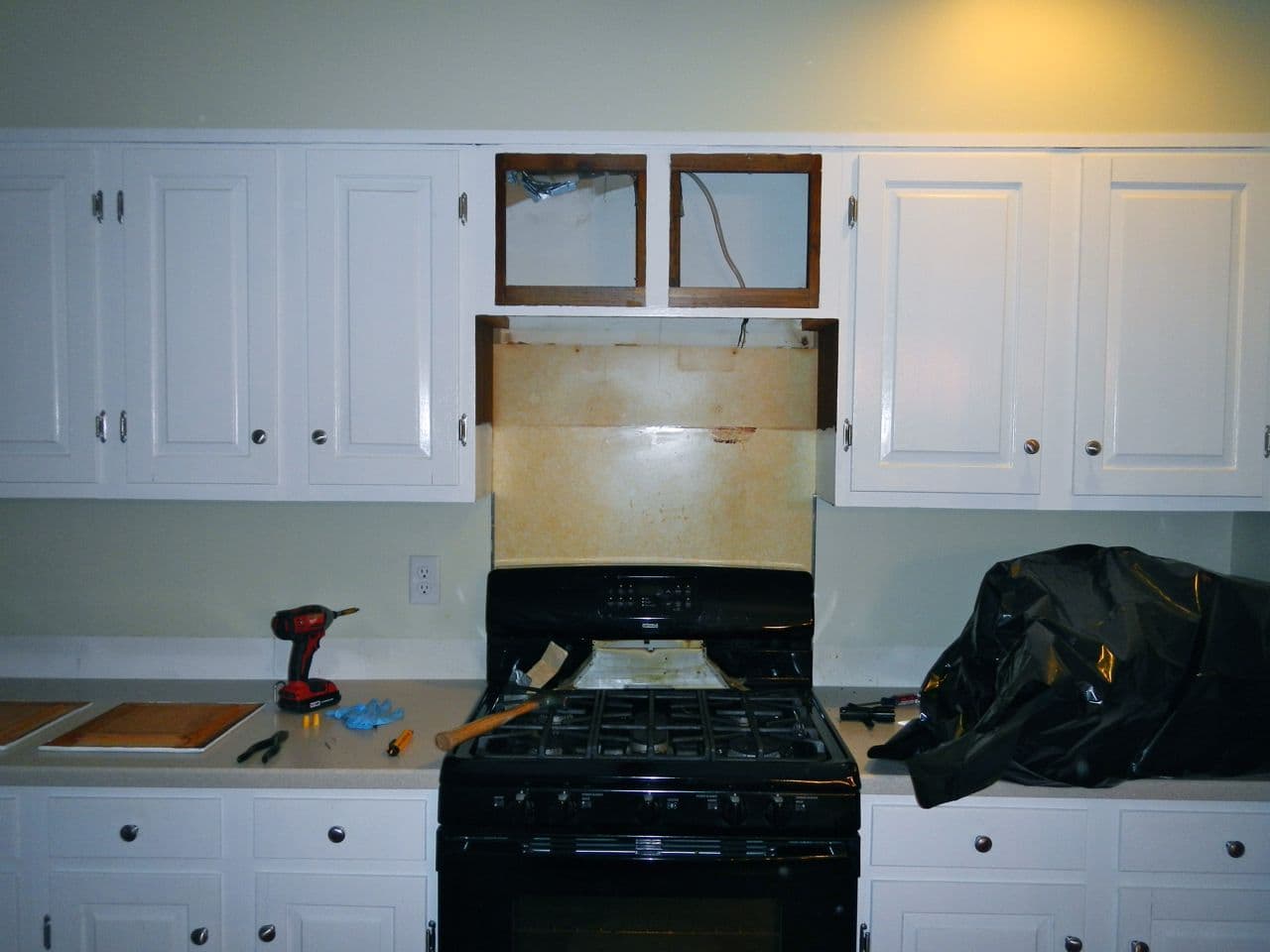 We added the nasty old hood to our ever-growing pile of crap in the driveway. The pile now contains all of our old countertops and our old range hood. The pile used to contain our stainless steel sink that we were looking to donate to the Habitat for Humanity Restore until someone STOLE IT. Yep, that happened. It was kind of close to the house, too. Not even by the road. In a town with no crime. Creepy.
We wanted to start from scratch to frame out the future microwave, so we went ahead and removed the wood above the stove in the picture above. It's looking pretty naked in there!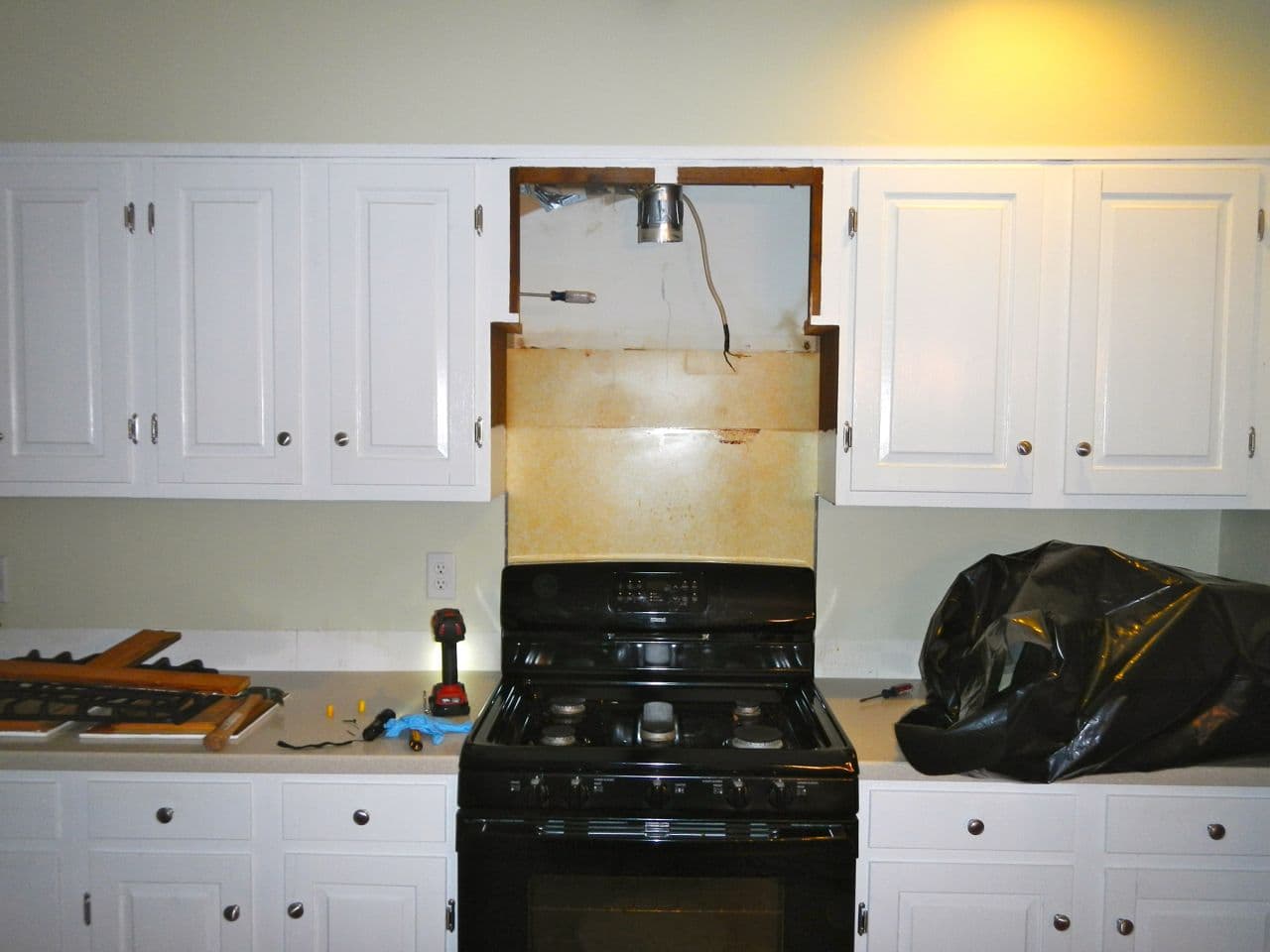 Our next step was to try and remove the laminate backsplash and metal runners alongside the backsplash. Matt used the back end of his hammer to pry it off, and it came off pretty easily.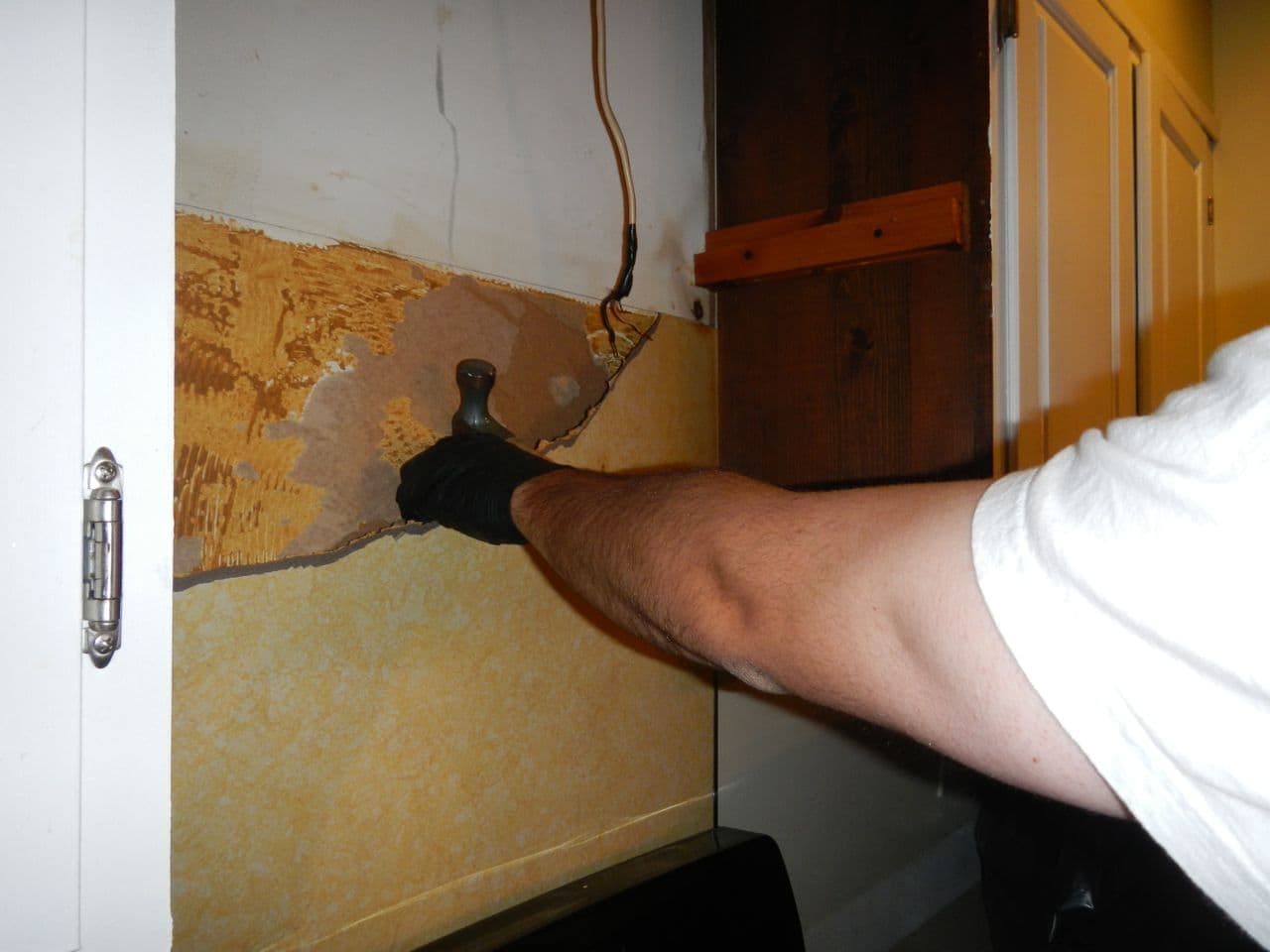 In the picture above, you'll see some wood supports on the side of the cabinet by Matt's arm. Those came off, too, but one fell behind the stove. So this had to happen.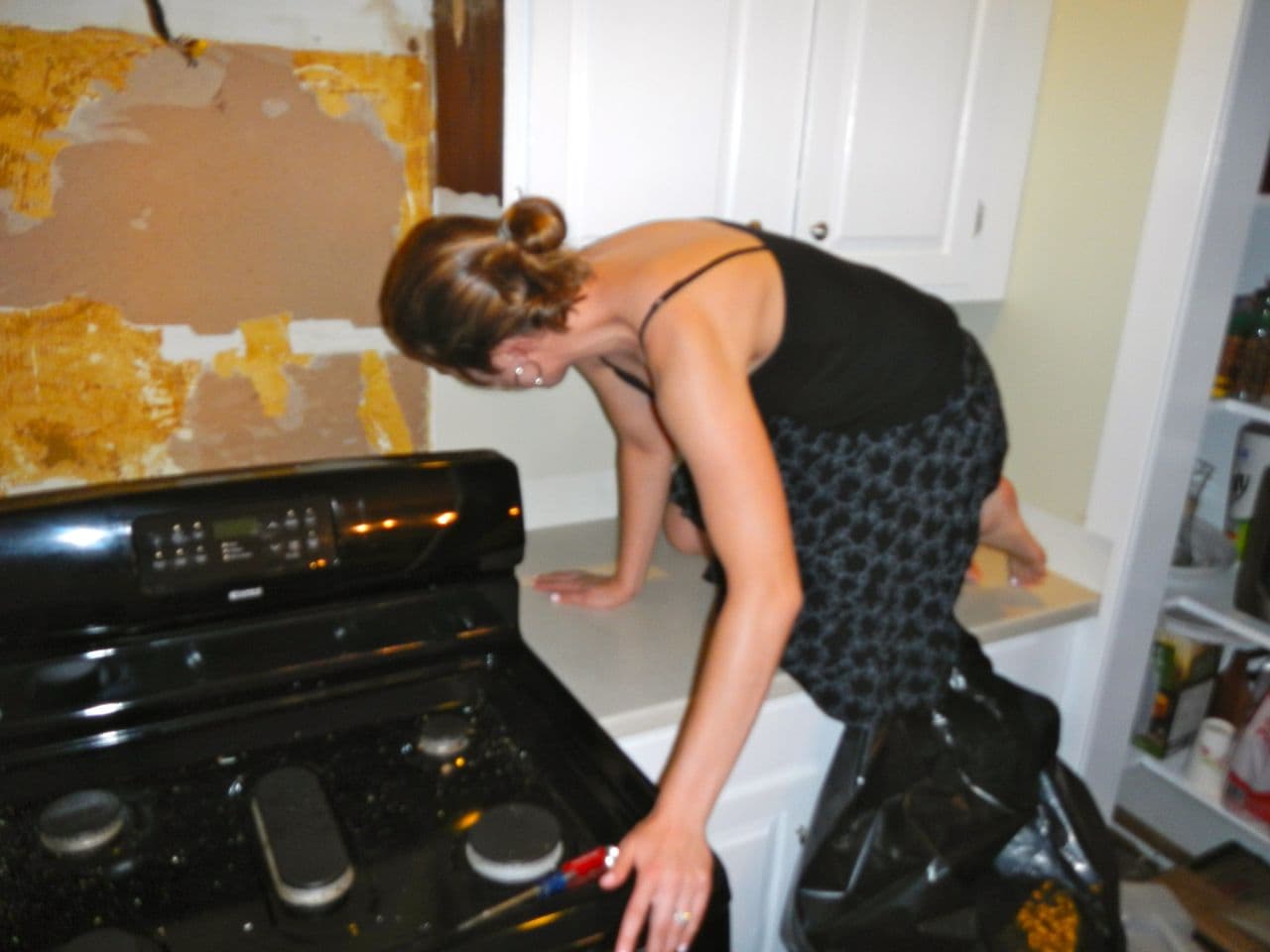 Matt said he couldn't fit. I was a little nervous about what lay behind the stove after 3 1/2 years of living in this house, but I took one for the team and got in there.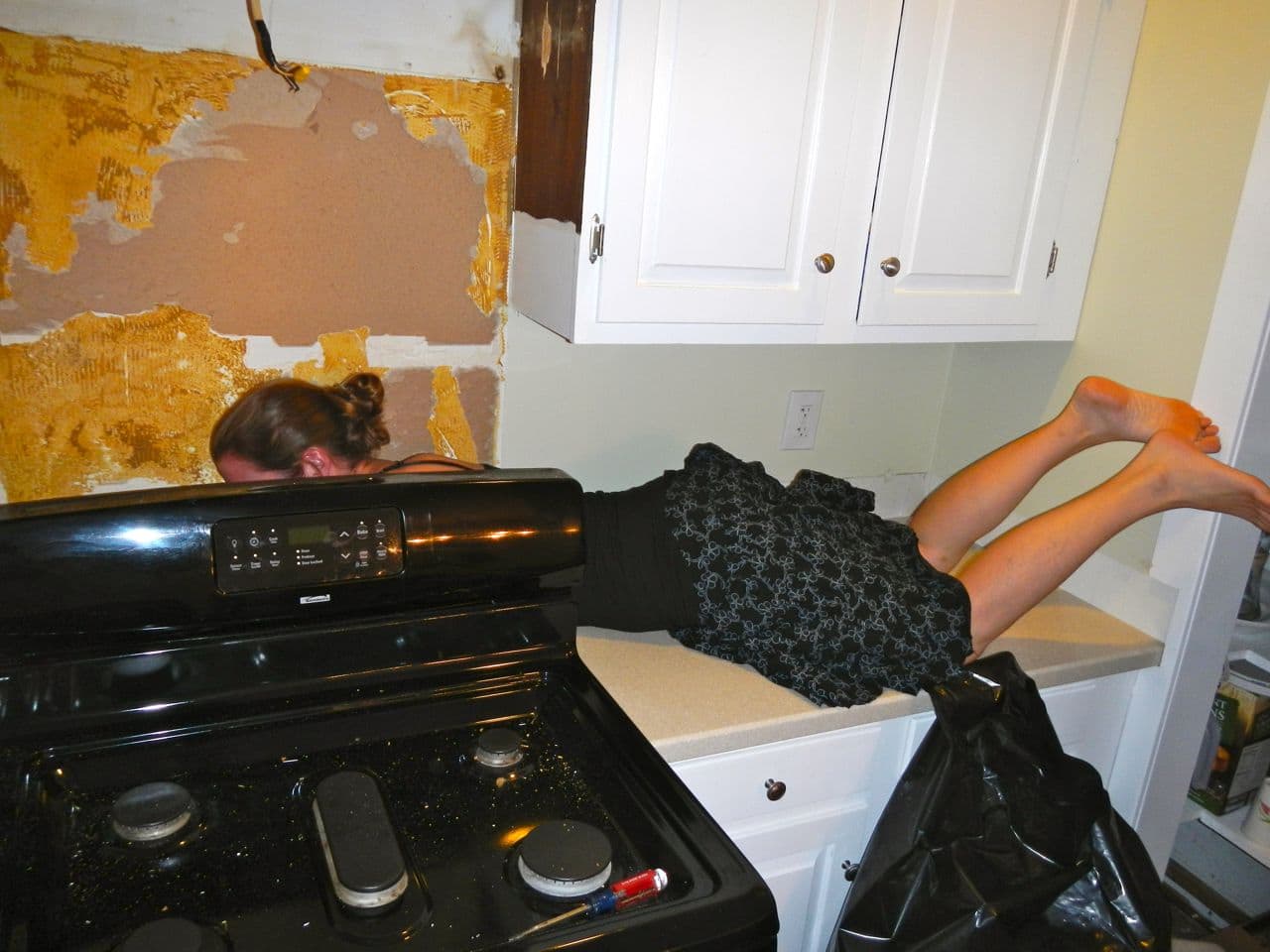 Then, I got further in there.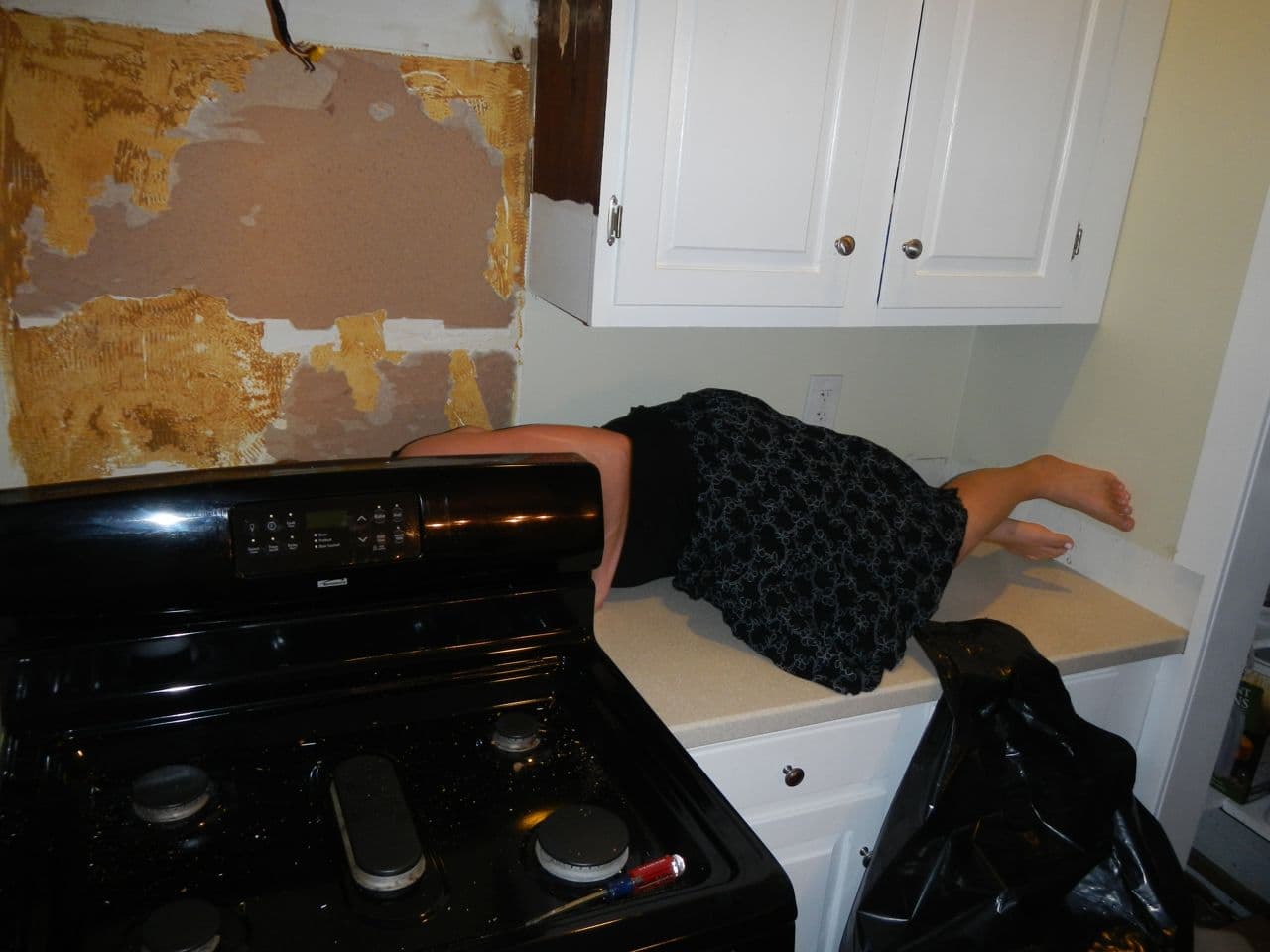 Had to pop up for a breath of fresh air (kidding).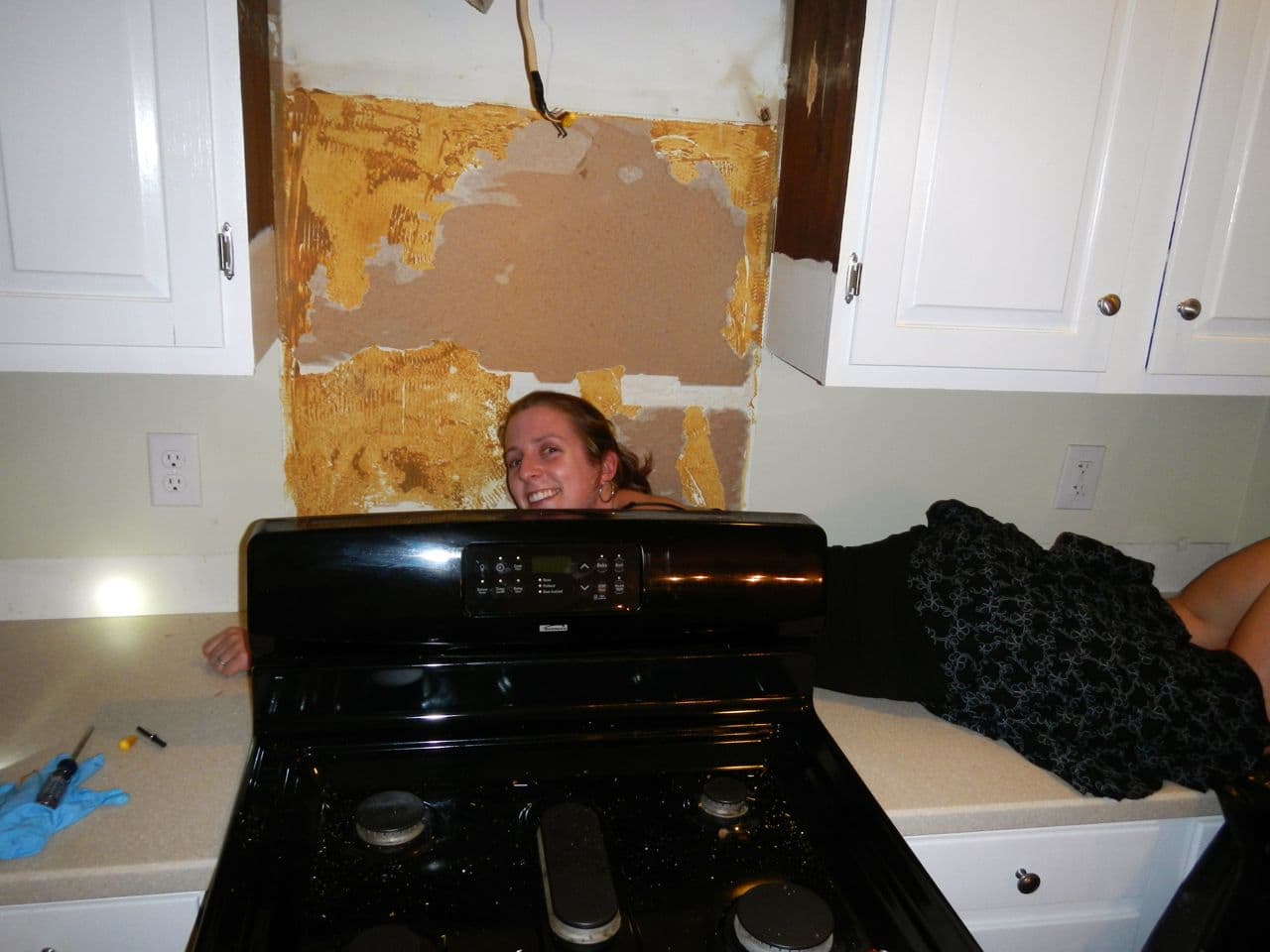 Then I yanked that wood piece out. Seriously, that was my role for this project except for cheerleader and photographer. Yes, my hair looks really shiny. Not in real life.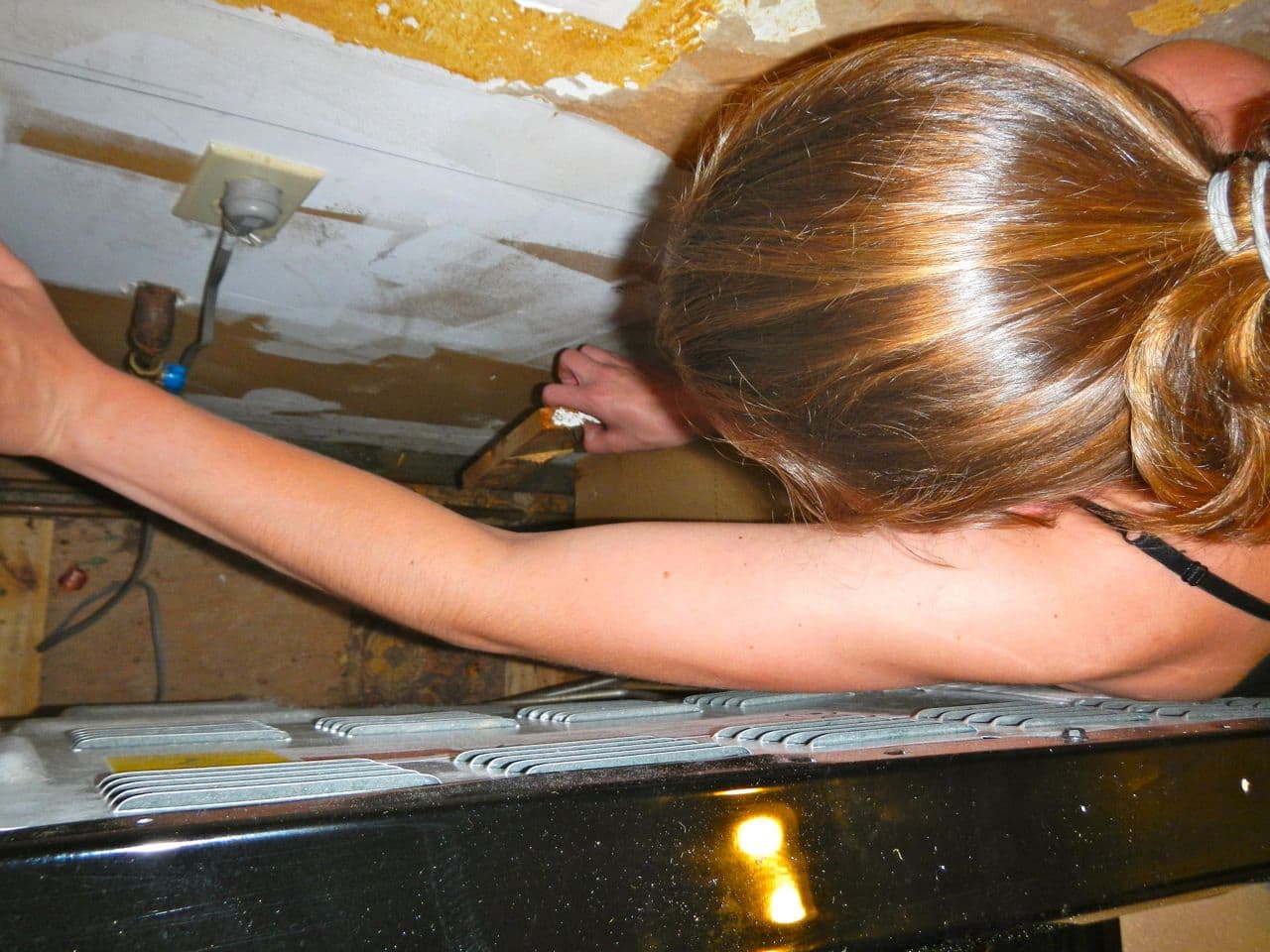 We pushed the stove back in and when all was said and done, we went from this: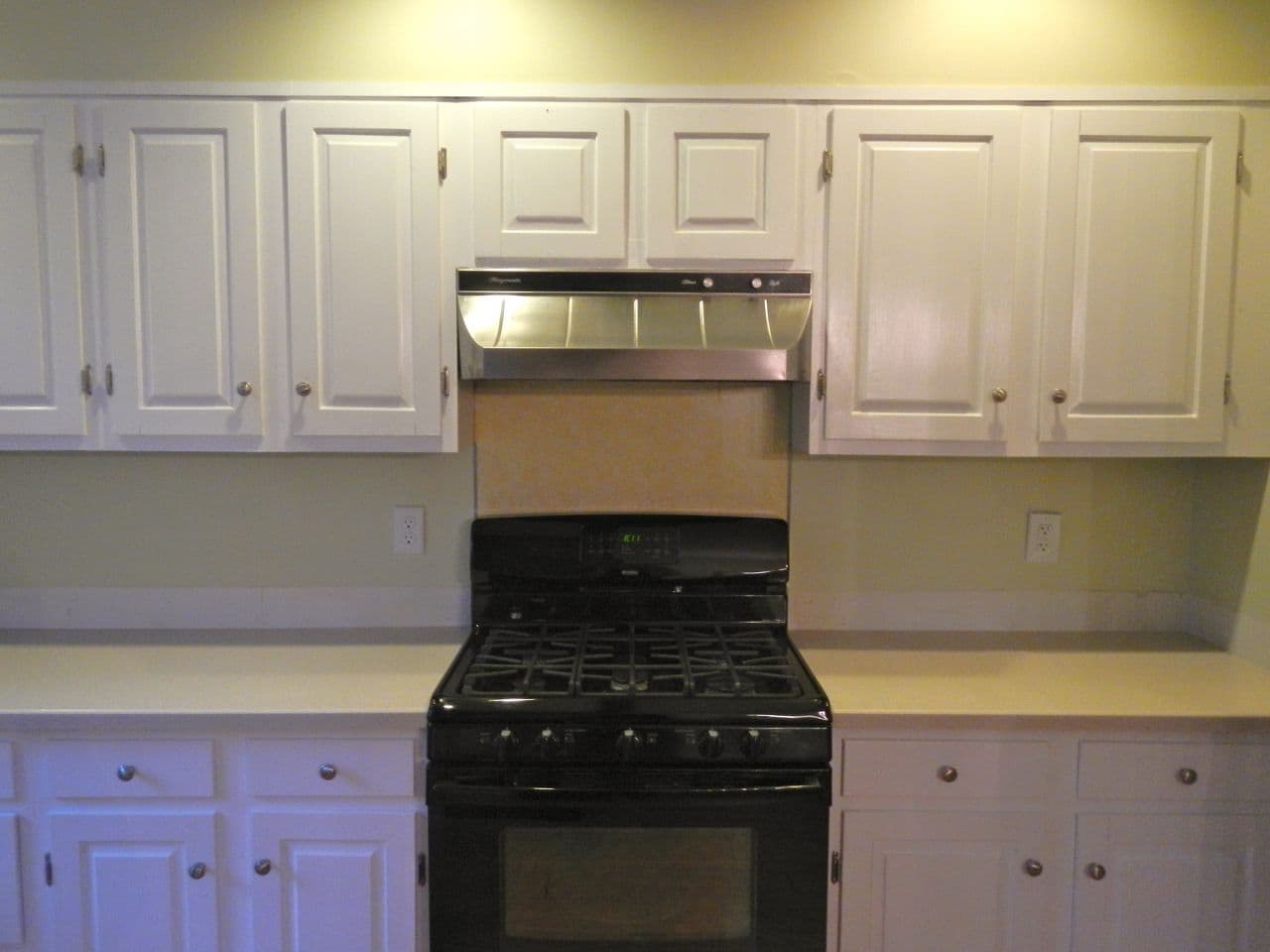 To this: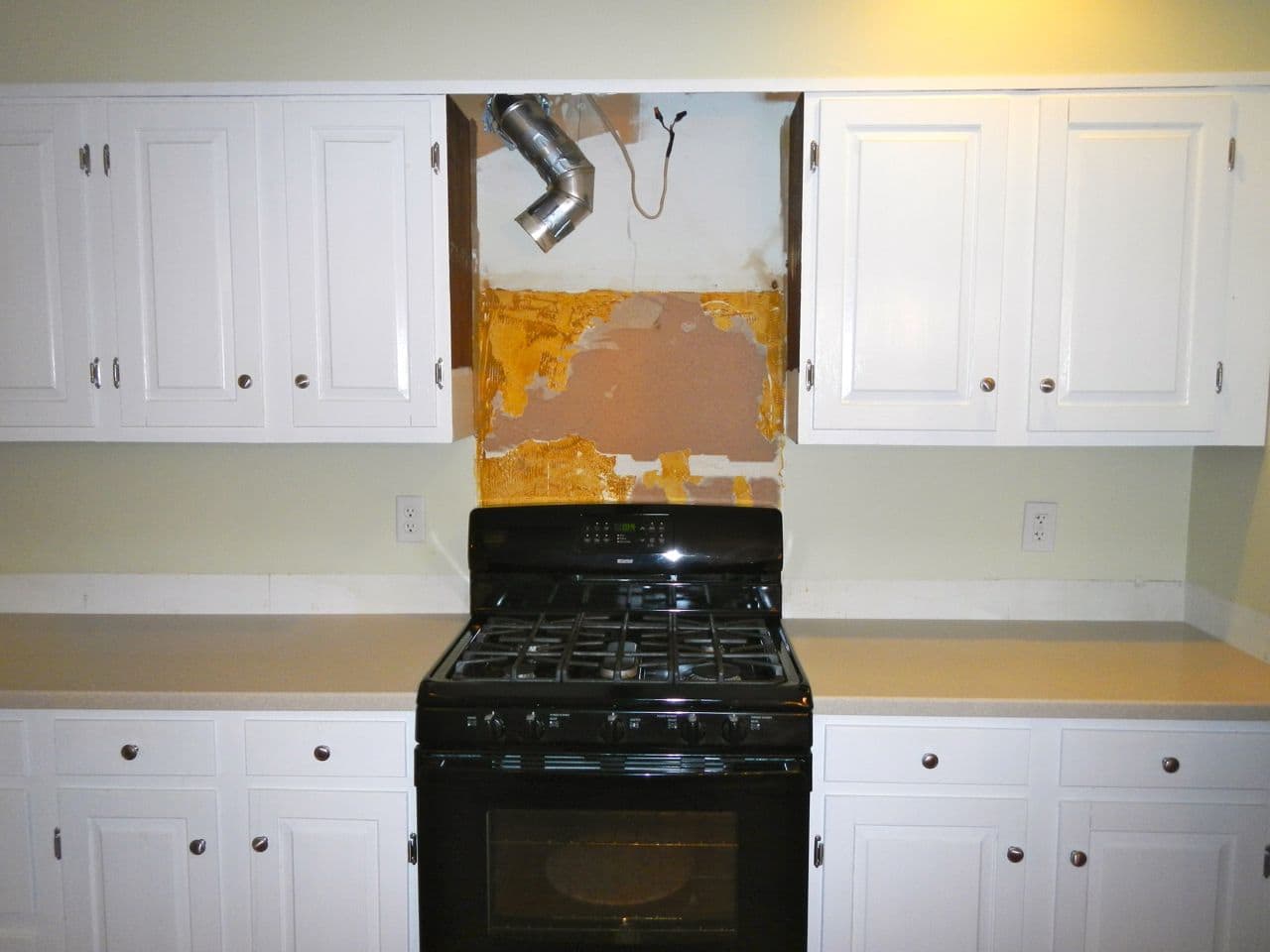 It always gets worse before it gets better, right? Next up: microwave shopping. I'm kind of nervous though, because our cabinets are old, (80s) so they're only 12" deep. All of the microwaves we're looking at are closer to 16". I think it will look silly with the microwave sticking out 4". Hopefully they have some that cater to cabinets that are a bit more shallow. Fingers crossed.
How'd you spend your Wednesday night? Luckily for us, this mini-demo project took us less than an hour from start to clean-up. Thank goodness it didn't end up like the counter removal weeknight from Hell.