Don't try fighting it. We're a few days into June, and Summer is nearly upon us. I have no idea where most of Spring went. Seriously, does anyone else feel like Spring had just sprung?
We had such a beautiful April and such a rainy May that it seems the title of this post is the slogan for this year.
Once June 21 hits, the days get shorter, and that thought gets me down, even though we'll still have three full months of summer to enjoy. At least I have a few more months of sunsets through my willows in the back yard.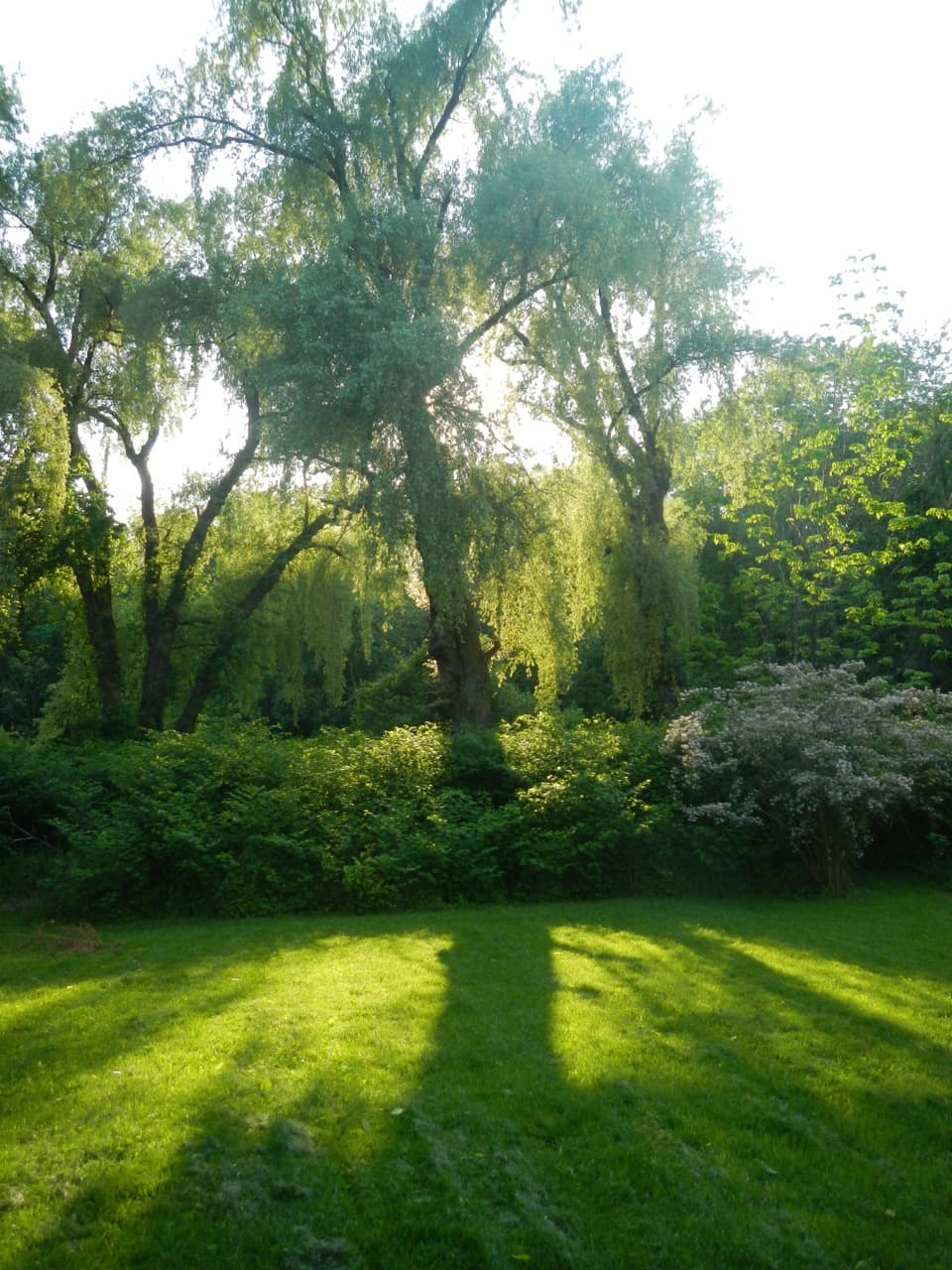 I love to take advantage of the waning daylight late in the day. Each evening, I do a perimeter walk. It's basically when I wander around the yard and marvel at the little changes that seem to happen while we're out and about. Sometimes I take pictures and the neighbors probably think I'm a weirdo. Seriously, though, I'm stalking my new peony bush. Here she is, getting ready to open.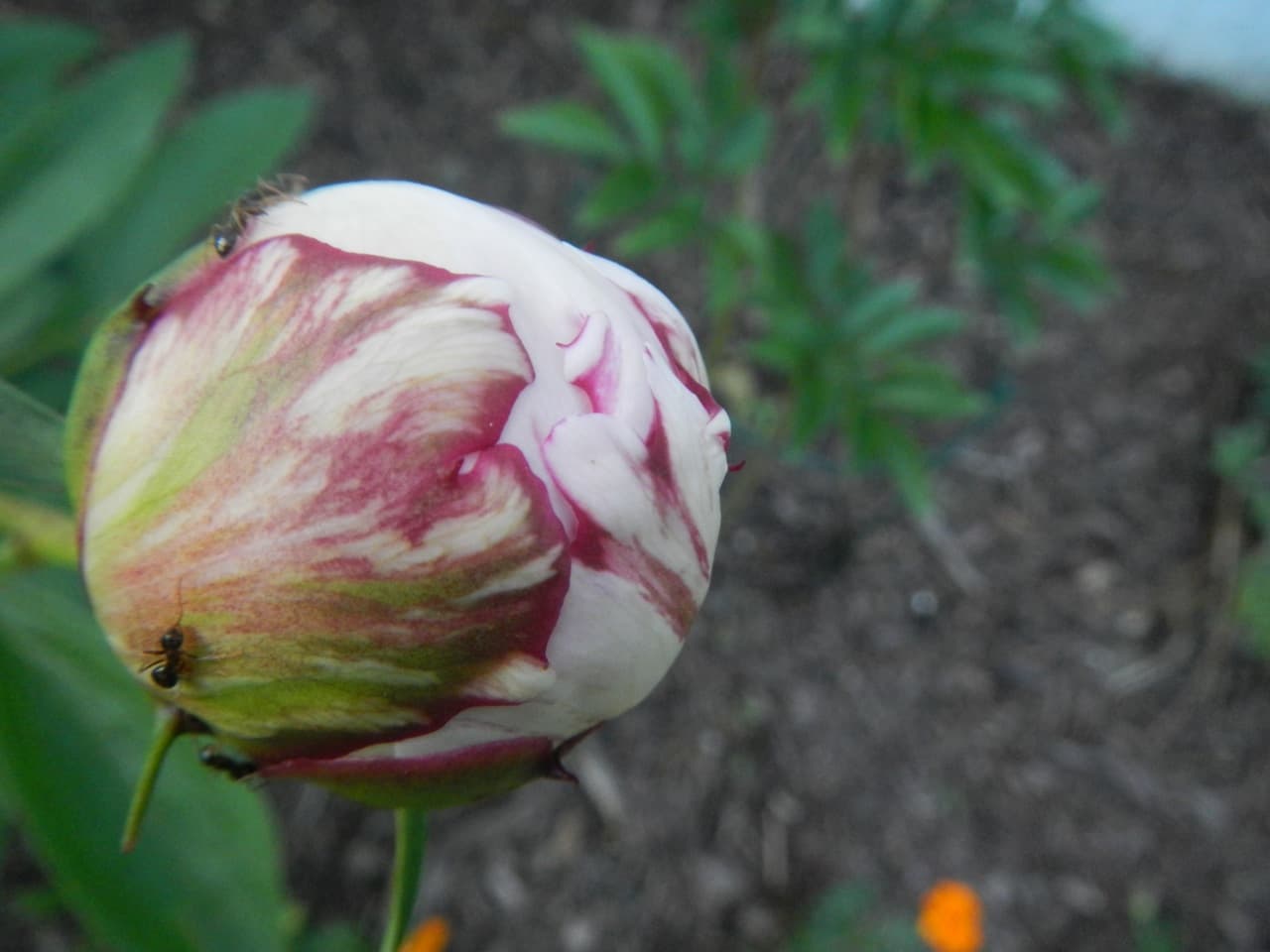 I can't wait! The bush only has 3 buds, but I planted a ton in this bed. This time next Spring, I'm anticipating so many blossoms that I'll have cut peonies in every room in the house, and still have some left in my peony bed. At least, that's the plan. It might take a few years. Don't be alarmed by the ants scurrying over the bud in the picture above. They are attracted to the miniscule amounts of nectar on the outside of the bud, and as the ants eat away at the invisible shield covering the bud, it helps the dense petals to fully flower. So don't ever spray your peonies to get rid of the ants! They're natural!
In containers next to the peony bed, I planted calla lilies in all different colors. They didn't do anything for weeks, so I thought I buried them too deeply… until…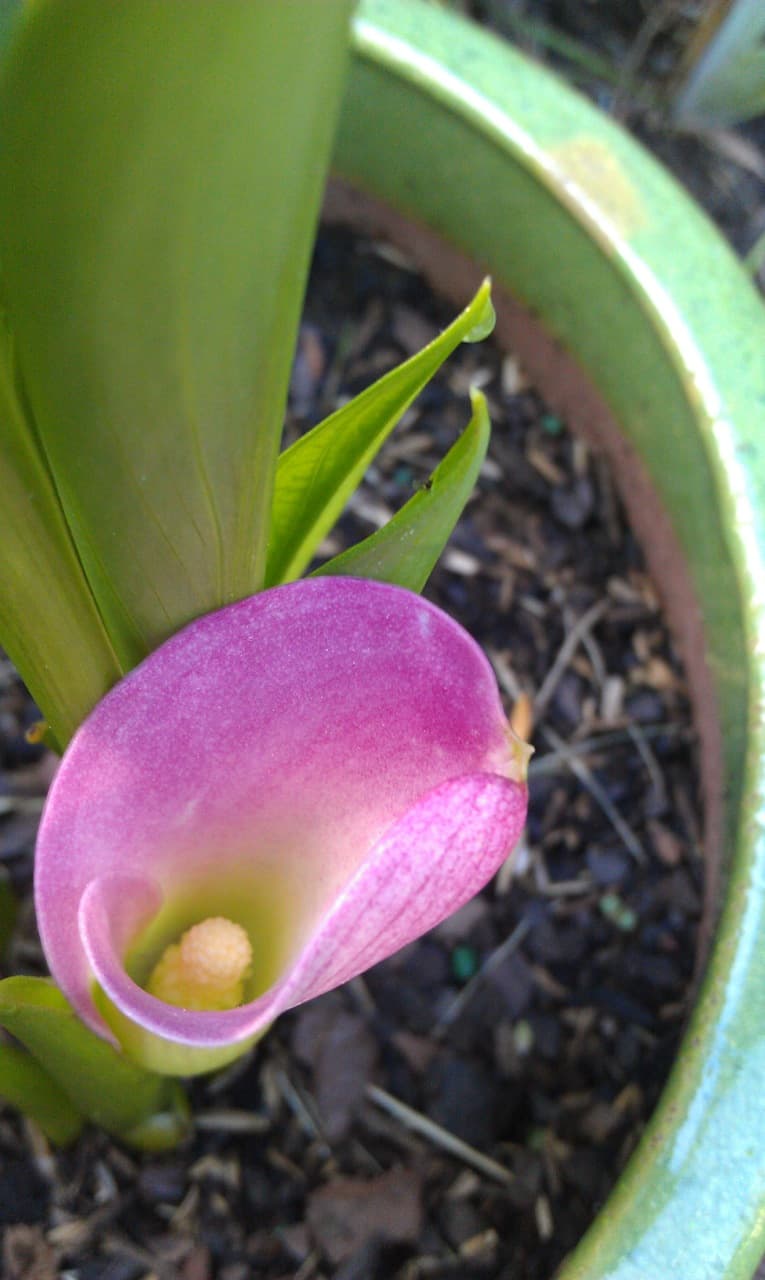 So pretty, right?!
Moving around to the front yard, I take note of my 3 hydrangea bushes. Nana gave me two of them, and my sister-in-law Erin gave me one, and they're so special to me. I've had a lot of hydrangea headaches in my life. Hydrangea headaches. Yes. They exist.
The flowers themselves remind me of Cape Cod - that idyllic spit of land laying along the Atlantic Ocean, where you feel like you're on the edge of the world. Much of my childhood was spent on the Cape, weekends and summers full of beautiful blue hydrangea bushes around every corner.
My own hydrangeas want to turn pink and I try to do everything in my power to keep those suckers blue. I've tried coffee grounds, random granules of "natural additives," soil stirring, and yes, talking to them. In my old age, however, I'm becoming more tolerant of the pink hydrangeas and I'll probably let them be who they want to be. Sigh.
After having hydrangeas as my wedding flower, I was reminded that I should probably prune my own hydrangeas at home. FAIL. They didn't blossom the next year. I was devastated. Matt was annoyed. "So they're just going to be boring green bushes for a year?!" Apparently, you're not supposed to prune my type of hydrangeas at all after August 1 for our climate. That's a hard date, I guess. This year, I didn't make the same mistake and BAM.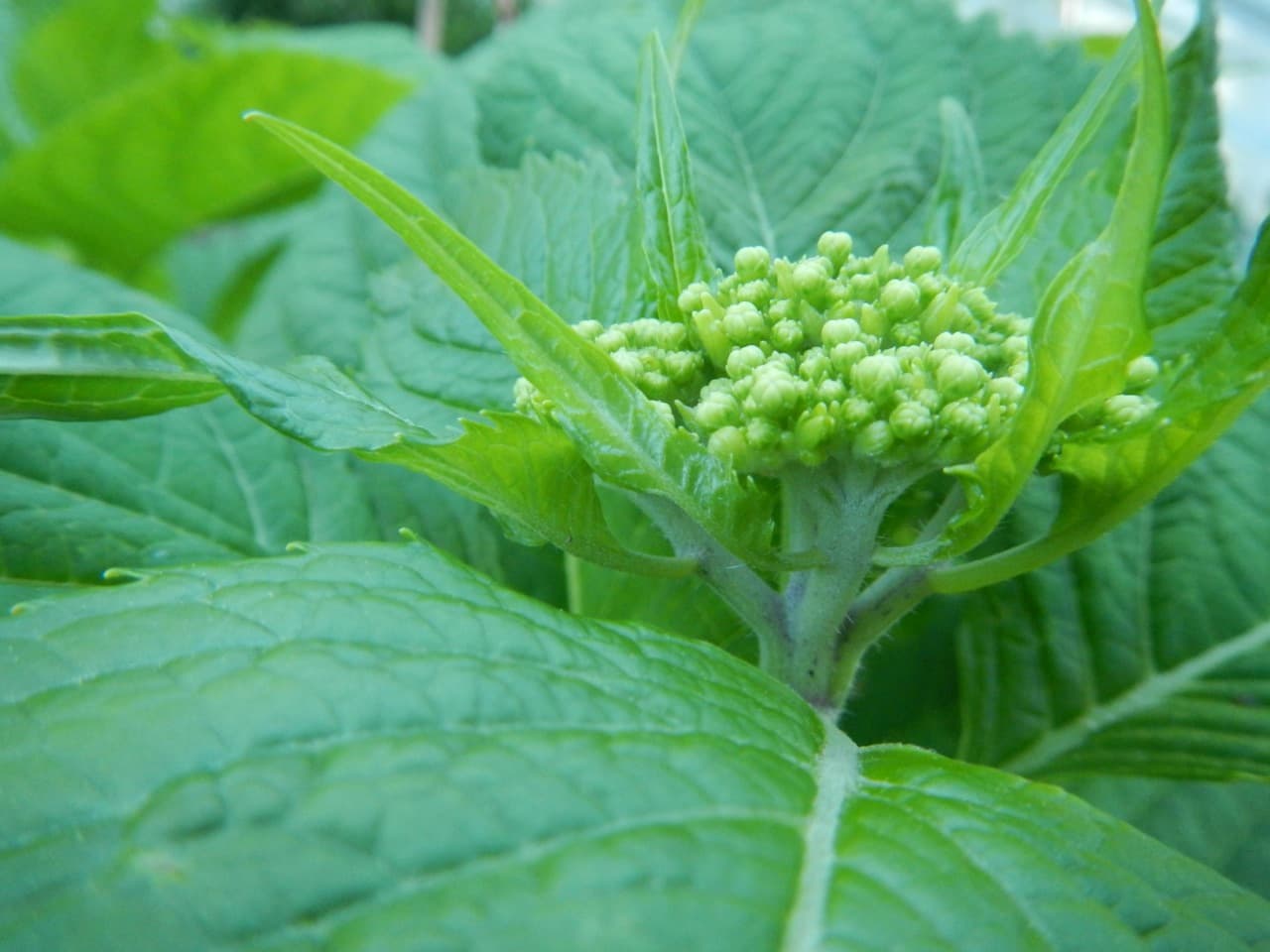 Buds! Score. This crazy plant lady is ridiculously pumped. I don't care if they're blue or pink. I'll love them anyway. I'm so over the hydrangea headache.
Here's my beautiful salvia in the front yard. Salvias are bee and butterfly attractors, and they're an enduring summer bloomer. I'll have buds and flowers well into August on this bad boy, even though it gets tons of sun.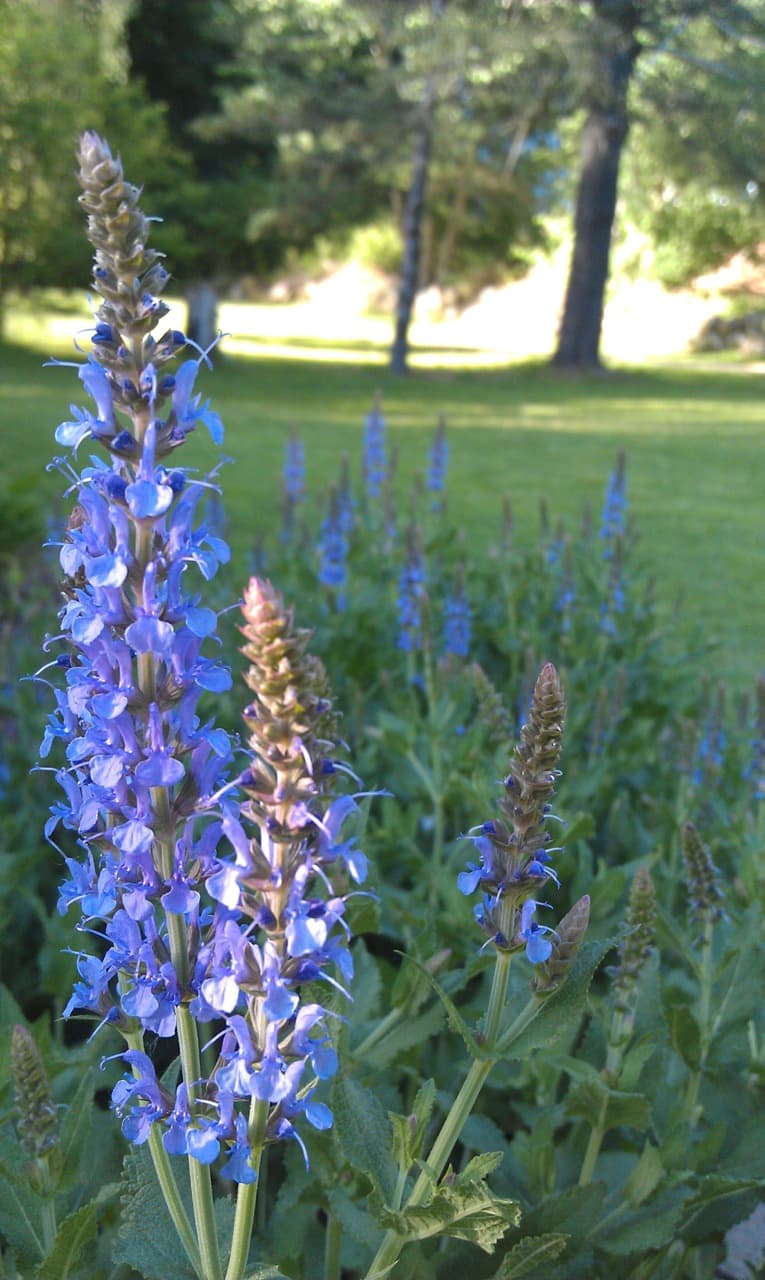 Next to the Salvia sit my giant hosta bushes. I had three in this area. Had being the optimal word. Last night, the deer went to town on one of them. Screw the deer. I'm also over the deer.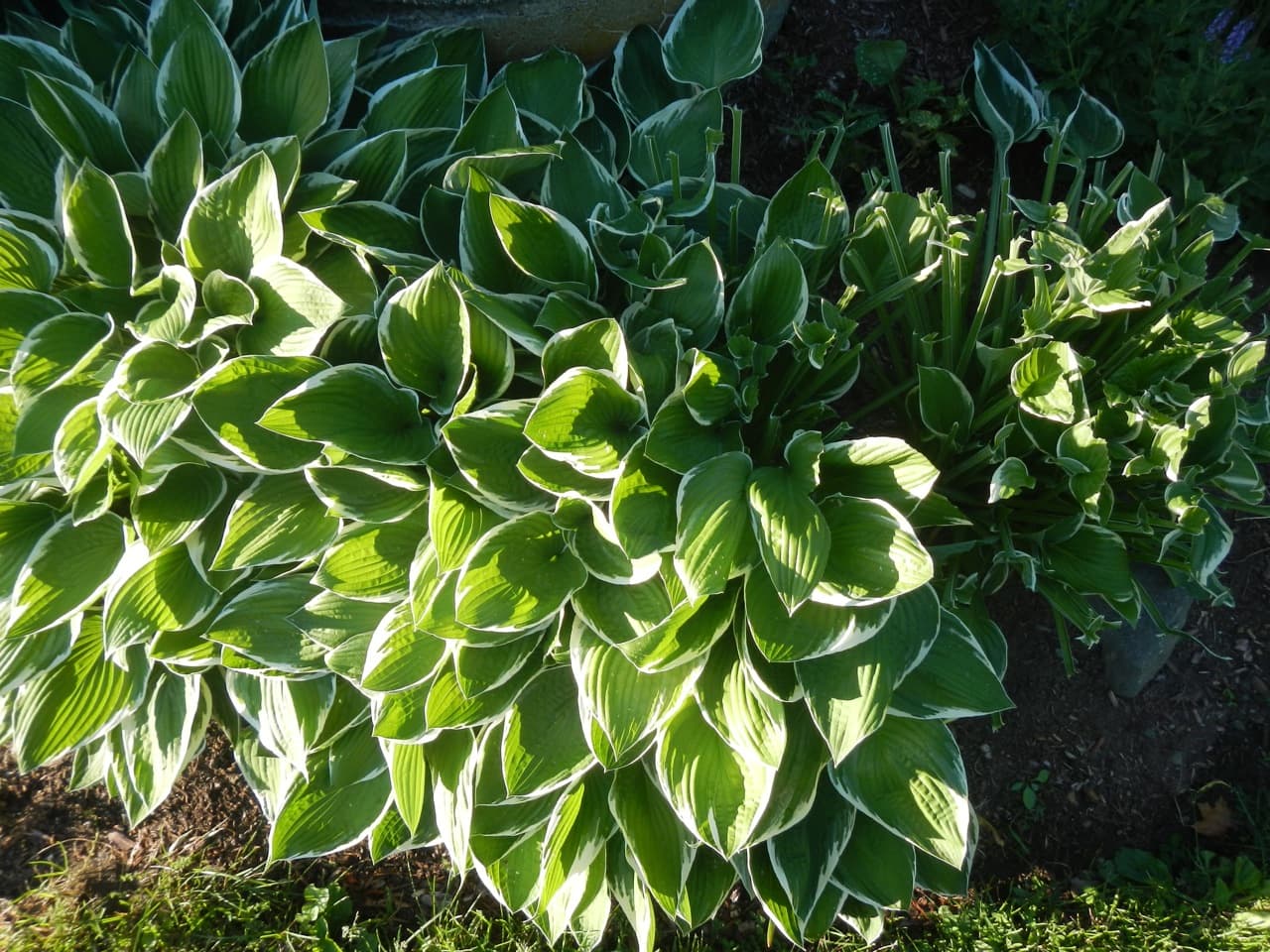 My pansies are still going strong from March!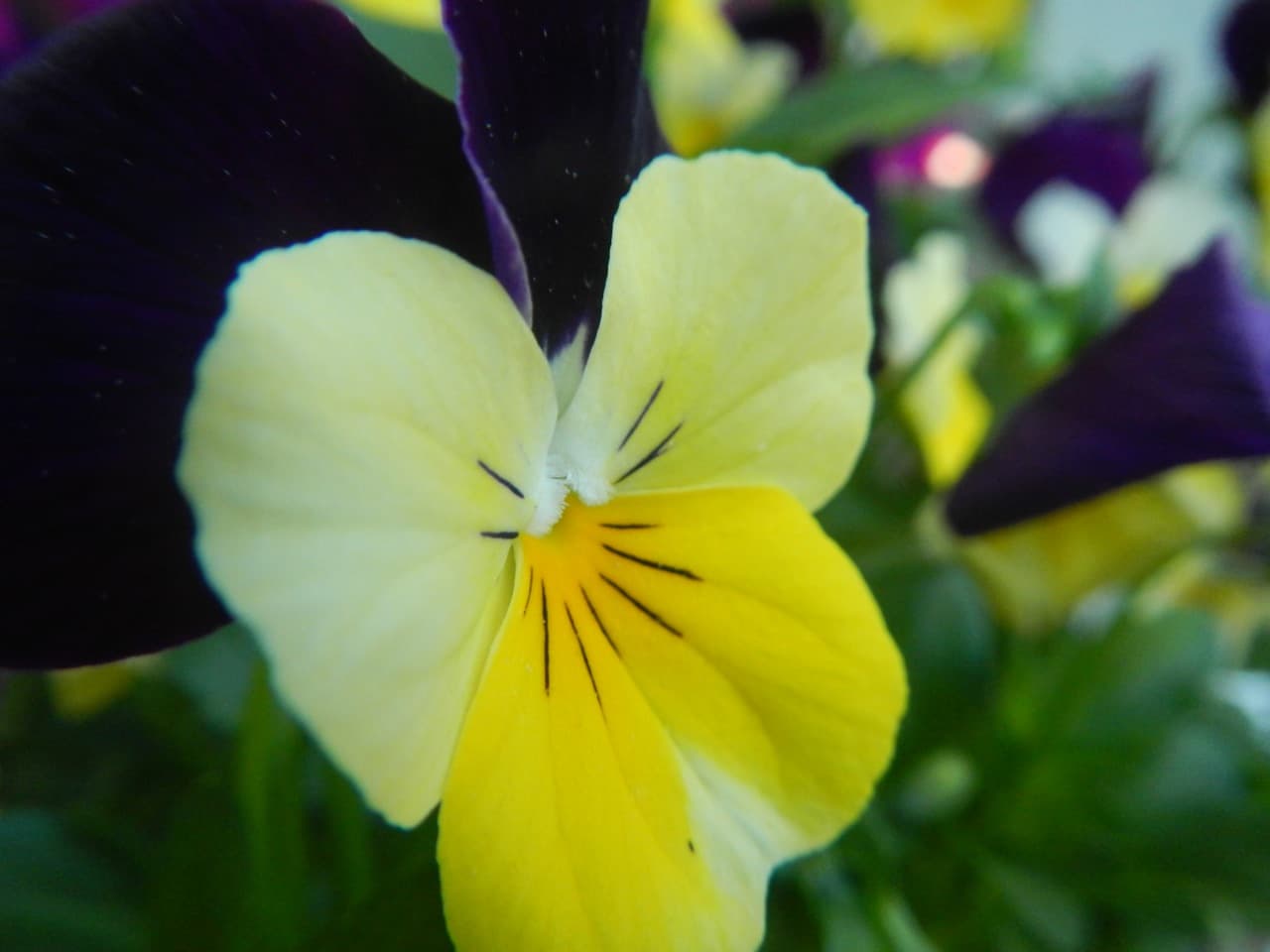 The bush in the backyard that I cannot identify also pops up in the front yard - a white version (the backyard version is pink) with delicate blossoms and yellow-orange veining.
If you know a plant expert, please forward this post onto them. I'm dying to know what this bush is called!
Update: The bush above is a "Beauty Bush." How fitting, right? My mom has a friend that knows plants very well, and he identified it for me. Thanks again, Luis!
With that, I completed my perimeter walk and enjoyed seeing lots of new life around the yard. We'll see how things change over the next few weeks. I'm hoping for some giant cough::blue::cough hydrangea blossoms and some colorful calla lilies.
What's popping up in your neck of the woods? Are your peonies blooming yet? Anyone else get the occasional hydrangea headache like me? Please say yes.