My mom and sisters (yes, they both flew in!) threw me a baby shower this weekend, and I am still taking it all in. In fact, I think I'll be taking it in for quite some time. I'm completely overwhelmed with gratitude. I can't believe the outpouring of support and love that surrounded me (and Matt and baby, too!) I tried to relish each moment at the time, but as it is with most events like this, sometimes the reflection period follows the event itself. My family did such a beautiful job making the shower extra special using smart, simple touches and an intimate setting (at the home of my parents!) to create the perfect day!
I took a few pictures of all of the fun details, and I wanted to share them here to always remember the day!
On a side table near the food display, the invitation to the shower was framed.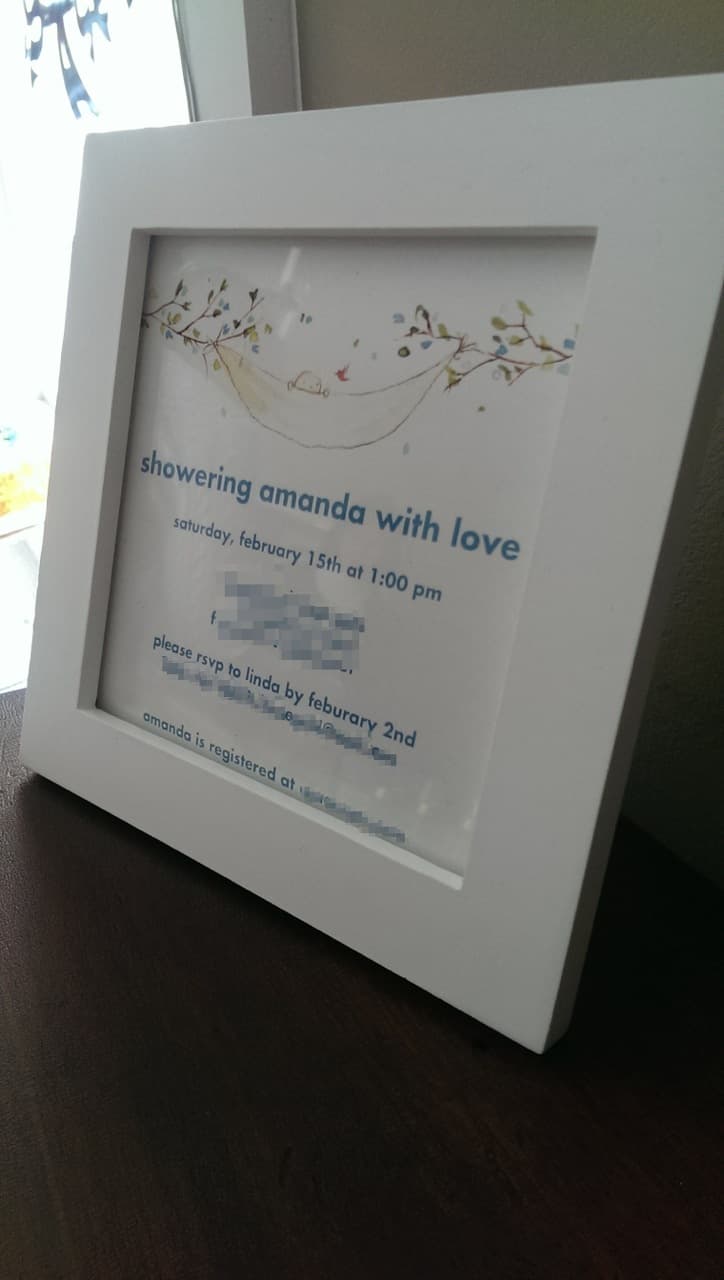 Isn't it a cute invite? I love the little baby boy poking out of the hammock. The food was laid out on the dining room table and everything was scrumptious.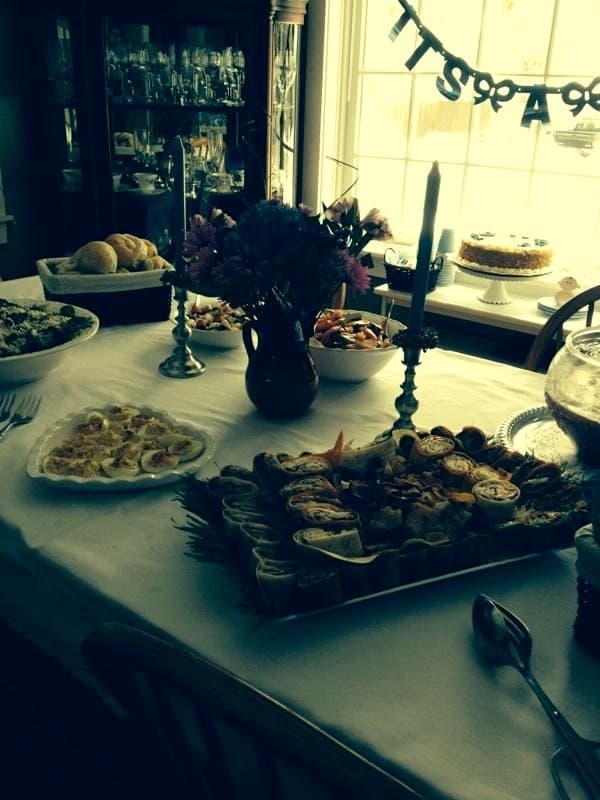 It's a dark picture, but you can make out a few of the selections. My mom chose to serve various wraps, deviled eggs, (my favorite!) a green salad with nuts and cranberries, fresh bakery rolls, tomatoes and mozzarella, and a grilled chicken and tomato salad. There was also an adorable carriage-shaped fruit salad that my mom made herself!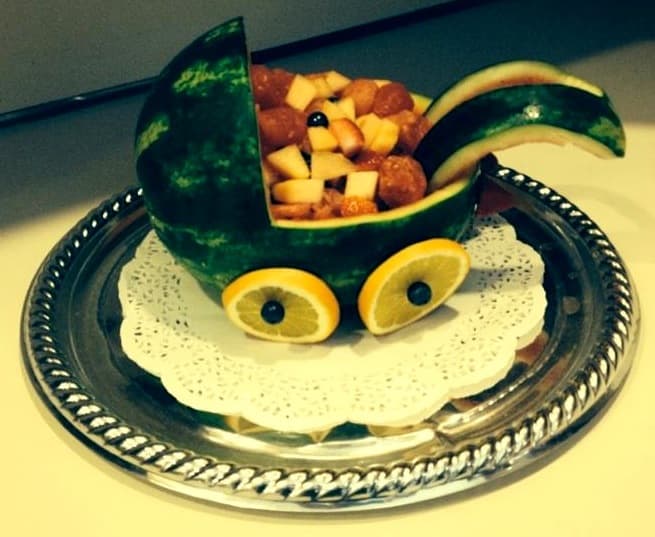 How cute, right? Blue and white napkins enveloped the utensils and charming "Baby Boy" stickers adorned each one.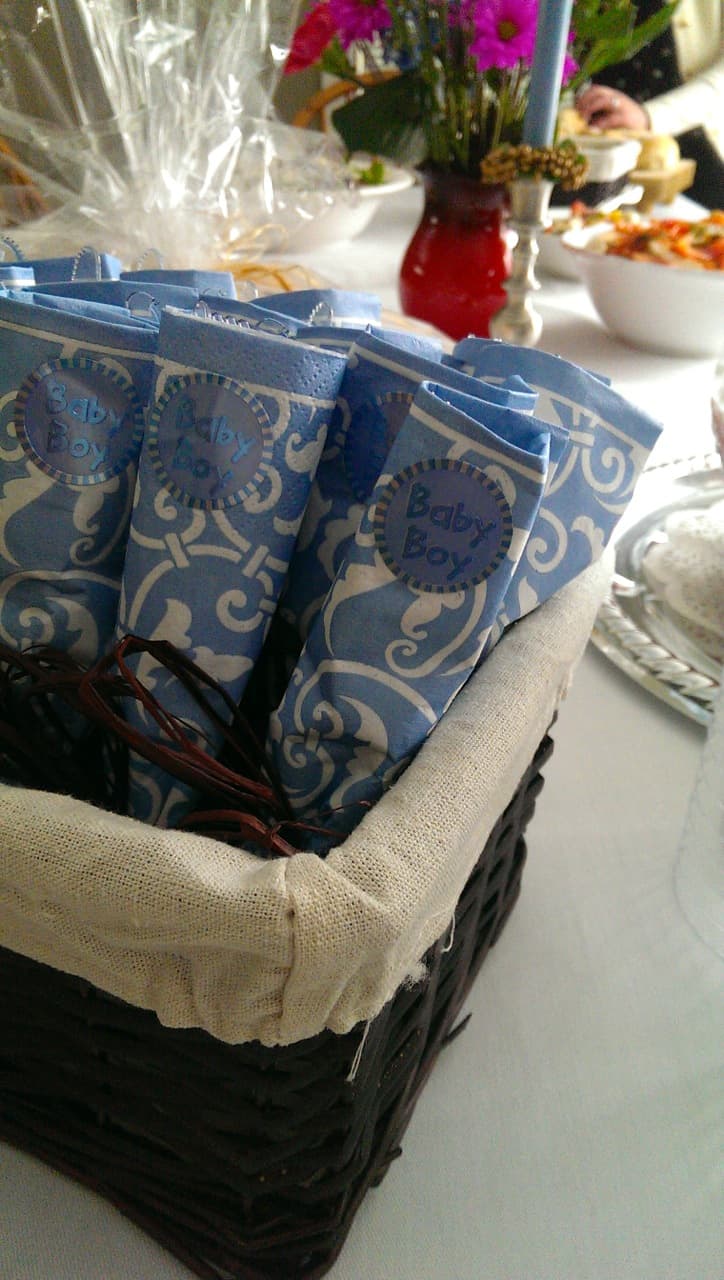 Each napkin-utensil combination was artfully placed in a espresso-colored basket, which my mom picked out for me to take home with me to use in the nursery after the shower! If you squint, you can make out the powder blue candlesticks in the picture above. You may also be able to see the red ceramic pitcher holding fresh flowers as the centerpiece. Mom picked that out to go in the nursery after, too. So thoughtful!
A few minutes before guests arrived, Melissa came around the corner of the kitchen holding an ice cube tray with an unexpected addition.
The creepy baby boys had been frozen in the ice cubes to place in the drinks of guests. The guest whose "water broke" first would get a prize. How hysterical is that?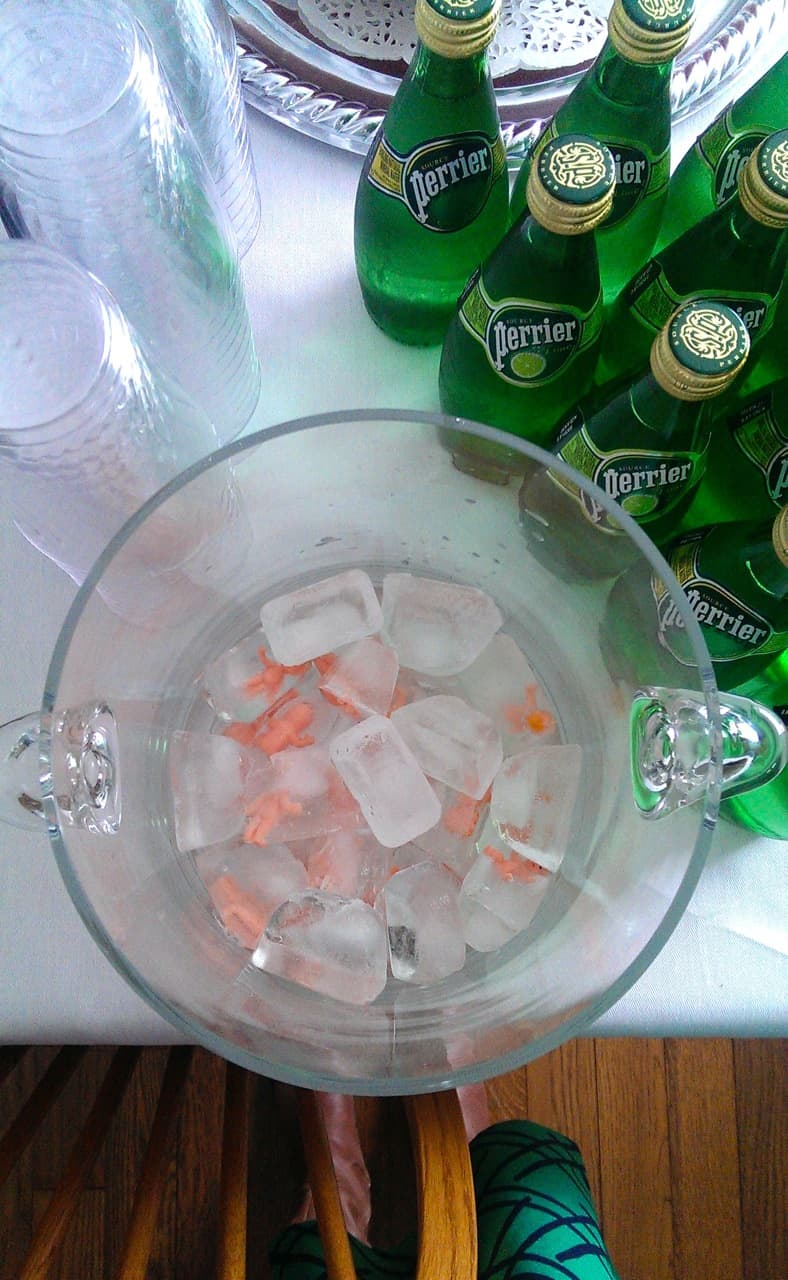 I couldn't get over it. The picture window next to the dining room table was the perfect backdrop for a lovely, delicious carrot cake.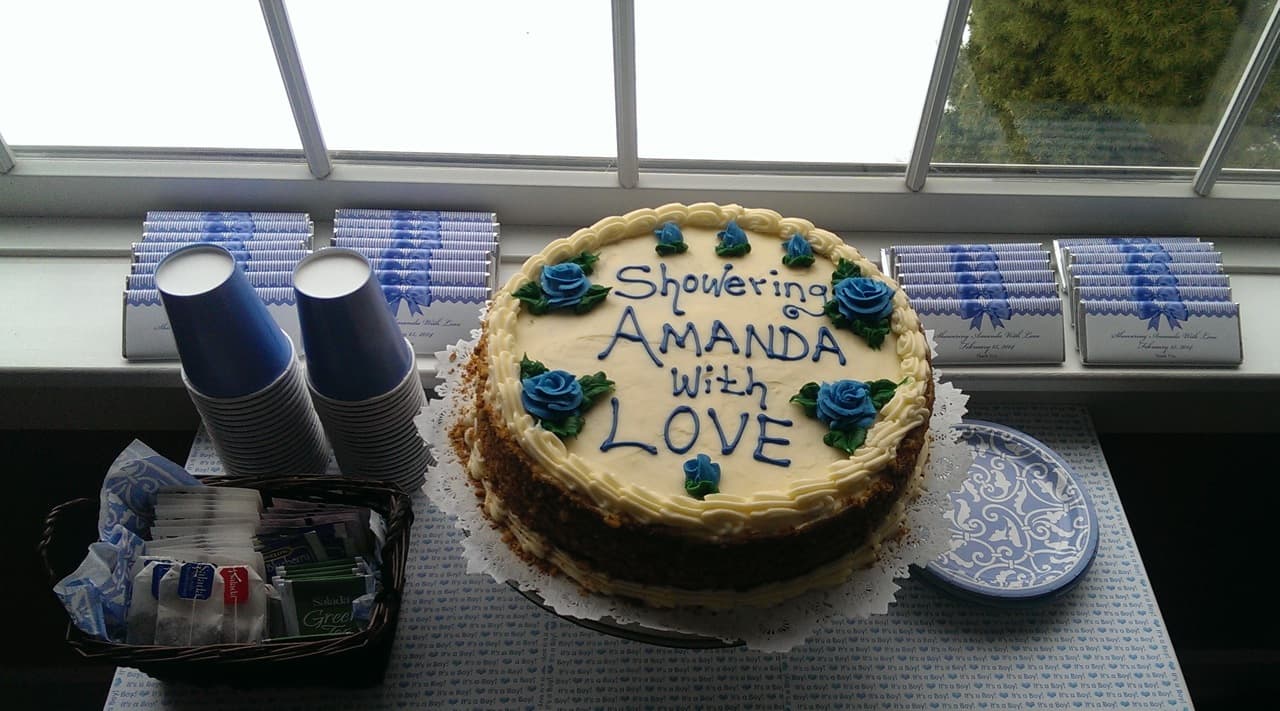 Cardstock reading "It's a boy!" was laid over the top of the bookcase to serve as a festive backdrop for the cake and tea selections. Clever, clever. The personalized candy bar favors were artfully displayed on the sill. Yum!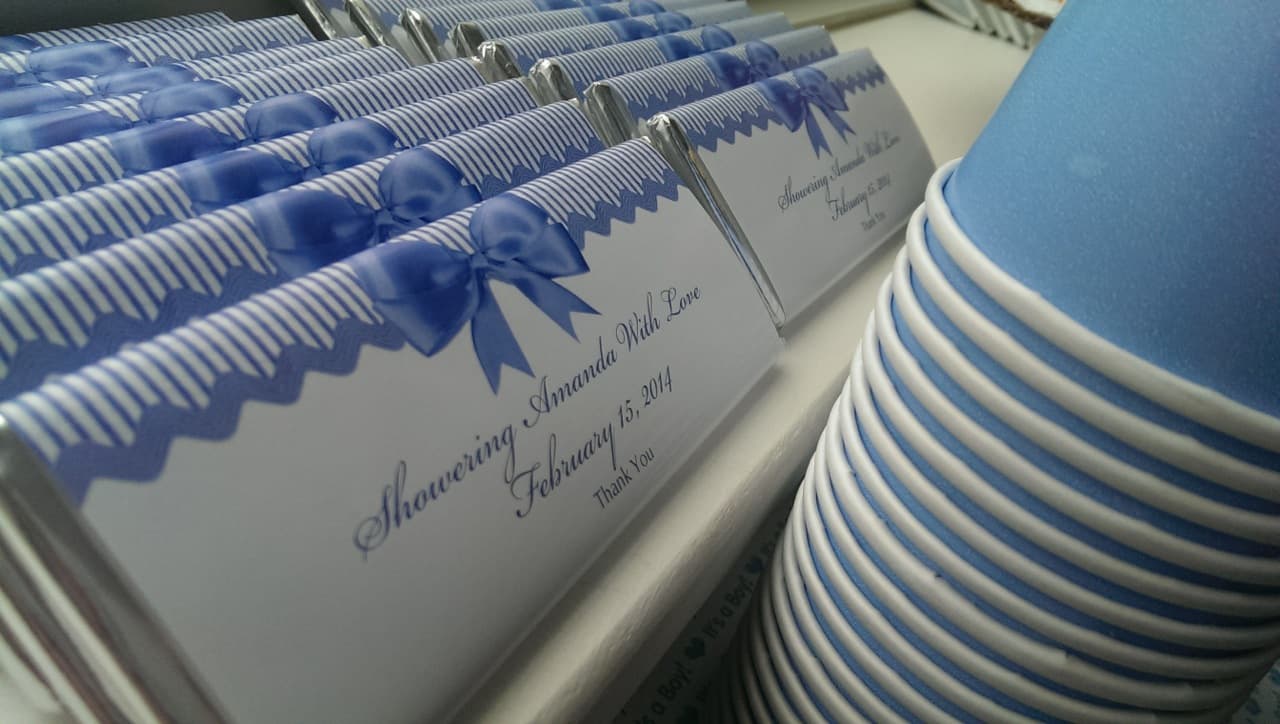 After indulging in the impressive array of food and drink, it was time to open gifts.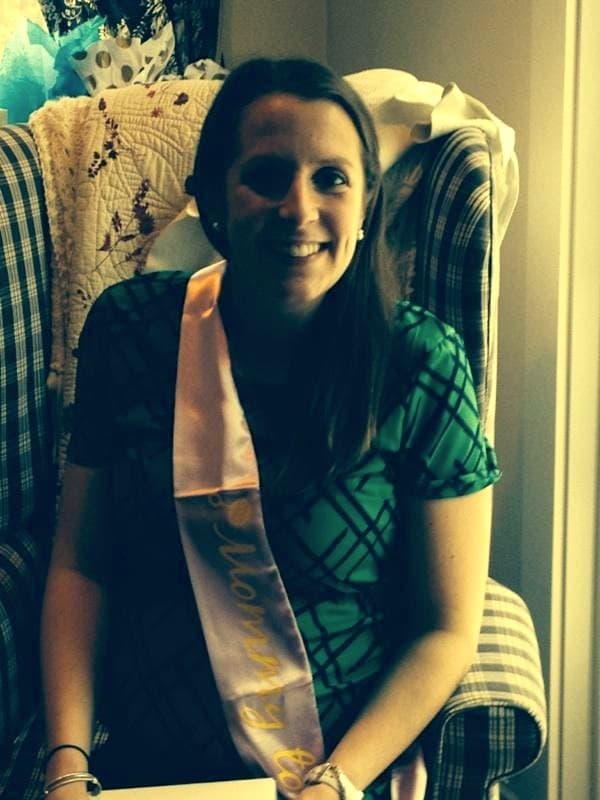 I was rocking a "Mommy-to-Be" sash that I wore proudly as I marveled at the creative and generous gifts that passed over my lap. Everything went fast, but I tried to take it all in. Matt and I were given so many beautiful gifts! Some were picked out from our baby registry and some were handmade. All of the gifts were thoughtful and at the end of the night, we loaded up my car and my mother-in-law's car with a humbling mix of the necessary and the indulgent. I will say this: this baby will be spoooiiiillllled. We are so blessed.
After most of the guests left, we stayed around to visit and decompress for a few hours.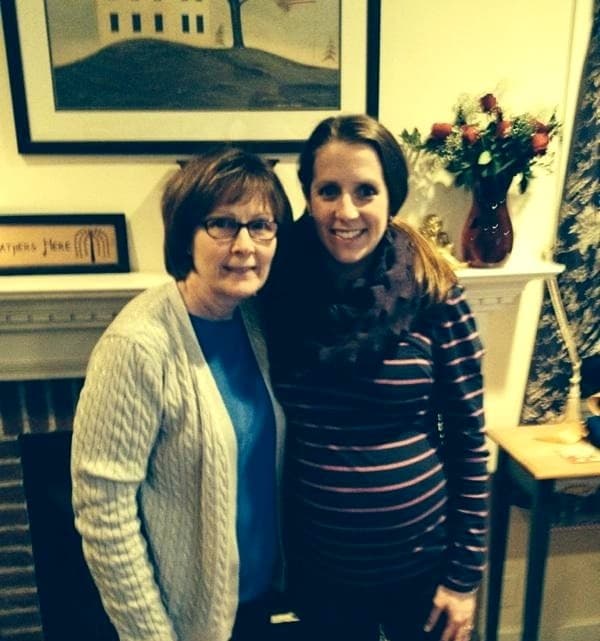 It was a really special day and I'm so lucky to have so many friends and family members give up their weekends for us and this baby!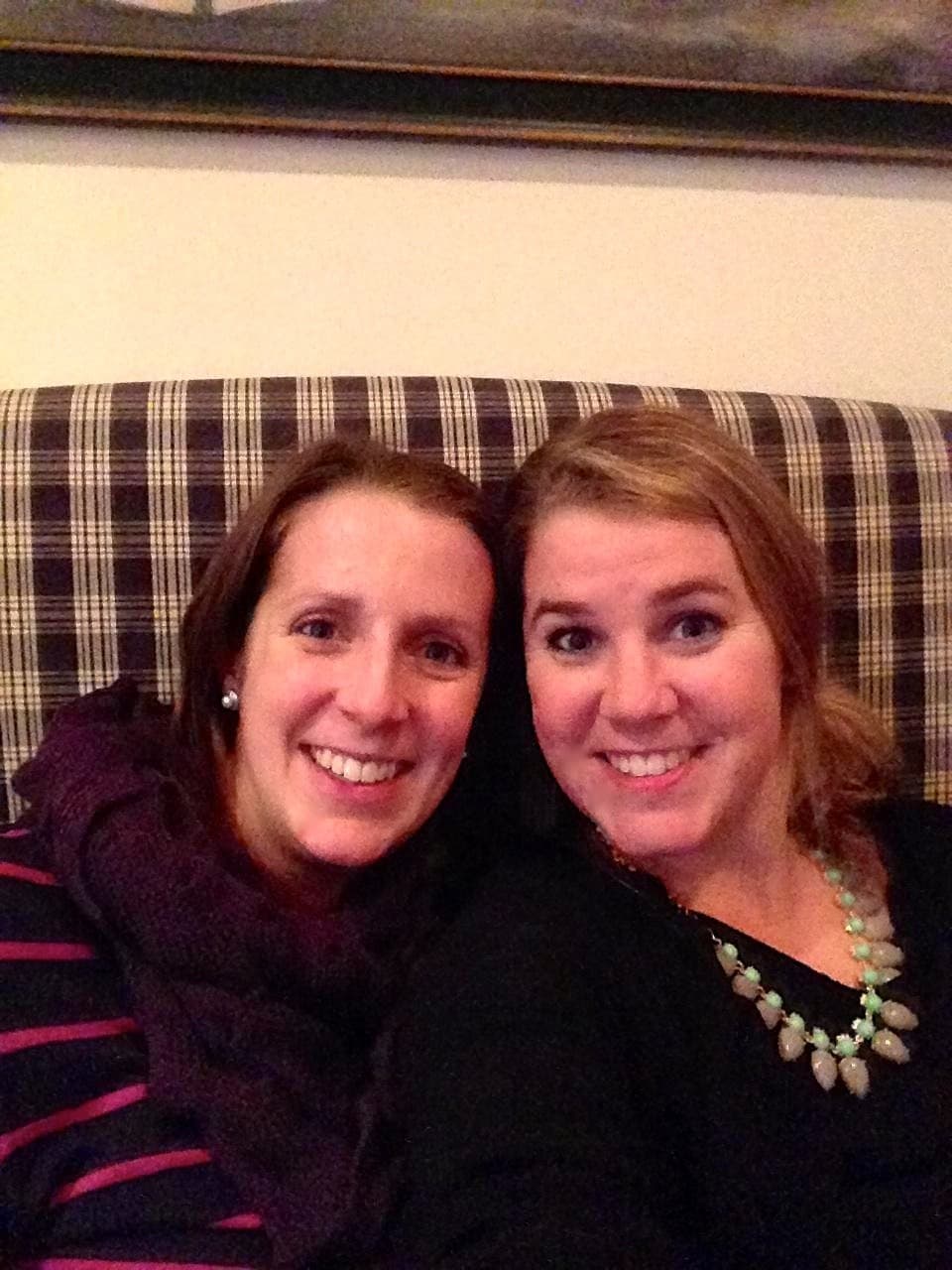 The living room looked like bomb went off when we got back to our house - gifts were everywhere! We woke up on Sunday morning (Matt's 30th!) and went through everything again and started organizing it all.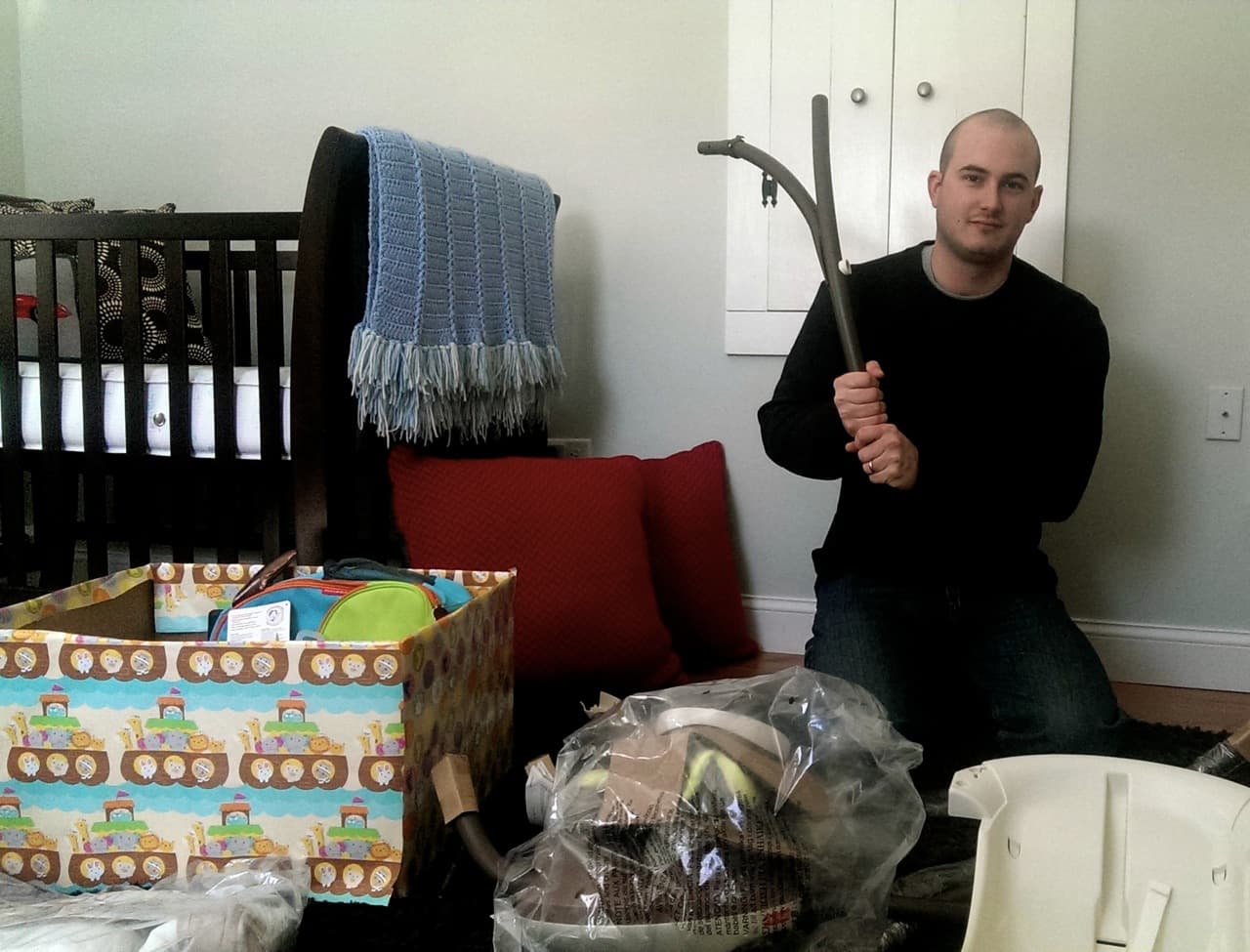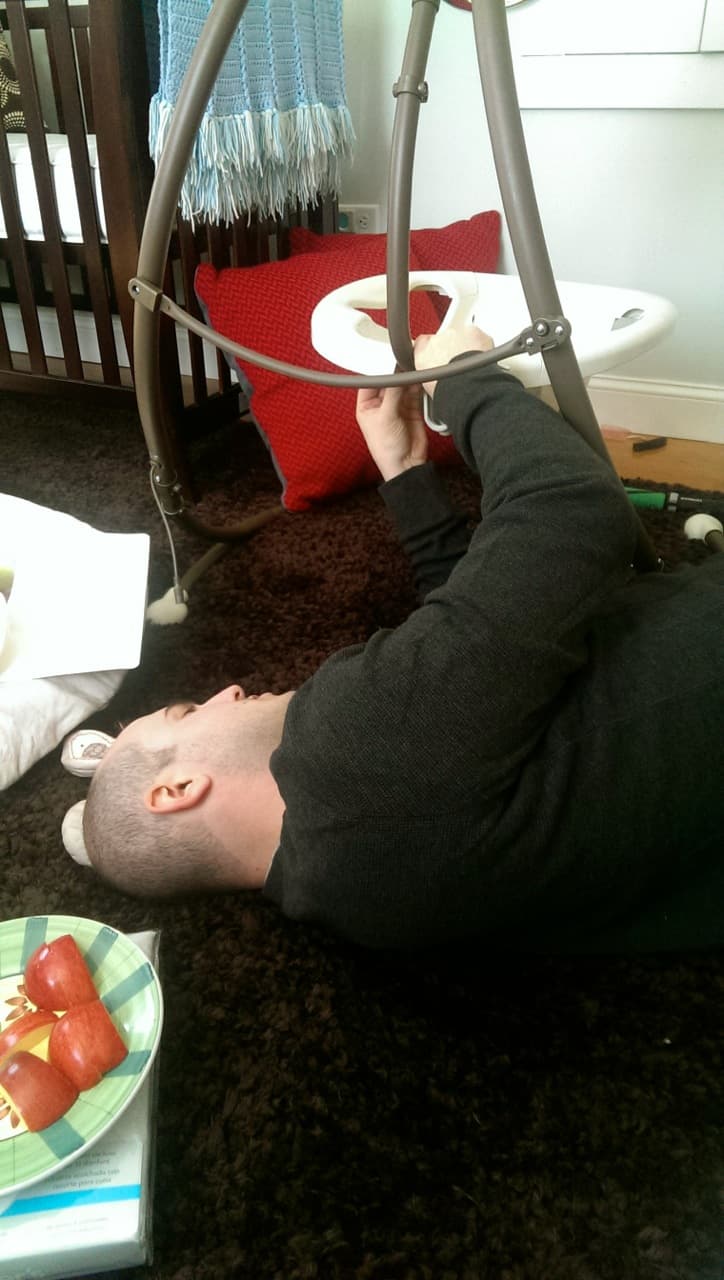 Matt assembled the swing and the bouncer (evidence above!) and I'll be in charge of getting the new linens and outfits washed and put away. I'll also need to figure out where everything will go… It will probably take me all week, but I threw it on the ol' to-do list so we'll see where we end up at the end of the week!