I mentioned a while back that I had picked up a rug for the nursery. Well, technically… Matt picked it up. It was big and heavy and this pregnant chick wasn't about to break her back. It was a Costco bargain (be still my heart!) and it wasn't exactly what I had in mind for the room when I started the rug search.
You see, I had some other rugs in mind that were major contenders. I even bought one before we settled on the brown shag that's currently outfitting the nursery. I also had some in mind that would break the ambitious (and possibly unrealistic) $750 budget I've set out for the space.
The major contenders:
1. Auckland Hand-Woven 100% Wool Rug from Costco: $249.99 for a 5x8', $539.99 for an 8x10'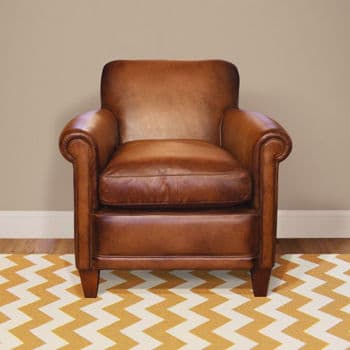 I actually bought this rug. I thought it was the one. I loved the price and I loved the chevron design. I also loved the yellow and white because initially, I had navy and yellow in mind for nursery colors. I bought it in the 5x8' and although I loved how the wood floors gleamed and shined on all four sides, there was too much hardwood exposed. The rug was too small and the wool made the rug just a bit scratchy underfoot. My ideal rug would create a giant play mat if you will: something cozy and comfortable where Matt and I will spend the majority of our time with the baby.
2. Catamaran Stripe Indoor/Outdoor in navy from Dash & Albert: $319.99 for a 6x9'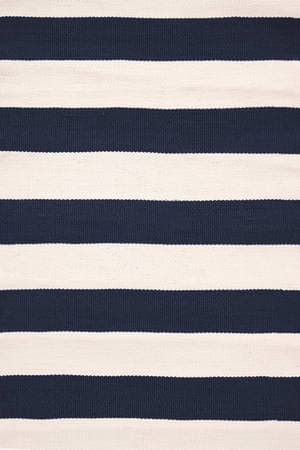 I told you I had navy on the brain. I love how this had a classic feel and I think the large stripes would help to make the space feel larger. I also loved that it was an indoor/outdoor rug, since I have one in the kitchen nook and it's the easiest-to-clean, most low maintenance rug ever. In the end, though, I didn't love that it wouldn't provide that cozy feel while lounging on the floor.
3. Lotsa Polka Dots Rug from Land of Nod: $429 for an 8x10'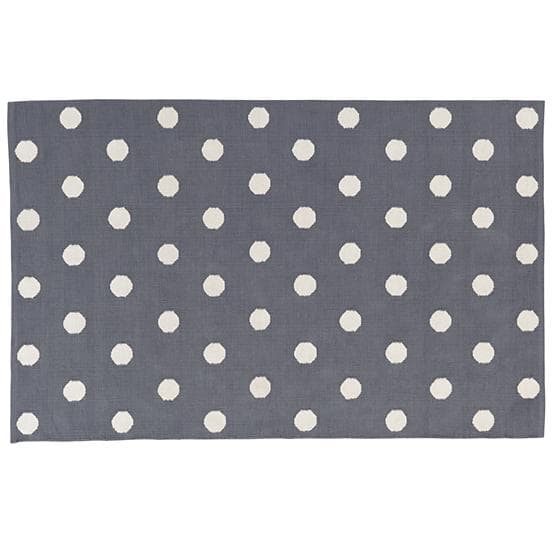 I loved the polka dots. I loved the deep grey. I didn't love having no direction for color accents. "I'll stick with navy and yellow." "What about red? Matt loves red." "Green would be cool, too." I am a woman that likes to fall in love with a rug and decorate around it.
4. Rags to Riches Rug from Land of Nod: $399 for an 8x10'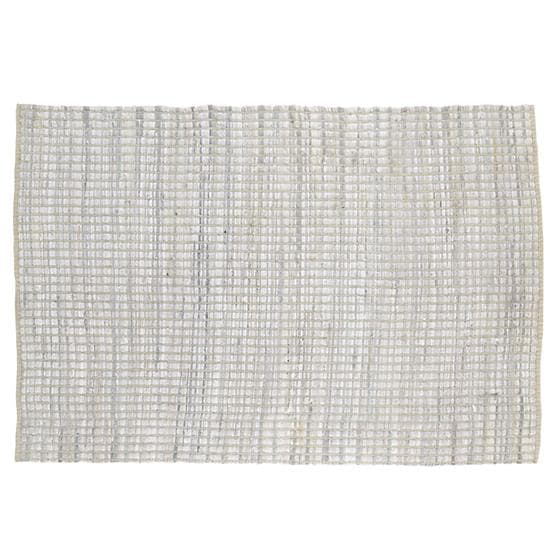 I love this rug because while it is neutral, it has some personality, too. The rug has metallic fibers mixed in to give it a little sparkle. It's amazing. Just maybe not for a little boys room. Yes, in the end, I didn't think a boy's nursery needed "sparkle." But if the next one is a girl…
Here are the would-be contenders if not for their budget-breaking price tags:
1. Azul Hand painted Rug from Serena & Lily: $995 for an 8x10'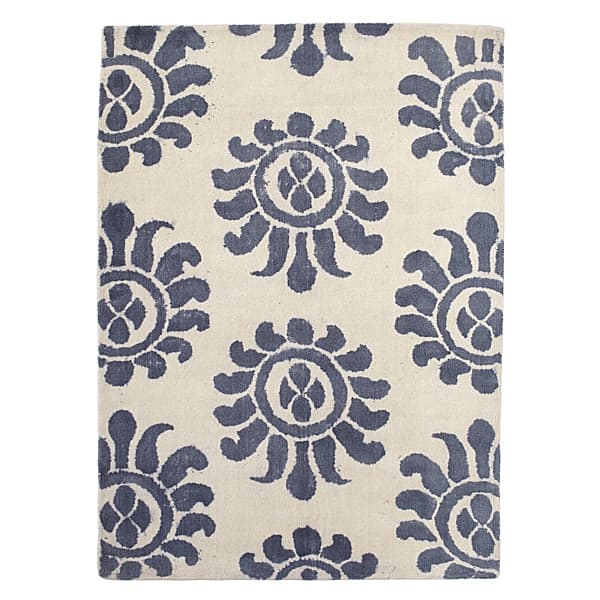 Hand painted? Amazing. So, so so so cool. No two rugs would be exactly the same. Plus, I'm just a sucker for blue & white. I'm not a sucker for a price tag that exceeded my budget for the whole room. Maybe when we re-do the master bedroom I'll revisit this guy for me!
2. Capel Spiral Rectangle Rug from Pottery Barn Kids: $699 for an 8x10'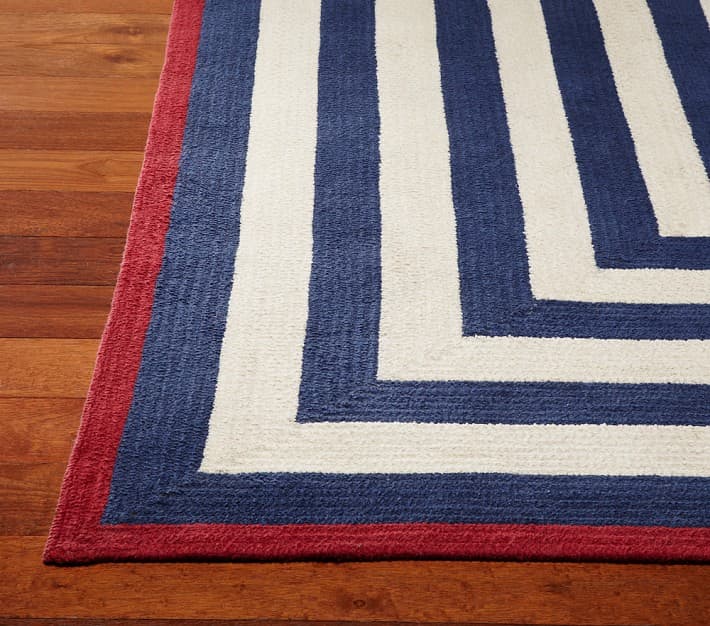 I love the red detail around the edges. This rug is part of the reason that the red, white and blue color scheme started creeping into my brain and ended up sticking around. In the end though, it was a little more than I wanted to spend and I didn't want to tire of the design after a few months.
3. British Bouquet Rug from Caitlin Wilson Textiles: $1,298 for an 8x10'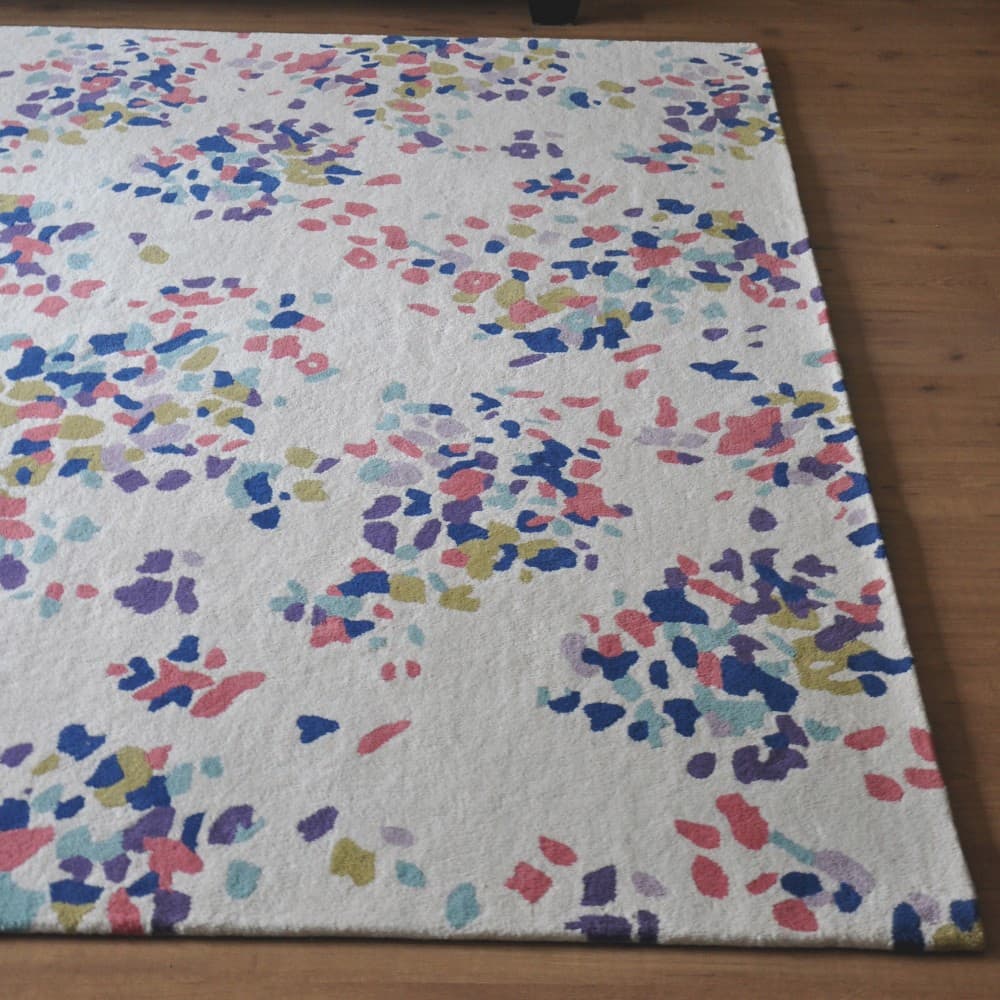 Oh. My. I love this rug. Confession: I just came across it recently, so it wasn't really in the initial search. I just had to include it, though. I found it in this blog post from a Boston-based blogger/designer. It has some pink and purple in it, and "bouquet" is in the name of the rug, so it didn't quite work for a baby boy's room. This could be a contender for a baby girl down the line, though. Simply because even though it's expensive, it could so easily transition from baby room to little girl room to teenager room. Hell, this might go on the master bedroom list, too, since the pink wouldn't be overwhelming for Matt and I'm that obsessed with it. Sigh. Endless color pairing options.
So, those are the rugs that came up in the great nursery rug search. In the end, we ended up with a Costco bargain. Our cozy, chocolate-colored, ridiculously plush shag rug came onto our radar during a typical weekend Costco trip. I had returned the Auckland Costco rug and Matt brought the brown shag to my attention.
"What about brown? All of the trim is white and the paint color is light. Would brown work? I like brown."
I loved that he was in on the search with me and we pounced on it. For $199.97.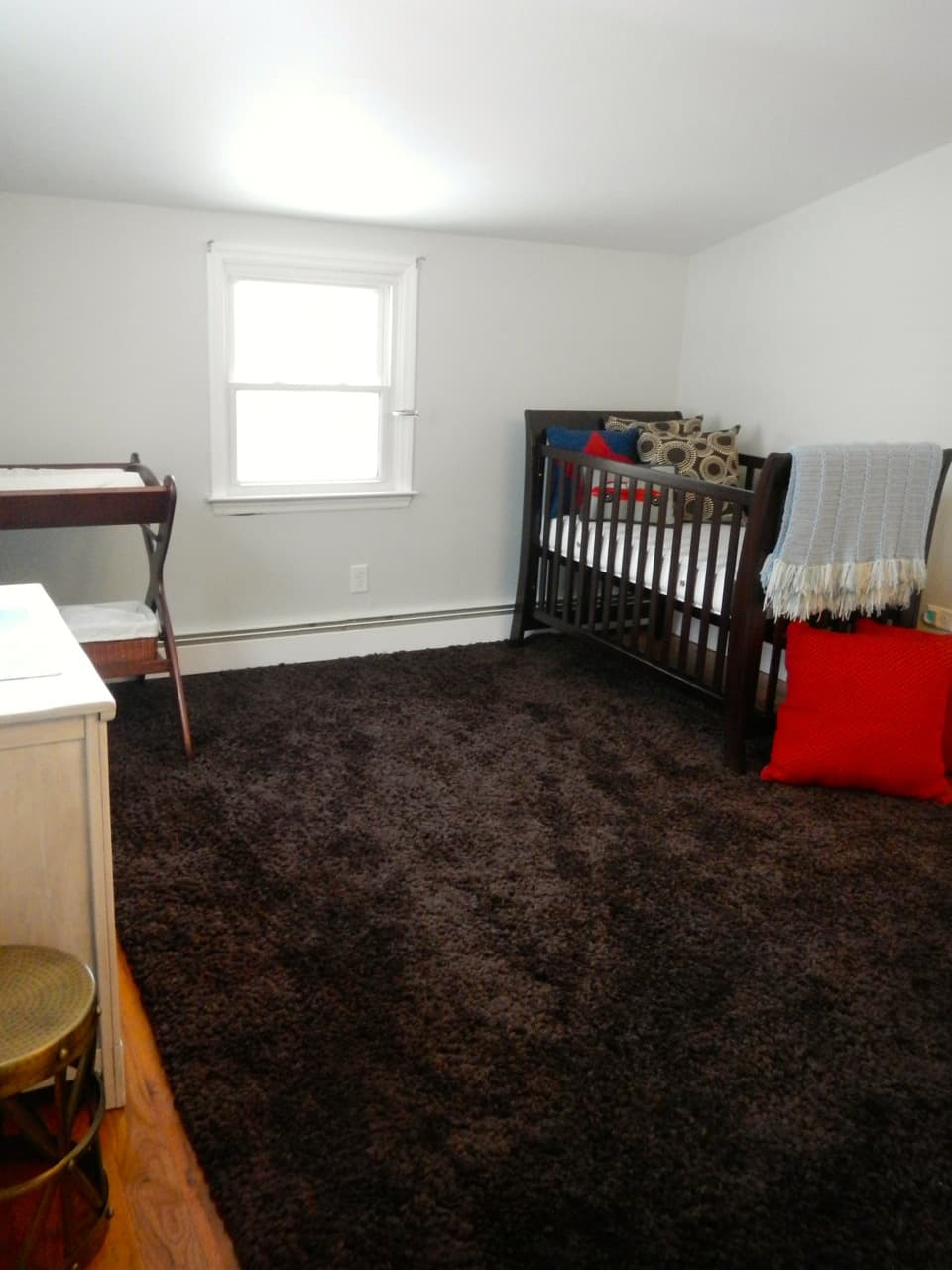 I love it because Matt loves it.
I love it because people come over and say, "I could sleep on this rug. It's the most comfortable rug I've ever stepped on." For real - they say that. Just look how Griff's paws just sink in.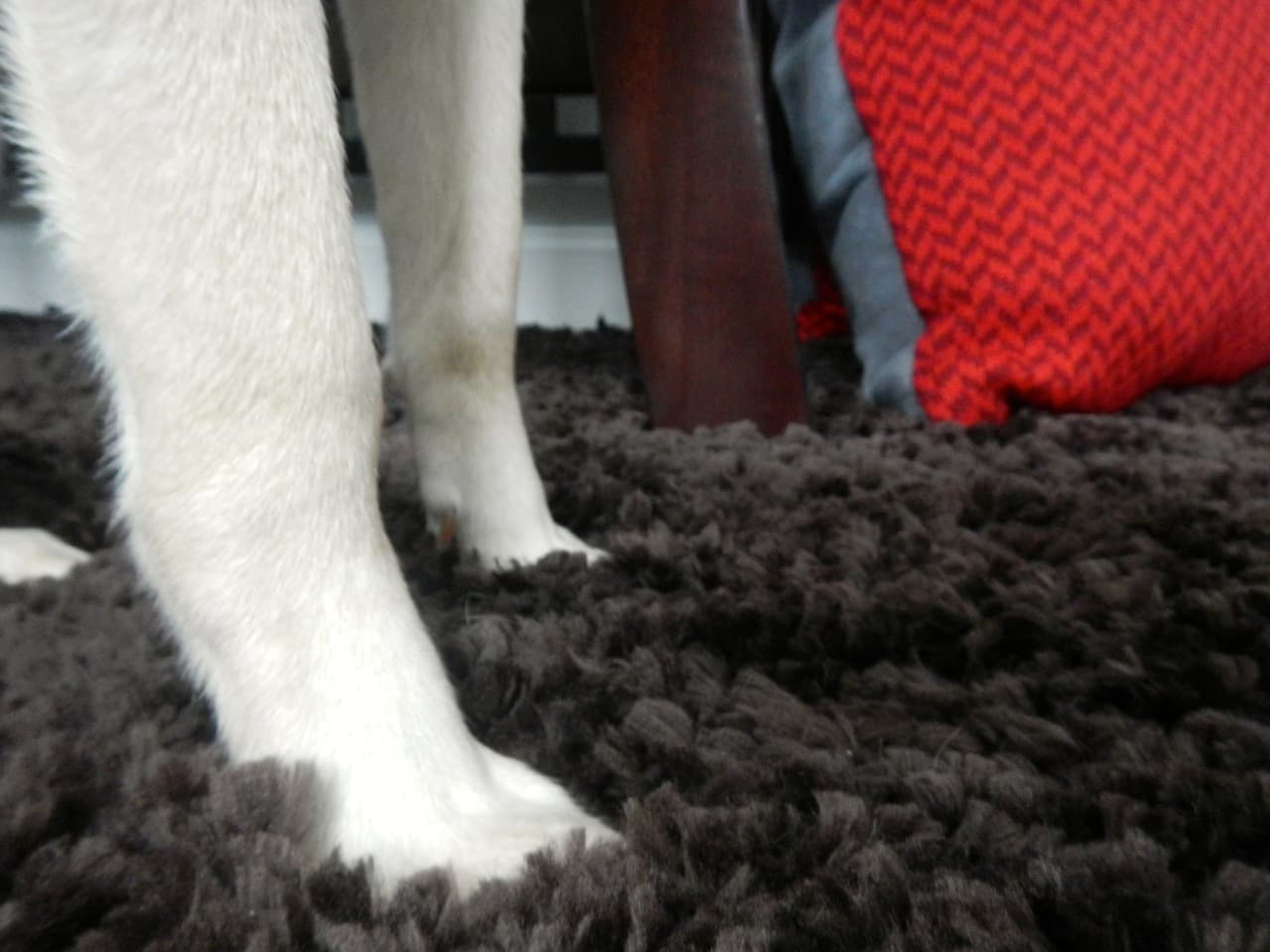 I love it because it was under $200.
I love it because brown is so not a color I would have picked and I like that I can still surprise myself.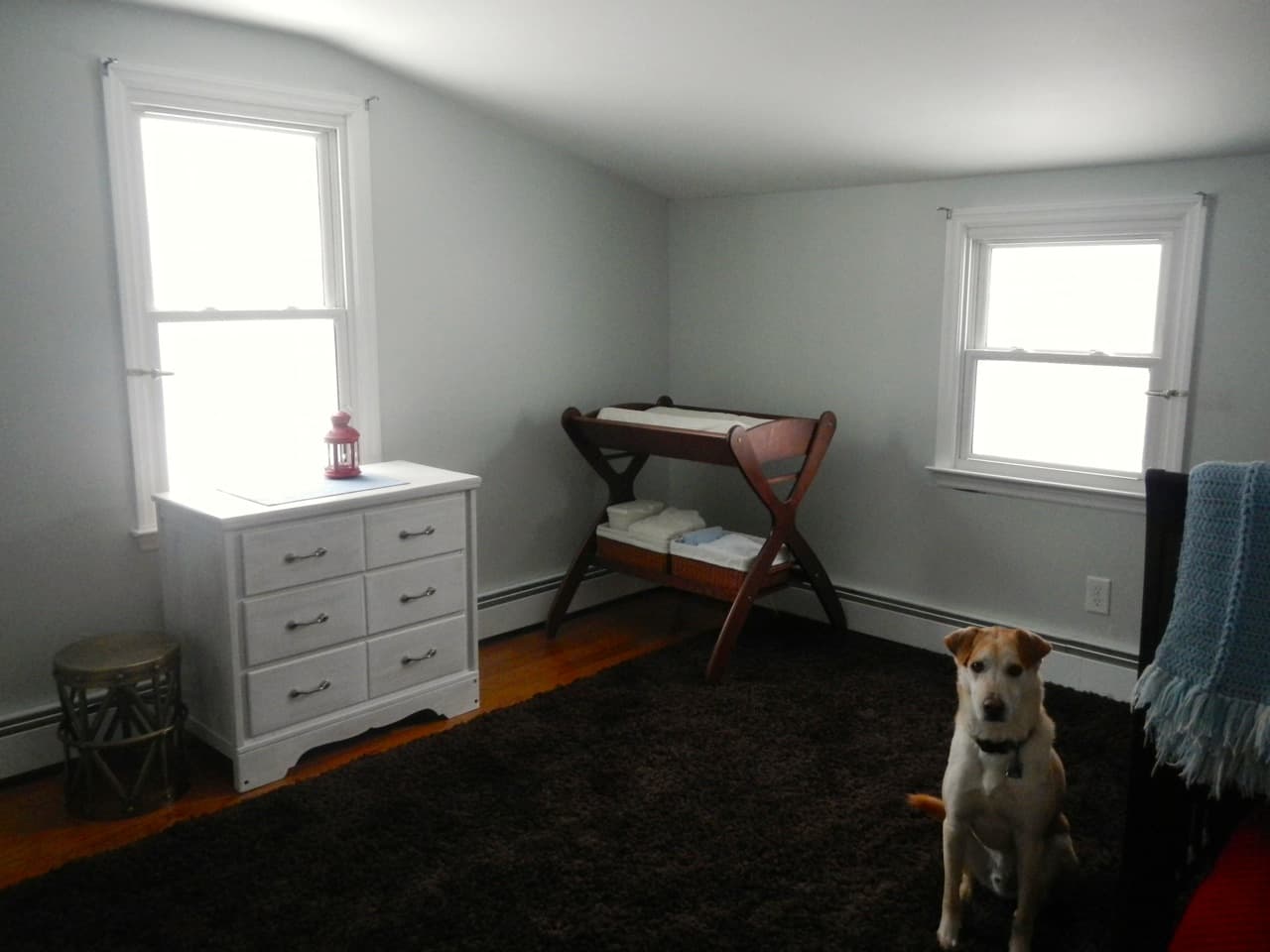 I love it because I could run with my red, white and blue theme without it being cheesy. Ahhh, red, white, brown and blue. That's not too cheesy, right? Perfect.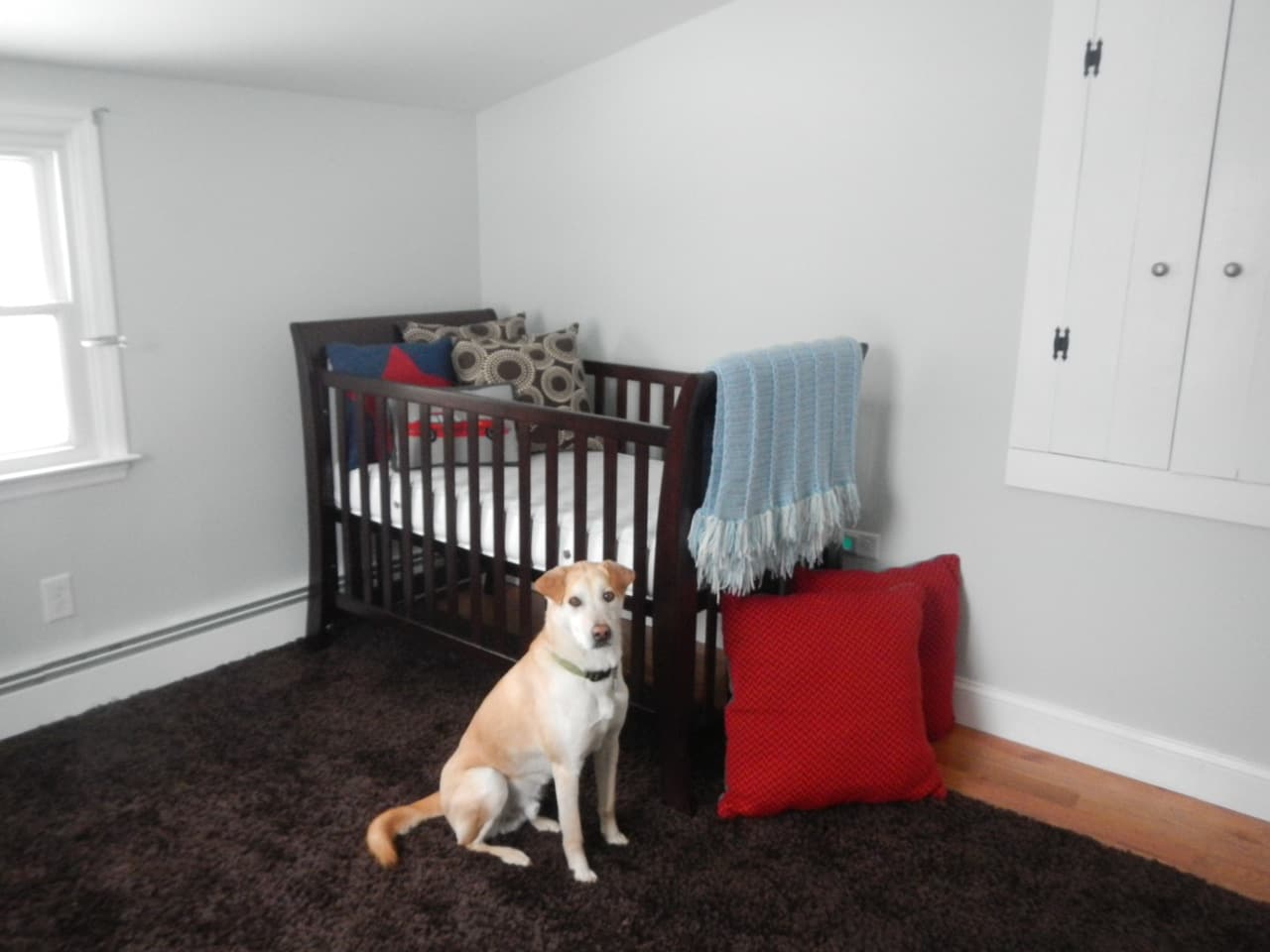 The main, driving reason that I love that this is the rug we bought? Because I imagine all of the fun smiles and giggles that I'll get from my baby boy when we're rolling around on this rug together. Seven weeks to go!
P.S. It's not lost on me that I dropped the word "love" 23 times in this post. I have a rug problem. Or maybe I'm just gearing up for Valentine's Day tomorrow!
P.P.S. (Does anyone still do the P.P.S.?) Hope you're safe if you find yourself in this latest blizzard's path!
P.P.P.S. (Oh well…) Have a great Valentine's Day! We're planning on staying in to cook and keep it low-key as per usual. Hope you have fun whatever you do. Thanks for stopping in!