Seeing as Fall is nearly a month old already, it's probably high time I start decorating for it. I'm not the type of person to go tooooo crazy on any sort of Halloween decoration, but I do love switching up a couple of seasonal items here and there. I can't for the life of me remember where I found this wreath, but I love how vibrant the colors are (it's around 3 years old now) and it really pops from the street, which I love.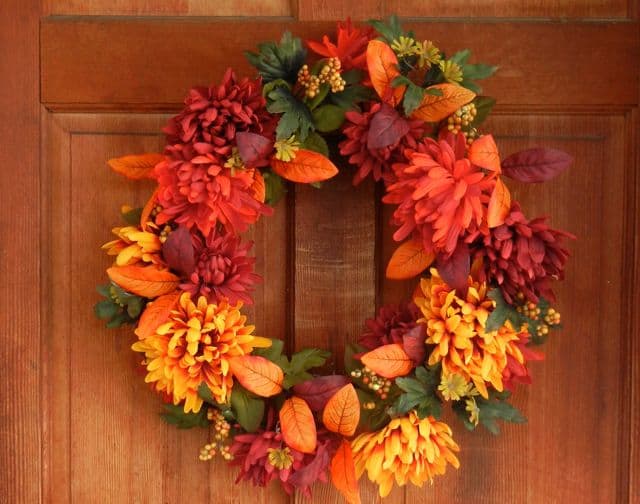 A few years back, when I was still living with my parents, our neighbor had a tag sale and she was sweet enough to let me pick anything I wanted since she knew I was embarking on a new home journey. I grabbed this adorable little scarecrow man. I love the fall colors in his outfit and his face is just precious. The oversized acorn was part of a gift from my mother-in-law when we bought the house and the candle is one of my favorite Yankee Candle scents…Autumn Wreath. It. Is. Amazing.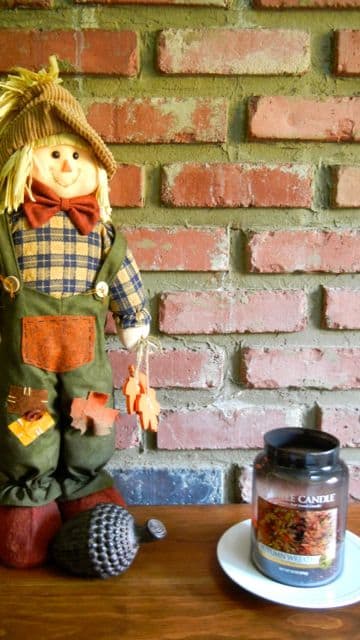 My table setting is really simple because we use our dining table as our everyday table as well. Plus, I'm a simple kind of gal. The table is smack in the middle of the house and right in the open kitchen area, so it sees a ton of traffic and we are constantly dumping all of our junk (mail, laptops, purchases) onto it. I found the table cloth, placemats and funky little autumnal faux flower vase (how would you describe it?!) all at Homegoods last fall. The two constants are my Artesia Tray from Crate and Barrel (they still sell it here) and my pewter candlesticks, which were a present from my Mom for my bridal shower. Those adorable candlestick toppers came from Harvest of Barnstable, which is one of my favorite stores on the Cape, mentioned in my "School House Road Trip: Cape Cod Edition" post found here. The toppers make a big impact for $5 bucks each, no?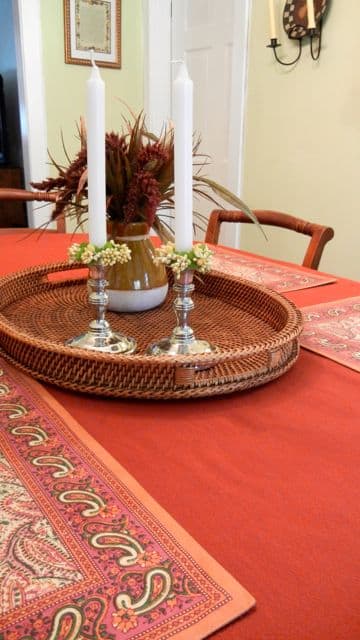 Outside, I have a few mums that are really quite vibrant. They're so robust that I've been cutting off a few stems each week for fresh flowers on the kitchen sink without the whole plant looking chopped down. They're a bit past their prime now, but they'll be back next year. :) A local grocery store (and the world's largest dairy store) that's close by sells pumpkins, and I grabbed 12 for $10 to get in the Halloween spirit a little bit.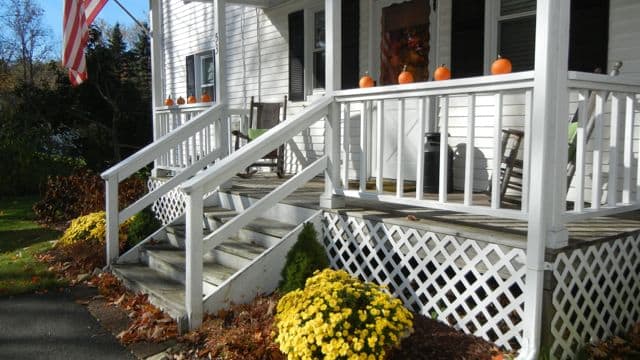 Time will tell if we get around to carving a pumpkin this year. Our house is set back from a pretty busy road, with houses that are little spread out, so it's a little disheartening to go through all that work for no trick-or-treaters. Seriously, we don't get any. It stinks. On the wish list for our next house (among the other 50 items) is a neighborhood where kids trick-or-treat in swarms.
Are you going to carve a pumpkin this year? Are your carving designs elementary like mine or are you secretly a master pumpkin whittler? What about decorations… do you guys go all out for your trick-or-treaters? Please don't tell me get get a ton, I'll be too envious.