This is my first post this week because yes, I missed another Sunday Cookin' post. Oops. Maybe I should aim for every other Sunday instead of every Sunday. I did, in fact, cook. I just didn't take pictures and blog about it. Actually, I took one picture, since I thought the table looked festive and pretty.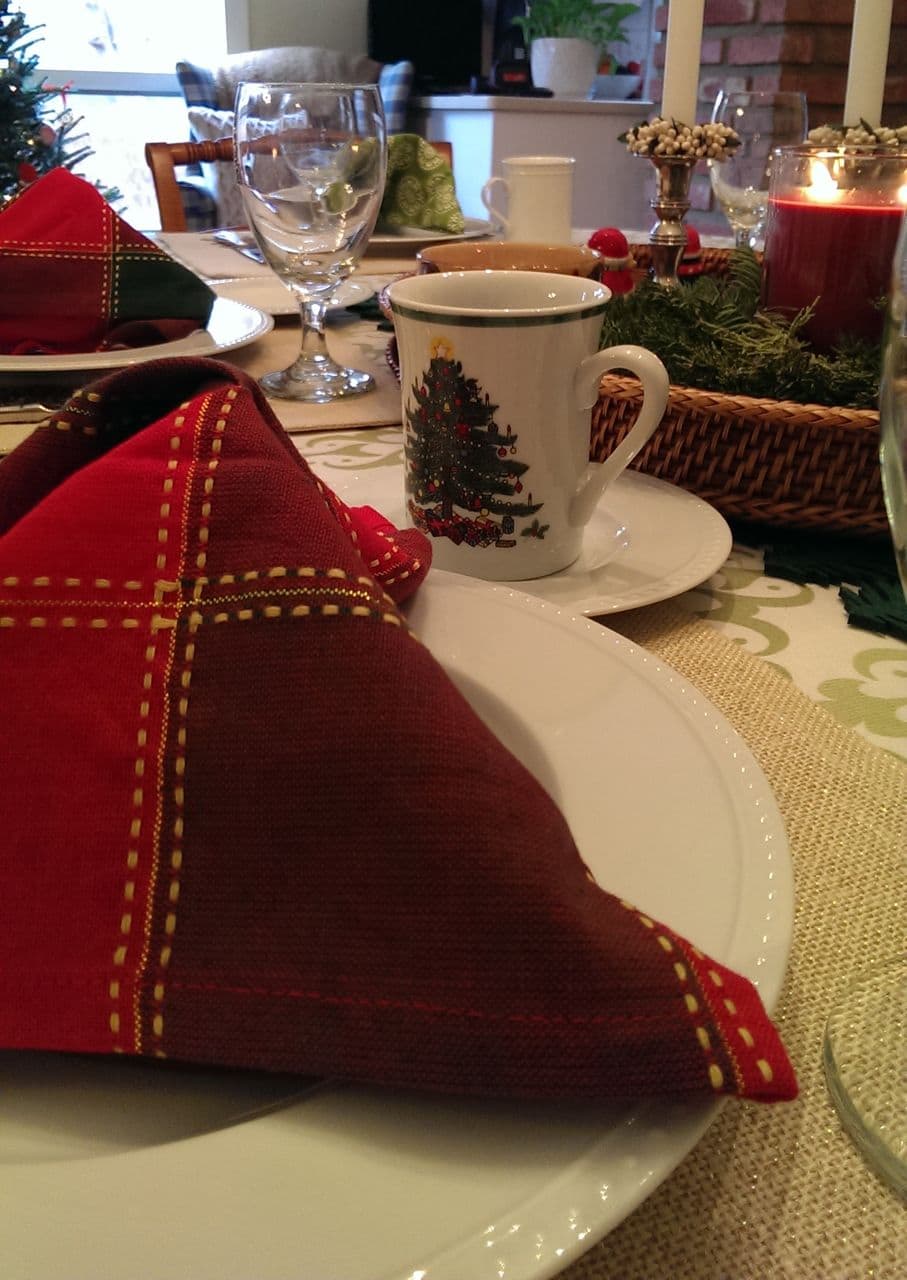 Matt and I hosted a small brunch for his mother's birthday and we served (among a few store bought things…) eggs, pancakes, bacon and fruit. Since I'm sure you all know how to cook eggs, pancakes, bacon and fruit, I decided to skip the post this week. I'm open to suggestions for next Sunday. I think we're getting more snow so I'll be holed up around here making something!
Now, on to the mirror & wreath…
Our living room has a mirror hanging over the loveseat. It's on the left side in the picture below.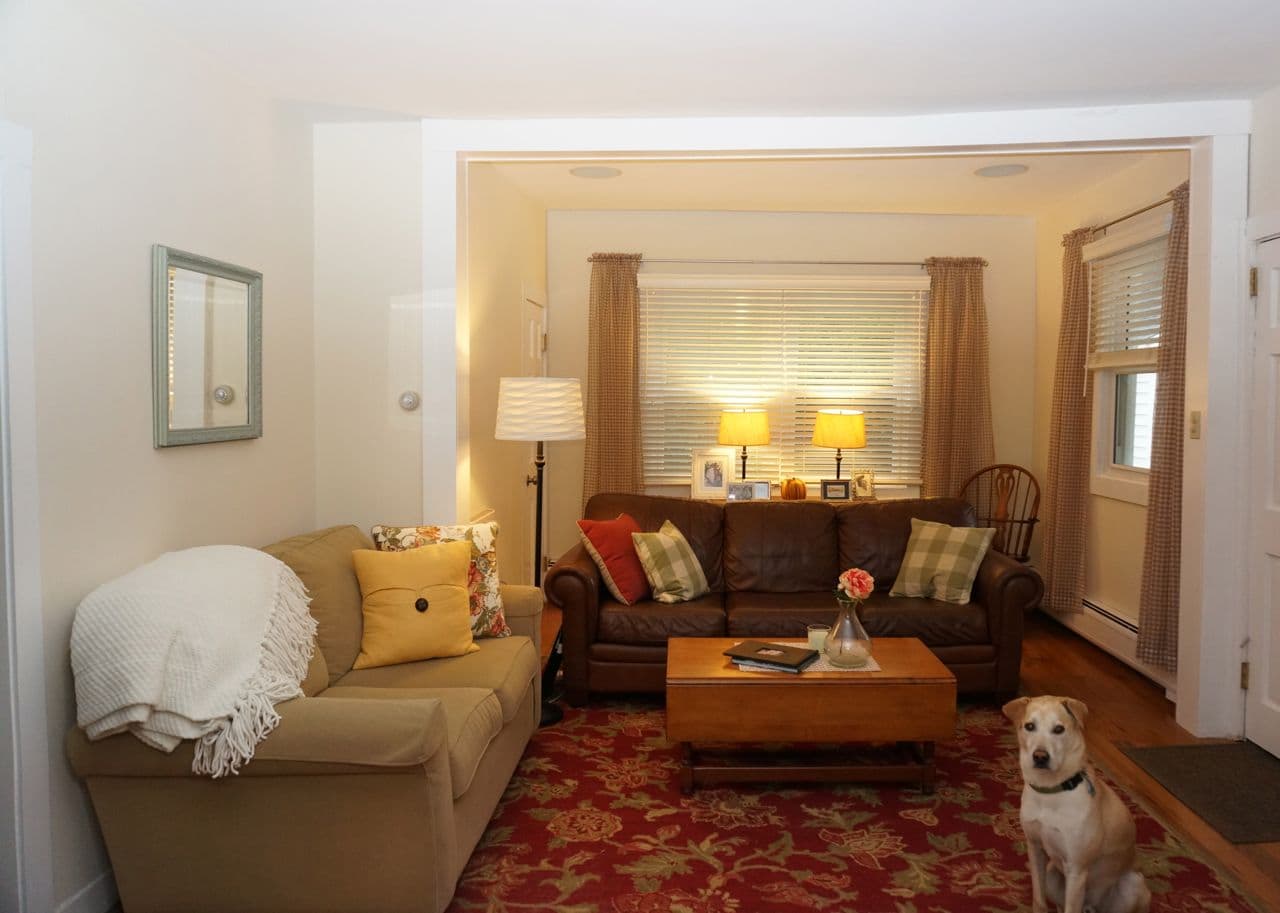 The living room has been slowly taking a coordinated turn for the… better? Worse? It's up for debate. Either way, it seems that most of the pillows and accessories in this room pull from the colors in the rug: deep reds, golden yellows, sage greens…
The light turquoise mirror color wasn't cutting it anymore. So, new paint for the mirror has been on my to-do list for a few months. You may be thinking that I could have found different art, or a different mirror, but we have plaster walls in this room, and the two holes in the plaster wall (which were a pain in the ass to drill) are perfectly positioned for_ this mirror_. Plus, I like how the square shape complements the square-ish shape of the wall above the loveseat.
The original paint job had a bit of a textured, antique finish so I didn't need to rough up the mirror that much to prep. I brought it outside and laid it out on saw horses on a sunny afternoon. Apparently, my afternoon reading material got in there, too.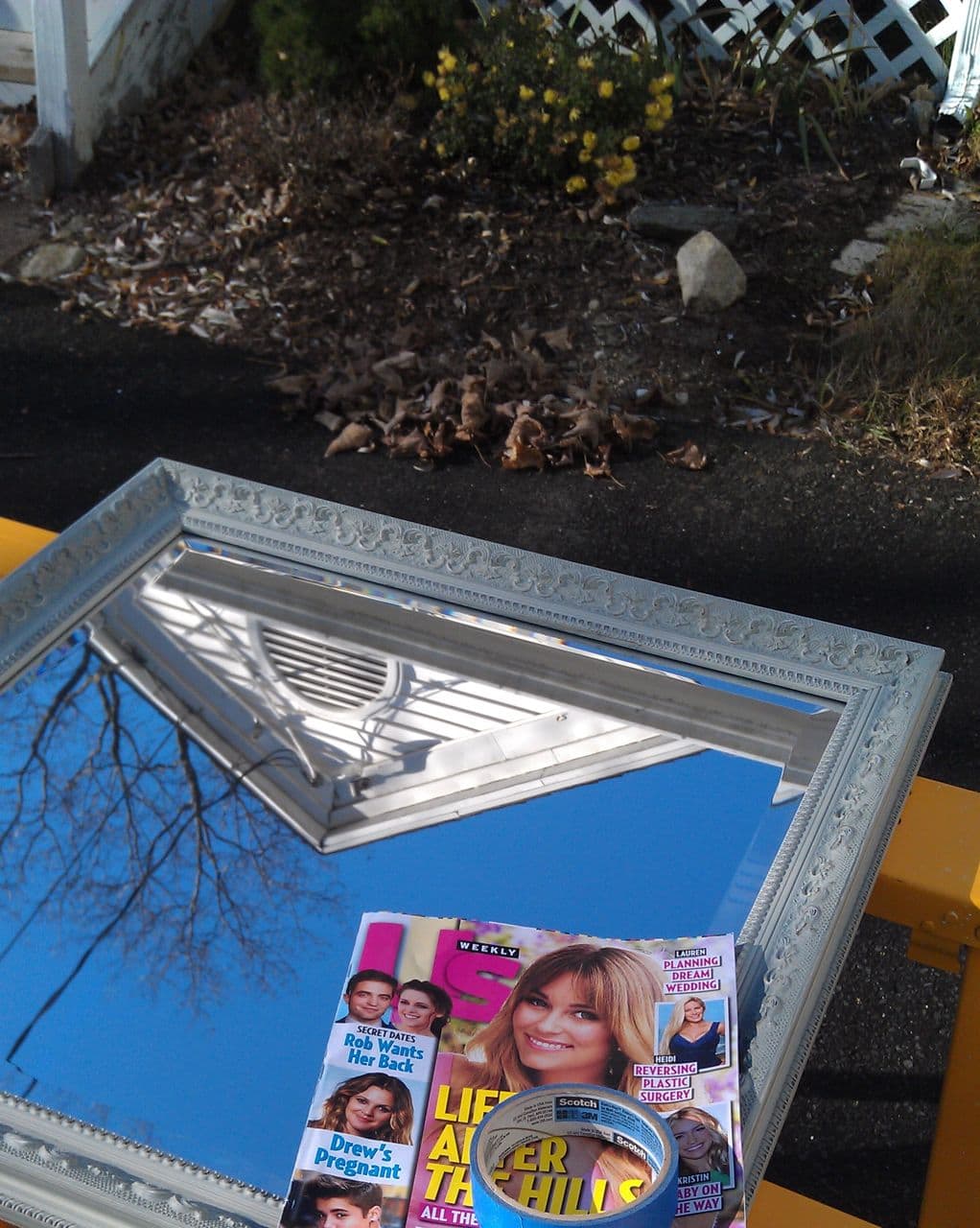 I wanted to use a color I already had on hand. Our paint color selection seems to be growing by the season. I narrowed it down to two choices: Annie Sloan's Versailles or Farrow & Ball's Citron, which was an unused sample pot donated to the DIY cause.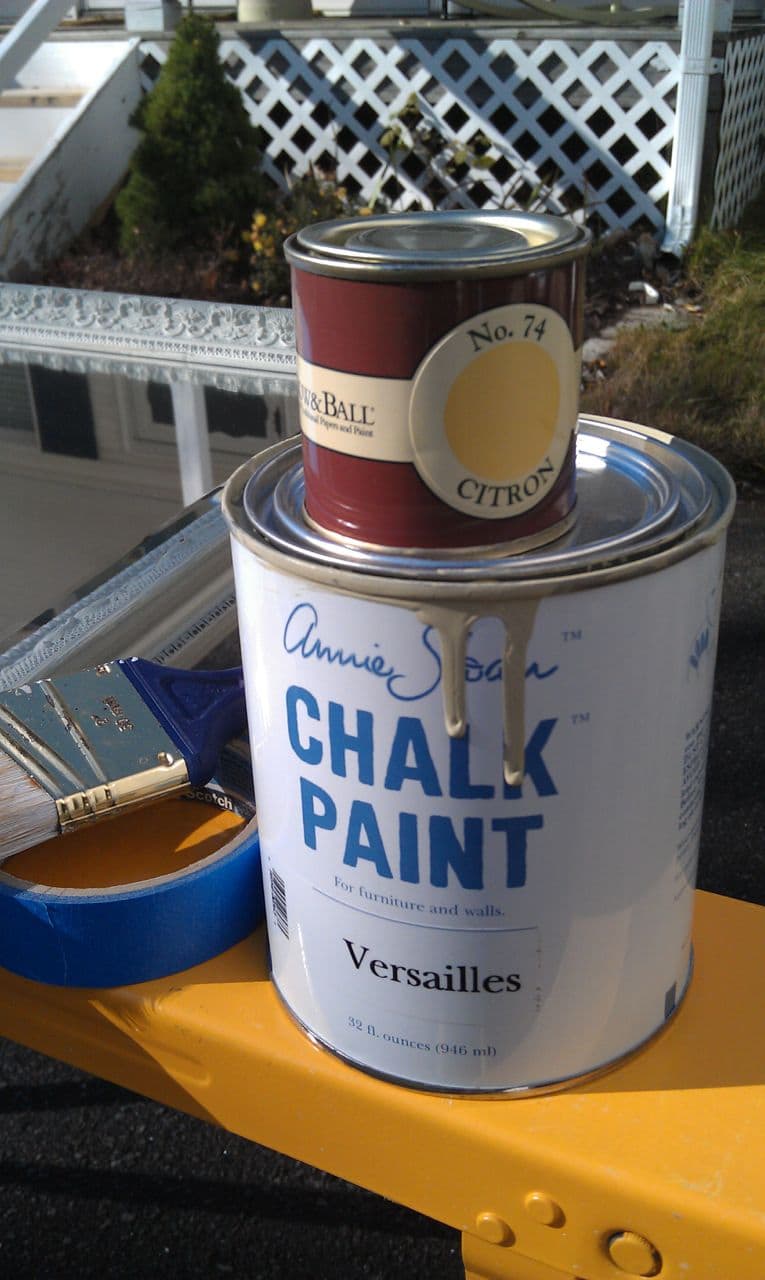 The sample pot of Citron was more than a few years old, but it's good paint, and it held up really well. I decided to use that, since there was plenty for the small mirror and it would introduce a fresh new color into the house. Translation: I wouldn't have to hear Matt say, "Is everything in this house going to be chalk painted in that green color!?" I never really hem and haw over paint colors. It's just paint.
Now, I took the "after pictures" at night so my apologies for the color being off and for my photography skills which are seriously lacking. You probably knew that already, though. Despite the night shot, you get the idea. It's a big change from the light turquoise color.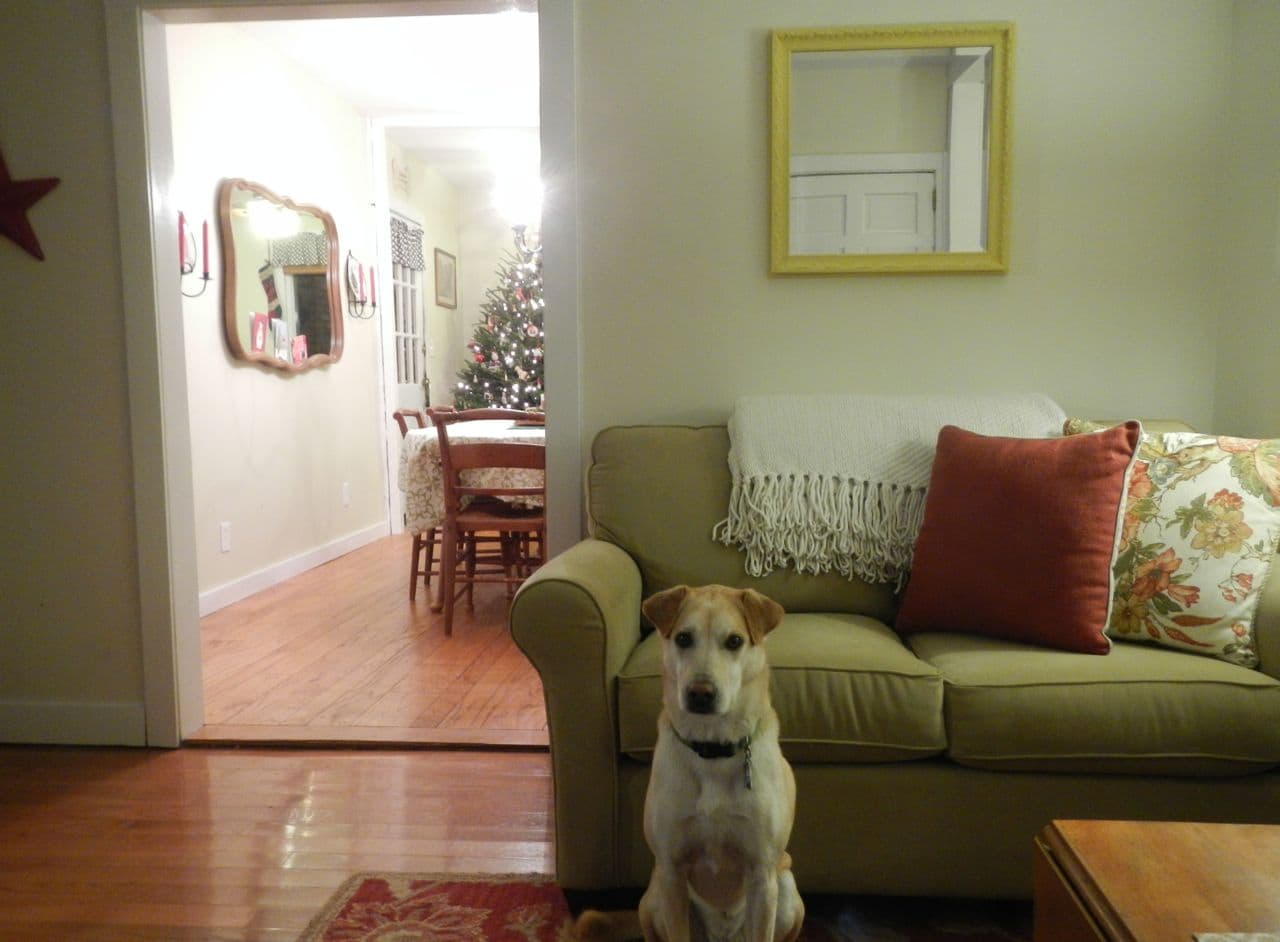 I can't handle Griff. As soon as I whip out my camera, he loves to get in the shot. I love it.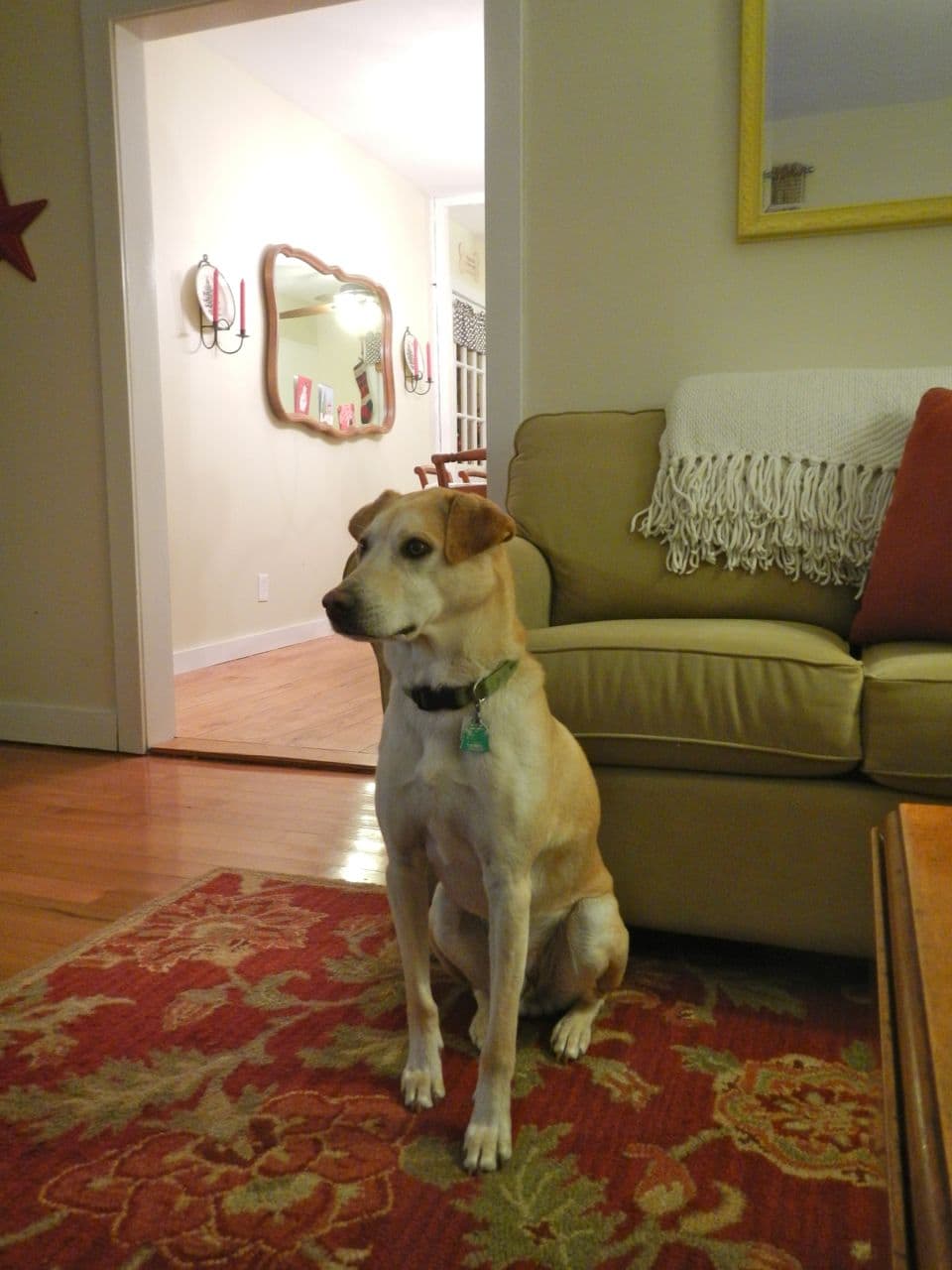 I'm digging the change. The yellow is a pop of happiness.
But… let's get back to the title of the post. The wreath over the mirror… right. I wanted to Christ-mi-fy the "loveseat space" so I grabbed an old wreath, the same wired ribbon I used to make a bow for the boxwood wreath and a stapler. I imagined the berry wreath falling gently over the mirror being held up by the pretty ribbon. Luckily, my imaginings weren't too far off, and this was a super easy craft/project.
I cut a length of ribbon I deemed appropriate and held it up to check it out and get my assistant's approval. Despite his poker face, he approved.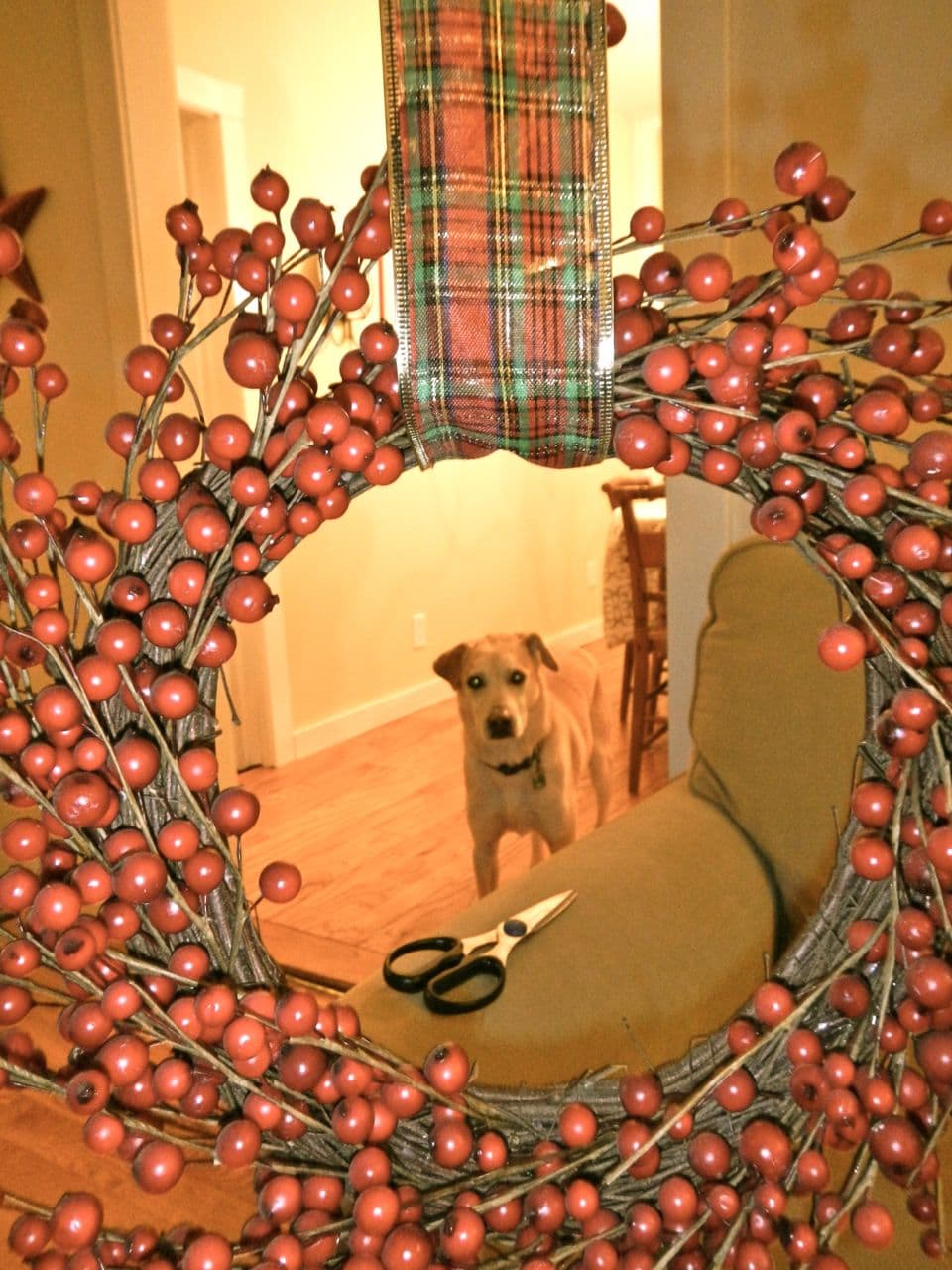 I took the mirror down off of the wall and placed the wreath in the center, pulling the leftover ribbon taut over the top of the mirror.
Then, I stapled that bad boy to the back of the mirror.
If you had the same reaction as Matt, you may be asking, "You stapled it?" to which I would give you the same response, "You got it, baby. Good trick, huh?"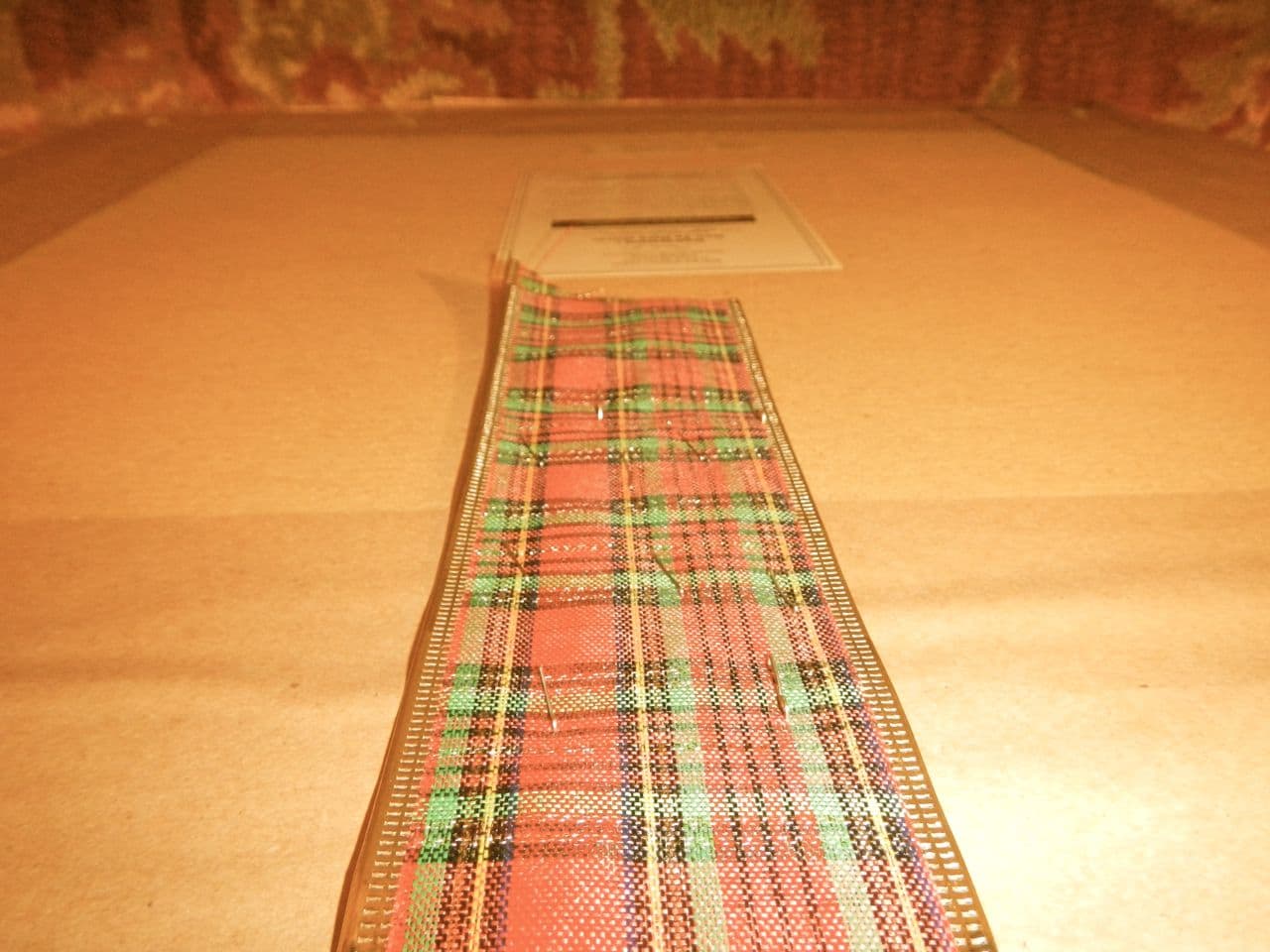 Then, the mirror went back up on the wall and I stood back to take more terribly lit photos. It actually looks a bit more saturated in the picture below than it does in real life.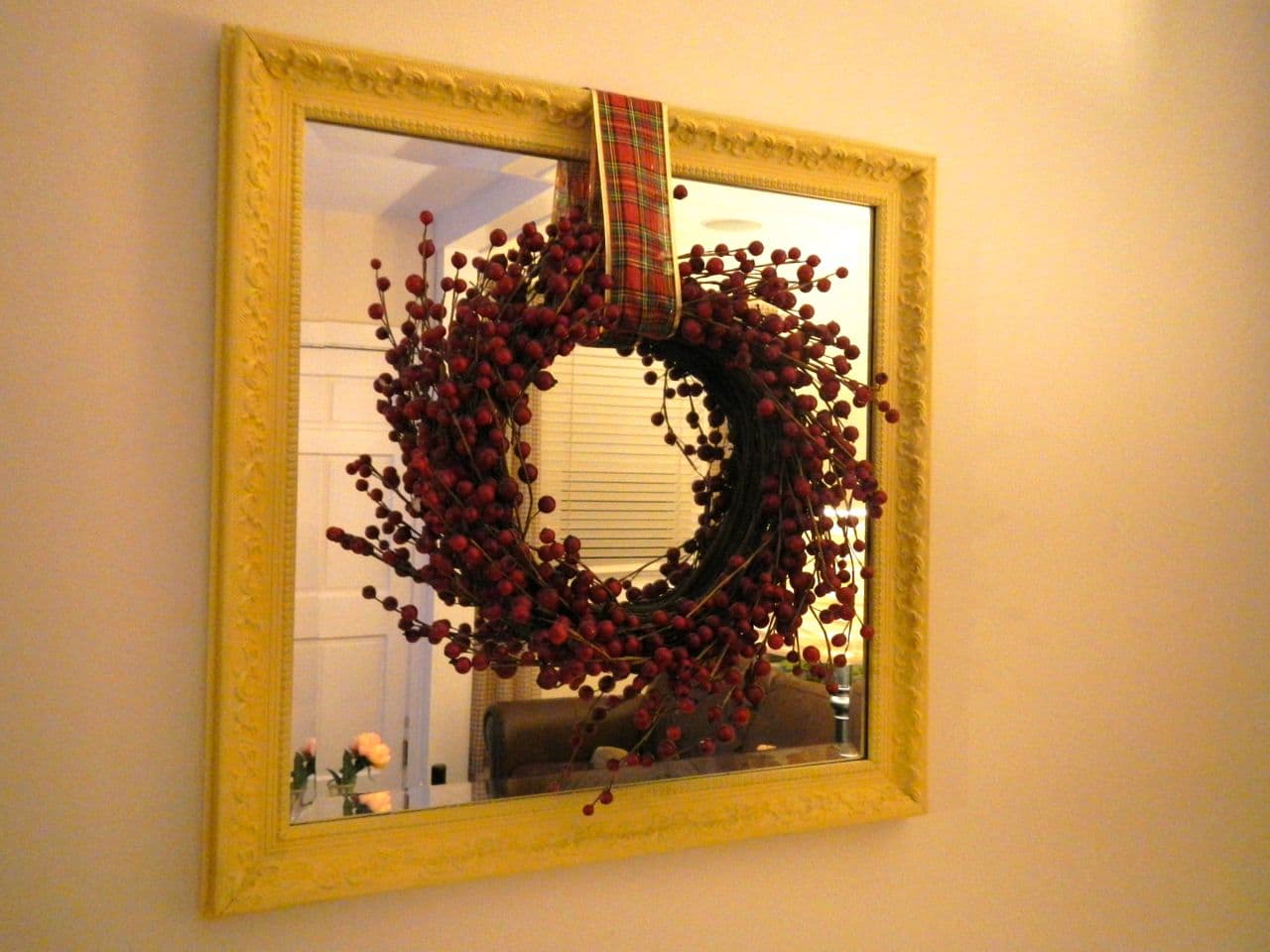 I love it. I threw in a Christmas pillow, too, snagged at Target last year for $14.99. Oh, and the berry wreath itself came from Christmas Tree Shop a few years ago. I think I paid 13 bucks for it. The space is feeling much more Christmas-y, and it's one of the first things you notice when you step in the front door. The best part? My assistant loves it. Just ignore that down turned snout of his.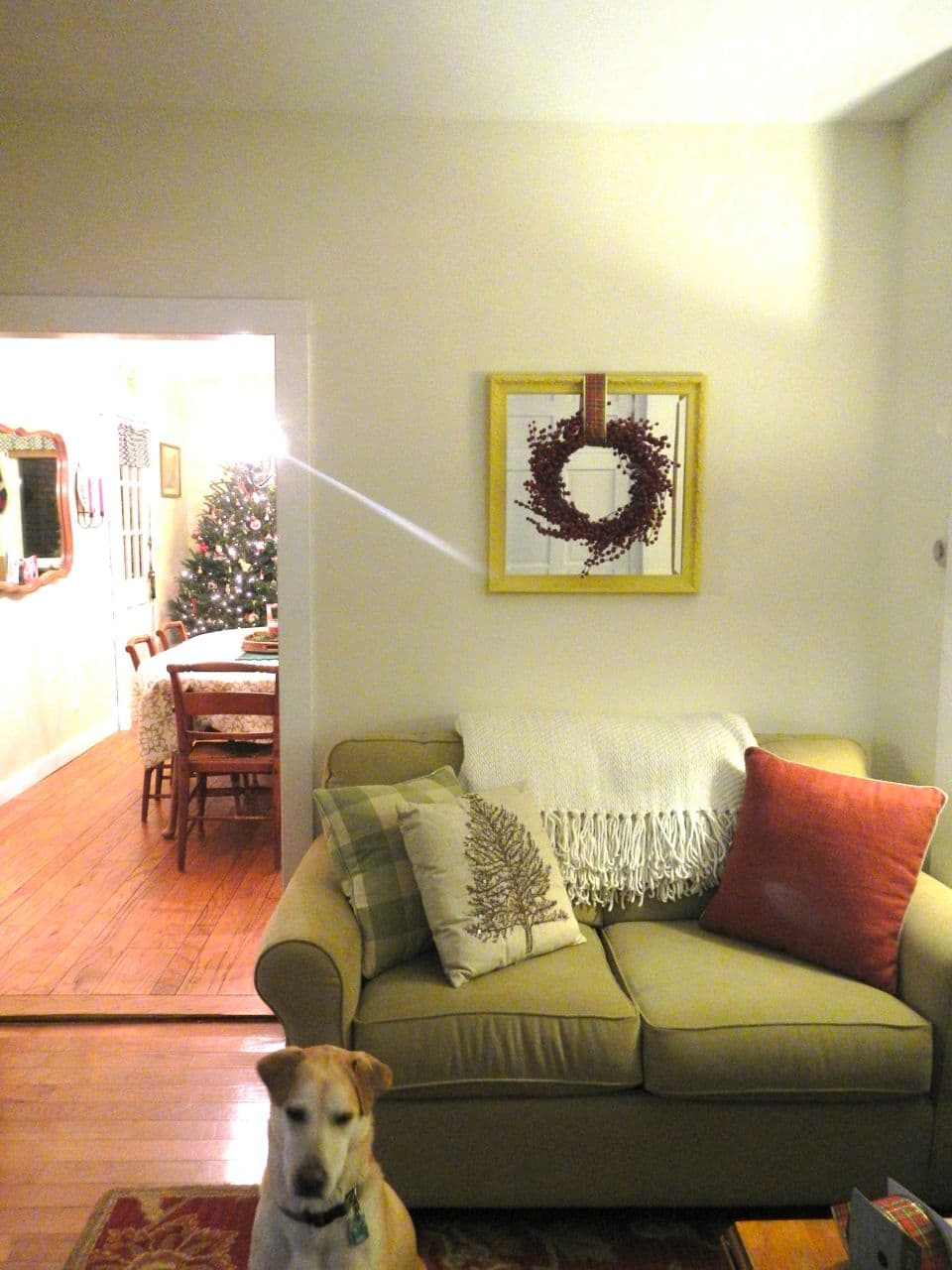 Can you see a sliver of our tree showing in the picture above? We picked it up and decorated it last weekend. With most of the presents wrapped and the Yankee Candle candles (Balsam & Cedar, duh) burning up a storm, it's really starting to feel like Christmas around here!