Did you have a nice holiday? We had a great Christmas. We are so, so blessed. We saw lots of friends and family and even managed to grab a picture (albeit blurry) of us and my burgeoning belly. My dad cut Matt's head off in this picture, but you can still tell that it's us. For the most part.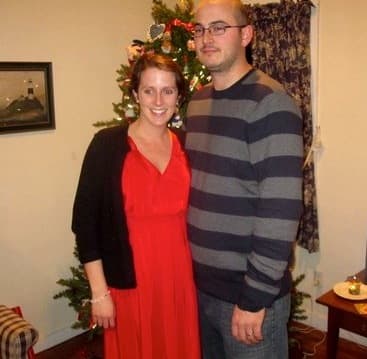 I really can't believe it's the end of the year already. The holidays flew by for us as they do for most people. Here I am, the night before NYE, realizing I haven't posted in a while. I really want to start sharing some nursery projects with you guys, so I think I'll end the year with those ideas! I'll also check back in tomorrow to report on how we did on our 2013 House Goals.
I can't believe I'm "designing" a room for a baby. Our baby. It's so surreal. And fun. And addicting. And rewarding. We sit in the nursery sometimes, talking about what's in store and awaiting our little bundle of joy! I'm days away from the third trimester, which means we have about 13 weeks left. Eek!
Since we're having a little boy, (Did I tell you that? If not… Surprise! It's a boy!) I envisioned using deep, masculine colors that pop against the otherwise light and airy feel of the room. The trim is white and the walls are a very soft grayish blue, so after finding a giant, chocolate colored, ridiculously plush and cozy shag rug at Costco on closeout for $199, the nursery kick-off began.
I'm trying to do the whole room for under $750, which should be very doable given the amount of nursery-related things we're starting off with. You see, we are really, really, really, really, really fortunate, because we're starting off with more than the average first-time parents. Matt's Mom gave us a big, white, open cabinet when we moved in, and we're going to use that in the space as a main source of storage. Friends of ours gave us their old crib and changing table, not to mention lots and lots of baby goodies in between. Those three pieces of furniture alone saved us a ton of money. There's no way I'd be able to get this room done under budget had we not scored some of the biggest items gratis.
I threw together a mood board with my ideas for the room, so I wanted to share that today… Hope you enjoy!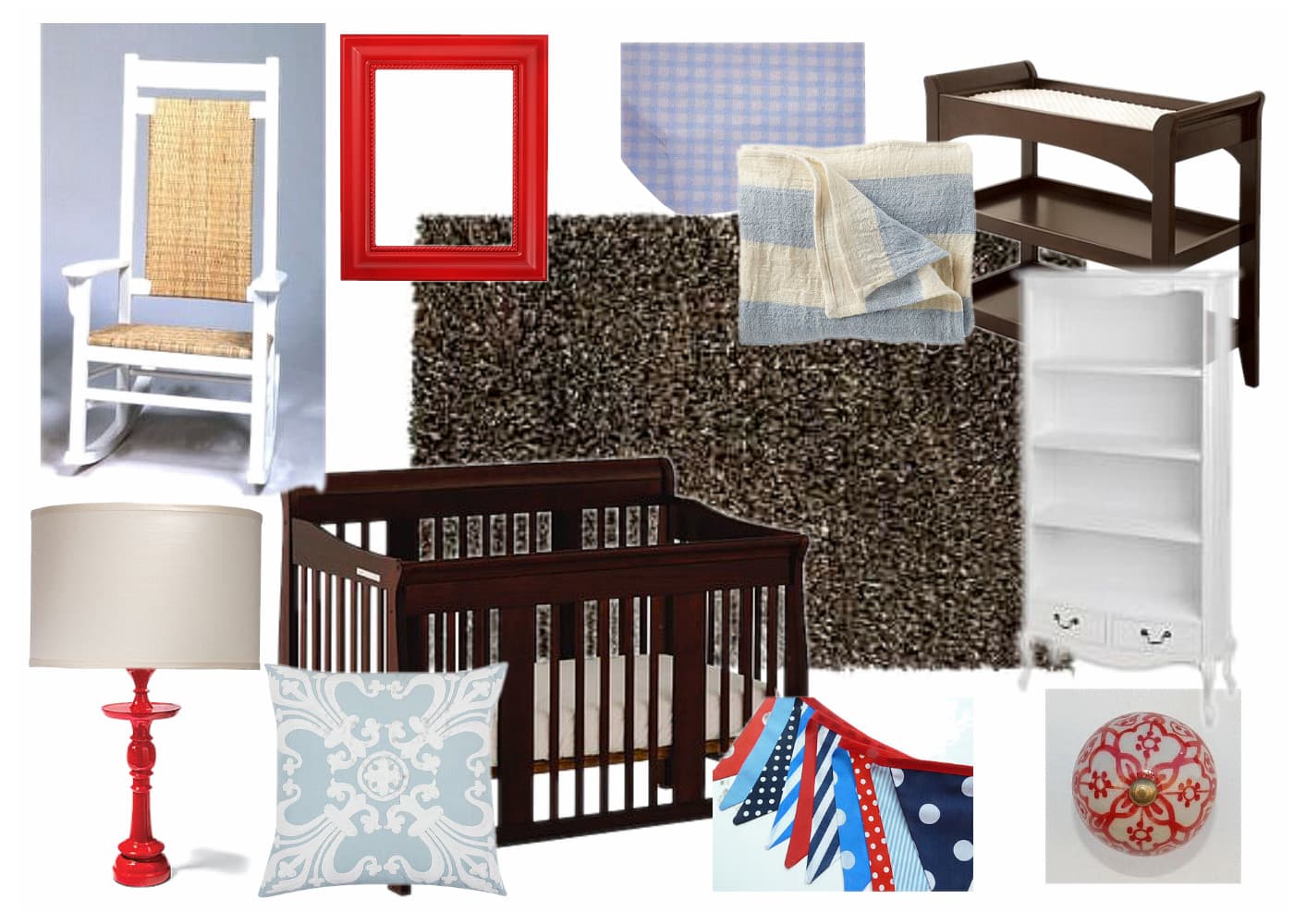 I'm really feeling the dark brown tones contrasting with the white piece of furniture and some light and bright accents. What do you think? It's not all red, white & blue, but still has some of those patriotic qualities, which I think are so sweet for a baby boy.
I've already started in on the lamps, so I'll share those this weekend! Be back tomorrow with our House Goals report card… Happy New Year's Eve Eve!