Back in December, I decided to roadtrip nearly 2,000 miles from my sister Melissa's home in San Antonio to our parents' home in Connecticut.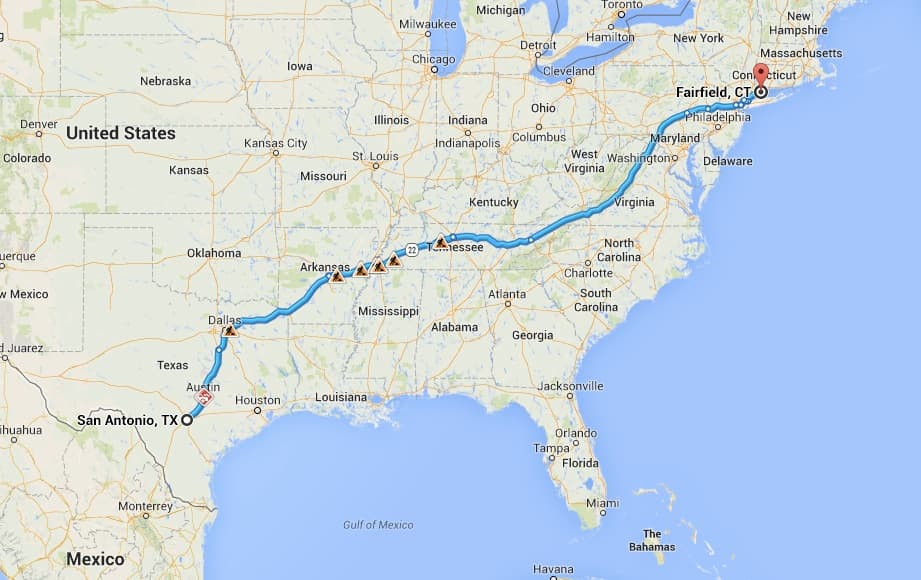 I never blogged about it, but I did post some pictures to Instagram while we were on the road. (You can follow me @ schoolhouserehab.) I want to document the trip here now so I can look back at the pictures and remember the adventure.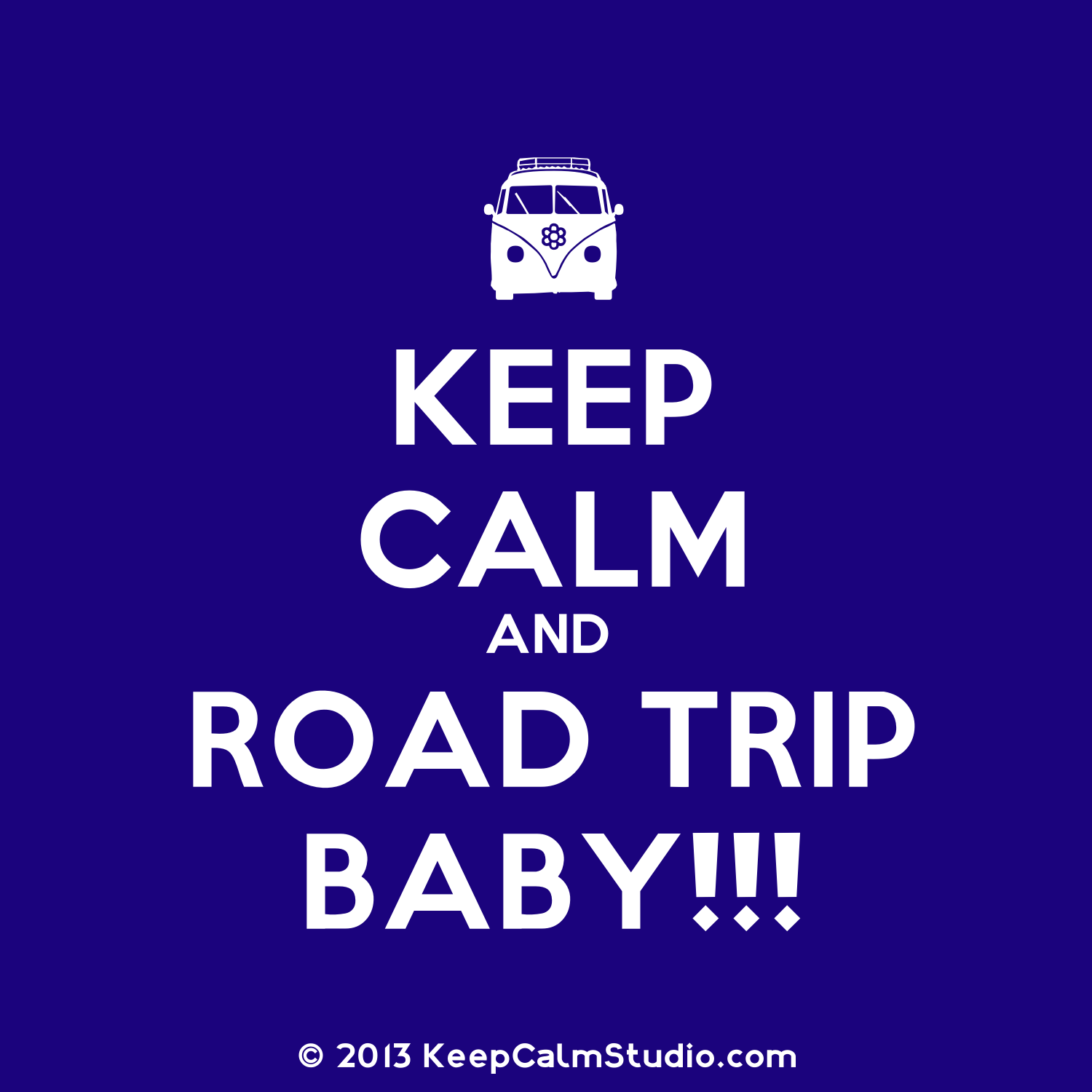 I'm calling it an adventure for a number of reasons, but mainly these:
We dealt with torrential rains for the majority of the trip. The rains moved East. We were moving East. We didn't think to pack umbrellas or raincoats…
I thought I was dying of a blood clot in my leg.
Our third passenger was a 6-month old puppy.
So yeah, it was an adventure, and that's the summary. I'll touch on all of the bullets above, don't you worry. This post will be mostly the pictures that I grabbed with my cell along the way, but naturally, being the Chatty Cathy that I am, I'll add commentary in as I see fit.
I flew into the San Antonio airport on the Thursday before Christmas. My doctor said it was safe to fly. I was 25 weeks pregnant at the time. I left from Newark International, and I couldn't take my eyes off the sunset (as I was chowing down on my Red Mango fro-yo).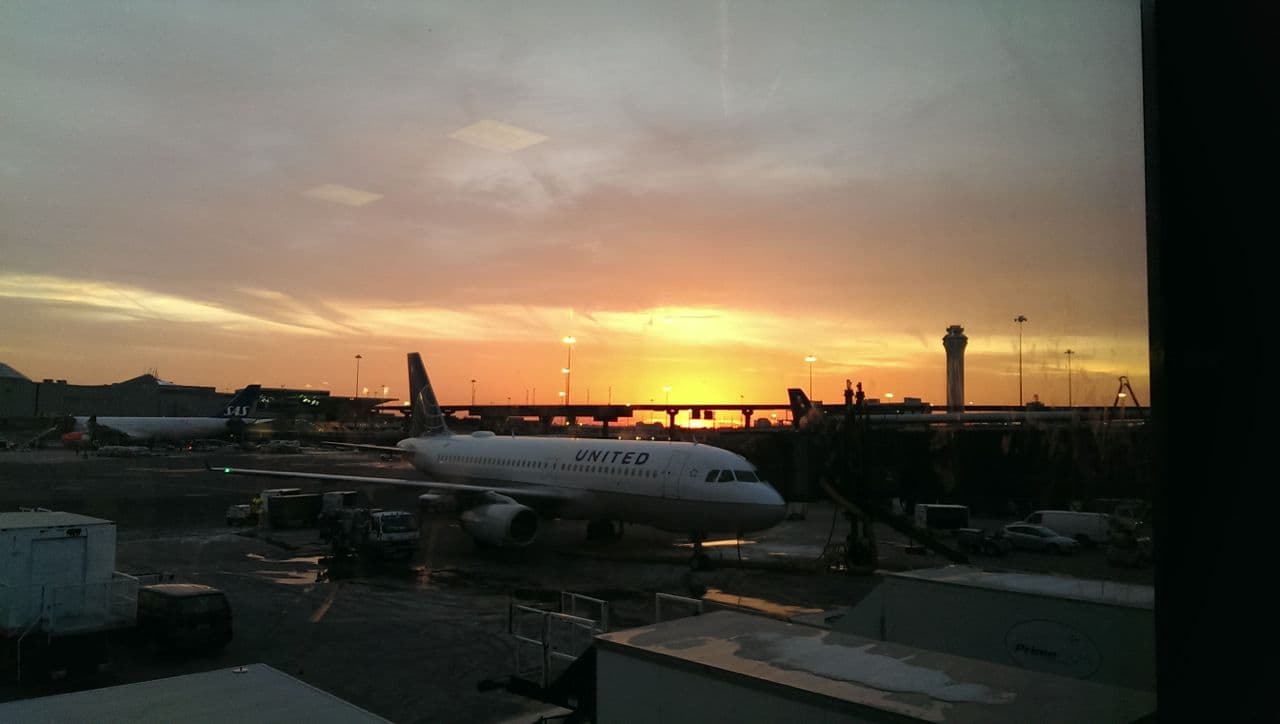 It started out really pretty, but just look what it turned into… those pinks and purples… wow. I wish I got off my butt and walked over to that window. Lazy pregnant lady.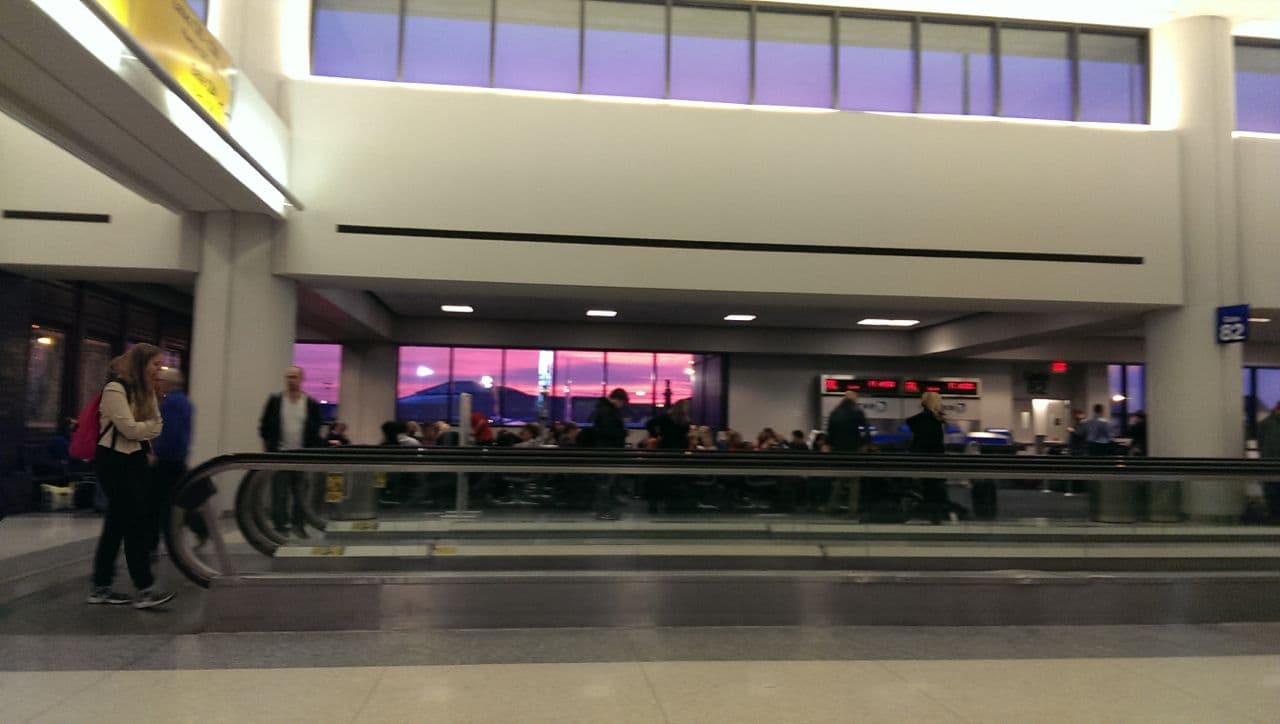 The flight itself was non-eventful. Just how I like it. I normally don't get up on airplanes. I'm not a fan of bothering those around me and I'm definitely not a fan of airplane bathrooms. So, this trip wasn't any different. I didn't get up for the entirety of the flight and I even dozed off a bit, missing a few opportunities for beverages. Keep this in mind as it relates to the second bullet listed above…
I landed a little after 9pm local time and my sister picked me up in her brand new car. I mean brand new. She had literally driven it off the lot hours before. If you're one of those people who worries about taking a brand new car on a 2,000 mile road trip before "breaking it in," worry no more. First, we made it, since I'm still around to write this post. Second, apparently cars nowadays don't require a "breaking in" period like they did in the good ol' days. At least according to the sales guy who wanted to sell my sister a car to drive from Texas to Connecticut.
When we arrived in my sister's neighborhood, she asked if I wanted to drive around to see the holiday lights. In her neighborhood, holiday lights are a big deal. A big deal as in, it's literally a competition. They even have a judging council and if you win any of the categories, (i.e., Kids' Favorite, Best Overall, Most Elegant…) you get a sign to put in your front yard as bragging rights. It's kind of impressive, especially since I did ZERO decorating of my own house exterior this year. Oh wait, I popped some swag on the front door. So I guess not zero decorating…
I think this house won "Best Overall."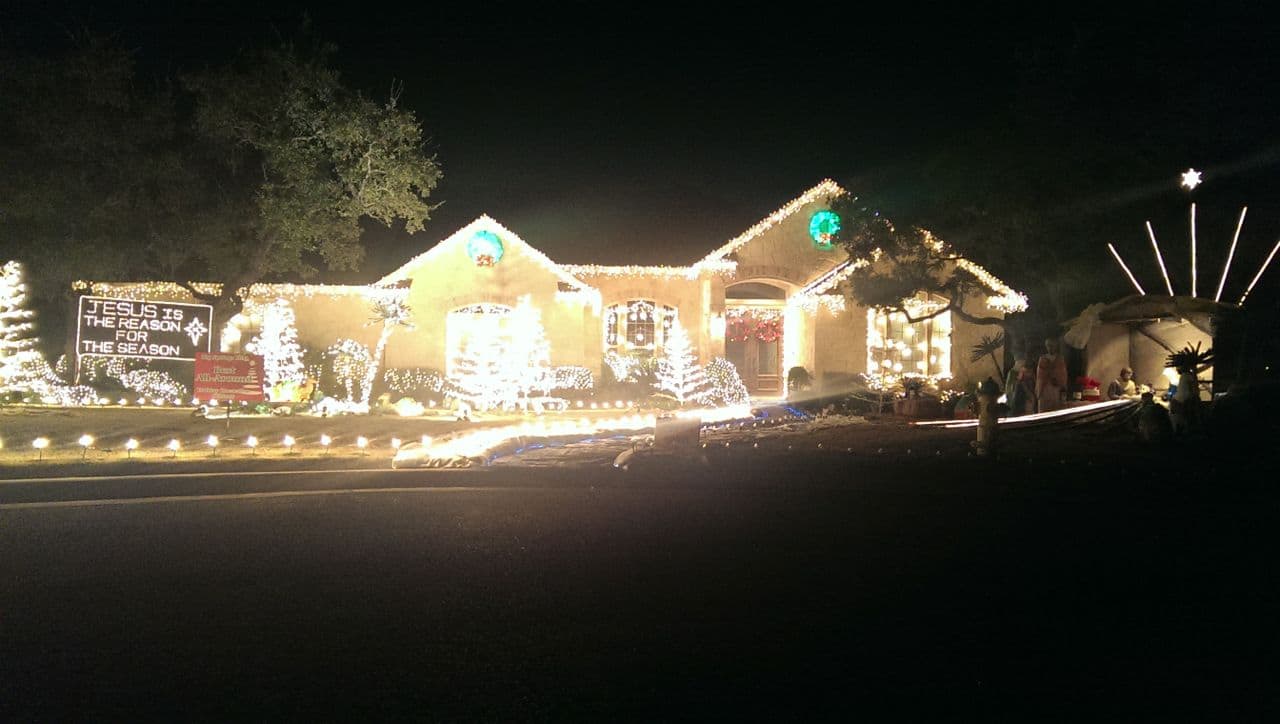 Pretty crazy, right?. Melissa still had some packing to do when we got to her house, so I went up to the guest room and starting getting settled. I took a picture of the art below because we've loved it for a long time, and I wanted to remind myself that I want a copy of it for my house, too.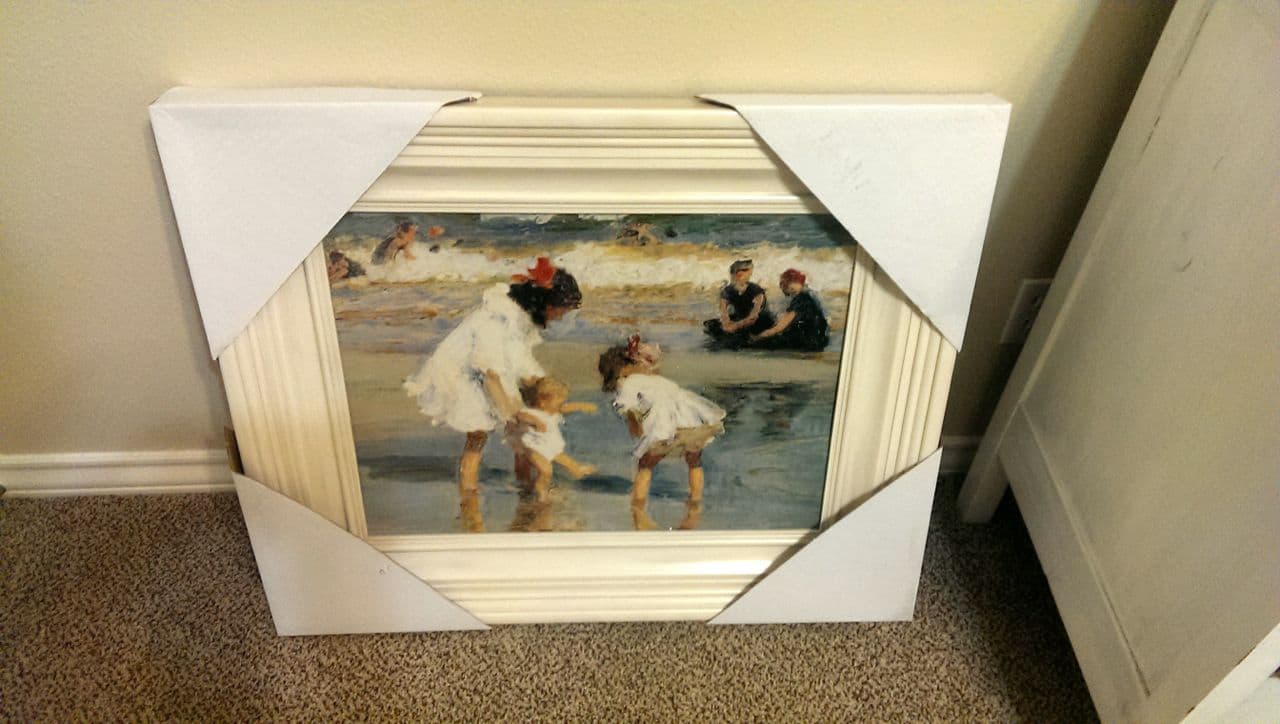 It's titled "Children Playing By The Seashore" and the artist is Edward Henry Potthast. The scene fits our family's sister trio perfectly. The hair colors and sizes are spot on, and we spent our childhoods summering on Cape Cod, frolicking in the ocean like so. I think I might grab a print to frame and put above the guest room bed. Maybe after the nursery is done and this baby is here. Anyway, the picture is a reminder to myself that I love it and want it in my home.
That night, in the guest room bed, I had the most horrific leg cramp. I know they come on during pregnancy, and I'd had a couple of mild cramps up until this point, but this one was far worse. Maybe I should have walked around on the airplane and had something to drink… remember that little tidbit? Ugh. I was so stupid not to do that. Despite nearly screaming my head off during the cramp itself, I woke up relatively unscathed and took my sister's 6-month old black lab Gemma for a walk upon awakening. It did wonders to stretch it out. More to come on the leg cramp but…
After the walk, Gemma was ready to rock, and we put her in what we thought would be her spot for the 30-hour trip. She looked pretty happy, right?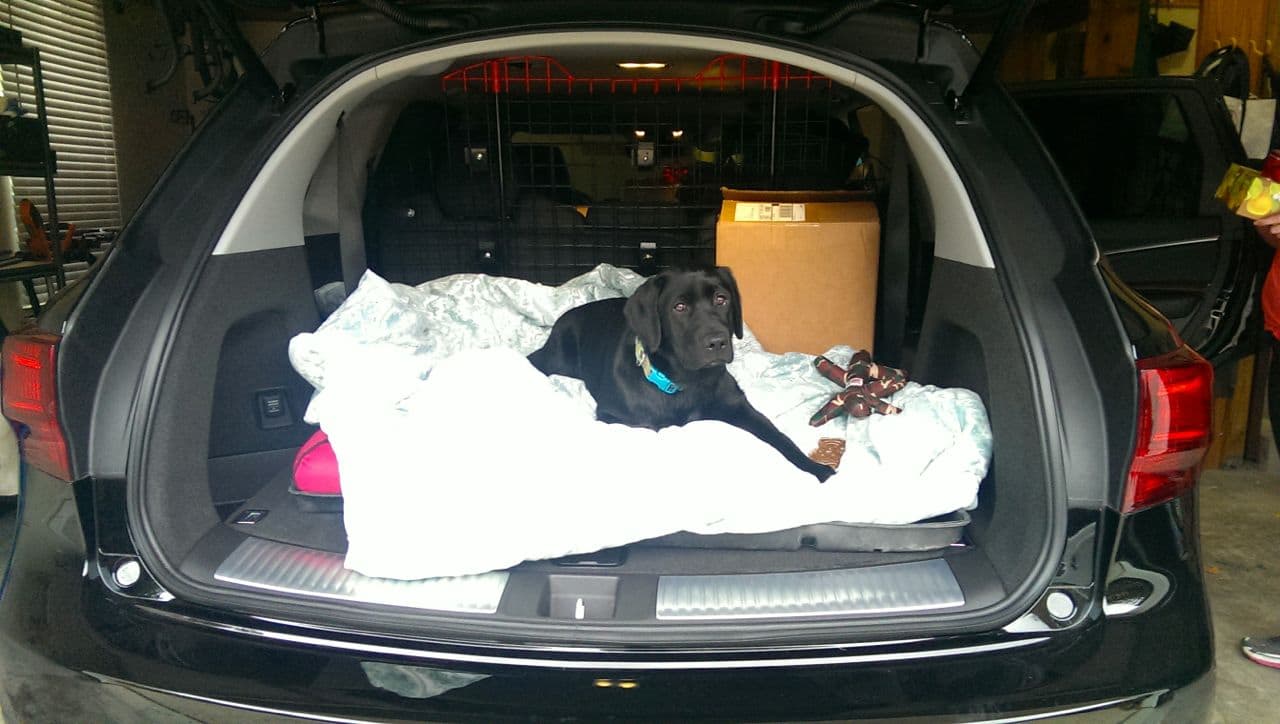 As it turned out, she was not happy back there. She showed it by attempting to destroy the third row seatbelt with her chewing prowess. A couple of hours of driving later, the luggage and Christmas presents were moved from the backseat to the trunk and Gemma was happy as a clam sprawled out on the bench seat.
We got breakfast on the way out to the highway, but I was hungry for a mid-morning snack shortly thereafter. Good thing I packed supplies. :)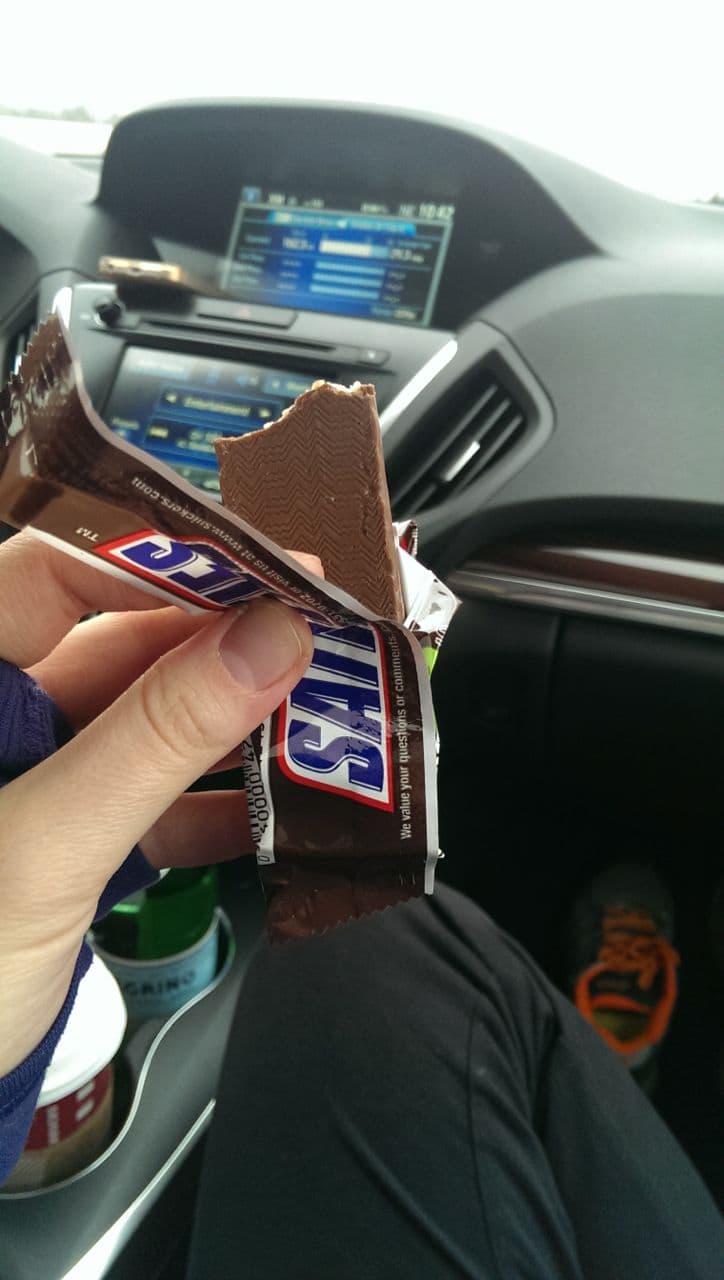 My leg, at this point, seemed fine, and the weather was holding off. There were gray skies, but it was dry. Gemma was settling in seamlessly, too. We were feeling good! It took us forever to get out of Texas. It's a giant state, especially when you're leaving from so far South. We decided to stop at the HOT (Heart of Texas) Dog Park in Waco, TX, and I had a chance to see a sliver of Baylor University on the way in. Gemma appreciated the stop. Check out that tongue!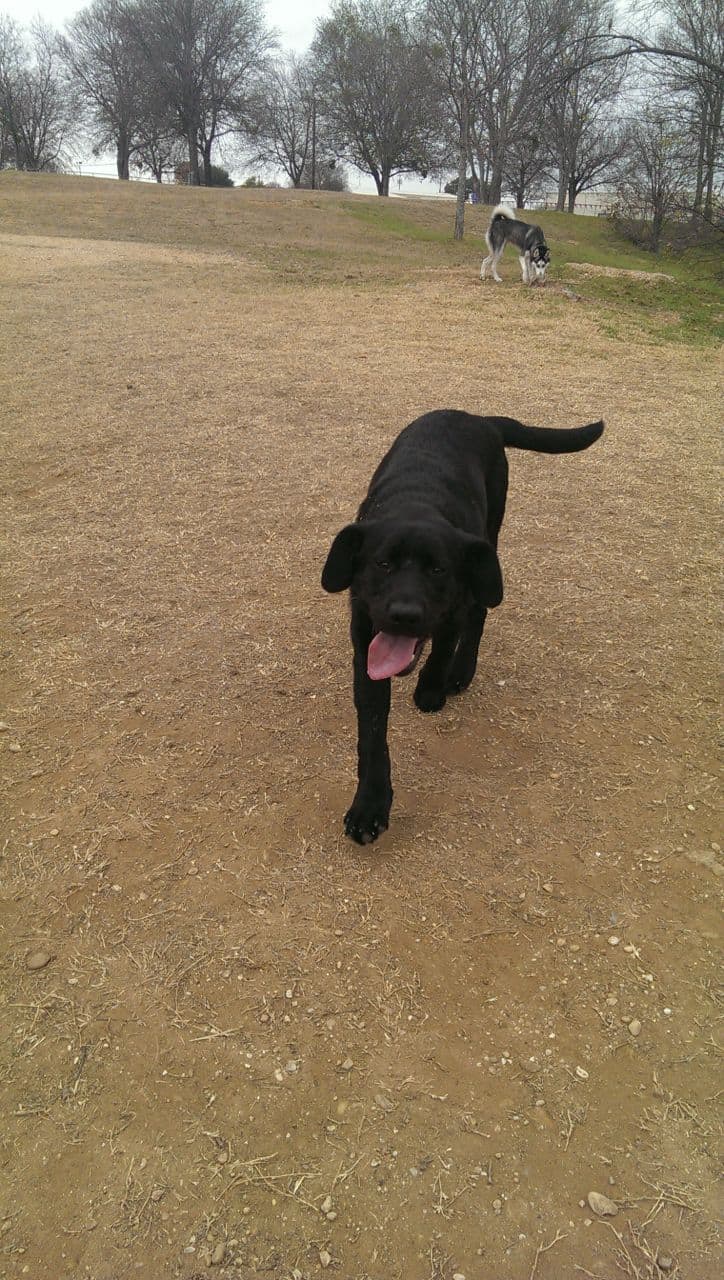 As for seeing other landmarks along the road, they were few an far in between at this point in the Lone Star State. Sure, there was the jerky capitol of the universe…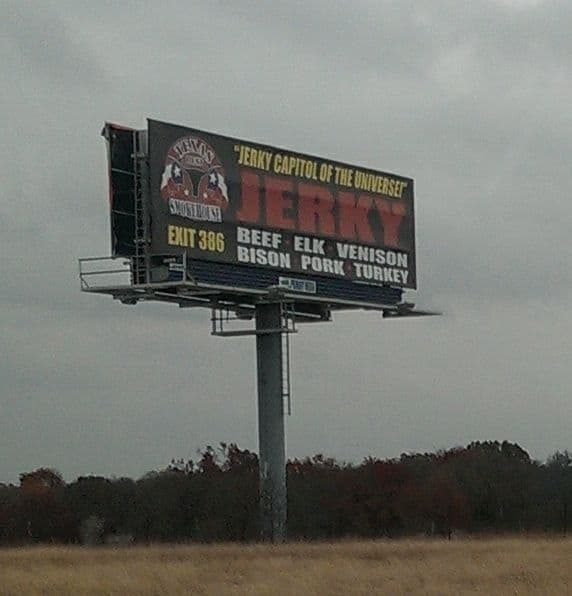 …and some furry friends along the way…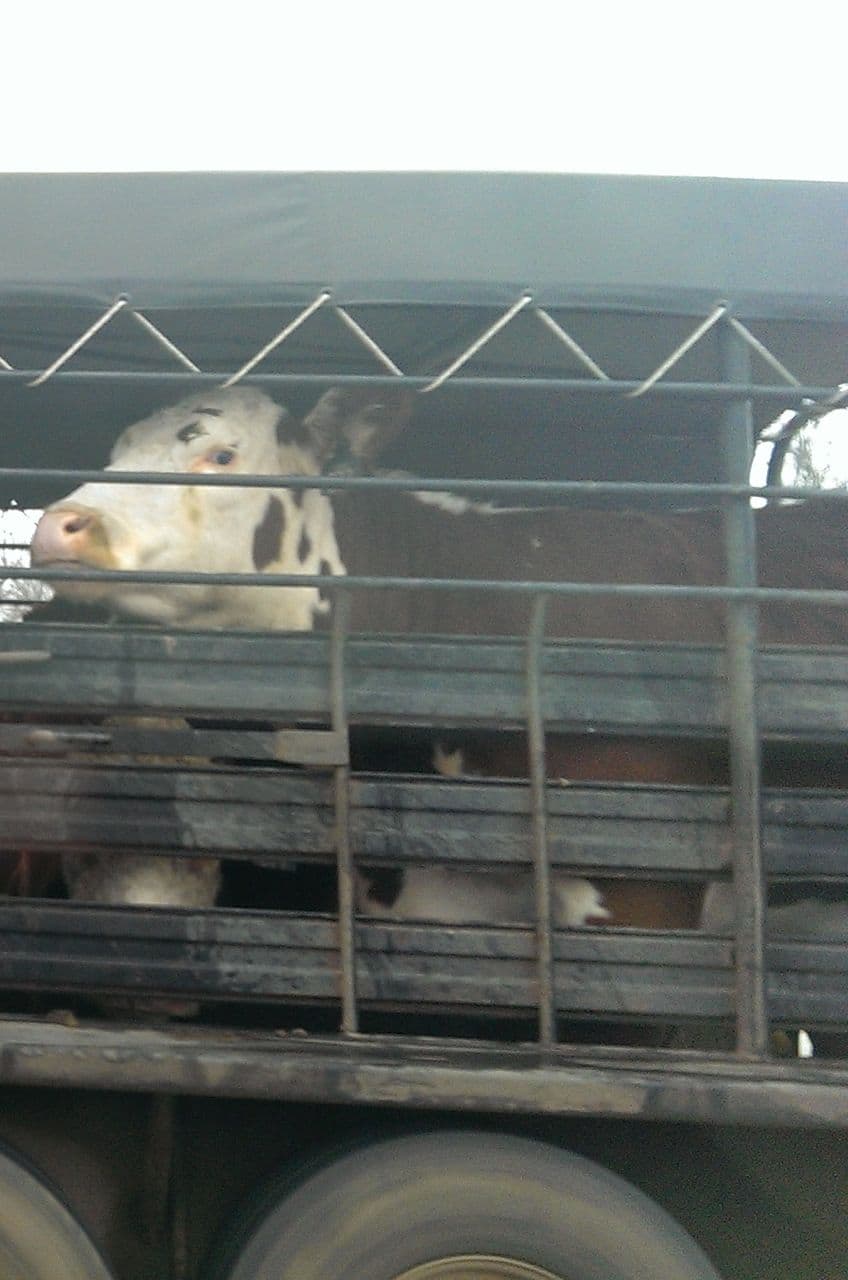 …but not much else. My leg cramp at this point was making me a bit worried, because it had flared up again and was quite uncomfortable. I was constantly stretching it while my sister drove and we were stopping fairly often for the dog, but it hadn't been this bad before, and something made me call my doctor as we headed East toward Texarkana.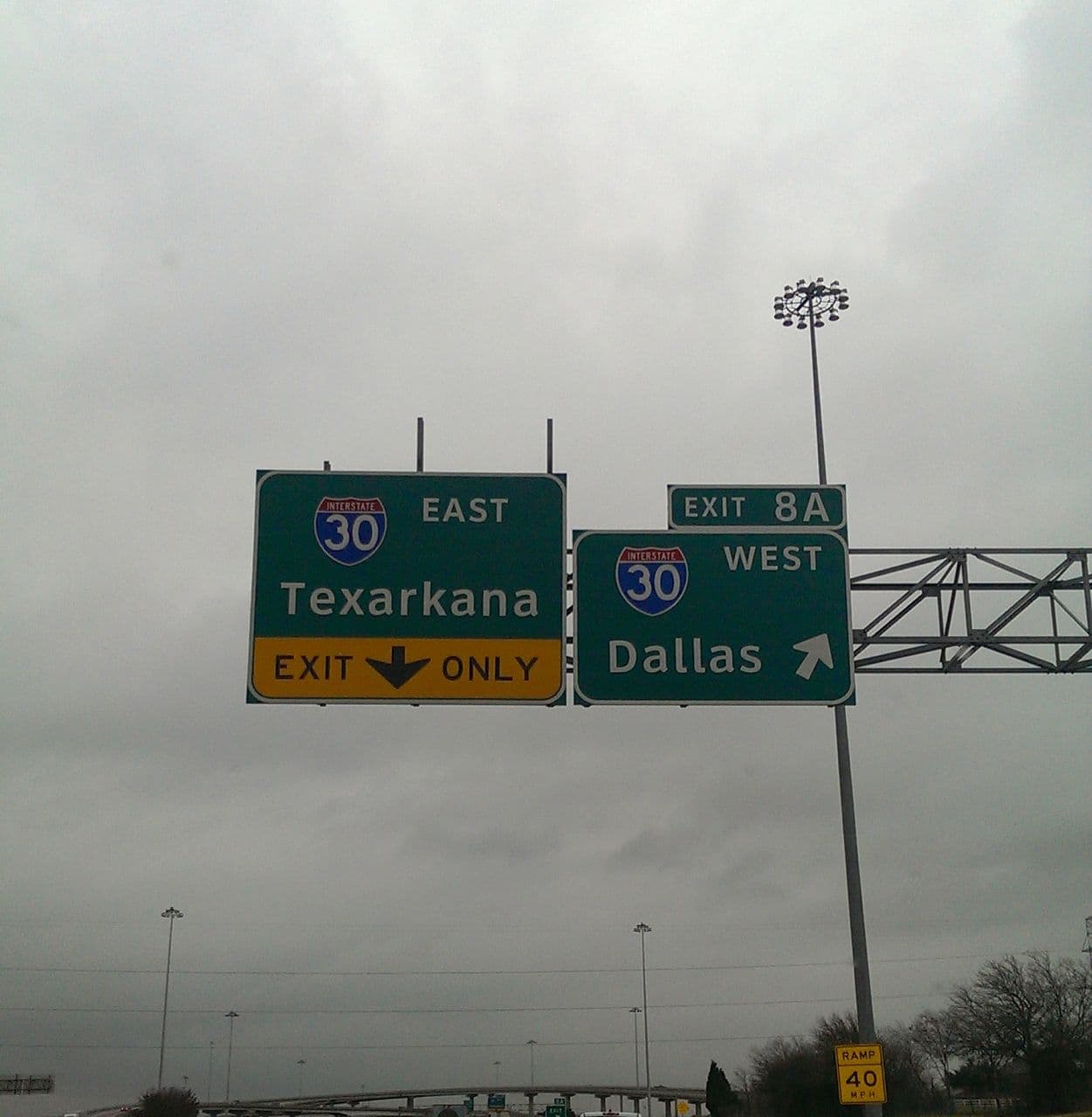 When I got a hold of the nurse, I told her about my flight and subsequent leg cramp and she sounded a bit nervous. She told me she was going to chat with the doctor quickly and come right back. A few (nervous!) minutes later, she came back on the line, and told me that the doctor wanted me to head to the nearest ER immediately, because it could be a blood clot. ?!?! WHY DIDN'T I GET WALK AROUND ON THE DAMN AIRPLANE?! Damn you, hindsight.
I, of course, started mildly freaking out, and talking it out with Melissa. She told me to stop freaking out, and said that it was most likely just a leg cramp, and that she gets them often (she flies a lot for work). How do you take a chance, though!? My mind was racing.
I'll tell you what didn't help: Googling leg cramps and blood clots. Torture. I'll tell you what did help: calling pregnant women we know and women we know that have been pregnant. One of Melissa's friends called it the "Charlie Horse Hangover" and said that sometimes, the soreness from a bad leg cramp can last days. Needless to say, we decided against the ER and to take our chances for a few reasons.
A) I had no symptoms of a blood clot (redness, warm to the touch, pain). It was more of a strong discomfort.
B) I didn't know what our hospital deductible was, and didn't want to pay what would most likely be over $1,000 that could go towards the cost of the impending labor and delivery, especially if it turned out to be just a leg cramp.
C) We had a fairly tight 3-day schedule mapped out for this trip, and an ER visit would prolong that by hours.
If you're the "Better safe than sorry!" type and you're mad at me for not going to have it looked at, I'm sorry. My body and brain were both telling me to wait it out, and that was my decision in the end - to follow my instincts.
When we got to Little Rock, Arkansas that evening, we checked into the pet-friendly Hilton that we found on a cool app called "Bring Fido" that Melis had on her phone. I was as worn out from the day as Gemma.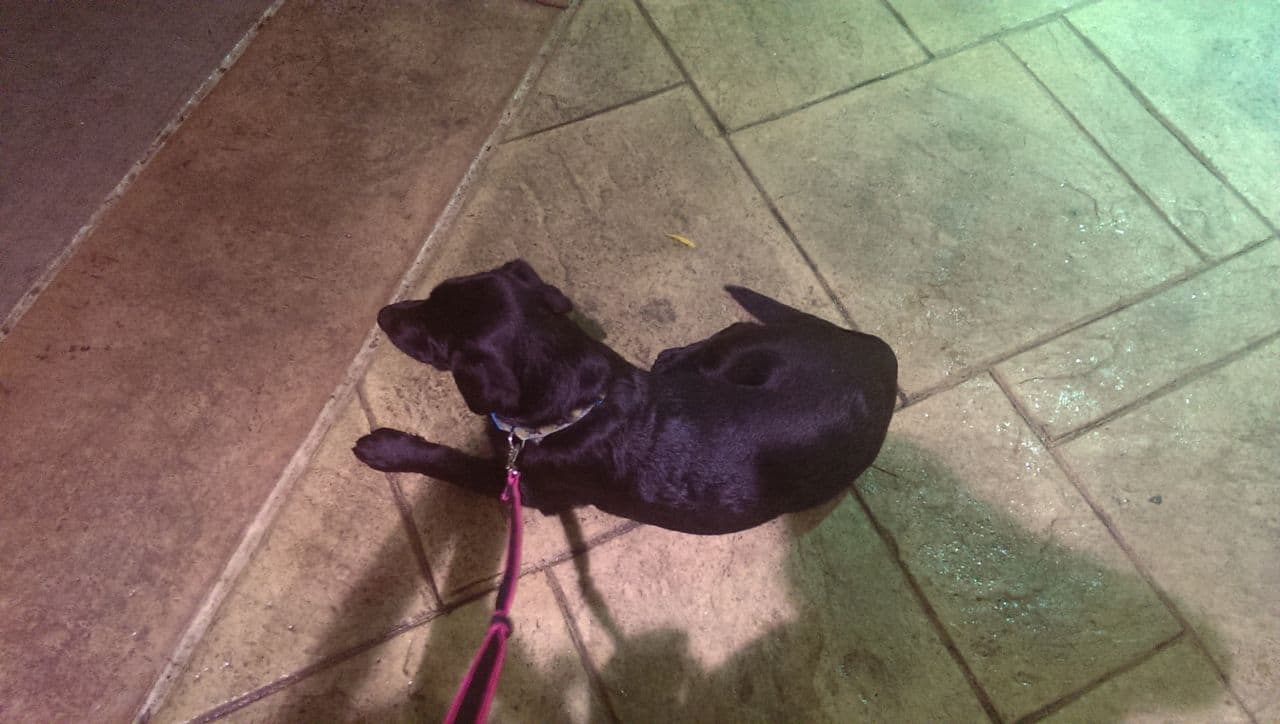 The dog had been in the car all day. One might think she'd want to explore and run around upon arriving at the hotel, but this dog is so chill and relaxed, she just plopped down again. She's so easy.
We hit some traffic outside of Little Rock as well as some really bad rain. The rain was so bad, we kept discussing pulling over to let it pass. Gemma needed to be walked a few times that night for typical dog reasons, and that blunder of not bringing raincoats or umbrellas really came back to bite us. This is what Gemma looked like after a minute or two outside…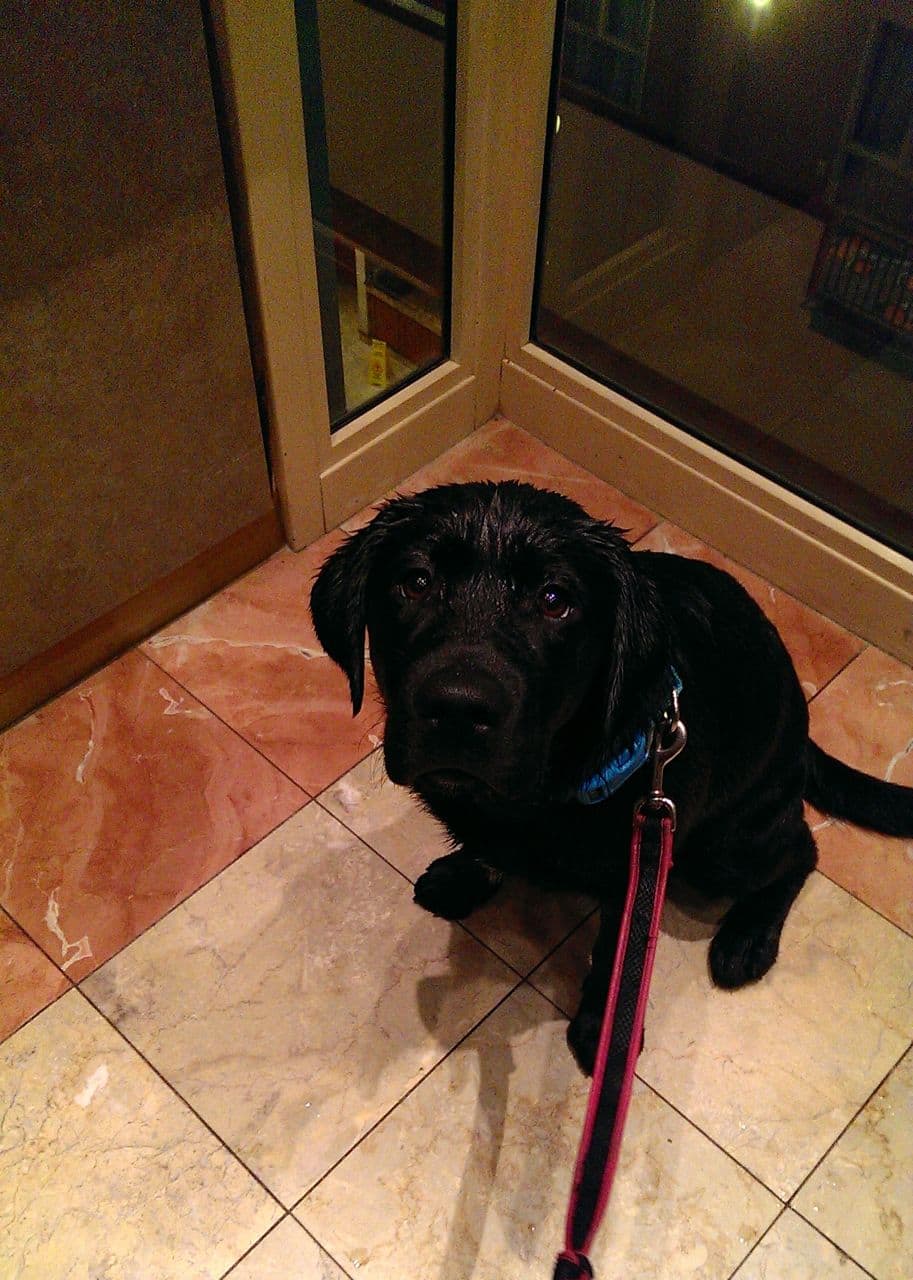 I'll spare you the picture of the humans rocking the wet dog look. You're welcome for that. For dinner, we ran across the street to try out a Japanese restaurant we spotted on the way in. It was probably less than 300 feet from the hotel lobby, but it looked like we had just showered when we walked in. I honestly couldn't remember the last time I'd seen rain like that.
Needless to say, after day one, we were all looking for some snuggles. Gemma was happy to give them, which was nice. She was also happy to sleep smack between us, up near the pillows, on our king size bed, stretching out in the process.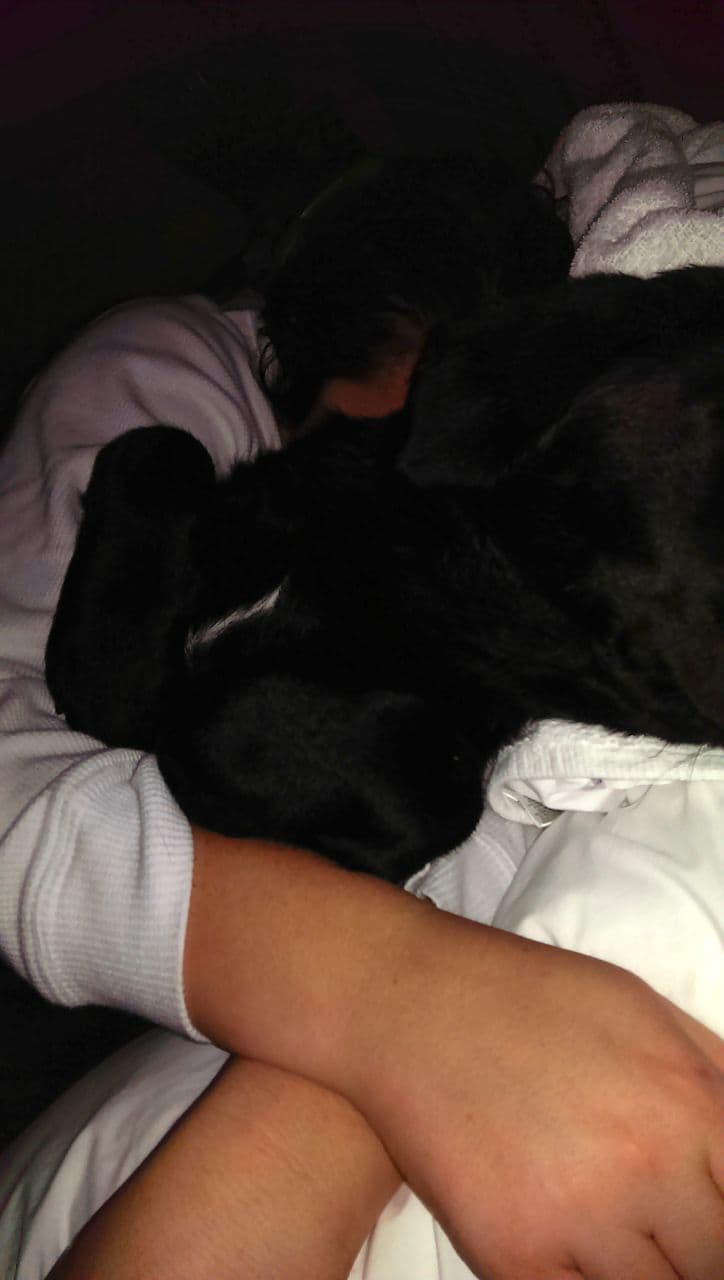 Morning came quicker than any of us wanted it to, and we were on the road again after a quick Starbucks stop.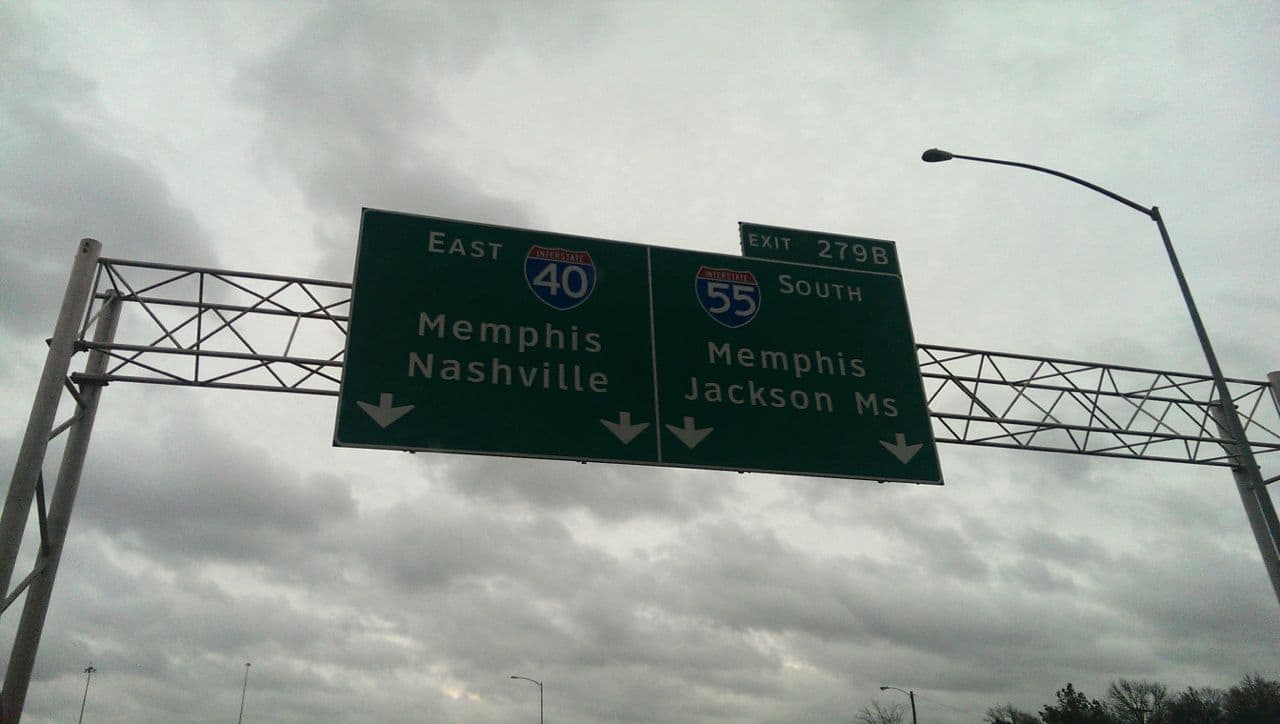 We were heading toward Nashville, and I was Googling walk-in clinics along the way much to my sister's dismay. The leg was still pretty uncomfortable, but I still knew underneath it all, that it wasn't a clot.
We talked about what we wanted to see in Nashville but in the end, we decided to skip the sight-seeing in Music City and instead, grab lunch and hit up a dog park for Gemma. We had lunch at Bread & Company near the Vanderbilt campus. It felt like a hipper, more gourmet Panera, with homemade salads to order and sandwiches that were as big as my head. We both chose salads, since eating on the road can otherwise sway a bit from healthy. Don't worry, we washed the salads down with fresh-baked chocolate chip cookies before navigating to the dog park.
The dog park itself was amazing. Matt and I have been to a bunch of the parks in our immediate area, as well as a bunch out in Denver where my little sister lives, and they're all basically large, fenced in open spaces with either grass, mulch or dirt. This park overlooked the Nashville skyline and had tiered, paved walking paths that circled the dogs' play space so the owners could get some exercise in, as well. Genius. I wish I had a good picture of the skyline, but the gray skies and trees obscured most of it from my cell phone lens. There was one dog there that reminded me of my Griffin, but he had deeper colors. I couldn't get his face in the shot below, but it looked just like him! I did get Gemma's face, though, which is pretty priceless. Ha.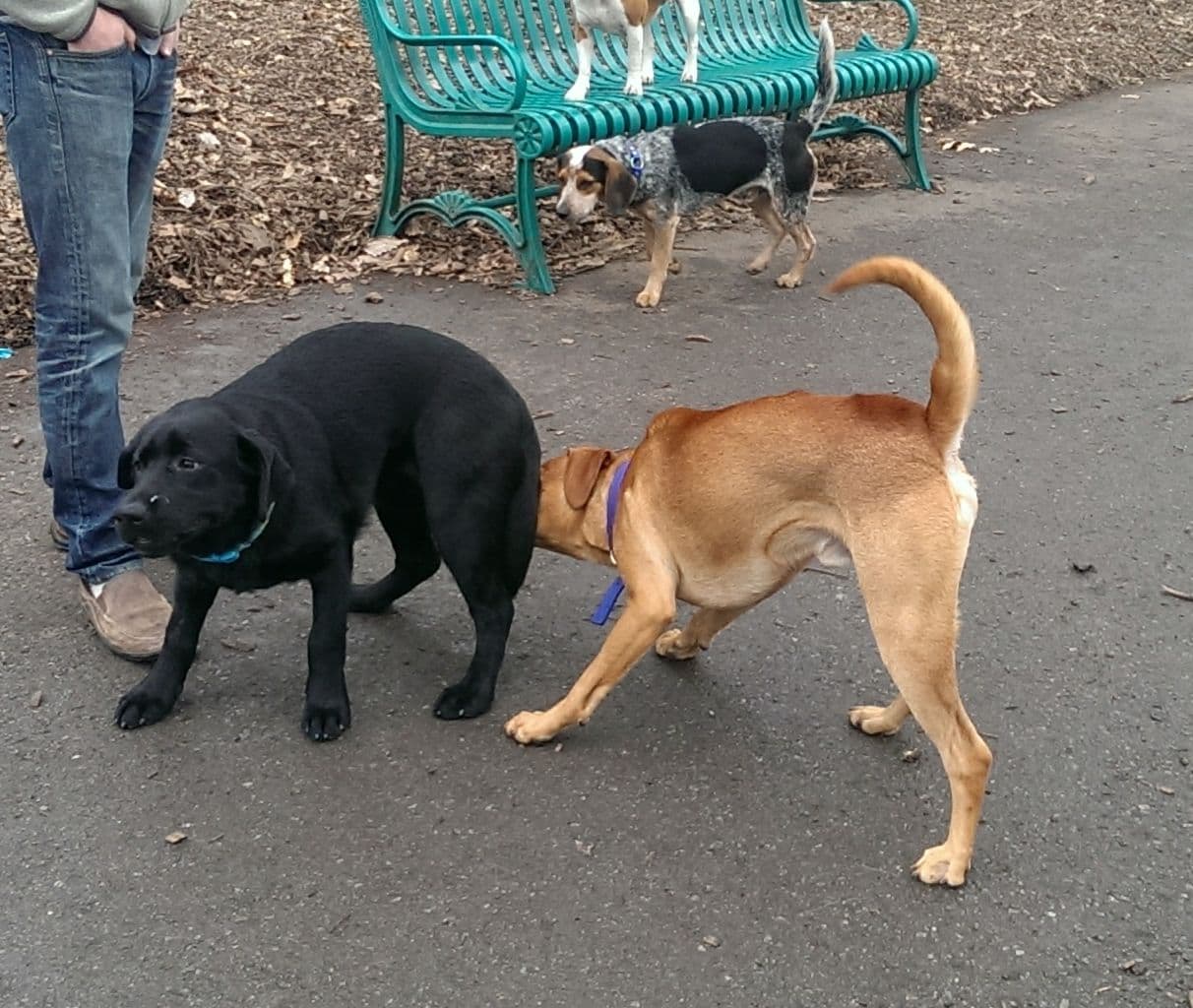 Seeing the dog that reminded me of my own made me miss home, but I was happy to be with my sister and exploring new places, too. Gemma was more than happy after her dog park romp, too.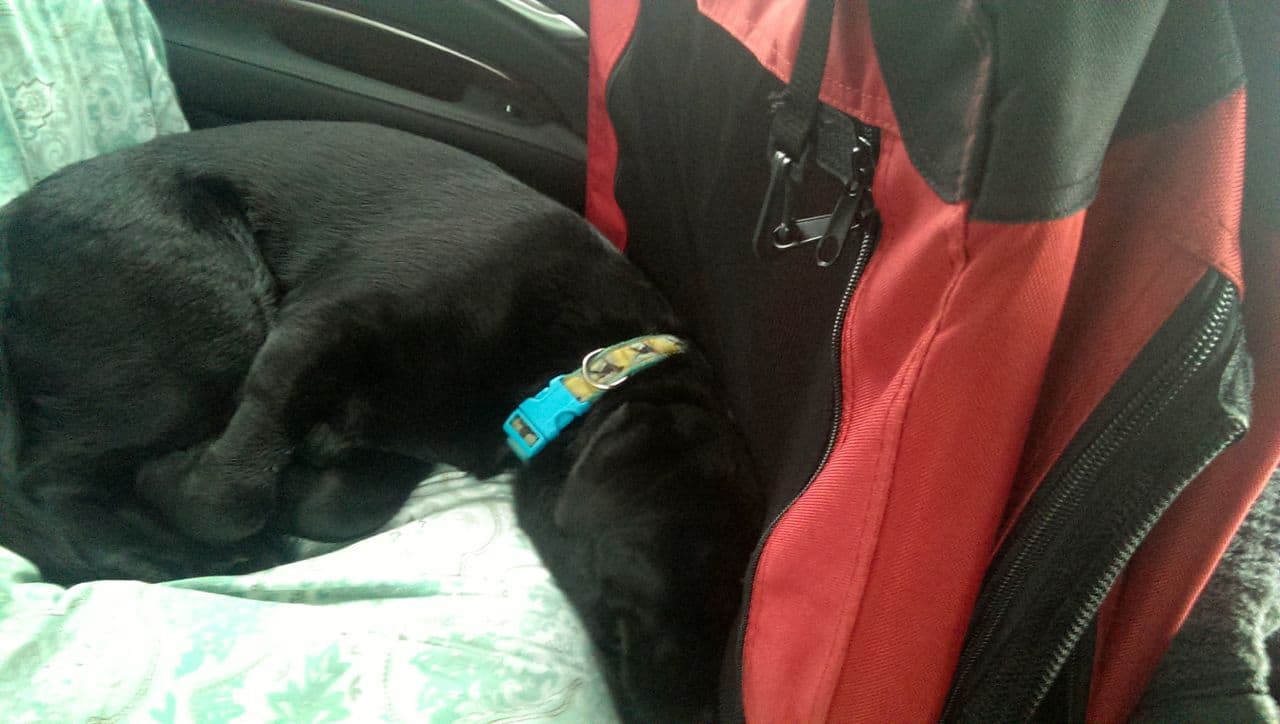 After lunch and the park, we drove straight from Nashville to Roanoke, Virginia (stopping to stretch and hydrate, of course). The Bring Fido app once again proved itself invaluable, as we located a dog-friendly Sheraton that was pretty amazing. All of the dog owners had the bottom floor, with sliders off of the rooms that connected to a grassy area for the pups. It was so ideal. We ordered room service and called it a night. This time around, instead of the king bed, we had two queens. Guess who Gemma slept with? Yep! Her auntie. I loved it. For the most part. I didn't love when she'd wake up in the night and mistake my bony white forearm for her elk bone.
We slept in a little later than we wanted to, but we were on the road before 7am. This time, we decided to drive for an hour or more before stopping for breakfast, and we hit up another Starbucks before really getting into the heart of the Smoky Mountains.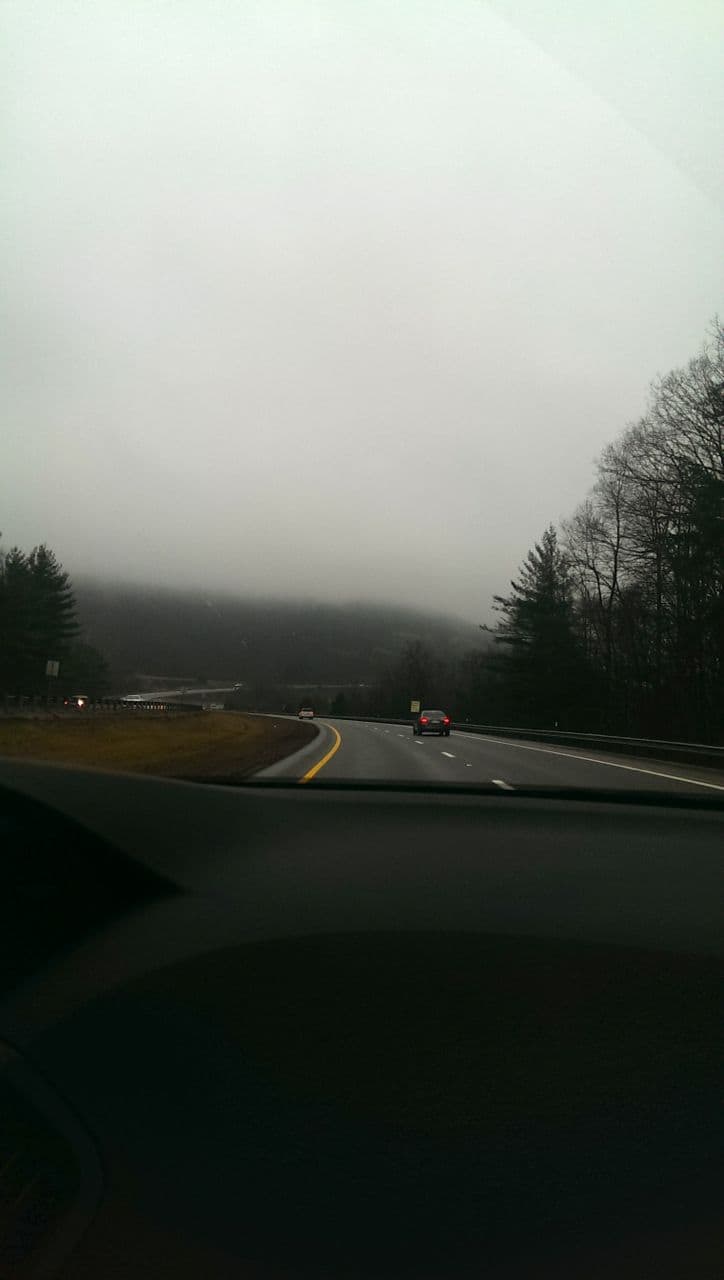 As you can see above, the weather was following us. The whole trip. We had a crazy rainstorm where we again contemplated pulling off of the road, but the visibility was so poor that we feared someone would hit us, not seeing us through the sheets of rain. Instead, we drove slowly, turned the hazards on, and hoped it would pass. It did, thank God, and we had beautiful skies ahead.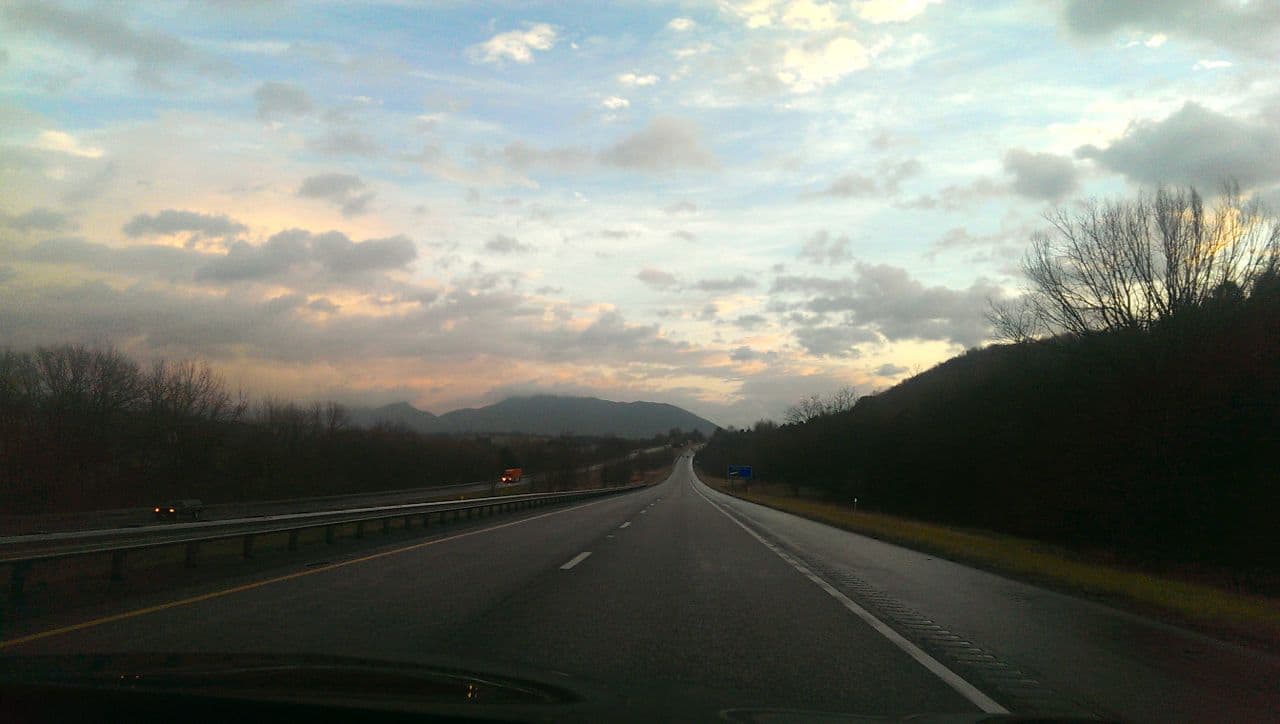 The rain came and went throughout our entire stretch of Virginia, but for the most part, the views stayed with us.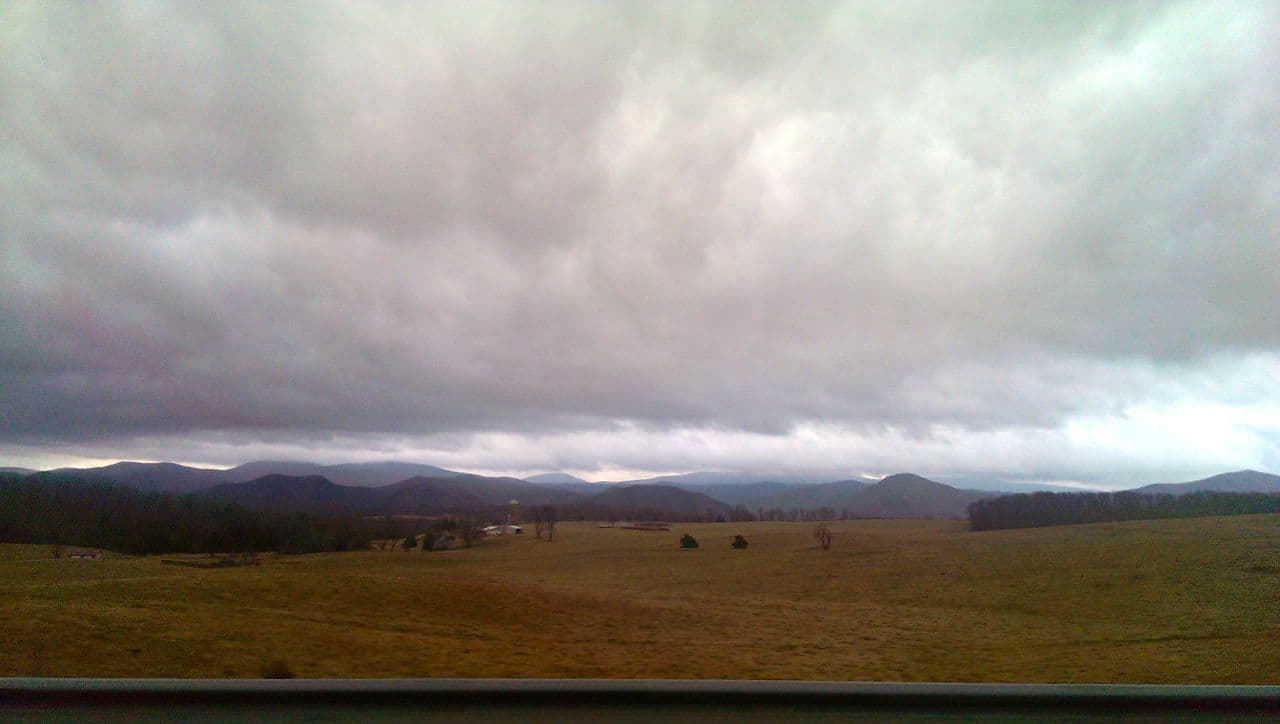 Virginia was loooong. Not as terrible as Texas, of course, but it was pretty bad. We entertained ourselves by calling family members to update them on our progress, and trolling XM. A bit of country, a bit of Christmas carols. A word to the wise: stick to what you know on satellite radio. Somehow we ended up on XXX radio a couple of times, and it takes awhile for you to forget about what you hear after you've heard it.
While we were searching for more appropriate radio choices, I noticed some pretty funny landmarks on the map. Like the one featured in the screen shot below: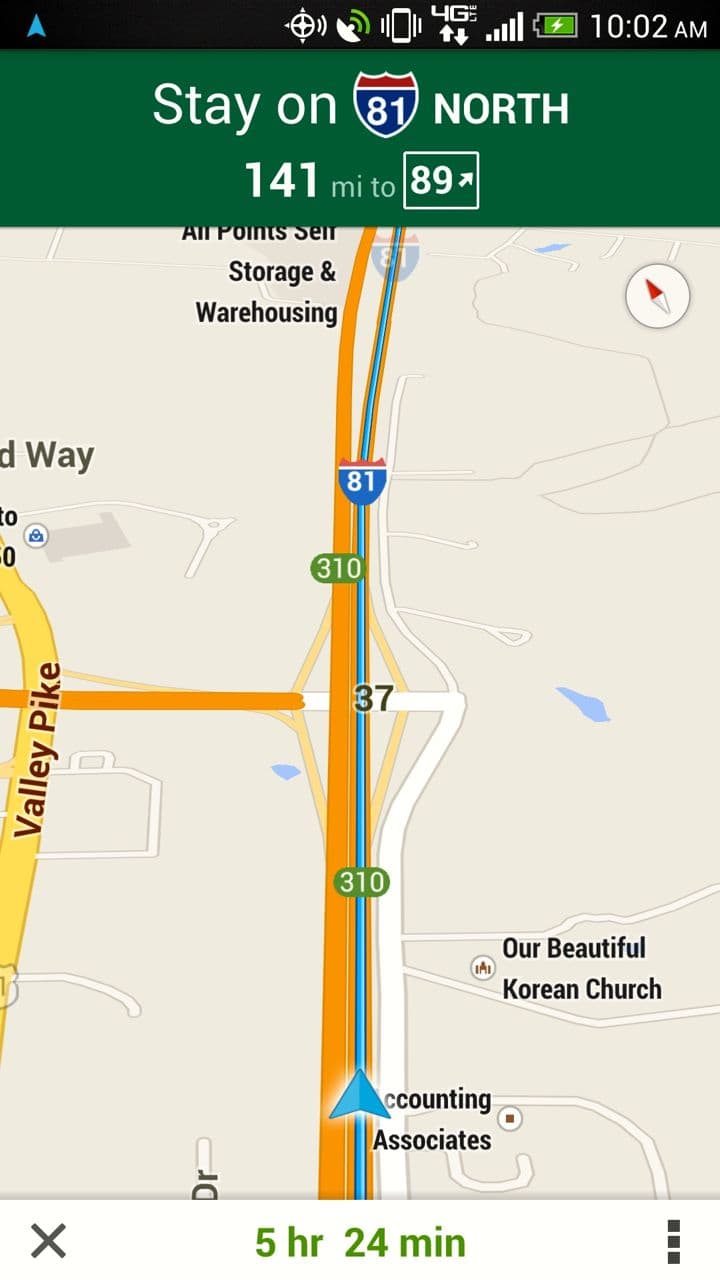 Yep! "Our Beautiful Korean Church!" Unfortunately, we didn't have time to stop. Maybe next time.
I snapped some selfies of me & Gem while we were on that stretch of highway, too. She literally slept the whole time she was in the car. So. Easy.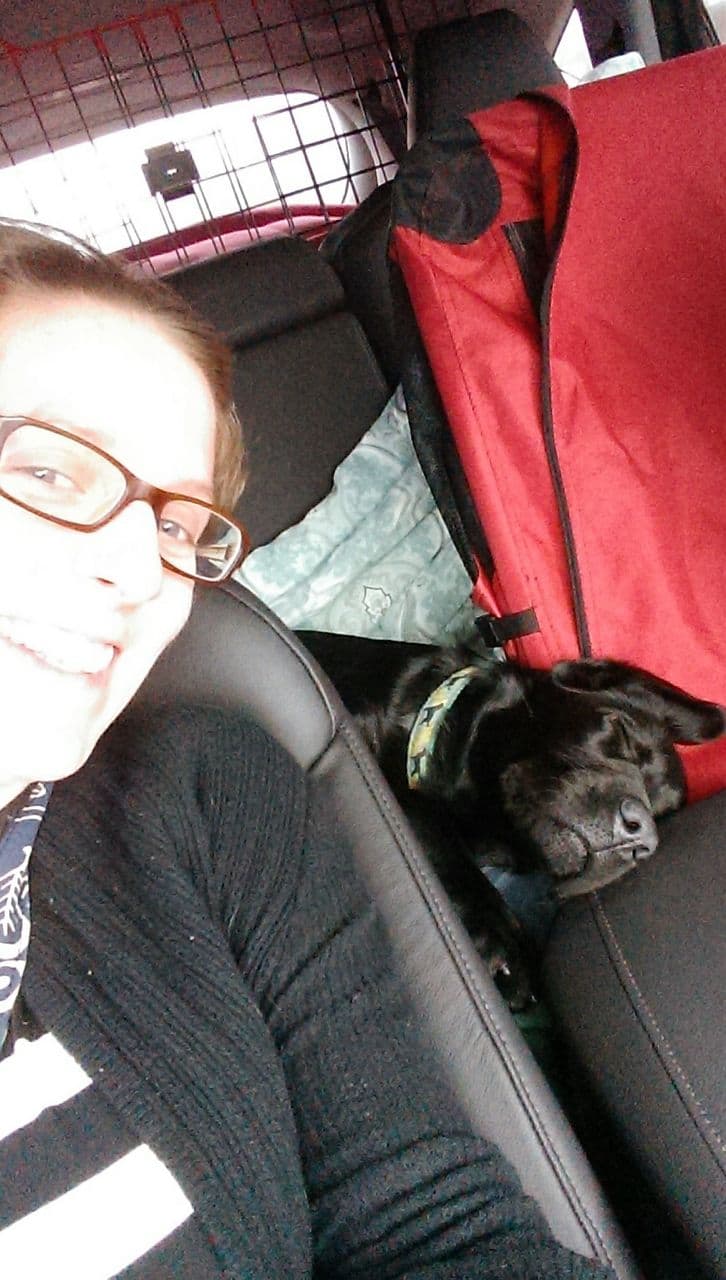 That face. I die. I mean, come on.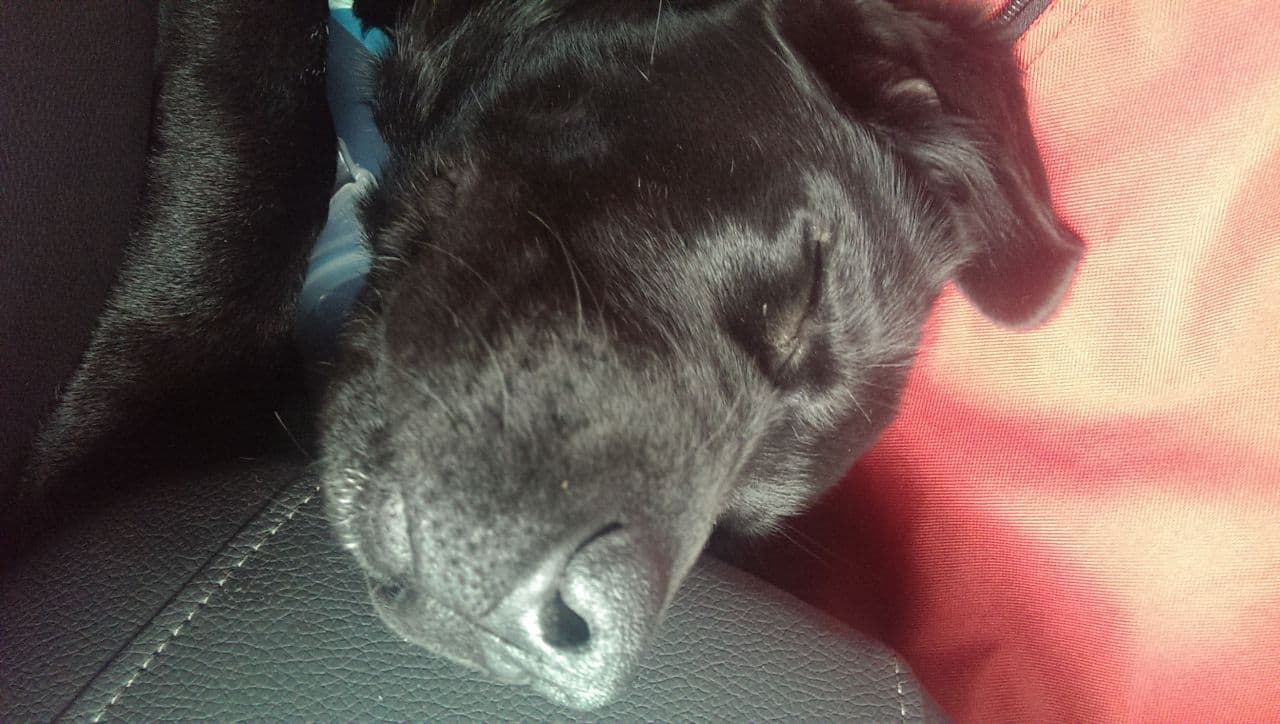 As soon as we started seeing signs for eastern Pennsylvania and New York City, we got all giggly and giddy. We were nearing home, and we were excited. Coming over the George Washington Bridge, we were greeted by a big ol' Christmas tree, and it made me realize more than ever before that there's no place like home for the holidays.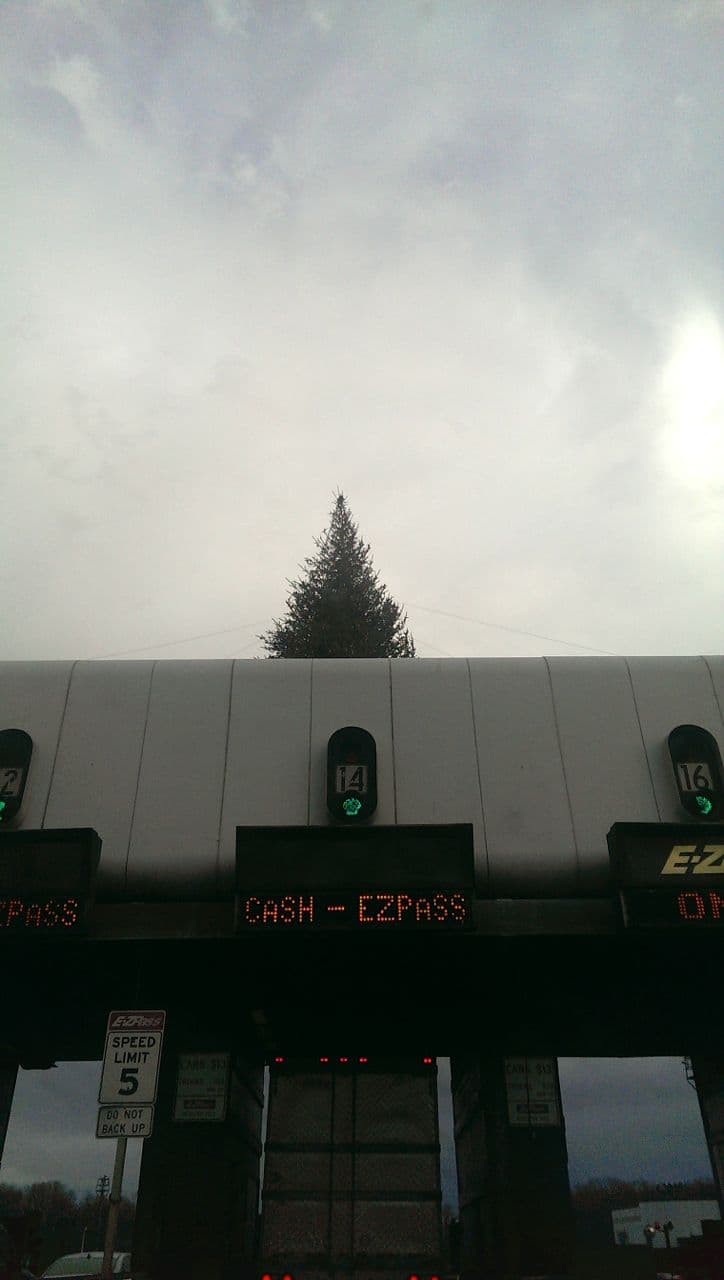 Christmas doesn't feel quite like Christmas when you're not with the ones you love, and I was so happy that the roadtrip enabled Melissa and her pup (and her husband who flew in the following day) to spend it with family. We missed our sister Kim big time, but hopefully she'll be home for Christmas next year. Kim lives in Denver so hopefully she'll fly home instead of driving, but you never do know…