As a general rule, when I need curtains, I ask my Nana. Last year, she made the beautiful valance for the quaint window in the bathroom.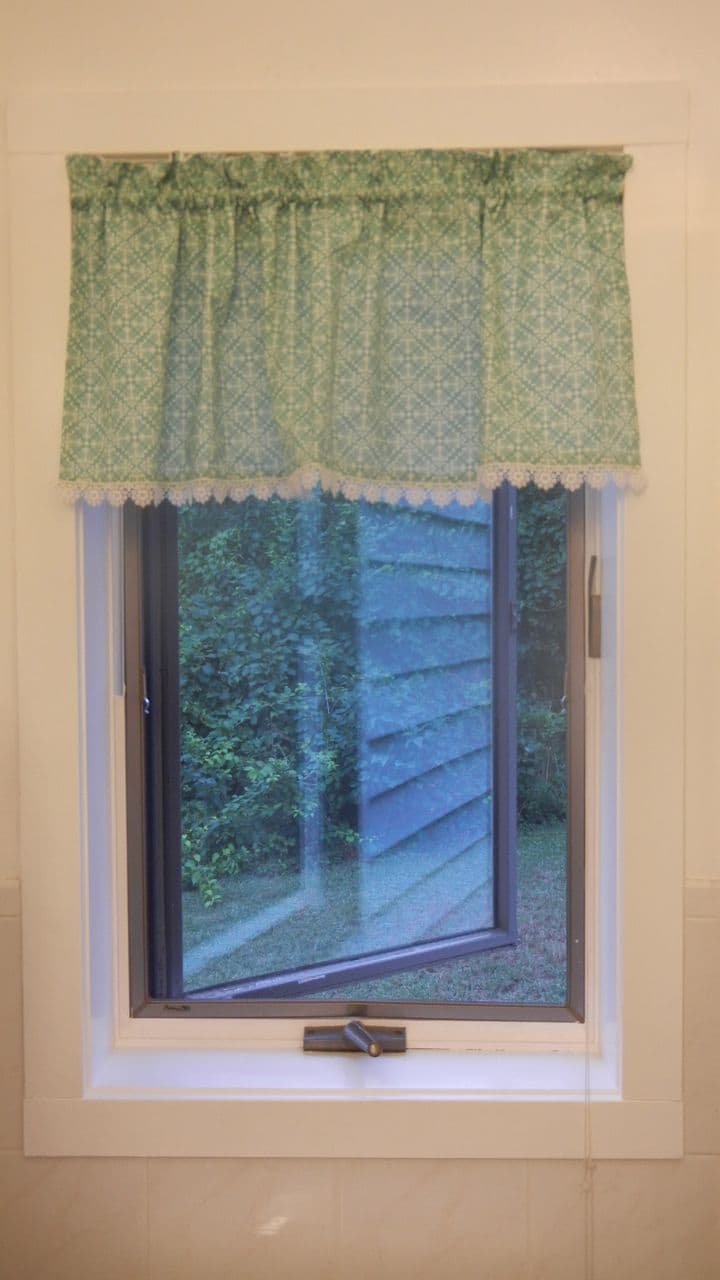 She also made the three valances for the three kitchen windows. Over the sink: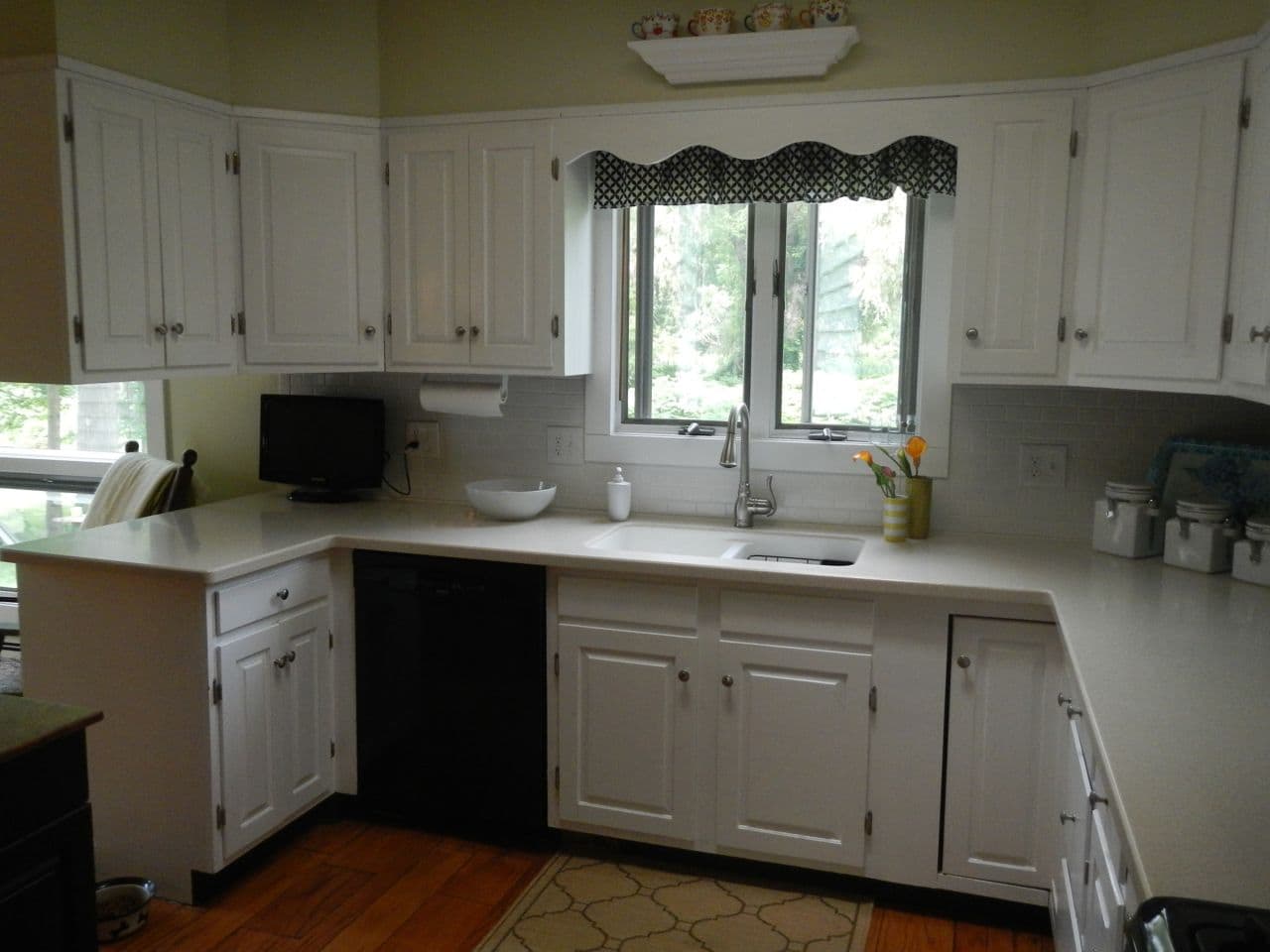 Above the back window: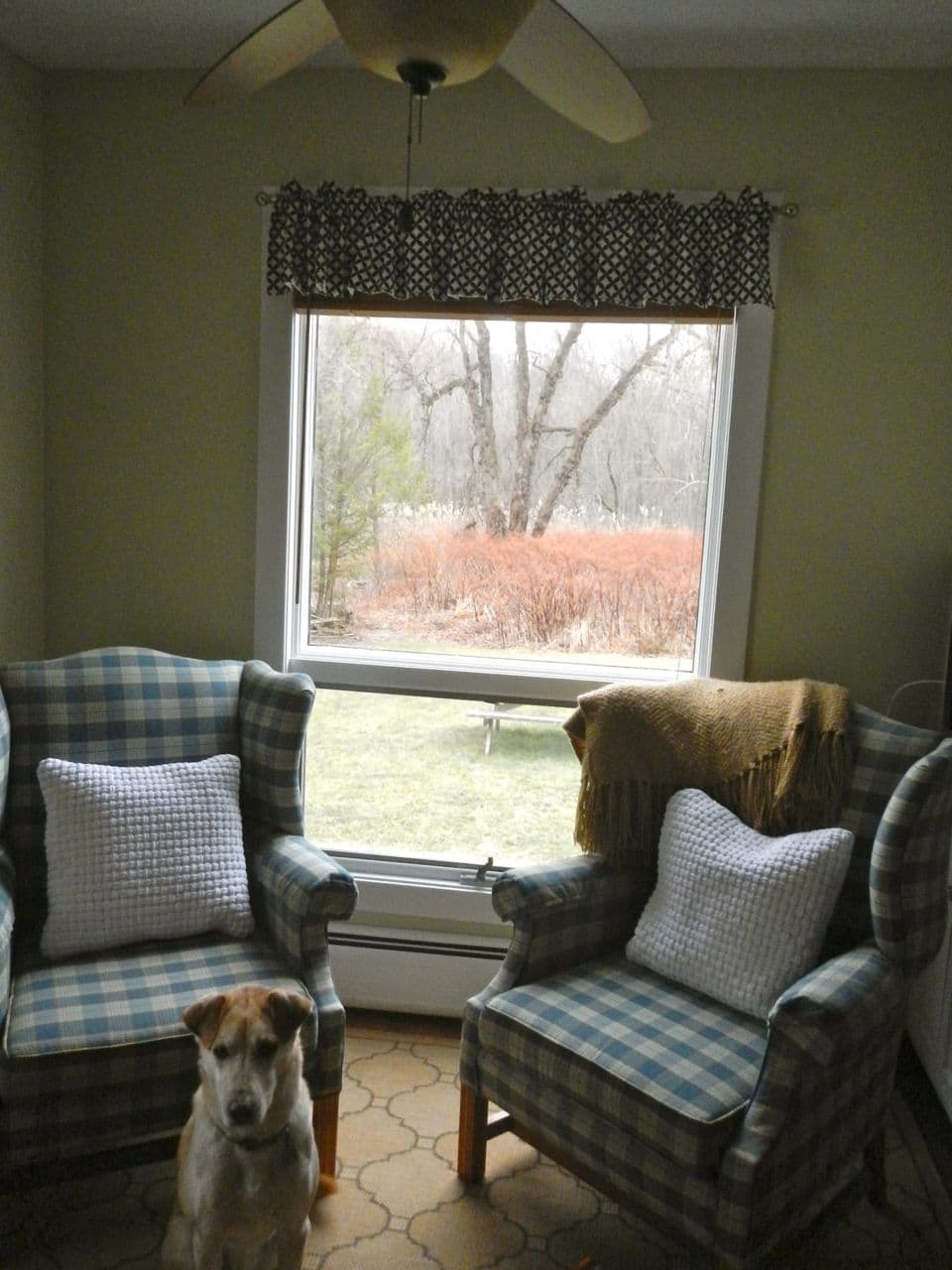 On the back door: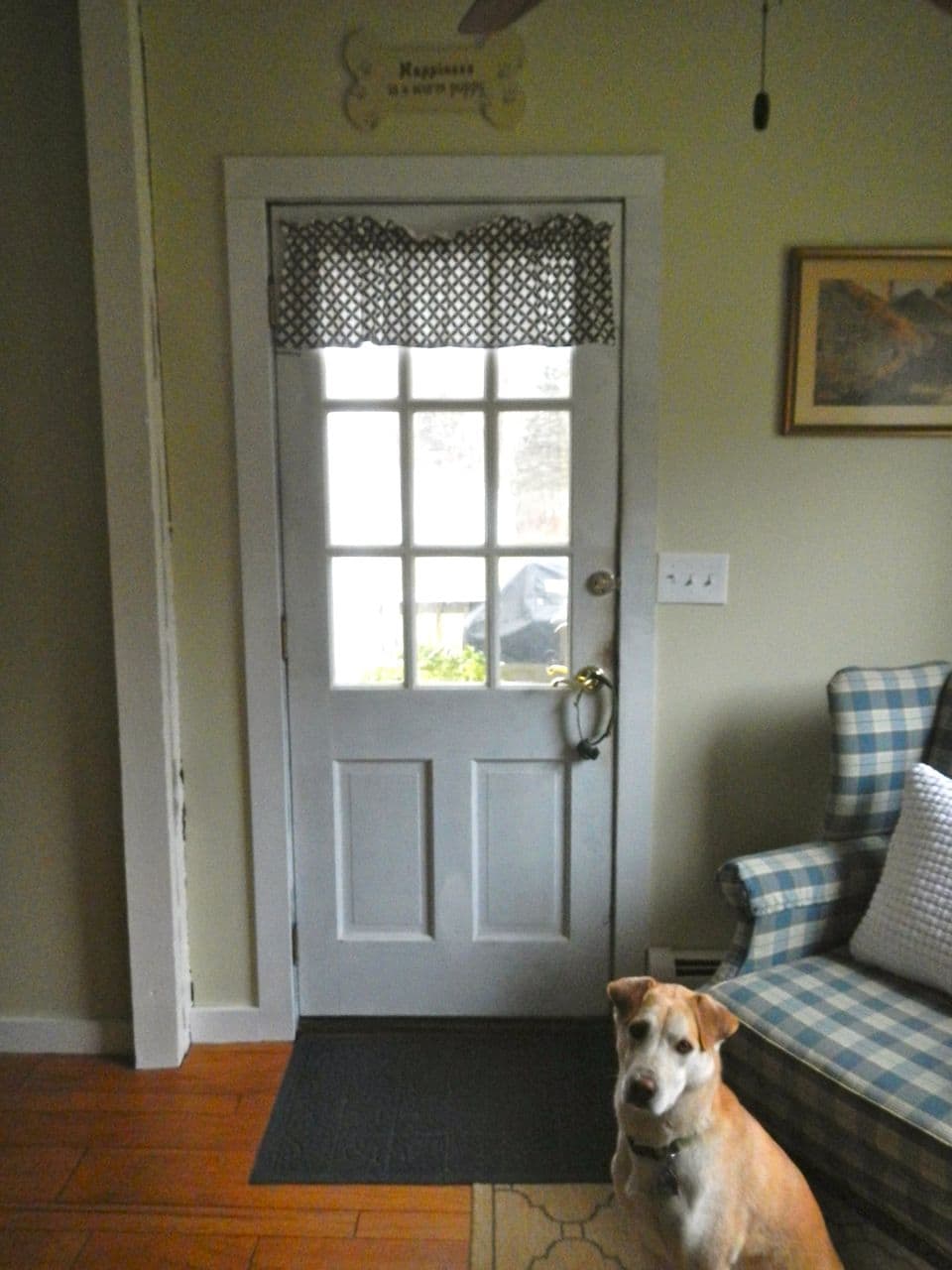 I know, she rocks. Please ignore that back door. It needs paint so desperately. If there was a word in my vocabulary that meant "even more desperately than desperately," I'd use it for that back door. Maybe you can't tell how bad it is thanks to my poor photography skills on this overcast day! It's on the list for Spring projects. This baby will be born with a paintbrush in his hand, for sure. He better be able to help come May. No slacking.
When it came time to upgrade the curtains in the living room, Country Curtains made them and boy, was that easy.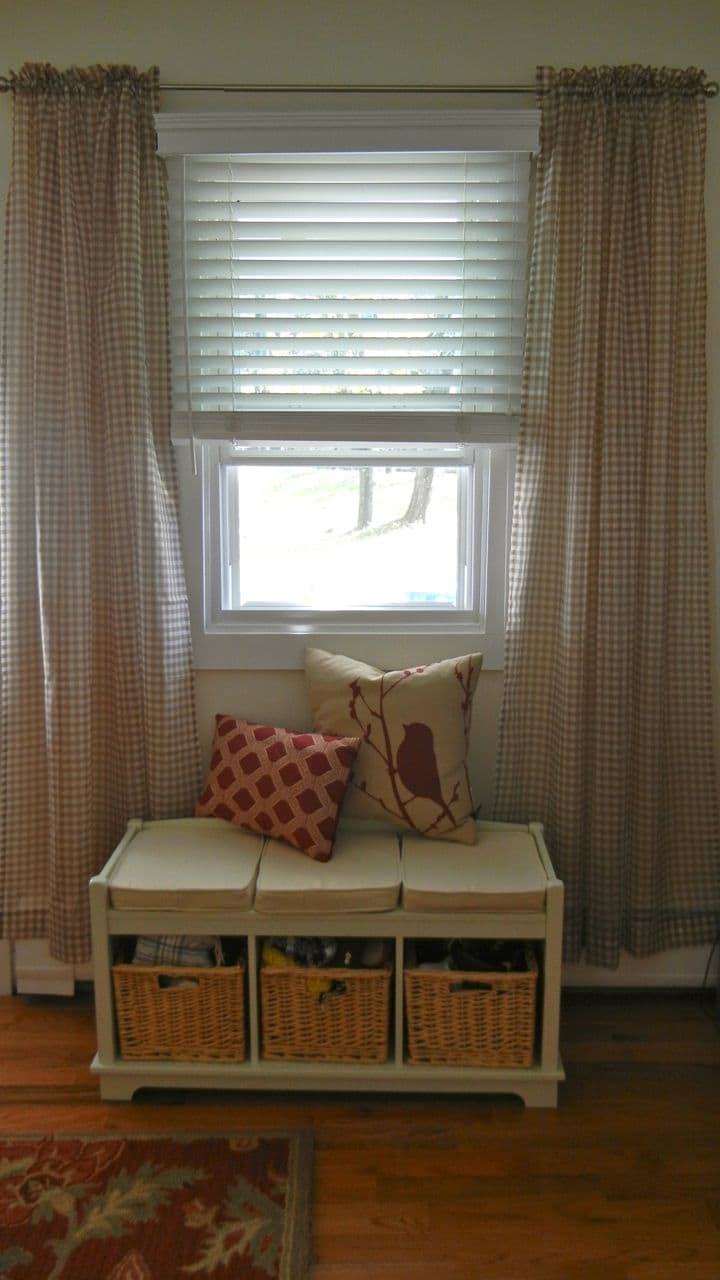 For the nursery curtains, however, I wanted to try my hand at using all of that sewing knowledge I gained in 8th grade and then promptly forgot. My Nana (and my 8th grade Home-Ec teacher) would be so proud!
I'm not sure if it was the notion that I could tell my little man, one day, that I made them for him, or just that I'm having extreme baby nesting syndrome. Maybe it has something to do with the fact that Nan is 200 miles away and fairly unavailable to help this time around. Whatever the reason for the surge of domestic prowess, I acted on it.
I popped over to Joann's to find fabric that caught my eye. Poor Matt came along, and he lasted about 38 seconds in the store before announcing he'd be next door grabbing a slice of pizza.
Does anyone else find fabric stores completely overwhelming? As I made my way from the front of the store to the back of the store, I must have picked up (and then put down) 10 different types of fabric as I stumbled upon one I liked better each time. My main problem is that I have decorating ADD. It's especially bad with textiles. I'll find a fabric/rug/pillow/throw that I love and then discover one I love more later on. Oops.
Yet, I pressed myself to search for something sturdy and boyish, while also being charming yet somewhat traditional and not too "nursery-like." Ha, yes. Those were my requirements. Sturdy. Boyish. Charming. Somewhat traditional. Not too "nursery-like." After about fifteen minutes, I found it. A fabric called "timeless ticking" in red and white.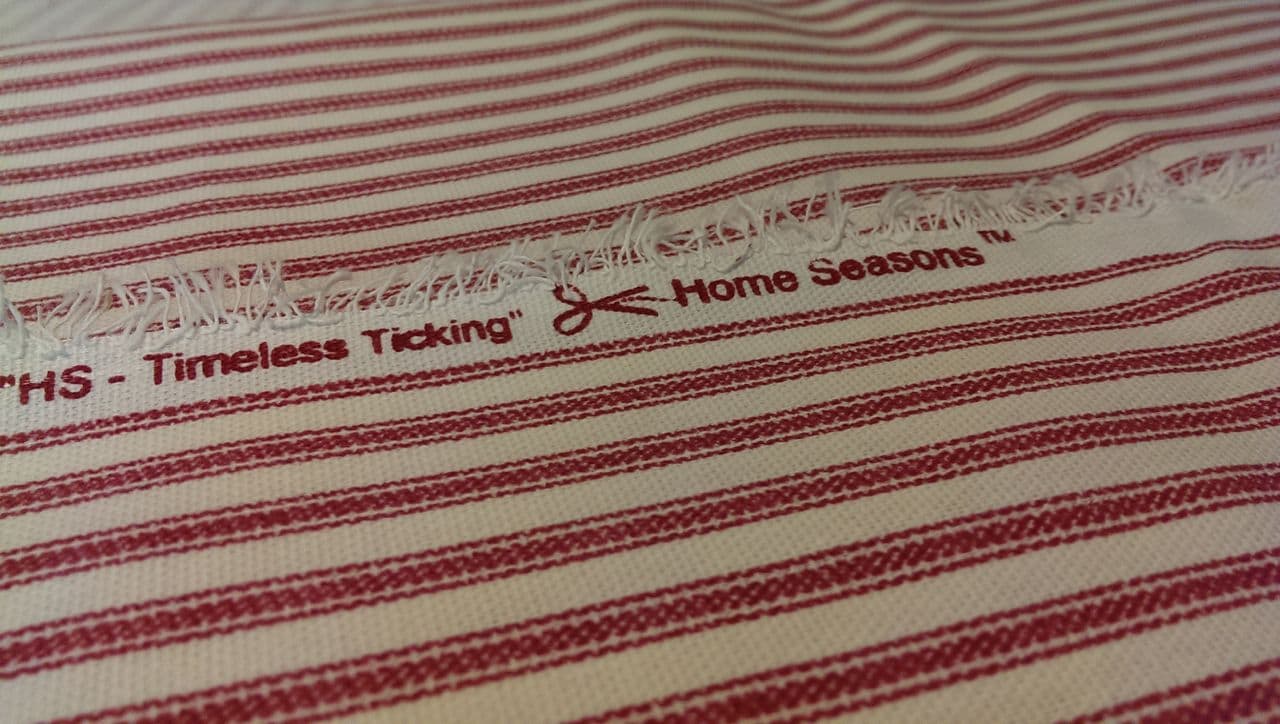 It's pretty thick, too, which is nice. Being that this is my first time making my own curtains, I bought only enough fabric for one of the two windows in the nursery. As my father says: "dumb-dumb." I should have bought more than I need but alas, I'll find myself going back to Jo-Ann's this weekend praying they have more, so I won't have to troll the internet for a match for the other window.
Now, to start the sewing process, I'd need a sewing machine… which I don't have. Roadblock.
I casually mentioned to Matt's grandma (we call her Grams) while we were over there one day that I'd embarked on my first curtain expedition and she graciously offered to mentor the process. So sweet, right? I pass her house as I travel to and from work so it seemed like a great idea.
I loved the idea that we could take it in chunks and approach it one step at a time - perfect for this novice seamstress.
The first day we stopped by, Matt was fixing a bug on her computer and she and I brainstormed lengths and widths while he worked. At the end of a half hour, my belly was full of tea and the two curtain panels for the one window were pinned up and awaited sewing.
The following morning, Griff and I headed over to sew what I'd pinned. Just to clarify, Griff did mostly sleeping, I did all the sewing.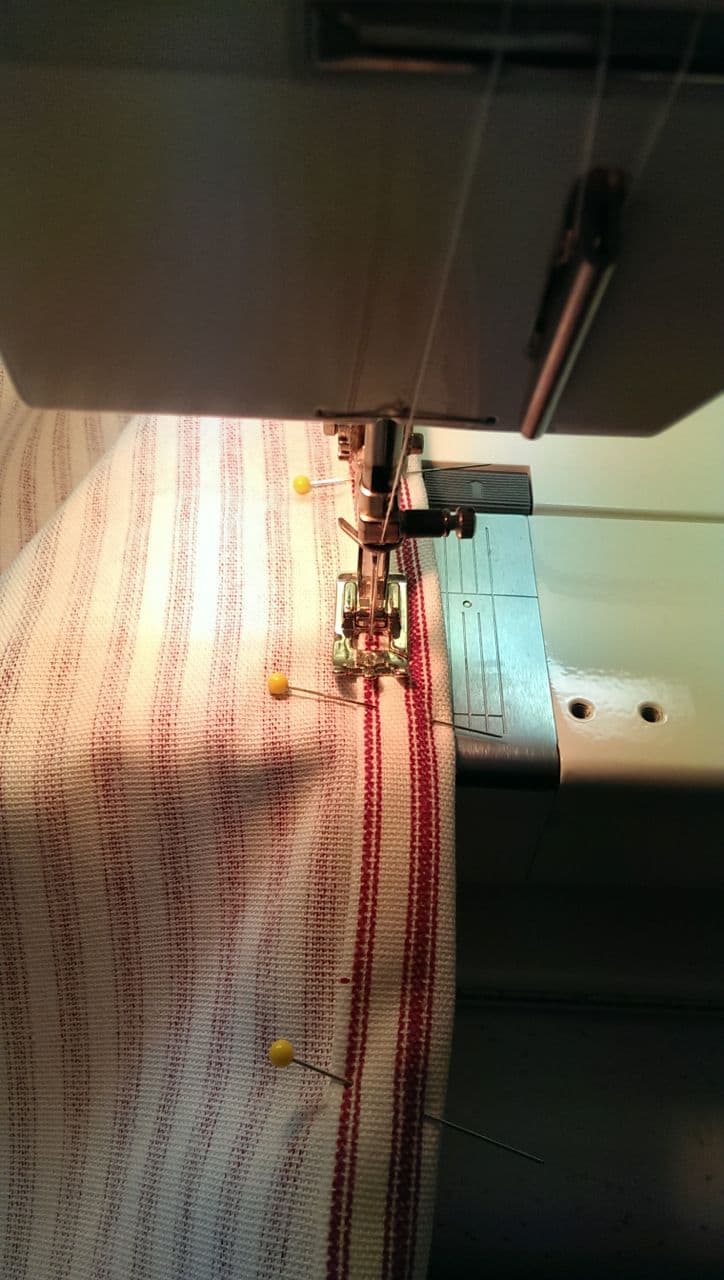 After a little more brainstorming with Grams about hems and measurements, I measured, marked and pinned the hems and threw those together as well.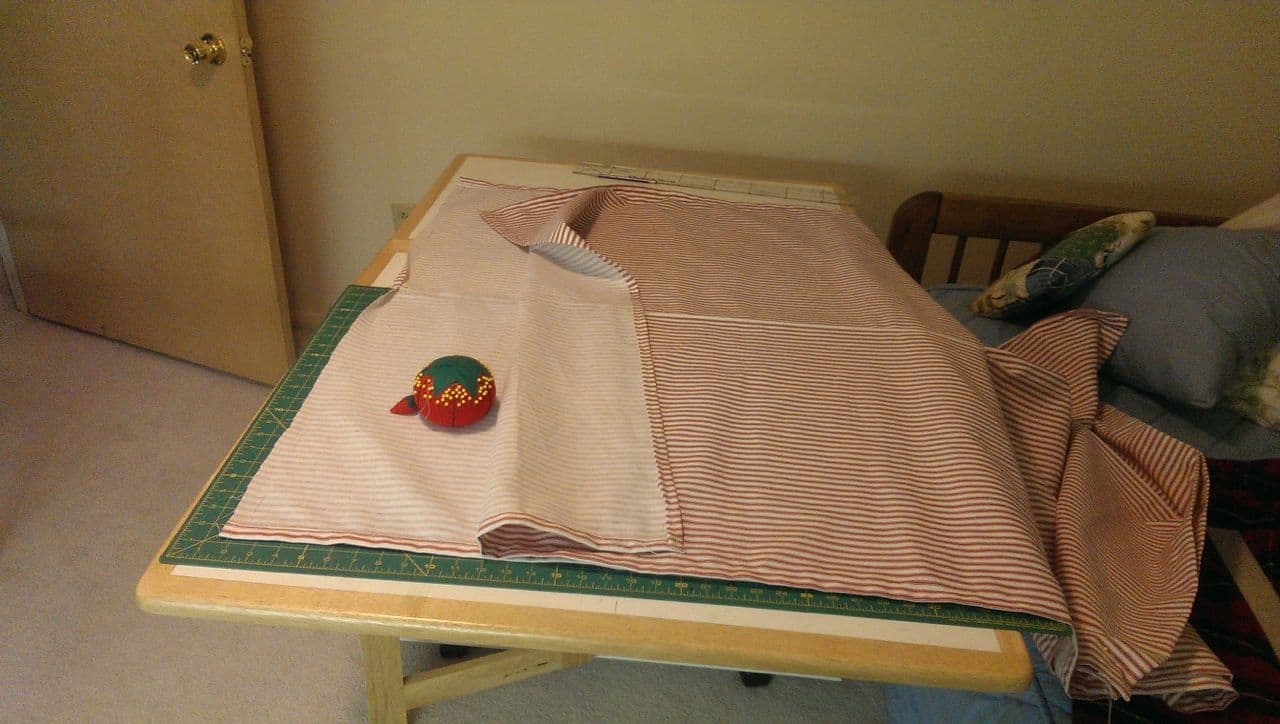 This is a blurry picture, but that little craft room she has going on in her basement is boss. I want one. Sigh.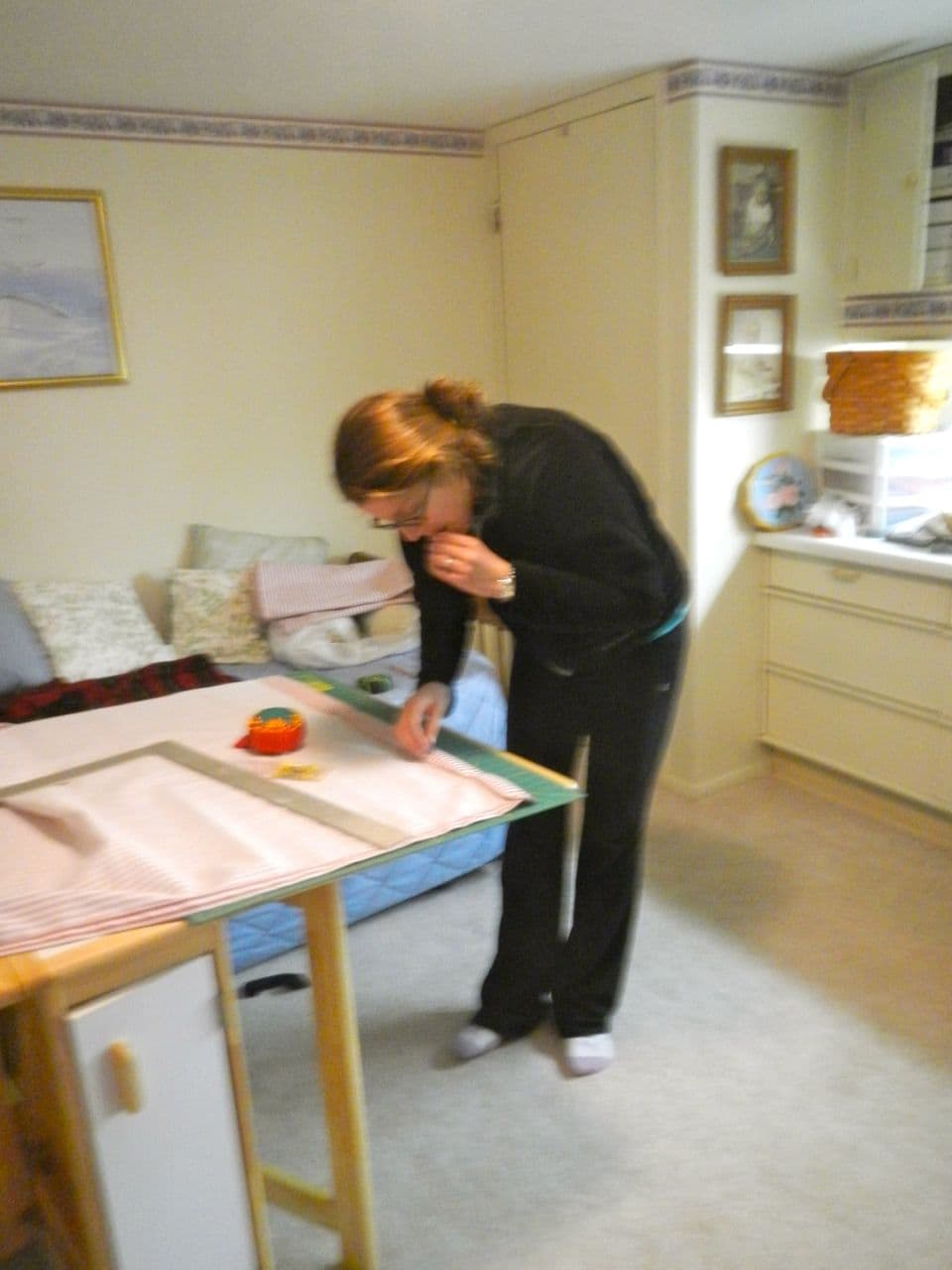 In the picture below, you can make out Grams taking my picture at my request. I need some sort of proof that I did this!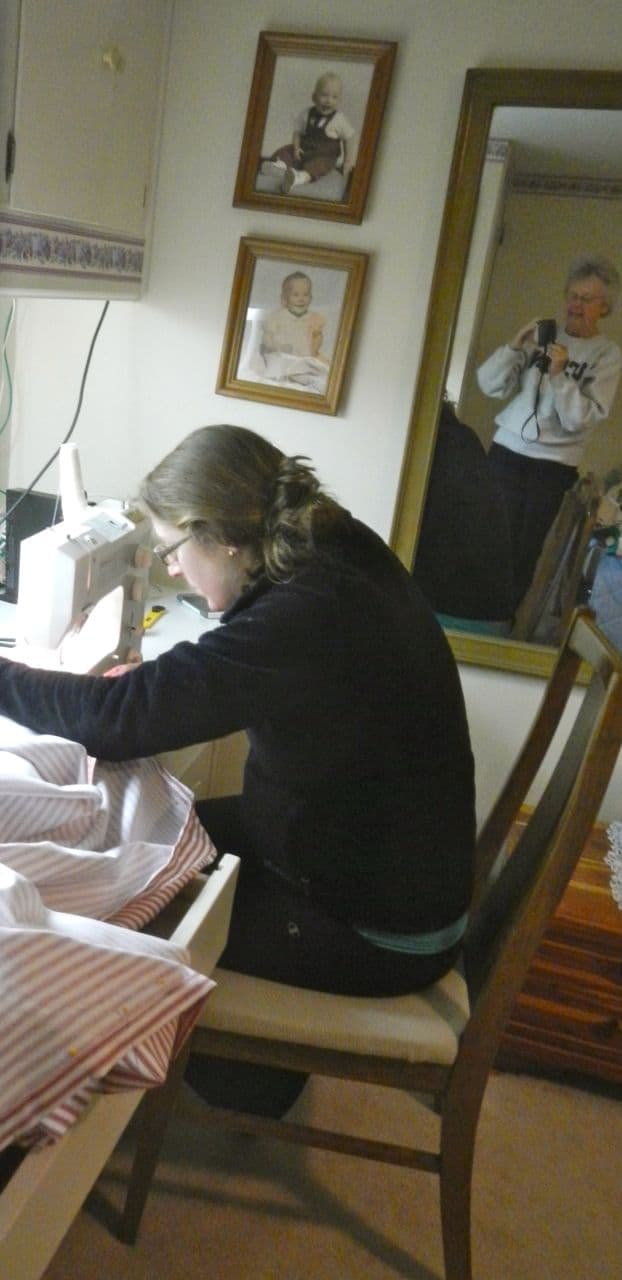 As it stands now, I have one set of curtains completely sewed, awaiting ribbon for the backside, and some sort of black-out fabric as well.
I'm using a ribbon technique that I found online to hang the curtains on the rod. It creates a polished look that I love, while still working with my sturdy-boyish-charming-traditional vibe. Hopefully by the end of the weekend, I'll have some "final" curtain shots for you. In the meantime, I'm still hoping to track down more of the same fabric (cross your fingers!) and get some other nursery-related projects crossed off the list. So that's what I've been up to around here!
We're also planning on finishing a certain trim project in the kitchen that we've been neglecting for… oh right… seven months. See? It's not all nursery-related stuff around here!
Have a great week and thanks for stopping in!