Our new faucet is installed and fully functional, and I'm a happy girl. I wish I had more of the "install" pictures for you, but Matt does things quickly and huffs and puffs at me while I try to take pictures. So, here are the after pictures of our new Moen "Anabelle" faucet.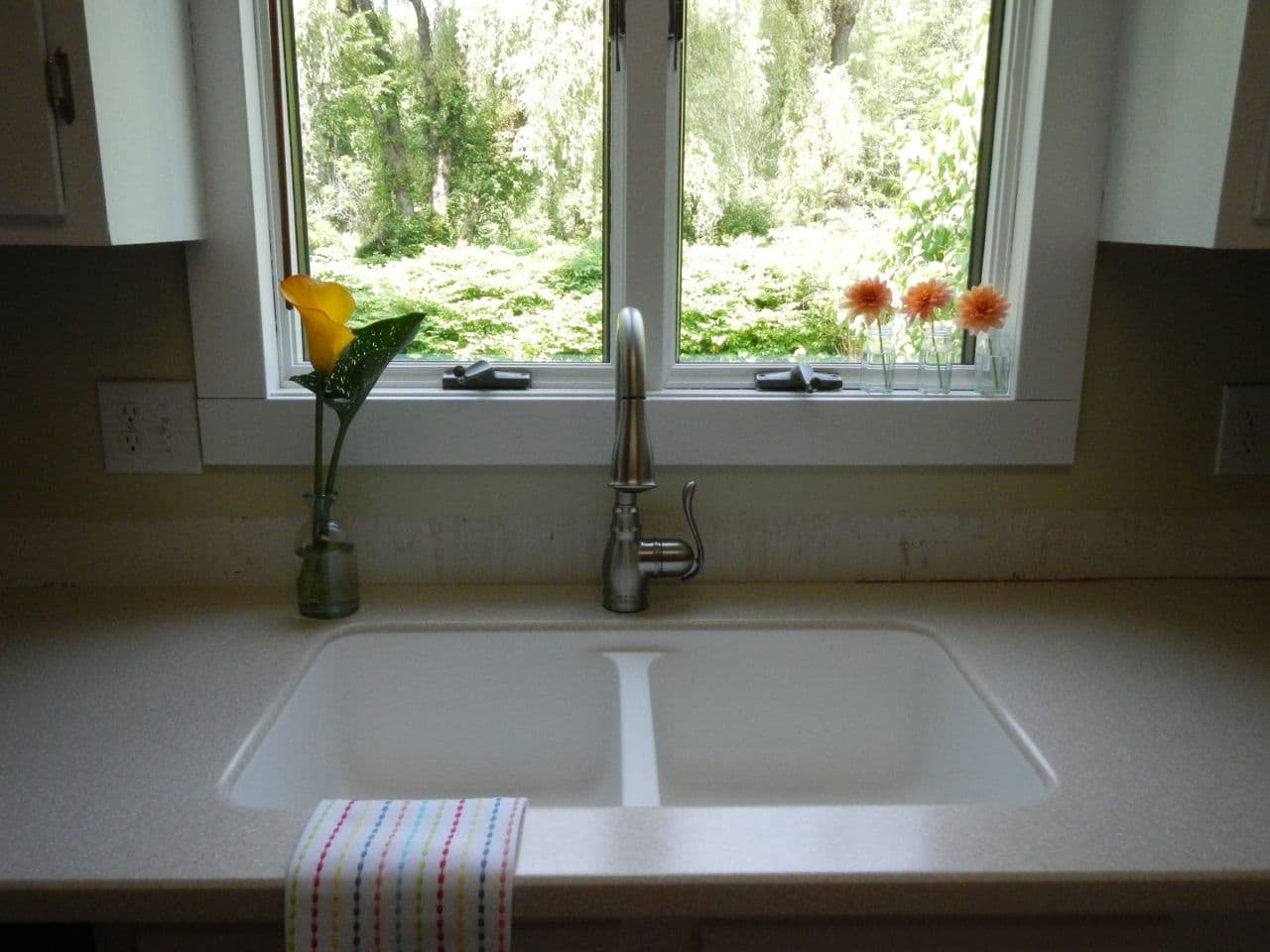 Side note: Those orange dahlias on the ledge are from my garden. Kind of. Matt bought them for me in a patio planter to celebrate our new counters. Does that count?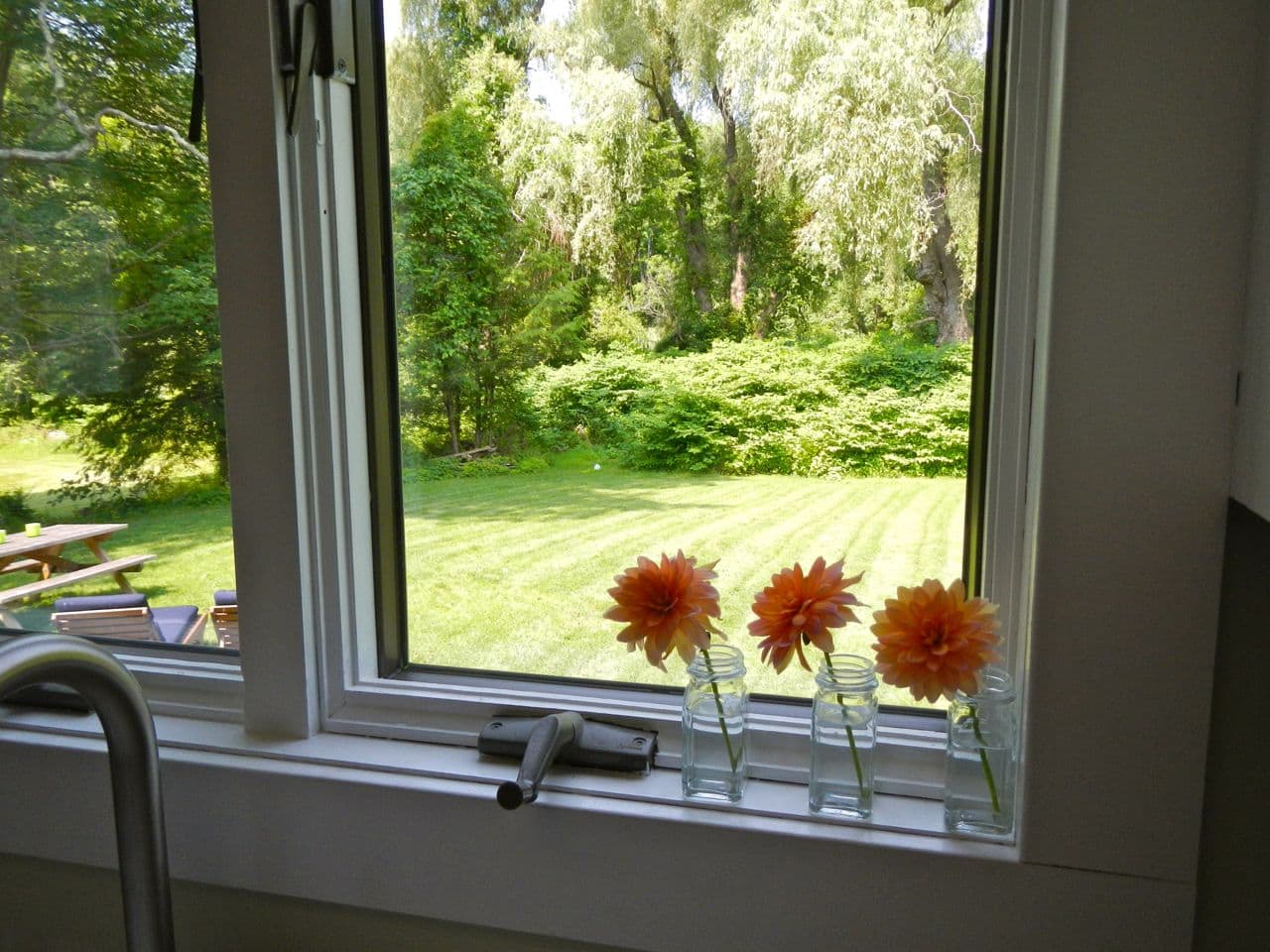 We kept a few things in mind while shopping for our faucet.
Price. We wanted to stay under $250.
Traditionalism. We wanted something simple, with clean but curvy lines that showcases itself as updated but not too modern.
Reviews. We want it to hold up during normal use and be a proven value.
Holes. Most faucets have options for how many holes you need to drill. e.g. 1,2,3, or 4 hole. We liked the idea of the streamlined, simple look of just one hole.
Do I love the faucet below?
Yes. It's freaking amazing. It's also $1K and up. Not for this house. Will it be in my dream house? Hopefully. I'll let you know when we get there.
After shopping online and at Home Depot/Lowe's, I found a faucet that caught my eye.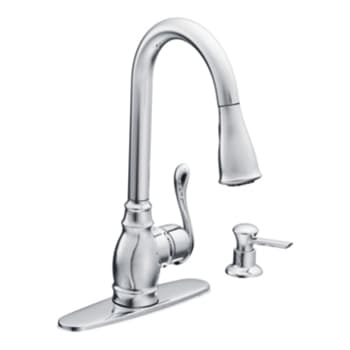 I love the gooseneck-ish arch of the neck, the little details around the base, and the curve of the spout itself. It's shown above with the plate and the soap dispenser, but I opted out of both of those. It was an option to have it or not. I looked at the plate as just a bigger surface to clean and we never, ever used the soap dispenser from our old faucet. 1-hole: less to clean, simple-looking, streamlined. Done.
We checked reviews all over (Amazon, Home Depot, Lowe's, on-line faucet depots) and decided that we were willing to try it seeing as it averaged over 4 stars.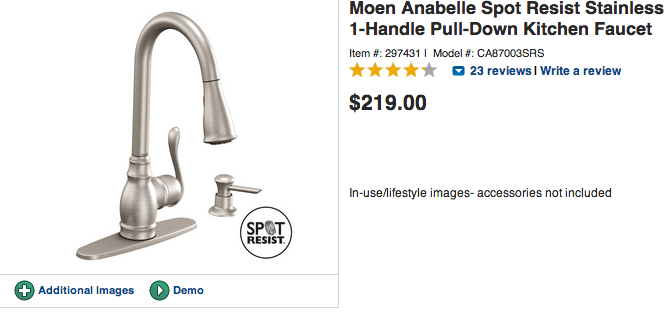 Our old faucet was a cheap brand and it showed. Moen is a good, solid brand for faucets so we felt comfortable buying our first Moen.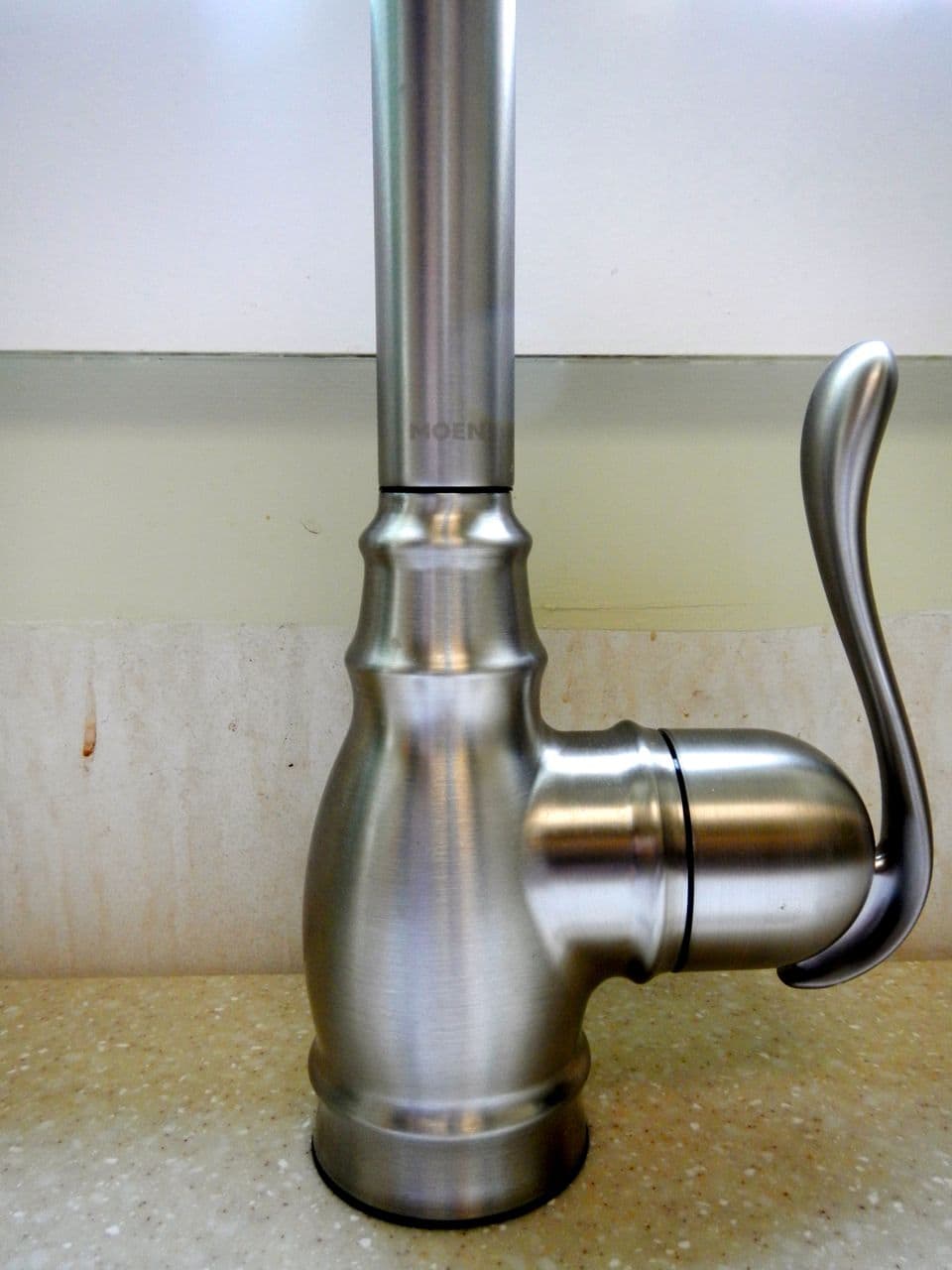 It was $219, which was well within our budget of $250. We had a couple of gift cards to Lowe's, too, so we bought it there and our total came to somewhere around $165 out the door. We were really happy with that.
We've been using it now for a couple of weeks and we love it. The spray function of the faucet is tucked on the underside of the nozzle, where it's hidden from view. I like that feature.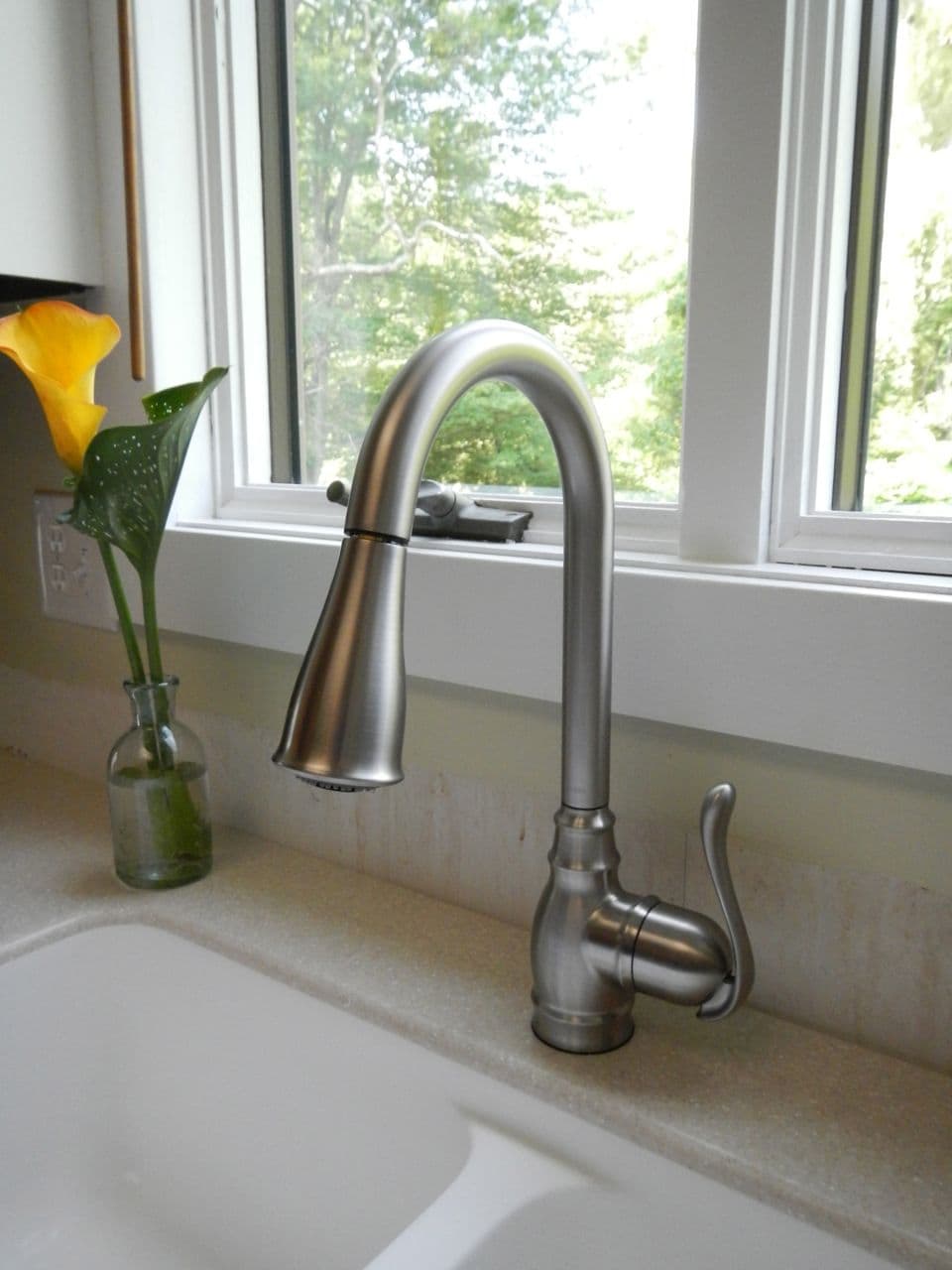 There is one downside of the faucet-swap. The water pressure isn't as good as our last faucet. We think it's a plumbing issue and not the faucet, though, so we'll be looking into that down the line. Other than that, we love the look of it and the "spot-resist" brushed nickel finish looks beautiful even after touching it with wet hands.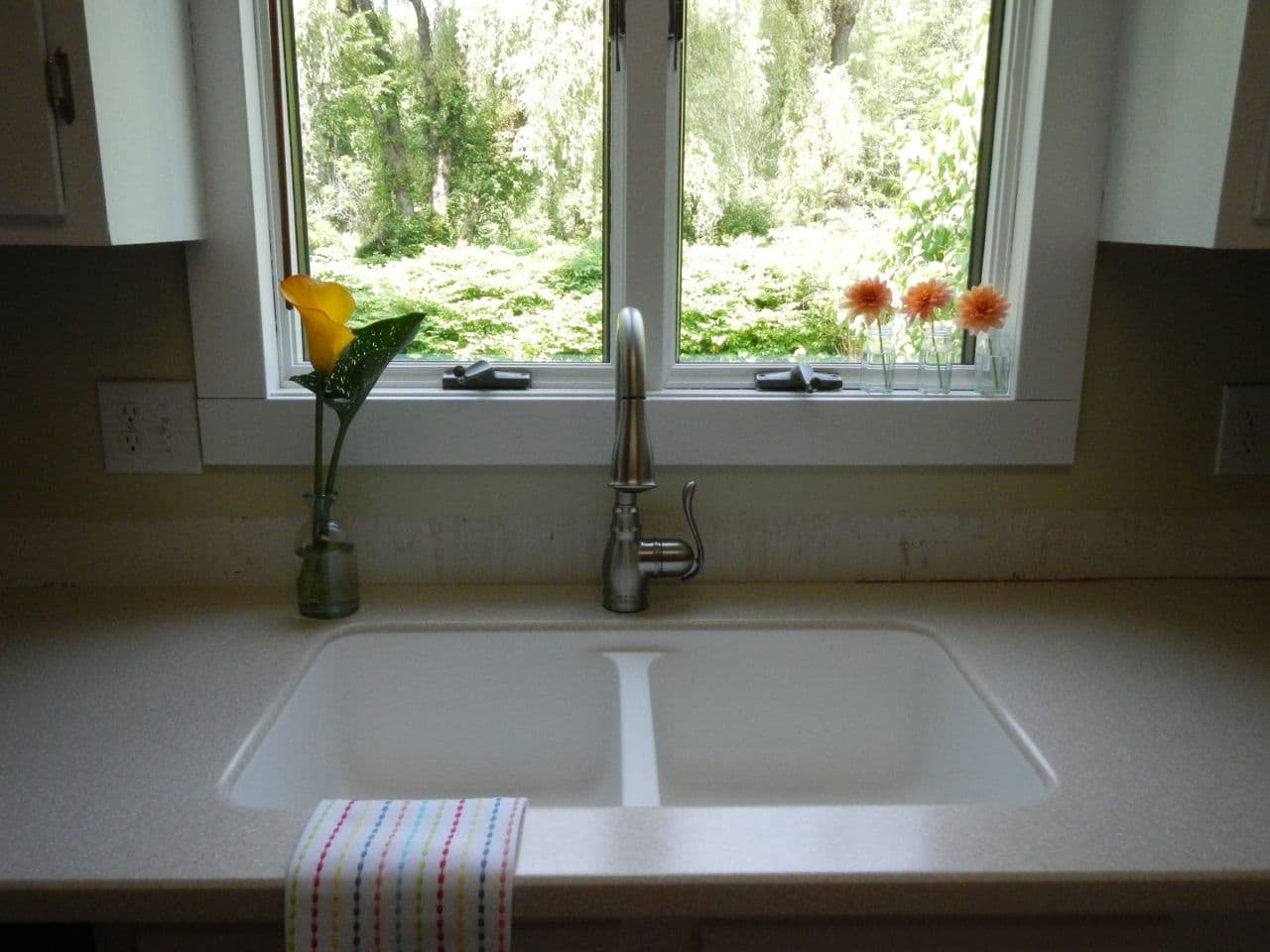 Looking back at these pictures, something sticks out at me (besides the dirty wall begging for some tile). The cranks for the windows. They're brown. Hm. Maybe I can spray paint them. I may have just stumbled upon a weekend project.
The faucet will look so much nicer next to white cranks. Runs off to garage… Have a great weekend!!