Matt and I were able to get away for a few days this past week. We headed out to Colorado to hang out with a bunch of family and friends for a long weekend that made for an incredible getaway! Our last 3 vacations were to Colorado. Clearly, we need to get out more. :) If you've read about our travels before, you might remember we were out in Colorado in March, as well. If you're fairly new to the site, you can read about that trip here and here. We flew out on Thursday morning and arrived in Denver at my sister's apartment by noon.
I didn't get to sleep on the plane because someone was stinking up the place…bad. So bad that I had to get creative. Matt thought my solution was picture-worthy.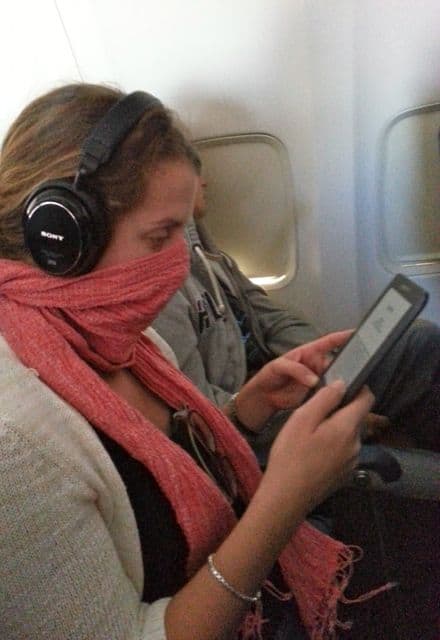 What? My scarf smelled like sachets of lavender, thank you very much.
Upon arriving in Denver, we said hello to family and chatted for a bit. Kim and I took a sister close-up.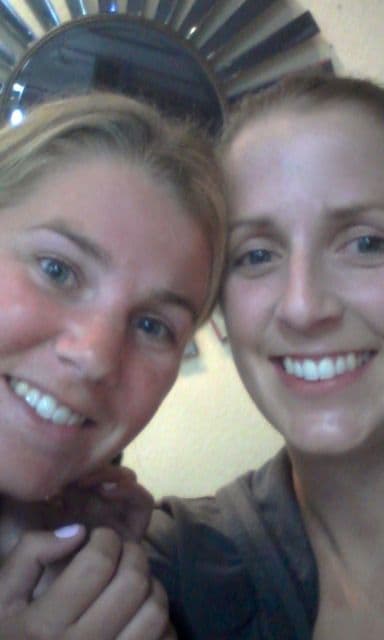 A bunch of us then walked up 16th street, which is the "main drag," if you will. We made a stop at Chipotle while enjoying a summer walk without humidity. It was nice to have such a reprieve from the nasty heat we've been experiencing in Connecticut this summer.
Side note: if you want a glimpse into how I handle the heat in our old school house which lacks the luxury of air conditioning, read this. I'm told it's quite comical. I guess my comedic writing ability is enhanced by heat and lioness hair.
Although we were in need of a nap after walking around, we rallied the troops for a Rockies game @ Coors Field, located just a quick walk from my sister's LoDo apartment. Matt wanted to take the pedi-cab, but I made him suck it up and walk to enjoy the gorgeous night!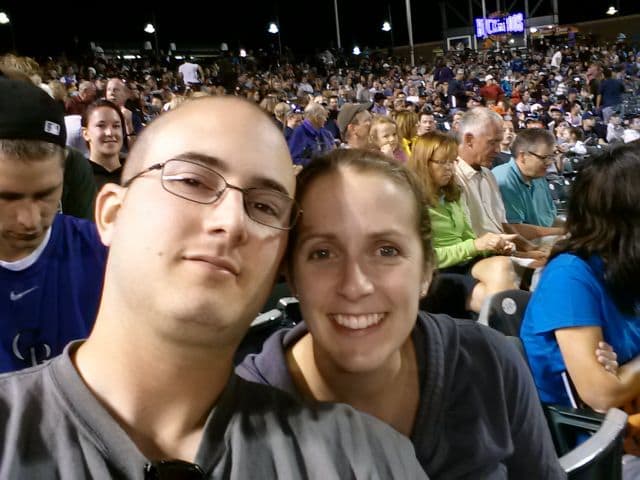 We had a good showing, with Kim and her boyfriend, Brandon in attendance, as well as my parents, my aunt and two cousins visiting from the Boston area. We had fair seats and perfect weather, in my opinion. Here's a nice shot of Kim and Brandon.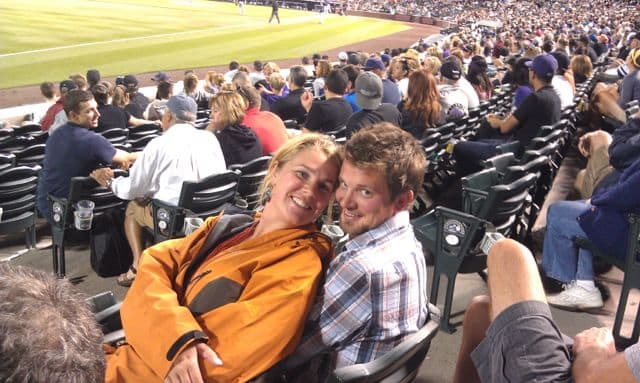 We headed home after the game and went straight to bed. We had a busy day ahead, and the day's travels had definitely caught up with us.
We woke up Friday morning, packed what we needed for Vail, and hit the road. We made the obligatory stop at the Kum & Go in Idaho Springs, which is fast becoming our go-to pit stop for everything from Red Bull to authentic Colorado jerky to ice cream & candy en route to the mountains. It is so funny that the ride into Vail is two hours or less, but we feel the need to stop anyway. Memories are made at the Kum & Go. Fo Sho.
As soon as we checked in at the Four Seasons Resort Vail, I was anxious to see our room, the views, and the pool. We haven't stayed at many (1, BTW) upscale, luxury resorts before, but I could get used to it! What a way to travel! Here's a small shot of the shower that Matt now wants to build in our bathroom.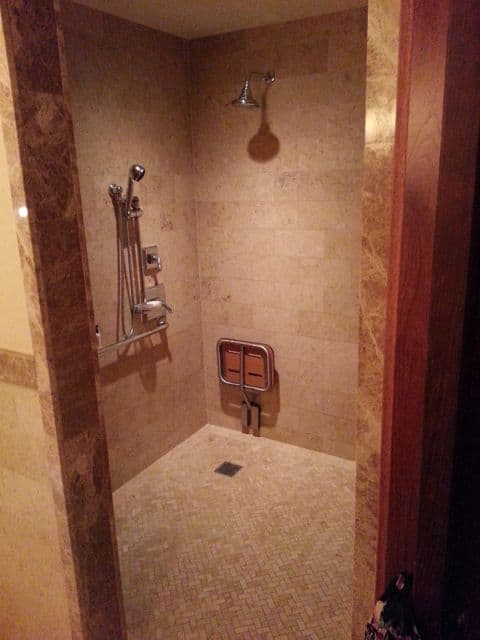 Never mind that the entire bathroom at our house is smaller than that shower. The picture doesn't even do it justice. Matt said he liked that he could do a complete spin with arms outstretched and not touch any walls. I liked that it didn't need a shower door. One less thing to clean, that's how I looked at it. Maybe in the next house, darling!
Check out this amazing view from the room. And this was on a hazy day.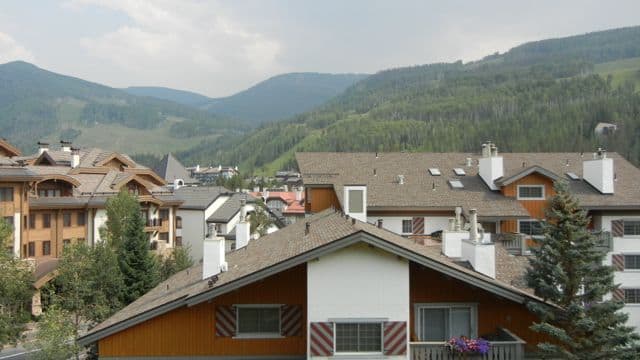 If I'm getting used to fancy resorts, I might as well get used to that view, too. Riiiiiiight. Never! It never gets old. Those mountains take my breath away every time, forcing me to stop whatever it is I'm doing and stand awestruck in complete silence.
We had plans to be at Bol in Vail Village (check out that link for Bol - most ridiculously over the top bowling alley EVER) shortly after we checked in, so we only had 45 minutes for a quick pool stop. I forced Matt to tagalong (he normally likes to chill on the bed watching TV for a few minutes to decompress after checking into a hotel but that doesn't work so great when you have me for a wife). I like to see everything, right away.
The pool area at this hotel was sick. As in, incredibly stunning/relaxing/indulgent. Stunning because it was constructed with natural stone materials surrounded by gorgeous landscaping, AND it was nestled at the base of the Rockies. Relaxing because hotel employees would come around asking to clean your sunglasses for you while bringing you a constant stream of fruit-infused ice water (and other libations if that's your thing). Indulgent because said hotel employees would stand at attention, waiting to wrap you in a heated towel after you exited the pool. Yes. I am serious. It was amazing. How the other half lives, I tell ya. Check out the sweet fireplace over my right shoulder.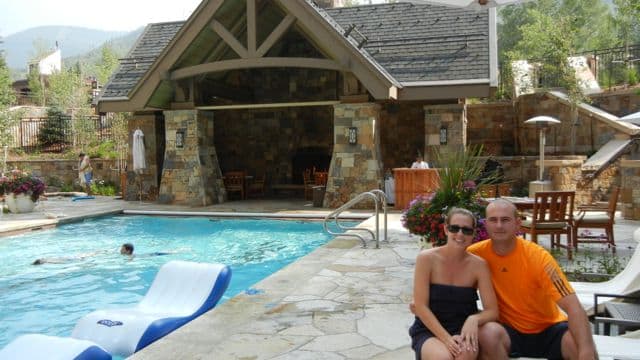 After enjoying a $30 (choke) slice of mozzarella & tomato delivered poolside, we headed back to the room to quickly change. We went up to the tenth floor to check out some more views before bowling, and ran into my dad, mom, aunt, Nana, Kim & Brandon. Party on the roof!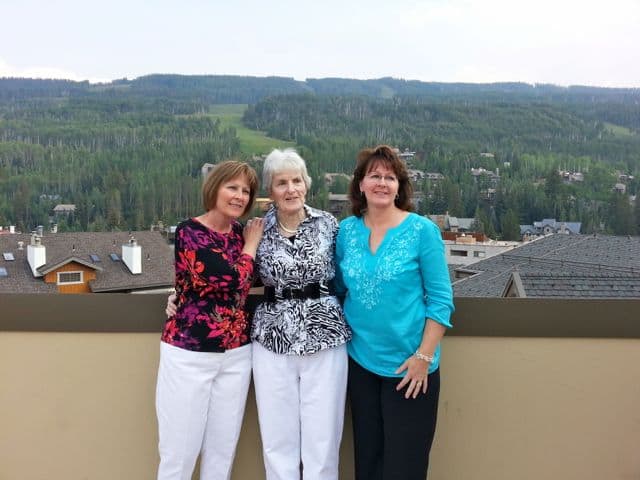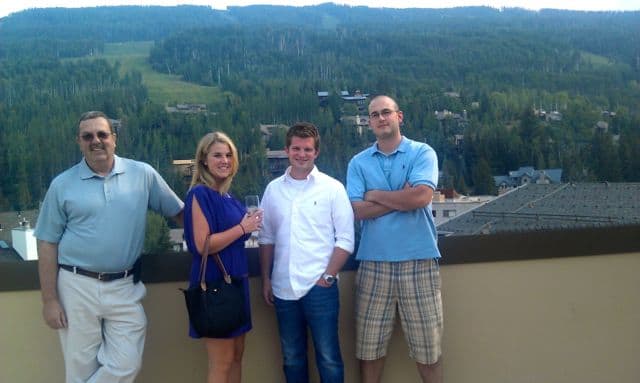 Vail is known for being beautiful yet a teeeeeeensy bit over-the-top, and this bowling alley was no different. It had huge LCD screens above where the pins stood, broadcasting a different channel on each screen. Matt was loving that he was watching the Yankees game while bowling, and being served free food and beer. What's not to love? It was rented out for our family and friends (Thank you Lize & BIL!!) and the appetizers and drinks delivered to the swanky lanes were all delicious. Matt and I indulged in a few Dale's Pale Ale(s) and Matt bowled a sh*t ton. I spent most of the night chatting away, doing my thang. Although I did bowl once, and Matt caught it on camera.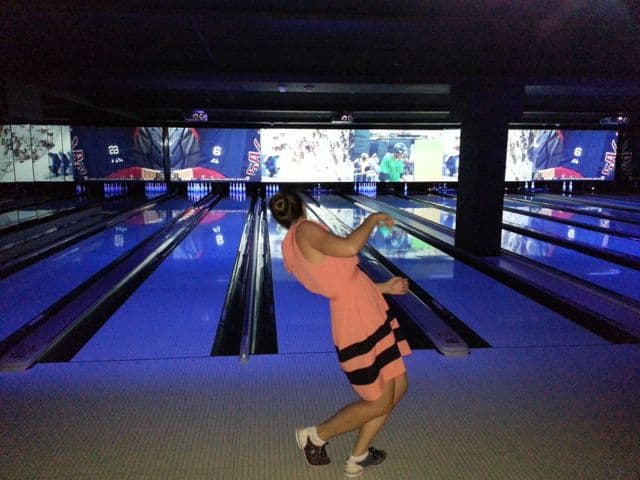 Yeah, baby. Apparently, I sway like that when I bowl. A bit of a gangsta lean, if I do say so. We stayed for a while after, because my friend Teddy moved out to Vail this summer and I really wanted to see him while we were out. Here we are, being oh.so.beautiful, even with the white balance waaaay off.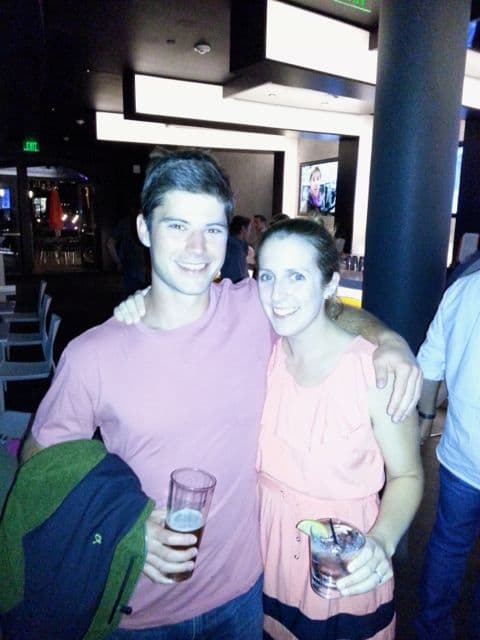 We followed Teddy (never a good idea, FYI) to a local bar underground for an apres-bowl (I crack myself up) aperitif and met some of his friends. On the way back to the hotel, we took part in some bear shenanigans. I'm sure Matt told us something along the lines of "be the bear" so I decided to make a stoic face like the bear is making in the painting, where as Brittney took it a bit more literally.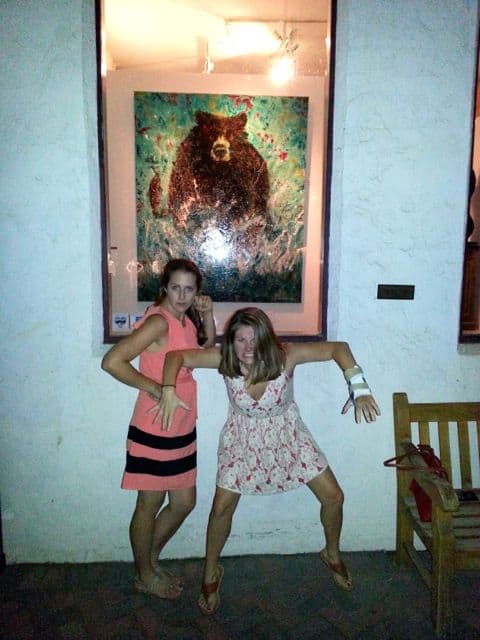 Love it. We then decided to try to pose with a bear statue, setting the tone for a very fun Saturday and Sunday.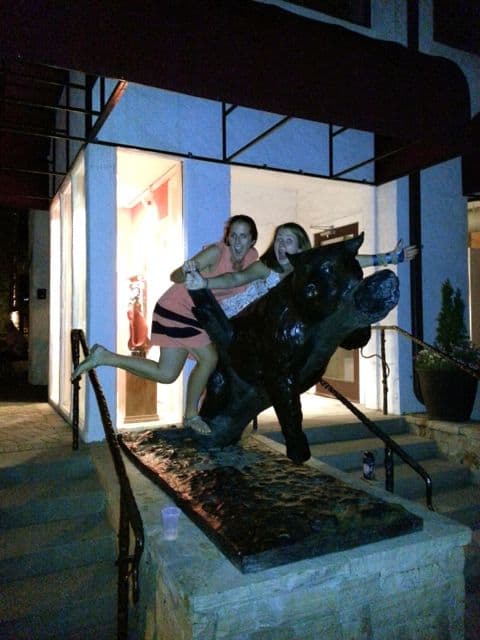 The craziness to be continued… Part II coming soon!