Sometimes, I'm willing to give up a beautiful, sunny Saturday around the house for an activity elsewhere. Sometimes.
I'm pretty selective about what I do on the weekends. That's mostly because I honestly wouldn't want to be anywhere other than my house on a gorgeous, spring day.
Lunch at my favorite restaurant?
Pass.
Laying out at the beach?
Meh.
Shopping?
I'm good, thanks.
Yet, when the opportunity arose for a little wining and dining at some local vineyards, I surprised myself and hopped on board.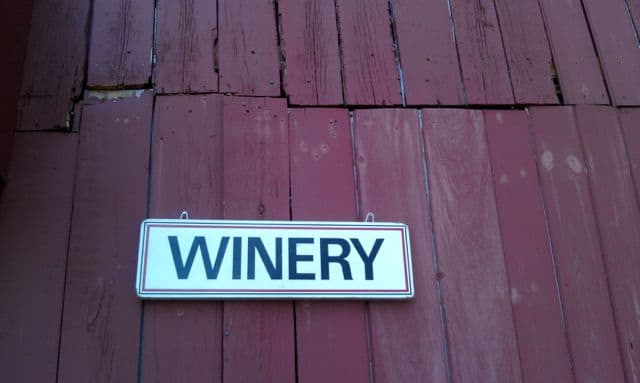 I gave up a perfect day around the house because
I love wine.
I love meeting new people.
You (I) gotta switch it up every now and then.
My friend Stacey organized the outing, which included tastings at three local vineyards, chauffeured transportation to each vineyard, cheese and chocolate flights, and a delicious boxed lunch. I know, right?! It was such a fun day in the sun.
We kicked things off at McLaughlin Vineyards in Sandy Hook, CT. Matt and I went there in the Fall, and it was just as I remembered. It's a very quaint place, tucked away in the woods at the end of a long dirt road that meandered through the grapevines.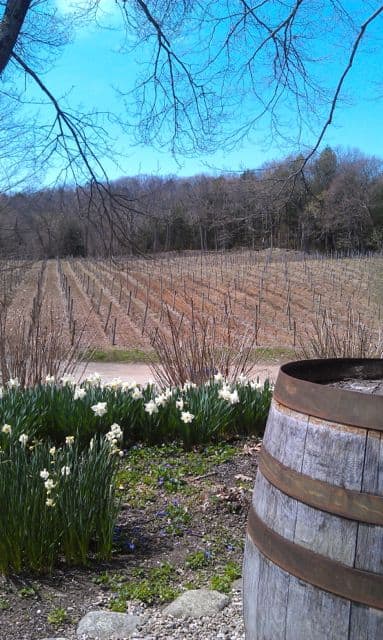 The daffodils were in full bloom and everything else was just starting to green up. I loved this old bell. Nice lil' patina on that bad boy.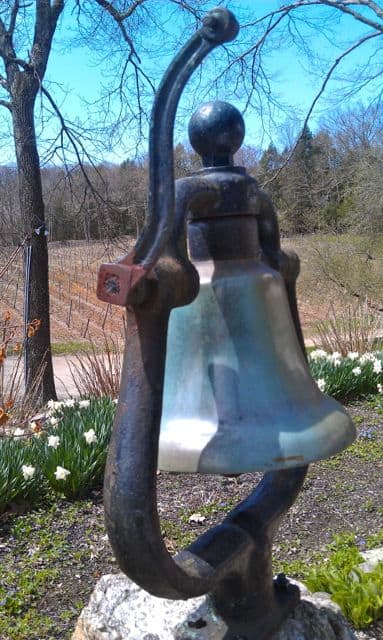 We tasted a few different wines, most of which I'd tasted in the fall, and I passed on taking any home. We walked down a pretty steep hill (with most of the ladies in heels!) and climbed back into the van, excited about our next stop!
We landed at DiGrazia Vineyards in Brookfield, CT a short while later, and were greeted by Dr. DiGrazia, a retired doctor who founded his vineyard in 1978 and continues to be an integral part in its running. I snapped this shot of him while he was talking about his wines in great detail. I probably should have been a little less creepy and just asked him for a picture. If you're reading this Dr. DiGrazia, I apologize for the creepiness. I blame your wine.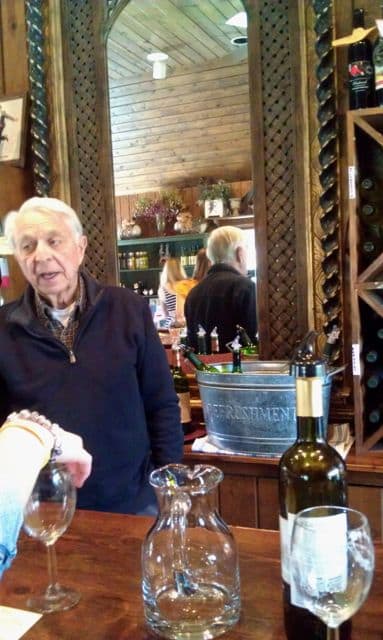 The vineyard is situated atop a large hill, to maximize the flavors of his wine. He said he uses his knowledge of organic chemistry to get the most antioxidants as possible into his wines. Antioxidants! His wines are healthy and good for you! Naturally, I had to take a bottle home. I picked a uniquely flavored white port, which was made with a bit of brandy. It's delicious but Matt isn't a huge fan. Therefore, I'm savoring it and enjoying it glass by glass at home when I feel the need.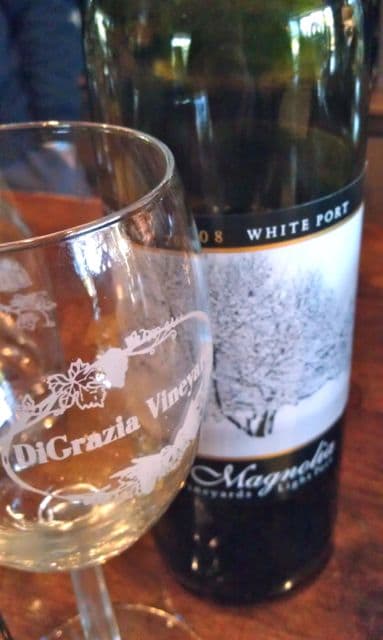 Included in our tasting at DiGrazia was a delectable cheese, cracker, and chocolate plate. Stacey and I sat together, and shared a plate. I think we're the only ones who ate the whole thing. Think we were hungry?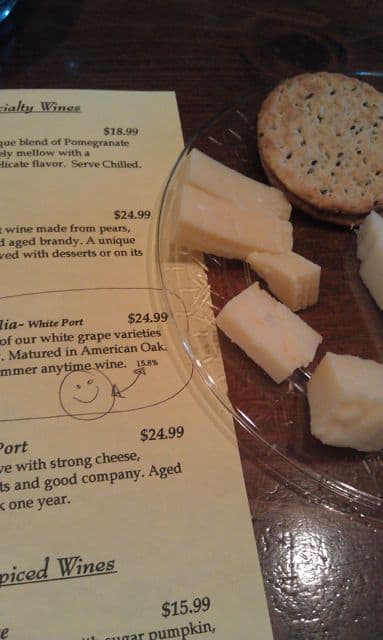 Here's a shot of the girls with Dr. DiGrazia.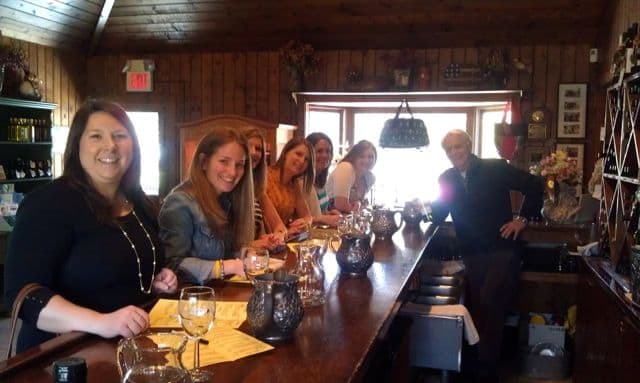 Sorry about the quality of the picture… it was taken with a cell phone camera mid-way through our second vineyard.
Our last stop was White Silo Winery in Sherman, CT. Matt and I have driven by this winery (just a few miles from our house) umpteen times yet have never stopped in. I was happy to try it out.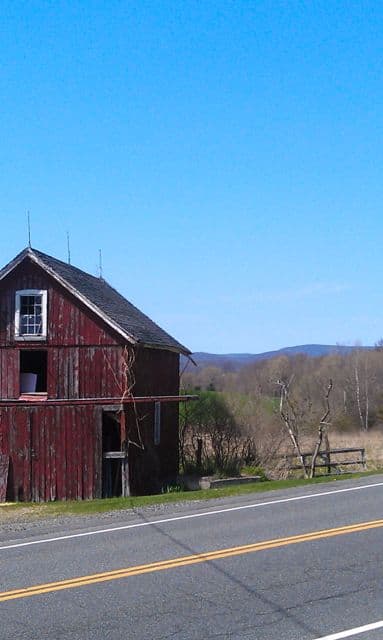 It's nestled beautifully in the hills of lower Litchfield County and has quite a few charming old barns dotting the property. We tasted many of their wines, including a delicious Rhubarb flavored wine - yum - and finished the day off with a boxed lunch that was equal parts healthy and delectable. We sat outside on a picnic table that was precariously perched on the side of a hill. We shared a bottle of wine with our lunches that Stacey bought for the group. This little guy was out on the lawn keeping us company.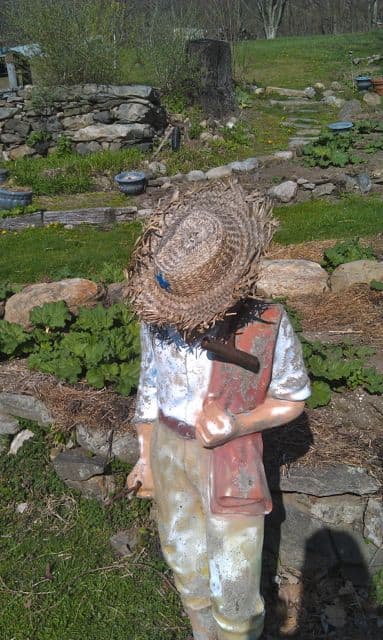 We took a picture with him, and I look like I'm getting quite cozy with the guy.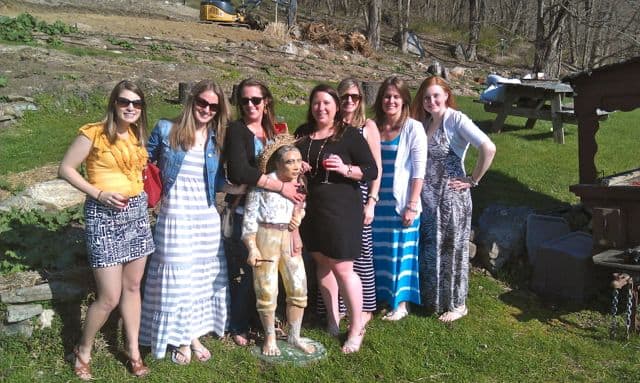 It was seriously the perfect way to spend a late April day with warmer than average temperatures. Thanks again, Stacey, for organizing this fun day out - even if I had to leave home to take part.
Do any of you guys like wine tours? Do you have any planned for the summer months? I'm definitely going to plan another trip, soon!