I know what you're thinking.
"If I hear the words 'new counters' from this girl one more time, I'm going to lose it."
I hear you. So… I'm done. The counters are done. I'm smiling from ear to ear. Check 'em out.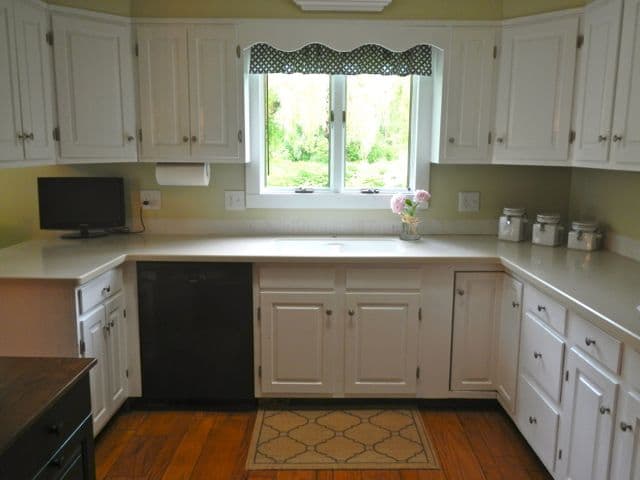 I'm in love. I know I say that about a lot of things in this house, but these counters are different. (Kisses fingertips in an Italian-esque flourish.) I really love them.
We ended up going with a solid surface material. It is called LG Hausys Hi-Macs and it's an acrylic, non-porous solid surface. It's sanitary, comes with a 15-year warranty and any scratches can be buffed out with a scotch-brite pad (or a professional sanding depending on the damage). The LG brand we bought competes with the better-known Corian brand. After all of the counter debate on laminate colors, we were surprised at ourselves for going in a completely different direction. The reason for the change of heart was a combination of quality and price. New laminate counters would require a brand new sink, which we didn't budget into the breakdown of costs, and the LG Hi-Macs was having a sale on certain colors and included a free solid surface sink, to boot. We are so happy with the choice.
The laminate counters (plus a sink) would have run us about $1700 (for our 45 sq. ft. of counters) and the LG Hi-Macs in the discounted "Edisto" color was $1920* out the door, with a free sink. It was a no brainer. $220 more for a product that is far superior to a laminate.
*We picked a discounted color, Home Depot was having a 10% off sale on top of the discounted price, and the sink was free as part of the promotion. Without these favorable conditions, this product would have run us closer to $3k. It pays to be patient!
We went with Home Depot after getting a few quotes from local dealers that were nearly twice the price. Home Depot hired out the job to a company called Unico based in Newburgh, NY. Matt was going to be home for the install, so I gently reminded him to capture it all.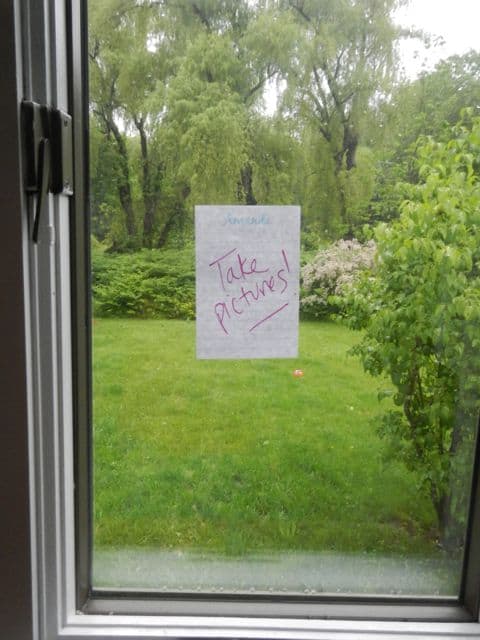 He didn't do a terrible job, either. Here's a shot of one giant piece which included our seamless white sink.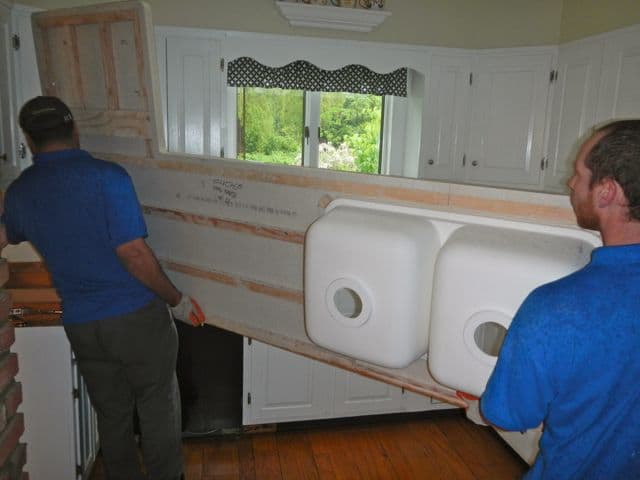 Matt said the Unico guys were friendly and really helpful. He'd (we'd) definitely recommend them to anyone looking for this kind of work!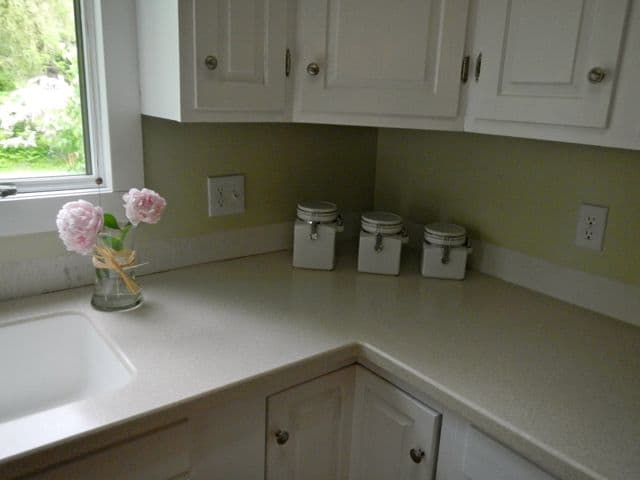 We a have a little project ahead of us, over by the pantry. The previous counter had a lip on the top (that we opted out of with our new counters) where the previous counter cut into the pantry woodwork a little bit.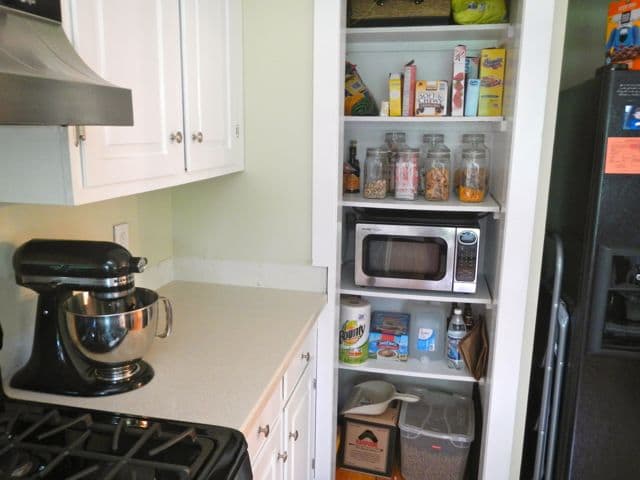 Not sure how we'll figure that out yet, but we're thinking about it. The best part about the solid surface product is that it's seamless. And so soft. So soft. Not so soft, however, that you have to worry about scratching it too easily. There were originally two seams when the Unico guys brought the pieces in, but they sand them out after adding a special glue and the seam becomes invisible. It was really amazing. Matt challenged me to find the two seams when I walked in, and of course, I could not. Even after Matt pointed out where the seams were sanded out, it was hard for me to spot them.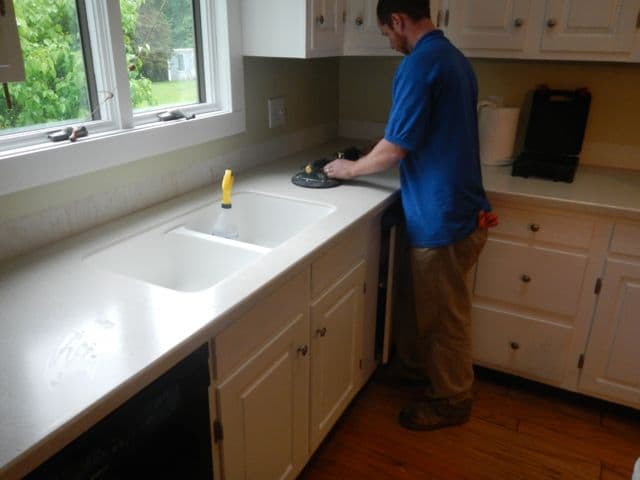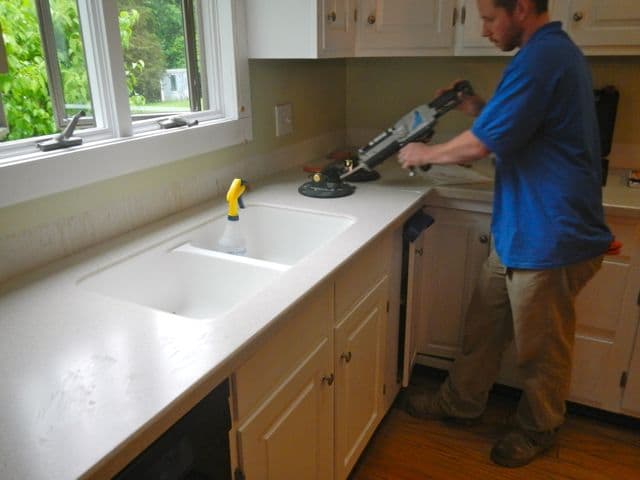 The glue set for a bit while they cut the hole for our new faucet. We bought a faucet that has the handle attached to the base of the neck, as well as a pull down sprayer, so there was only one hole that needed to be cut. We opted out of the soap dispenser hole since we never used our old one and we think the one hole will keep everything looking simple and streamlined.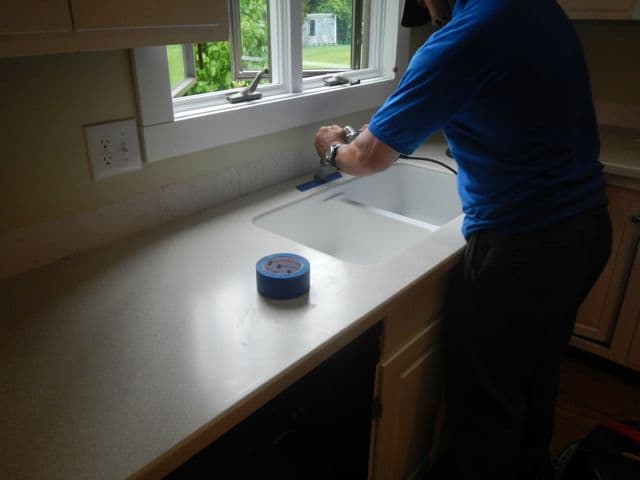 With the hole cut, (in the bottom left of the picture below) it was time to sand down the glue in the seam.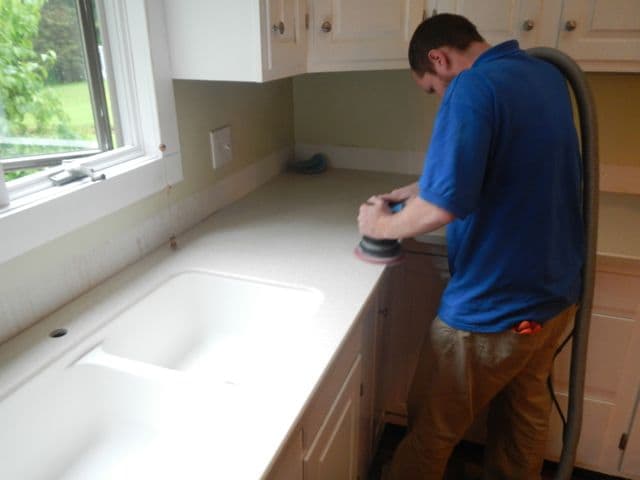 The sink might be my favorite part.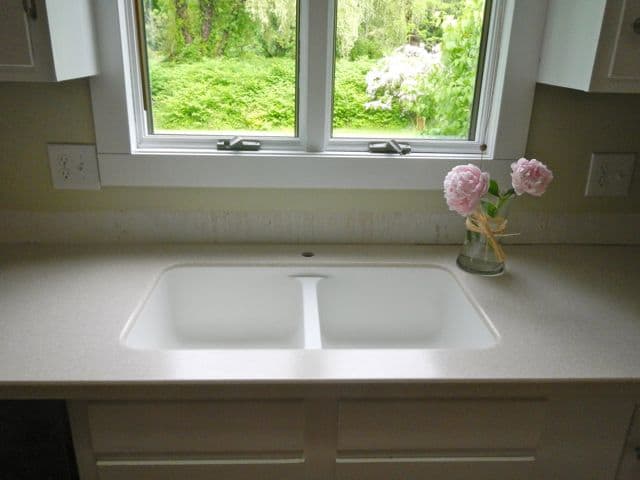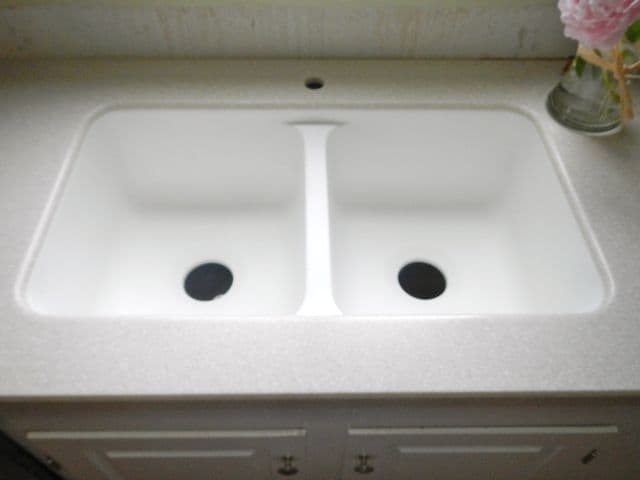 I have no faucet, sink strainers, or backsplash, but you better believe I have a vase of peonies sittin' by the sink. Little victories. They're from my garden and they're so beautiful.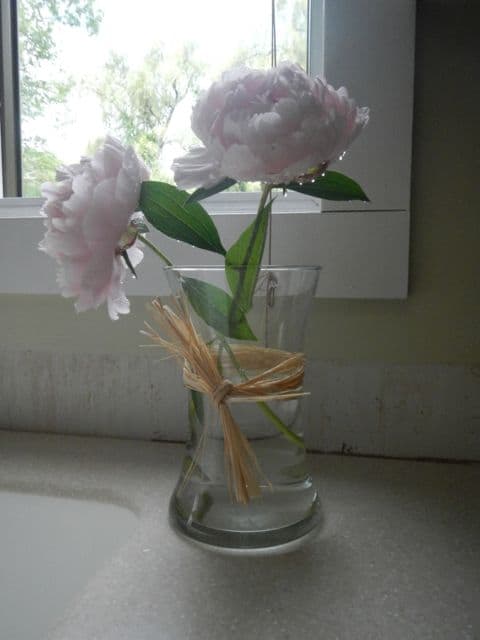 All in all, we are so happy with how they came out. The color is light, neutral, and lovely in person, and the material is sleek, soft, and seamless. For under $2,000 and a two week turn-around, we think it makes a world of difference.
Before: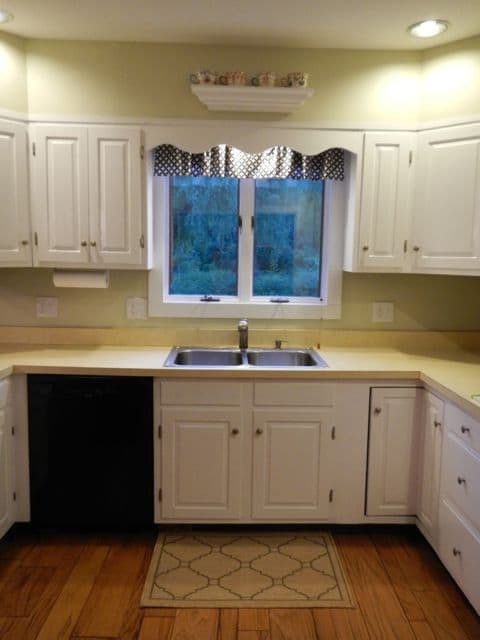 After: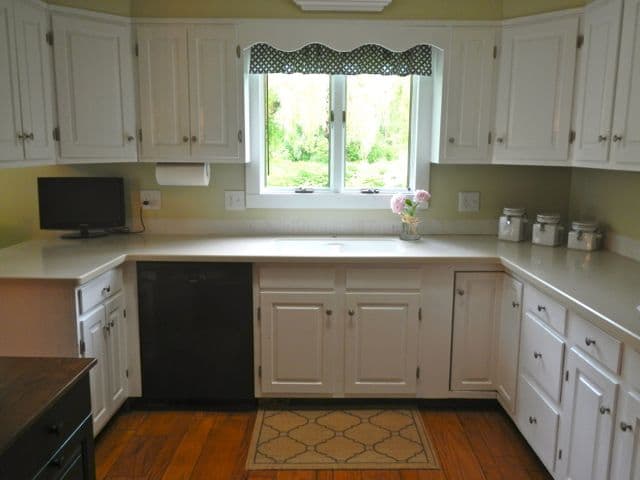 Next up: backsplash. We bought the supplies for this project (Matt was quite eager!) but we have to figure out the range hood situation first. We'll be working on that this week!
What do you guys have lined up? Do anything fun this weekend? Besides staring at the new counters, we had a chance for a nice boat ride with my parents.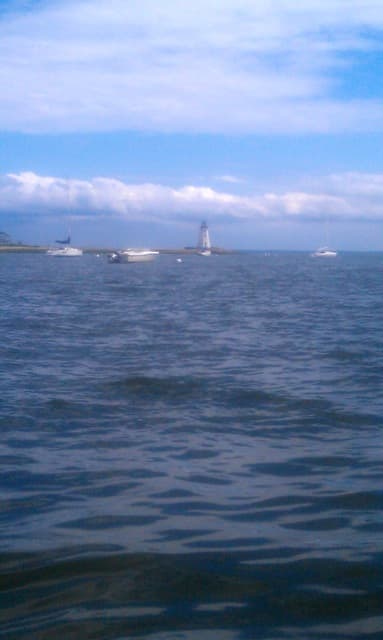 We also hit up a birthday party that resulted in a lot of karaoke for me, and a lot of relaxing for Matt!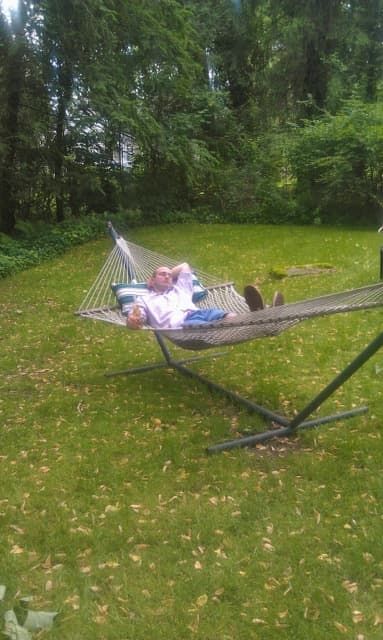 I worked in the gardens a bit, and we even had a chance to meet Griffin's new cousin, Moody!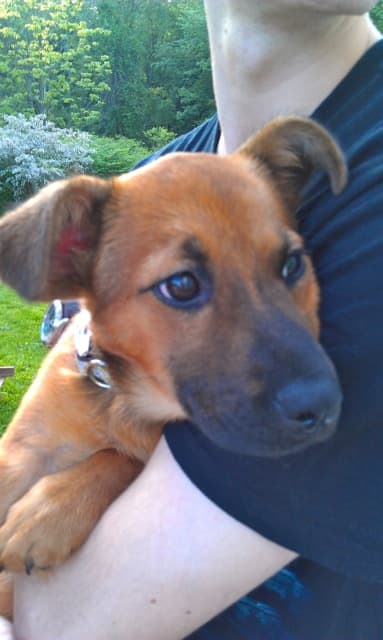 It was a great, productive weekend with lots of fun thrown in, too. Have a great week, and thanks for stopping in!!