Before I get into the details of the demise of our "vampire tree," let me give you a quick recap of our Do Nothing Weekend. It was mostly successful. We didn't get to every project we laid out, but we did our fair share, with a few unexpected projects thrown in, too. Bonus - we even had a few minutes to lay on the chaises on Sunday. :)
A nursery trip to get a couple of new plants to celebrate Spring 2013
Plant said new plants
Mulch new plants
Weed existing gardens
Cut down a vampire tree and maybe a vampire branch The vampire branch is in the backyard and that will be for another day.
Investigate new porch footings (do we need them? can we work with existing footings?) As it turns out, this project needs a weekend all its own.
Scrape down porch ceiling to prep for new ceiling material and trim. There just wasn't enough time in the day (too much planting!)
Shop for new porch ceiling light (ours is disgusting and old and harbors nests from at least 5 different insects) I have one picked out, but haven't pounced yet.
Do a final sanding job on my dad's dressers and pick the stain for dressers
Put the first coat of stain on the dressers Hoping to get this done one weeknight this week!
Tackle the clutter in the house
Wash all of the windows in the house
Tune-up the lawn mower and mow our jungle of a yard
Not too shabby, eh? Not sure when we'll have another D.N.Dubs…maybe October.
Let's get back to the vampire tree. I named it this because, of course, it's dead and it's pale as all get out. It has been sitting in our front/side yard since we moved in, and I was sick of looking at it. Here it is below, in front of that pretty weeping willow.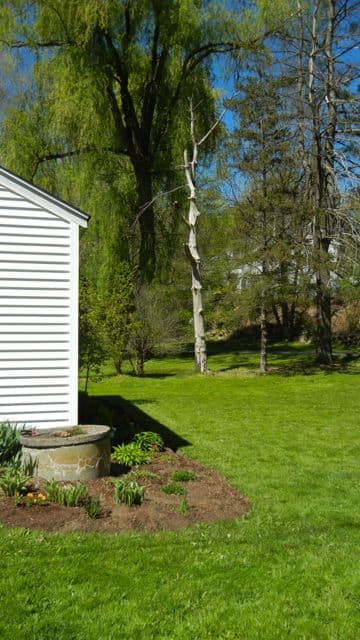 Matt did most of the work on this bad boy, but don't be fooled. In the end, I was the one to pull it down. Yes, little ol' me. Here's a picture for scale. Matt is about 6'4" so you can figure out how big the tree might have been from the picture.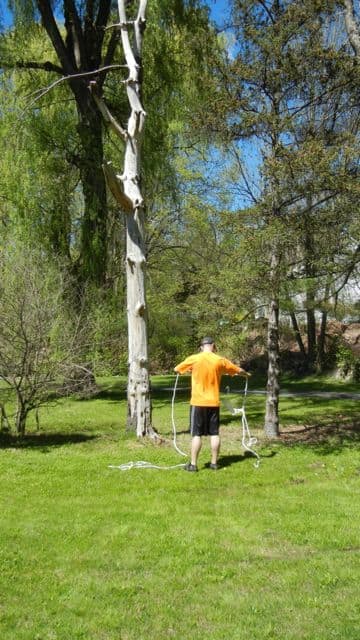 He grabbed the rope that we used last spring to cut down 13 trees at my Nana's house and slung it around one of the branches like a lasso. Minus the circular shape and whipping it over one's head.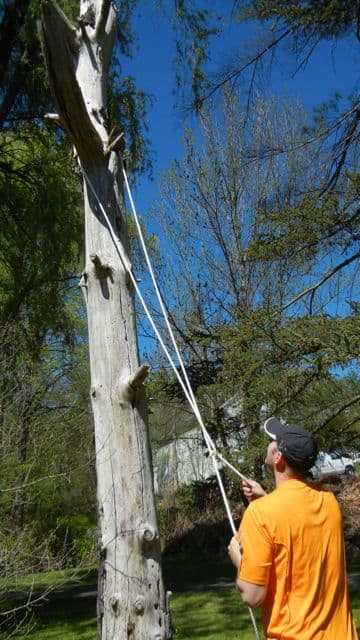 This tree was really dead. Can something be really dead? Yes. It wasn't just lacking branches and leaves and all that. The bark would fall off when you touched it and it felt hollow. It wasn't really hollow, but you get the idea. There were also some lovely bees nests that I noticed.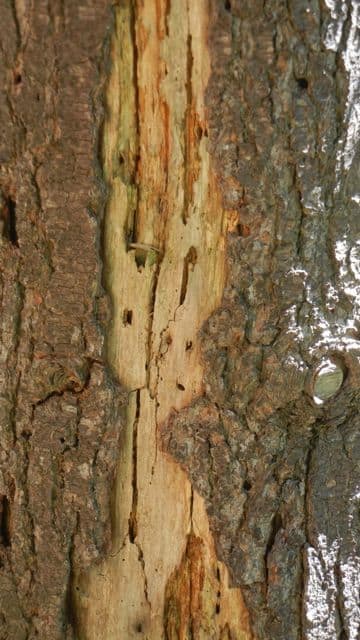 Of course, I made Matt spray them before we proceeded. With my luck, once the tree came down, the bees would see me as the destroyer and swarm at my face. I couldn't let that happen. With the tree sufficiently soaked with insecticide, Matt started to make the notch. The notch is basically a V-shaped cut into the tree where the tree will eventually bend and break (after being cut from the opposite side of the V).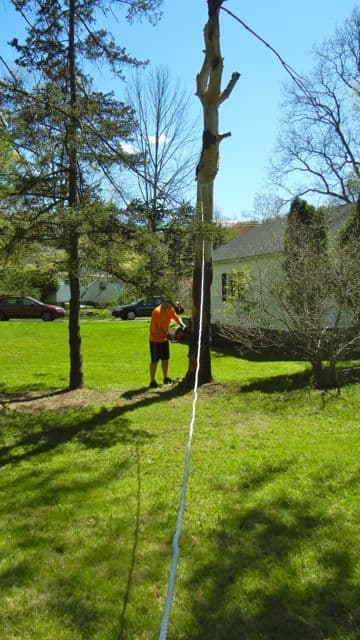 Here is what out notch looked like before Matt chiseled it out.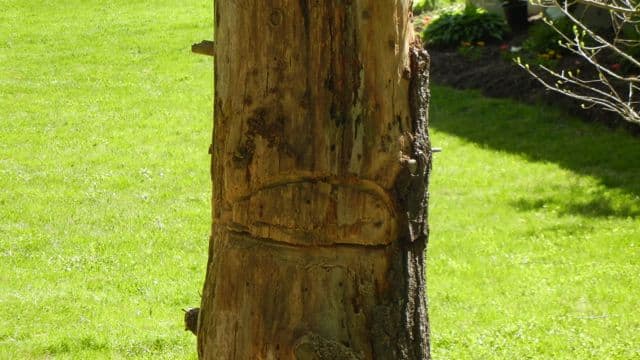 Here's the notch after chiseling.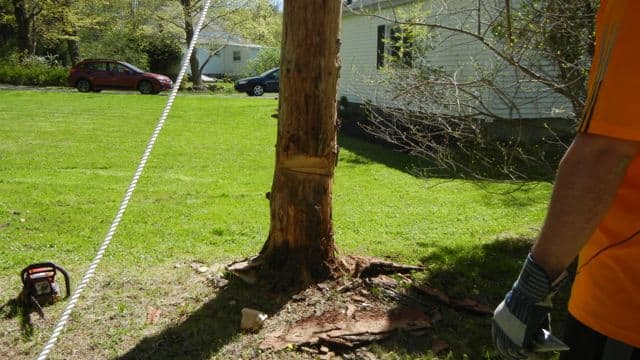 Here's my angle as Matt was cutting the backside of the notch seconds before I threw the camera aside to pull harder and prepare to run.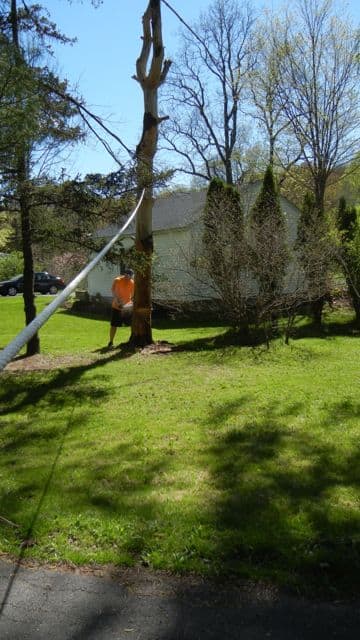 Aaaaaaaaaand she gone.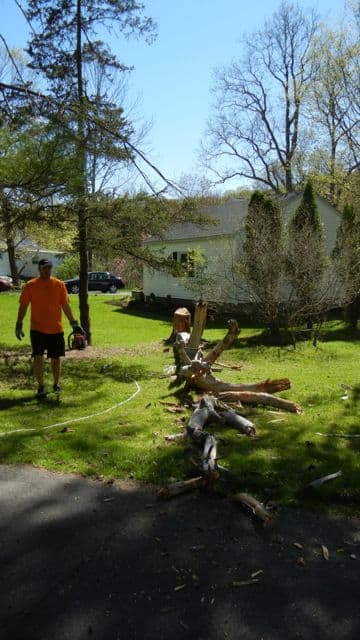 Matt cut up the remainder of the tree and we both hauled it away.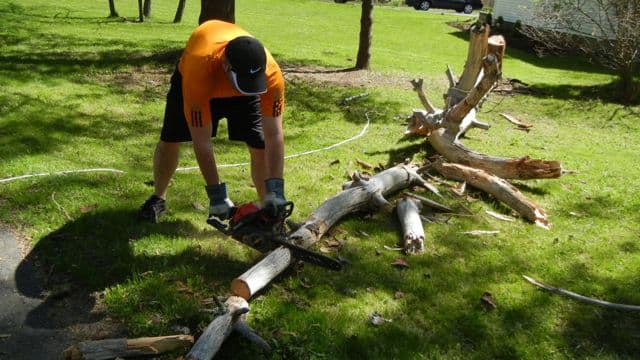 It's going to make for really nice firewood, so we stacked it near the wood pile.
Before: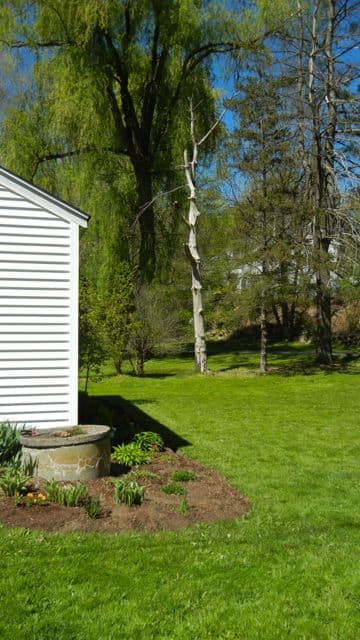 After: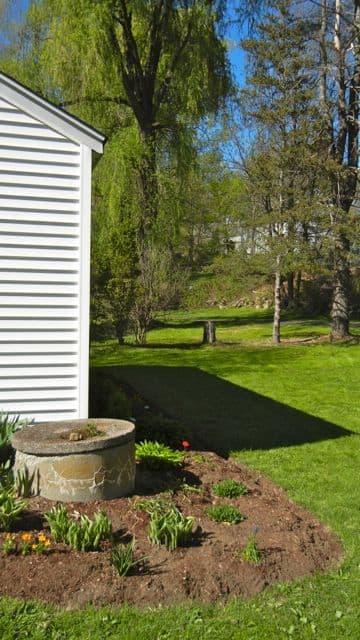 I love that we can see the willow that much better. We haven't taken down the stump yet. We're still deciding whether to pay a stump grinder to get rid of it, or just saw it down a bit and add a pretty planter. I'm pulling for leaving the stump as is, growing ivy up it, and putting a planter on top with some pretty flowers. We'll see. At least we don't have to stare at it any longer.
When you're cutting down a tree, here are a few good tips*:
If you're nervous about the tree falling on a house/garage/car/person, hire a professional.
If it's your first tree cutting, and you are gung ho against hiring out, get help from someone with experience.
If you're the "puller" like me, make sure you're able in mind and body to get the hell out of the way when that bad boy starts tipping towards you. My personal M.O. is the "scream and sprint." It works.
Practice the "scream and sprint."
Always know where you plan to put the tree. We asked our neighbor if we could lay it down in his yard, and he was fine with that.
WEAR SAFETY GOGGLES. Matt wasn't wearing them here, but I was yelling at him to get 'em on, because who wants to be blind? Blinded by a vampire tree. Terrible.
*These are not actual, expert tips. Cut down trees and vampire trees at your own risk. Duh.
So that was one portion of our D.N.Dubs. - tackling the tree. What do you think? Would you ever take a small tree down yourself or would you hire out?