Holy cow, it's Monday night already! Why yes, I had quite the productive weekend, thank you for asking. Matt and I had one of our beloved "do nothing weekends" this past weekend, and all of last week we discussed what house project we wanted to tackle while we had the sched wide open.
It was a battle between tackling an upstairs bedroom with new baseboard trim, fresh paint on walls/trim or some much needed garden projects in the backyard/sideyard. We had settled on the garden project when the freeze warning popped up on our radar. Bummer! So with the garden bit out of the question, (no one likes dead plants) you'd think we'd move upstairs to take on one of those bedrooms but CURVEBALL, we decided to tackle finishing the kitchen. I try to keep you on your toes, peeps. The upstairs bedrooms will be somewhat "easy" projects with both rooms being on the small side, but the kitchen is where we spend a lot of time, especially when we're entertaining, and we want to have it done! The list of things we need to do to the kitchen is as follows:
*Refinish floors (09/09)
*Paint cabinets white (09/09)
*New cabinet hardware (09/09)
*New stove & fridge (09/09)
*Replace broken dishwasher (10/10)
*Install new faucet (12/09)
*Replace 70s light fixture with my Grandma's black oak chandelier (12/09)
*Replace ceiling fan (06/11)
*Choose and apply new paint (we loved our Margarita color when we moved in but have since outgrown it)
*Paint the trim around windows and doors Ultra Pure White (UPW) (04/12)
*Remove adjoning bedroom, bathroom, & back door and paint (UPW)
*Replace the almond outlets everywhere with white ones
*New countertops and maybe a new sink
*Install backsplash
*Paint/Replace? pantry door
*Paint alcove behind refrigerator
*Buy new rugs for sitting area & in front of sink that better represent my vision of a black & white kitchen with colorful accents
*Move sitting area furniture (2 chairs) elsewhere and buy casual upholstered chairs to add charm and create a "mini living room" in the kitchen sitting area
*Find/buy a pendant light for over sink
*Replace the brown kickstops under the cabinets with white (beadboard?) and add finials such as these to add architectural detail
*Paint the heat registers in the sitting area under the big window
*Build chair rail/board and batten for around the walls to add dimension, texture & architectural detail (perhaps something like this?)
*Add under-cabinet lighting
*Install ceiling speakers
*Replace recessed lighting
*Buy/install new range hood
*Cover exposed sides of cabinets with beadboard to be painted UPW
So yeah, baby steps, people. The trim is arguably the most tedious part of our kitchen makeover, so I wanted that beast done. The trim around the doors and windows in the kitchen was primed by yours truly about a year ago and …. yea … it's stayed that way for some time. I threw on 3 coats of Behr's Ultra Pure White in semi-gloss enamel. The semi-gloss gives the white trim a nice shine and the enamel hardens the paint, which is great for wear and tear (we do have a psycho puppy who loves to run laps in the house).
Here is what we got at the Depot.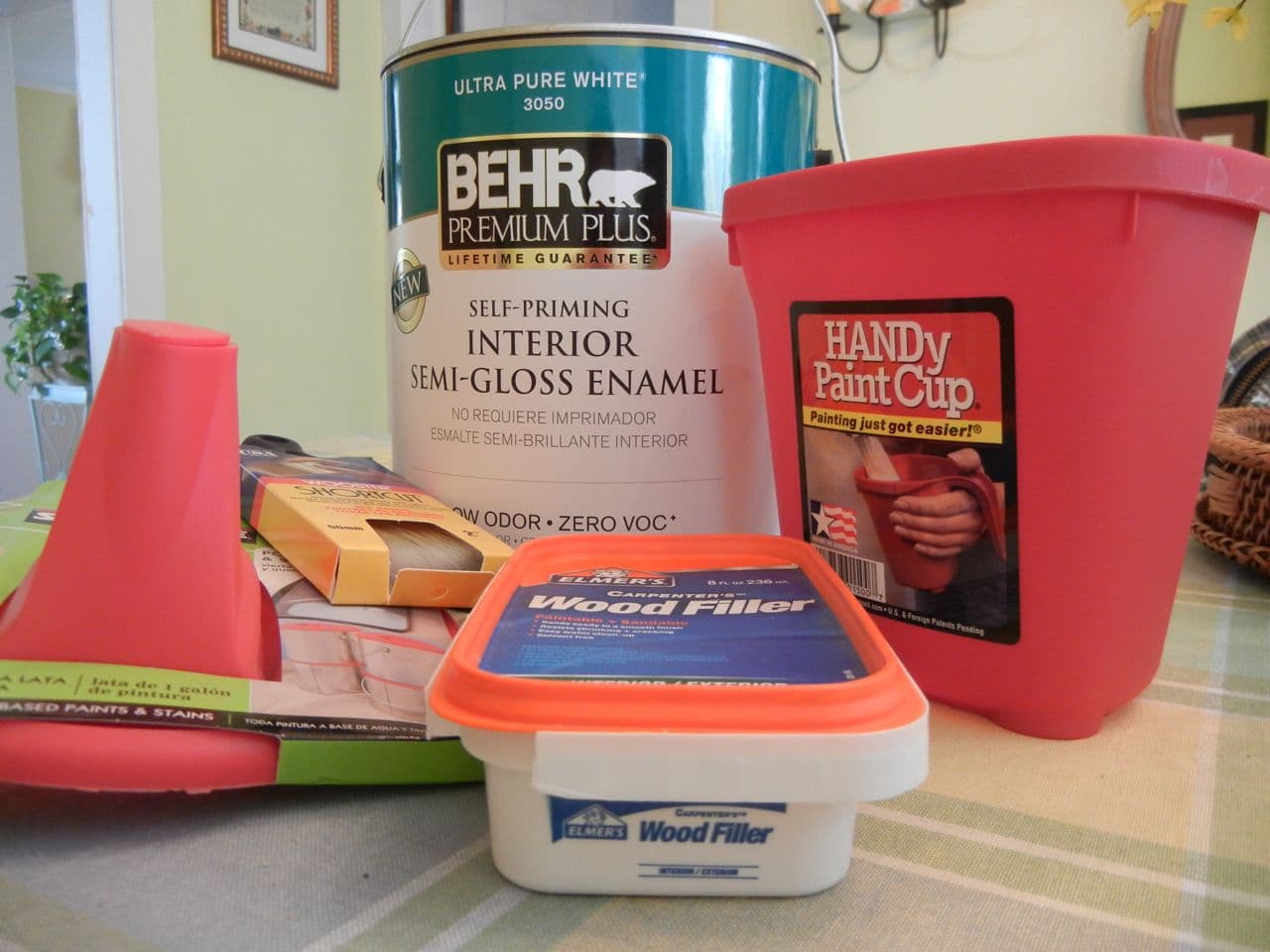 Below are some before and afters… with Griffin doing this the entire first day of painting…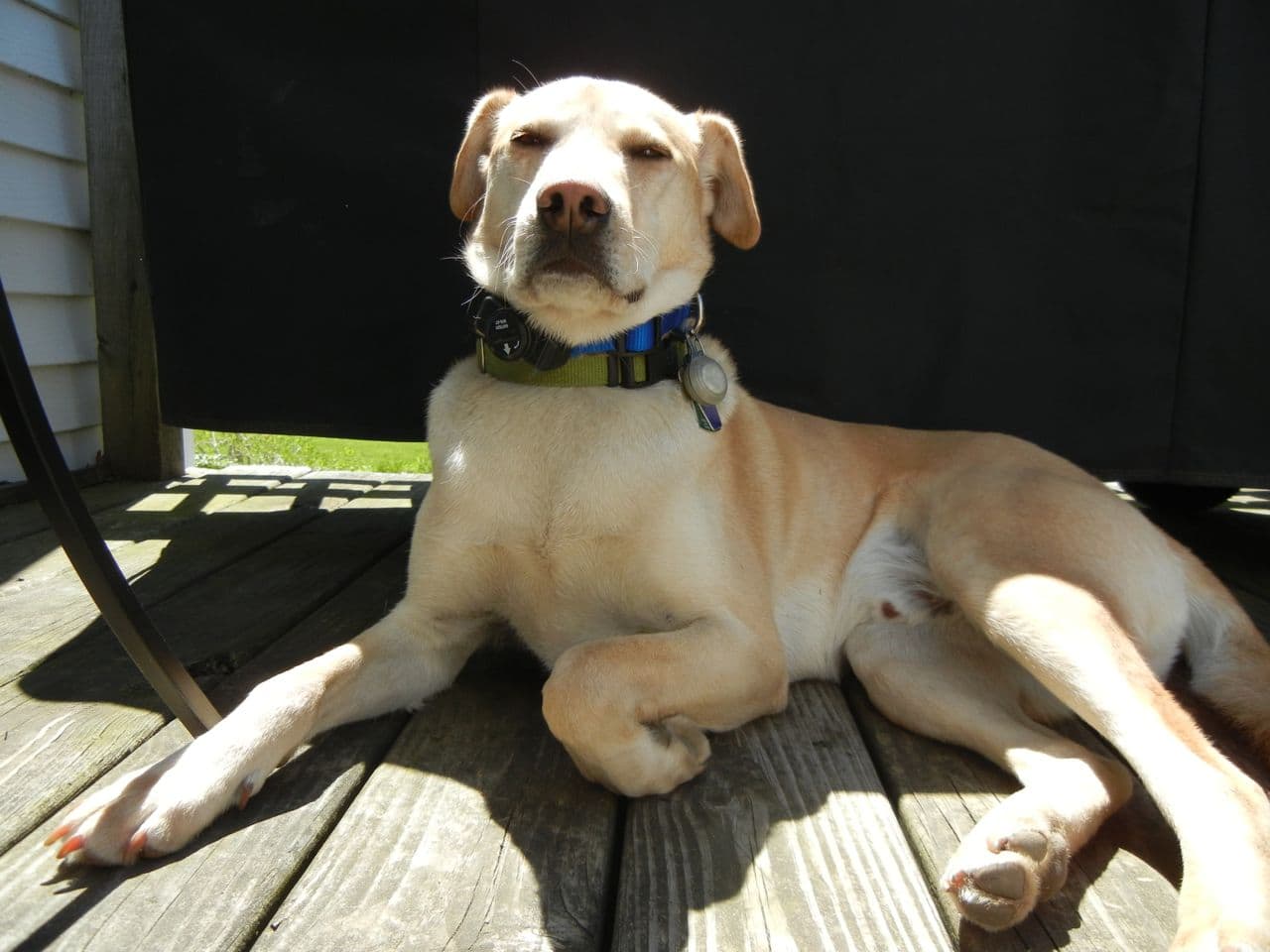 So here is the worst section of trim before and after… so beat up!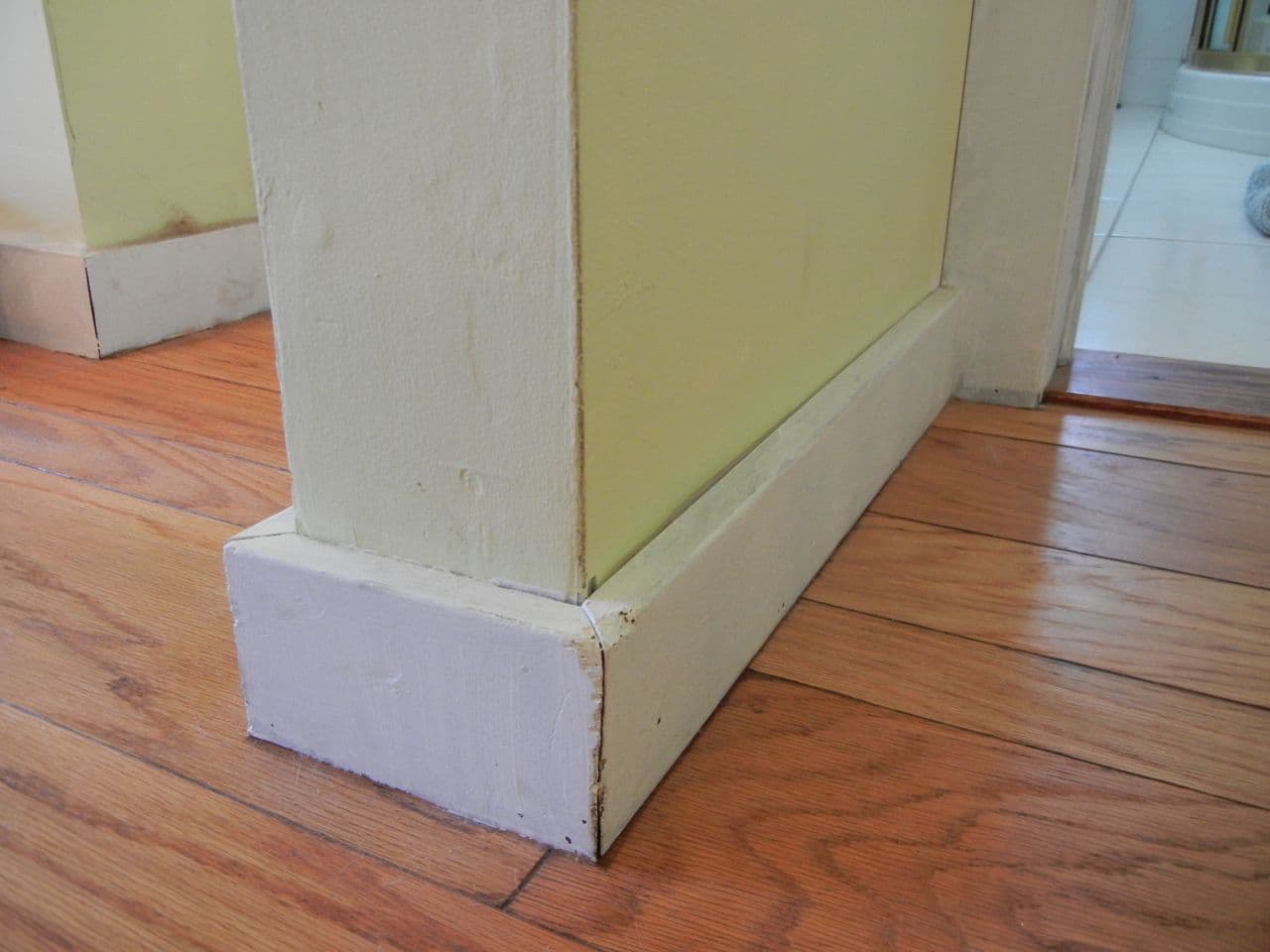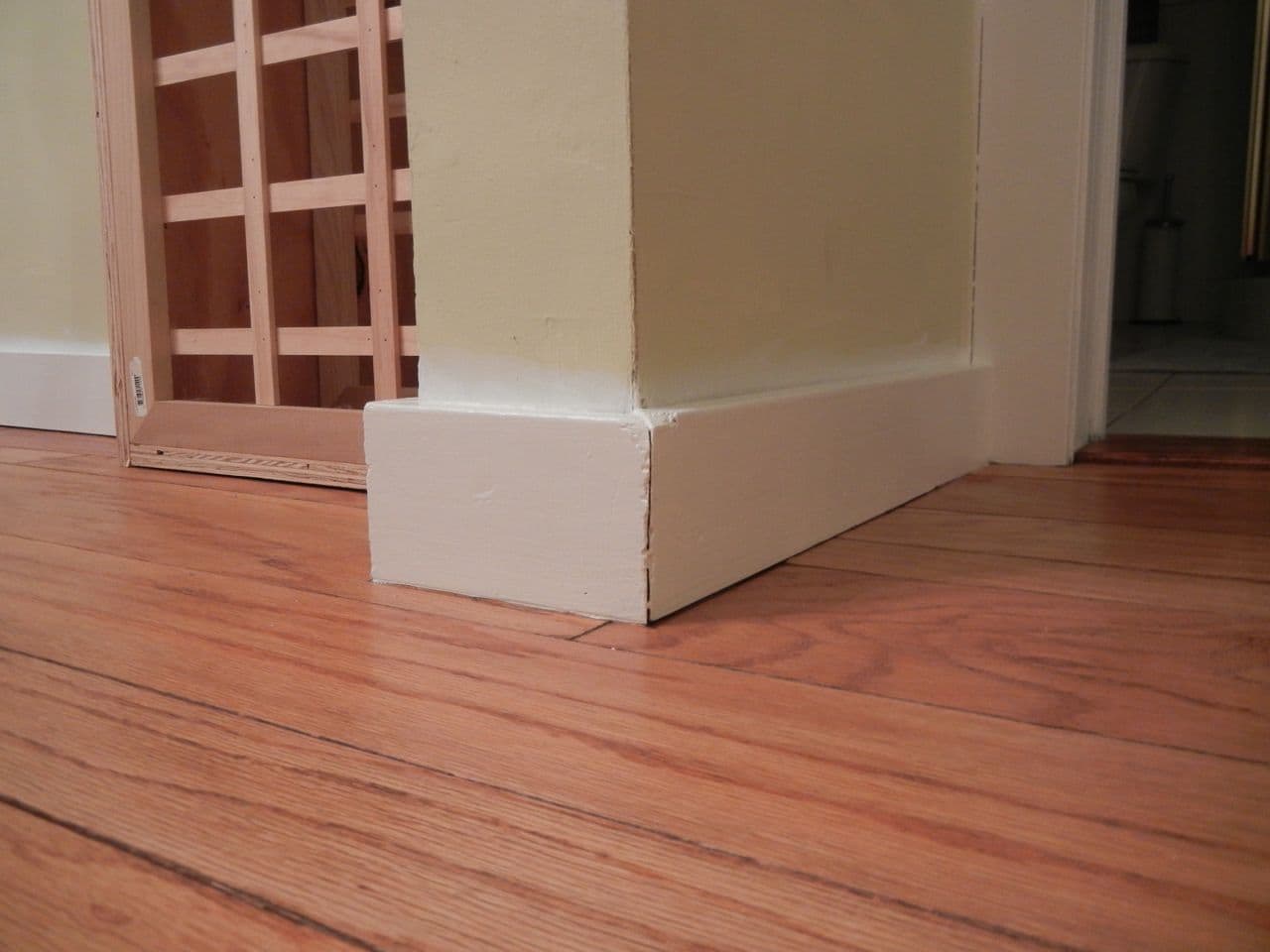 You get the idea even though one was taken during the day and one at night. In the background of the second picure you can see the wine rack Matt made me. The kitchen has a strange alcove in which the wine rack fits perfectly. We are hoping to add finishing trim and paint to that wine rack this summer. Here is one section of trim that really needed some TLC…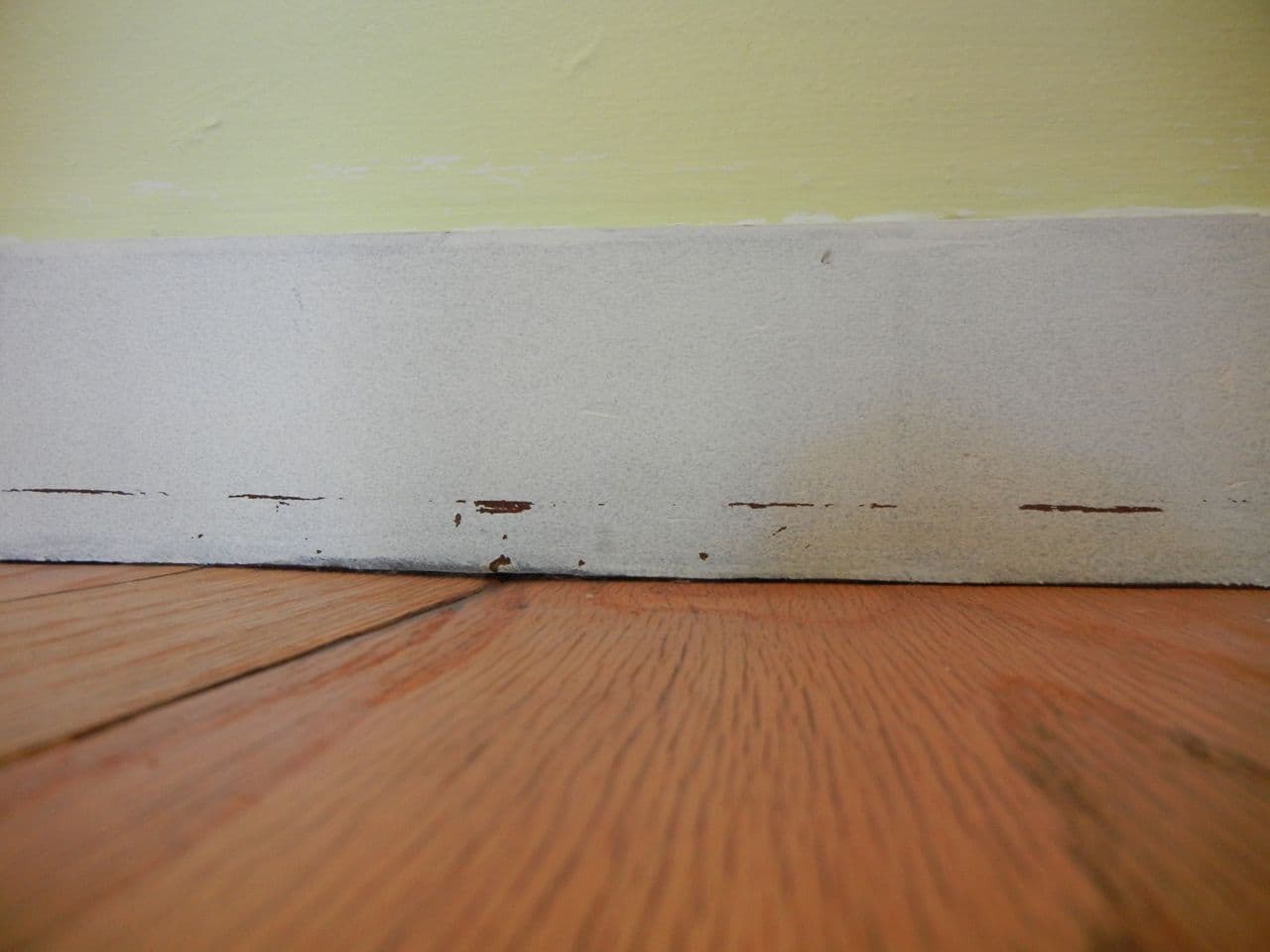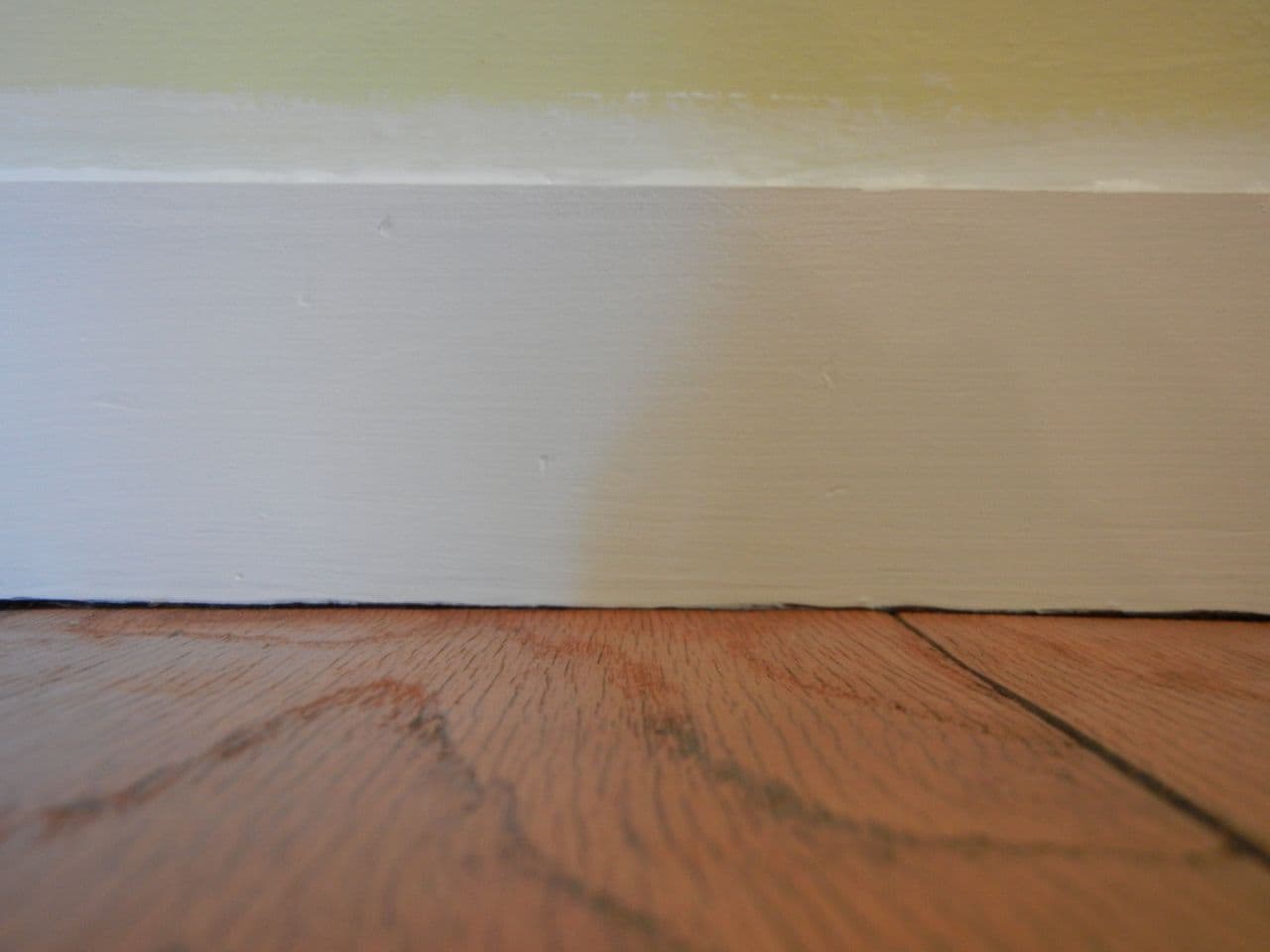 Much better! The nail holes are filled with wood putty and the stripes exposing the old dark wood stain have vanished, thank goodness. The back window had one of the best transformations we saw in this mini-project, but the pictures don't do it justice. Think instead of me standing, staring at the back window trim asking Matt 50 times how awesome it looks. It is that much of a difference.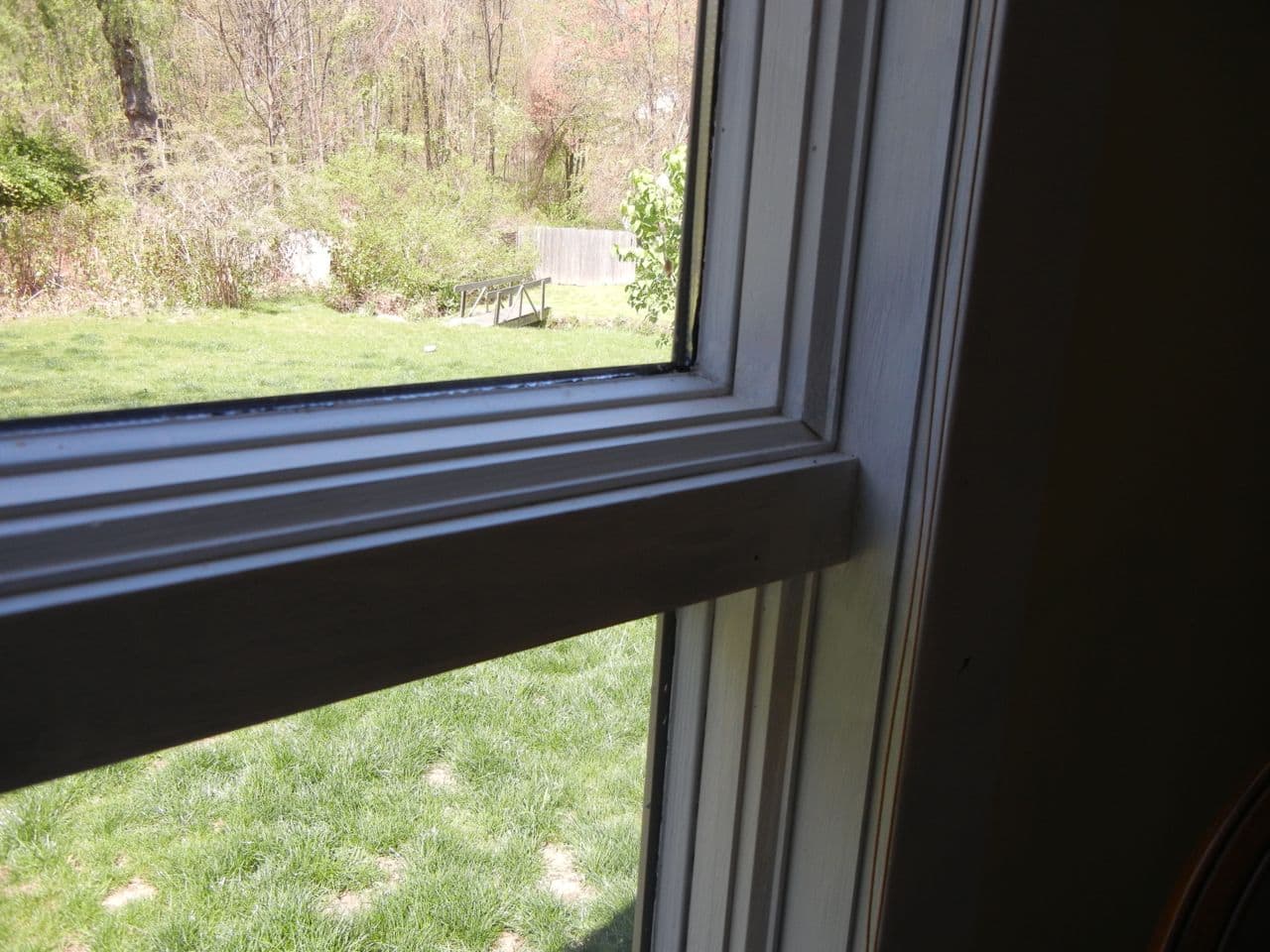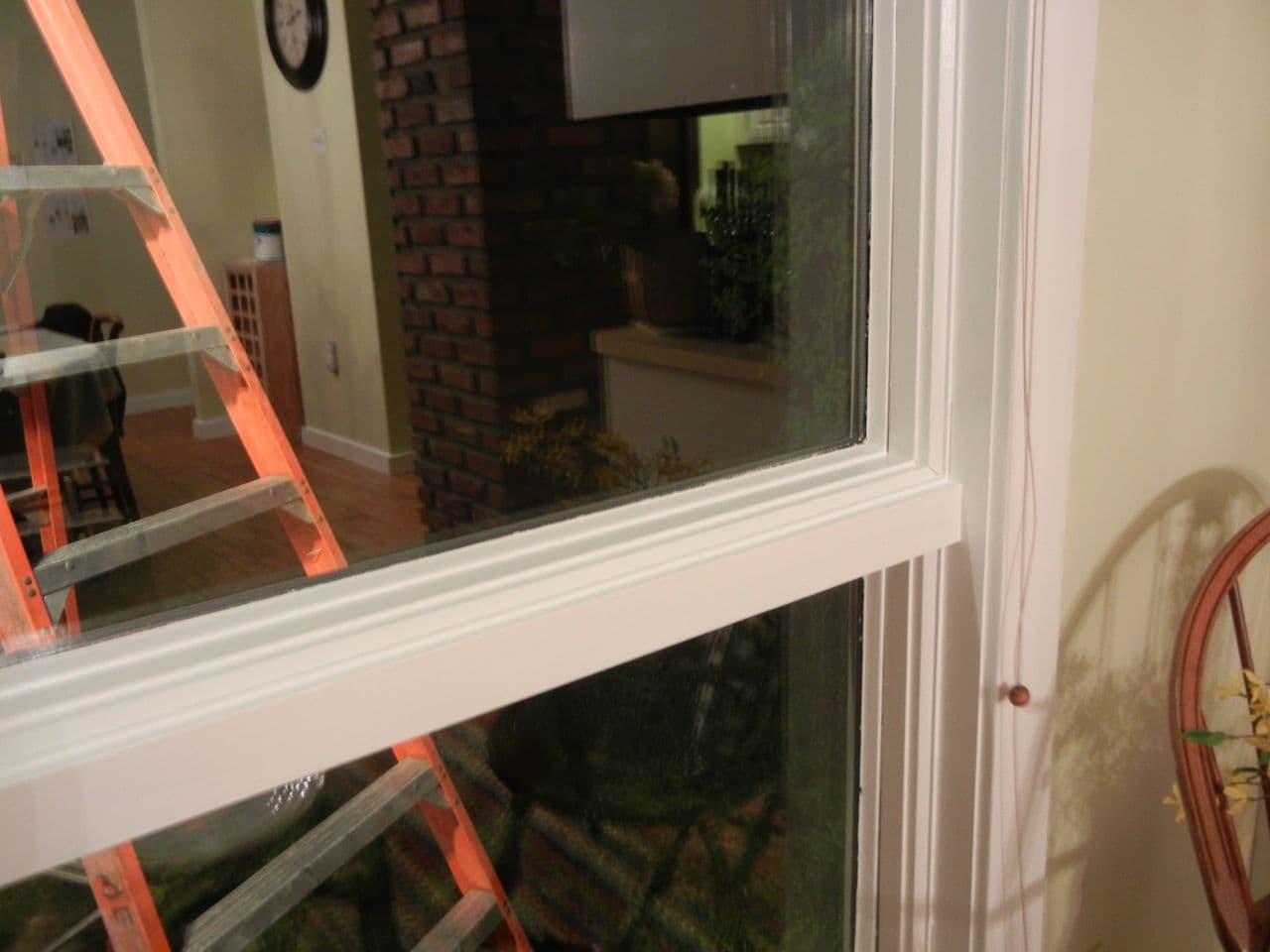 We added wood putty in the nail holes (which I neglected to do last time as a newbie painter) and even put some in the cracks to create a more seamless look. The wood putty is made by Elmer's and takes a couple of hours to dry after applying. I lightly sanded after applying.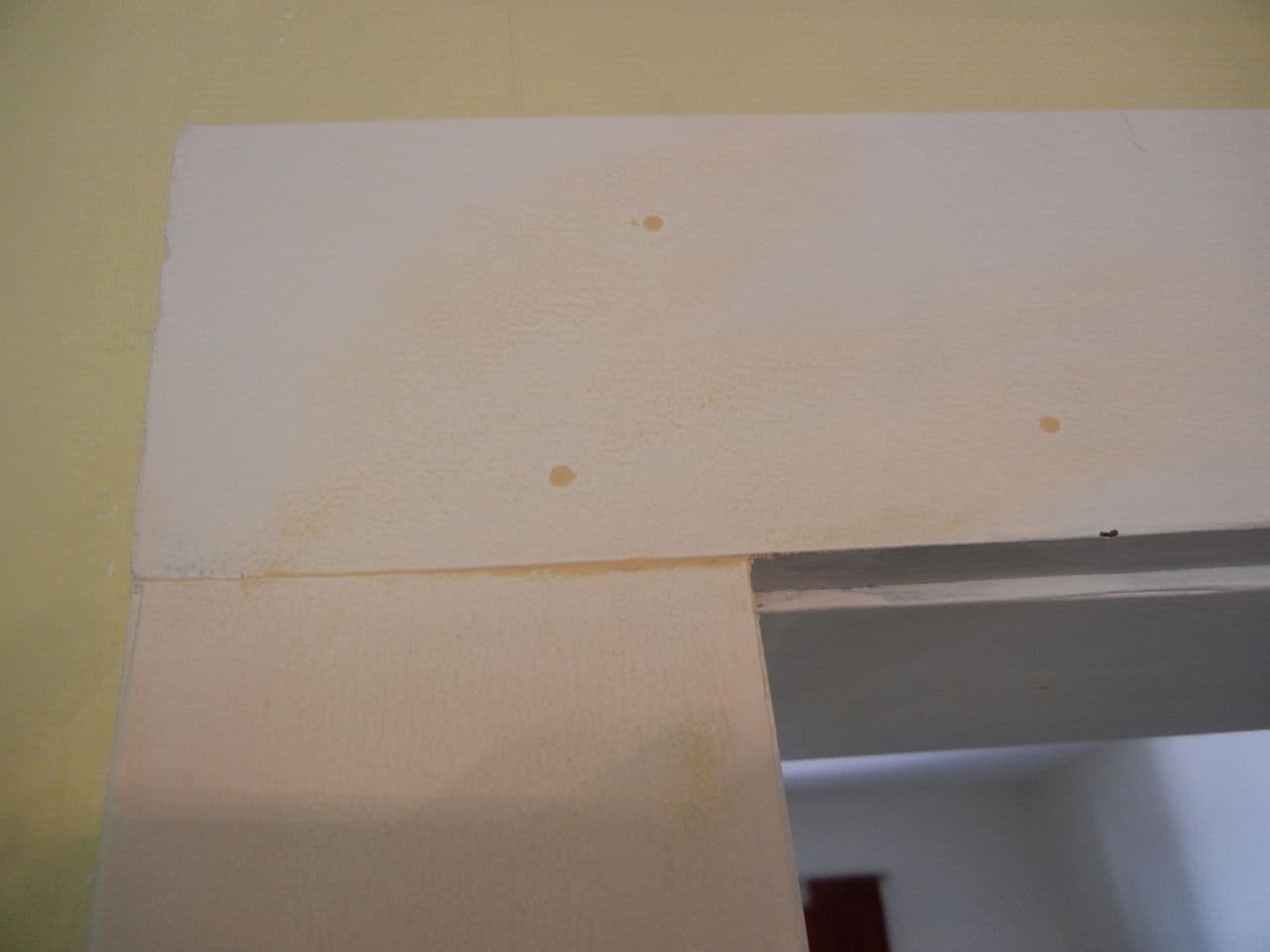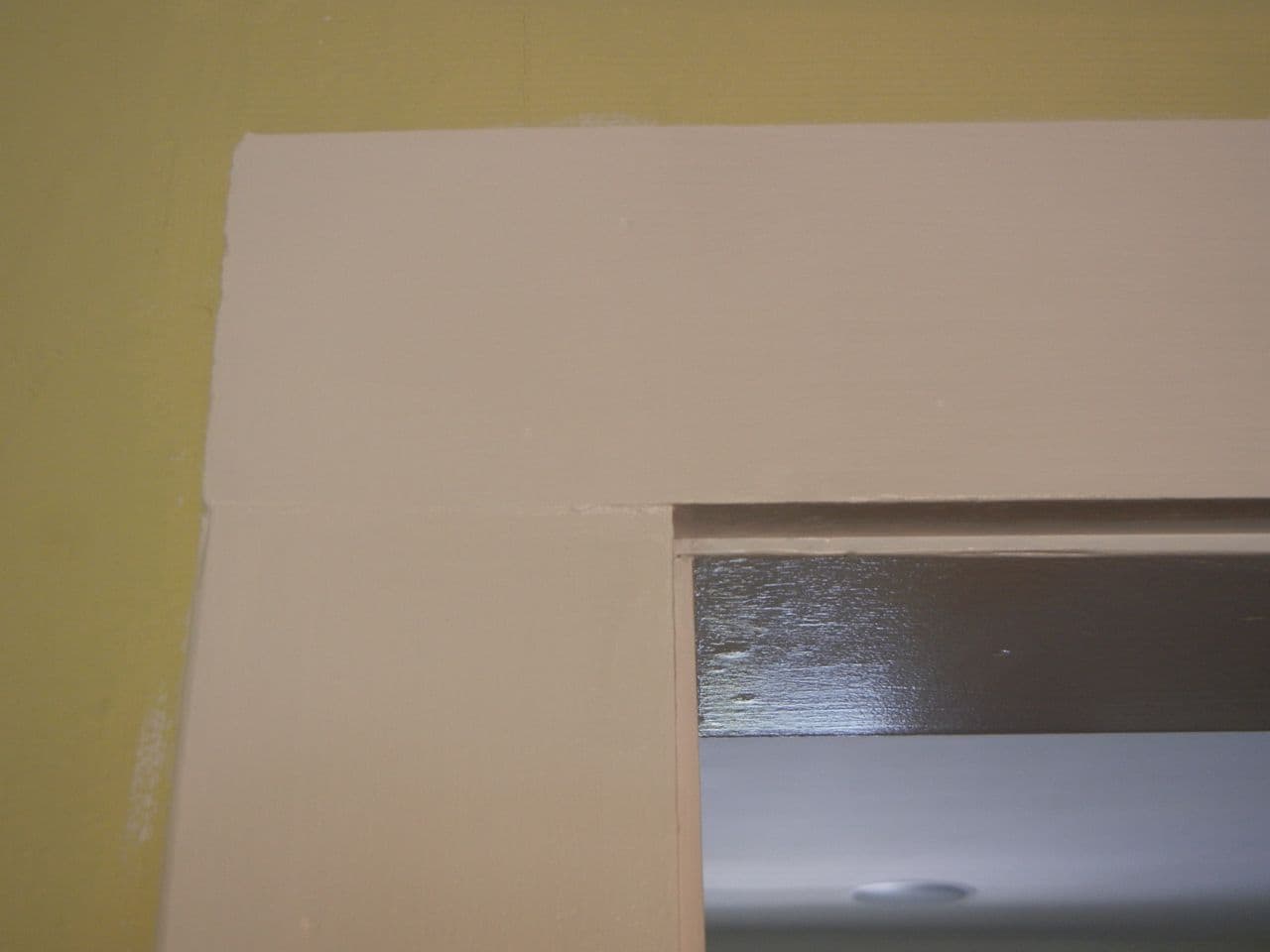 Ignore the messy painting on the sides of the trim… I knew that we would be painting the walls a more sublte, darker shade of green in the next few weeks so I was allowed to be a bit sloppy. Griff was more active on day 2, waiting by the back door for me to run with him in the yard. Check out that tail! It never stops.
And what, you may ask, was my darling husband doing while I slaved away on the floor, painstakingly painting the trim 3x freehand? Fixing the cars, of course! Like I said, SUCH a productive weekend.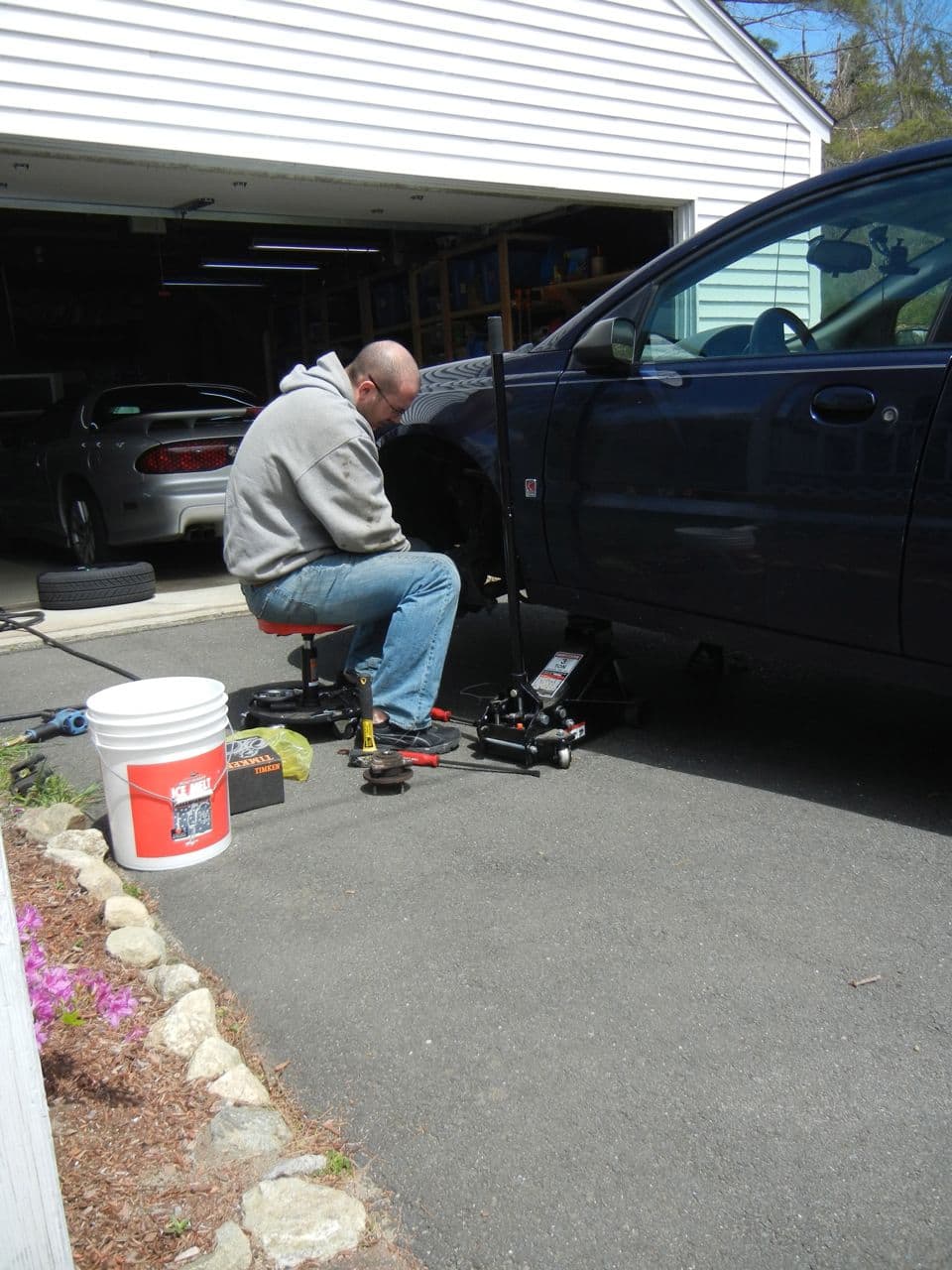 But yeah, the trim looks sooooo much better and the pictures just DO NOT showcase that. Trust me. I can't stop staring at it. I'm in love. This week we have a crazy schedule with my birthday celebrations and Bike NY, but we should be on schedule to start painting the walls in the next two weeks!
Now we just have to decide on a color…
Any suggestions for a subtle but poppy-ish shade of grayish green?