After my trip in February to make my sweet tablecloth, I'd been trying to get back up to the Cape to help my nana (you know - the one that sews me curtains and things) with some things around the house. We'll call it a school house road trip - where we do school house rehab-esque things for others. She mentioned needing some help in the garden as well as some odds and ends. My nana's odds and ends: teaching her how to adjust the volume of her speaker phone and having me change a ceiling light bulb. Love her. When she mentioned taking down a couple of trees, I knew I would need to convince my partner in crime to make the 4-hour trip with me. Me with a chainsaw? Please. I struggle to keep our weed whacker steady. So on a clear and crisp Thursday night, we hopped in my car and drove Southwest to the Massachusetts coastline with the pup and chainsaw in tow.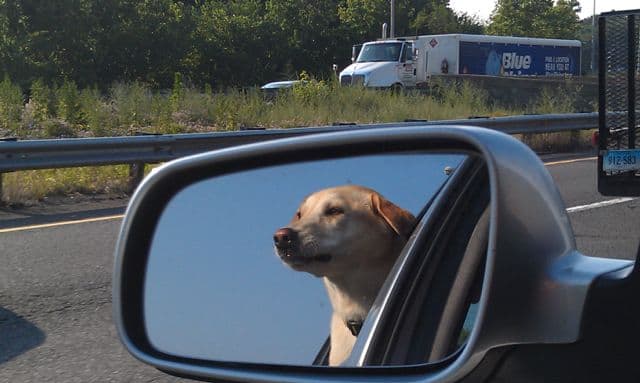 When we awoke on Friday morning, we headed out to breakfast so that we could fortify ourselves for the day ahead. We drove to Jack's Outback on 6A in Yarmouth Port, a short drive from home.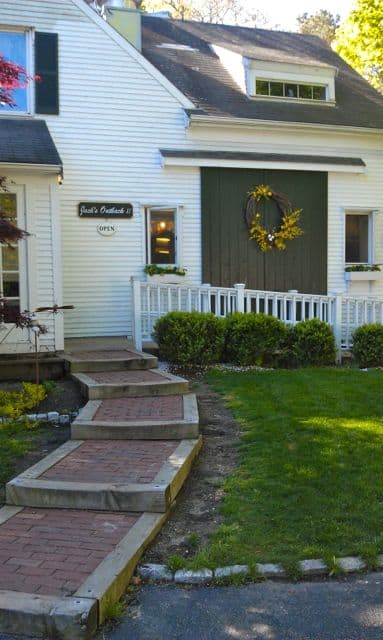 I have eaten here before and my nana is practically a regular. She is a local, after all. The food is delicious and I couldn't wait to take Matt there. He was in love with the place at once when we drove up and saw these guys outside greeting patrons.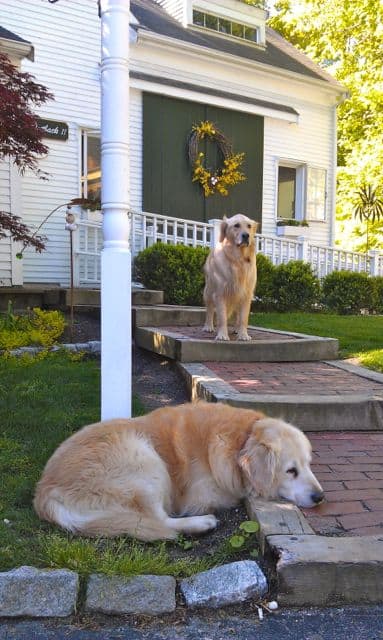 The restaurant has the classic style of coastal towns that I have come to love over my 27 years of travel back and forth to Cape Cod. White beadboard on the soft yellow walls and exposed wood beams lend character to the restaurant, with hydrangeas flanking the exterior. Matt and I each ordered the all-you-can-eat chocolate chip pancakes while my Nana had Jack's famous popover. We were on our way less than an hour later, with me snapping some more pictures on the way out.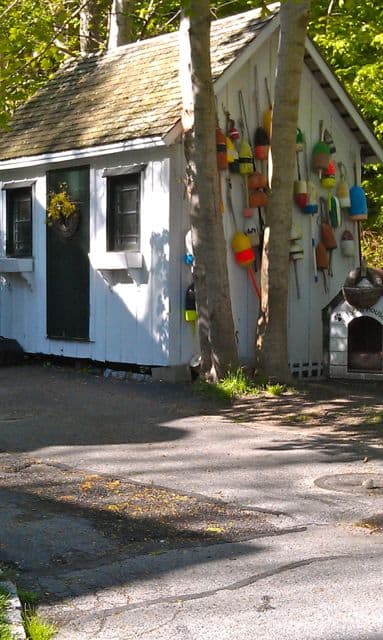 We needed to make a quick stop at the hardware store for some essentials. Rope, a gas can, and gasoline, if you're curious. Because SO MANY good things can come from that combination of necessities, right? I felt like a serial killer asking where those items were located in the store.
With our bellies full and our killer supplies in the trunk, we headed home to get started. I don't have a before picture but let me paint one for you. My grandpa brought home 25 blue spruce evergreen seedlings (they all fit in the palm of his hand) one day almost 40 years ago and he and my nana planted them along the back edge of their property after transplanting them a few times along the way. Fast forward to the present…those bad boys were nearly 50 feet tall and they weren't faring so well. They had to go. Besides encroaching on her yard space because they were so overgrown, most of them had been damaged from a bad hurricane and never fully recovered. Many of the branches were dead as well as the grass beneath them. The yard felt smaller than it was and Nan, as we will call her from now on, was hoping for 3 or 4 trees to be cut while we were there. Guess what? Matt cut down thirteen trees in one day. It was insane. The man is a miracle worker. Here he is chatting with Nan about what was coming down. Look at her with her hands on her hips. That woman means business.
Here is the best picture I have to give you an idea of the size of the trees. At this point, we already had a few down and cut up.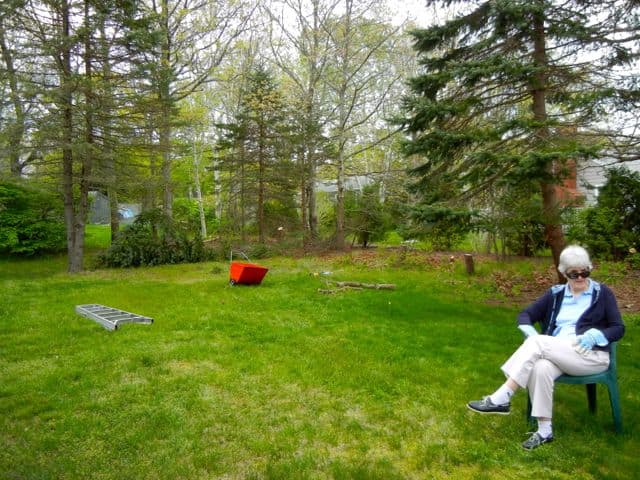 Nan is sitting but don't let her fool you - she was an ANIMAL. Moving brush like it was her job. Matt was a champ, too.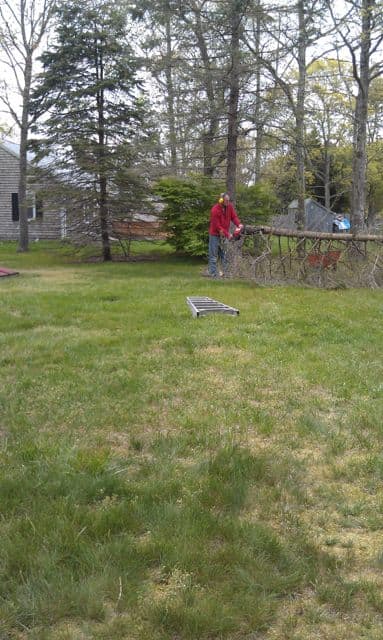 Griff, on the other hand… not a great helper. He preferred to bask in the Cape Cod sunshine. Who can blame him?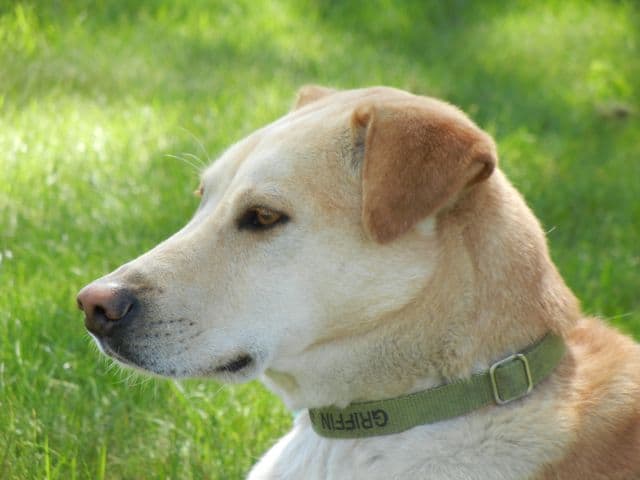 When all was said and done, (13 cut trees later) we had amassed a pile of wood and brush that was unbelievable. In every sense of the word. It's so funny when you finish a long project like that - you feel so accomplished yet a bit bewildered as to how it all got done.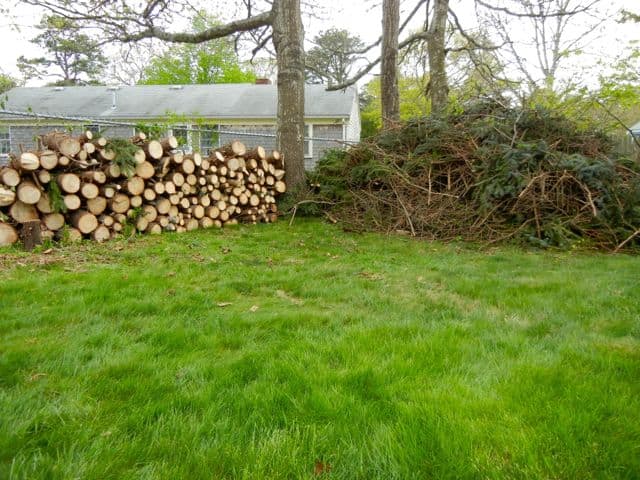 We showered quickly and headed out to Captain Parker's, a local eatery/bar that I've been frequenting since I was a child. The eatery part - not the bar part. That started much later. We gorged ourselves and came back for some of Nan's homemade brownies. We were all asleep by 10, since our muscles were tired and we were expecting my parents to come up the next day late morning.
Before my parents were up, Nan and I left Matt to rest in peace as we hit up some of my favorite jaunts in the area. I'll tell you about one in particular - one of my absolute favorite stores on the Cape. It's called Harvest of Barnstable, and it is the most exquisite showcase of dried flowers and silk arrangements that I've ever seen. Ever. I looooove dried flowers. The scent of dried flowers lingers forever. The store has lovely soaps and home decor items as well, (I purchased gifts for my bridesmaids here back in 2010) and I feel like I'm in heaven every time I walk in the door because the scent is that intoxicating. Imagine being on the ocean, surrounded by mountains, covered with clouds of wildflowers. Yeah, it's like that.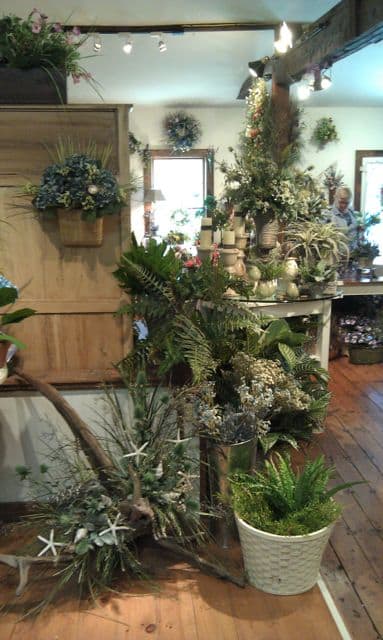 These pictures don't even do the selection justice, but I'll throw one more in for good measure. It's very pretty.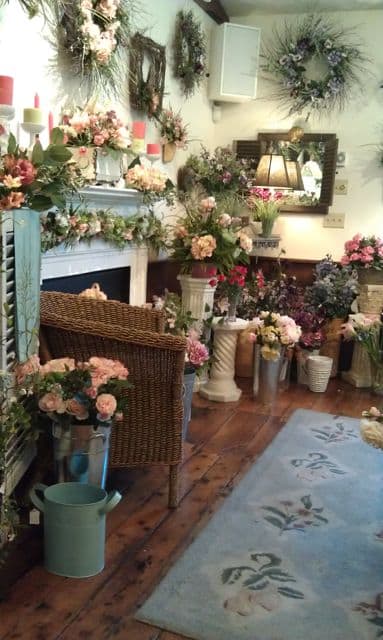 We hit up a few more stores (of much less notice than H of B) and headed home to meet my parents. Nan and my mom hung out while Matt, my dad and I headed out to another favorite hot spot of my childhood and beyond: the incomparable Pirate's Cove mini golf course. The competition was steep. My father and I (and my sisters as well) have been golfing this course for years. YEARS. Matt didn't stand a chance.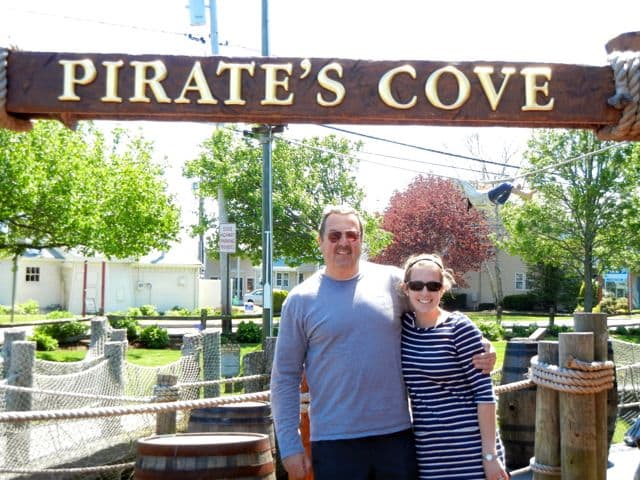 Matthew held his own for the first few holes, staying a few strokes behind me & my dad, and I could tell the frustration was wearing on him. He talked a big game. But then, on the 8th hole, this happened.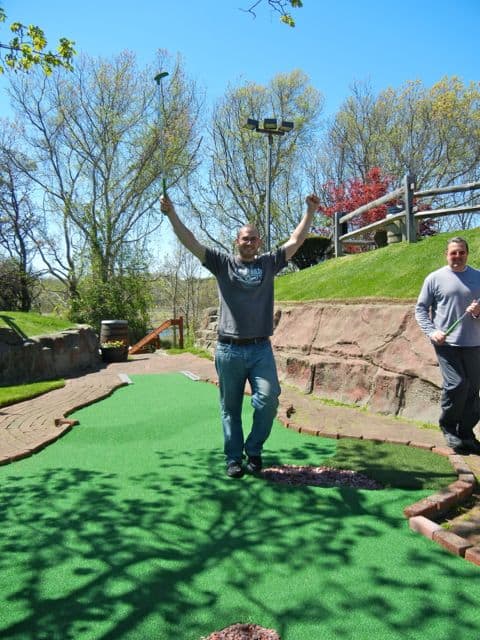 He shot a hole-in-one, (my father and I each had a couple of those by this point - no big deal) and his confidence soared. He ended up in a very close third place finish, with yours truly in the top slot. Yeah, baby. We ended up doing both courses at Pirate's Cove (36 holes) and then drove up the street for a change of scenery and shot 18 more. We're nuts for mini golf when we're on the Cape. Before leaving PC, we checked out the arcade. On the way in, we spotted a couple of photo-worthy stopping points. This guy was too cute to pass up and of course, reminded me of Griff who was most definitely passed out back at the house from the previous day's activity.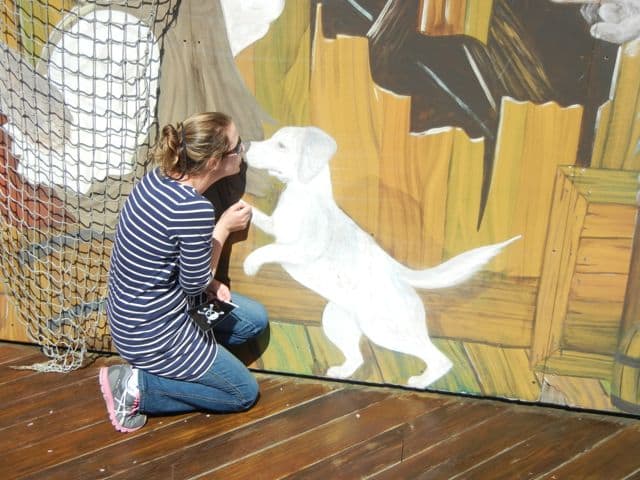 This guy was too funny to pass up… the caption in the window just made it perfect for me. No big deal.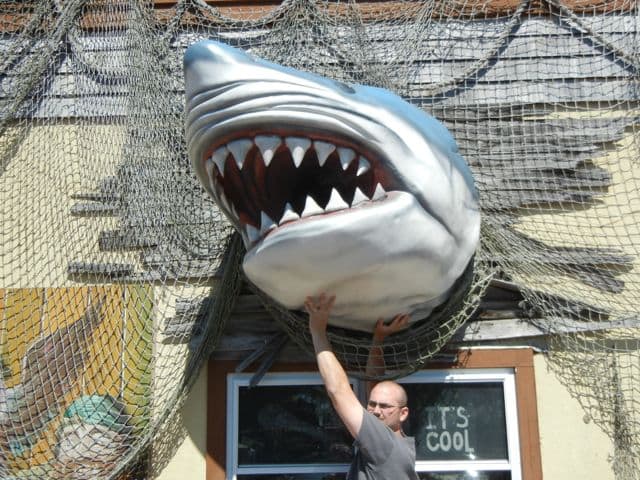 Once inside, I played some skeeball (one of my arcade strengths) while the boys shot some more, but in a different context. In the jungle, clearly.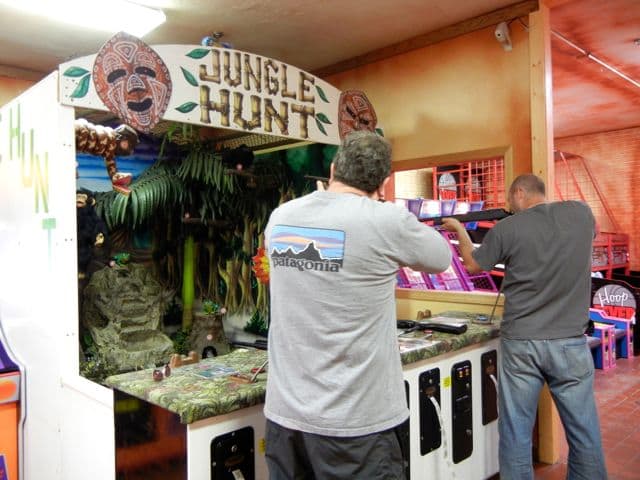 We made a quick stop at the beach even though the winds were whipping. A Cape Cod beach = one of my favorite places in the world. Top 3.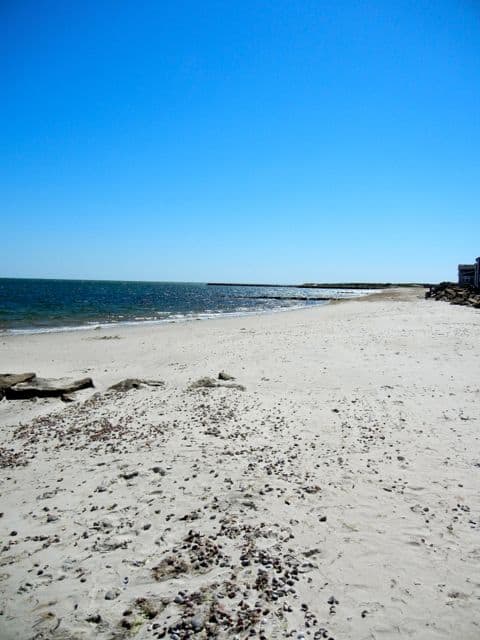 We took a quick walk out on the jetty and I awkwardly clung to Matt for this photo so I wouldn't blow away.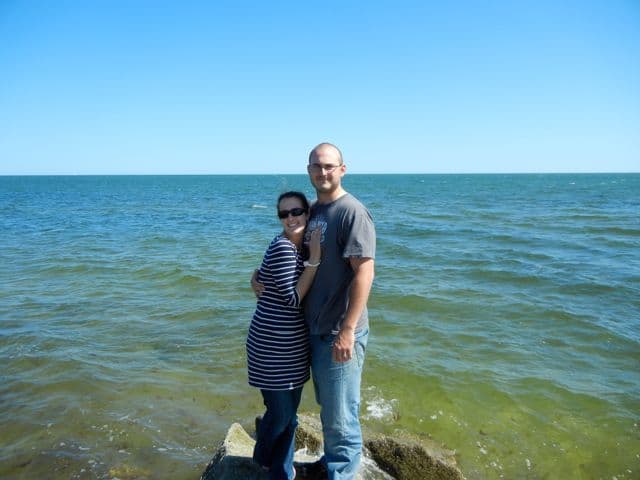 We saw this guy enjoying the coastline… a black lab/husky mix. I looooved his different colored eyes and he was so sweet to let me grab a picture.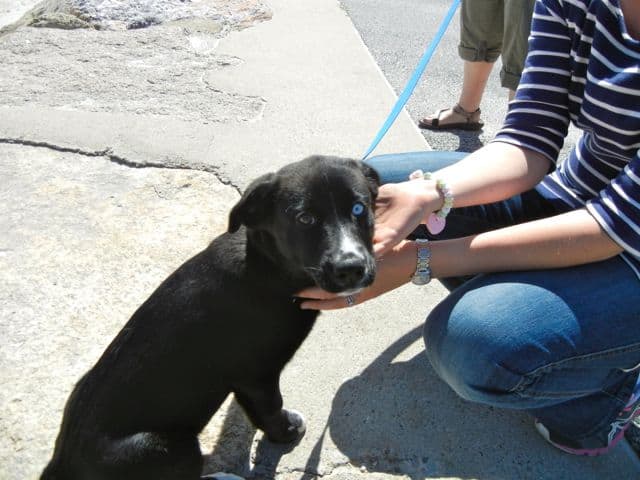 We headed back to the house (not before stopping for an ice cream) and rested a bit before our last bit of fixing up at Nan's. She bought a ton of mulch, and she requested that it was spread around her existing flowers - no planting necessary. I gladly obliged. If you haven't learned this yet about me - I love mulch. Obsessed. With mulch. It's sad, I know. I jumped at the chance. I edged the gardens first in a scalloped wave.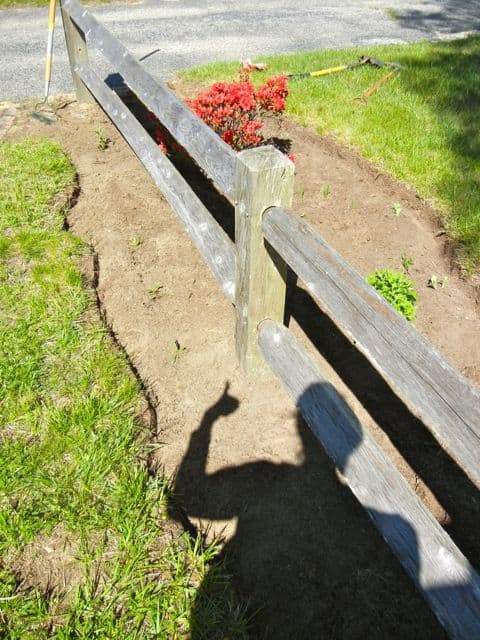 Then it was time to work play.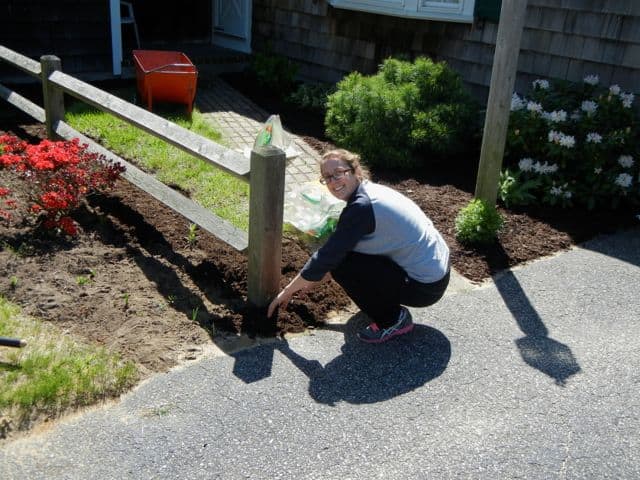 I'd say the end result was pretty well received by Nan. She was beaming. Which made me beam.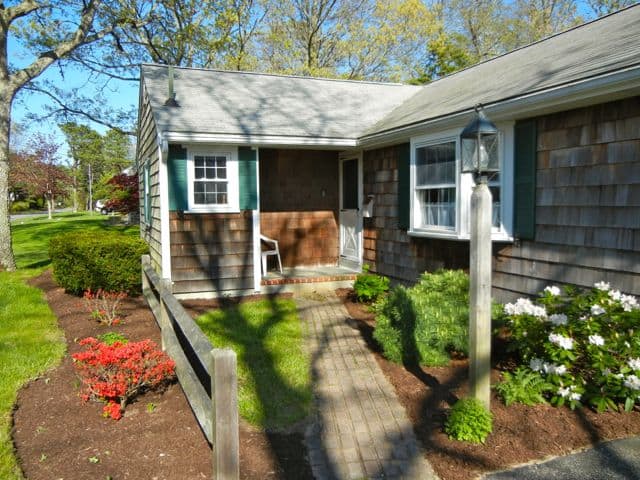 Between the mulching and the tree chopping, it was a weekend well spent. Nan was thrilled to have us and we were happy to offer our "rehabbing services" to a loved one who deserves nothing but the best. Plus, it was really fun to get out of town and work on a different house for a change. We love our house, don't get us wrong. It's just nice to have a switch of scenery.
I'm liking this "School House Road Trip" thing. Maybe I'll turn it into a series. Maybe doing a few of these a year. What do you think? Anyone need help around the yard? Don't all shout at once.