So… remember when I sanded down my dad's old childhood dressers to prep them for refinishing?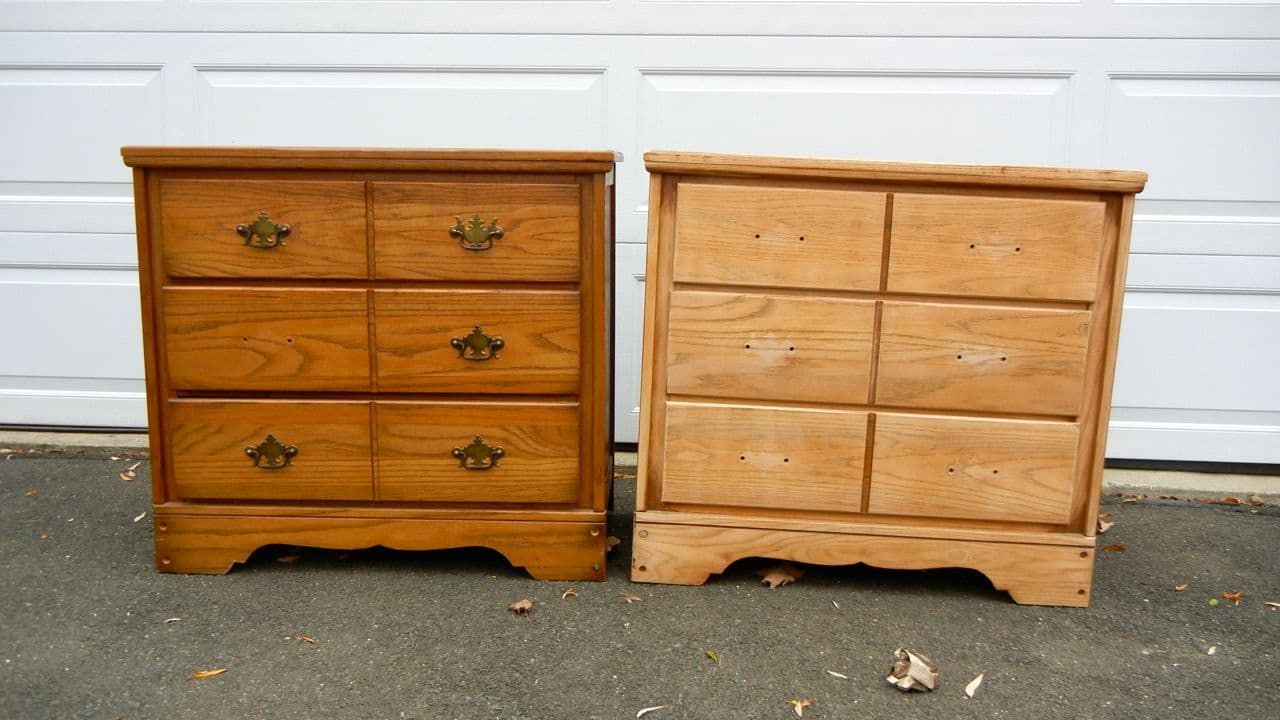 Oh, you don't? Well, I'll forgive you because that was nine months ago. That's right, this project was started in November and it's finally coming to fruition in August. Dude. Things take time.
I know what you're thinking: "What a slacker…"
Okay. I did mostly slack off on this project, but I have a couple of good excuses.
1. Winter. You know, that time of the year when Connecticut gets snow, ice, and freezing temperatures generally unconducive to painting or staining… Yeah. Winter happened. That has to account for 50% of my slack time, right?
2. Indecision. I didn't want to paint the dressers only to realize I wish I had stained them, or vice versa.
There. See? Told you they were good excuses. It wasn't like I could have finished the dressers in January, or February, or even March for that matter. The point is, sometimes you may be derailed from a project, or maybe you lose inspiration. When you get re-inspired (by some nice Spring weather in this case!) and back on track, boy… can you make progress.
Over the winter, I decided on this stain.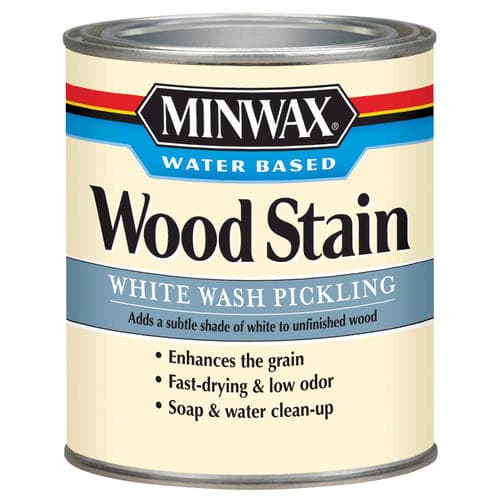 "Pickling," or "white washing," is the process of adding a very light shade of white to unfinished wood. It dates back to the Mark Twain era, but a resurgence of neutral color palettes has brought it back onto the design radars of many. Editor's Note: It hasn't gained that much popularity because each time I told someone I was going to "pickle" the dressers they looked at me like I had a pickle for a nose.
Regardless of people questioning my choice in stain, I was excited to use the white wash ($11/qt @ Home Depot) on the old dressers that had been stripped to raw wood. After sanding them down a final time in early Spring, I used a tack cloth to remove any dust or dirt so that the stain would soak into the wood without interruption. I picked up a variety pack of foam brushes at Home Depot as well ($6) in case I wanted to use them to apply the stain.
On the first coat, my mother-in-law was over and helped me apply the stain with a rag. It went on well, but it was pretty messy. After letting it dry for a few weeks, I tried one of the foam brushes for the second coat and loved it. It was much neater, and the corner of the foam brush proved easier to get the stain into the corners. By the way, you don't have to let the stain dry for a few weeks in between coats, I just had social events get in the way of my progress for a few weekends in a row. Oh fun, you always get in the way.
After the second coat dried, I knew I loved the pickled look. The first coat left a little to be desired but that second coat? Muah. (Kisses fingertips in a flourish.) I popped by Lowe's for some new hardware because the hardware that was on it, although classic and traditional, wasn't the color I had in mind for the crisp white dressers. I didn't want to spray paint them either, since the hardware had moving parts and I was worried the paint would flake off after use.
$50 later, (ouch!) I had 12 pieces of 3" beaded hardware that yes, match the knob on my new nightstand. It's in the details, baby. In the details.
Although the hardware was more than I thought it'd be, both dressers got a complete makeover for under $70.
Here's what she looked like when I saved the dresser from my parents' tag sale: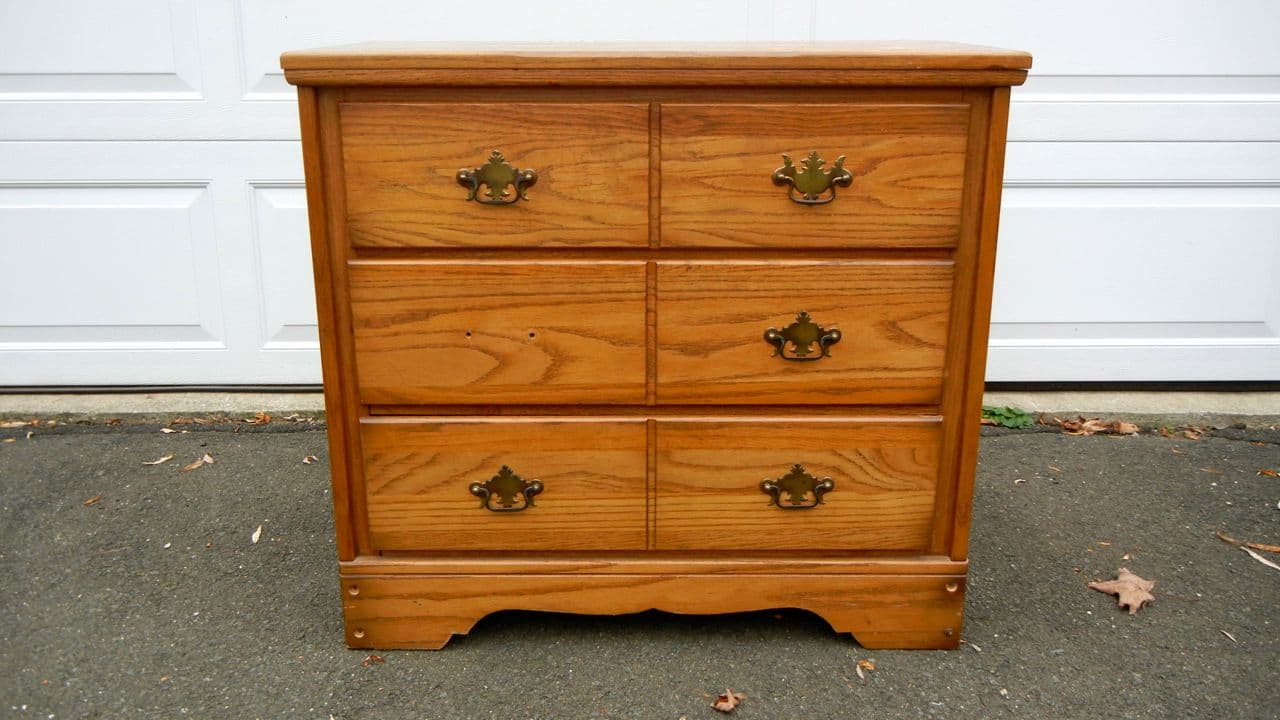 Here's what she looked like after sanding it down ohh sooo looonnng ago: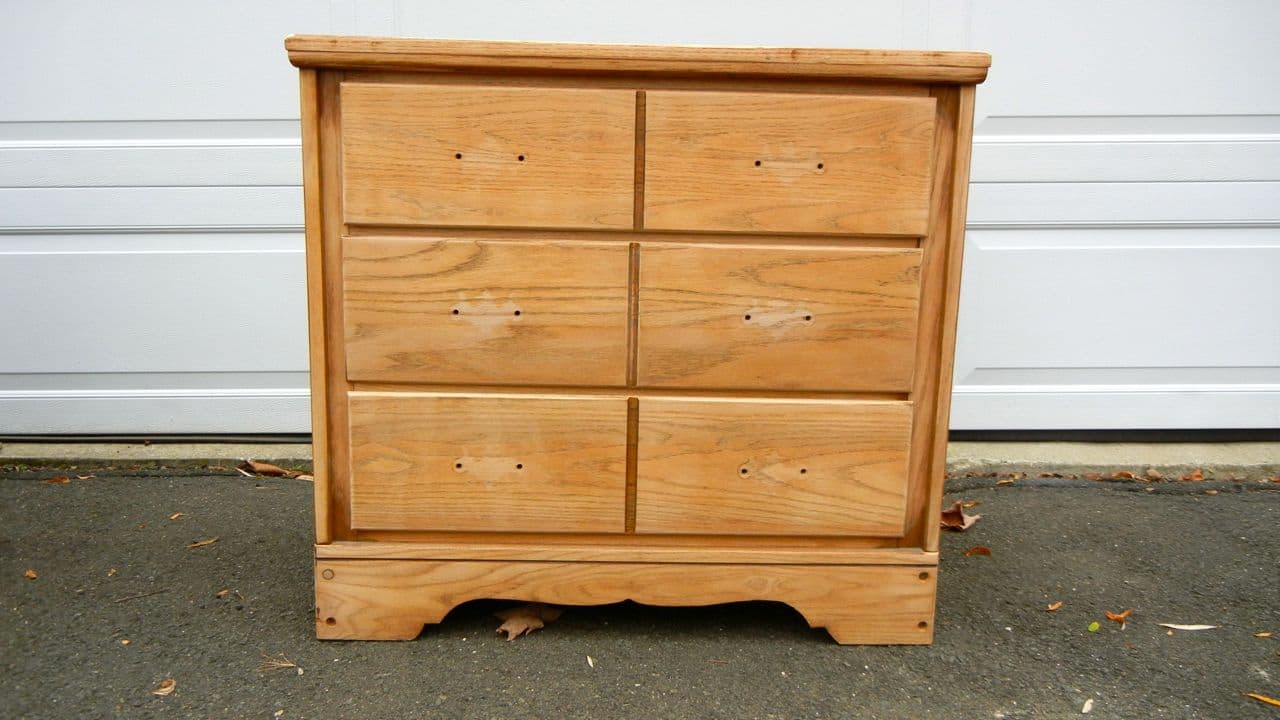 And here's the glammed up dresser in its new habitat: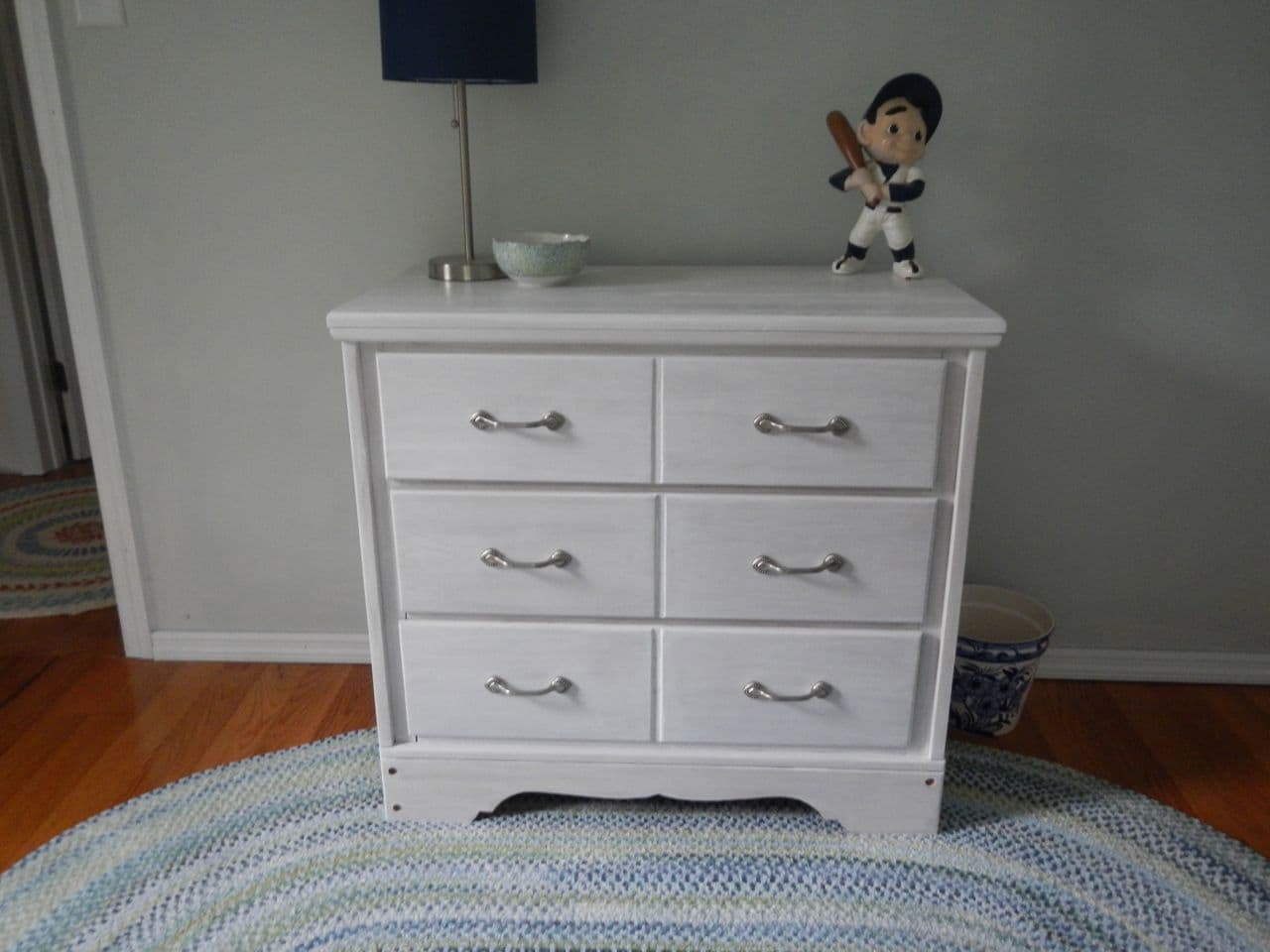 I still need to figure out what to do with the small holes in the bottom of the piece, but that'll be easy.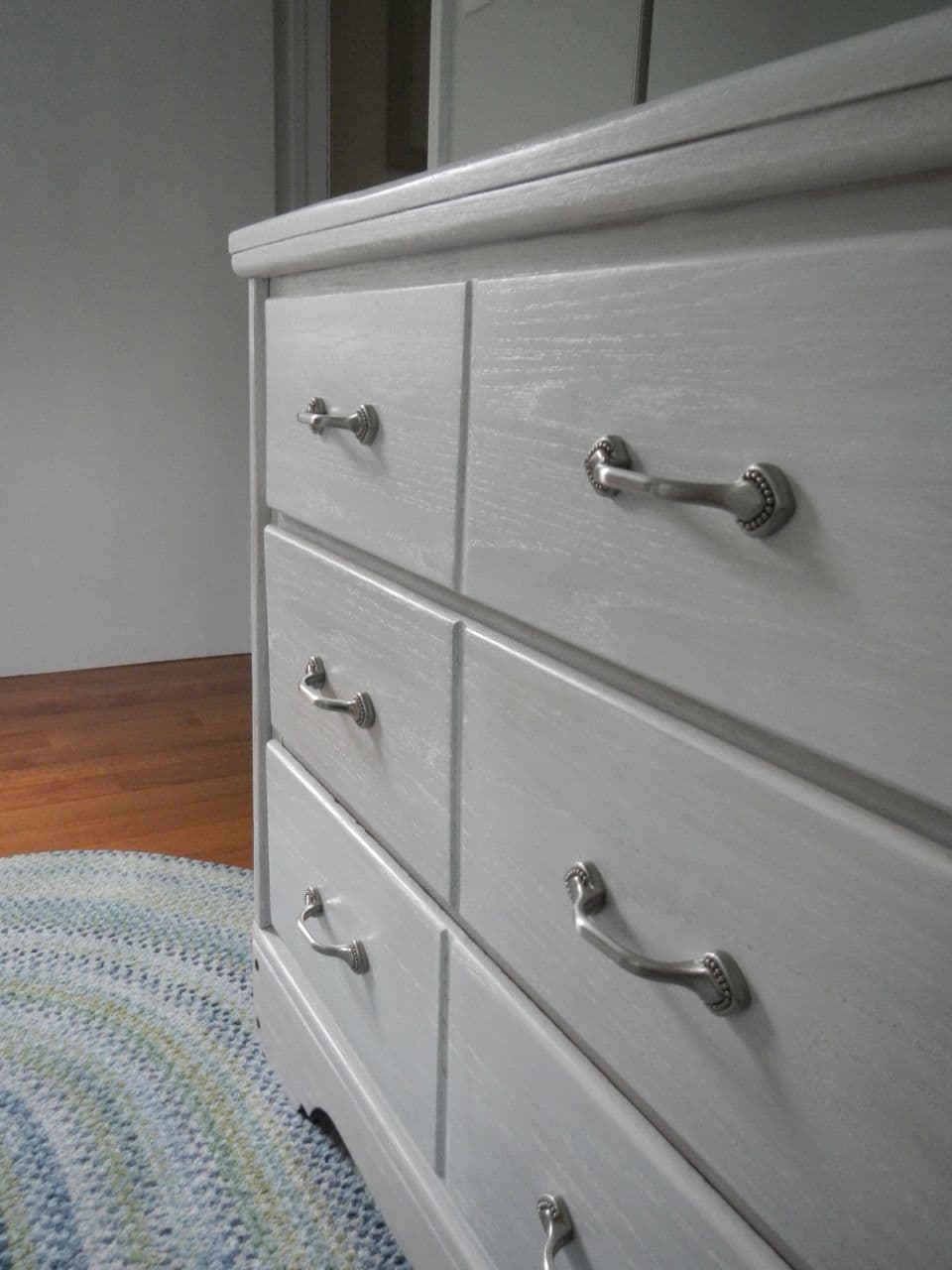 The hardware is simple and traditional, but still looks updated.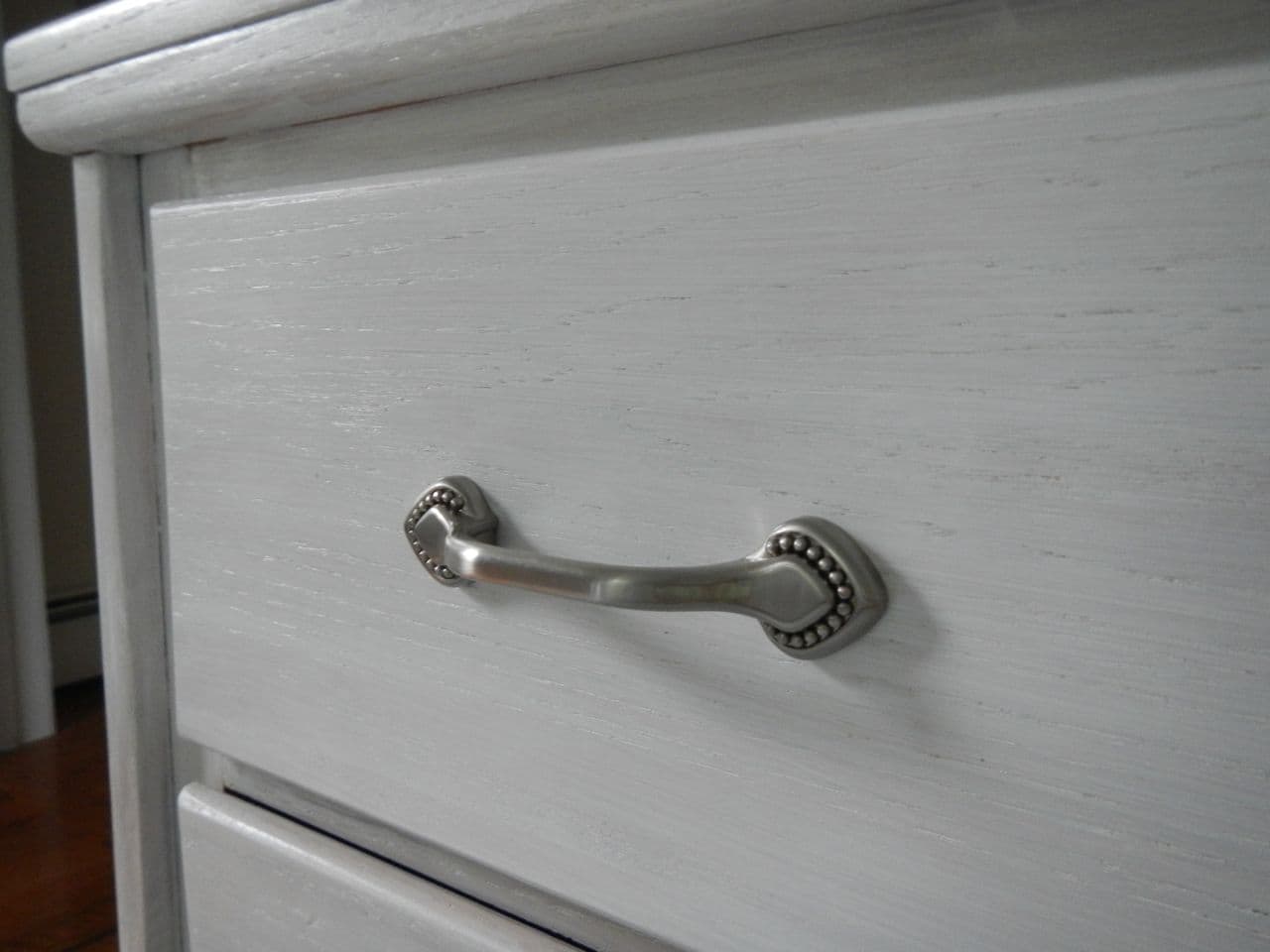 My favorite part is the way the white wash accentuates the wood grain in the oak. It's so pretty!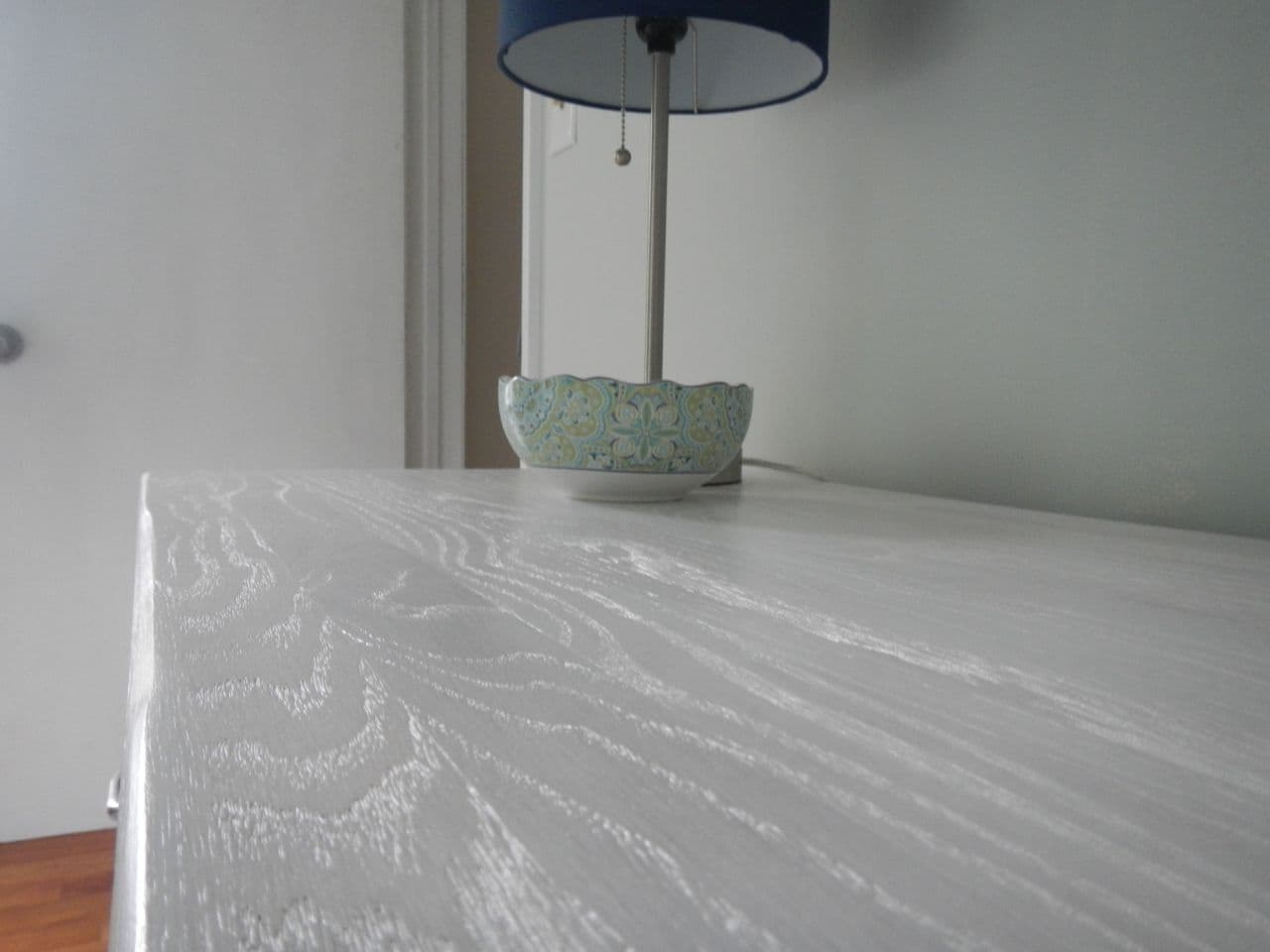 The old dressers live again! Sorry for the 9 month wait… hope it was worth it!
Would you rather buy new furniture or refinish old stuff? I think I'm becoming addicted to the latter…
Here are some links to a few products that will help you with a pickling project. If you buy the products through the link provided, your cost will be the same but I will receive a small commision to help defray the costs of running this site. Thanks in advance!