When I set out to make a mobile for the nursery, I didn't exactly set out with any real idea of what I wanted. Sure, I checked out a few DIY options online before heading out to the store, but in the end, I found my inspiration perusing my local Michael's Arts and Crafts store.
I came home with a flat flower hoop, some all-purpose acrylic, non-toxic craft paint, and nine random wood shapes. My general thought process was to suspend the random wood shapes from the hoop, and I went from there. So scientific, I know.
The flower hoop was brown, so my first step was to paint that bad boy white.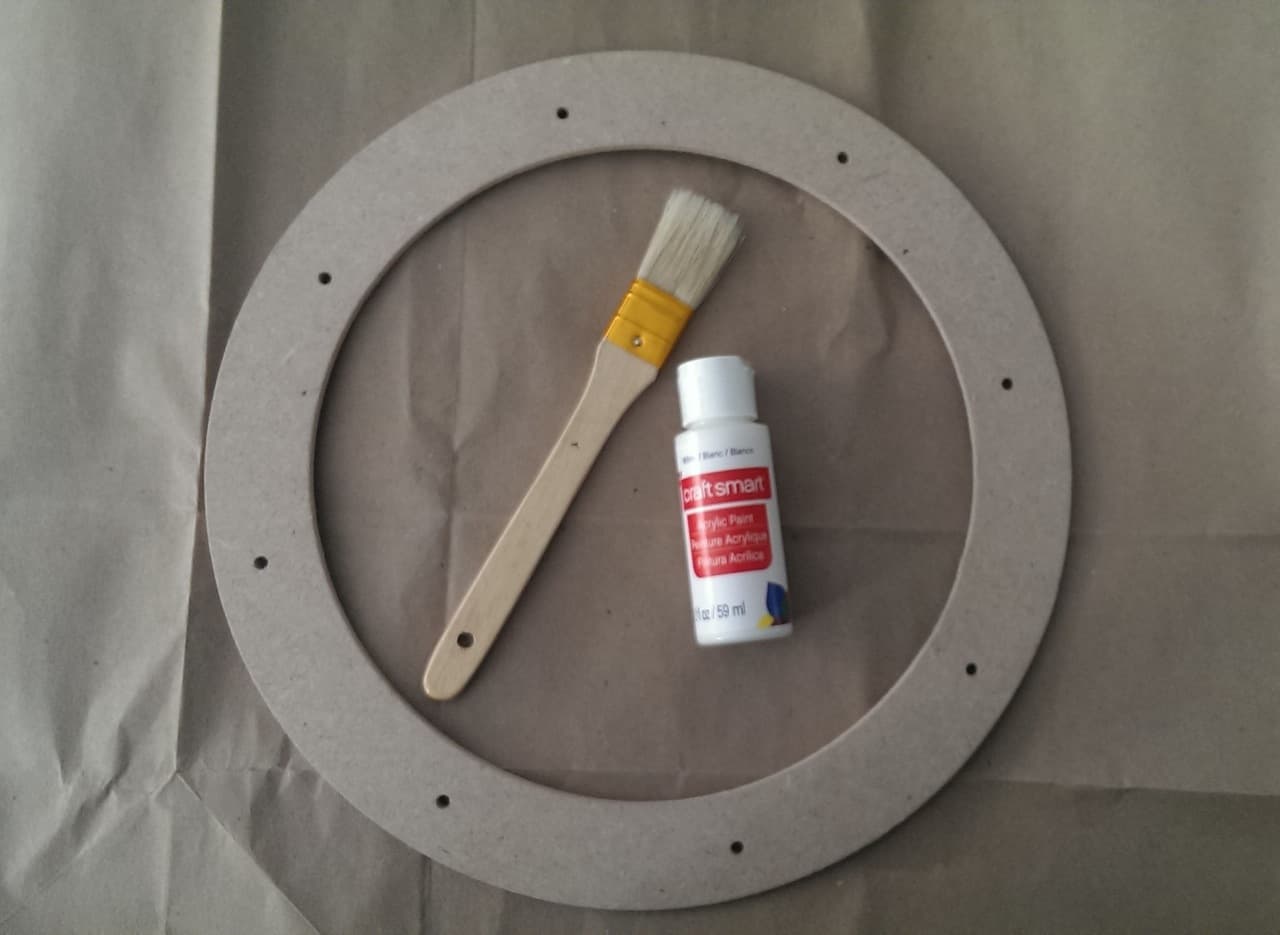 With that painted (you can kind of see it in the background below) it was time to see if I'd be able to pilot a hole through the lightweight wood pieces without breaking them.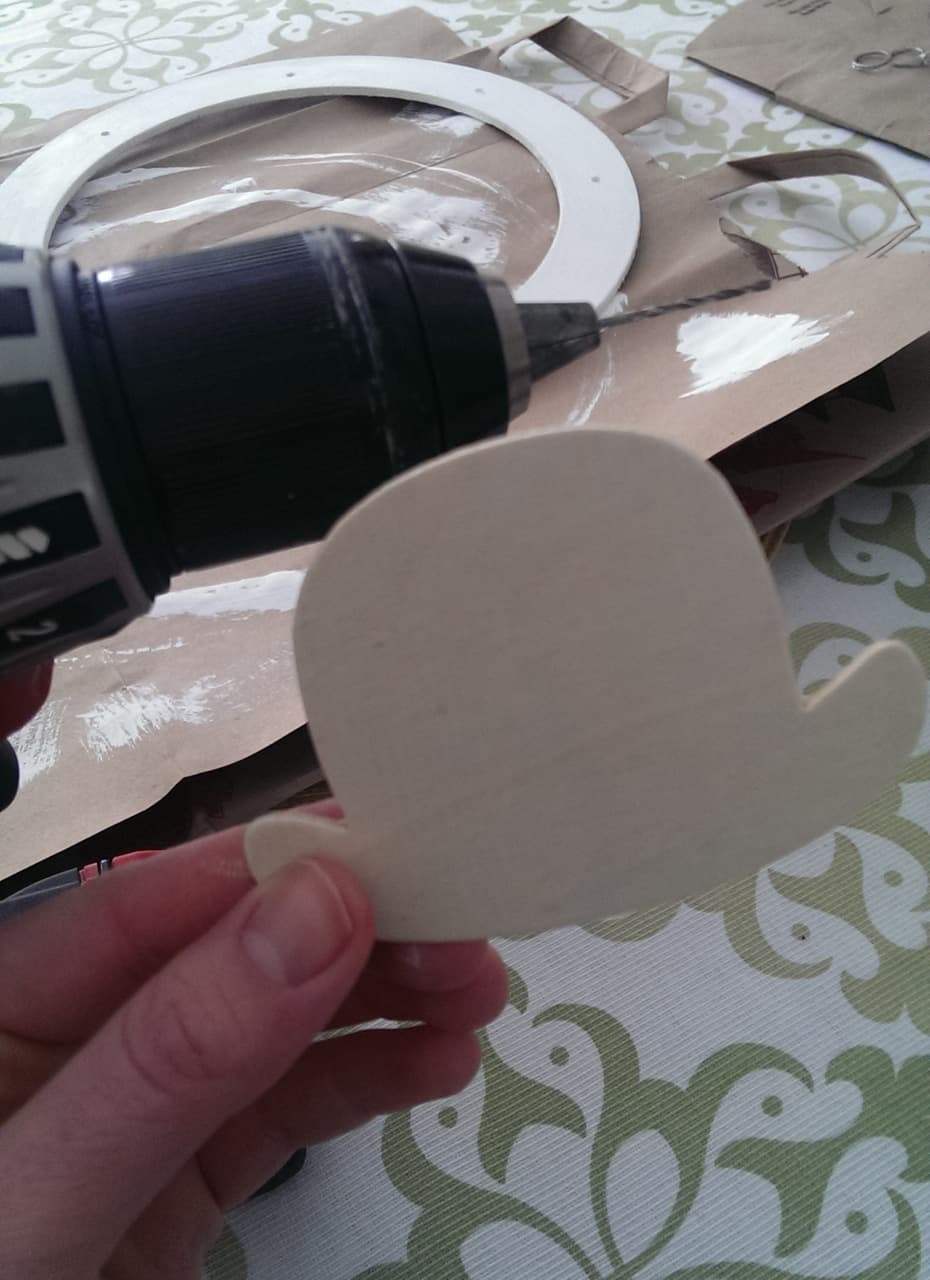 It was successful! One night after work, I whipped out a big box of Sharpies and started doodling on the wood. You can see below I ended up with 3 abstract star/snowflake shapes, 3 flag/banner shapes and 3 shapes that I interpreted as dogs…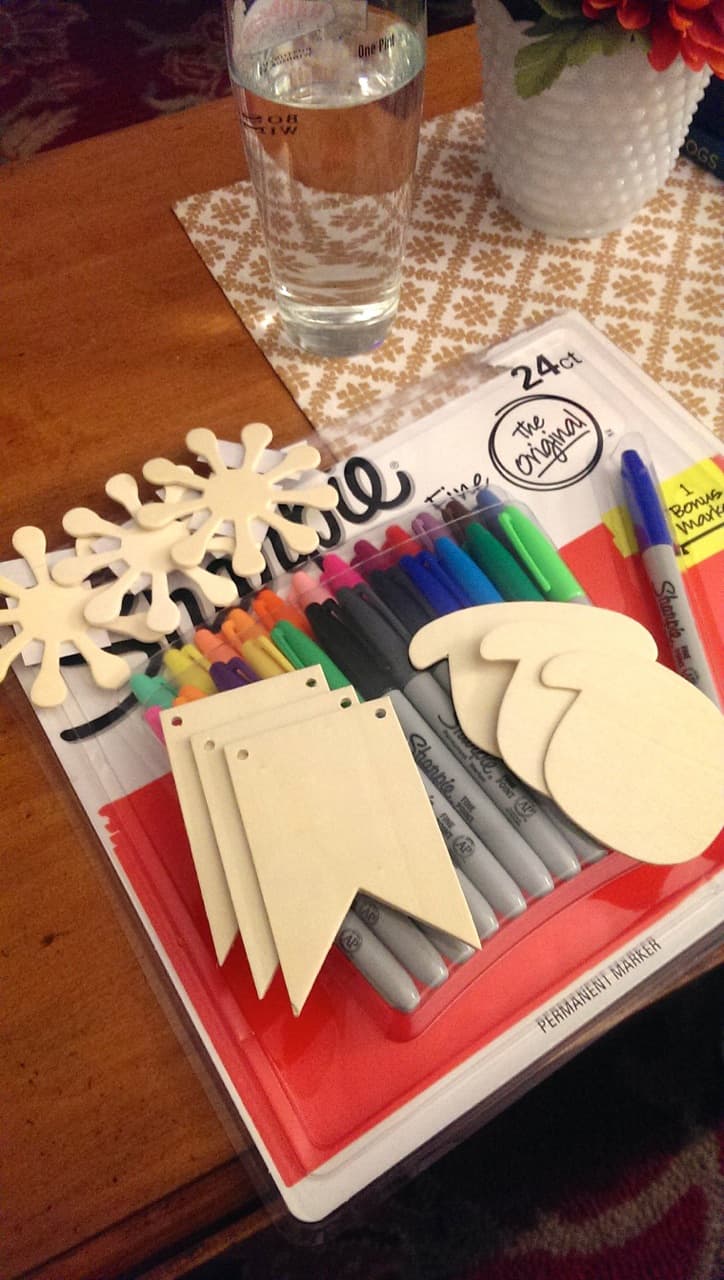 I ended up using 5 colors: dark gray, red, brown, light blue, navy and light gray. With the shapes colored, I hopped in the crib to hang the ring from a large cup hook using baker's twine I had on hand.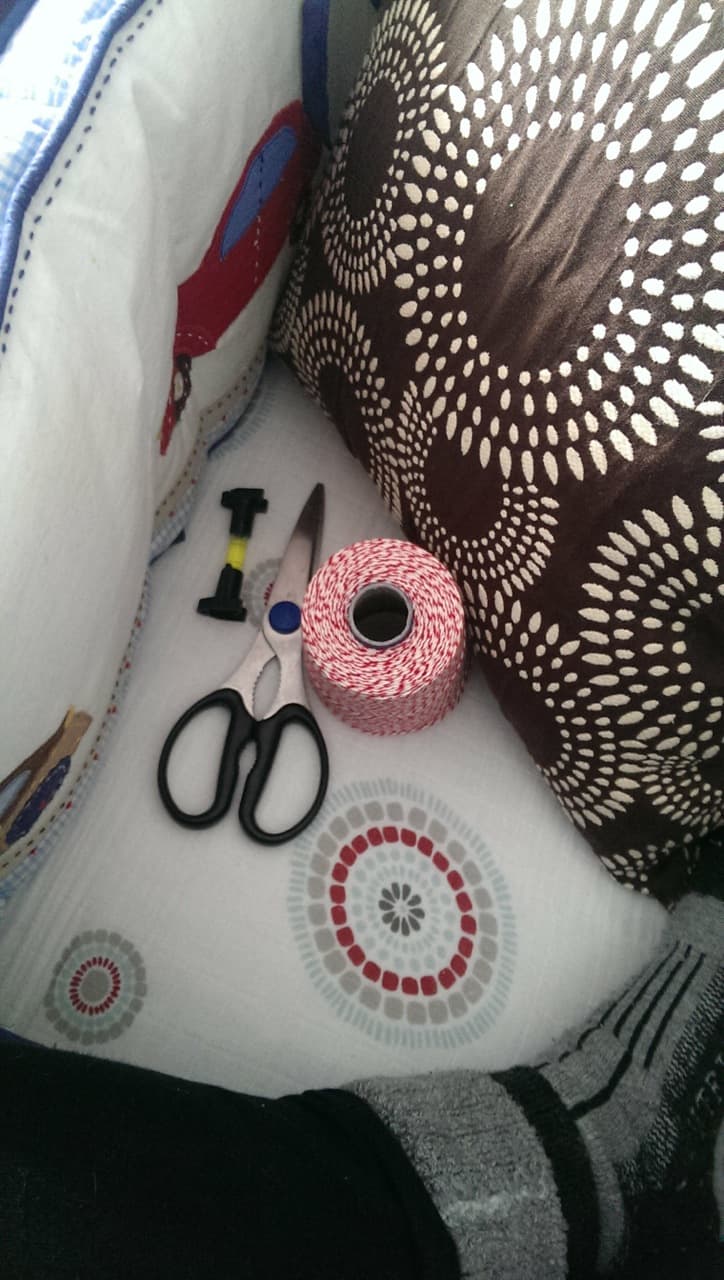 Just ignore my super hot outfit of maternity leggings and folded-over ski socks.
After about 15 minutes of making sure everything looked level while completely eye-balling the height as I hung each piece, we were in business, and for now, I'm digging it.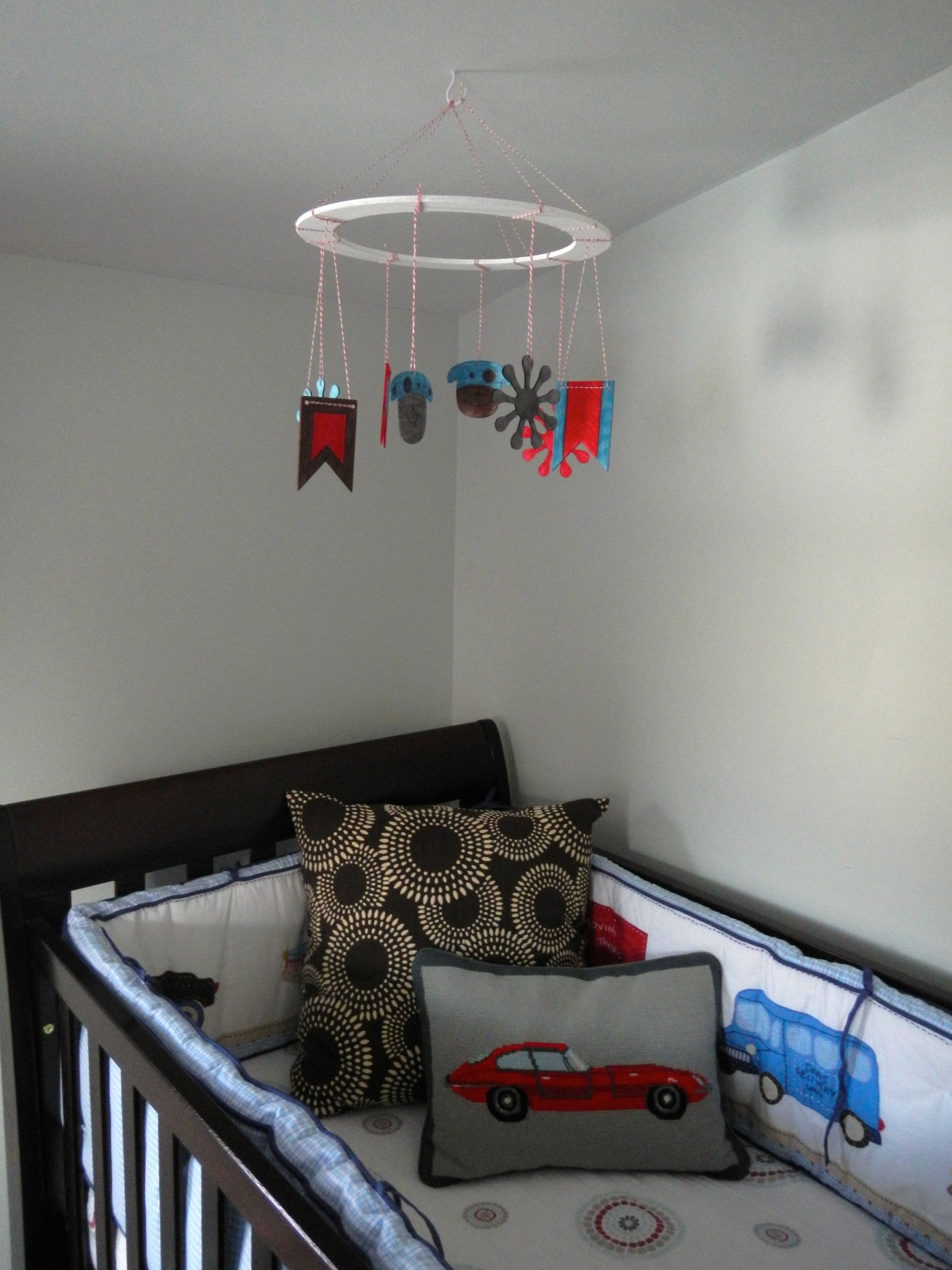 My sister asked me why I was making a mobile instead of buying one or putting one on my baby registry and I didn't really have a good answer. Thinking about it now, I still don't have a good answer. For the most part, I think I like the idea of telling my little guy that I made his mobile for him, and I love the idea that I was able to customize the colors and the look to fit the nursery. So I guess we'll go with: I made the mobile instead of buying it because of pride and OCD. Yeah, we'll go with that.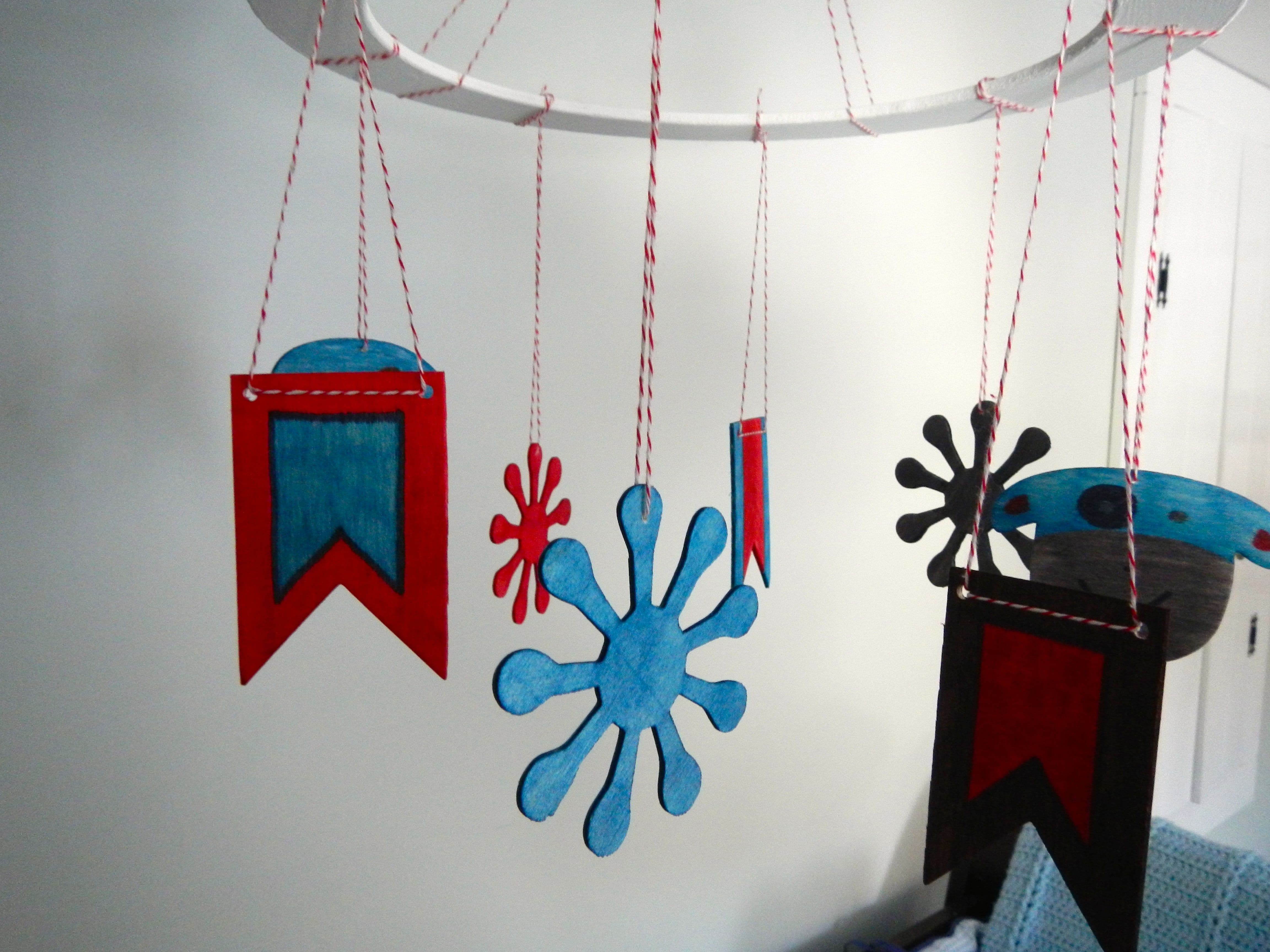 I may tie a white ribbon around the top where it meets the ceiling. I also may switch out the "dogs" for two of those fun, abstract star shapes. I like them the best. We'll see. For now, it'll do.
The large cup hook is screwed securely into the drywall ceiling and the mobile itself is so light, I don't have to worry about it falling on our little guy.
As for the supplies and the cost breakdown… I had the Sharpies, craft paint brush, large cup hook, drill, and baker's twine on hand. I walked out of Michael's with the hoop, ($3) 9 wooden shapes, ($.29/ea) and white craft paint ($.69) for $6.39. You can't beat that.
We'll see how long it stays up. I envision my husband giving me a lot of: "I hit my head on that damn mobile every time I put the baby down for his nap. It's kind of annoying." For now though, it fills the space and my urge to nest and decorate is being fulfilled!
#Nursery #Crafts #DIY #Decorating