…of this, that is. Blech.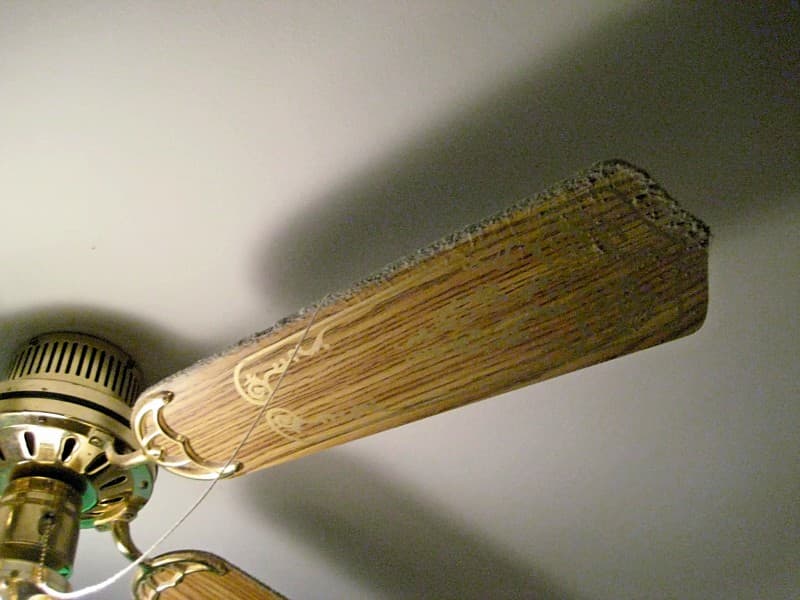 I am a big supporter of many things gold. For example, I love gold earrings, (they're the only ones my delicate ears will allow!) gold flats with dark jeans, the gold bracelet Matt gave me on our first Christmas together, my brother-in-law, (Mr. Gold was an old college nickname for him) the gold-ish brown eye shadow I wore on my wedding day, this dress, and the golden color of my main man.
I am not, however, a fan of many things auriferous in my home. Yes, yes, our bathroom has gold fixtures, but that will be a bigger project down the line. The gold ceiling fan with fancy gold accents on the blades? Flat out ugly. Not my jam. That ish had to go. It seemed like a relatively painless project to help update the ol' kitchen, so off we went. Please overlook the dust in the picture above – so gross – we had JUST stepped into the house for the first time when I took this picture and our little school house had been empty for a loooong time.
I first, I didn't have an idea of what kind of fan I wanted to buy to replace the existing one, so I did some browsing and sort of liked a few but nothing really fit. This guy from Restoration Hardware was a contender and matched the hardware of the kitchen cabinets, but the scaling seemed off. Looked rinky dink - like an awkward teenager growing into himself. This guy from Home Depot matched the color scheme (black and nickel) but was too modern for my taste. I did know that I wanted good air flow (no a/c up in here) and lights, because there is a sitting area beneath the fan that we frequent for reading, picking out new cookbook recipes, watching birds, or chilling out. I didn't much care if it was perfect, I just wanted something reasonable that didn't look outdated and somewhat matched the feel of the house.
Then, one day, while perusing the aisles at Costco, (which we are known to do once in a while for date night every week) we stumbled upon a Hunter (reputable brand!) ceiling fan (priced great!) that looked nice. (warm colors, light attached, came with a remote!) After a 2 minute deliberation, (we're nothing if not impulsive) it was in the cart and we were off to install that bad boy. I didn't take a picture of the box, but you can hold your horses while I tell my damn fan story! It's pretty much done. I swear.
Here's a shot of the old fan (in the background) when we first walked into the house after closing.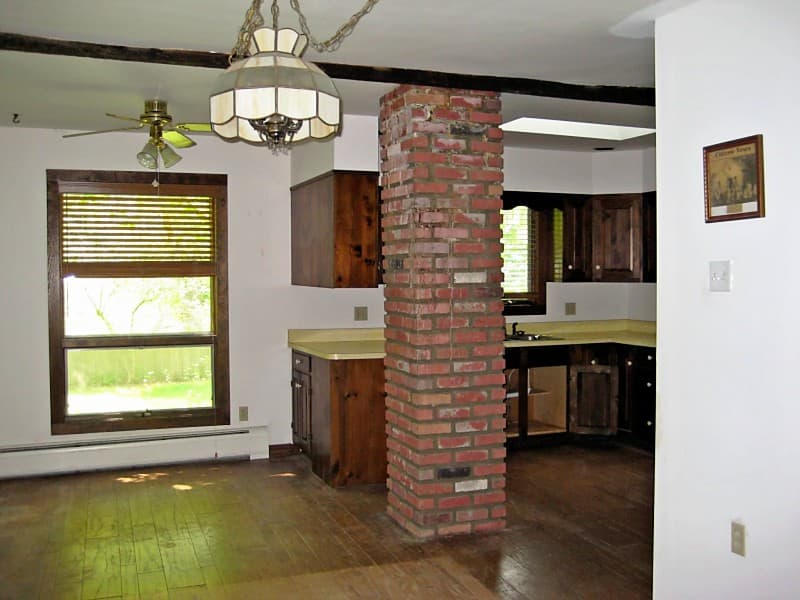 Since the picture above was taken, we've painted the walls, (only to be changed this coming summer) had the floors refinished, added furniture & appliances, painted the cabinets, changed out the hardware, replaced the chandelier, and painted the trim. But let's not lose focus. Matt took down that gold piece of crap first thing. Good riddance.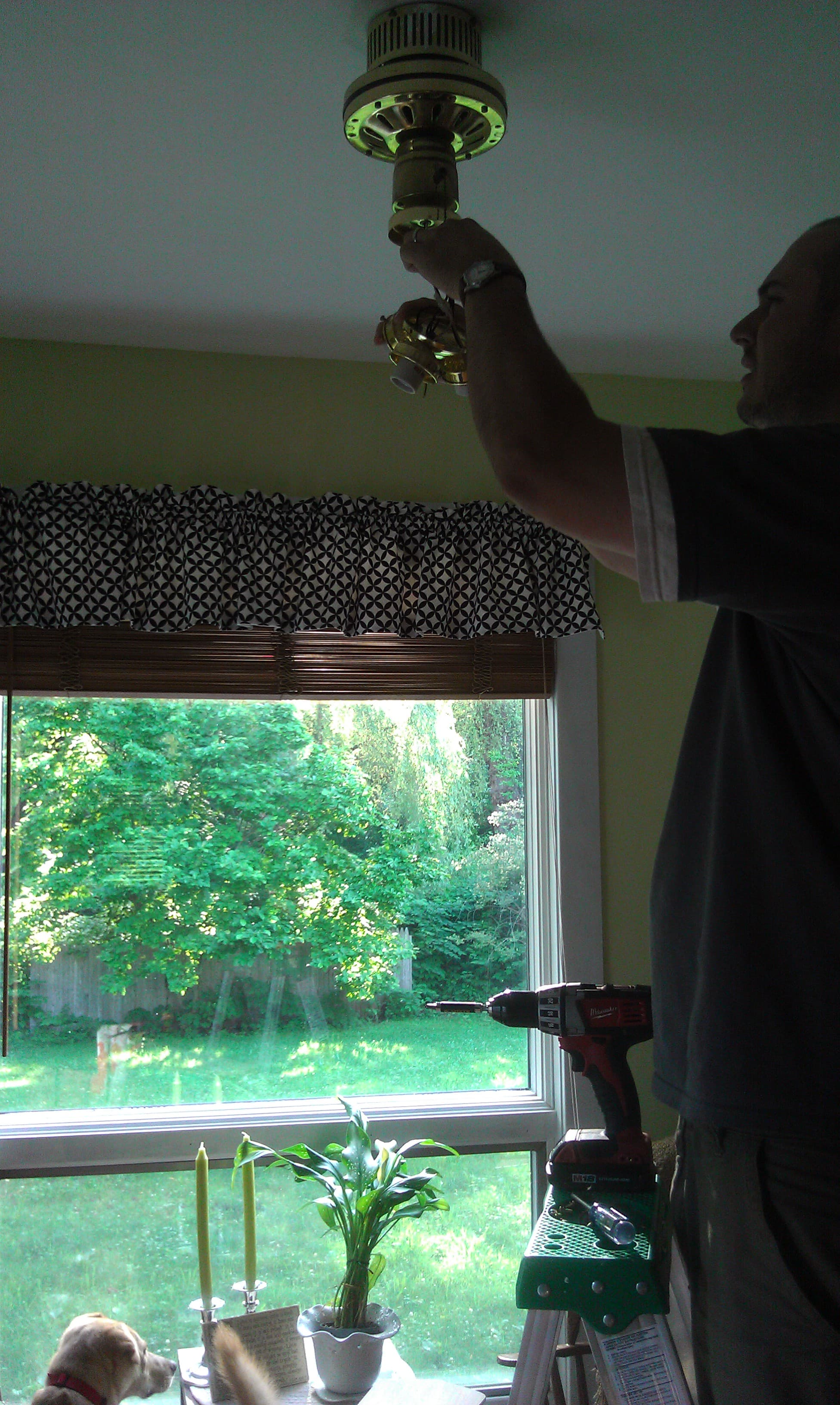 We then went up the attic above the ceiling fan to check out the electrical.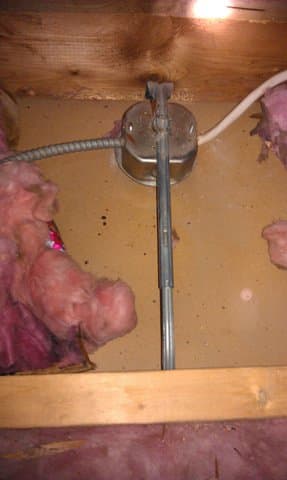 Then we cut the power to said electrical and laid out the small parts for the new fan. It looked quite daunting, and Matt considered for 2 seconds about calling a professional electrician, but what fun would that be? A little shock can't cause that much lasting damage, right?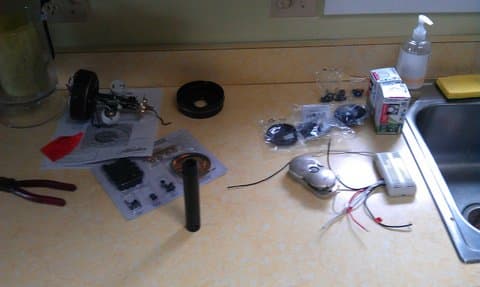 We removed the old fan via a few screws and were left with this. Yeah, all the pictures in this post were taken with a cell phone. Deal.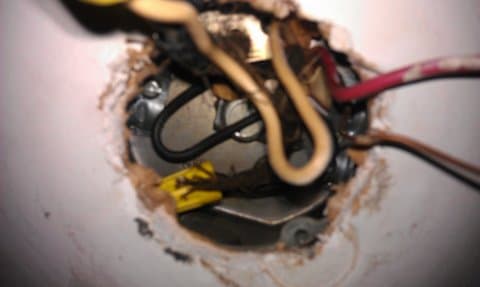 I am going to have to ask Matt what this is - I'm at a loss.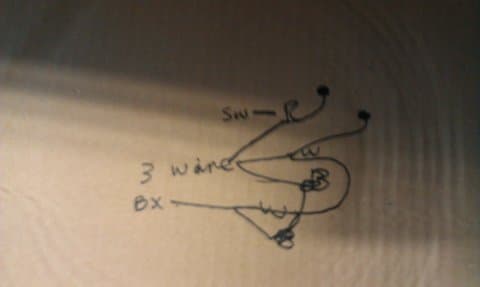 The wires were pulled out and down so we could see what we were dealing with.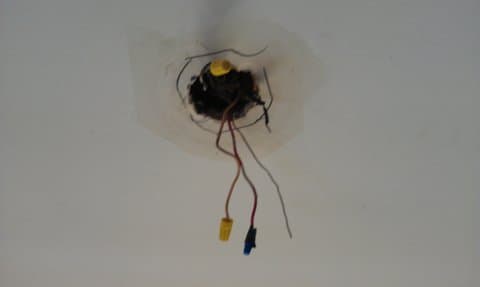 A few more wires than a traditional light switch, but nothing Matt couldn't handle. Next thing I knew, the new base was up! I love the black-ish color and rustic patina. I think it goes well with the flow of the house, as well as the black & white curtains and black oak chandelier over the dining table.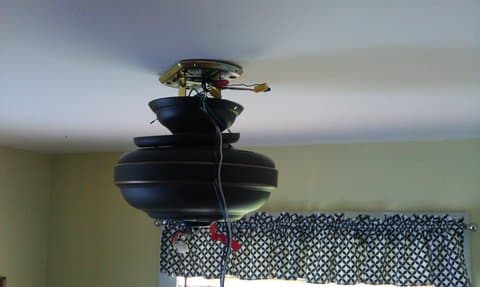 The top part was secured flush with the ceiling and we were in business. Time to attach the blades.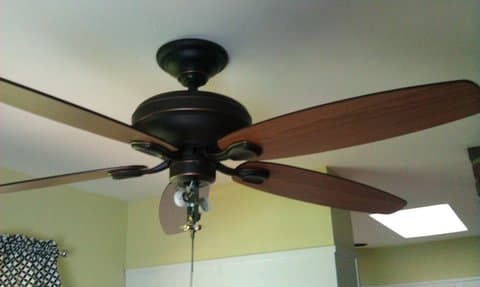 Part of the reason we loved this fan was the warm color of the wood blades yet simple design. I knew it wouldn't steal the thunder in any way from my beloved chandelier (a gift from my Grandma). In fact, I think the chandelier and fan complement each other. And boy, does this thing put out air. As mentioned, we have no central air, and standing within 20 feet of this baby would make you second guess that fact. The blades are huuuge! Next came the light bulb, if you will. It is a glass cover that conceals two bulbs. Apologies again for the picture quality.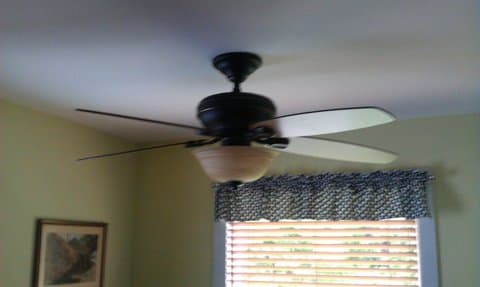 But the reveal picture is a bit better. Ready? I love it. Probably because Griff is in the picture. I think it is absolutely an improvement over what we had (scroll up to the beginning if you need a refresher). It blends with our simple decor and is efficient, making the dog days of summer around here much more bearable.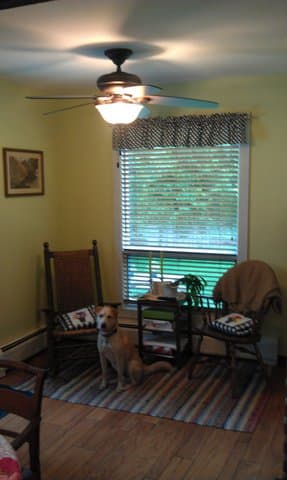 What do you think? Much better, right? Anyone ridding their life of any gold lately?