Growing up, the staircase in my house was awesome. How can a staircase be awesome, you ask?
Memories.
It was a simple fold back design (up a small flight, two landings, and up another small flight in the opposite direction) but it was so much more than a staircase. My sisters and I would learn to crawl up those stairs, then toddle, then walk, and eventually take them 3 at a time. We would bound down them, jumping down 6 stairs at a time, landing to landing – I can't believe now that I'm writing this out, how much abuse those stairs took. The staircase once served as a play haven for me and my sisters. We would bring out every blanket from every closet and build forts on the landings to play house. It was where we would sit (and still do) while checking ourselves out in the hall mirror and primping before an outing. It was where our dogs slept (on the flat landing part). Everyone but my mom would sling their coats over the banister, only to have my mother tell us incessantly not to do so. We would sit on the first few steps while my mom cooked and just talk with each other. My dad would sit on those first few steps while putting on his shoes before work. We would come down from our bedrooms and sneak around the corner of the fold back to check for Santa or peek on our parents, screaming and running back into our rooms when we were spotted. When my older sister started dating, my little sister and I would creep down to try to steal a look at the boy through the spindles lookng into the family room. Case in point: the stairs in my childhood home hold a lot of good memories.
When I envisioned my own home having a staircase, I hoped for it to hold as much potential for awesomeness as my first staircase. Envisioned. Hoped. Did you pick up on the past tense there? This is the staircase in the house we bought…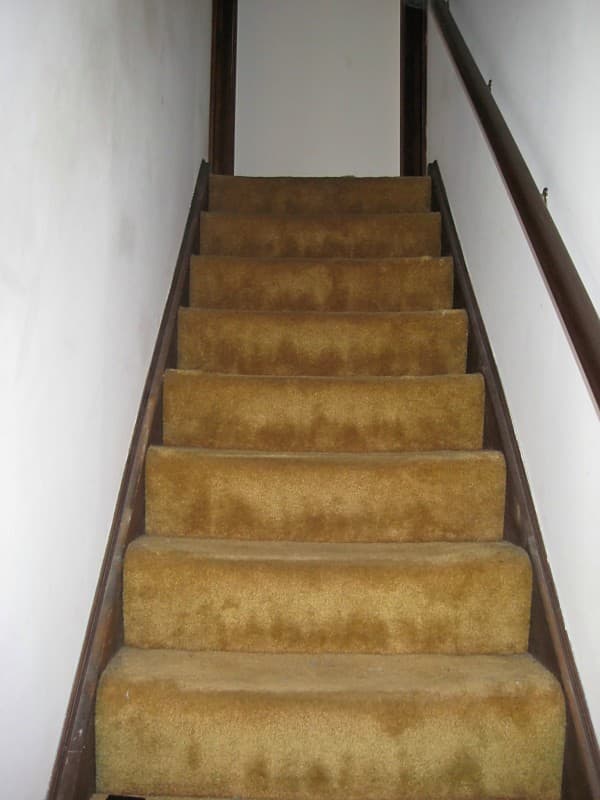 Gasp! Brown pile carpet. Dark brown sideboards. Wow. SO not fort-worthy. Since my staircase is straight and not a fold back, the potential for forts is slim regardless. However, the potential to be a cozy place to sit and chat is still attainable with some work! We ripped up the carpet and painstakingly removed all of the nails before having a professional sand and refinish the tops of the stairs.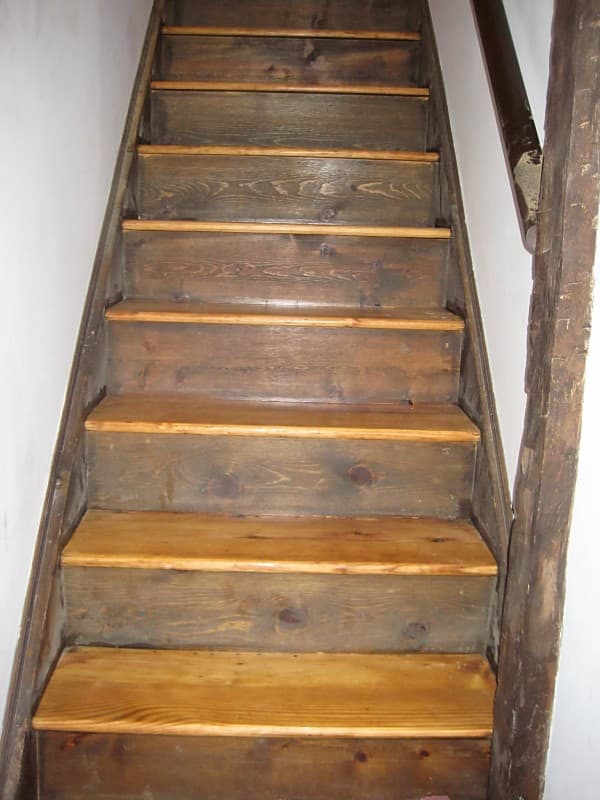 Much better, right?! They were still lacking the light & airy feeling I was after, so we painted the hallway the same ivory color we have in the adjoining living room, and primed the back of the stairs white for that farmhouse feel. After letting the primer dry, I applied two coats of Behr's Ultra Pure White in a semi-gloss (it's a high traffic area for sure!) and basked in the glow of my new stairs.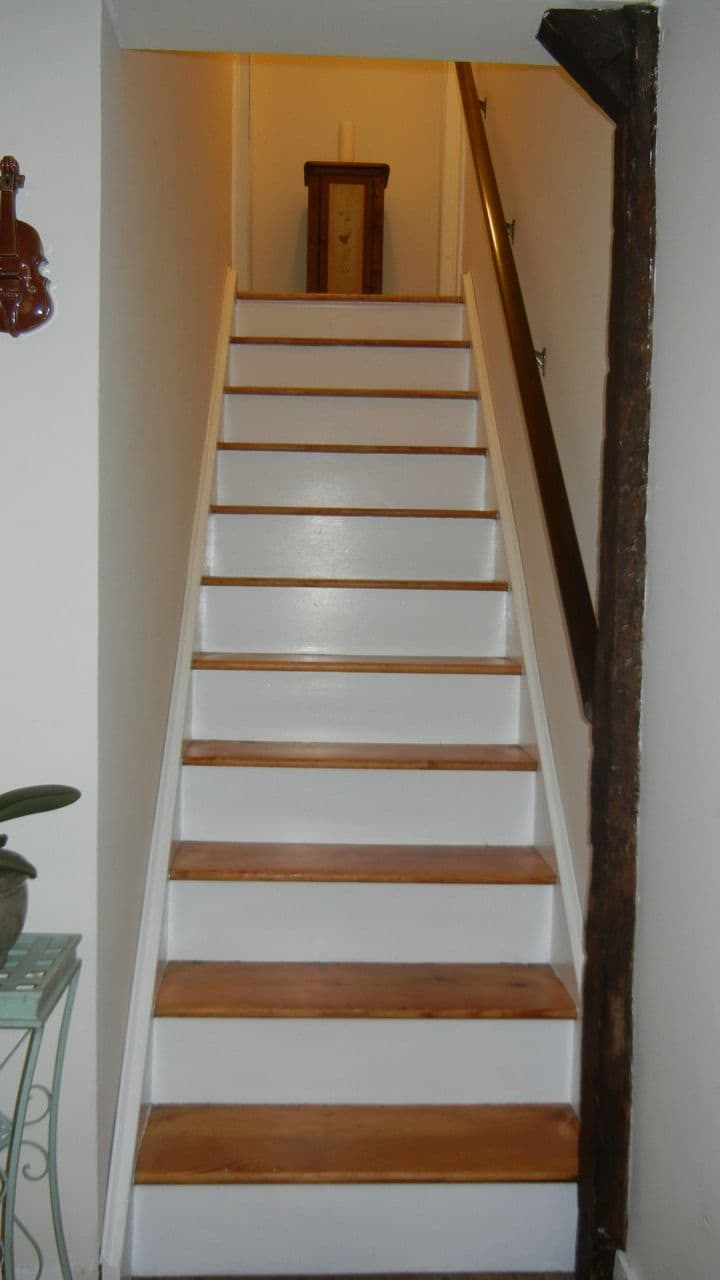 It was looking more like a place I would want to have a cup of tea while chatting with Matt! For just the cost of the paint (and the refinishing back in the fall of 2009) it makes the whole first floor feel different in a lighter, happier, prettier way. The transformation is one of my favorites that we've done. I'm going to contemplate carpeting the stairs with a runner (so Griffin doesn't slide all over). I'll let you know if I find anything!