Don't think I'm trying to fool you with the title of this post. By the end of it, you will see a naked rocker. Guaranteed. You're welcome in advance.
If you don't remember where we stand in this porch rocker undertaking, refresh your memory here. To refresh your memory without reading the first rocking chair post, I'll fill you in. Basically, I was sick of the worn-looking front porch rockers and since they were left to us for free by the people who lived here before us, I decided to sink a little money into them in the form of a professional crafts(wo)man that would weave new cane onto the old frame.
Here's one of the two rockers in it's natural habitat. The dogs pictured with the rocker below did not come with the house.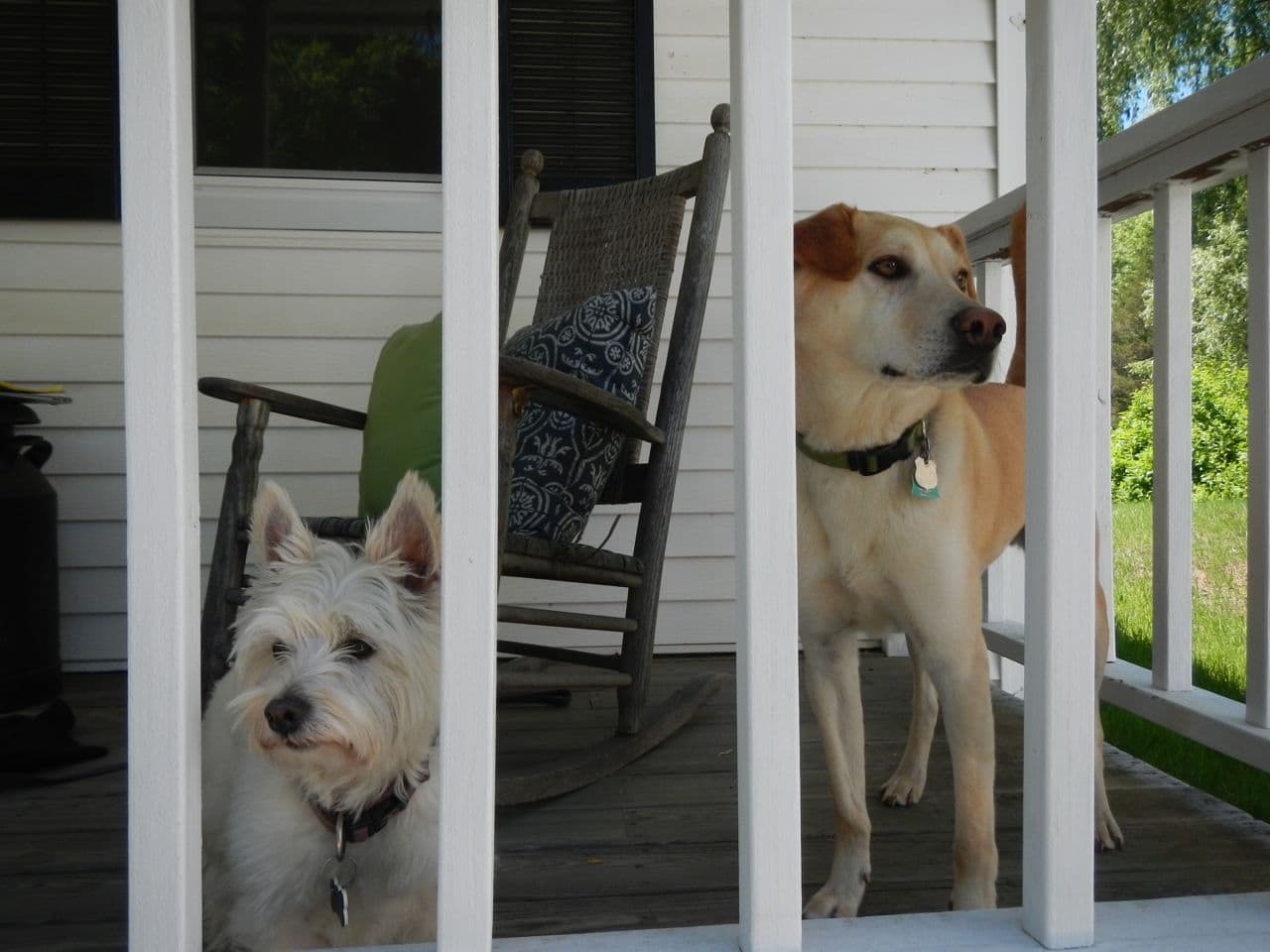 Once I'm done with the chairs, the previous owners will be sorry they left 'em behind. They're going to be so beautiful. I'm already feeling like I'll be quite over-protective of my rockers…
"Matt! Use a coaster!"
"Please don't rock too hard, Grandma. They're new chairs."
"We're expecting a thunderstorm, let me move the chairs inside so they don't get scared."
Obviously, I'm kidding. Sort of. I guess only time will tell how protective one can get over an 'ol rocker.
I started looking into the caning process itself and quickly realized a few things:
It is a fine art.
I definitely wouldn't be going the DIY route.
I am completely intimidated by the process.
I resolved to find someone local who does this type of work. I stumbled upon a site called "The Wicker Woman" that was essentially, among other things, a furniture repair directory and it was conveniently categorized by state. There were 4 Connecticut caning contacts listed, and I e-mailed the closet one to me, a woman named Suzan representing LaSilla Design in Weston, CT. She got back to me right away and after exchanging a few e-mails, I sent her pictures of the chairs to get a more accurate quote. I told Suzan I'd like to refinish the chair frame in some way before the caning work was done, but she mentioned it would be helpful for her to see the chair and take a few pictures herself before going forward. We set a date to meet at her house to drop off the first chair.
Within minutes, I was snapping some pictures with my phone to document the undressing.
Here's what we started with…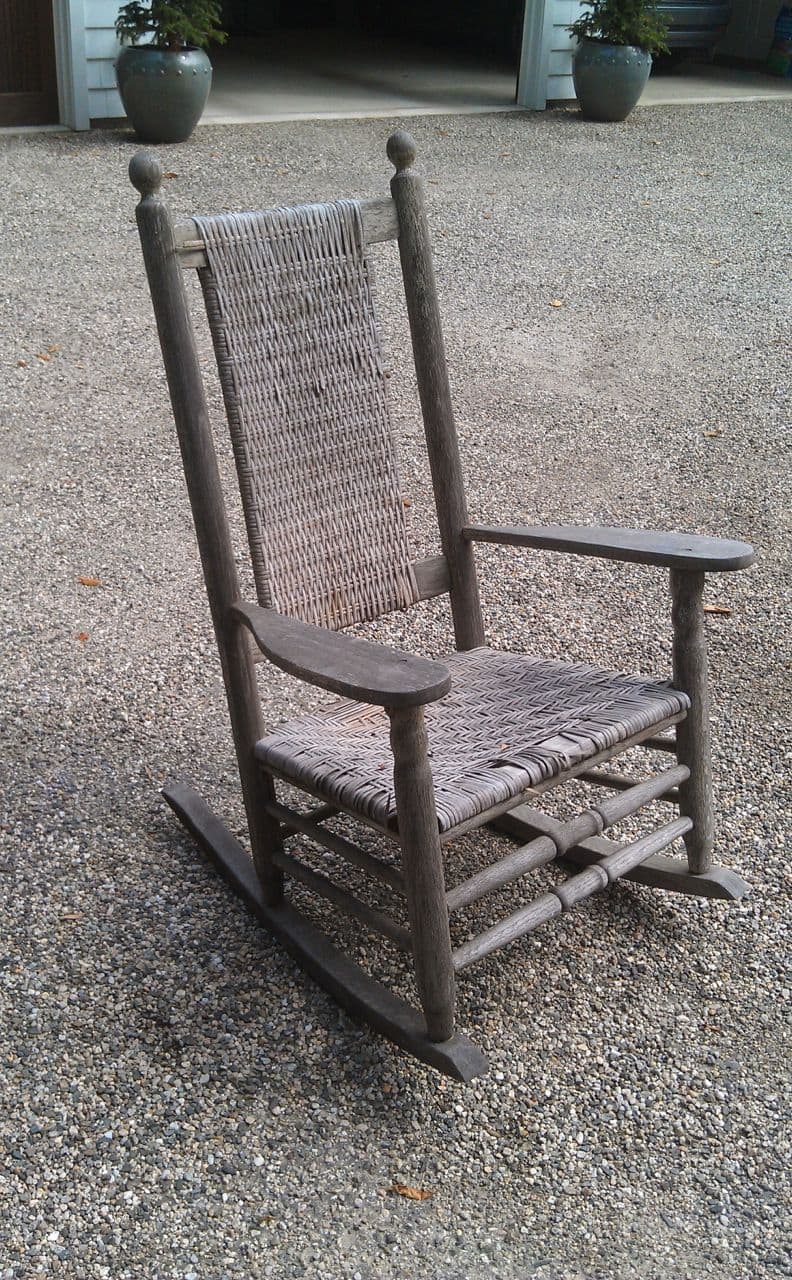 Even though the chair is clearly in need of some work, doesn't it look fancy and beautiful on Suzan's gorgeous oil & stone driveway? I want one.
Suzan took a few pictures of the chair's "before" state and then she went at the cane work with some scissors. I wasn't worried.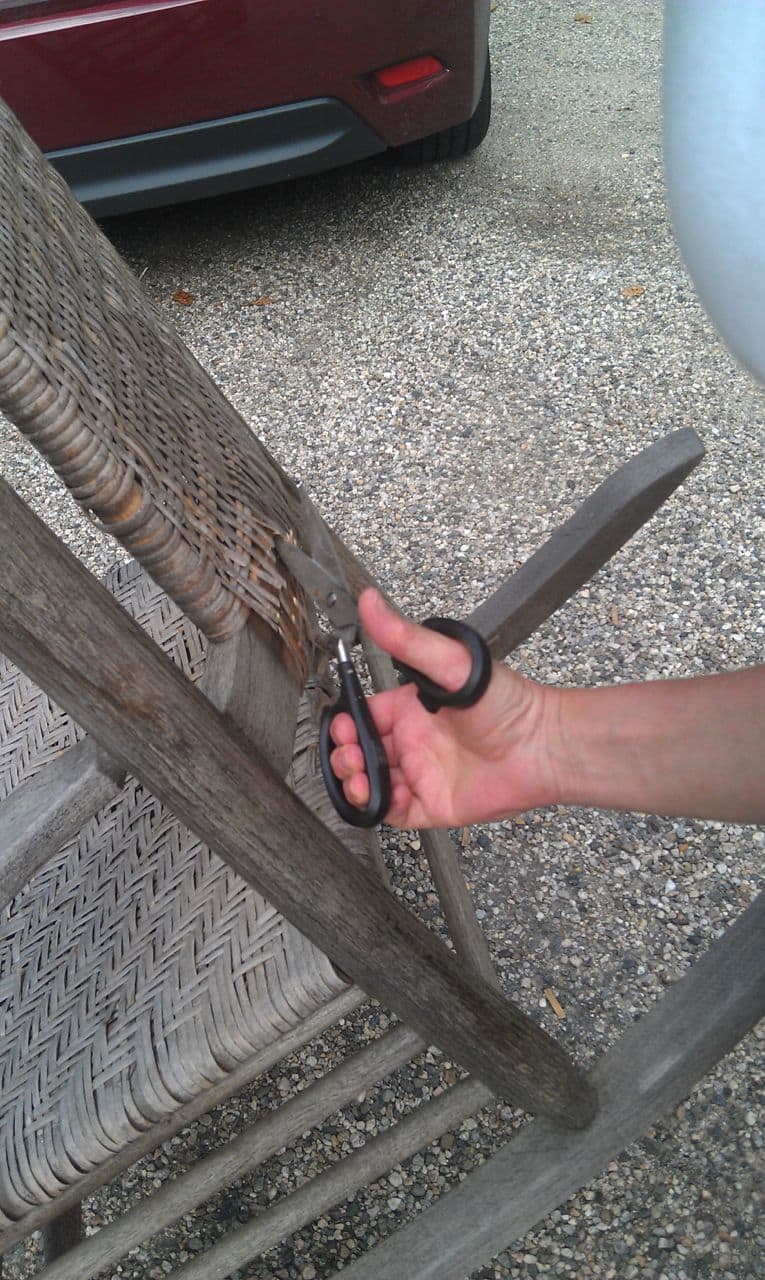 She peeled back a section to show me what the caning looked like from within. Amazing, isn't it?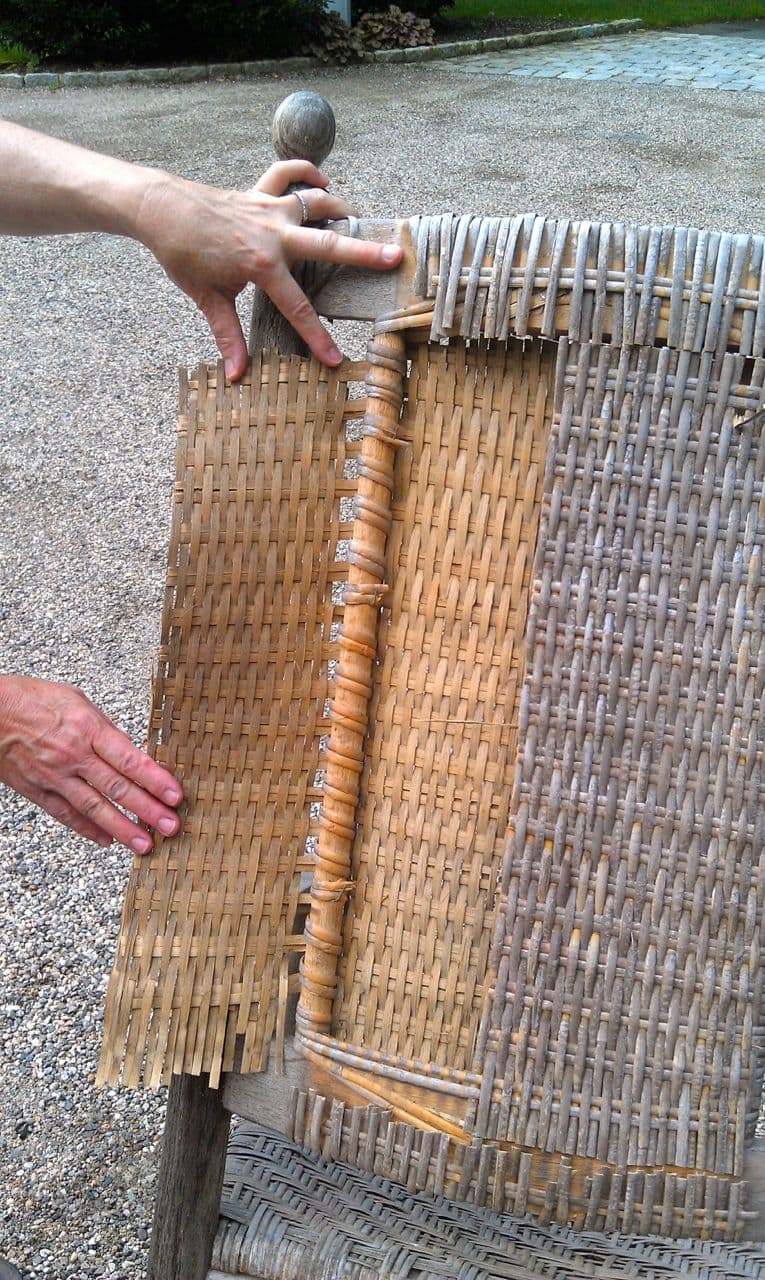 Then, Suzan went to town some more. When it comes to the second rocker, I might cut off the old caning myself. It looked pretty fun.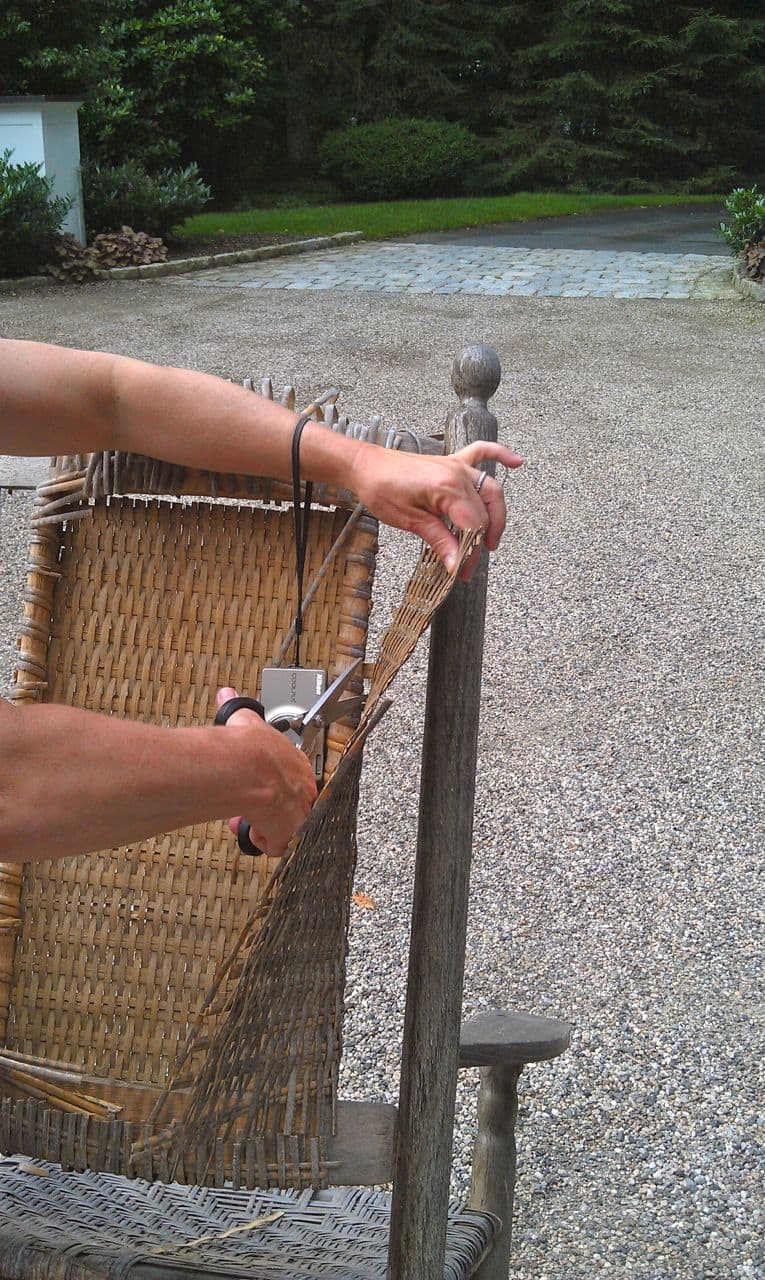 She pointed out where the binder cane was attached to the chair. The staples don't look that sturdy in the picture, but they were.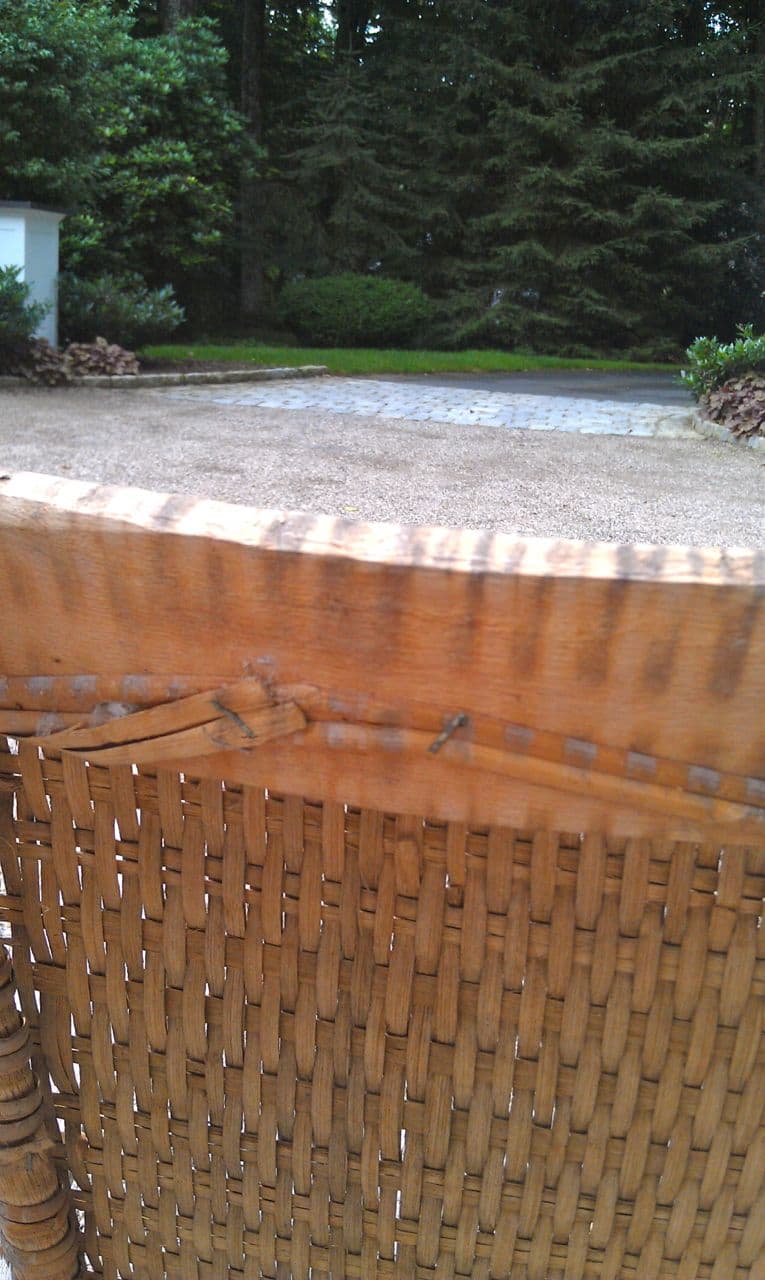 Suzan removed the rest of the caning on the front of the chair, then unscrewed the seat from the frame, which she can work on independently from the frame while I figure out how to refinish it.
The remnants were pretty tidy, considering.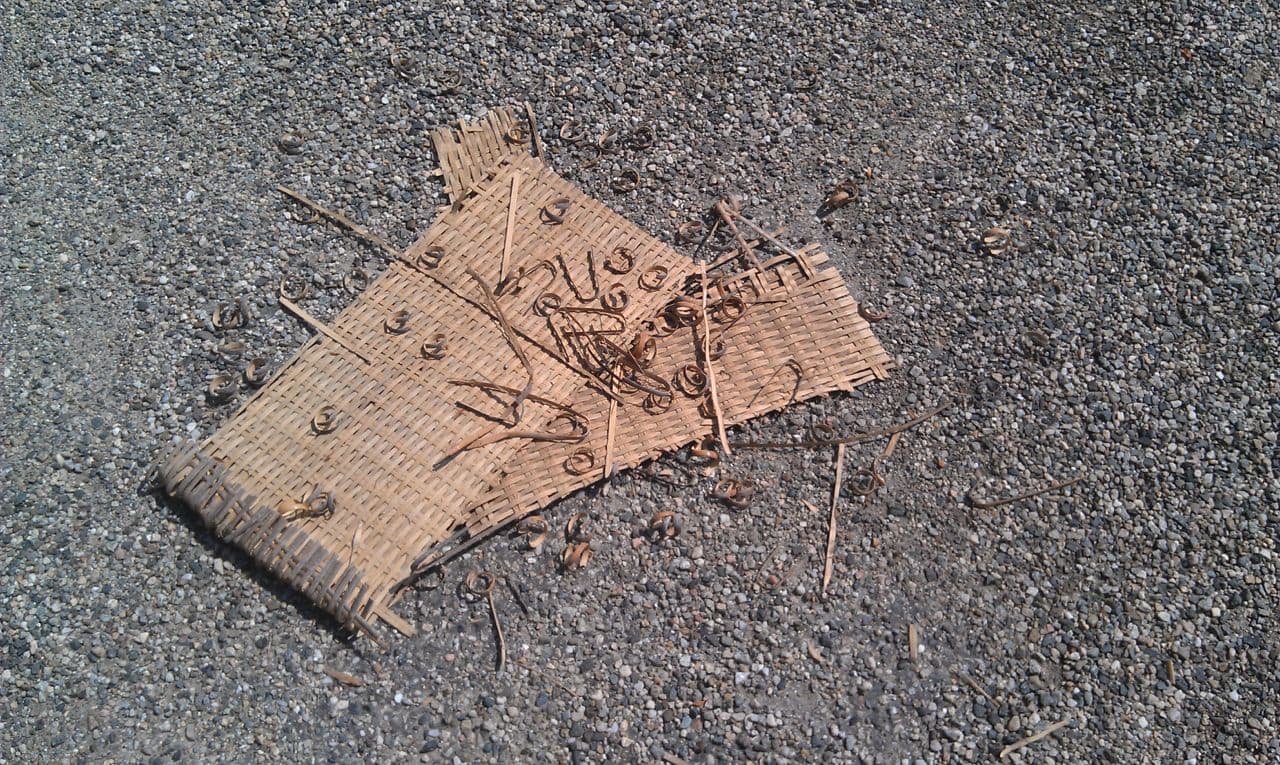 And finally, the naked rocker I promised you…
You weren't expecting something different, were you?
Not looking too shabby, right? Now, if I could only figure out how to finish it off to prep the chair for it's new goods…