Brace yourself for a 10 on the excitement spectrum. The first porch rocker has a painted frame and is ready for Suzan to do her thing!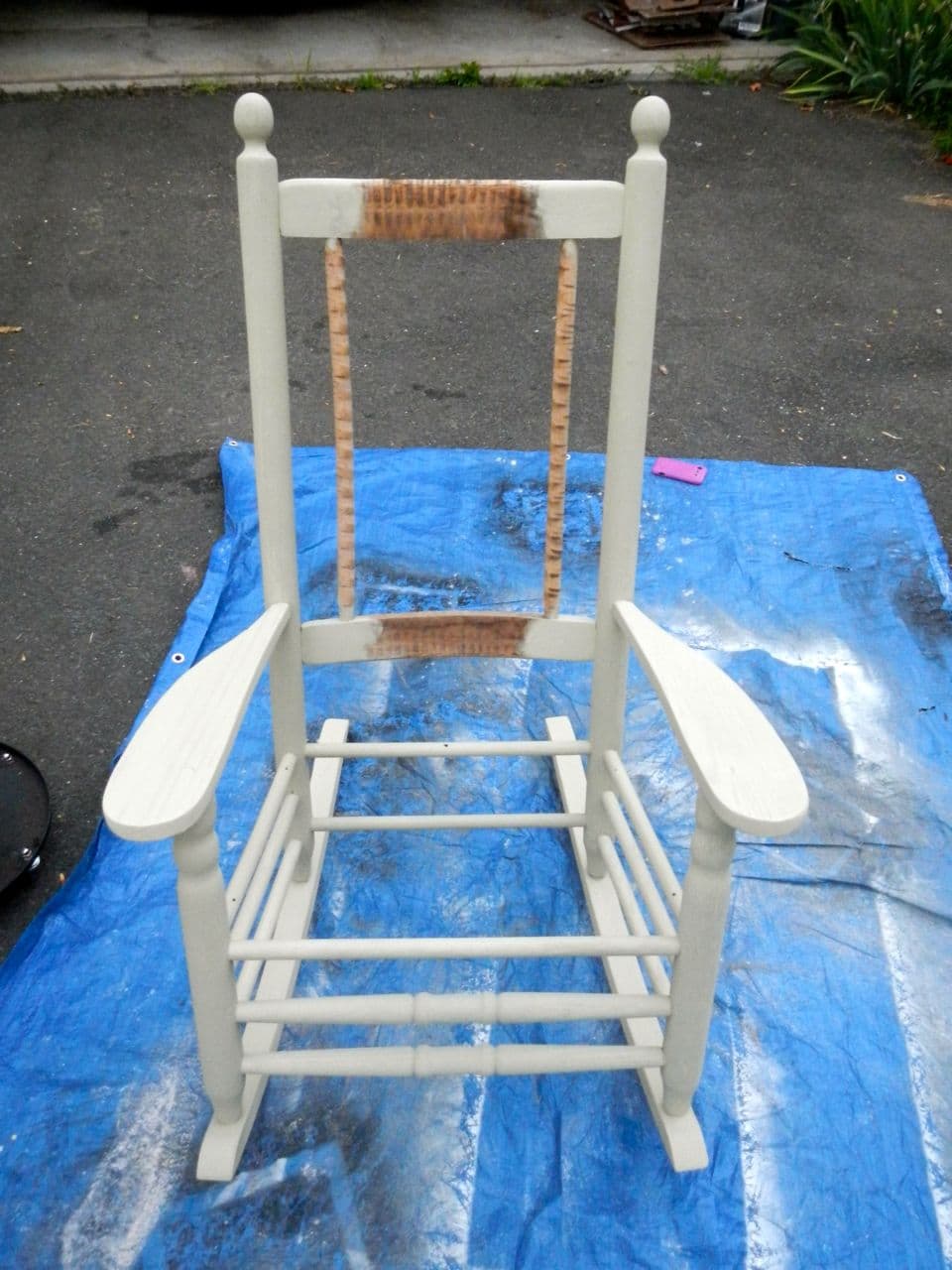 I'm so pumped. Last time we talked, you knew I decided to refinish the frame of the chair in some capacity, but I had yet to decide on a material or a color. After my meeting with Suzan, I was pretty much convinced that Annie Sloan's Chalk Paint was the medium with which to work. She solidified everything I'd been reading around the blogosphere. I've been reading about this paint for so long, I'm basically the last to the party at this point.
For the last couple of weeks, I've been talking about this how incredible this paint is supposed to be. Matt's probably sick of it. I don't mind boring him, but I definitely don't want to bore you. I'll keep you here all day if I start to go into how amazing and talented Annie Sloan is, so you can read her bio here if you're interested.
The main draw of the paint is that it's ridiculously easy to work with. You can paint over nearly anything without sanding, priming, or much prep at all. Really? I know. I thought the same thing. It goes on metal, plastic, furniture, walls, and outdoor pieces. Genius, right? The only problem is, the paint is hard to track down.
There is literally one retailer in CT that sells the stuff…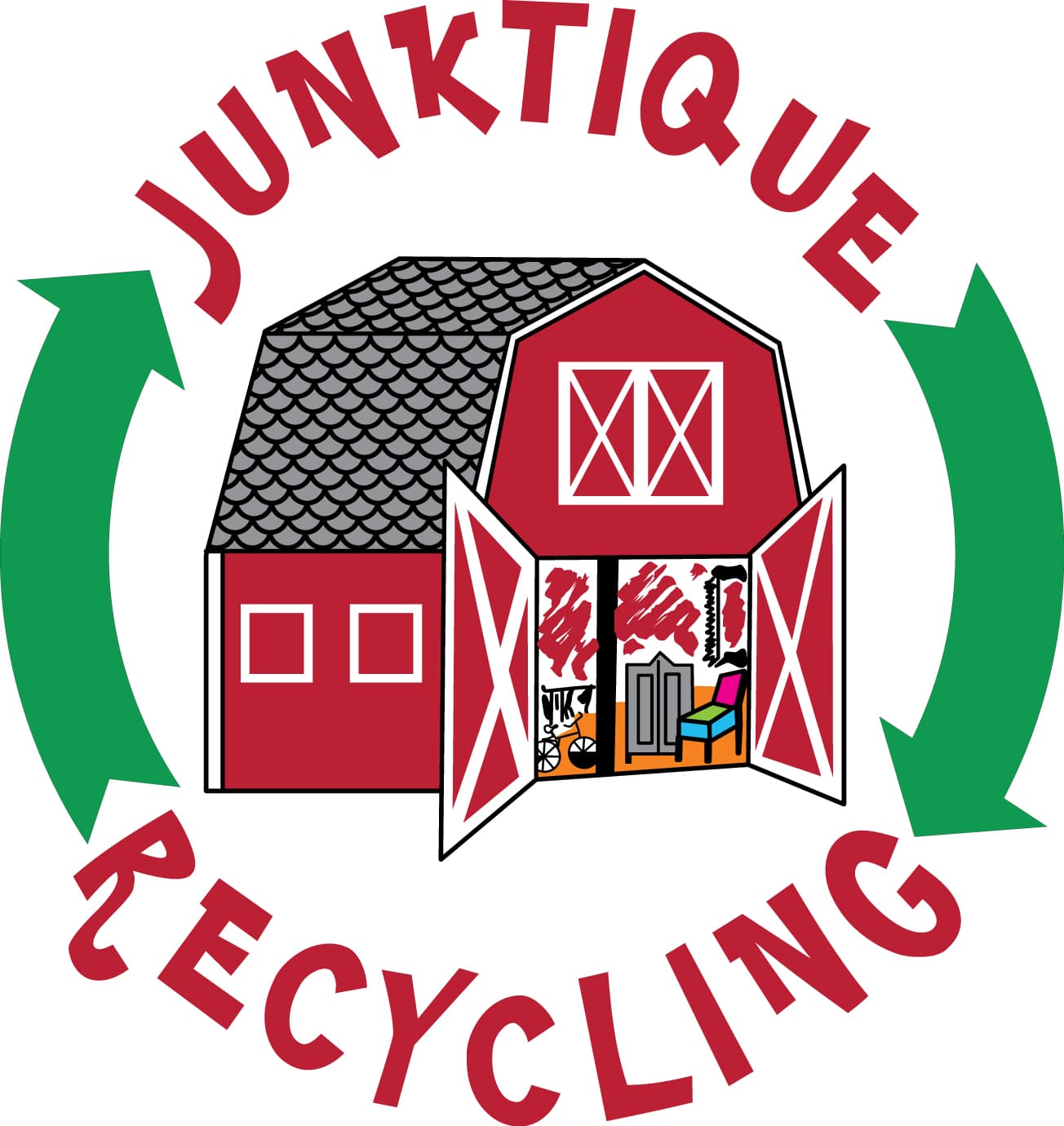 …cue "Junktique Recycling" in Norwalk, CT. Suzan mentioned there was a place nearby that sold the Annie Sloan Chalk Paint, so I tracked it down.
Owned and operated by a sweet woman named Daniella, Junktique Recycling is a charming shop that sells vintage finds and refinished, painted furniture. Oh, and it's 8 minutes from work. Perfection. Luck. Fate. Call it what you want. I cleared my schedule to head to the store and learn anything I hadn't learned already from reading every single Annie Sloan Chalk Paint-related blog post from the last 5 years. Daniella was so helpful and patient, too, considering I showed her way too many pictures of my rocking chairs in need of some paint.
Without speaking with her, I wouldn't have learned to keep the chair out of the direct sun while painting it. (The hot sun on wet paint would cause cracking.) I also learned a ton of other helpful tidbits, and can't wait to visit again soon. She offers classes, so I'm going to look into a class to try a few special furniture painting techniques!
I had a color chart that Suzan had lent to me, and each day, I changed my mind about the color I'd buy.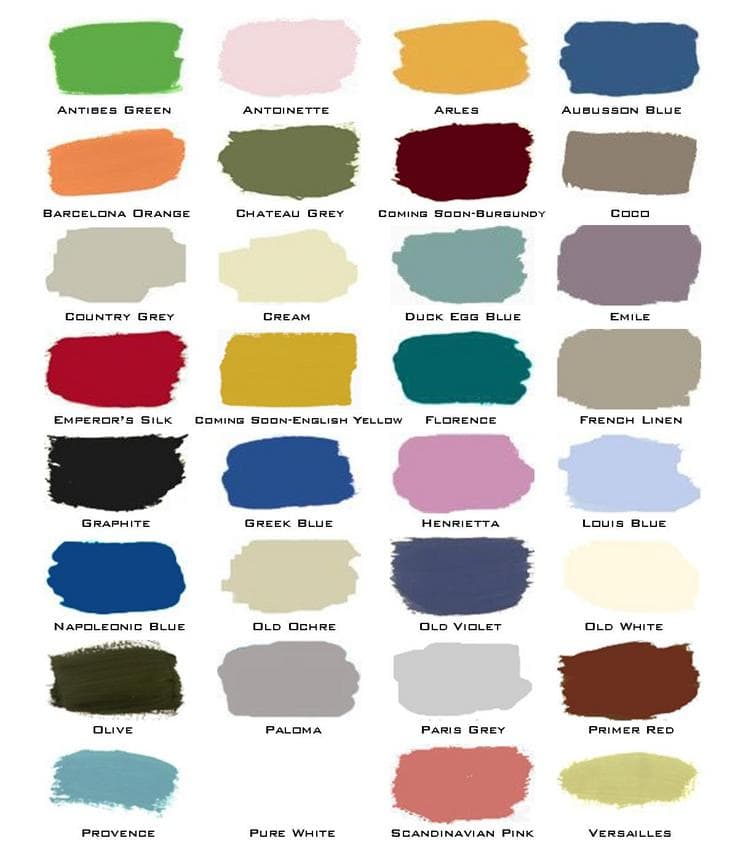 In the store, I popped on my mom's choice: Versailles. You can see it on the bottom right of the color chart. My mom studied Art in college so for that and countless other reasons, I trust her color choices implicitly. I didn't want to pick a color that would blend in with the white house, and Versailles seemed like a nice neutral but still very much a color at the same time. Also, it had to match with the honey-colored caning that would be on the chair. Plus, the pillow options will be endless!
I walked out of Junktique with a quart of Chalk Paint and a specialty Annie Sloan-branded brush for $72. It's not cheap by any means, but for a product so acclaimed all over the world, I decided I had to try it out. Plus: the brush will last me countless projects and the paint goes a very long way. Two coats on both rockers will only take half of the quart!
I turned the rocker upside down to get the bottom done first. I didn't actually paint the bottom of the runners, though.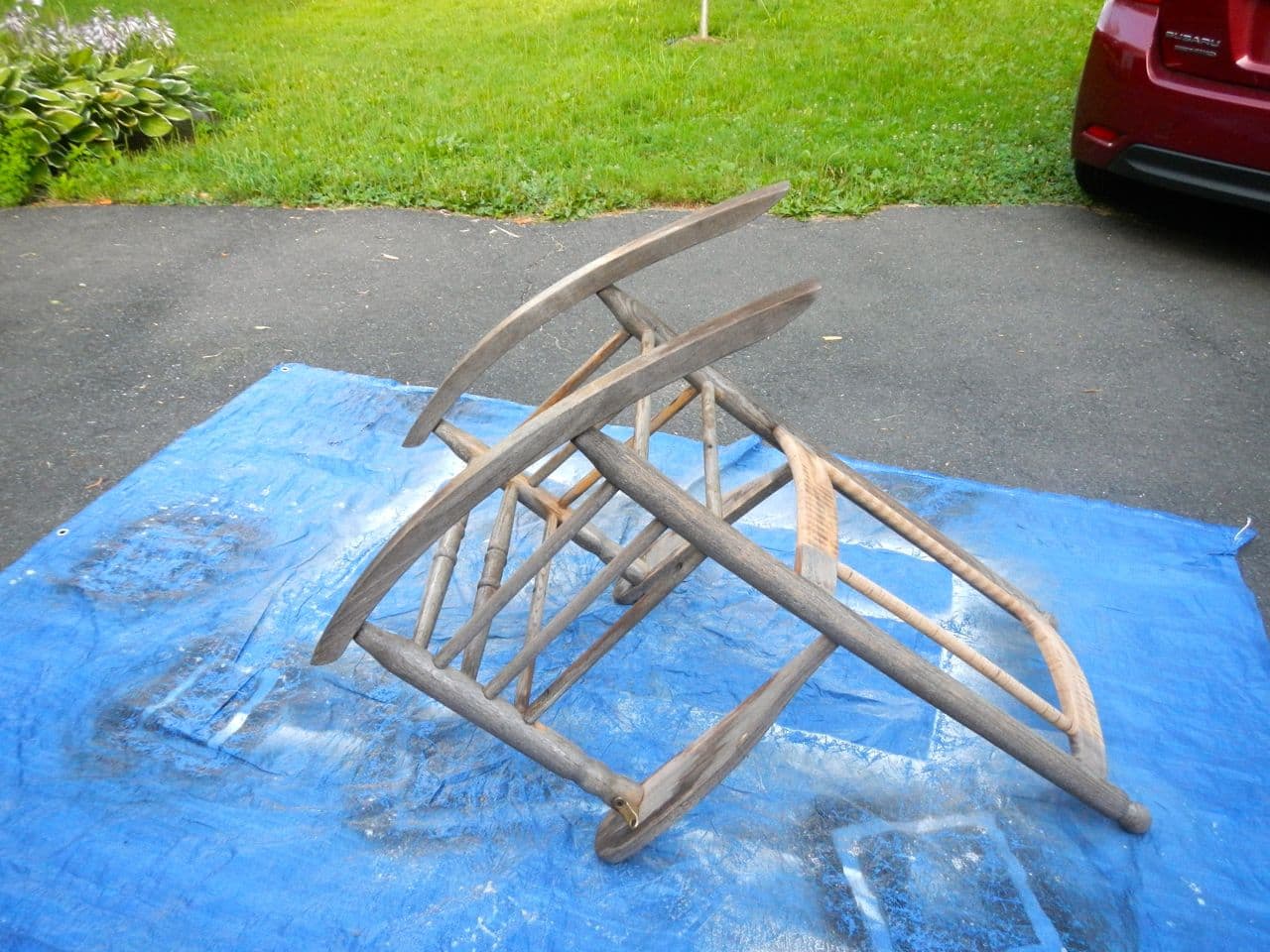 Then, I started to sand it down in select spots. With the Annie Sloan Chalk Paint, (ASCP) there's no need to sand, but I wanted to get a couple of rough spots smoothed out a bit. I even found what looked like old sap to sand out.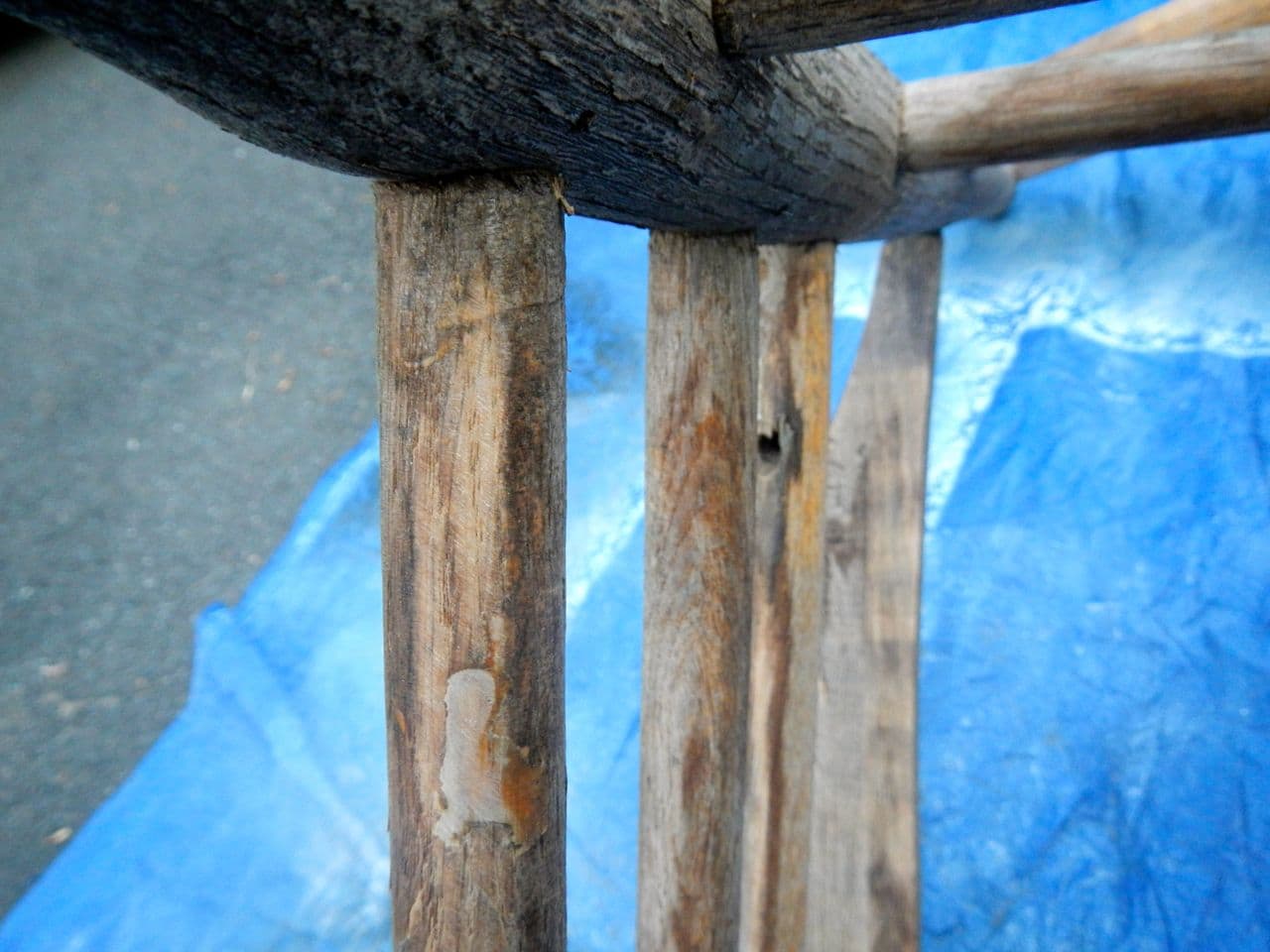 The metal pieces under the arms took the paint as easily as the wood. ASCP rocks.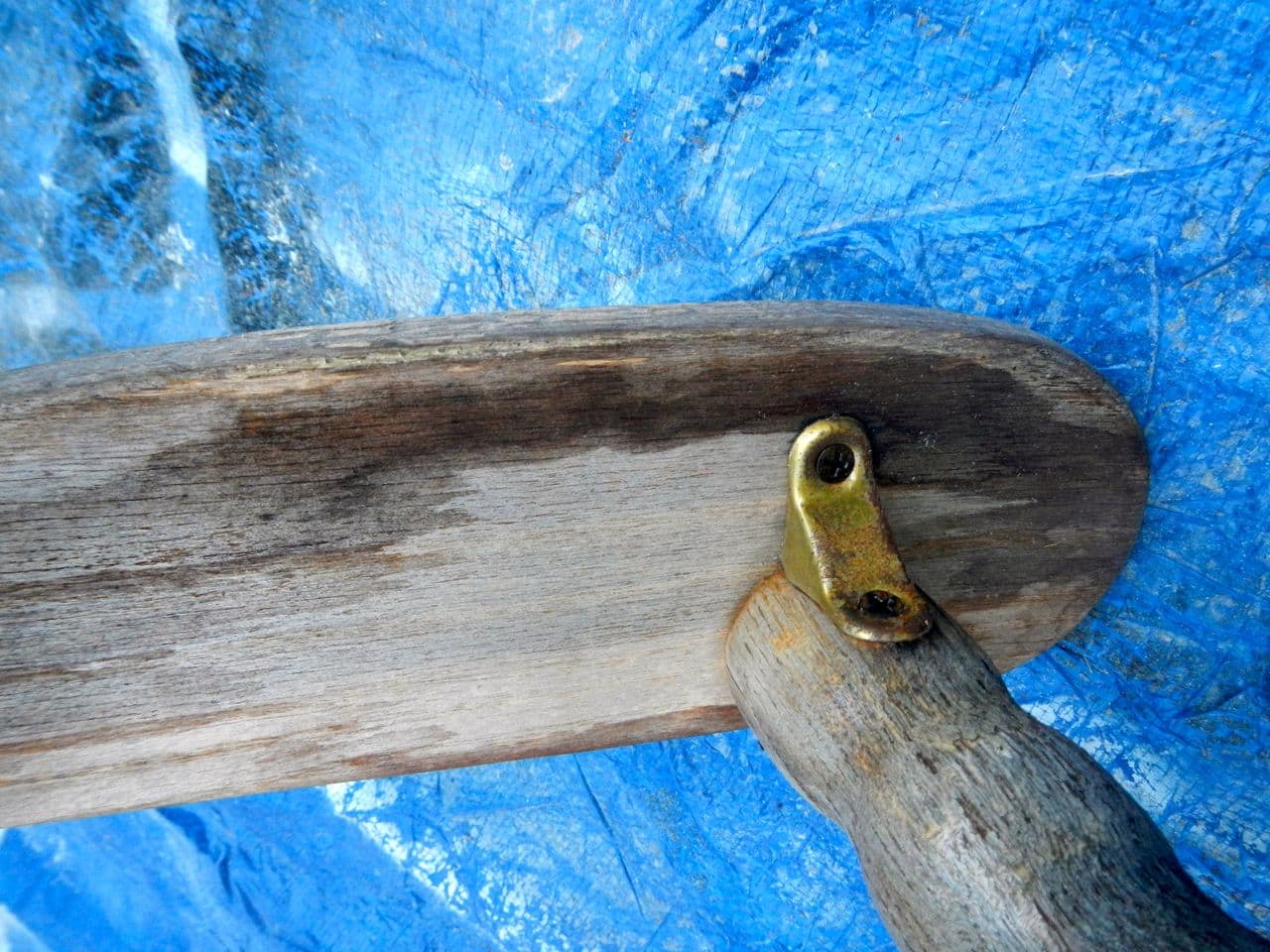 Matt came out to check on my prepping process and snapped a picture.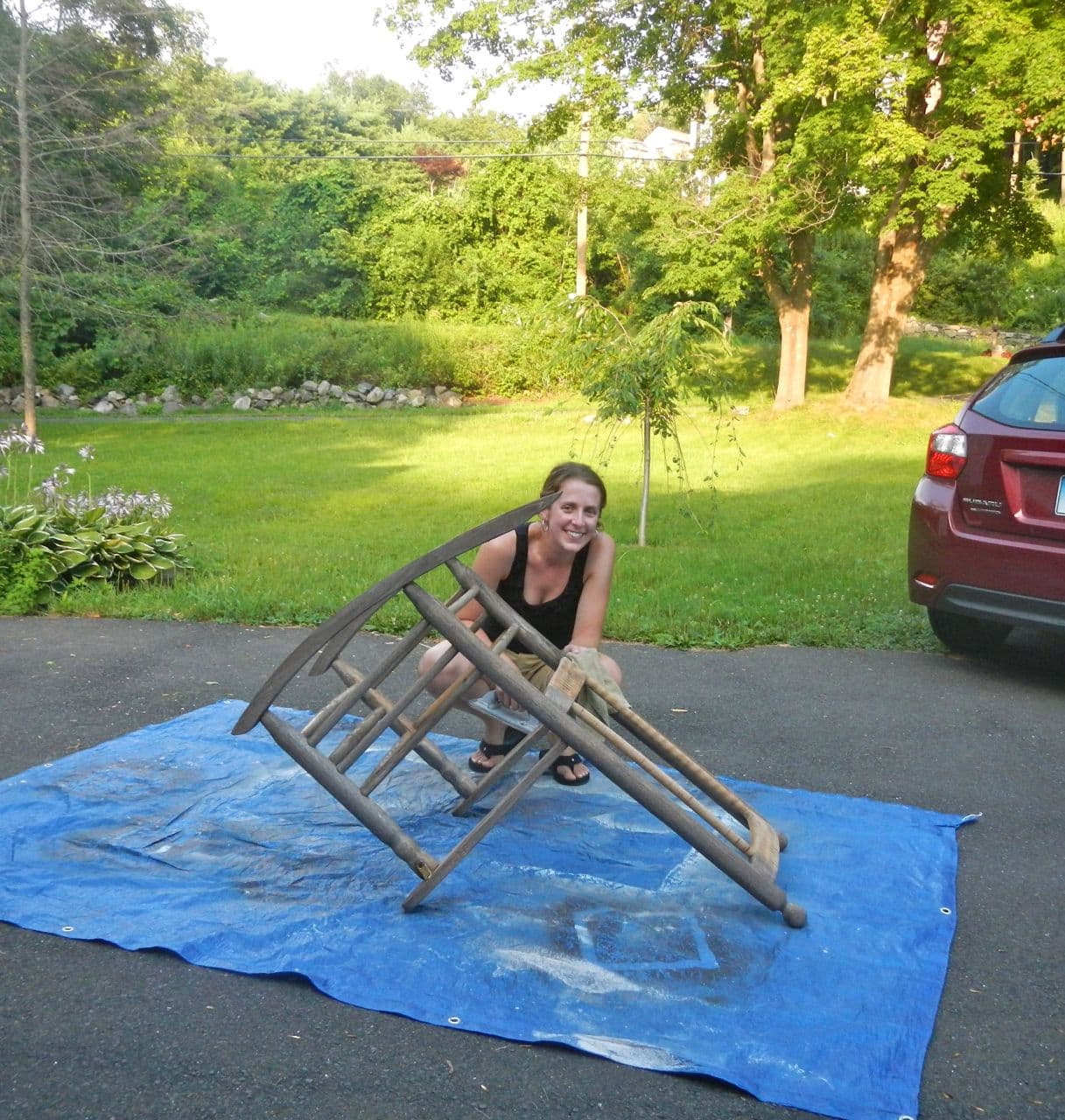 With everything prepped and wiped down, I was ready to pop open my new paint. When I was buying the paint, Daniella told me not to paint right out of the can, but instead to pour the paint into a different container. Cue the red Solo cup.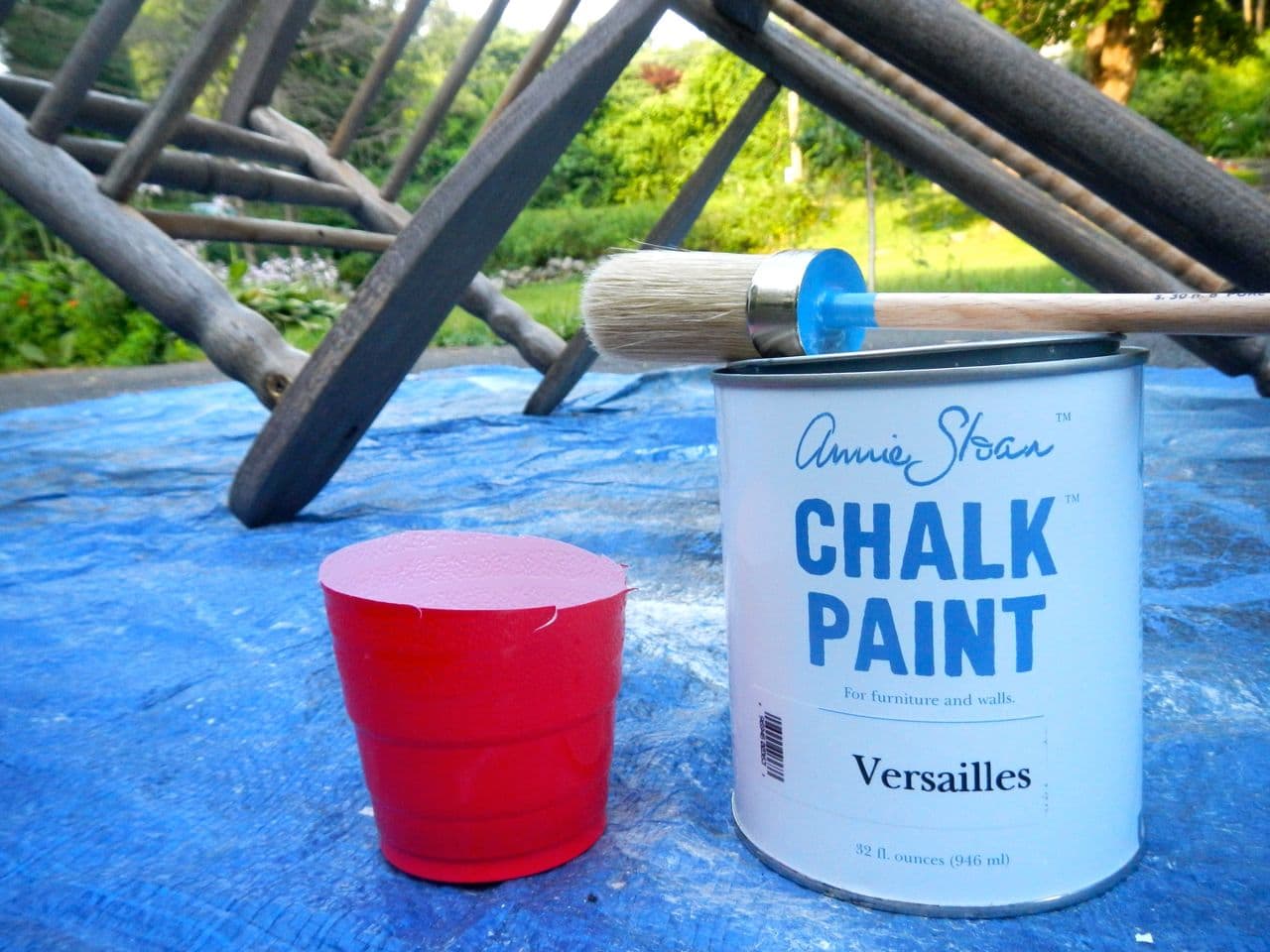 Isn't the color pretty?
I started on the side of a runner, and was so thrilled by how easily the paint slid onto the wood surface, and how a little paint went such a long way!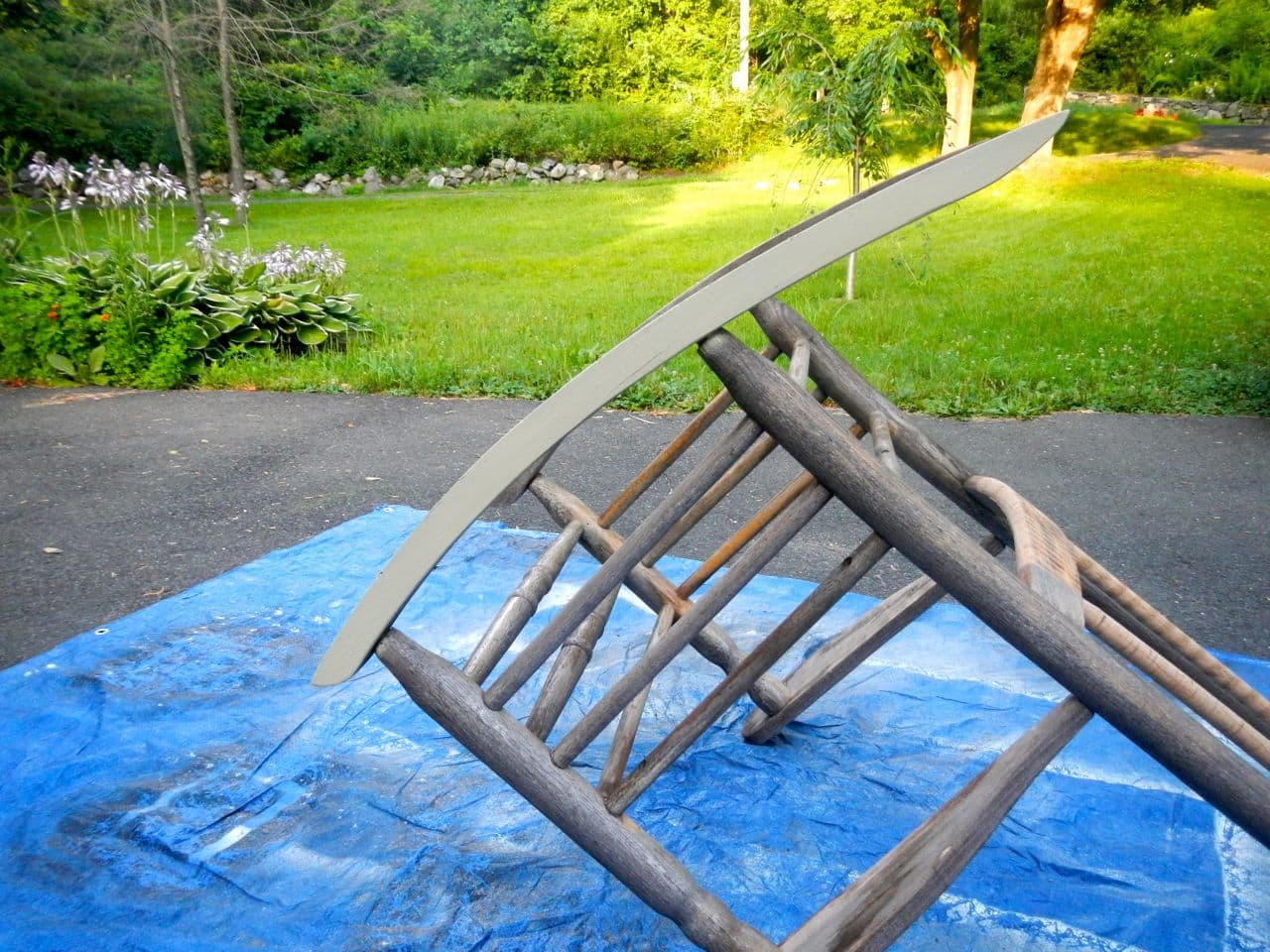 The spindles were the most tedious, but were still rewarding…gotta love covering up some old, weathered wood and giving it some color!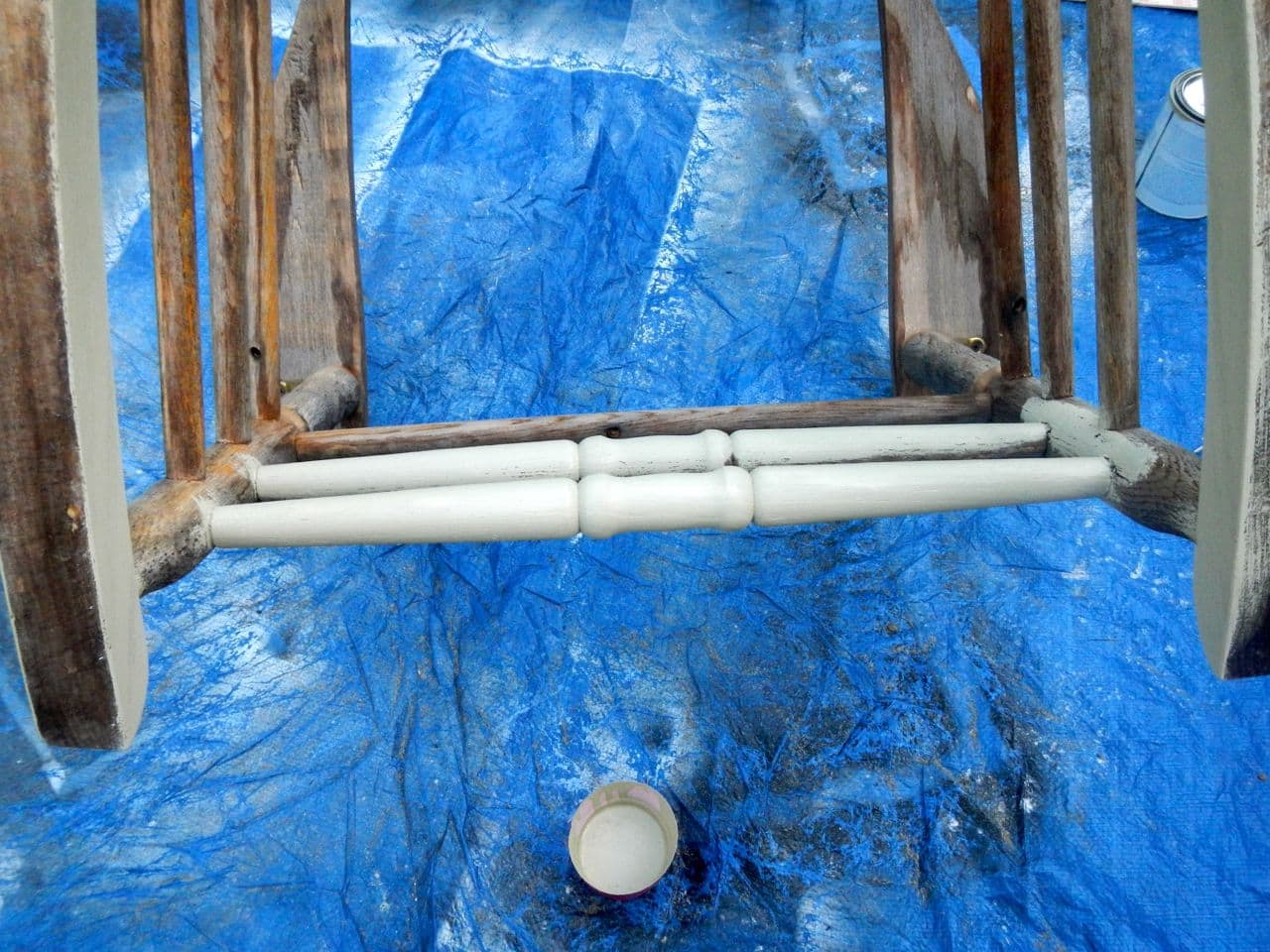 Griff watched the process from the porch. Can you see his head resting between the spindles below?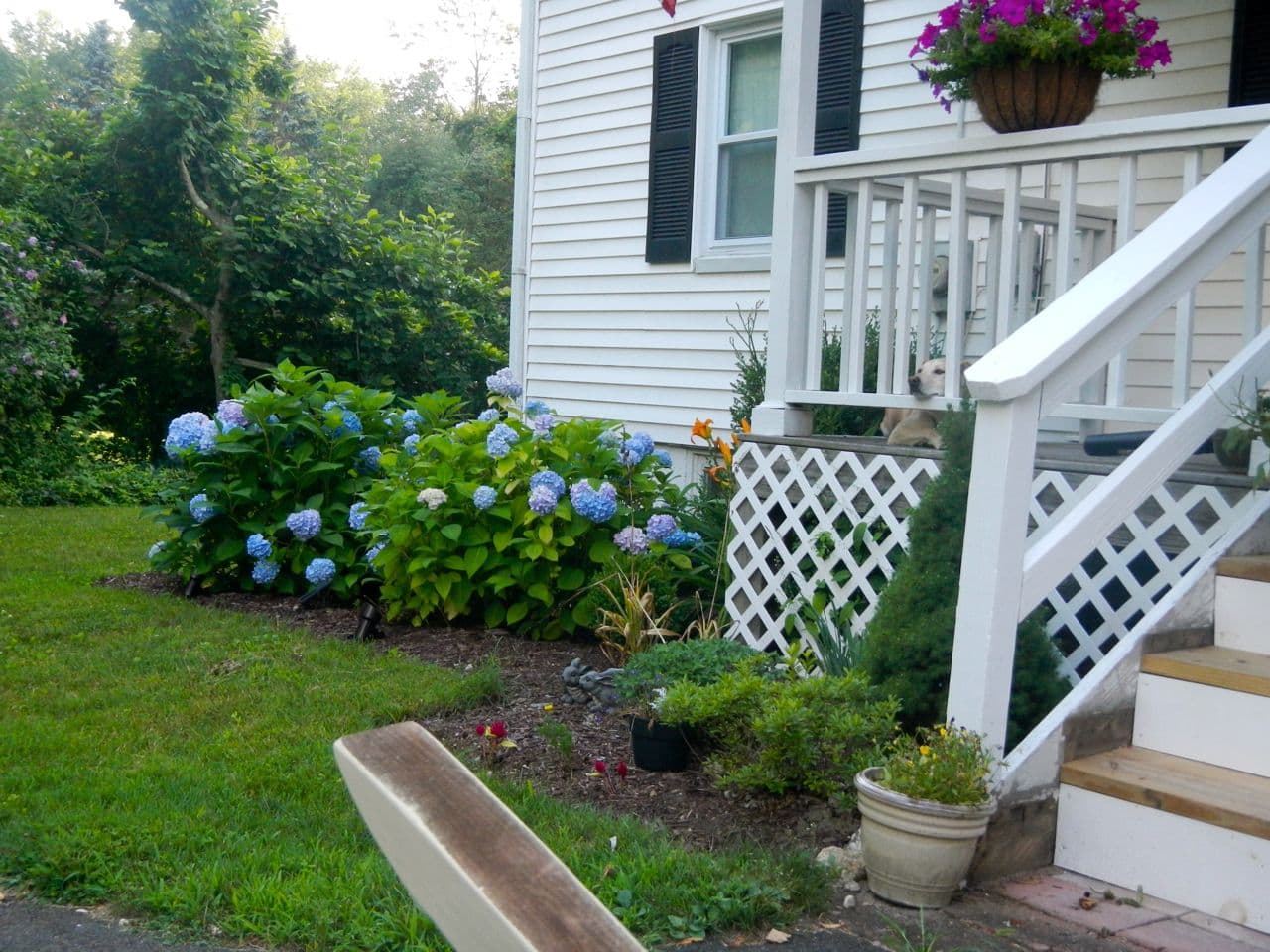 One of the most rewarding parts of the paint process was putting paint on the top of the runners. What a difference some (quality) paint makes!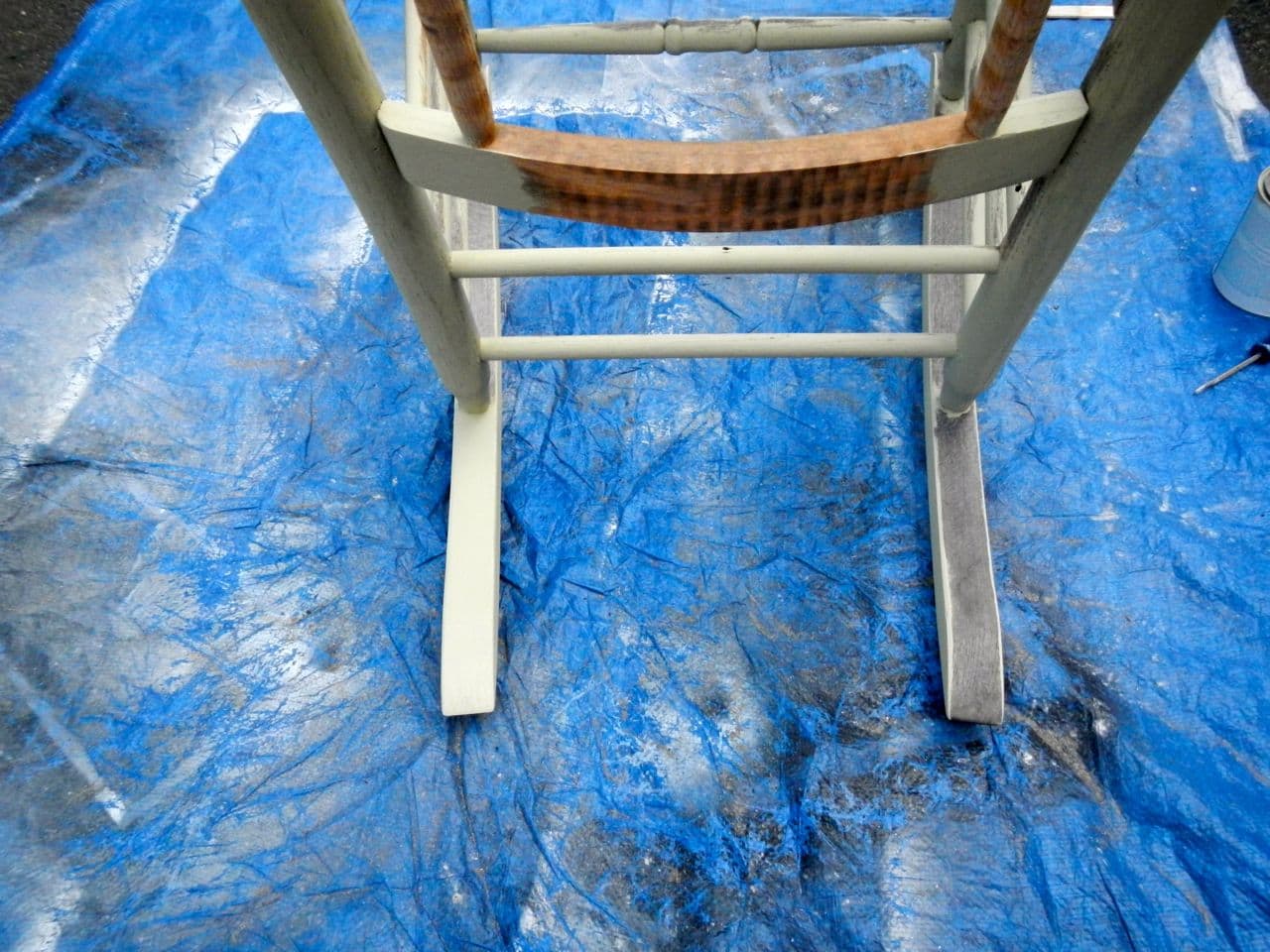 Now I have two coats on the first rocker and will wait to get the green light from Suzan so she can cane this bad boy, and I can start in on the second rocker!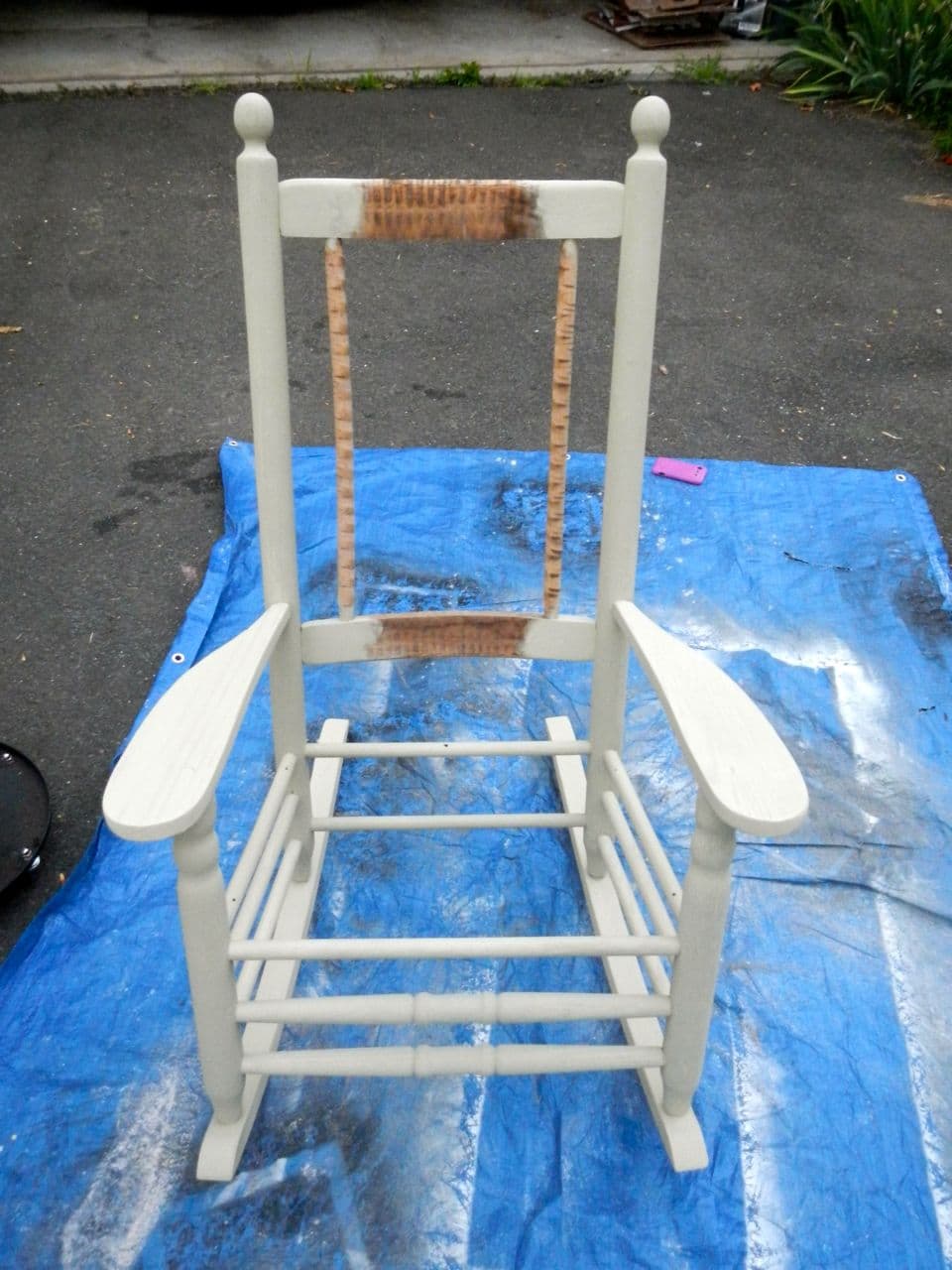 I can't wait for these guys to have their debut with me and a big ol' glass of lemonade. I might invite Matt to join, as well. Maybe.
Of course, having such beautiful rockers on my front porch will remind me of the porch's dire state. Maybe next week I'll start scraping down the porch ceiling. We'll see. I'll keep you updated. Have a great weekend!!