Hi Harr Bear!
It's Mom again, and I'm back with another monthly check-in to keep track of all of your achievements this past month. Yes, I said achievements. What?! I'm a proud Momma, what can I say?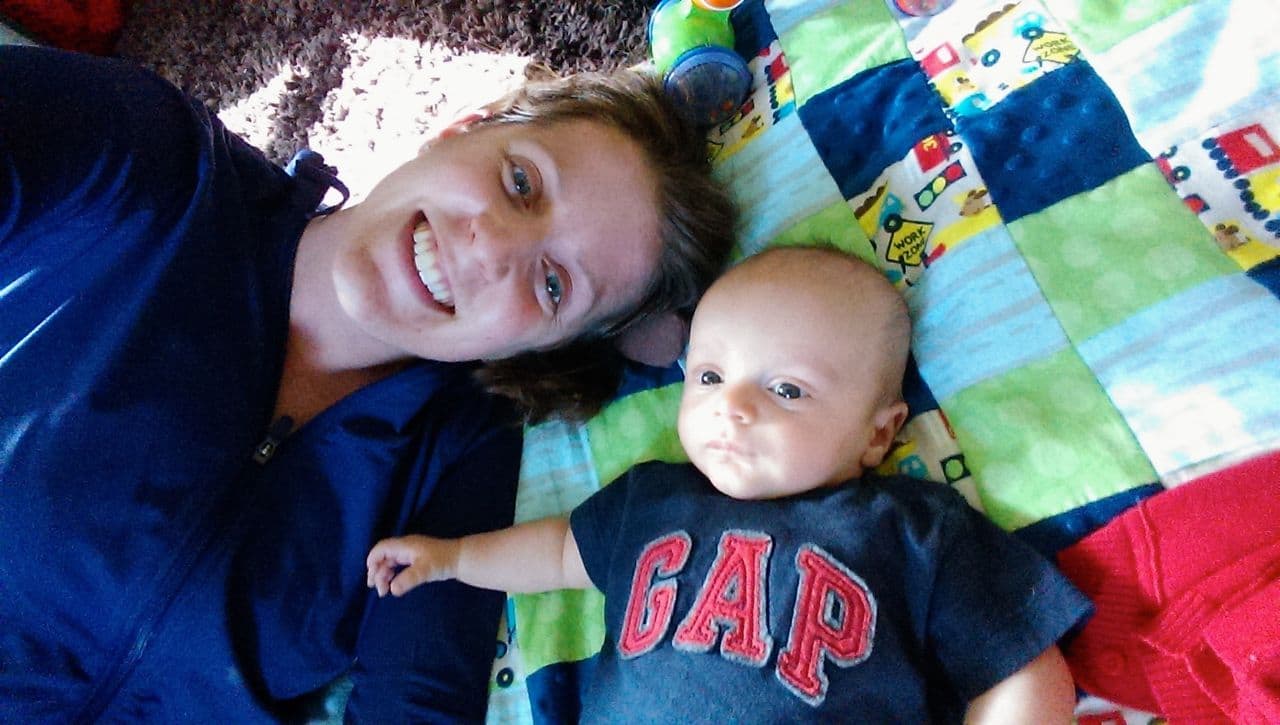 Three months. Three months. Wow. Two things are certain: I have no idea where those three months went and you're changing every day. Oh, and one more thing that's certain. I love you more with each passing day. I don't know how it's even possible.
But enough gushing and more about those "achievements…" You've found your hands! You're getting really good at tracking Griff! You're starting to get real leg rolls! All of these things make me quite excited. You're thriving. I had no doubt you would.
Your hair is starting to fill in and your eyelashes are getting longer. Sometimes your eyes seem to be staying a grayish-blue but then sometimes they look like they'll turn brown like Daddy's. We can't wait to see where they end up.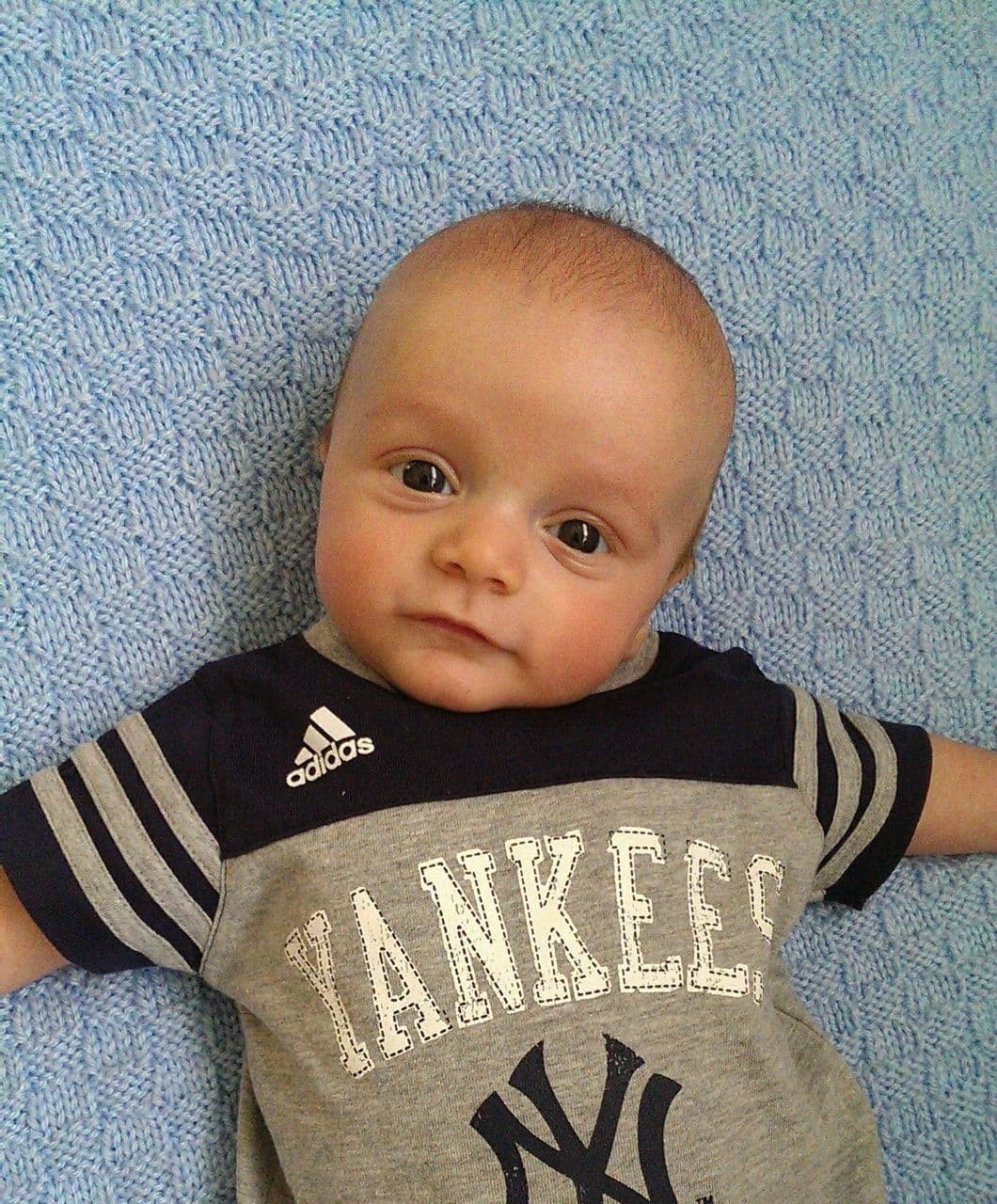 Your lips are the cutest lips in the history of lips. I mean it. Especially when they break into one of your many smiles. Daddy and I know what it means to see a smile that melts a heart because your smile melts our hearts on a daily basis.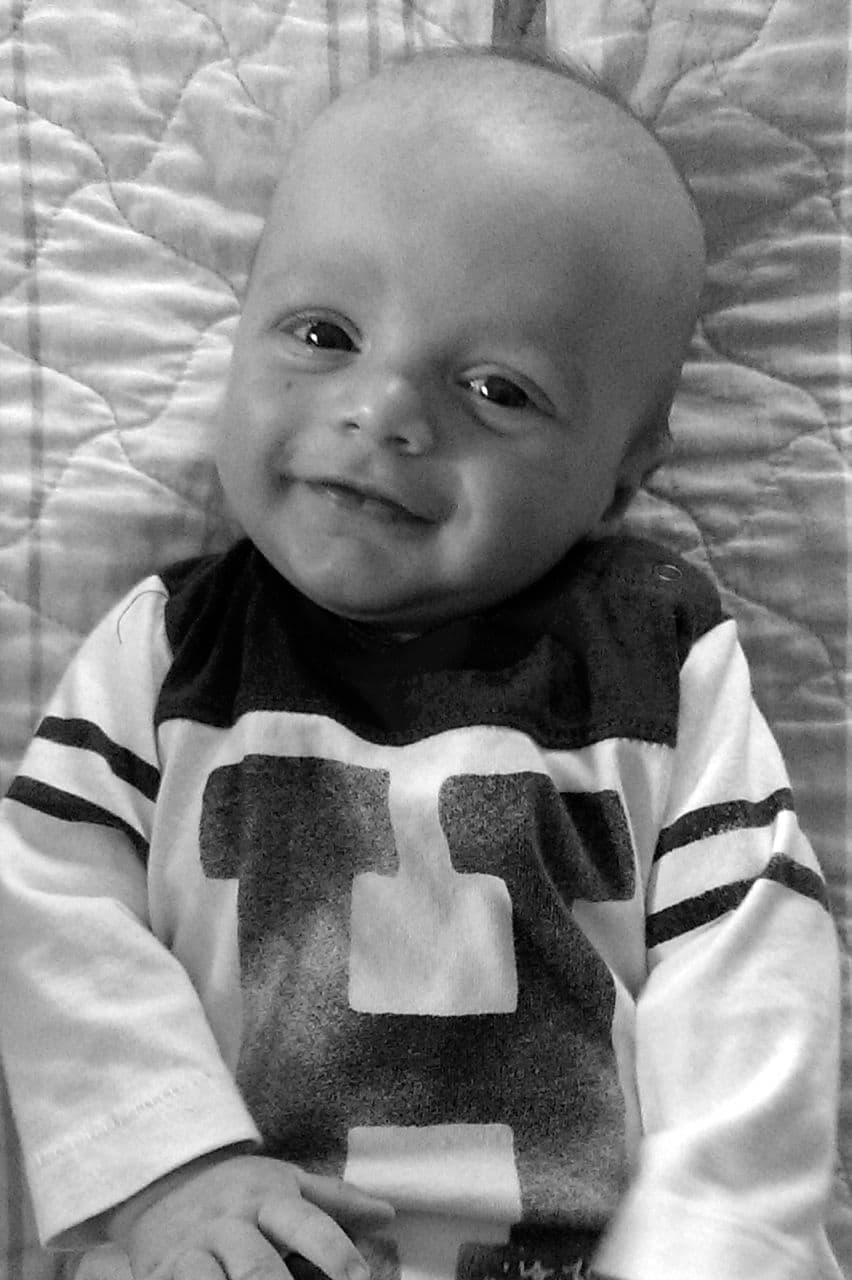 You still really enjoy the bath. I can't wait until you're old enough to really play in the bath. With toys and splashing and fun, oh my. I can't wait. We don't have a bathtub in this house, but we'll make do. if we have to, we'll just keep getting bigger and bigger tubs to accommodate you in the bottom of the shower.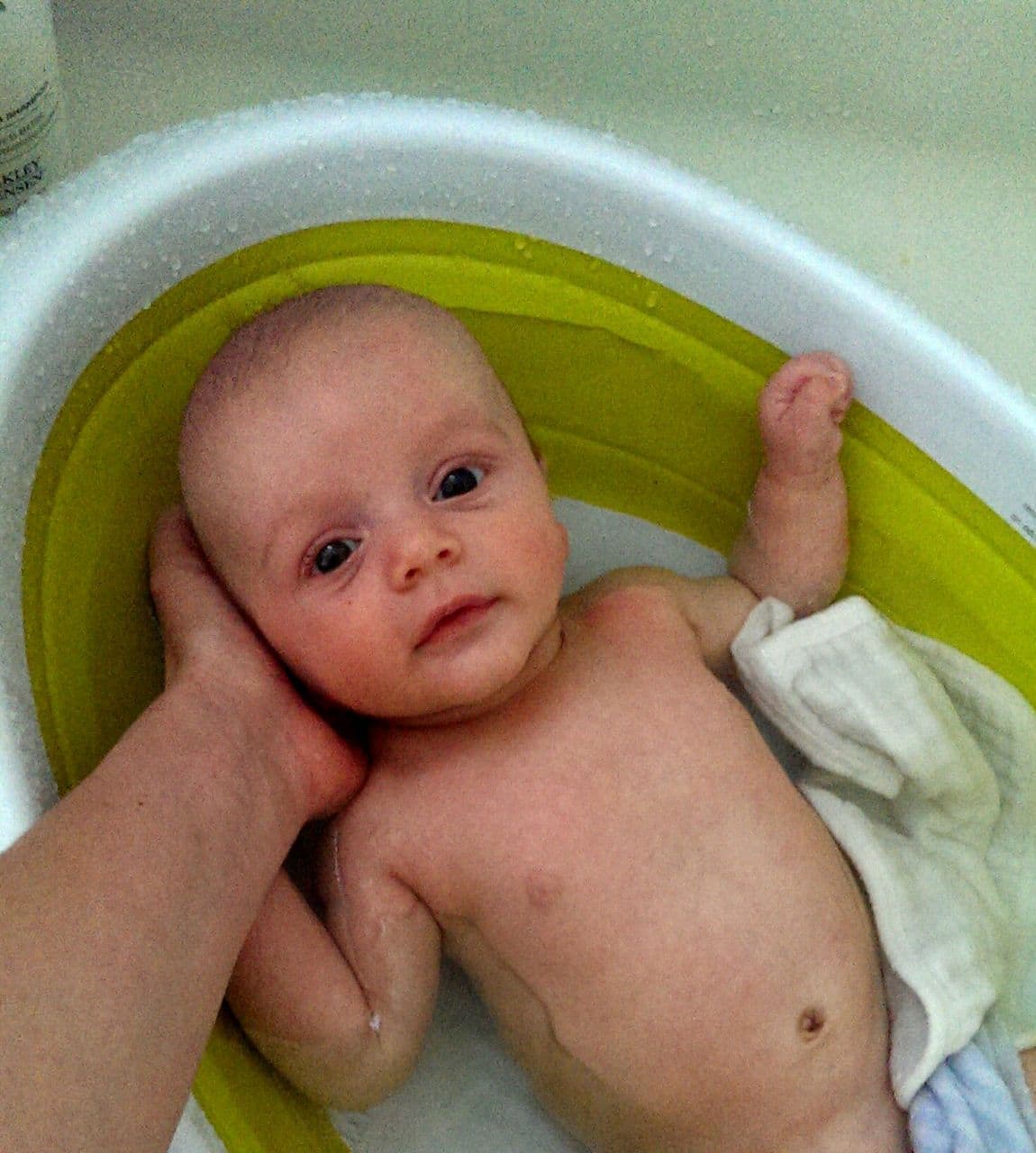 You are not a great sleeper… Mommy and Daddy love you anyway. We may be loving you with Zombie-esque faces, but we're loving you nonetheless. You go to bed between 6:30 and 7:30 and usually give us a good stretch of 3-5 hours. After that, you're up every 2-3 hours to chug a bottle. You must be a growing boy. You're still pretty good about going back to sleep after a middle-of-the-night feeding. Sometimes, when I'm changing you in the middle of the night after feeding you, you break into a smile. I try not to acknowledge it because I want you to learn that the nighttime is for sleeping and not playing but oh. my. gosh. There's nothing I want to do more than scoop you up and encourage that smile with kisses and sweet-talking.
You do, however, sleep well in the car seat when we're out and about during a nap opportunity.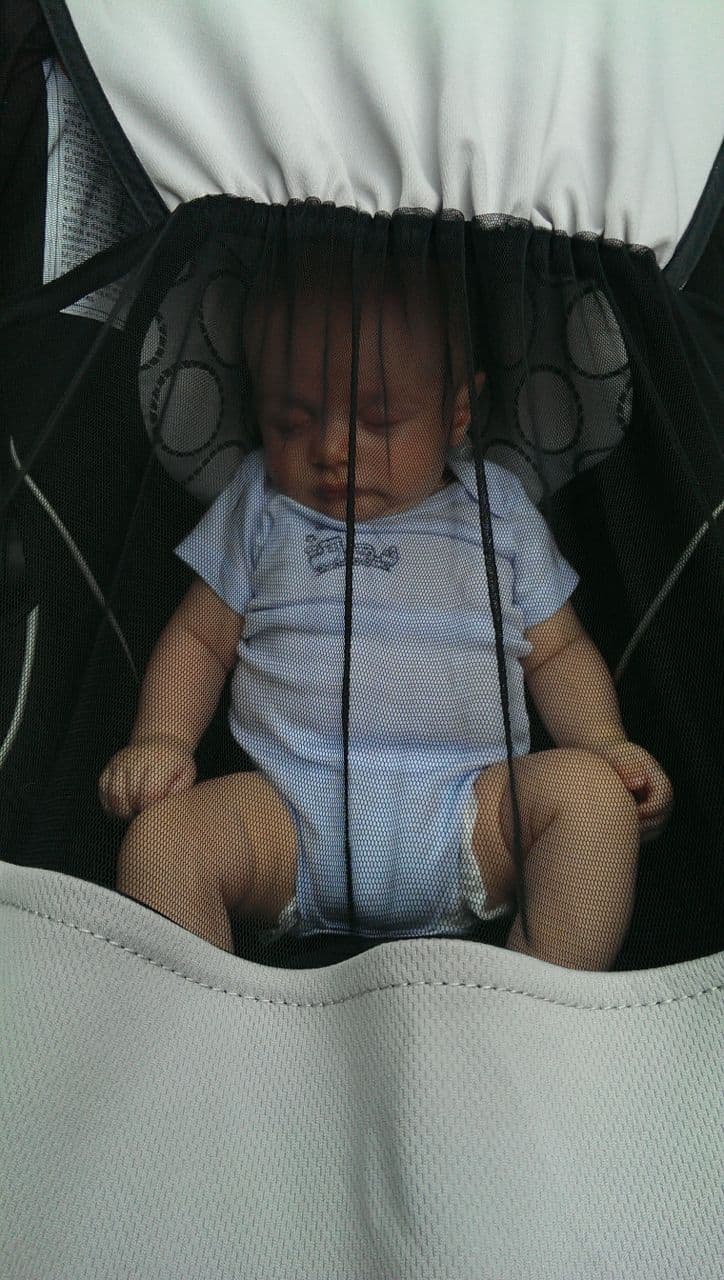 You continue to love music - especially the lullaby station and the Van Morrison station on Pandora. Both make mommy happy. Sometimes when I play music and you're on your back, you break out into a dance. This makes Mommy reeeaaaallly happy because I love to dance. Daddy doesn't love to dance, so the prospect of a dancing partner thrills me. With or without music, those arms and legs of yours don't stop.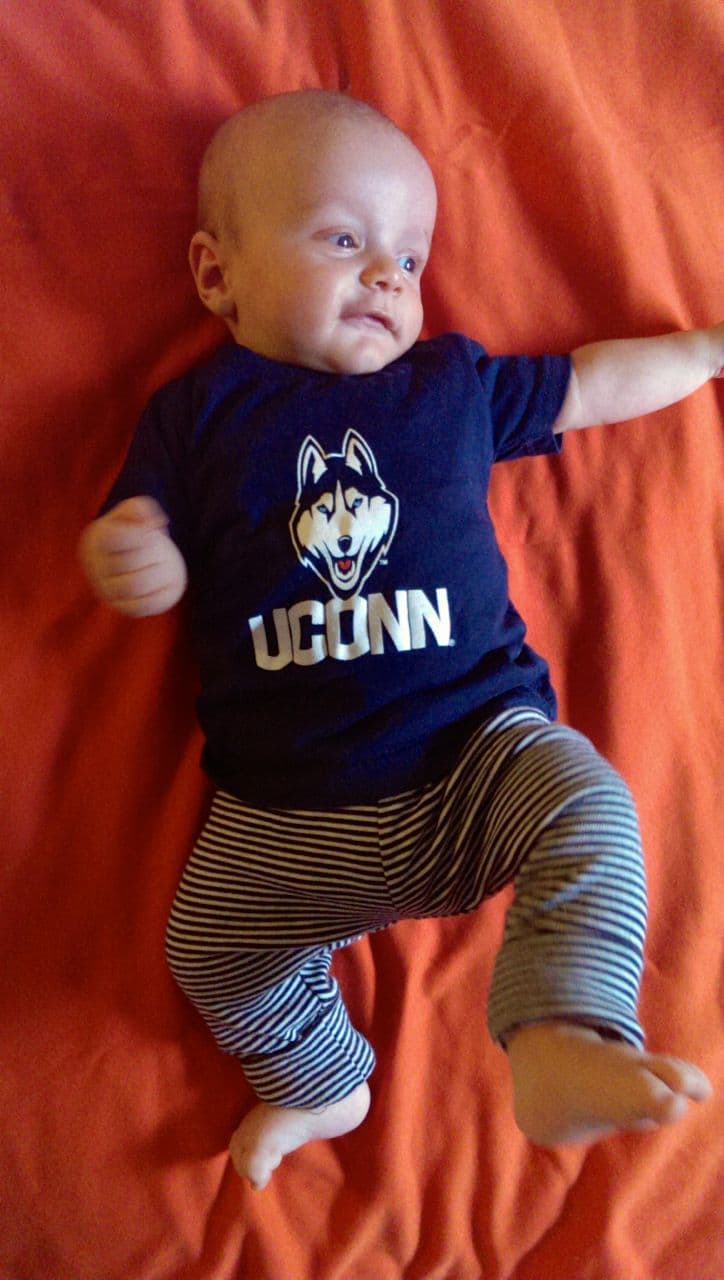 In an unofficial weigh-in using the bathroom scale, you clock in somewhere between 13 and 14 pounds. You're close to doubling your birth weight. I think you're supposed to do that around 3 months, so all signs point to you loving and thriving off of Momma's milk.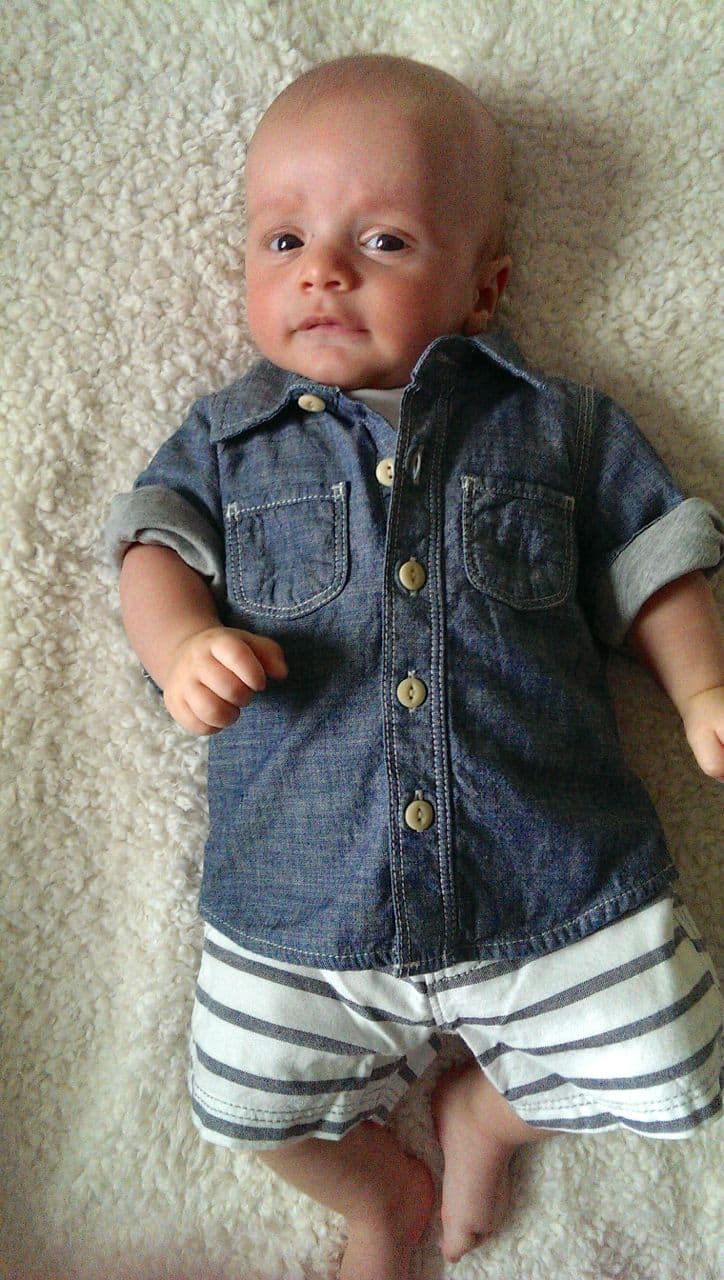 We continue to call you "Harr Bear," and we continue to be unsure of its origin. Daddy started calling you Harr Bear last month, and it's sticking hard. I love it. I also love calling you my "Harrison Boy" and "Prince Harry."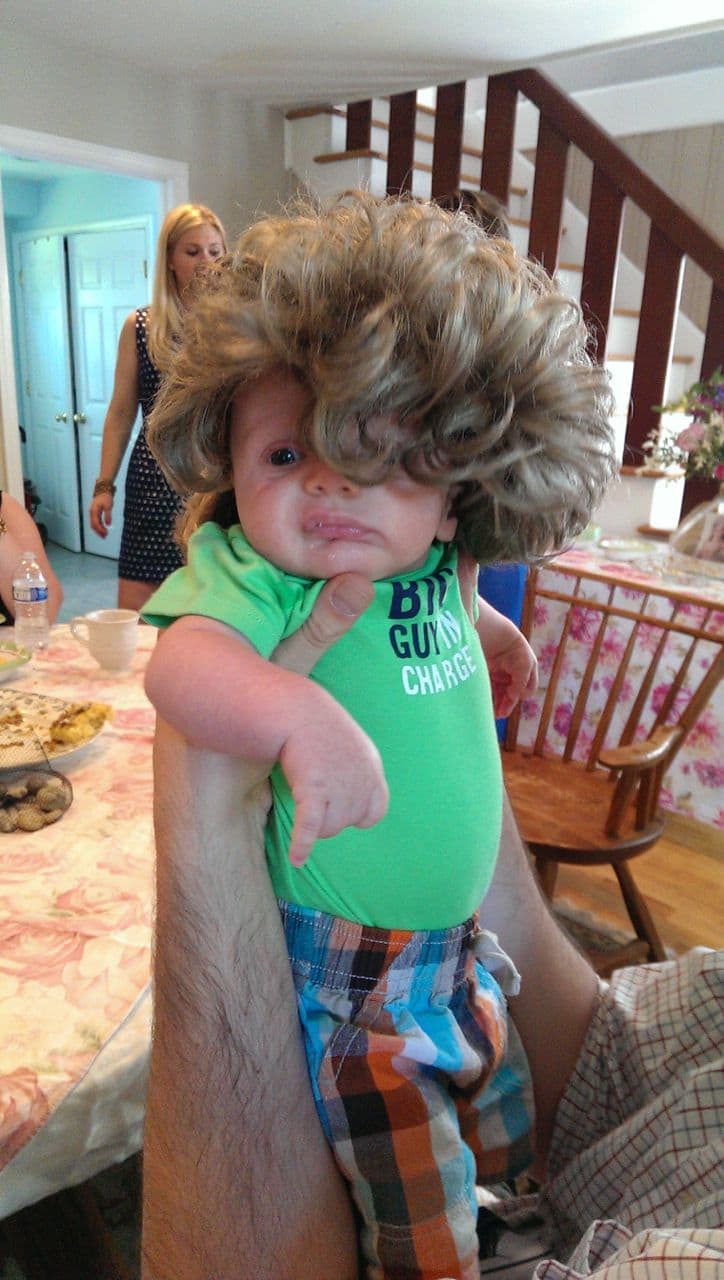 Just a couple of weeks ago, you took your first road trip (that was over an hour). We drove to JMul's house in NY state. I timed it so that you'd be napping on the way there and on the way back. It worked out well. You'll have your first big road trip soon - when I take you to Cape Cod to visit Great Nan.
Since my last letter, you're really starting to communicate with us vocally - more and more each day. When you're smiling and in a pleasant mood, you look us right in the eyes and respond to our words with coos and other adorable baby noises that make our hearts flutter and jump.
Daddy and I have yet to leave you alone at night with a babysitter but we are planning a date night soon! Please behave. We will miss you while we're gone, of course, but we're looking forward to eating out again at a normal, leisurely pace!
You've clocked quite a few hours in the Baby Bjorn. You really seem to like it, and Daddy and I like that it keeps you somewhat happy during the witching hour of 6-7pm.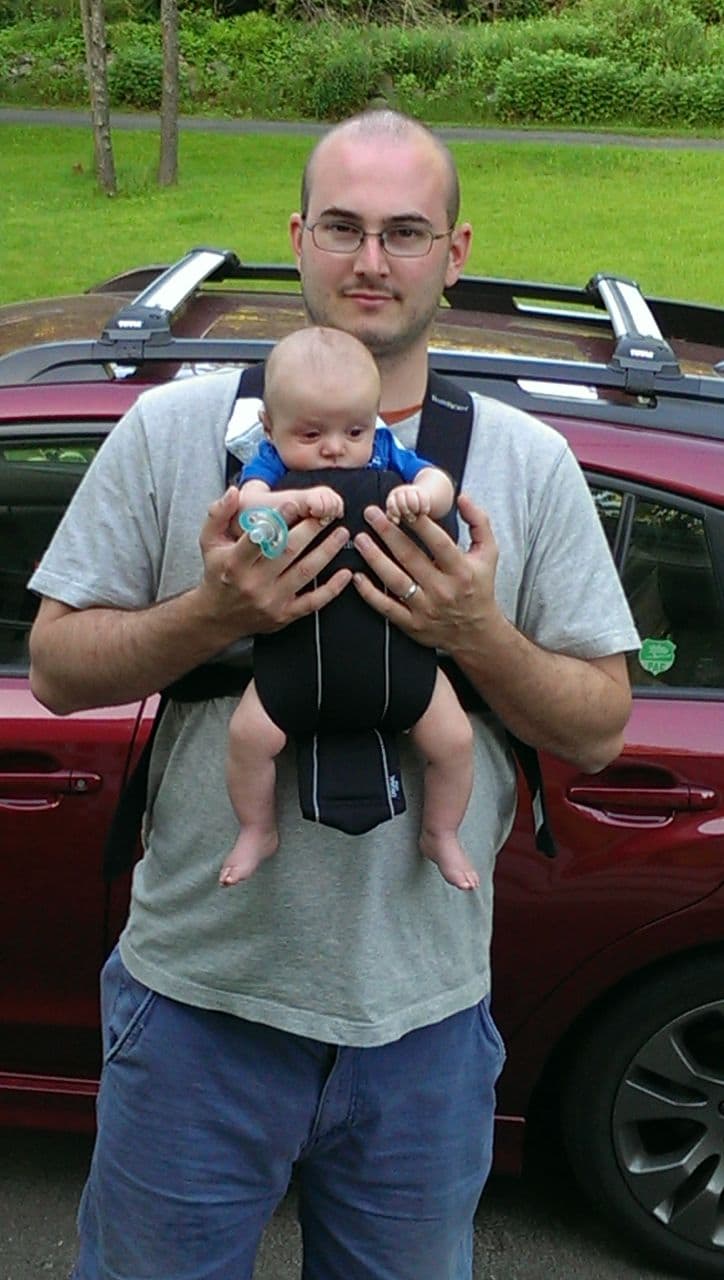 Sometimes, you love it so much that you pass out… prompting Mommy to playfully copy you…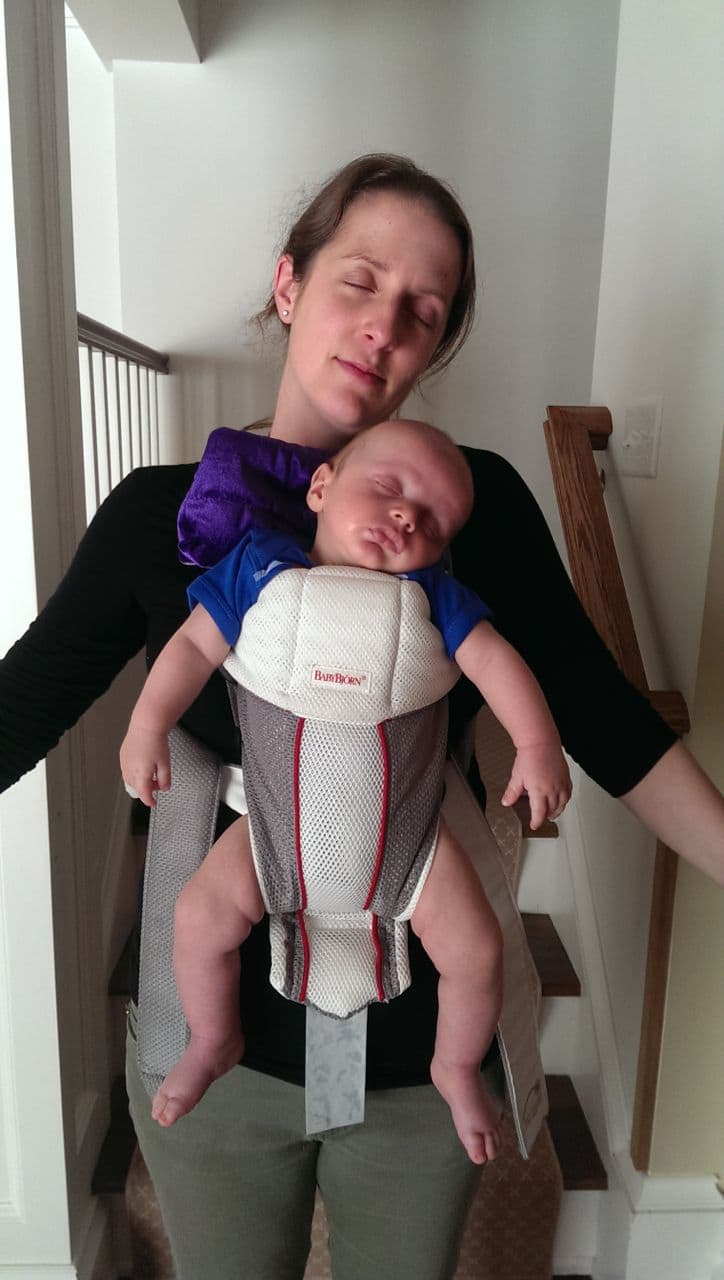 You continue to love your car seat. Since Mommy and Daddy are always on the go, this pleases us because we can bring you everywhere. Whether it's the post office…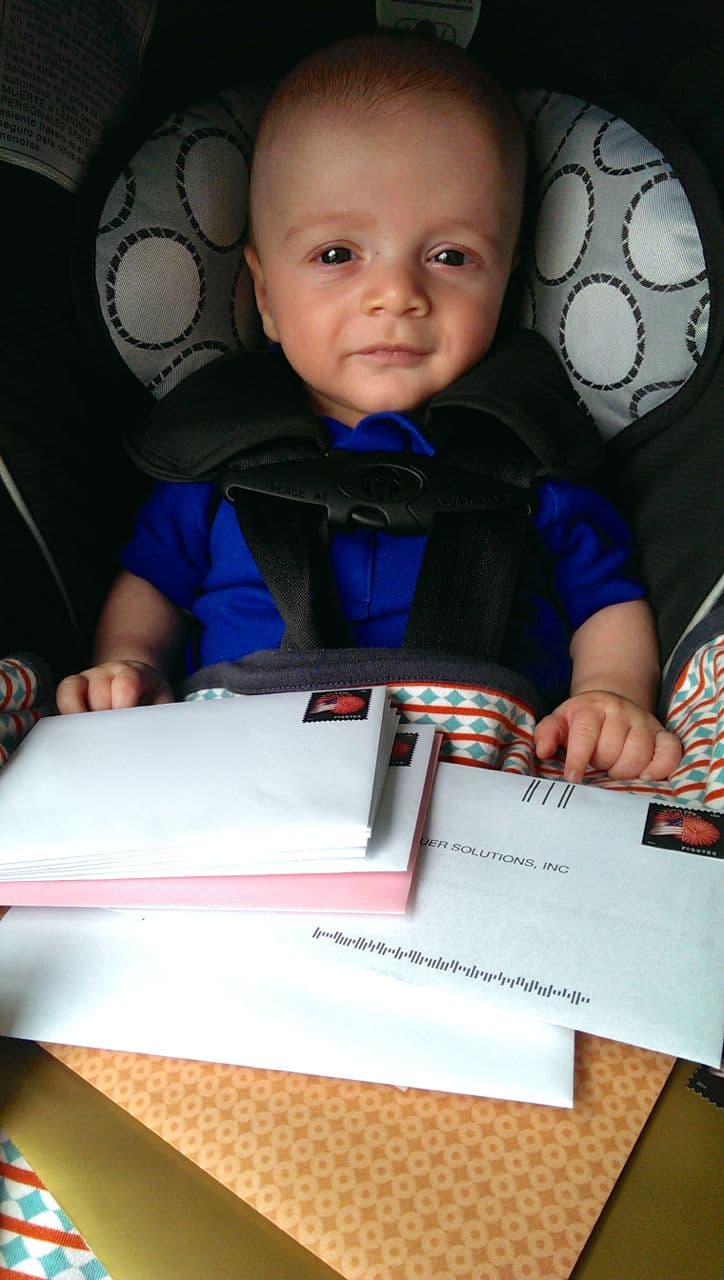 …or the grocery store…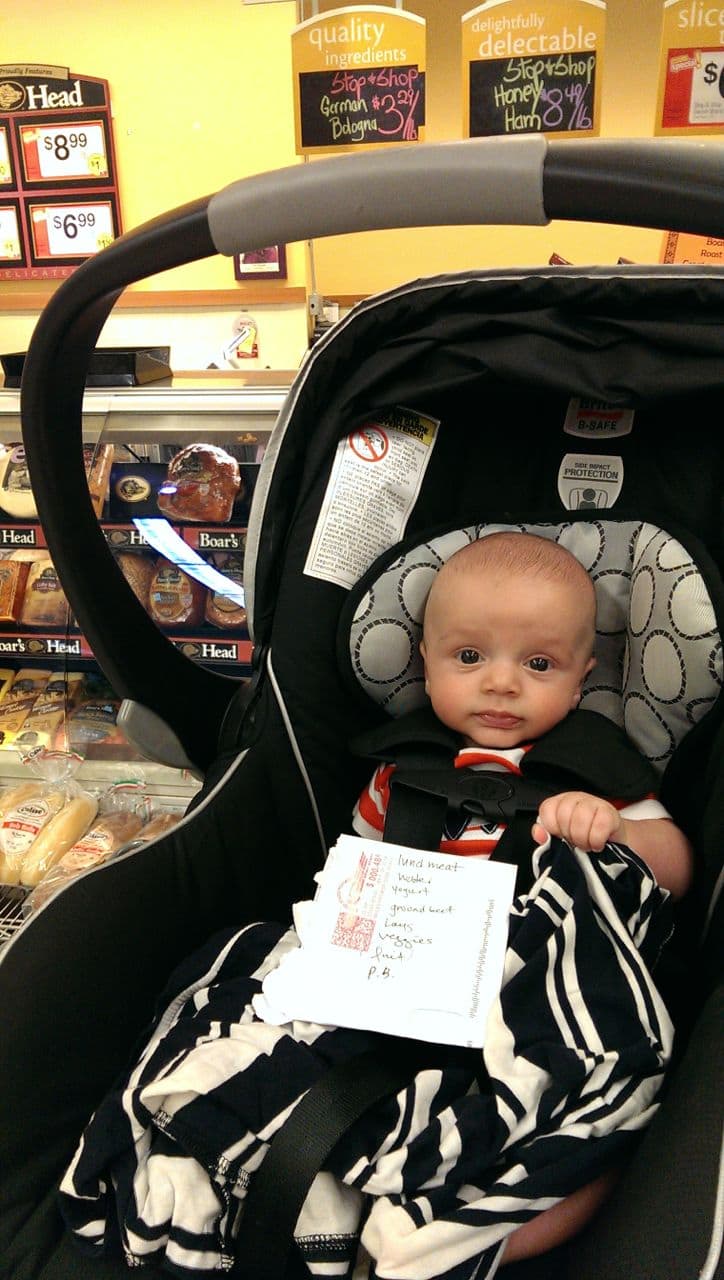 …you're such a good boy and so content.
Griffin is a completely different dog from when we brought you home from the hospital. He loves you. He's obsessed with you. He sits outside of your bedroom door, hoping that I'll open it so he can sleep with you. You are really starting to notice him lately, too, which makes me and Griff happy. As I said before, he will be your first true best friend and he'll love you harder than most.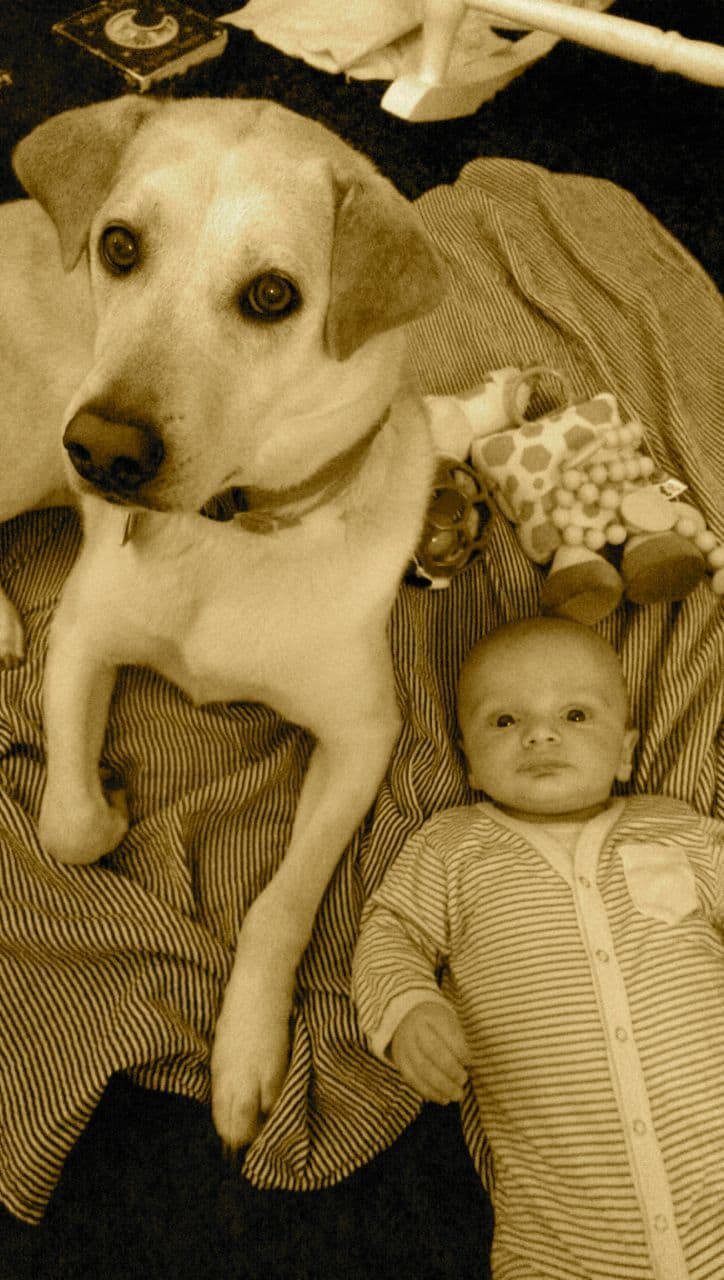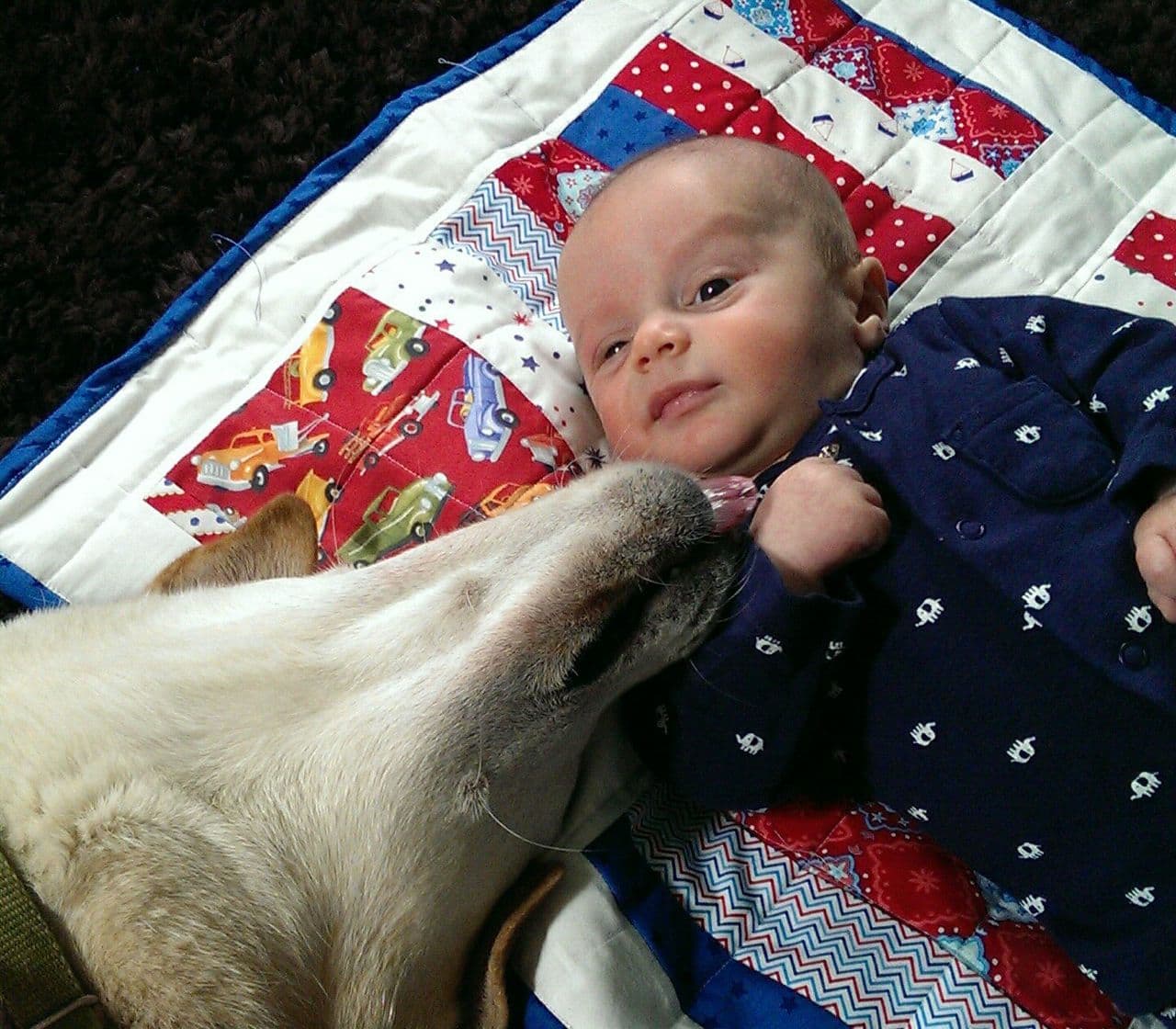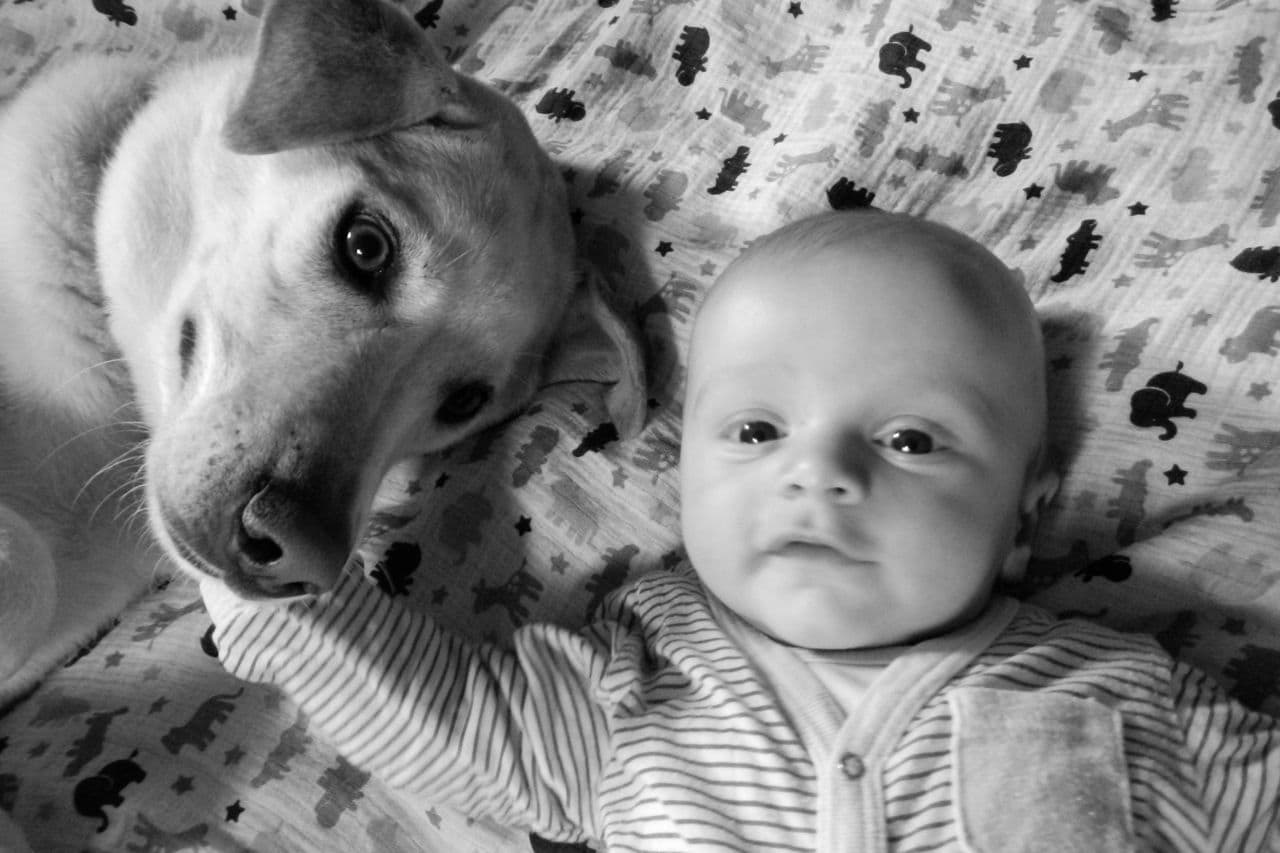 A couple of days before your 3-month birthday, we celebrated Father's Day. We had a great day - watching Daddy play softball, taking a drive, celebrating you & Daddy and even working on the house. (You were napping, but we'll still give you credit.)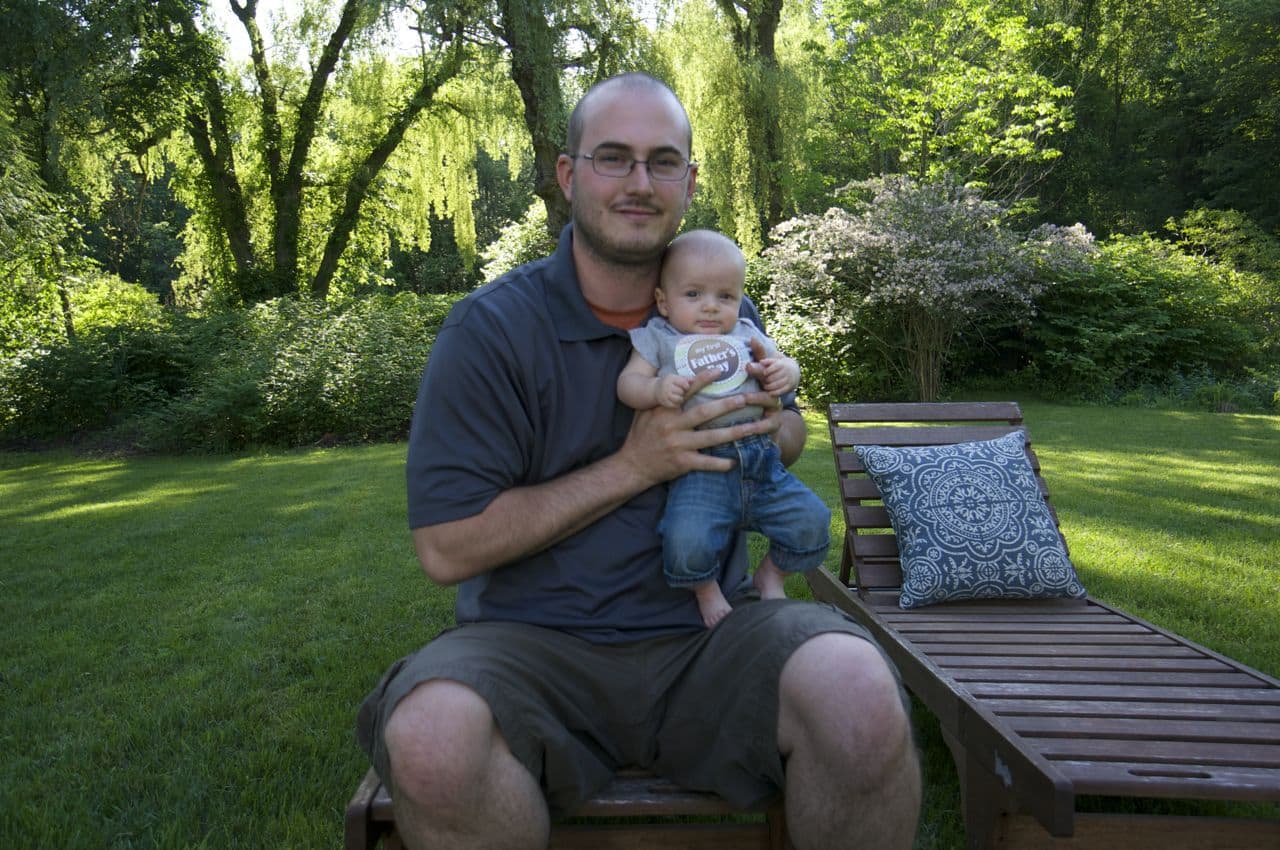 Daddy and I are thrilled to have you in our lives. You're a light that makes our hearts burn brighter than we ever thought possible. We can't wait for this summer - we hope more cooing, smiling and happiness is in store. You're such a good baby and we love you. Without end.
Happy 3 months, my sweet, sweet boy.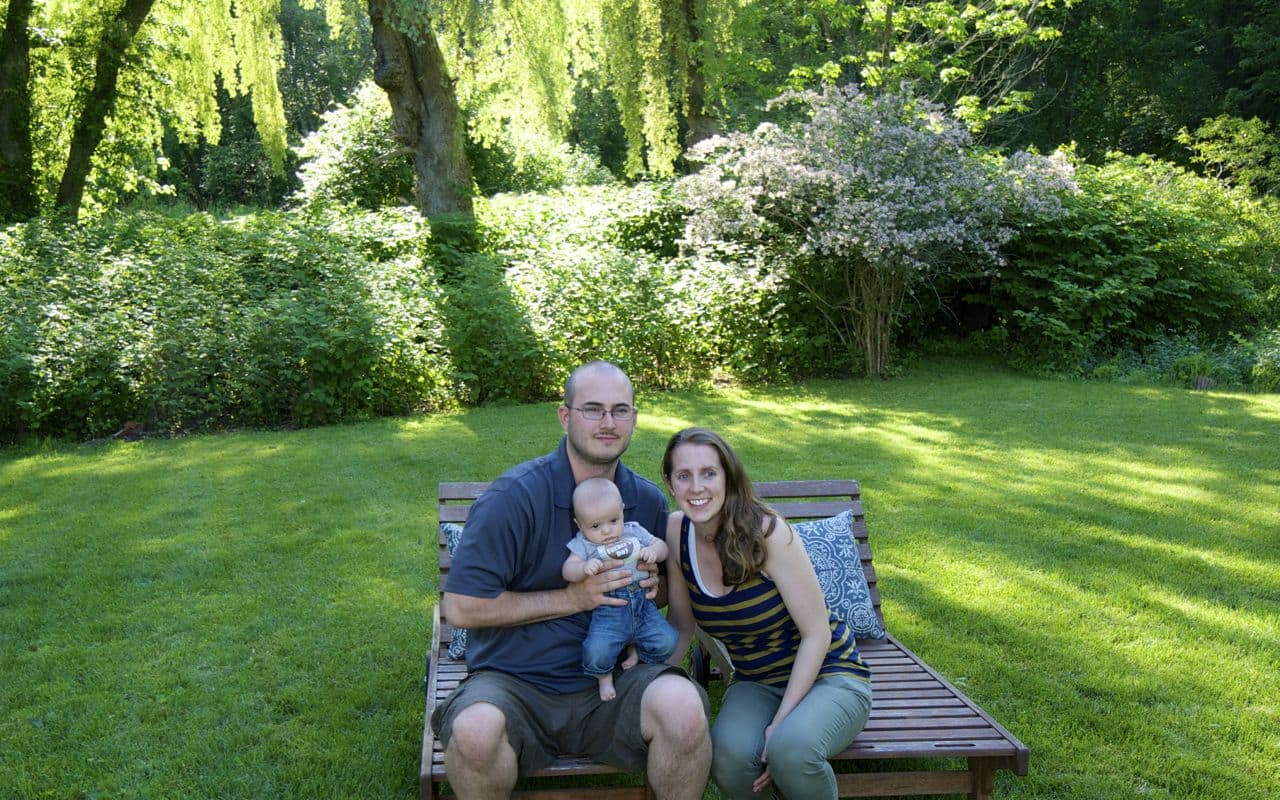 Love you forever and always and to the moon and back,
Mommy (Daddy, too, of course!)
P.S. Catch up on Harrison's earlier "achievements" with his 6-week letter here and his 2-month letter here.