Finally, finally, finally!! The finishing work we started a few months ago has paid off. The larger of our two spare rooms is done! Or, as done as it can be for now. We still have to get the dressers in order when the warmer weather comes, but it's done enough for me. Let's start at the beginning, shall we? We affectionately call this room "Mike's Room" because Matt's brother Mike lived with us for a little while a couple of years ago.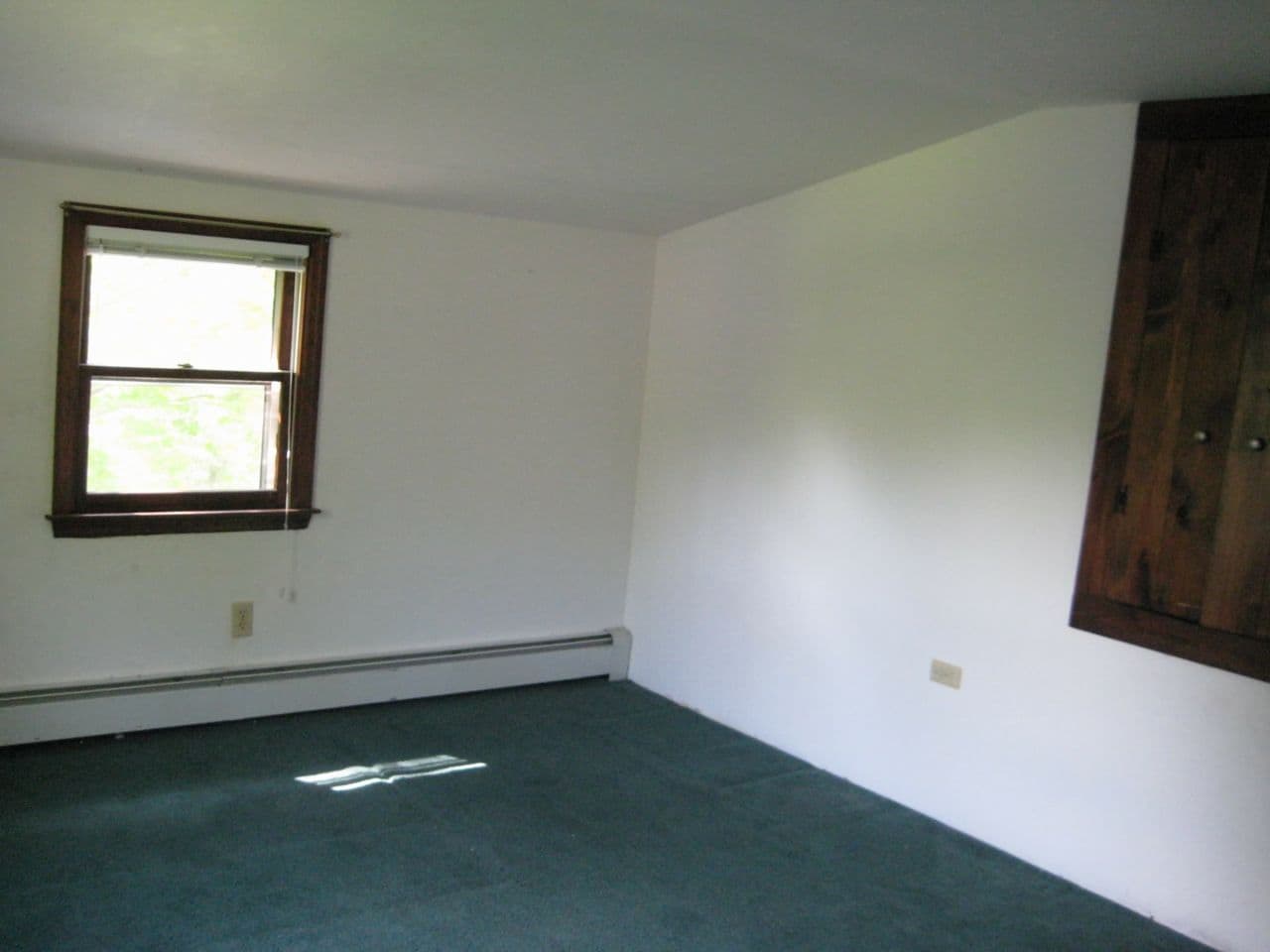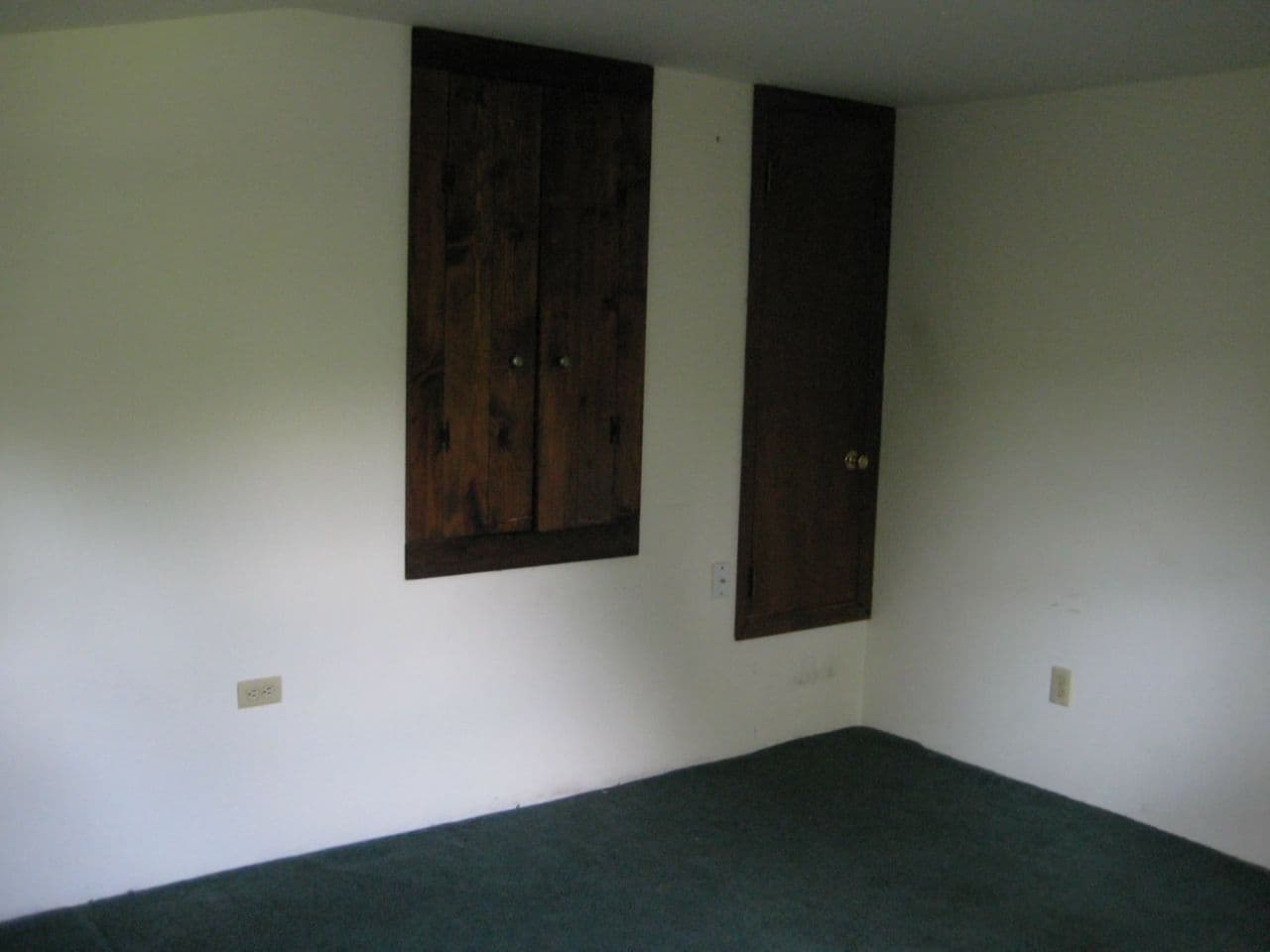 It's part of the newer section of our home, so it really wasn't in bad shape, comparatively. We painted the trim and doors white pretty immediately and ripped back the carpeting to reveal a plywood floor. We bought solid hardwoods at Home Depot manufactured by Bruce Flooring, and we're still really happy with that decision. Here's a shot of "Mike's Room" with the floors installed halfway. You can see we painted the trim & closet doors before the nice new hardwoods went in. We were novice painters back then, but it still looks decent.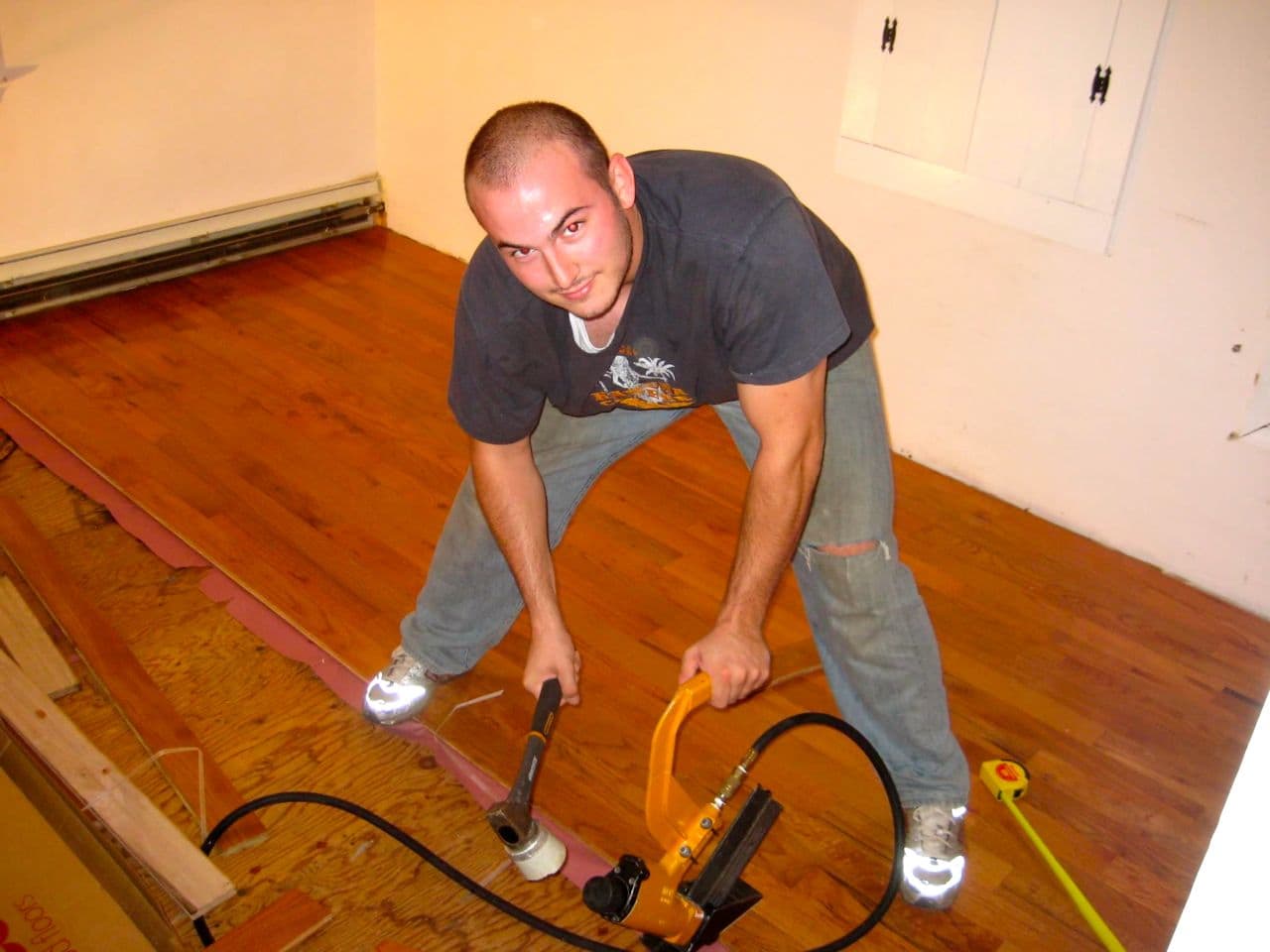 Installing hardwoods is no easy task. The measuring, exact saw cuts and the sheer position in which you need to have your back for extended periods of time definitely wore on Matt. He used a pneumatic flooring stapler by Bostitch that you can rent at any home center for around $50/day and it's very easy to use if you're looking to install hardwoods of your own. We ended up buying this tool for $479 and then gifting it to our friend who installed the hardwoods in our living room. Matt did the smaller upstairs rooms, but we asked our professional handyman friend, Sean to work on the living room floors because of the severe slope and the 138 year old floors in there. Sean wouldn't take any money for a job well done, so we gifted him the pneumatic flooring stapler that he mentioned he'd love to own. $479 for the nailer is pretty cheap for all the tricky floor-laying he provided to us.
Matt's back hurt for a few days after, and he was a sweaty beast while installing them. It was at the tail-end of summer, in a non-air conditioned house, so really, can we blame him? In the end, he still says it's one of his most gratifying projects in the house, and we couldn't be happier with our choice of the solid hardwood over a laminate, engineered hardwood. Our crazy dog that loves to do sprint circles on the hardwoods hasn't harmed the floors in the slightest.
That was a bit of a tangent, but let's get back to business. With the floors down, it was time to pick a paint color, and I had a neutral-ish blue gray on my brain. We normally use Home Depot's Behr line of paints because of how Consumer Reports raves about them each year. However, I couldn't find a blue I liked at the Depot. I ended up falling in love with a gray-blue at Lowe's in their Olympic line and had Home Depot do a custom color match. The original Lowe's color was called "Night Frost" and I still love it. Any color can easily go with this paint - neutrals or bolder colors. Here it is after two coats (and the hardwoods completely installed). The wall color is a bit hard to see, but it shows up nicely in pictures to come.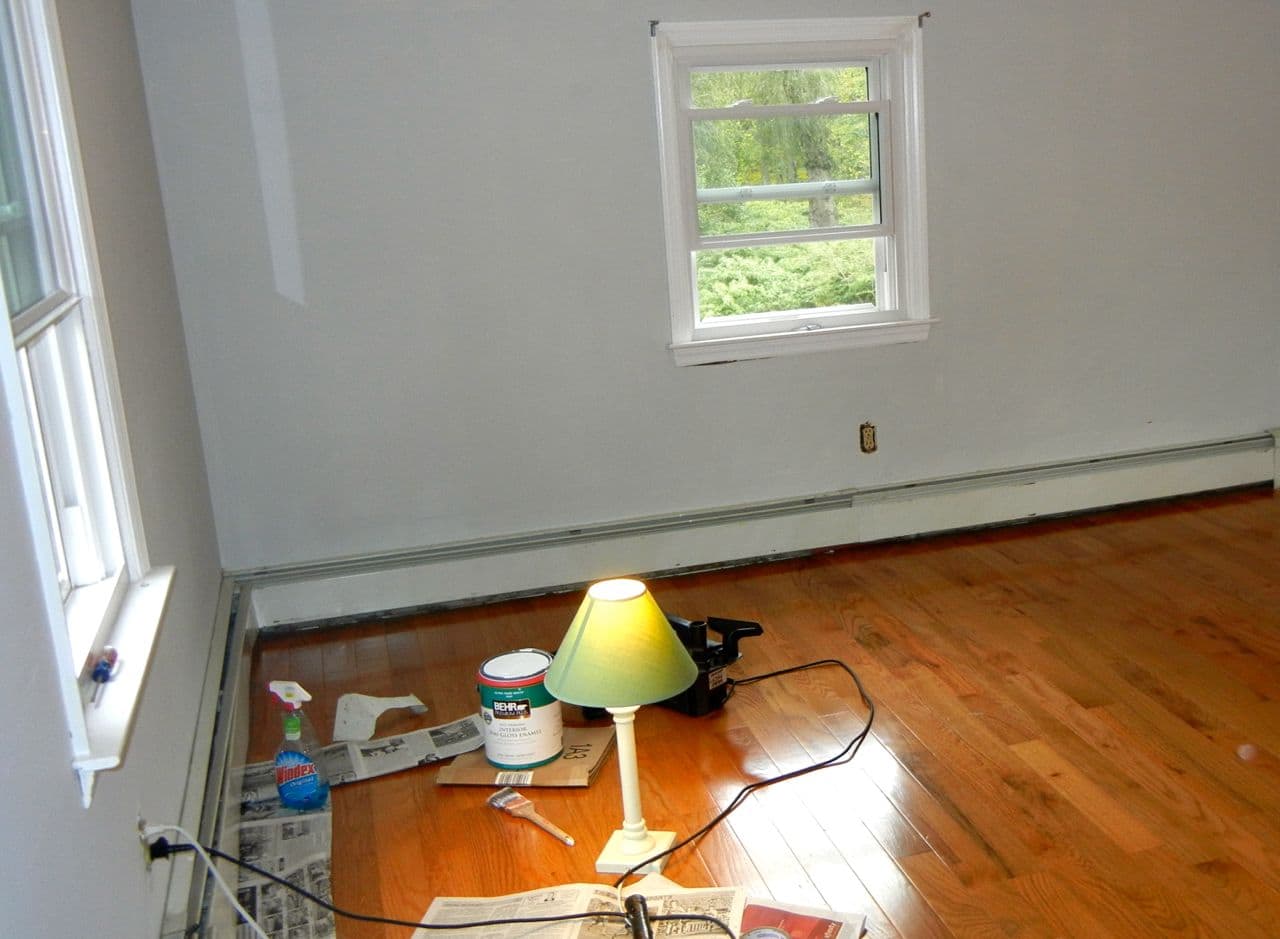 With "Night Frost" on the walls and two fresh coats of ceiling paint on the ceilings, (with help from my mother-in-law who was in a "painting mood" - score!) we tackled the baseboard heaters which were an off-white/almond-y color.
Before painting the old baseboards a crisp white to match the trim, I disassembled them and cleaned them up with a vacuum and a rag dampened with a natural, all-purpose cleaner. Within the baseboards, I found these .22 shells… my best guest is that the teenagers of the family who lived here before us shot at things through their back window. Classy.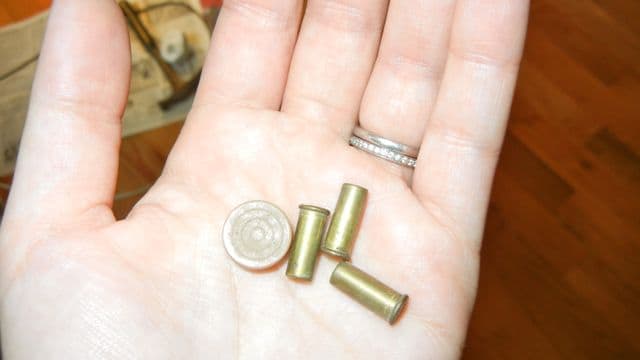 The baseboards really brightened up with Behr's Ultra Pure White. The wall color behind me in the picture below reads pretty true to our real "Night Frost."
Before the new baseboard trim went in, we had to fill in a gap in the hardwoods. I wrote about that here. Matt used one power saw to cut an extra piece of hardwood we had laying around and another power saw to cut the trim to size.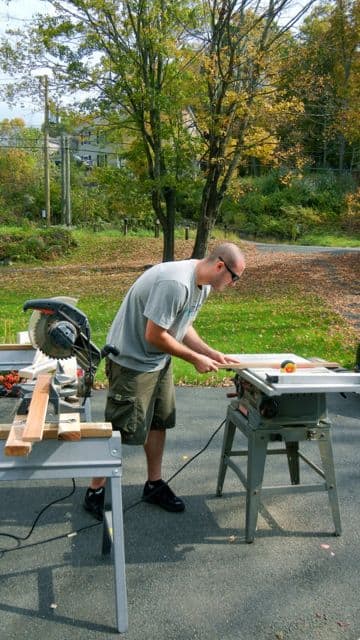 The trim went in next, using a pneumatic finishing nailer tool that we already owned. I filled the nail holes with wood filler, sanded it down, and then the paint went on.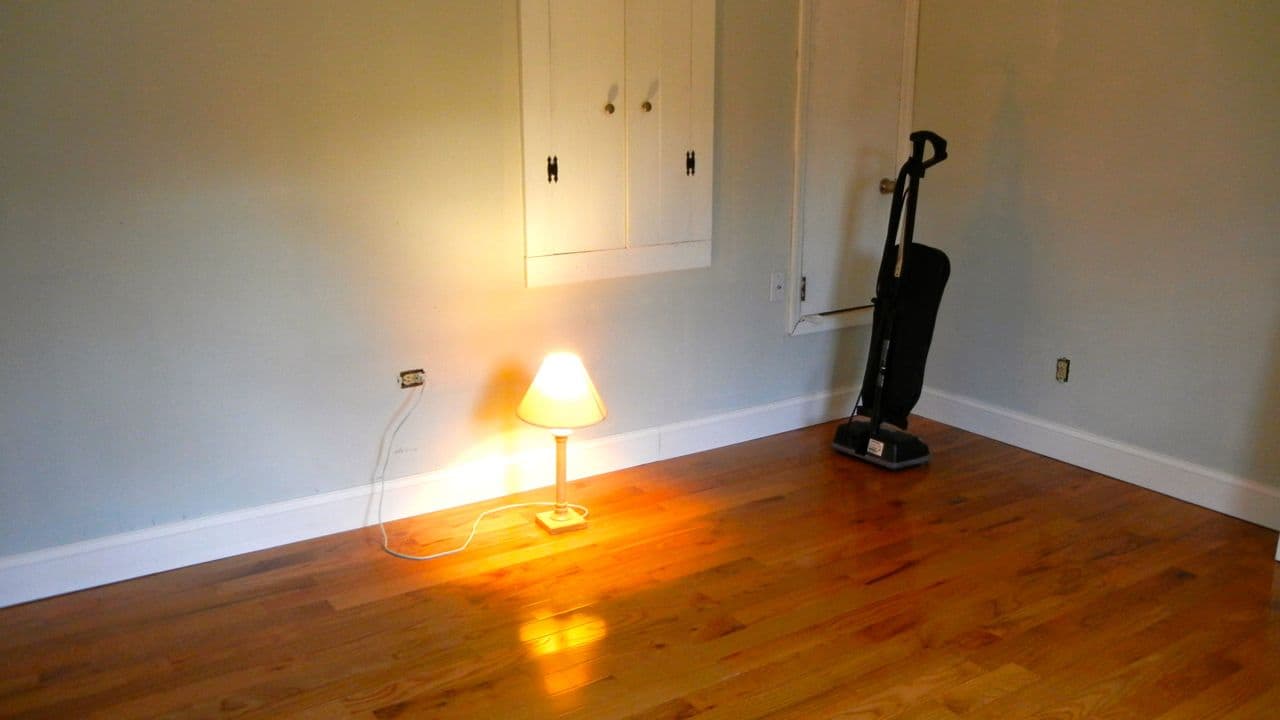 We changed all of the outlets at night (what an adventure!) but the white outlets made a world of difference. It was so worth it!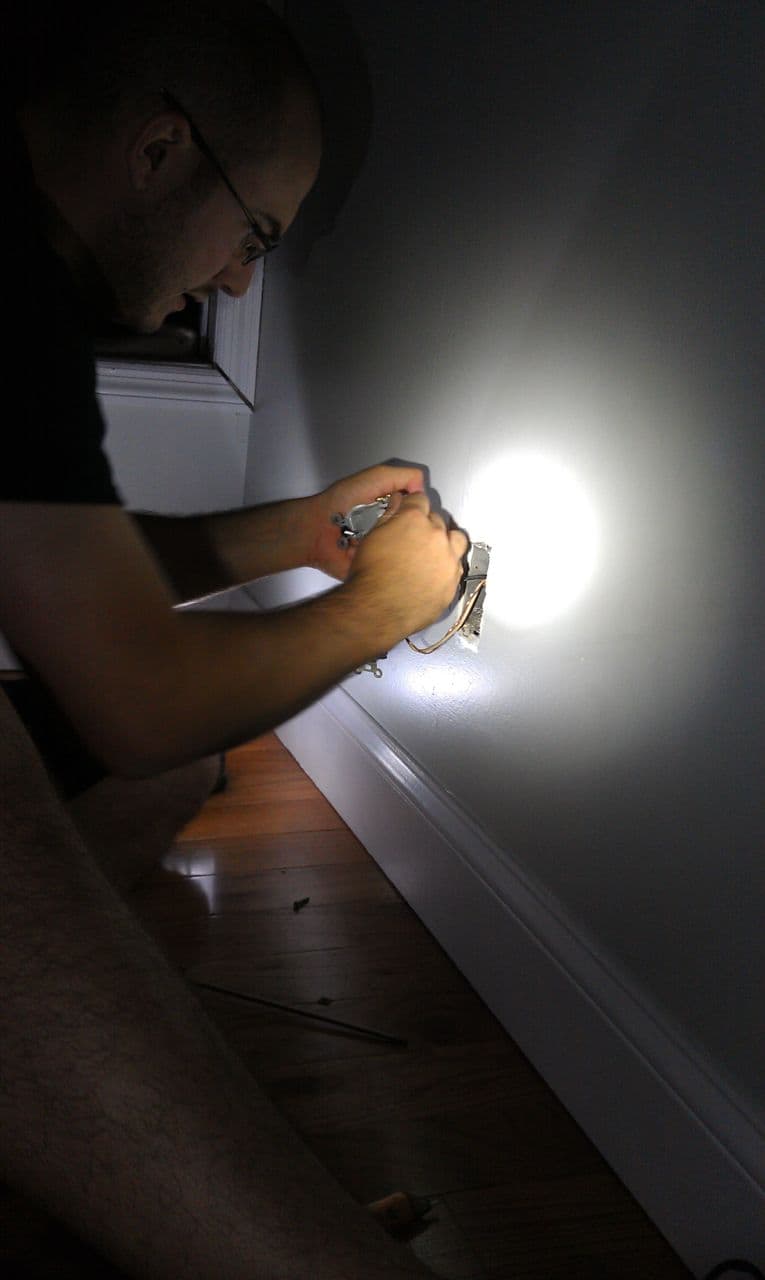 With the walls, ceiling, new trim and baseboards painted, and the outlets updated, it was time to shop. Yeah, baby. I'll do a breakdown of where I got everything and what it cost in a later post, but most of the new things in this room were from Target and Costco (one of my favorite stores, and Matt's favorite store, respectively). Everything else you see in the pictures below was gifted to us or we already owned it from other rooms in the house.
That being said, here we go! A reminder of move in day…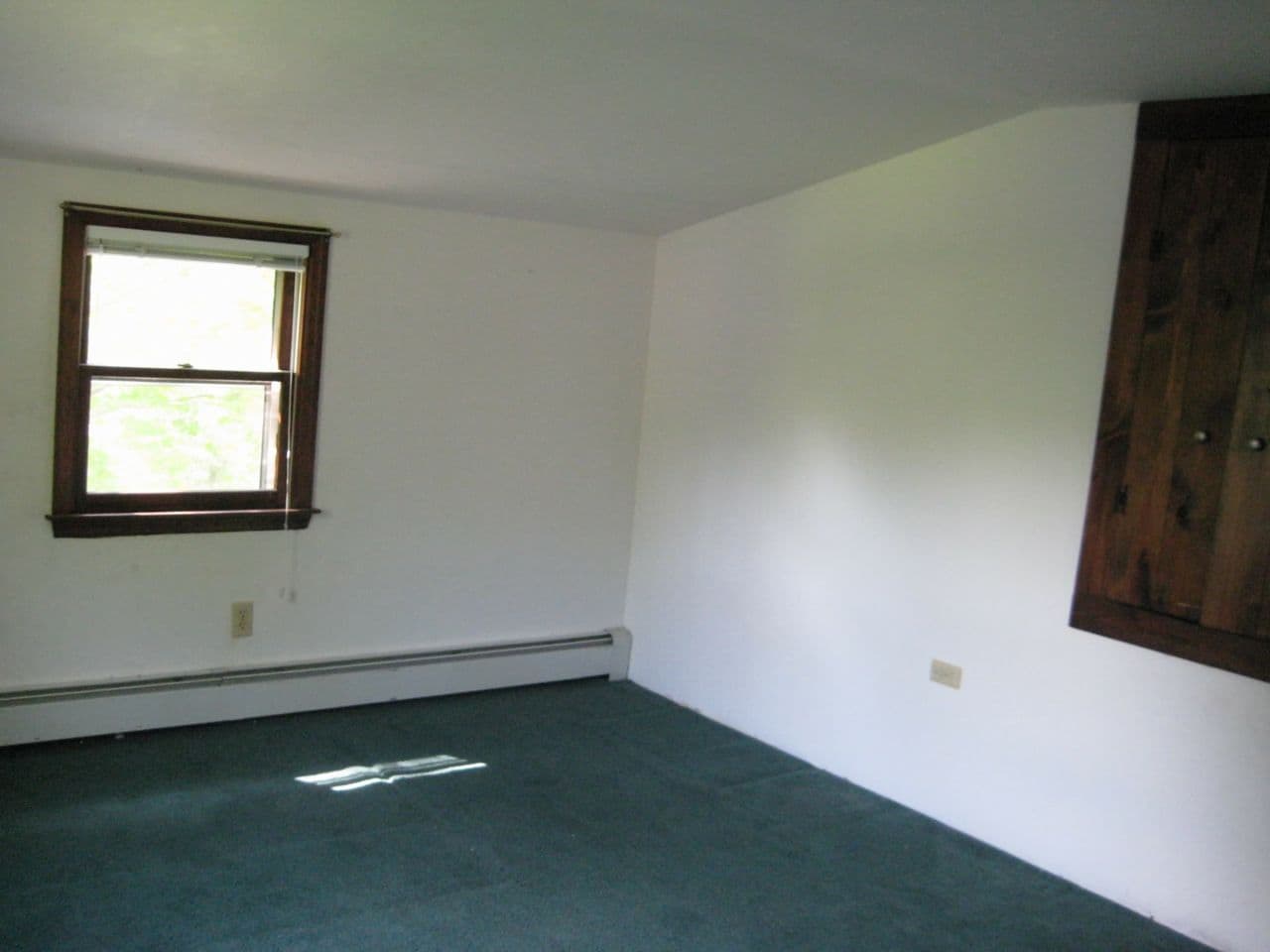 …and how "Mike's Room" stands now: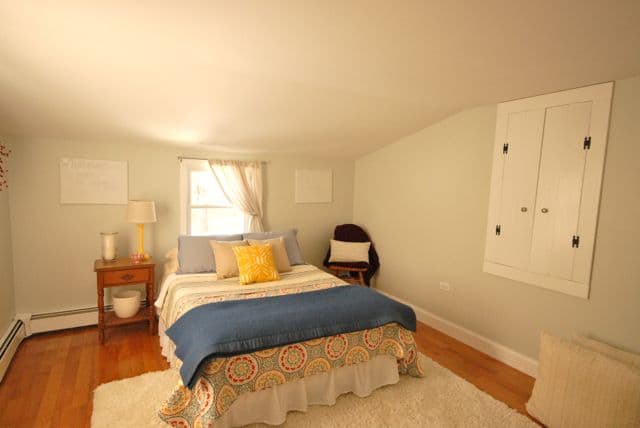 This was the right corner of the room as you walked in…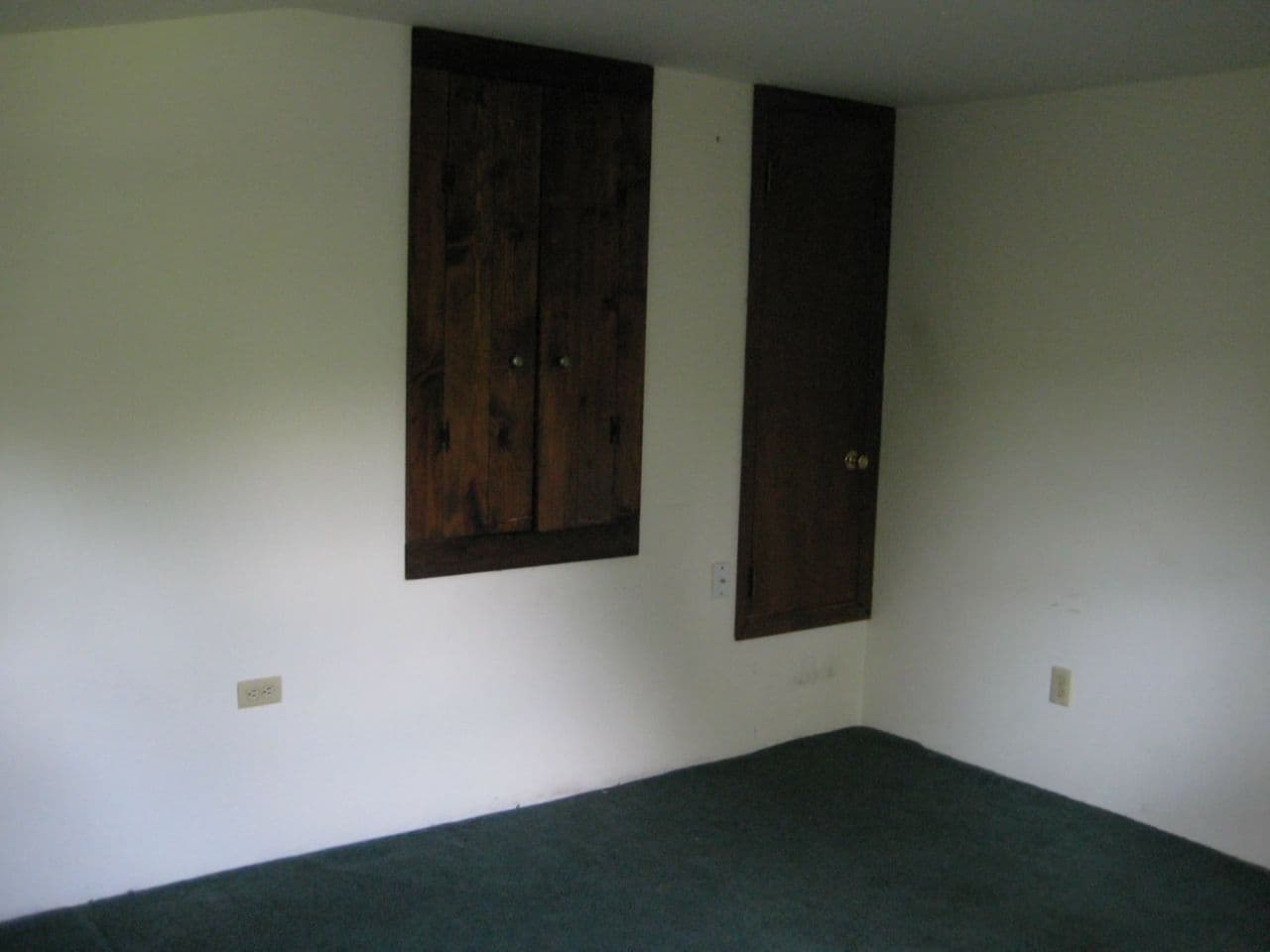 …and as that corner stands now…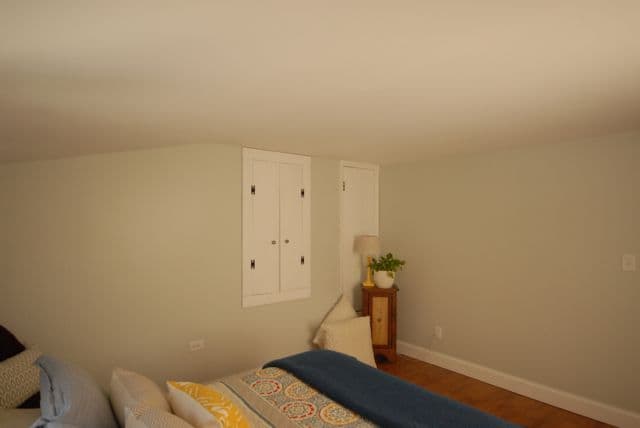 It is a completely different room and we love it. The hardwoods Matt laid make it so warm, and the new trim classes it up a bit. The paint color is perfect for this room that doesn't get a ton of morning light, and the shag rug provides some fun and comfort. It's seriously amazingly plush. I love the colors in this room, too. If I ever get sick of the quilt or pillows, I can switch them out for something different without touching anything else.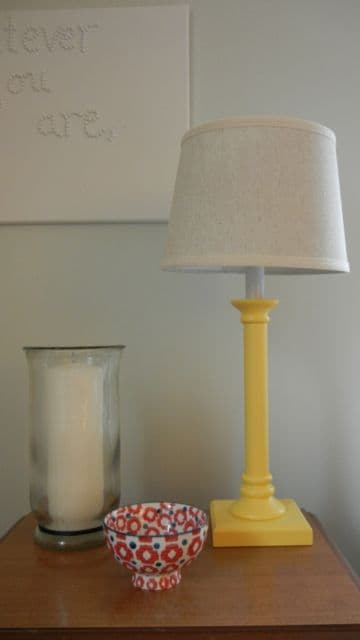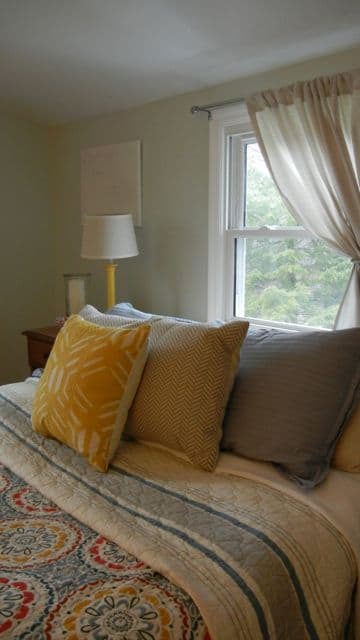 I love going up the stairs, looking right and seeing the neat, clean, freshened-up room that is this space. We're hoping to freshen up the other guest room this year, too. I'll keep you in the loop on that front, and I'll have the budget breakdown and source list for this space up later this week. Hope you like! Any parts that you're digging? What about things you would have done differently? I'm really loving my bold color choices in the bright yellow lamps and the red in the quilt. Happy Monday, and thanks for stopping by!!