This past weekend was positively beautiful here in New England. The humidity and high heat of the last couple of weeks dropped and I was able to get out of Connecticut and head up into the Green Mountains of Vermont. My sisters and I had been organizing a big girls weekend for a while and the weather forecast had everyone itching to get up there!
We had the fortunate opportunity to stay at a breathtaking property that belongs to family friends of ours. I had visited the house a couple of times previously, but the views of the surrounding mountains are simply s.t.u.n.n.i.n.g and they never get old. Check out this view from their back porch. What an incredible backdrop for what would shape up to be a weekend of nonstop fun!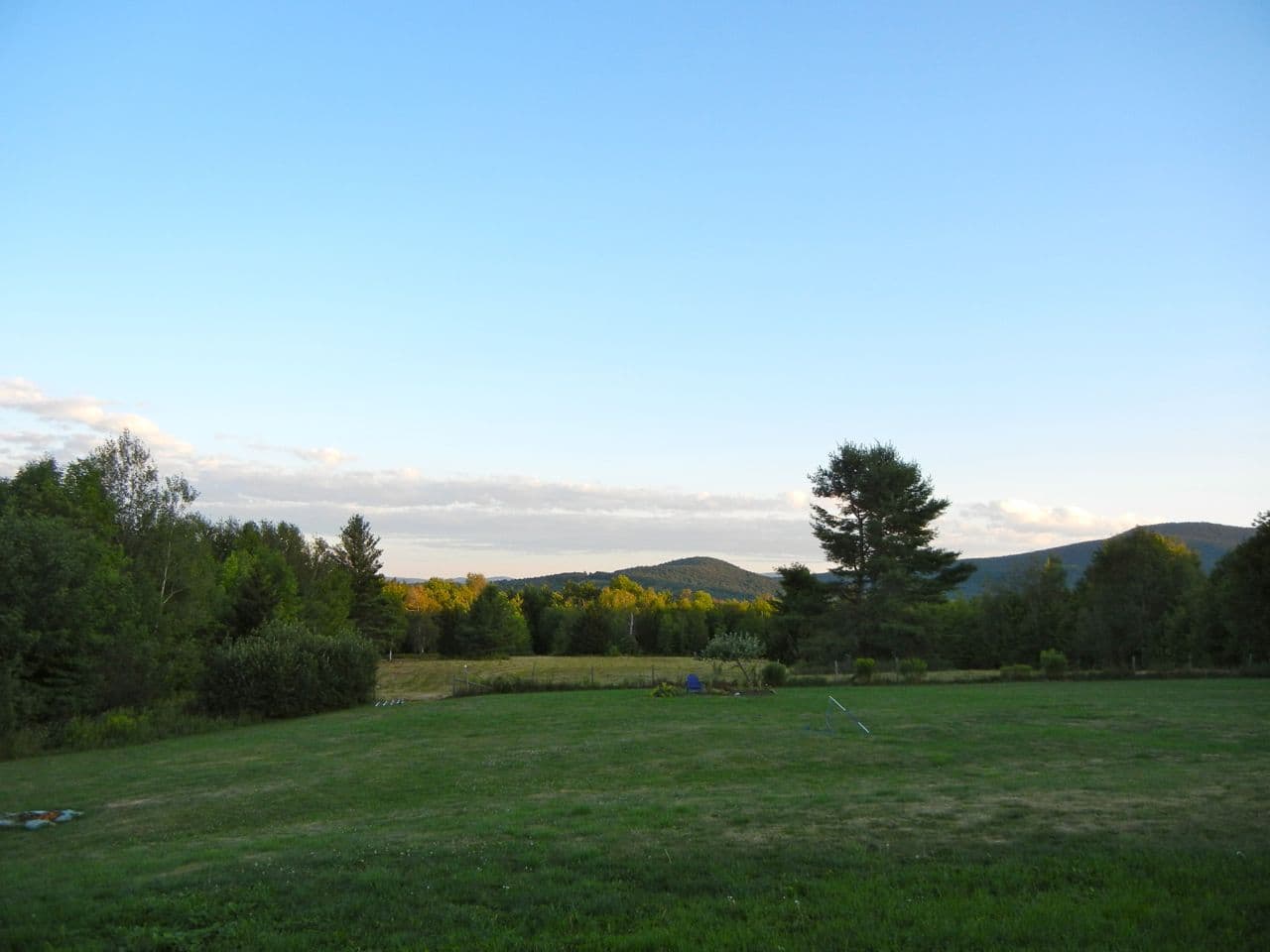 This post is mainly comprised of scenic shots since the weekend was a little wild. After all, no one wants pictures of themselves posted on the internet that could jeopardize their reputation ;) When we arrived on Friday night, everyone was pretty beat from a day of traveling and a full work week. This vase of fresh-cut hydrangeas from the garden was waiting for us and it brought a big smile to my face. I have a small love affair with these lacy, delicate blooms. My bridesmaids and I carried them on my wedding day and they have always reminded me of fond memories of coastal Cape Cod & my nana. This white variation looked right at home amongst the old farm-style table, exposed beams, and hunter green chairs.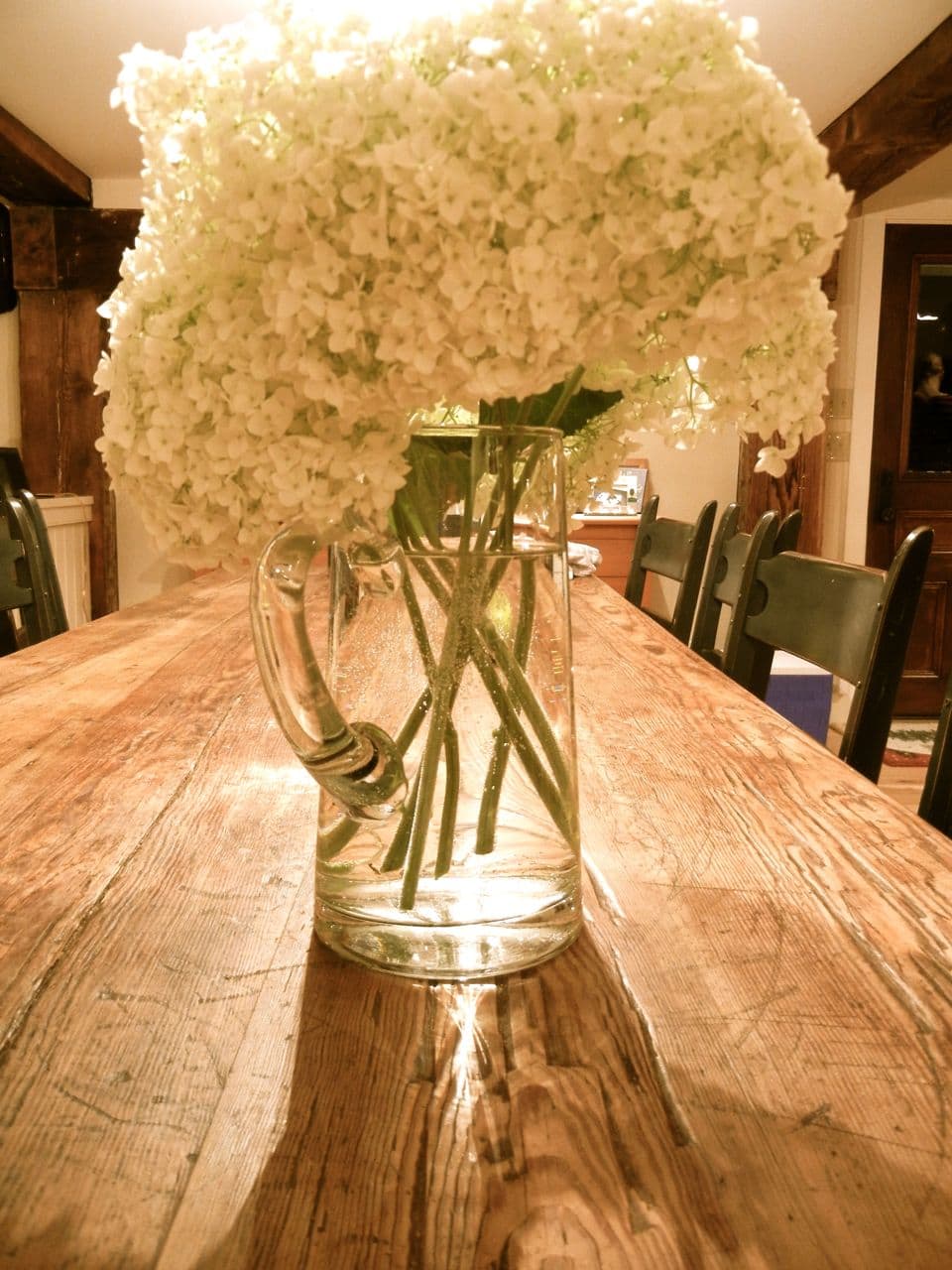 We ordered some calzones, salads and pizza from a local pizzeria before downing waaaaaay too much wine. I think 6 a's are appropriate for consuming more wine bottles than we had people, don't you? There were even a few tequila shots thrown around. Why I still take shots is beyond me. I only took one but that one shot almost always leads to a morning headache. Actually, looking back now, I guess that could have been the bottle of wine I drank in addition to the shot. What can I say? I cave into peer pressure pretty easily.
I woke up pretty early on Saturday morning and brewed a hot cup of tea. There was a slight early-morning chill lingering in the air as I walked with my steaming mug around the property snapping pictures. The land is immaculately maintained while still maintaining the characteristics and subtleties of a classic New England countryside.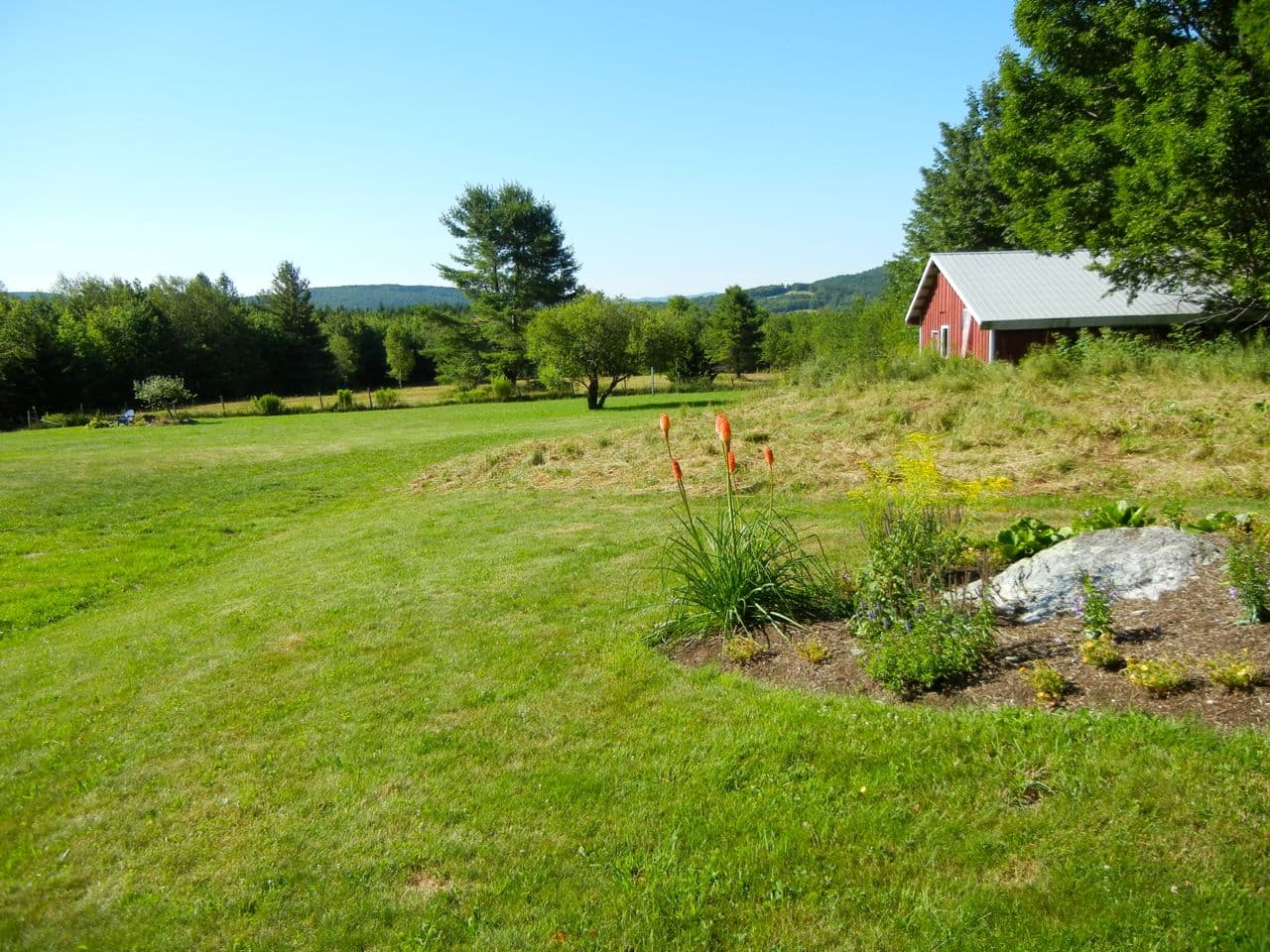 This barn on the side of the property fits in perfectly with the land and I love how the family has Old Glory so prominently displayed.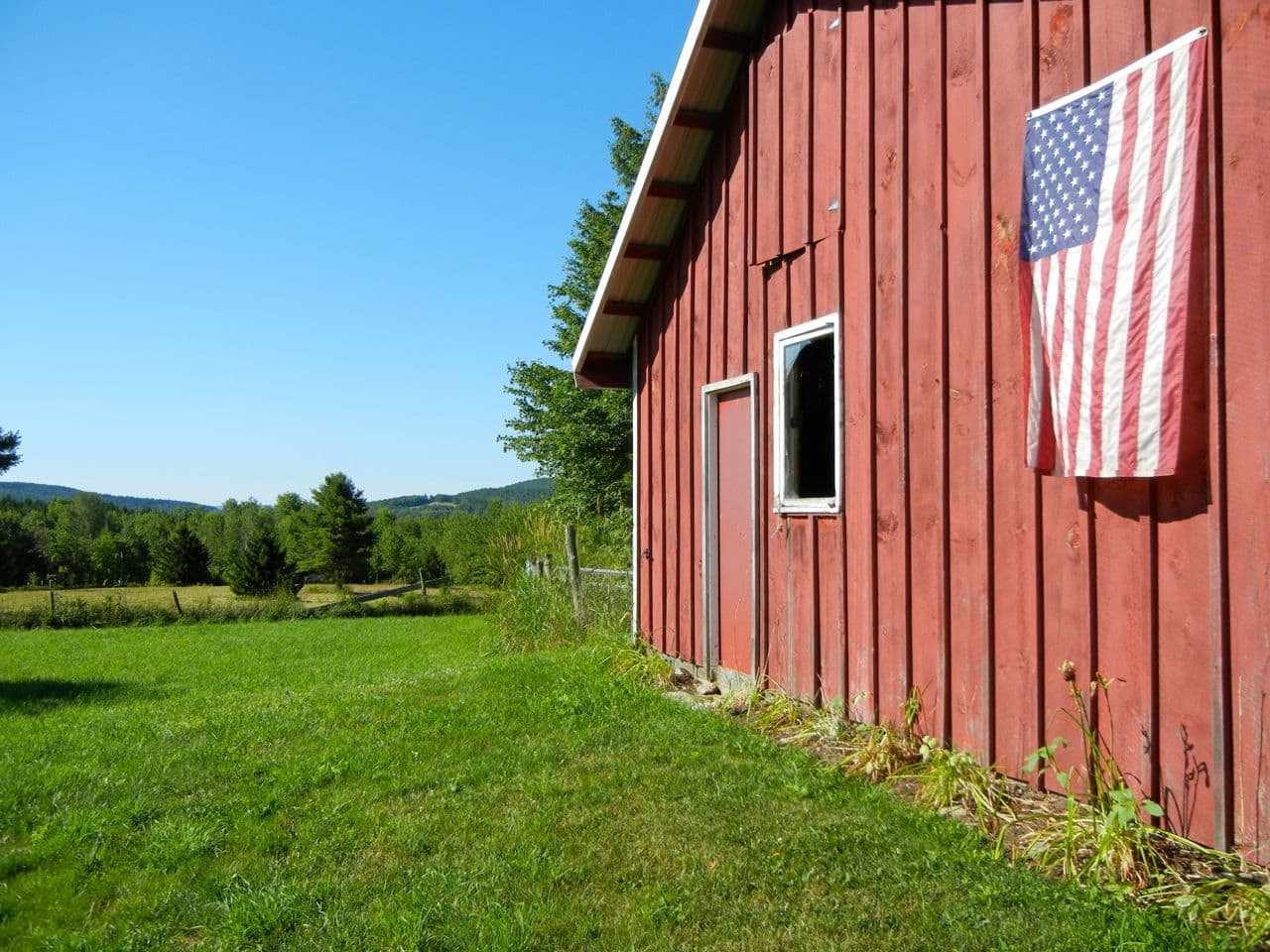 This sloping hillside led down to a pond, where we would spend a good portion of the day on Saturday.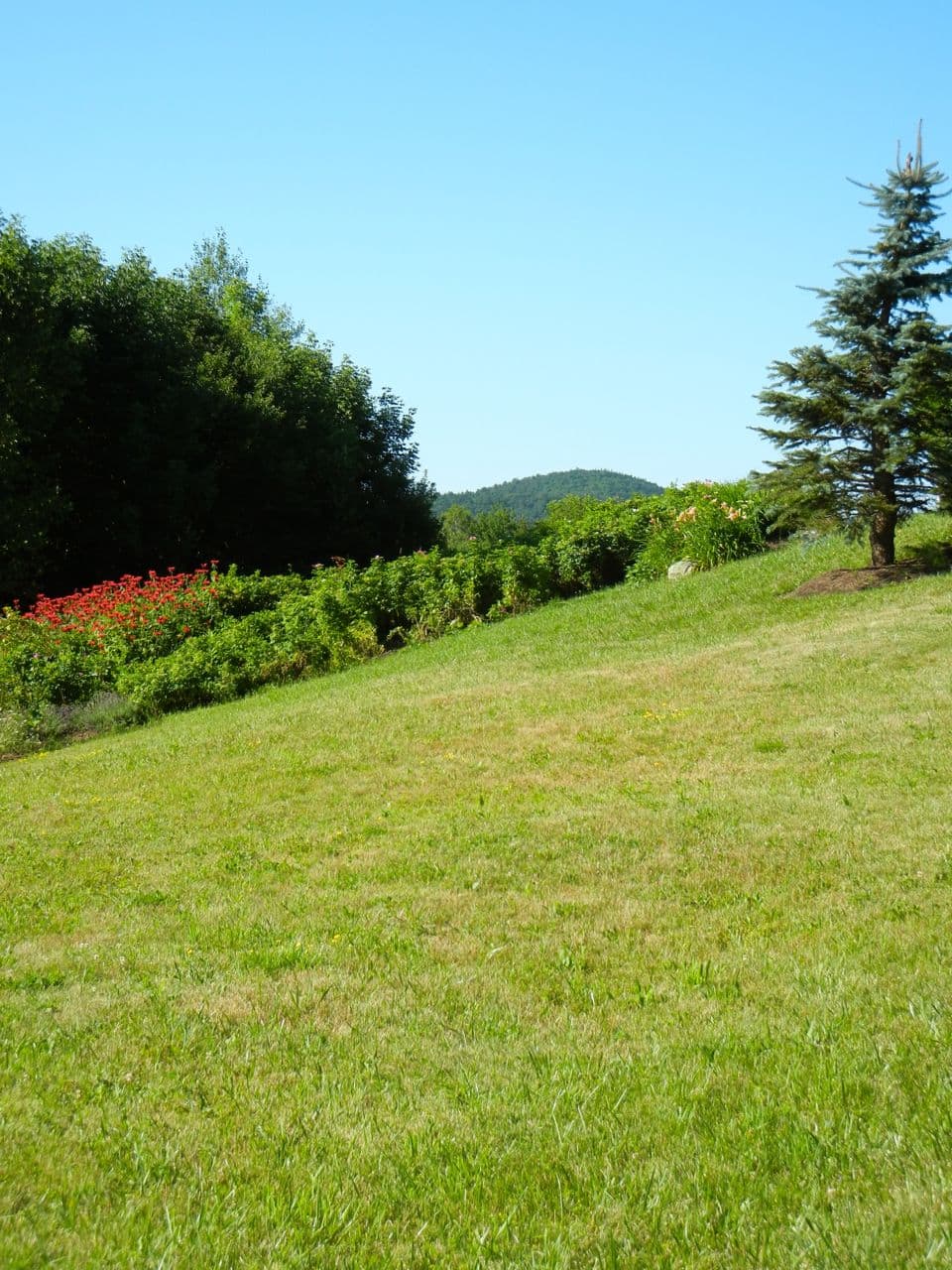 I tried to capture the reflection of the sky and trees in the pond. It's hard to see in the picture below, but there is a fountain in the center of the pond to keep the water circulating.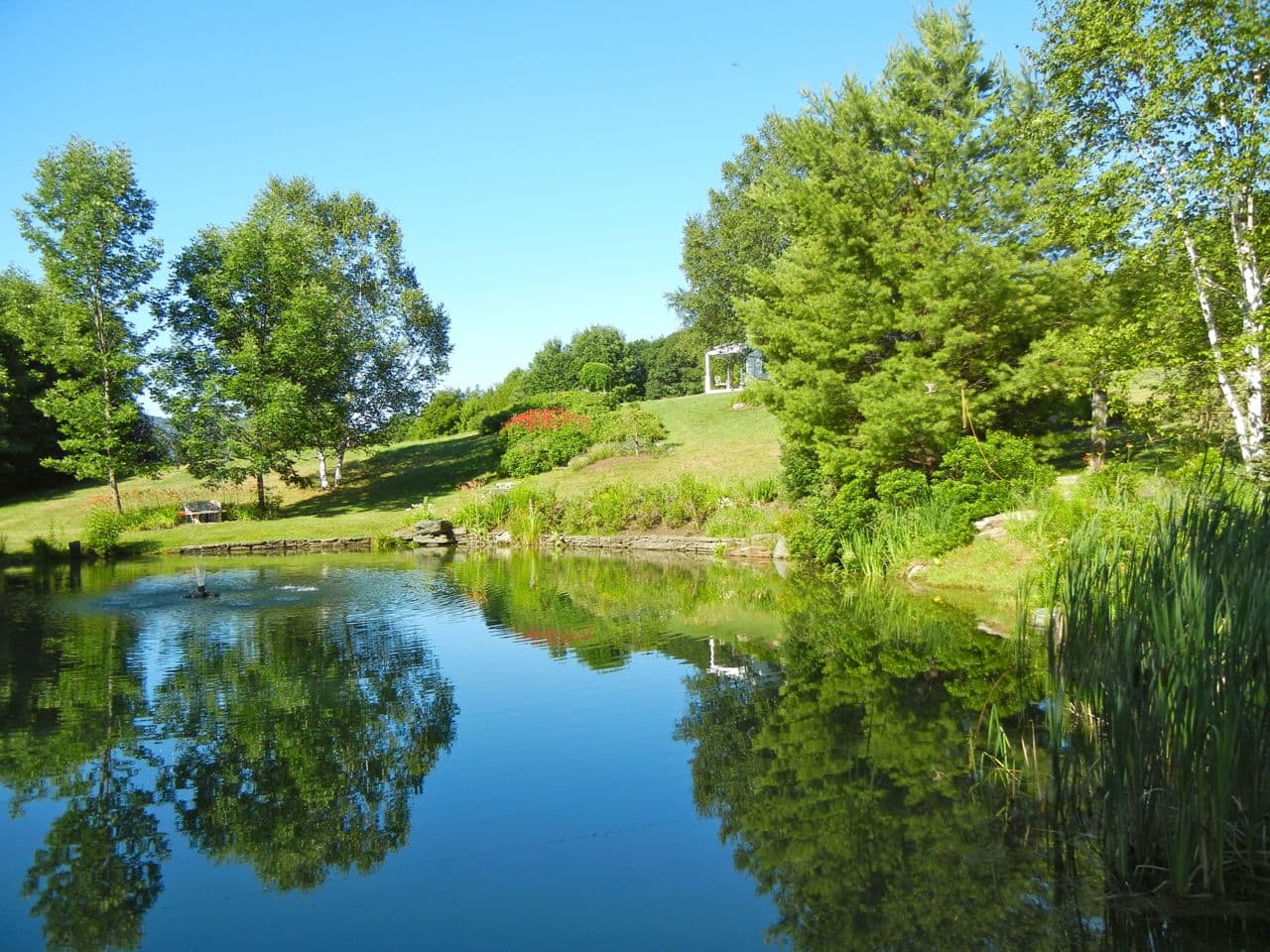 There were so many frogs and tadpoles in and around the edge of the pond. This guy and I had a real stare-down. He won. It was the slow creeping of his left hand that had me running for the hills. After all, I love nature and can appreciate all of it's splendor, but I'm definitely the last person in line to hold a slippery, slimy amphibian.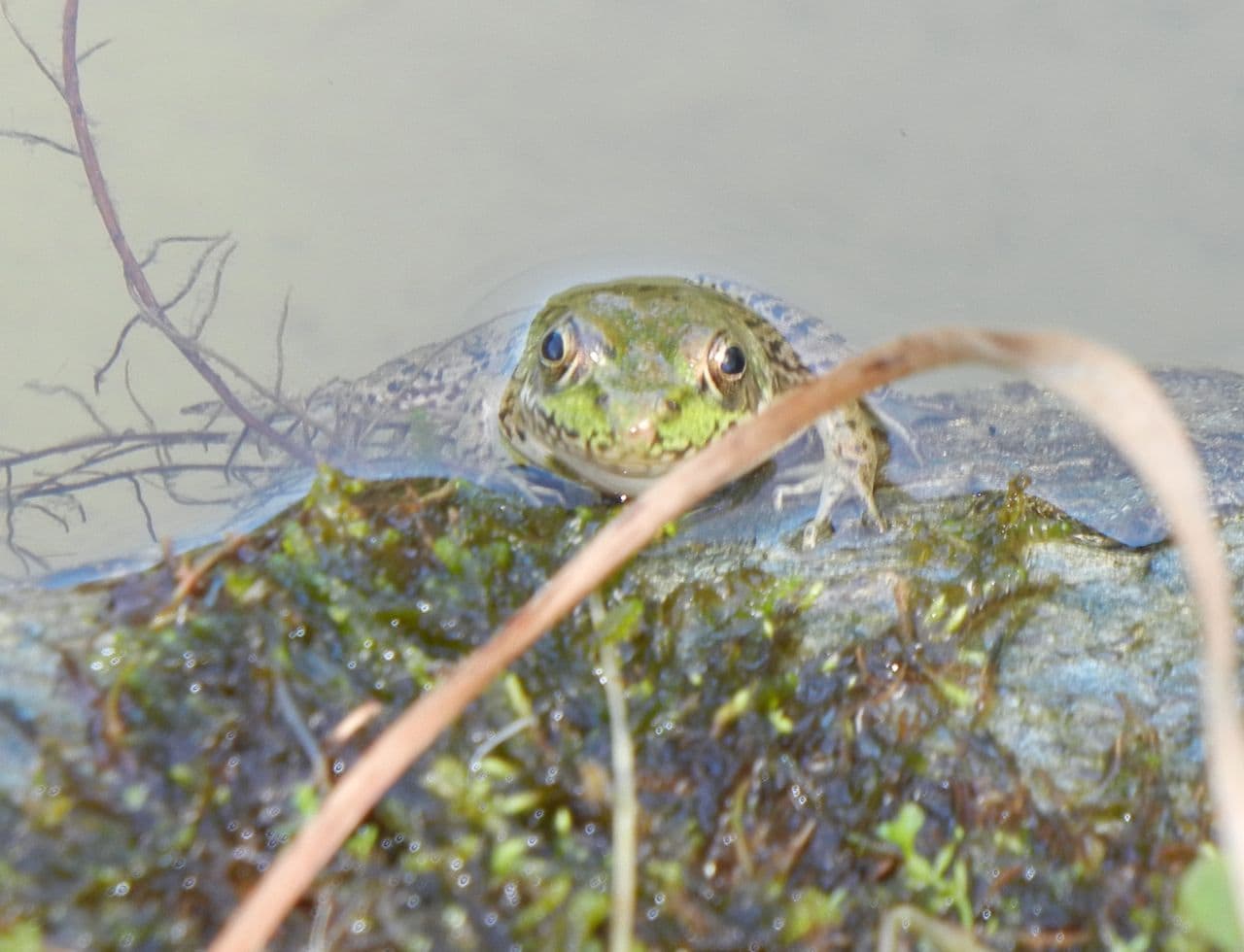 On the way to the garden, (conveniently located right outside the kitchen door and teeming with beans, lettuces, corn, tons of berries to name a few) I found myself stopping to admire this shot of the resting places (hammock, Adirondack chairs) amongst the hilly tree line…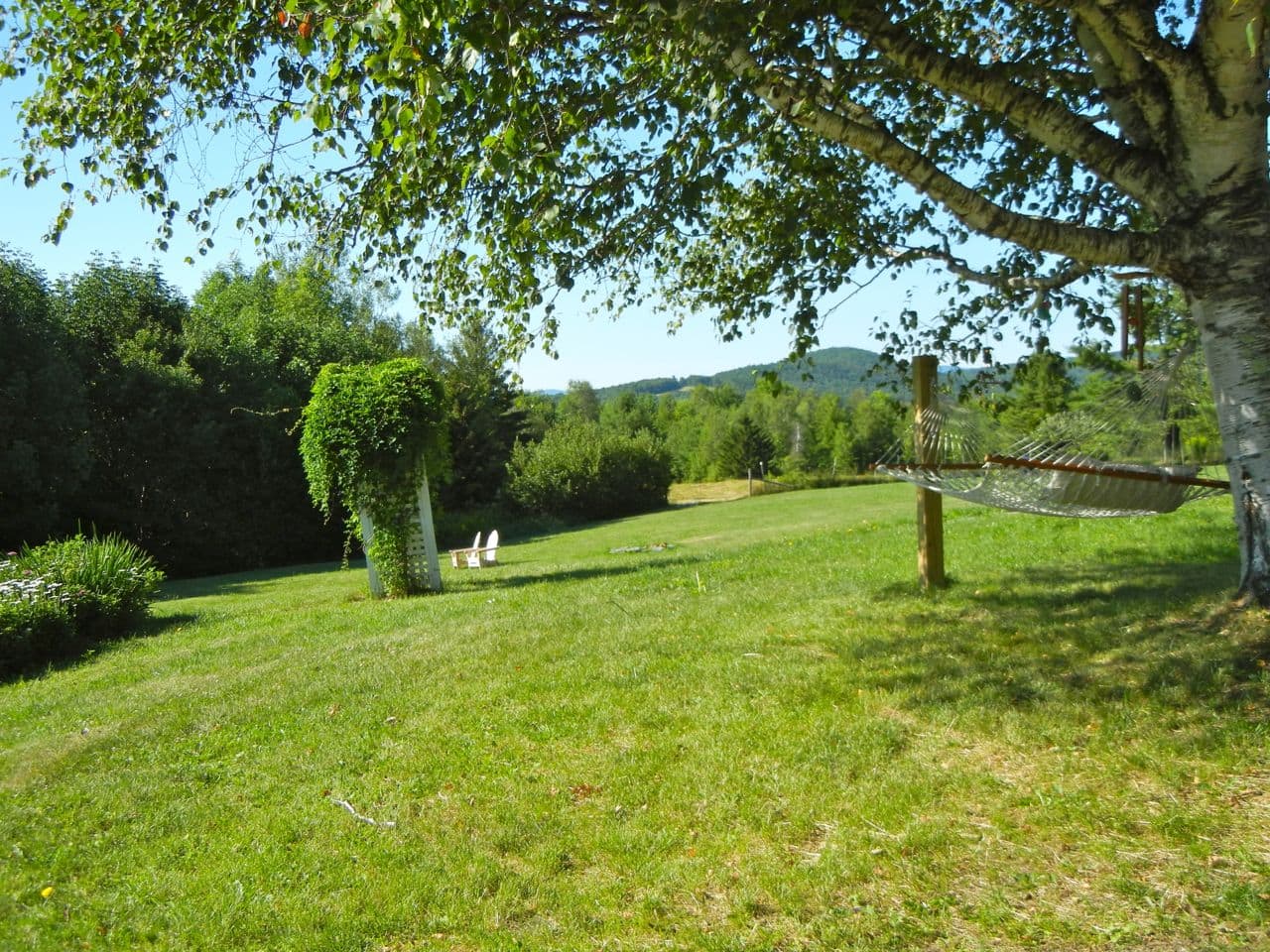 …and we arrive at the garden. Positively. Amazing. Garden. This is the only shot I have, but this only shows a small portion of it. I nibbled on the fresher-than-fresh raspberries and blackberries as I neared the end of my tea.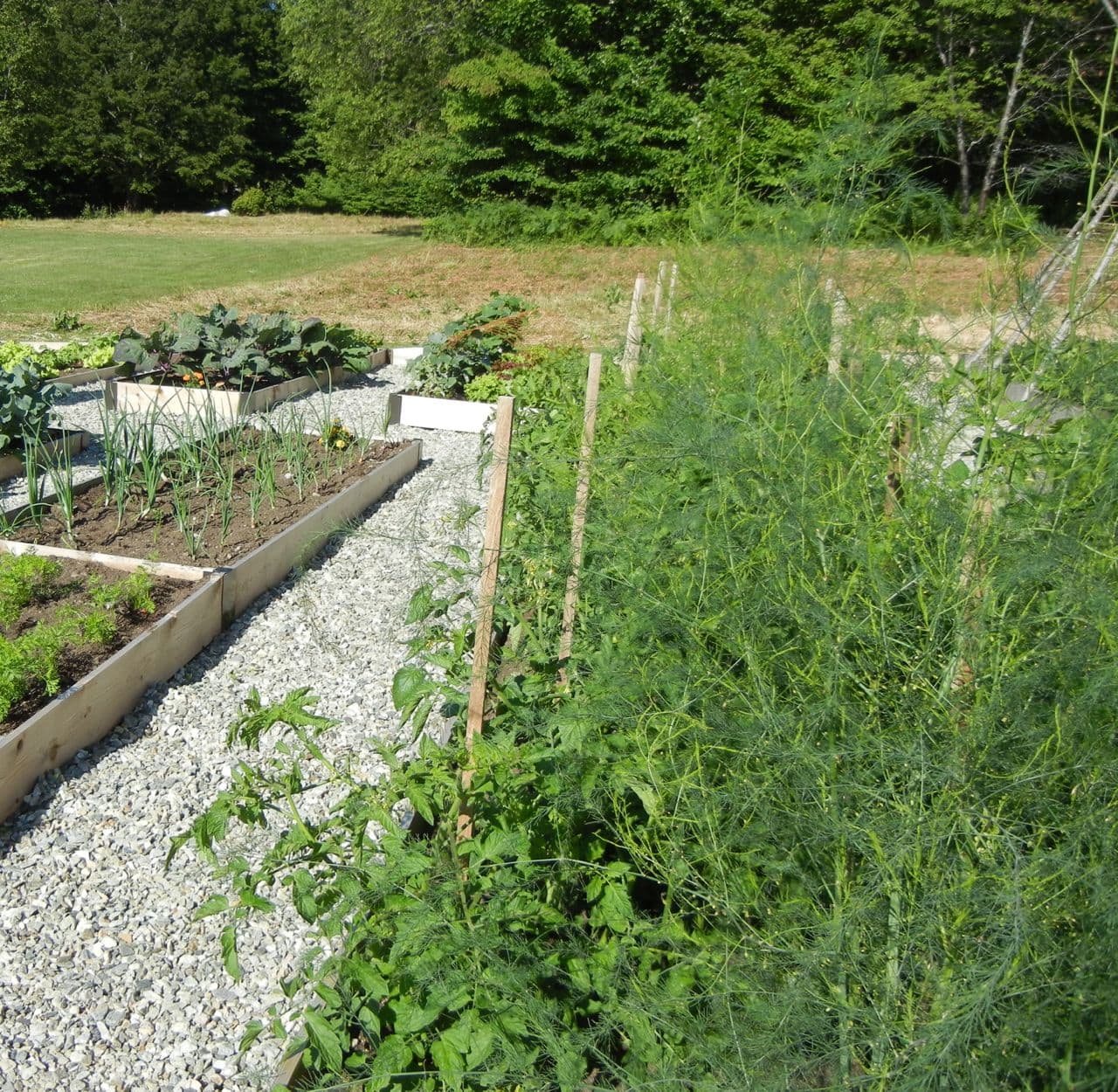 I had to (try to) capture this awesome flower. There was a small cluster of them, and I'd never seen them before. Anyone have any idea what kind of flower it might be? The color and texture is awesome!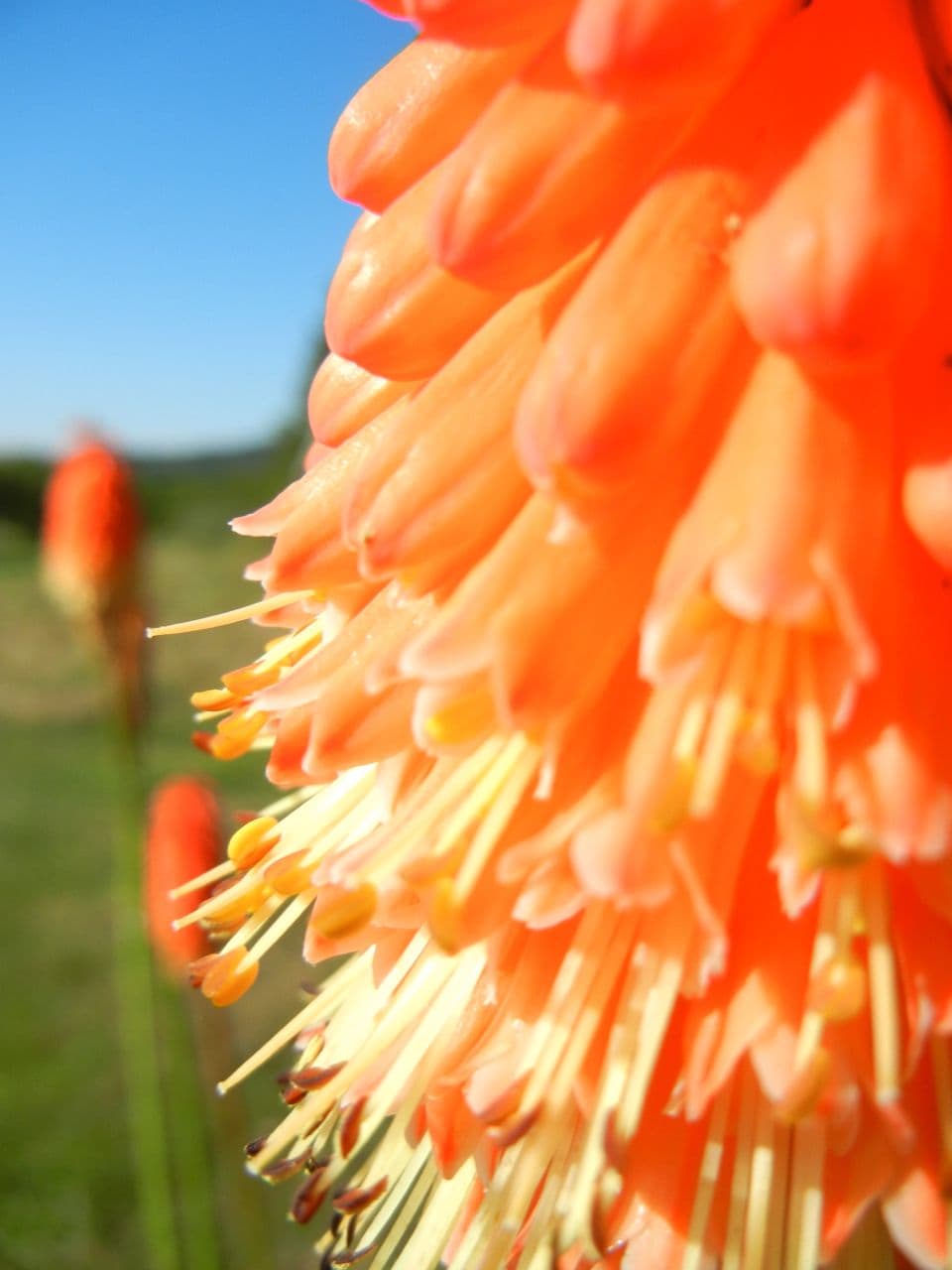 I headed back in the house to start getting ready for breakfast. We all enjoyed a cold mimosa - garnished with a fresh strawberry, of course! It's all about the little details… especially on a weekend retreat with all women. We notice that kind of thing! We scrambled eggs, fried up some bacon and dug into some fresh fruit. After we were all satiated, we got into our bathing suits and headed down to the pond to zip line and lounge on the pool floats. The fountain I mentioned earlier keeps the water so fresh and clear, and I could have easily spent all day there.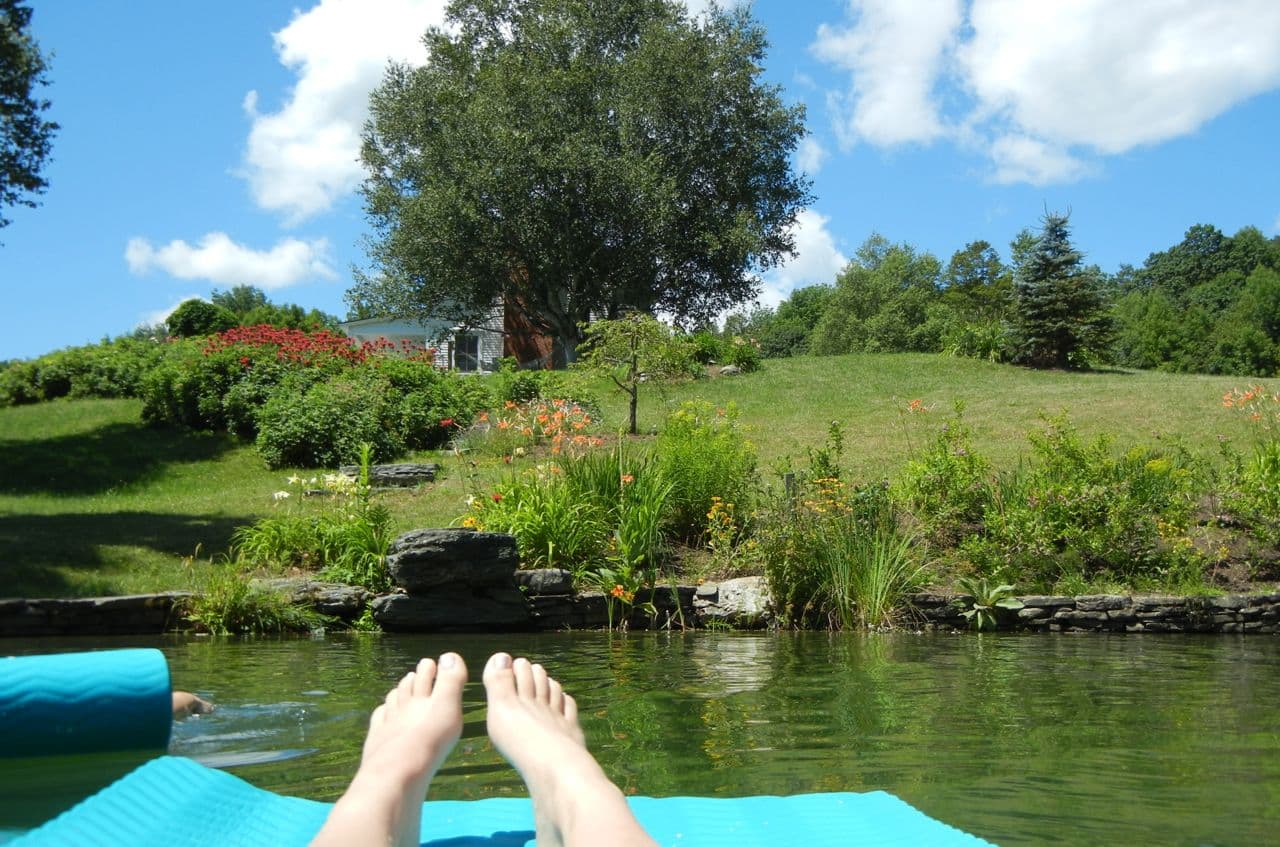 I think McGee could have spent all day there too. He was in and out of the water all weekend long.
And again, I avoided the frogs at all costs, while trying to capture them on film my SD card.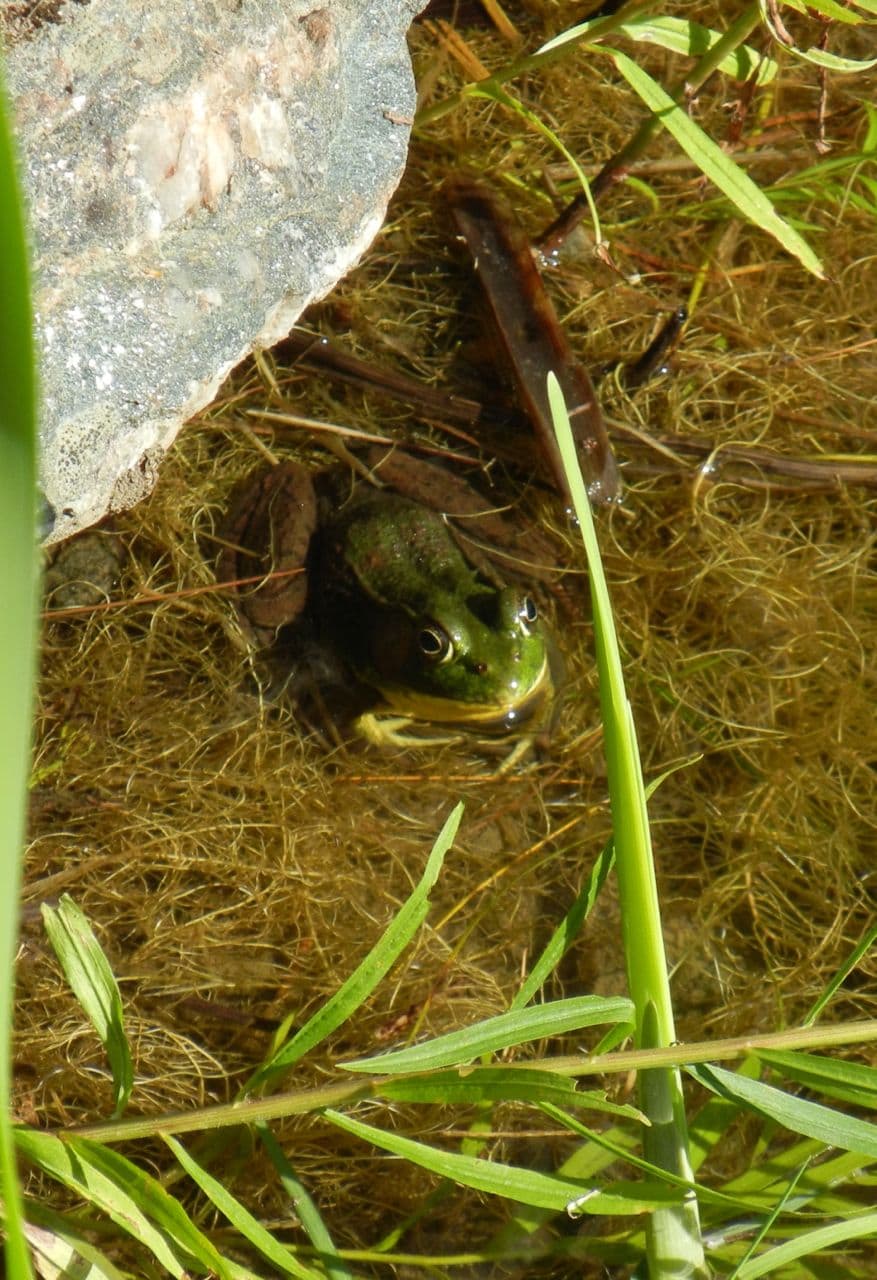 After a few hours and a few beers near the pond, we all switched into comfortable clothes and drove to the nearby mountain. We wanted to try the mountain coaster - a roller coaster of sorts that the mountain runs in the off-season. I rode with my baby sister and we tried to capture the moment. Cue my pseudo-scared/excited face and Kim's peace fingers.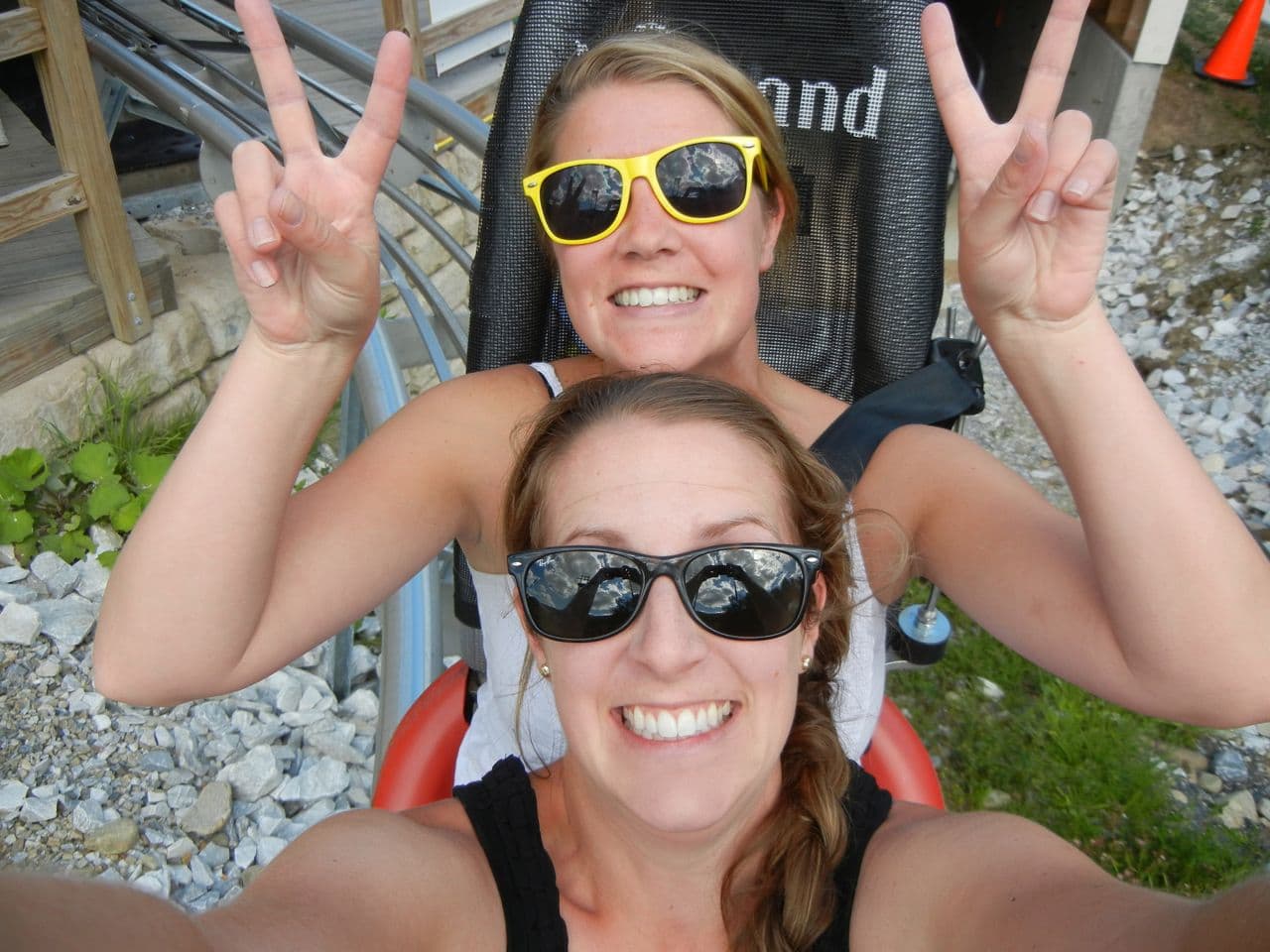 The coaster was so much fun. You have the ability to control your speed and of course, my sister wanted to go full-throttle the whole way. We were screaming our faces off and probably annoyed the whole mountain. But, we had a BLAST. On the way back to the car after walking around a bit, we spotted a "Big-Air Bag." We tried to get my other sister to do it, but she claimed a fear of heights. Three girls in our party were brave enough to try it, and it made for awesome pictures. Here's our friend Diane launching herself off of the platform to the bag below. This is a married woman with a child, mind you. What a fearless bad-ass! Love it.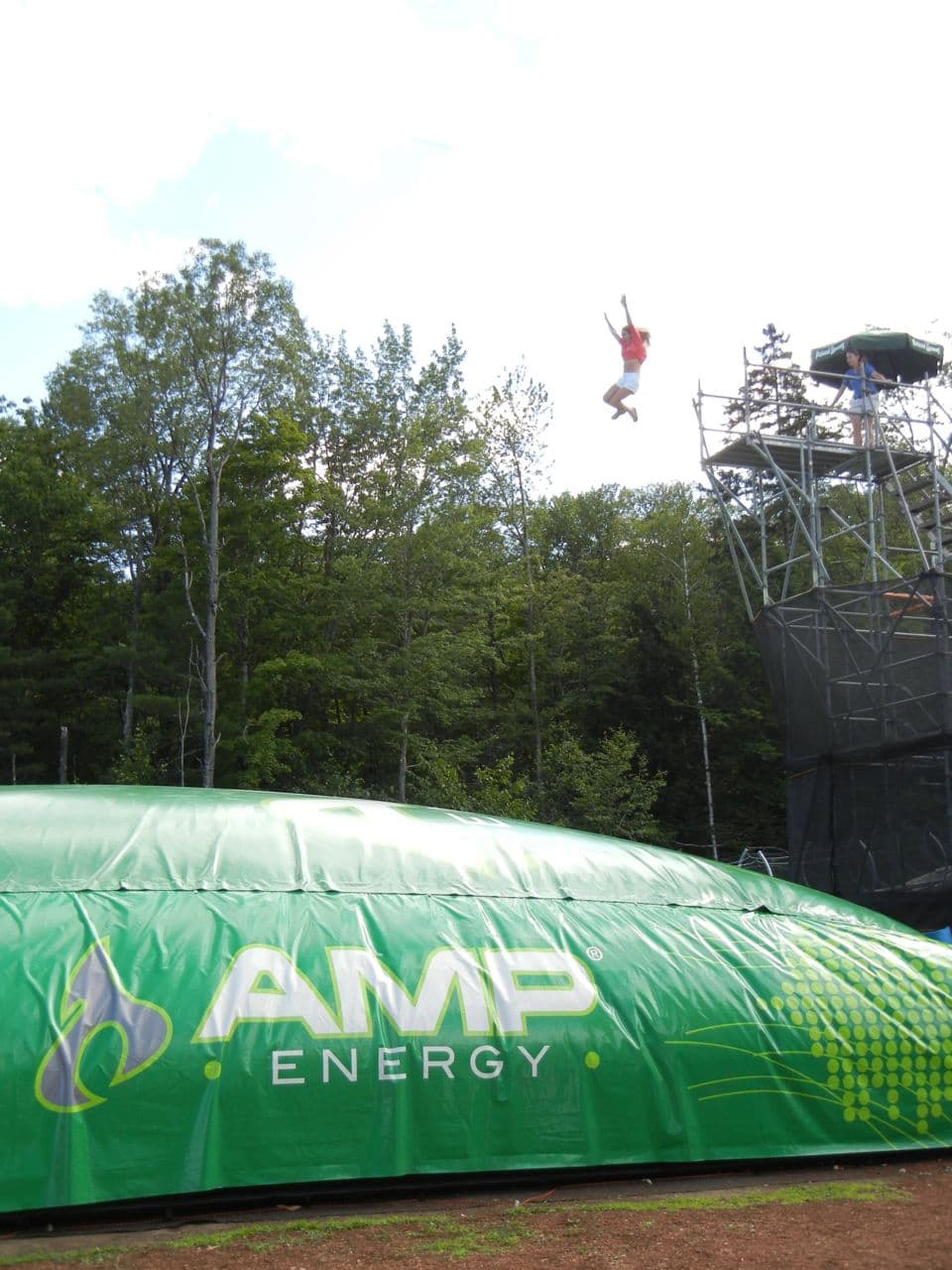 We spent our Saturday evening primping, listening to ridiculous Pandora stations, playing drinking games, dining out and then hitting up a local bar with a dance floor to get loose. We let our crazy hang out. All 9 of us tore it up to some sweet tunes, causing incessant gawks from the townies that were given quite a show. You know they loved it. As you can imagine, I won't be posting any pictures of the nighttime festivities. Too much bumping for my PG-rated blog ;)
We awoke surprisingly early on Sunday morning for bagels and the hysterical post-evening chatter that accompanies a really fun night out. Some of us were delirious from very little sleep and decided to put on a gymnastics show… dead sober. I love these girls.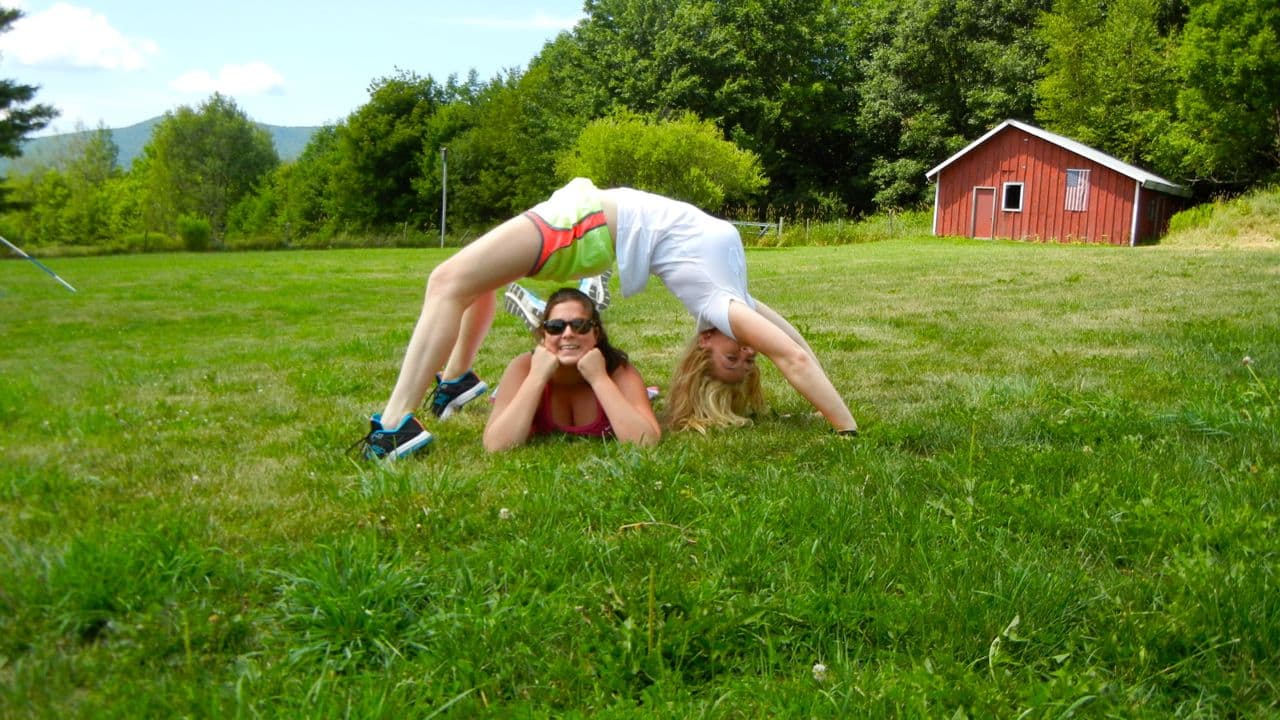 We ended the trip with a PG-rated group shot that (in my humble opinion) showcases some beautiful, relaxed women basking in a weekend away in the Vermont countryside. A MAJOR thank you goes out to the generous, loving, sweet family that allowed us the use of such a gorgeous slice of America. To my ladies of the weekend: thanks for turning three days away into what felt like a mini-vacation. Girls rock!