When we last left off in Colorado, Part 1, I was exhausted from hiking with psycho dog, full from all of the delicious beer and food, (mostly beer) impressed with my furniture lugging skills, and very excited for our impending trip into the mountains. Matt and I are not tremendous skiers…well…let's be honest here. By "not tremendous" I mean I'm intermediate and Matt had been skiing once before. Once(!!!) This past winter. Remember? When the East Coast had NO snow. So yeah, all things considered, the kid deserves credit because he was rearing to go and had a great attitude. Wasn't nervous at all. We were both really excited to ski out West for the first time. AND we saw this inspirational sticker in Denver the night before we left.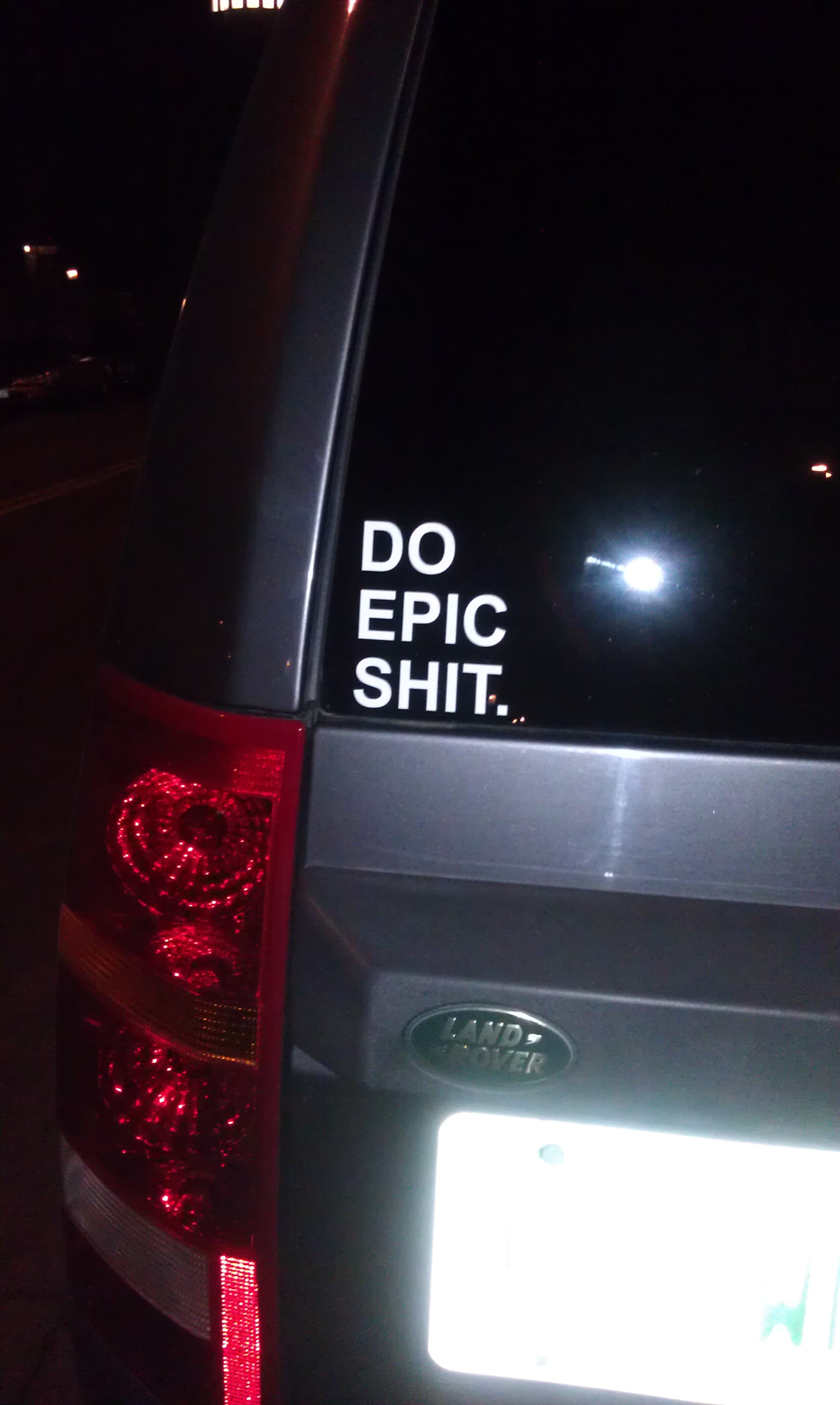 Clearly, it was a sign to tear it up. We rented a Suburban (which Matt wants to buy now - he was in love) and the 6 of us piled in and drove West marveling at the mountains and Draw Something the whole trip. I know all of our attention should have been focused on the view, but that game is addicting and my sisters hadn't tried it yet! We were staying in Vail so we gave ourselves two hours to get there. We stopped in Idaho Springs to check out the historic gold rush artifacts for Gatorades and candy and decided to drive a little out of the way so that we could stop at the Continental Divide. Matt and I were psyched.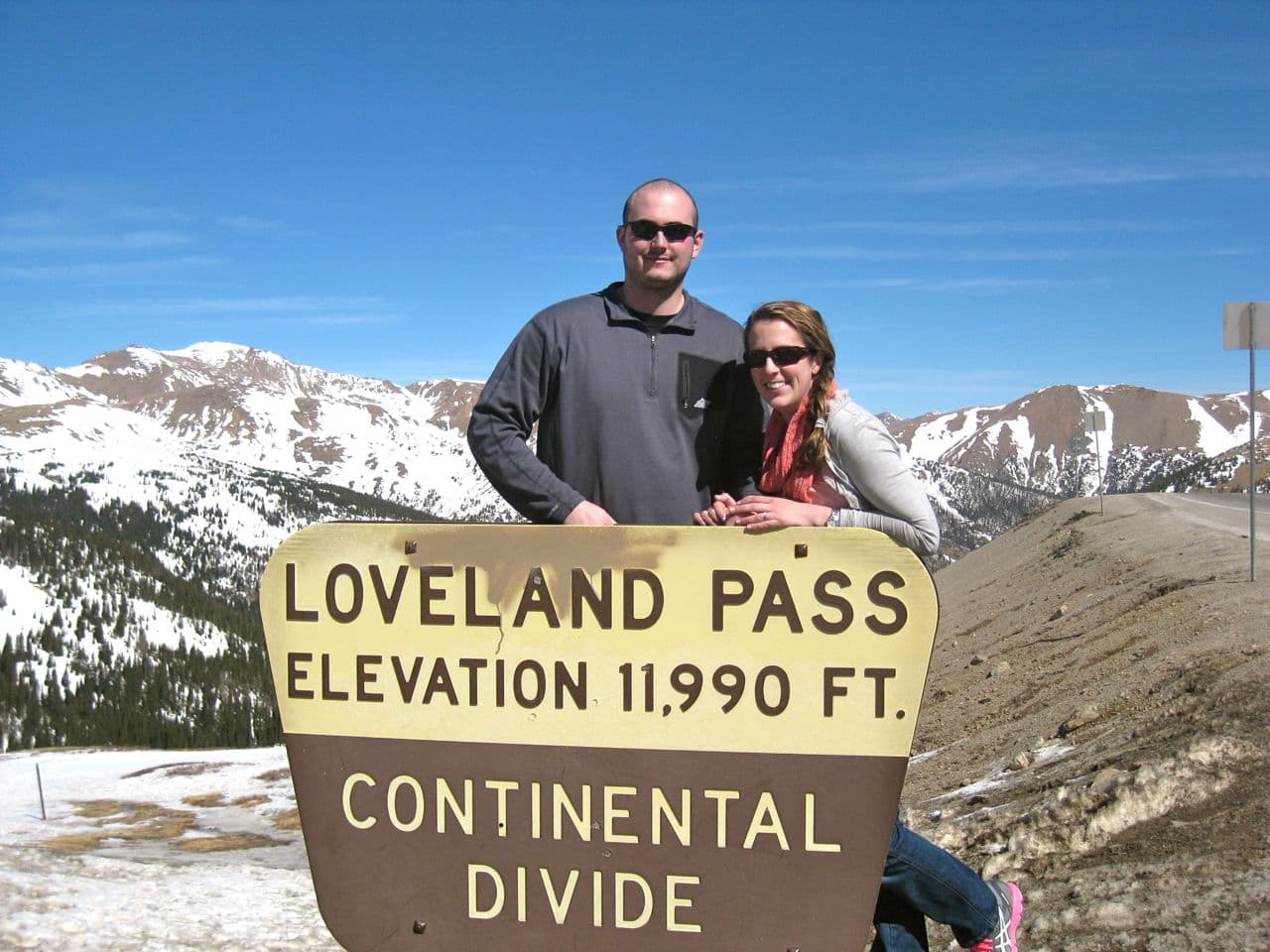 …and a sister shot…or 3…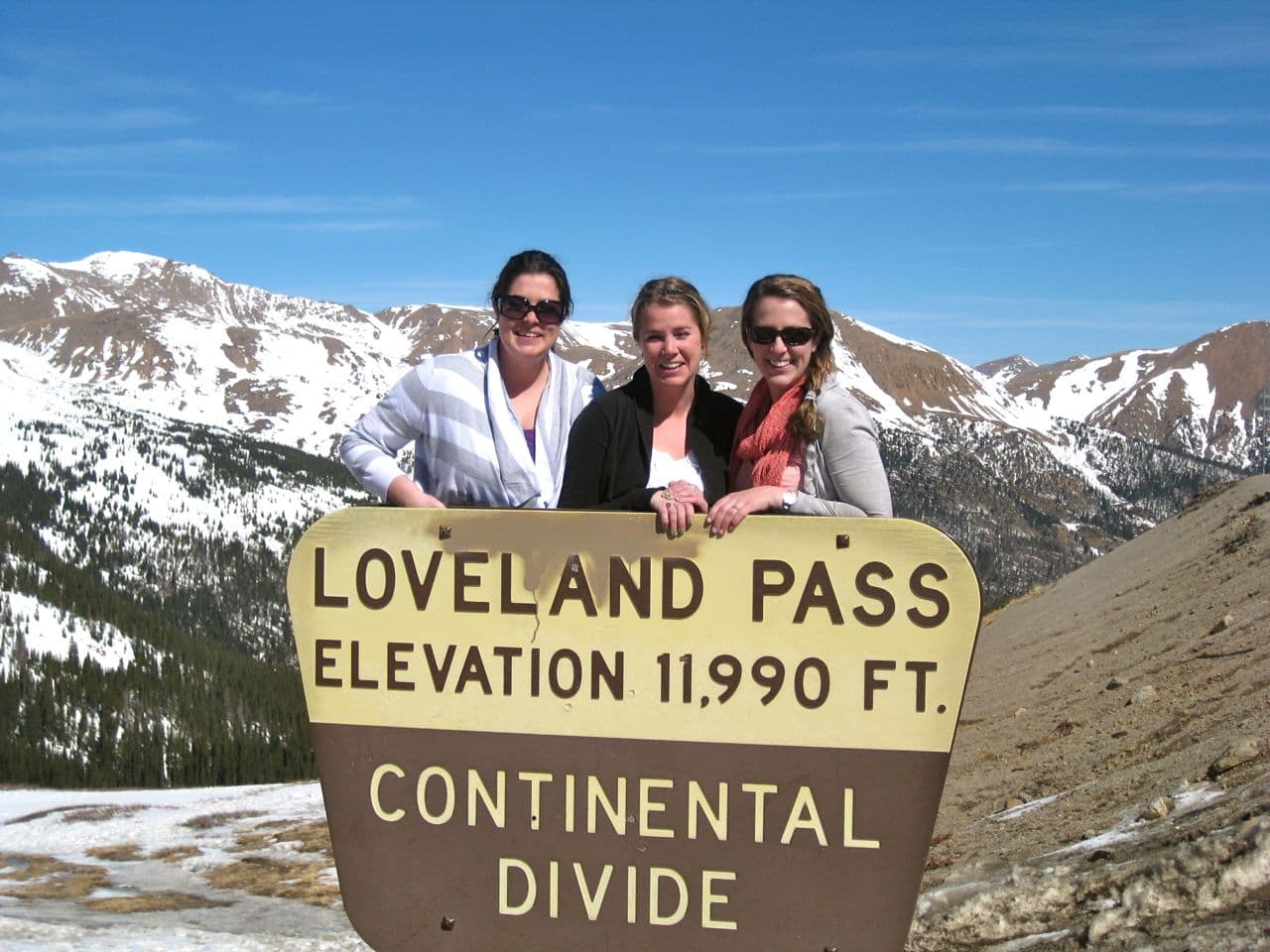 Getting silly…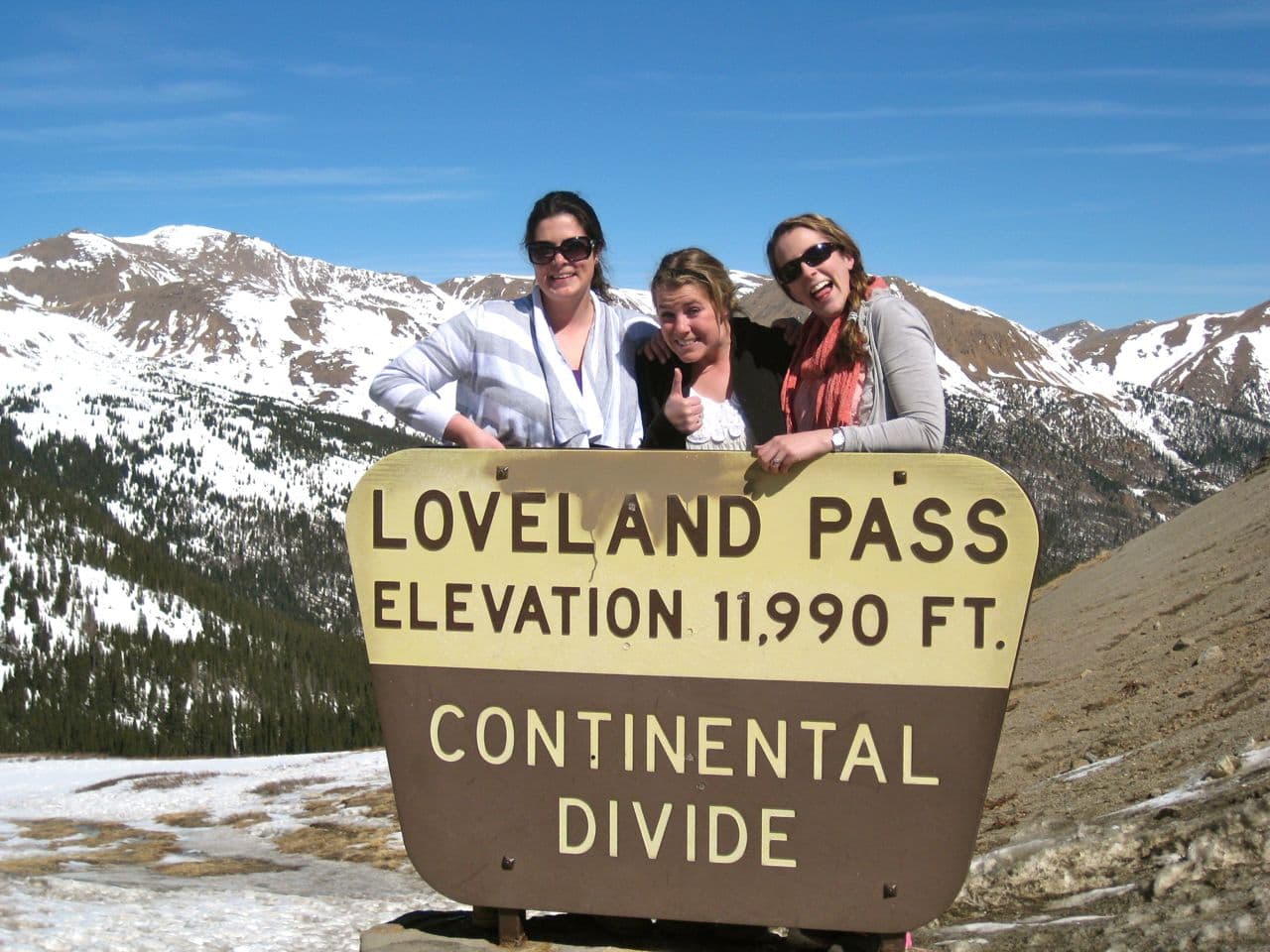 Getting sillier…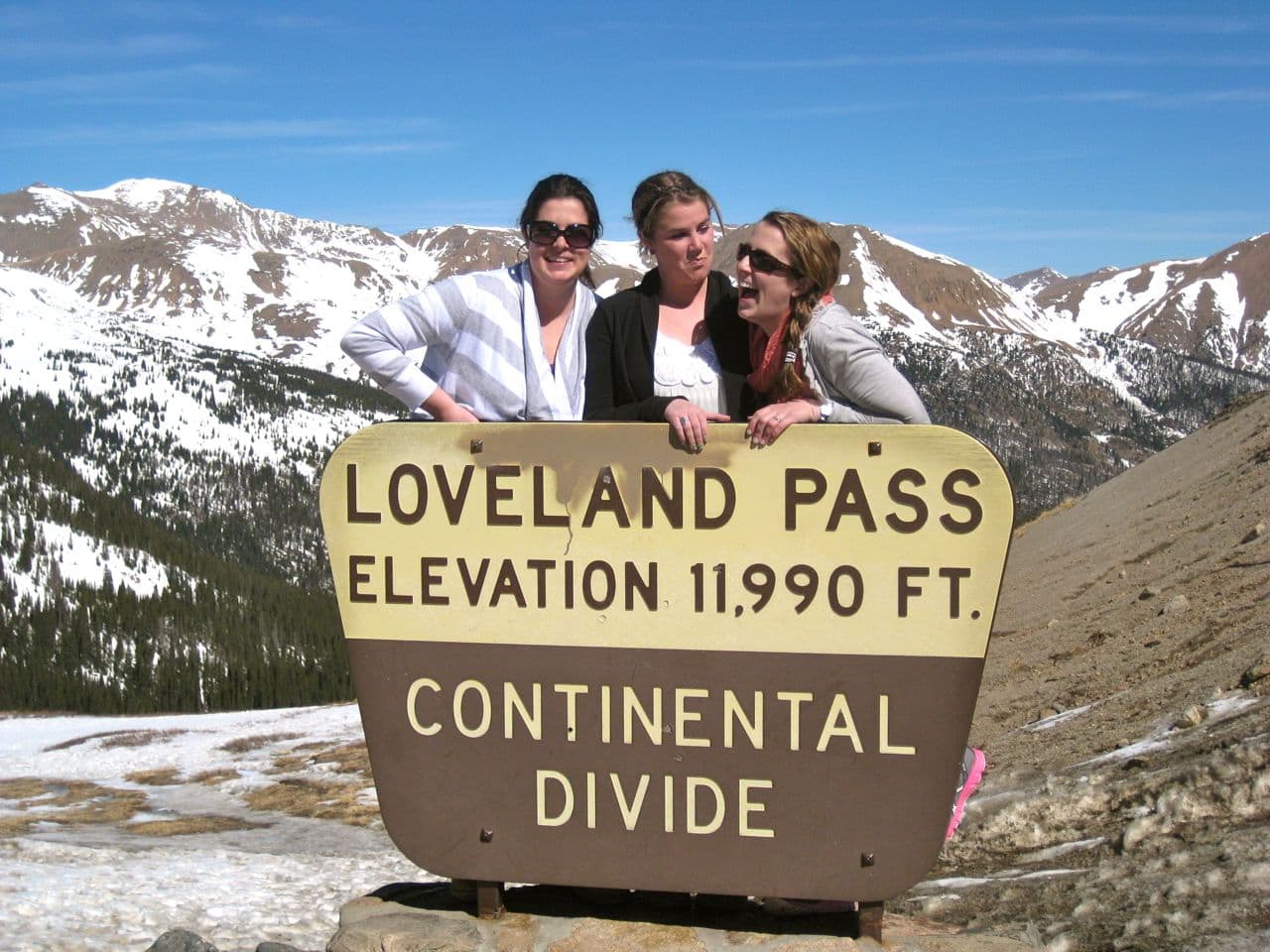 That was a real laugh, by the way. After a sufficient number of pictures were taken, the boys and I marveled a bit at the tankers going up and over the steep grades for a few minutes. After 9/11, the tankers were forbidden from traveling through the tunnels because it was a possible threat. The idea of those gorgeous mountains crumbing down as a result of people trying to take our country down makes me shudder.
We snapped one picture looking out on the other side of the Continental Divide, and we were off.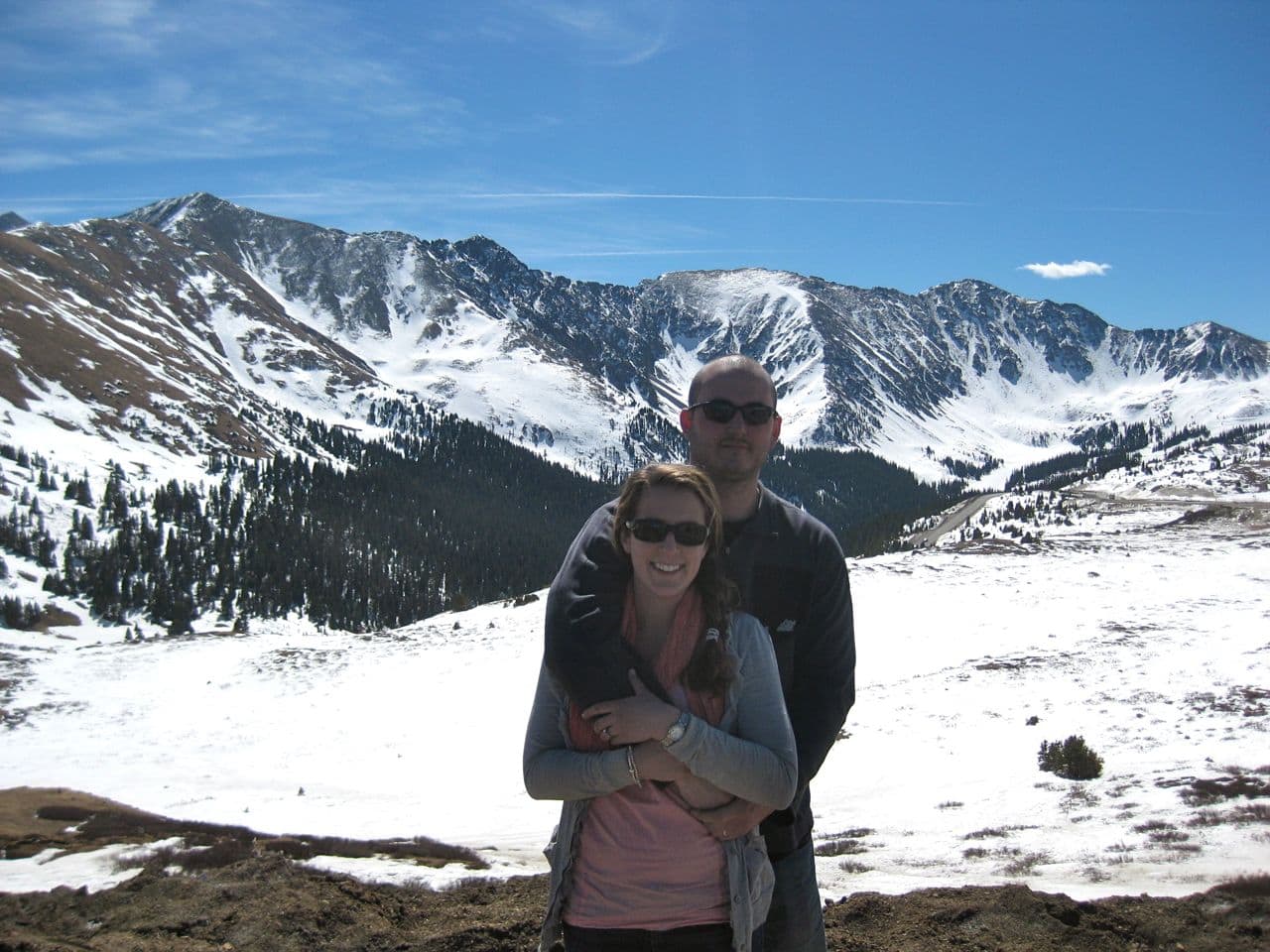 With all of us piled back in the 'burban, we headed through a few more mining towns en route to Vail. We pulled up to our hotel and my jaw dropped. It was one of the most beautiful hotels in which I've ever had the opportunity to stay. We stayed at The Arabelle at Vail Square, which is located in the Lionshead section of Vail. The facade was breathtaking… reminiscent of timeless Swiss chalets with modern amenities. Keep in mind, I've never been to Switzerland, so perhaps reminiscent is the wrong word. I do however, keep up with where Prince William and Duchess Catherine stay in Switzerland so I know what a Swiss chalet is. Duh.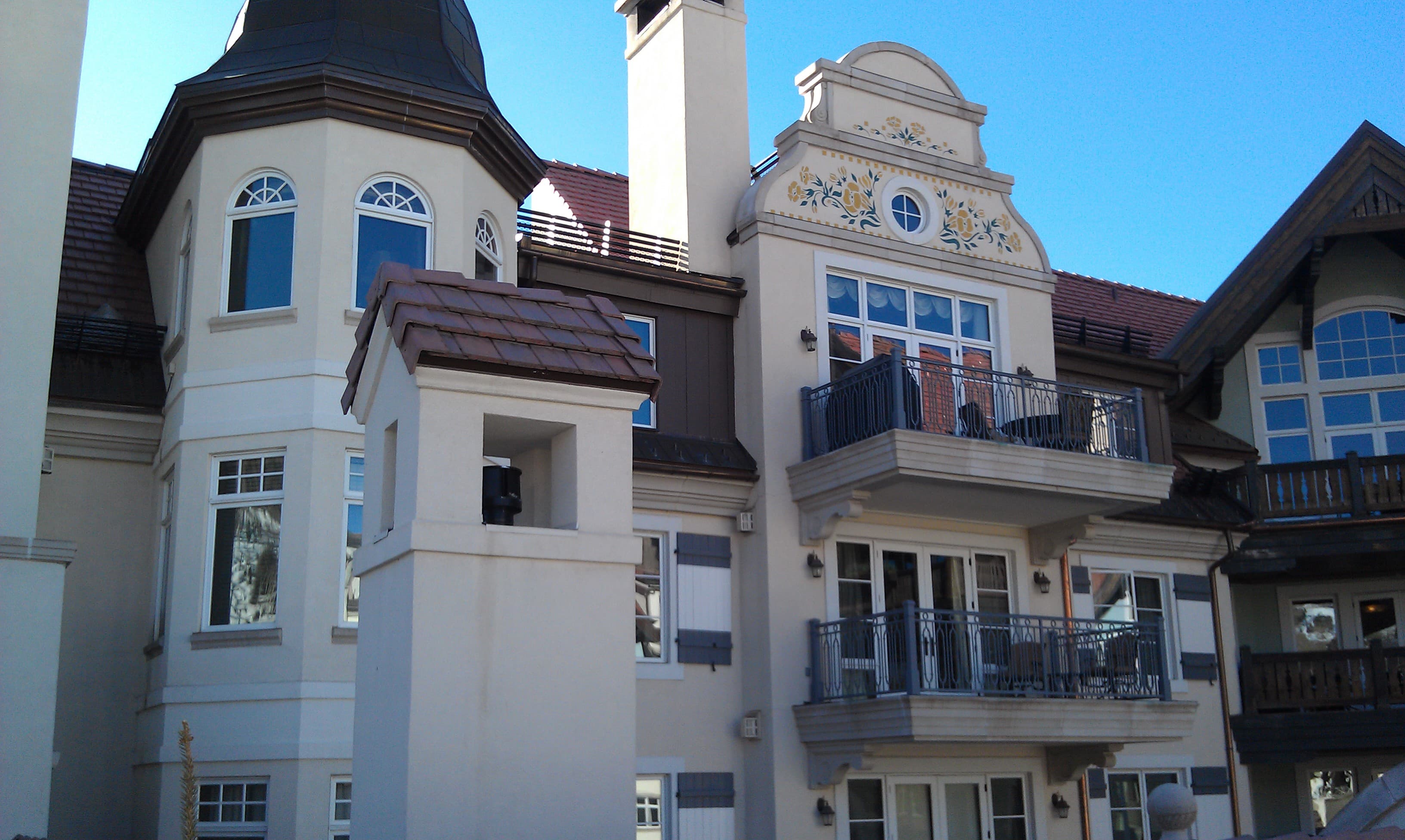 Enough Swiss talk and back to Vail. The hotel is a part of the Rock Resorts cluster of hotels. For Vail junkies, they also own The Lodge at Vail. The rooms weren't ready yet, so we left our baggage with the bellhop and had the hotel's courtesy Escalade (equipped with a preppy white boy driver blasting 50 Cent…awesome) drop us off in Vail Village so we could wander around a bit.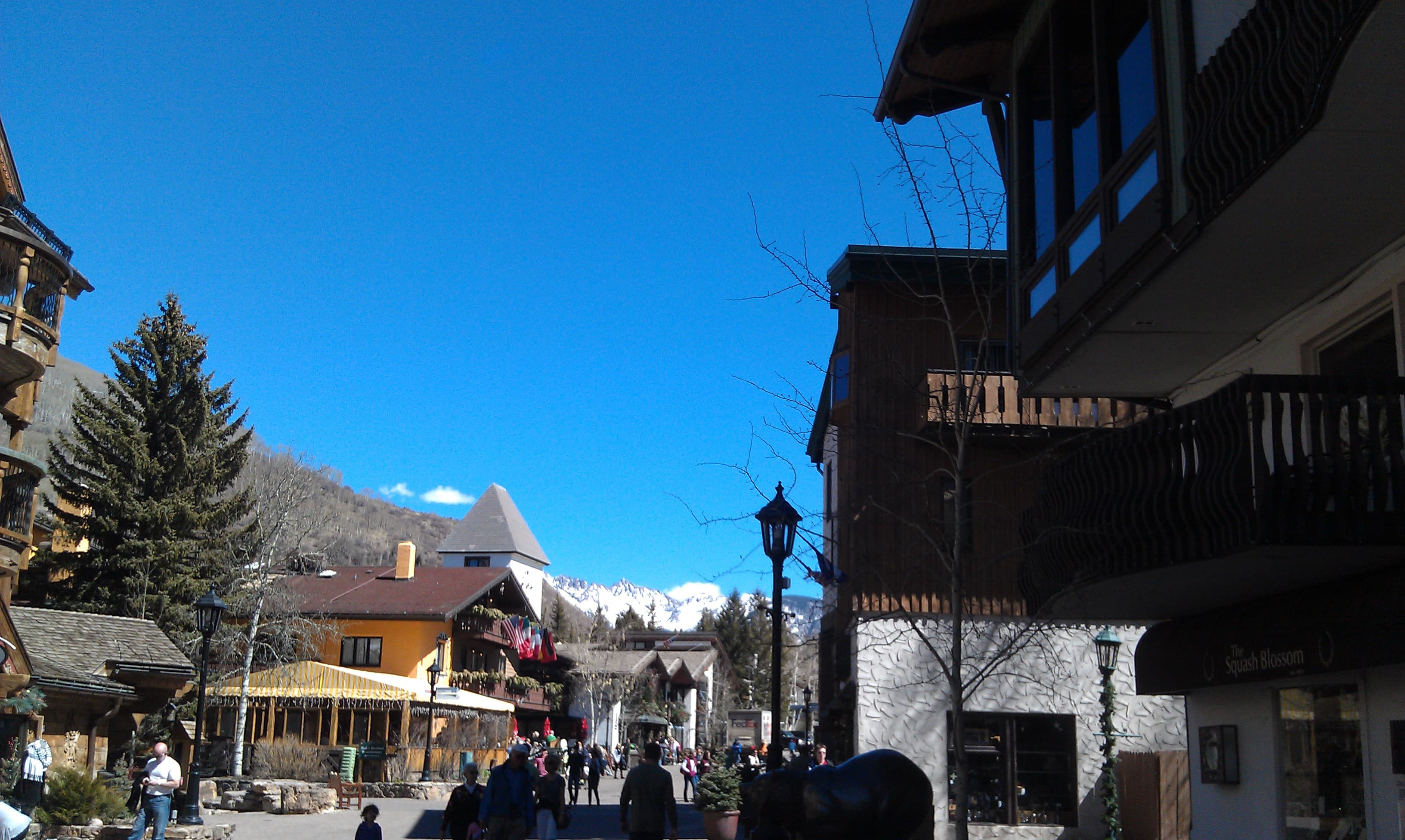 The first part of the village that we explored was pretty quiet. There were a few people on the slopes, but hardly anyone out and about. When we were there, the mountain was winding down their busy season, so it was nice to have some of the places to ourselves. Matt and Kim were hanging in the square near an ice skating rink (closed for the season) while I checked out a couple of stores.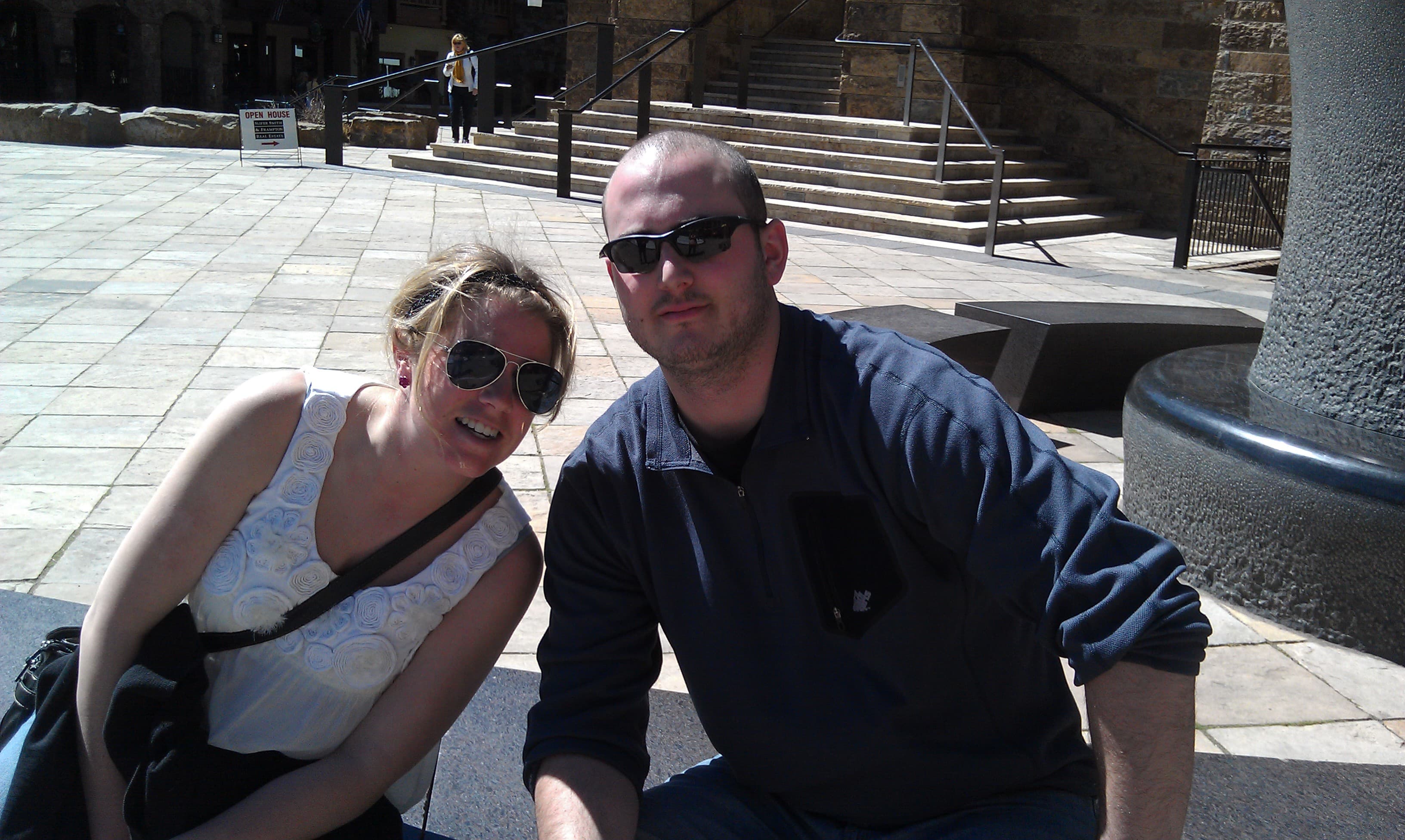 This guy was hanging out while his owner checked out some stores. Love him.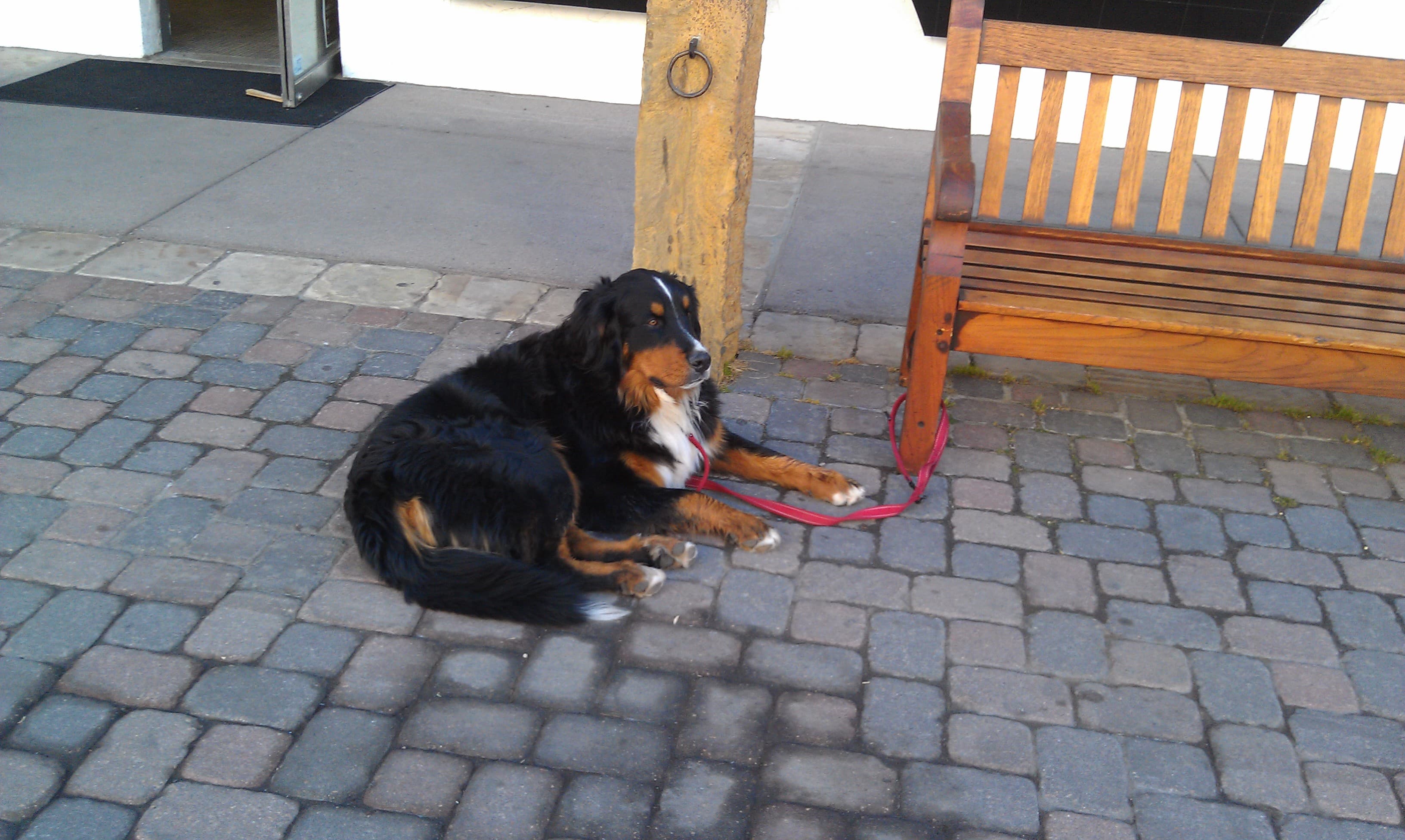 Pretty soon, our stomachs started rumbling and we were looking for somewhere to eat. We walked towards the main drag of restaurants and ran into a ton more people out and about. We settled on a Austrian pub named Pepi's. They had an outdoor patio so we were able to watch the skiers coming down the mountain and that got us all sorts of excited for the next day when we were heading to ski ourselves. We all ordered beers to kick off our stay and they were a perfect way to unwind. Cheers!
My bestie Debbie was in Vail visiting her sister the same time as us, so she joined us at the restaurant and was able to hang out for a few hours while her sister Caroline finished up her work day on Vail Ski Patrol. After lunch, we all went back to check into the hotel, so we took the shuttle back to Lionshead. We walked through the impeccably appointed lobby…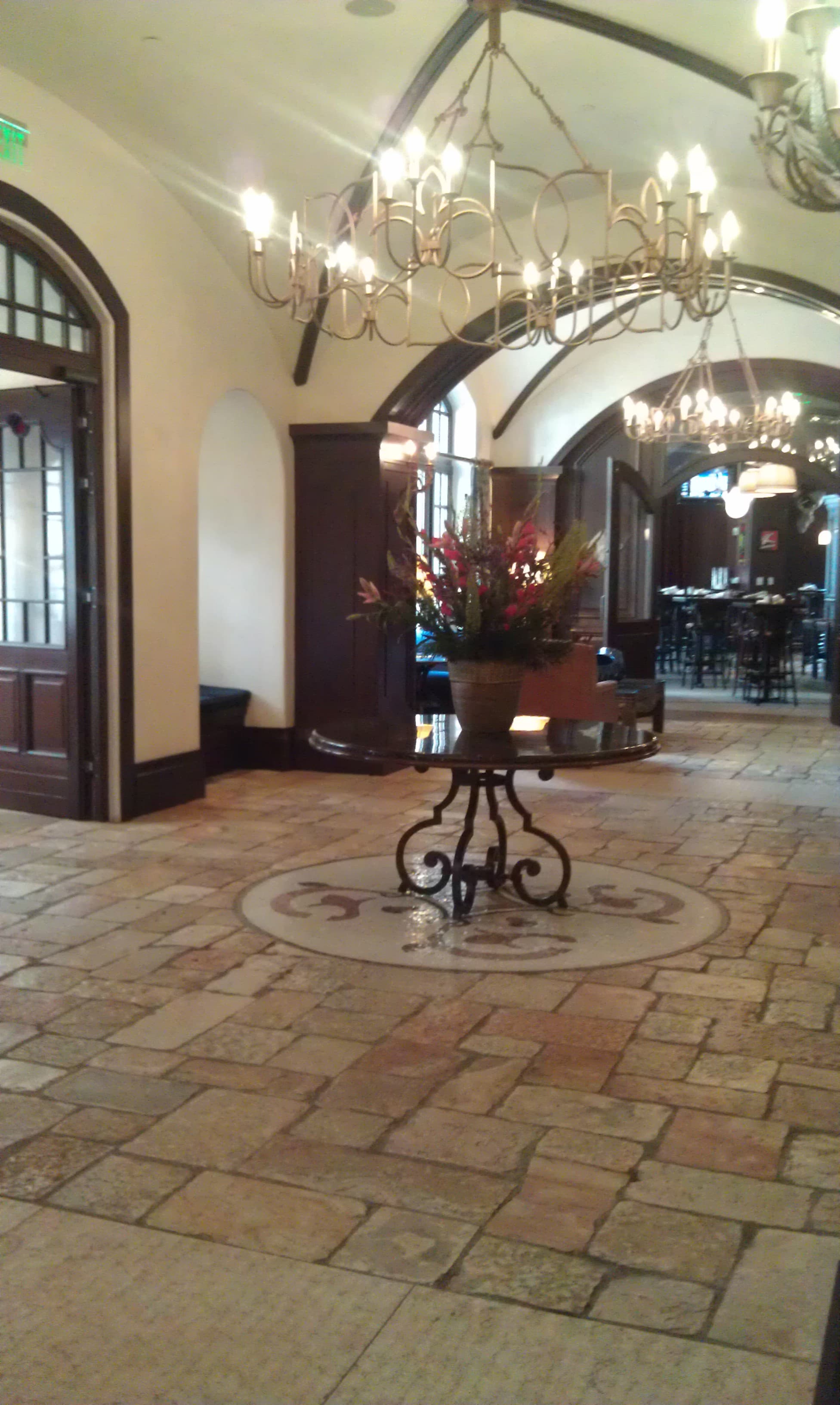 …and grabbed our room keys and headed up to the room. The room was beautiful. The hotel bathroom was the size of our bedroom at home. The bathroom had a separate water closet, flat screen TV above the huuuuuuge soaking tub and a switch for turning on the heated floors. No big deal. Here is the double door entry to the bathroom. I'm not normally a mirrored-door kinda girl, but I love them on these doors.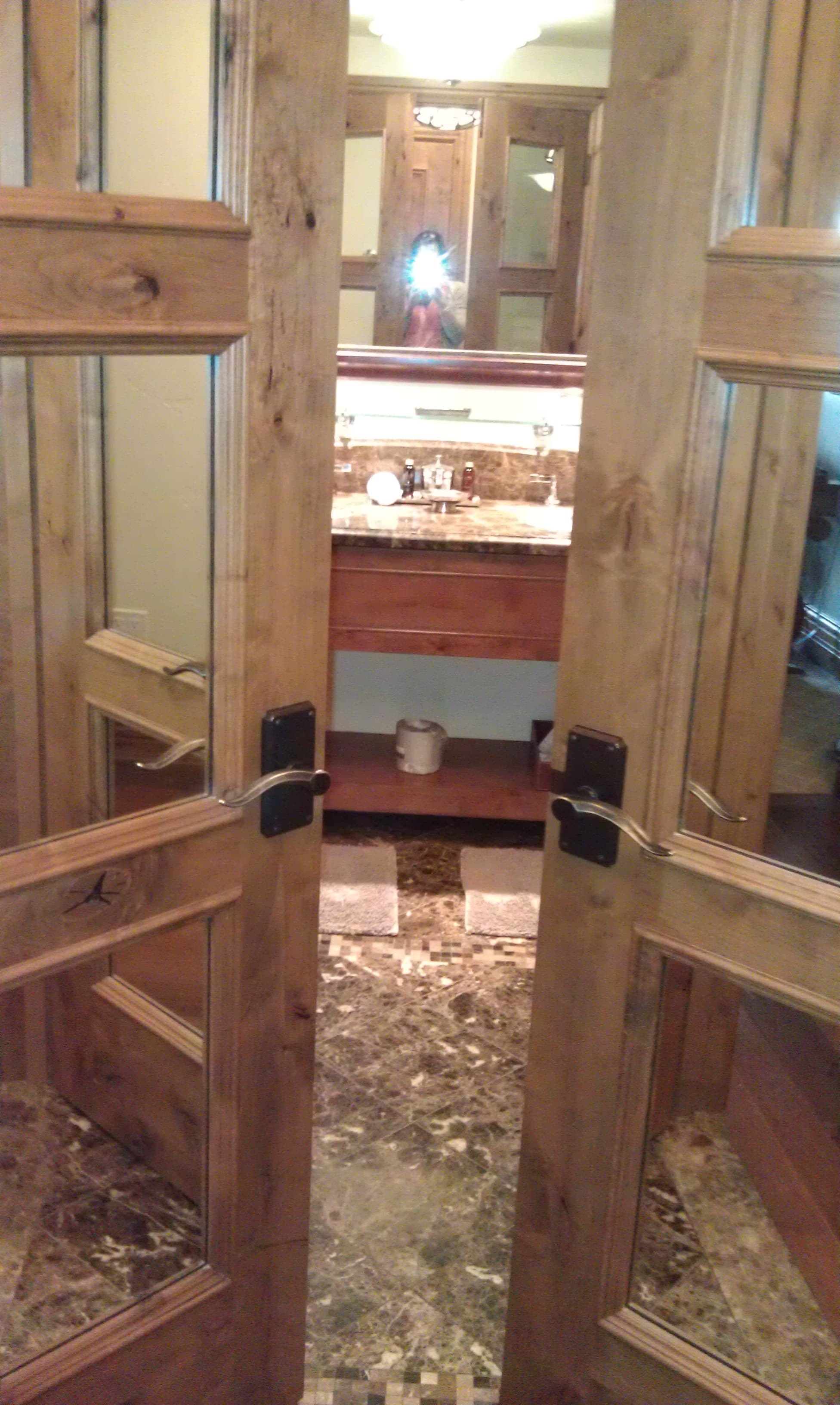 Our room also had a balcony that overlooked one of the main walking strips. Matt was in heaven. Gorgeous weather with no trace of humidity, and a chair outside in which he could relax. We drooled a bit more over the remote-controlled fireplace, huge wall of built in closets equipped with ambient lighting, and the full bar. I loved how the bed had a canopy with The Arabelle's my initial on it.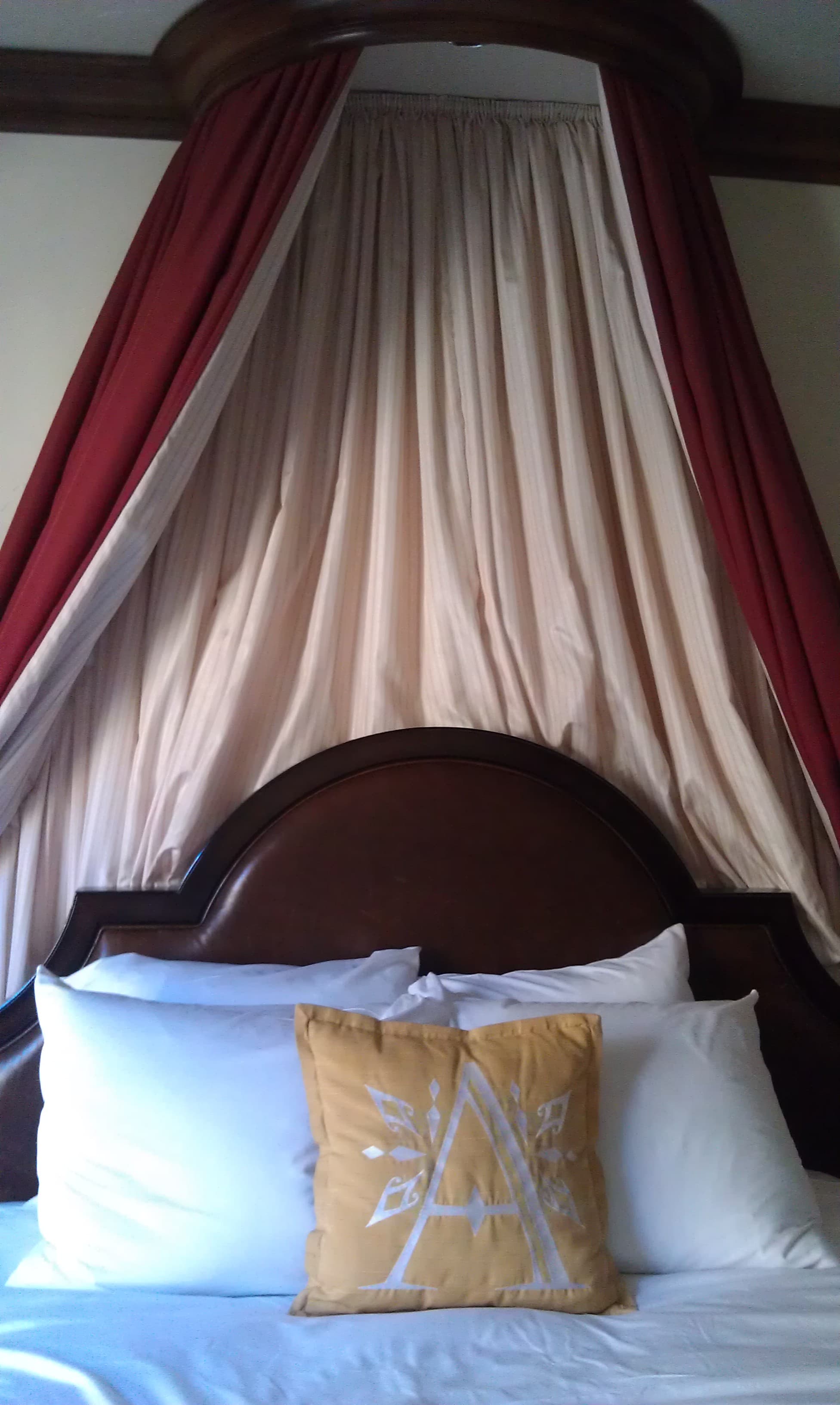 After falling a little more in love with our room, we knew we had to check out the pool to see if it was as awesome as we were expecting. It was. Debbie, Matt and I headed up to check it out. I think Deb looks pretty happy.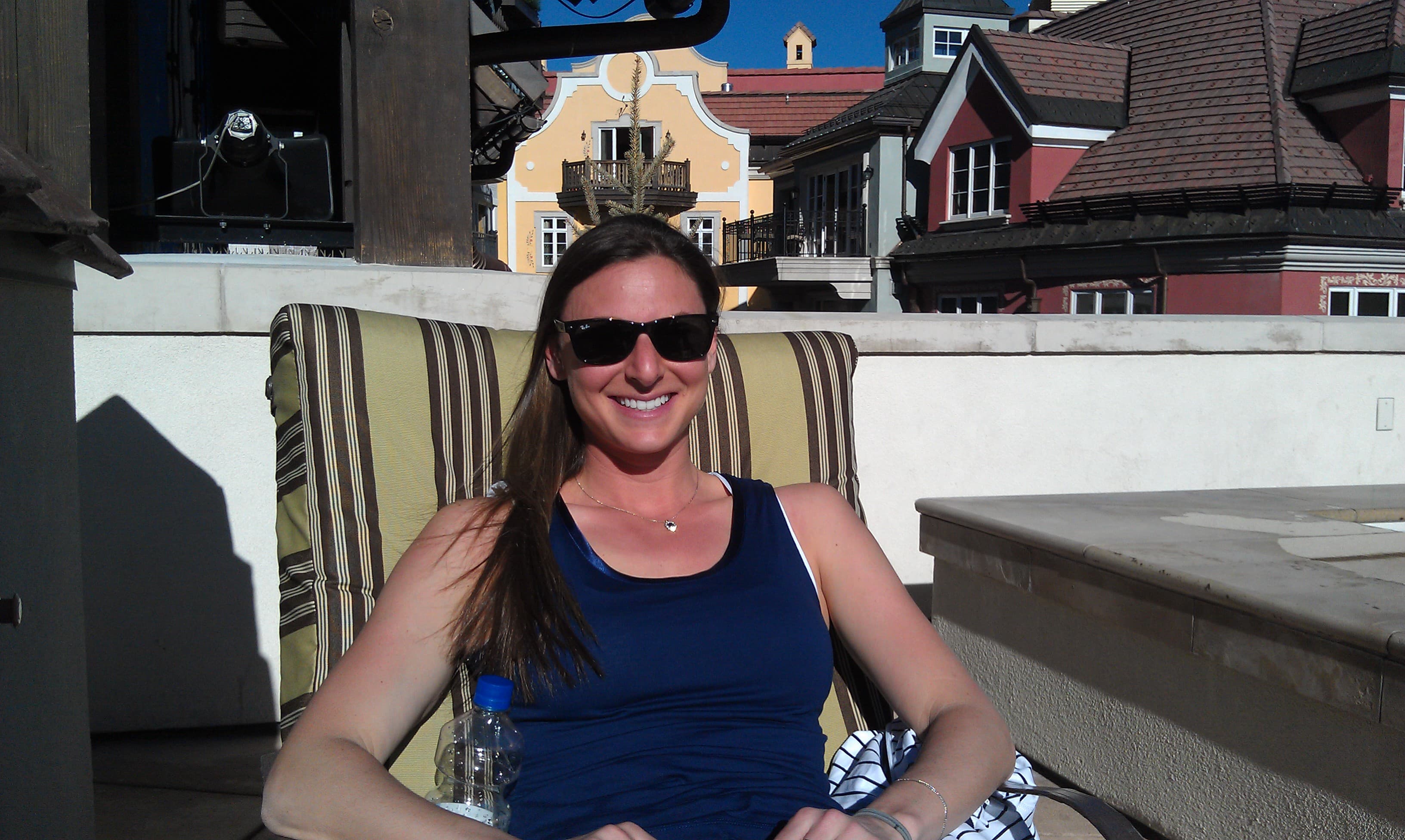 I couldn't stop taking pictures of the view from the pool!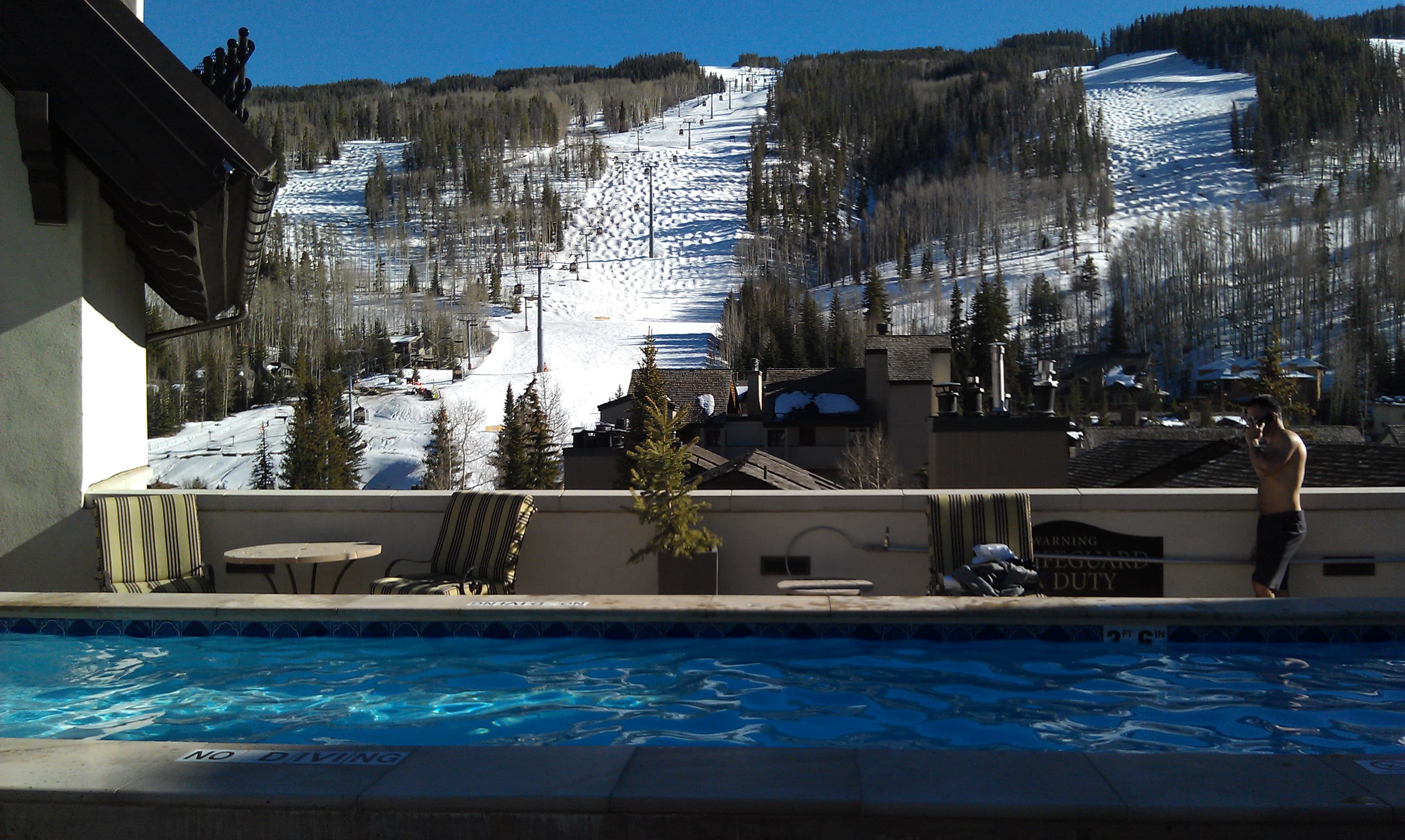 So beautiful, right? With all of our things placed in the room and with most of our ooooh's and aaahhhhh's expelled, we all wandered down to Garfinkel's and met up with Kim and Brandon to grab a drink while we waited to meet up with Caroline and her adorable puppy (and Vail Rescue dog) Mookie. Garfinkel's was a cool bar with a great view of the mountain, (shocker!) an easy vibe, and a huge deck off the back. Debbie tells me it's where all of the Vail Ski Patrol hang out, which made me feel like a local. :)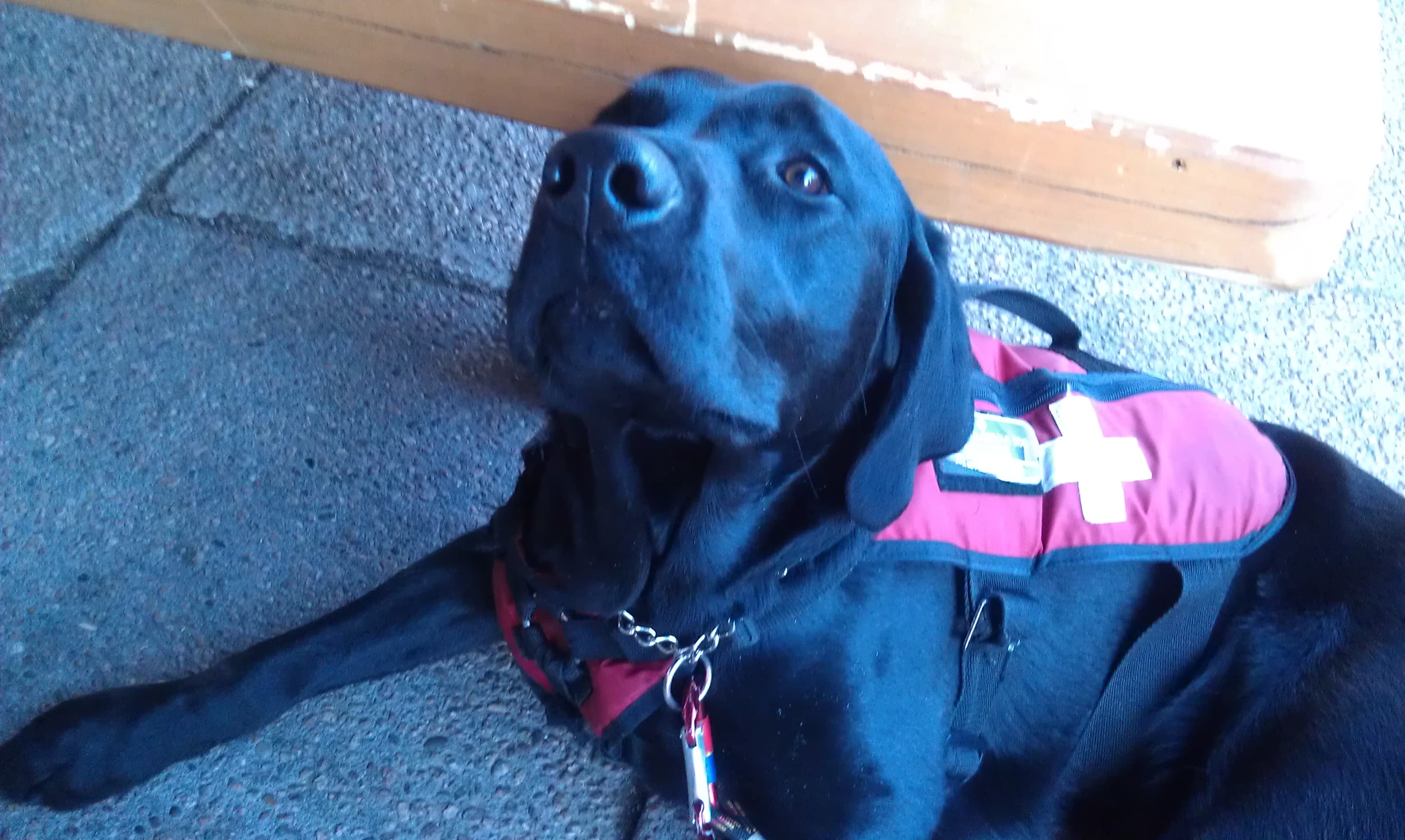 After our drinks, we decided we were ready for food again (this vacation revolved around food and drink and it was sooo fun!) so we headed to Tavern on the Square and watched some March Madness on the big screens while having our dinner. We watched a bit more of the games up in our room and then called it a night and decided to wake up around 8 to dress for the ski day! We had breakfast at the hotel restaurant again (a scrumptious brunch buffet) and then waited in a bit of a line at Double Diamond Ski Rental to get our boots and skis. Once I was fitted and set to go, I waiting outside the shop for everyone else to get fitted. You know that picture that everyone takes of their feet in the sand at the beach? This is my version: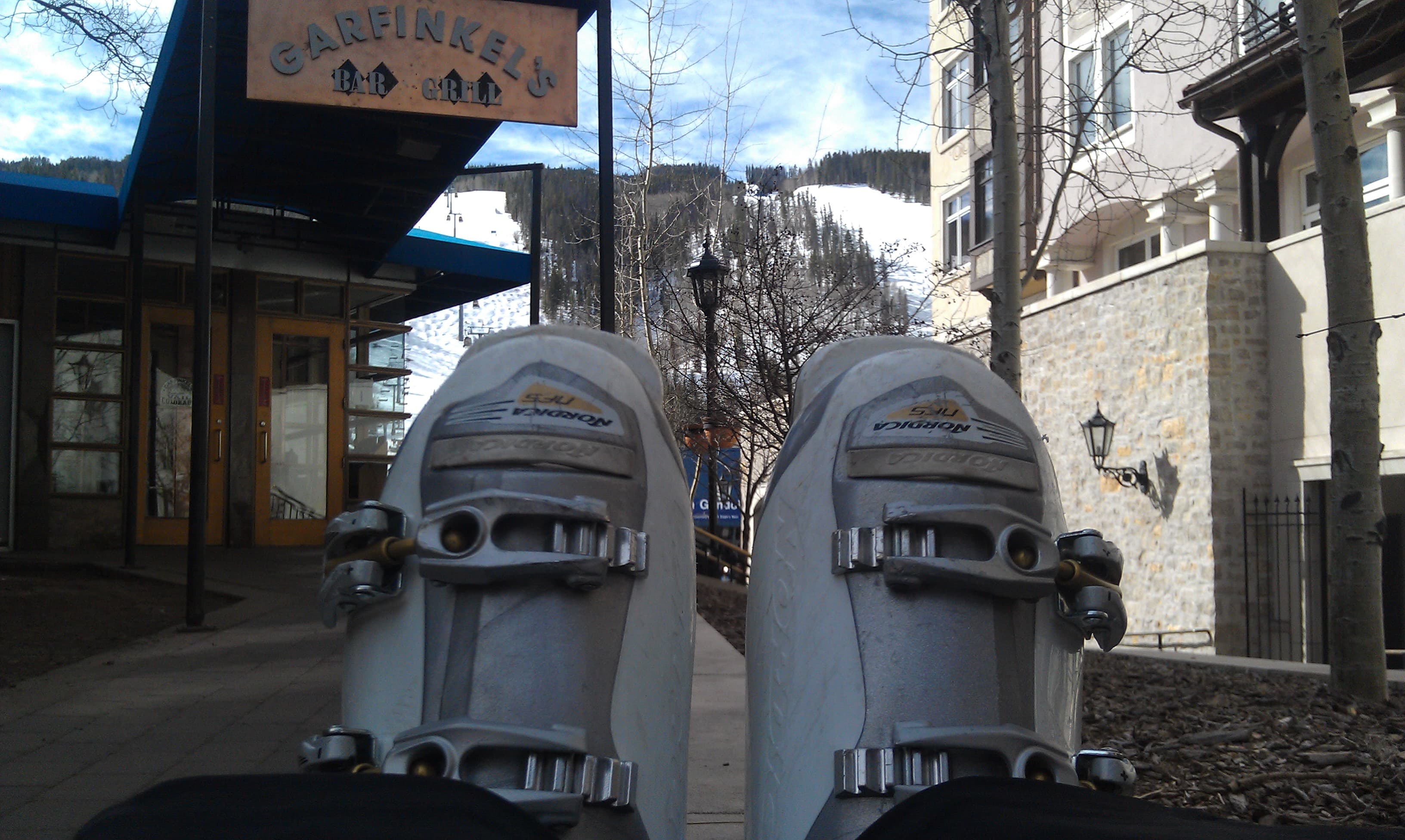 We all hopped in the gondola together and went up to take our first run! Here's my baby sister checking out the view once we got on the lift.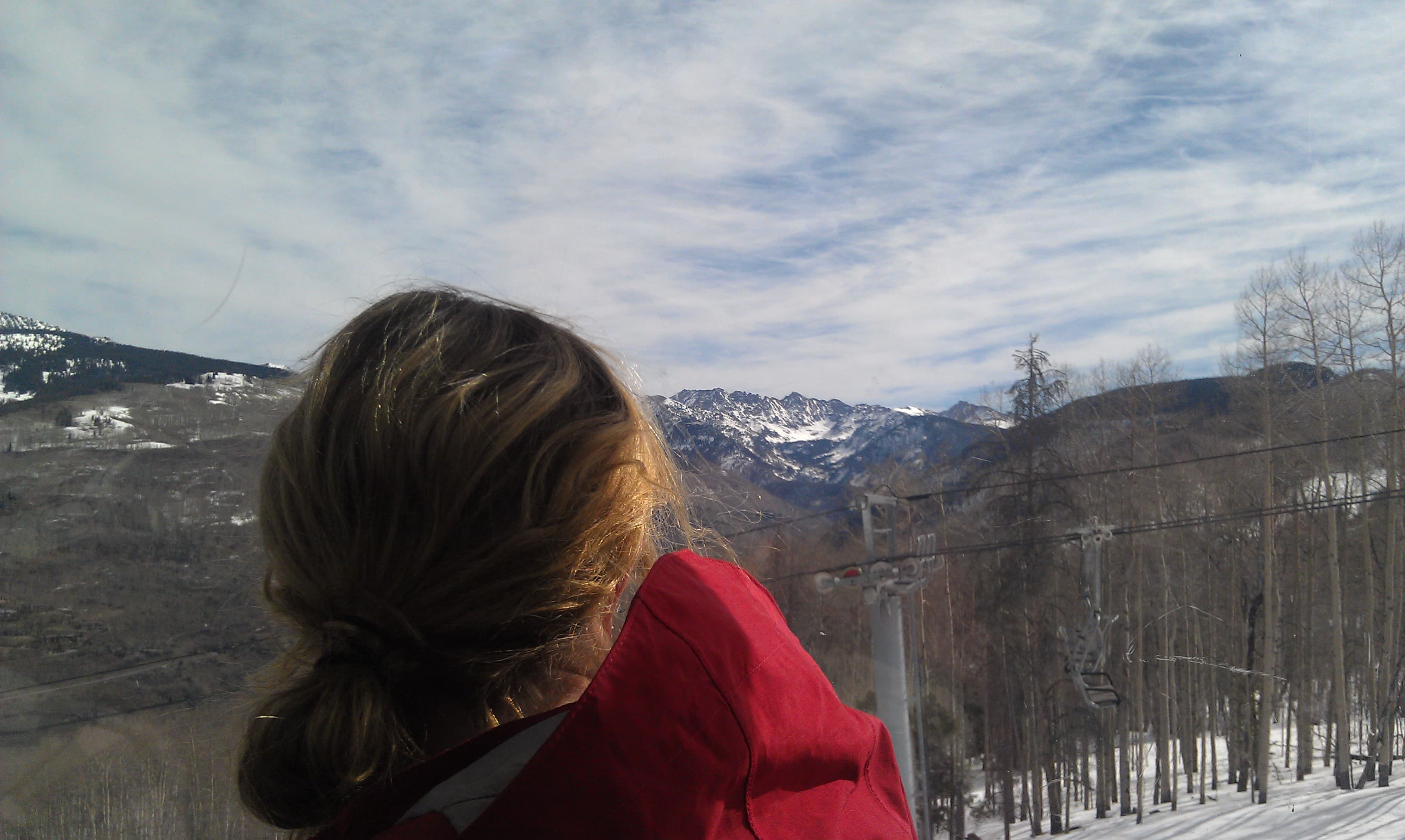 Matt and Brandon were ready to go, too. Matt totally doesn't look nervous, right?! What a trooper. AND, he skied like a pro. :)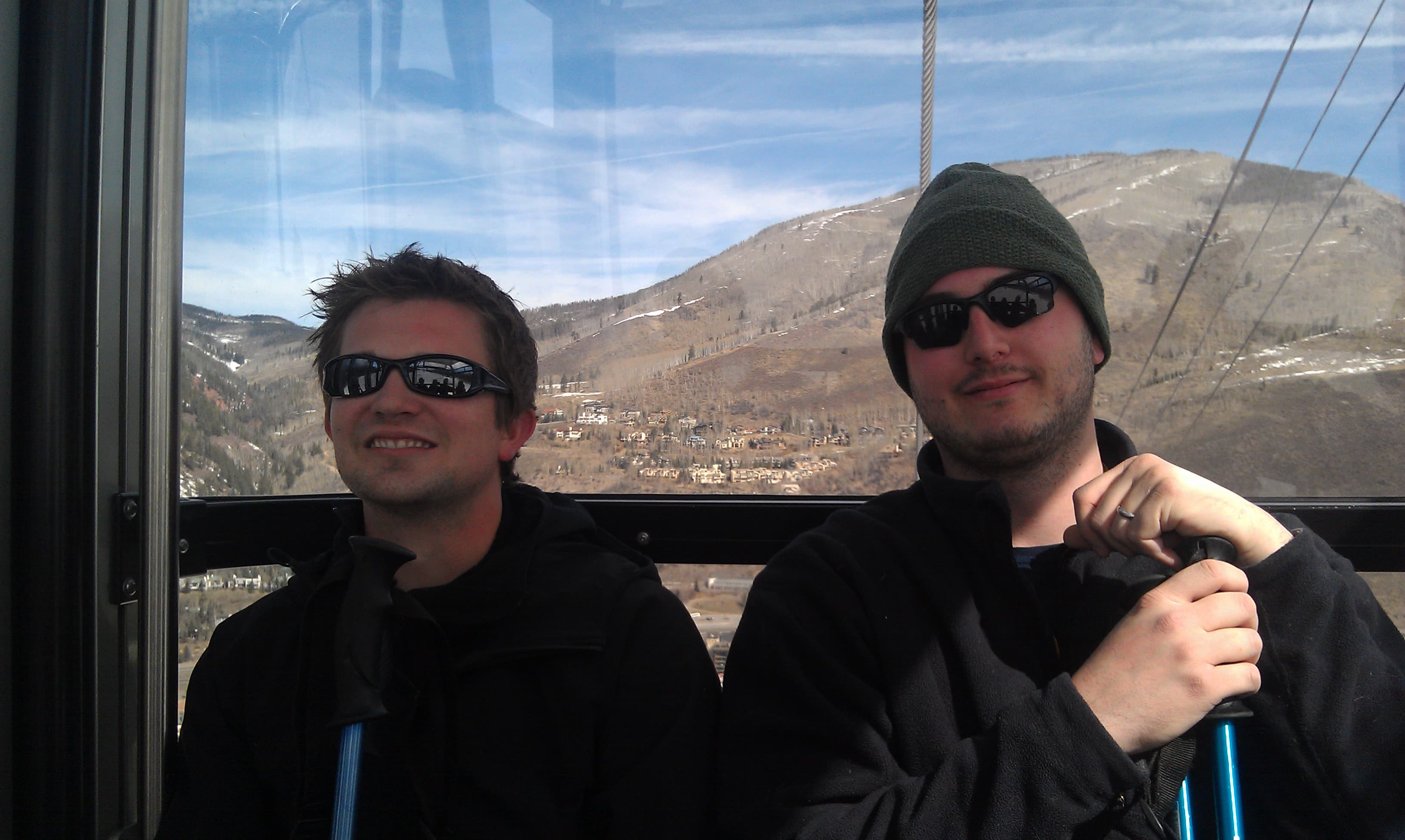 We were all dressed for colder weather at the top of the mountain…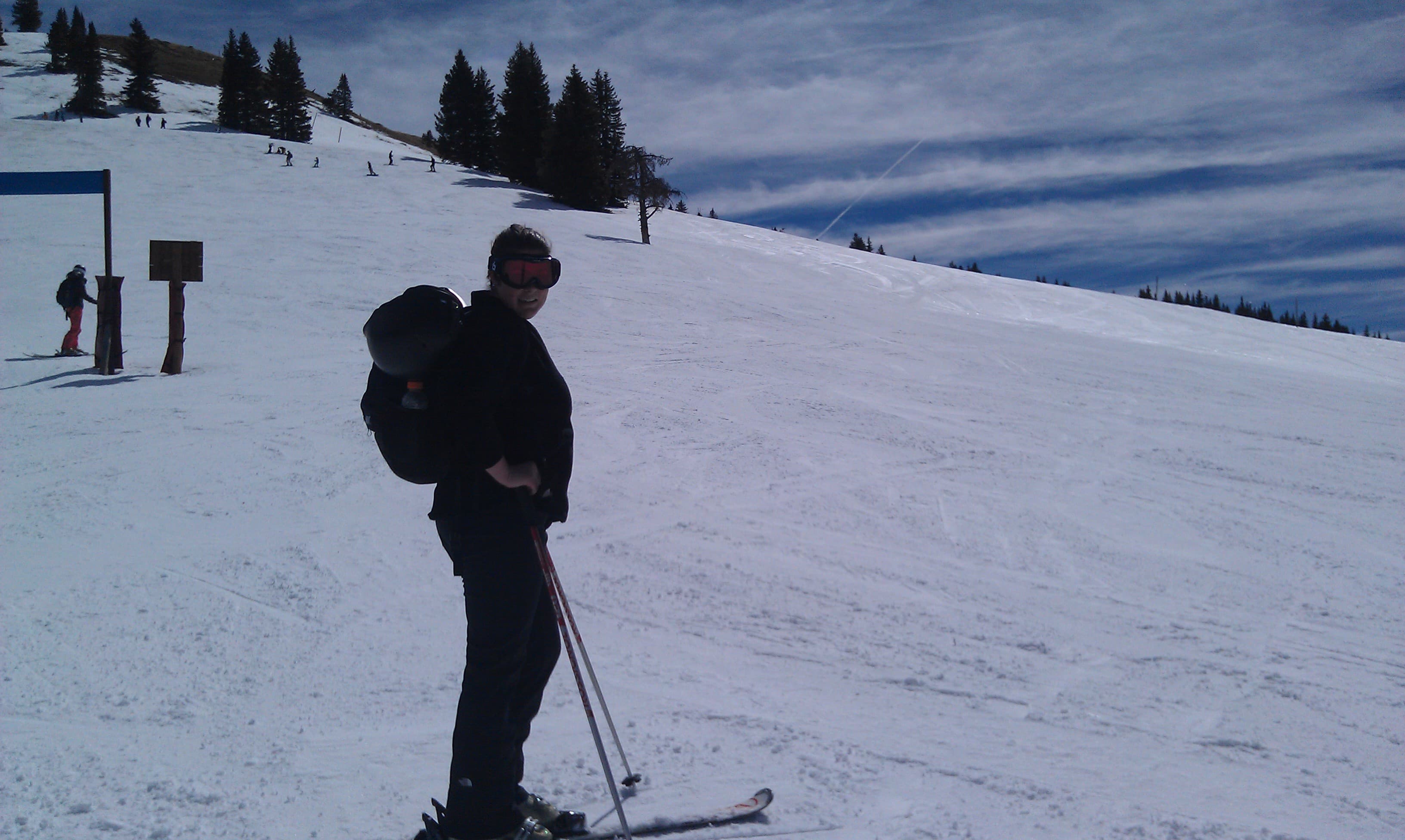 …but once we started going, we were all stripping down to shells or t-shirts. We were on the lookout for the iconic skier in a bikini but never saw one. Debbie (who is the best skier I know) met up with us for a few runs, too. It's fun to ski with her in Vermont, but even more fun to ski Vail with her. She's incredible.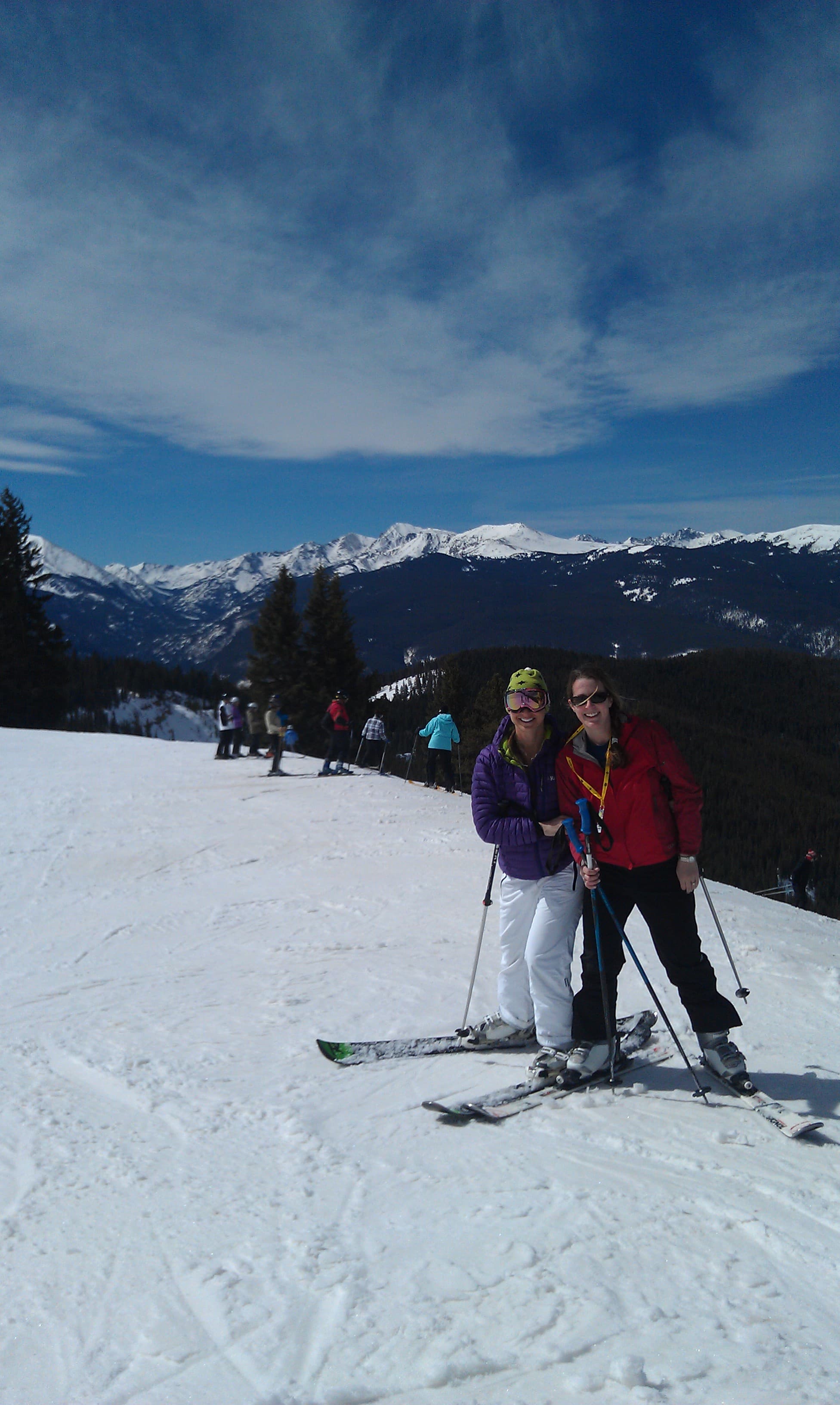 I love this shot of me and Matt. The view behind us took my breath away.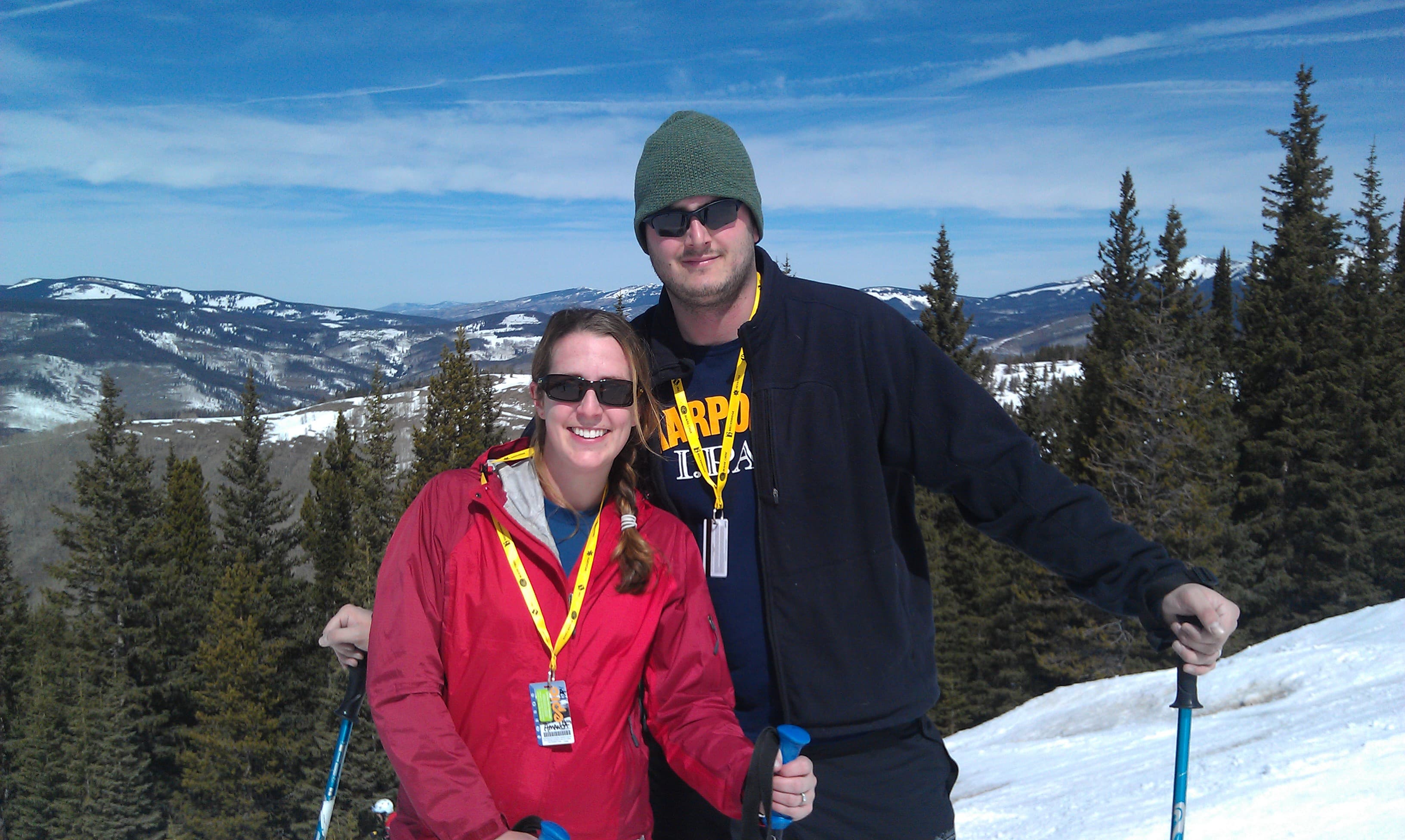 The pictures obviously do not do it justice. If you haven't been, you have to go. It was one of the best experiences of our lives.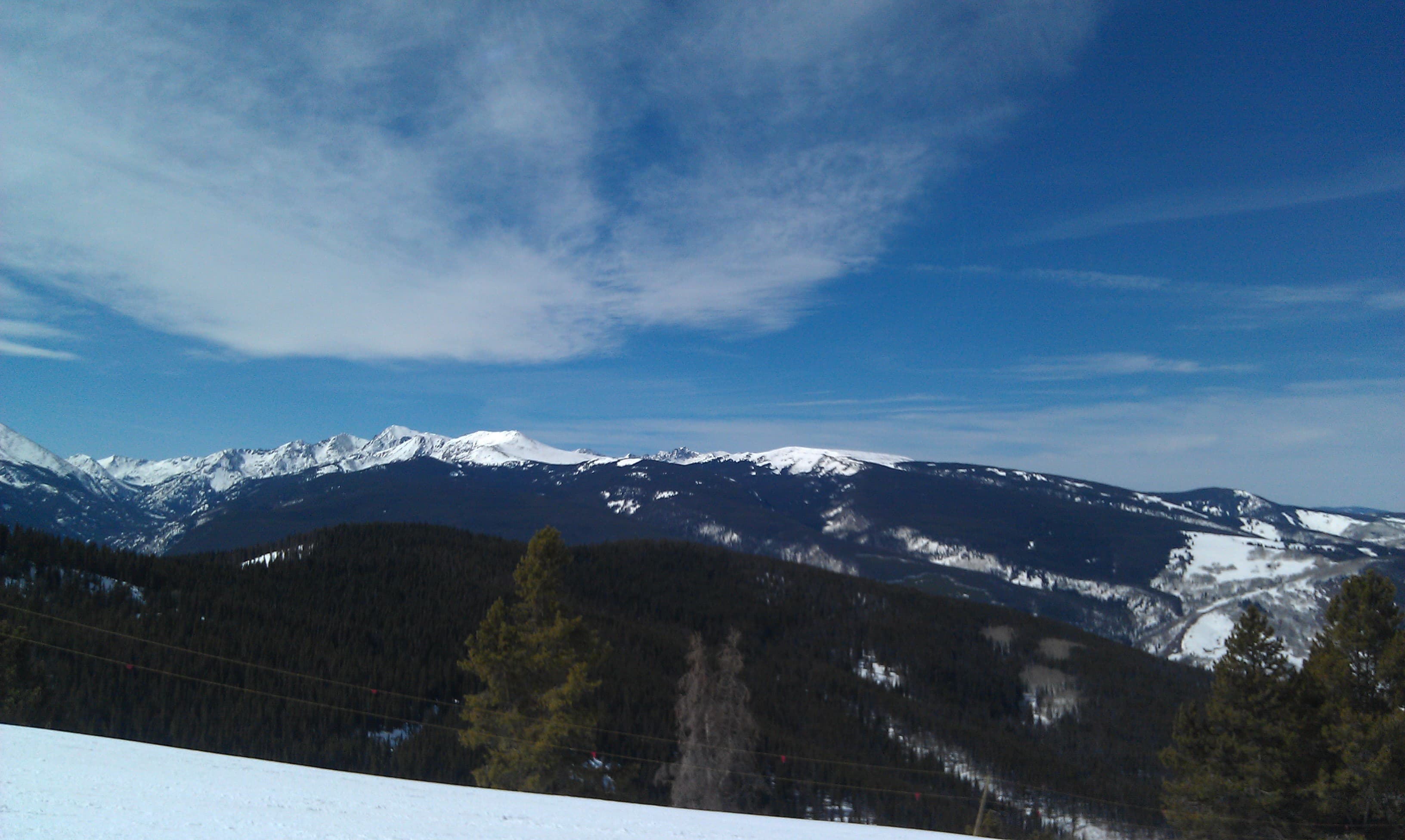 After our Vail trip, we had two more nights in Denver, and those were characterized by more eating (weird) and lots of relaxing. Matt and I had a chance to take advantage of the pool and hot tub in my sisters' building which was a perfect ending to our incredible Colorado trip. We are so grateful for everything my sisters (and their boyfriends!) did for us while we were out there. We are so looking forward to the Denver/Vail combo again this August!