With the warmer days of spring finally upon us, I've taken it on as a personal mission to get our back deck freshened up. It's a small space, so it shouldn't be too hard. We eat out back every chance we get from April-November and the dining area (a gorgeous little bistro set in jet black with stunning rust undertones) was in need of a facelift. We installed a new storm door which you can read about here, and that made a huge difference from the start. The 3-piece bistro set we got from Costco a couple years back for $99 is still functional, but it's left outside uncovered all year long, and it definitely shows.
While I was visiting my nana on the Cape this past February, we found ourselves in her Homegoods (not uncommon for us) and I was perusing the table linens…shocker. I am such a sucker for tablecloths, fabric napkins, table runners…you name it and chances are I have waaaaay too many of all of the above. I bought two of the same pattern so that I could have one for the dining room table and one to cut up and use on the outdoor table. We got back to my nana's house and got to work. I wanted an 8" overhang on the tablecloth and after we did the math, we cut it up and started pinning. I measured an inch around so that it was uniform and pinned away. That's right. While y'all are "Pinterest pinning," I'm actually pinning.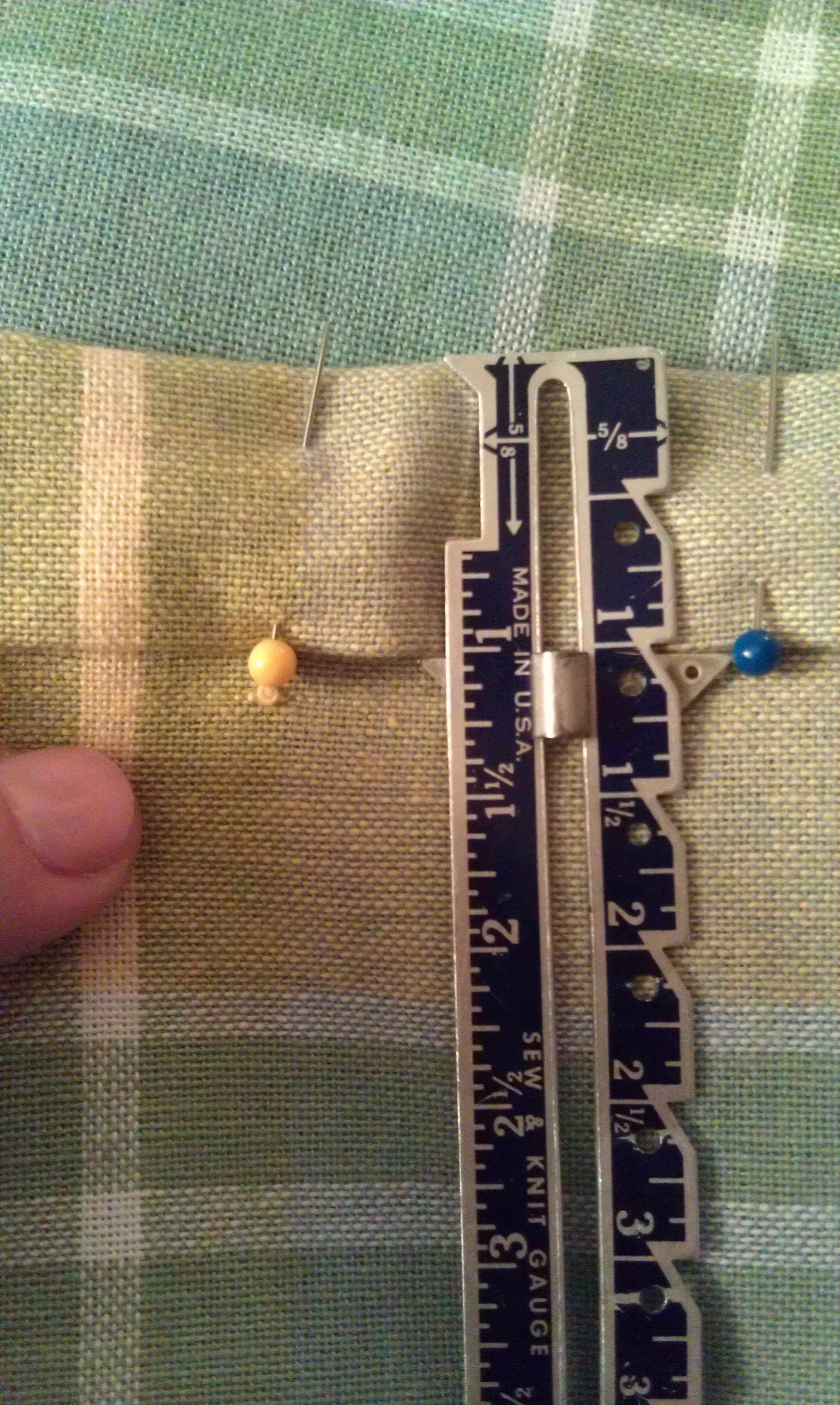 The corners were all turned in and pinned and I was ready to sew.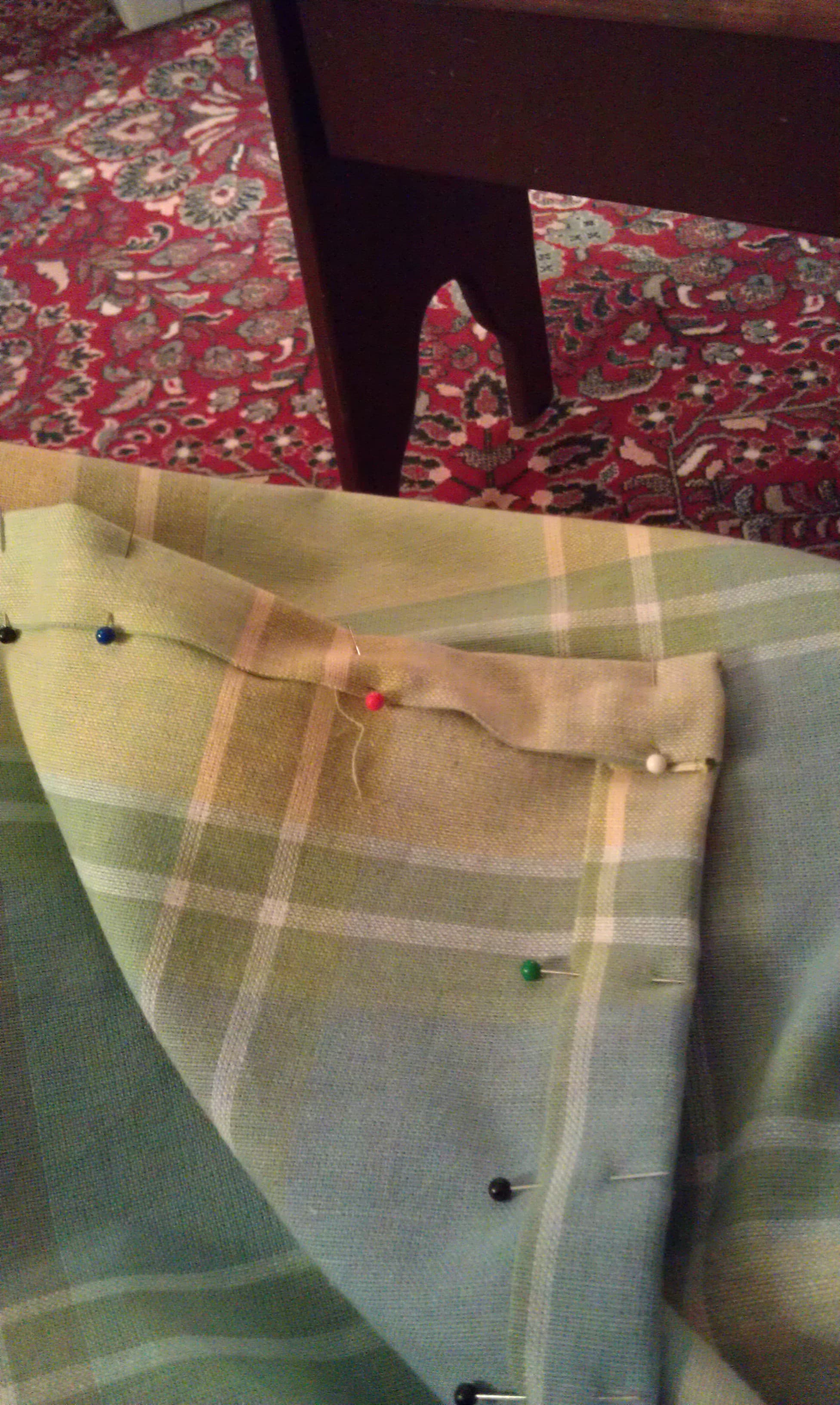 Of course, when I say "I was ready to sew," I mean my dear nana was ready to sew. And sew she did. She's an animal. And check out the conditions in which she sewed. It looks like she's my slave. The low lighting, strained hands, yours truly standing over her shoulder prodding her along…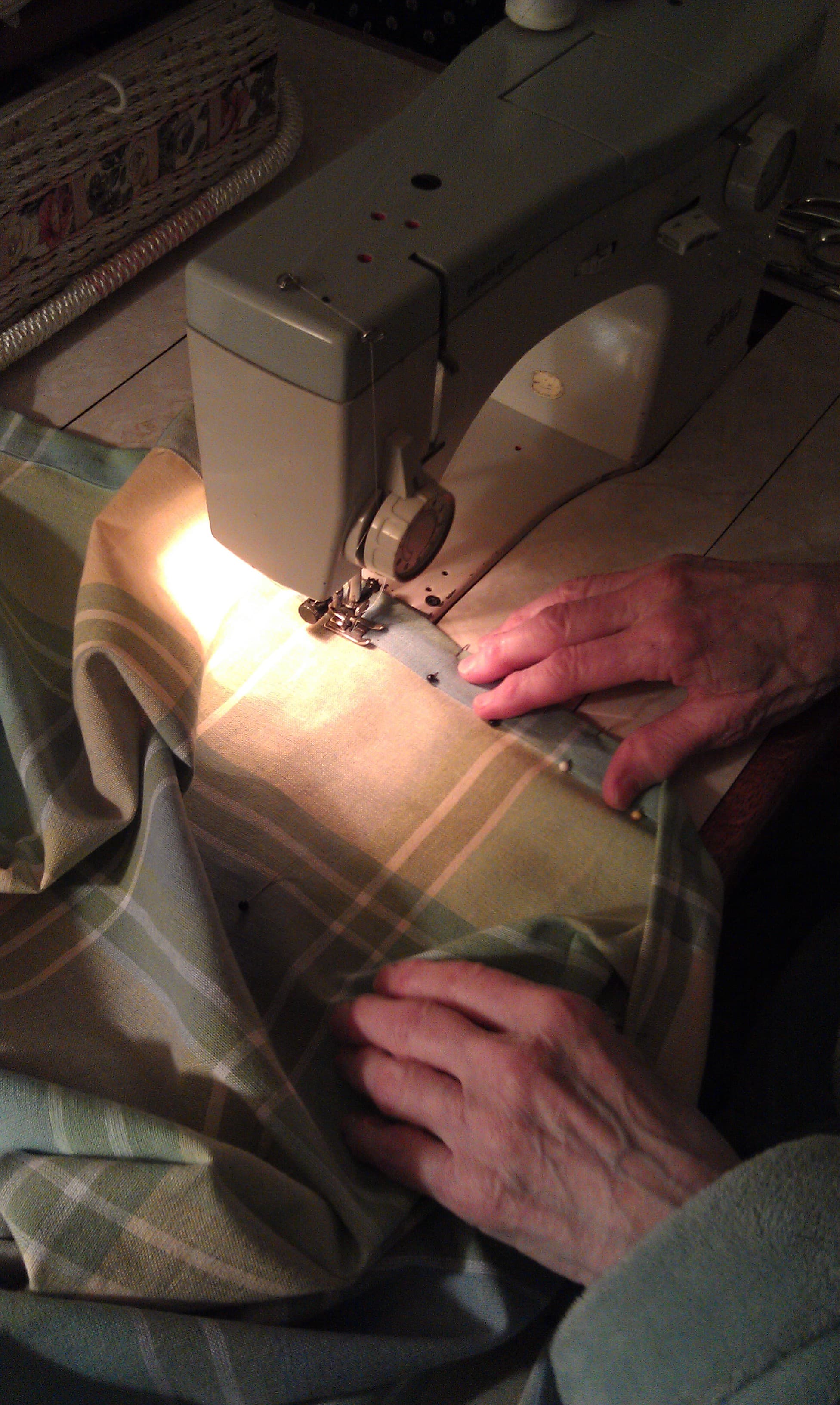 We ironed it out and it looked great. Fast forward to this past weekend, and I was ready to check out how the custom cloth fit my tiny table. This is what we were working with.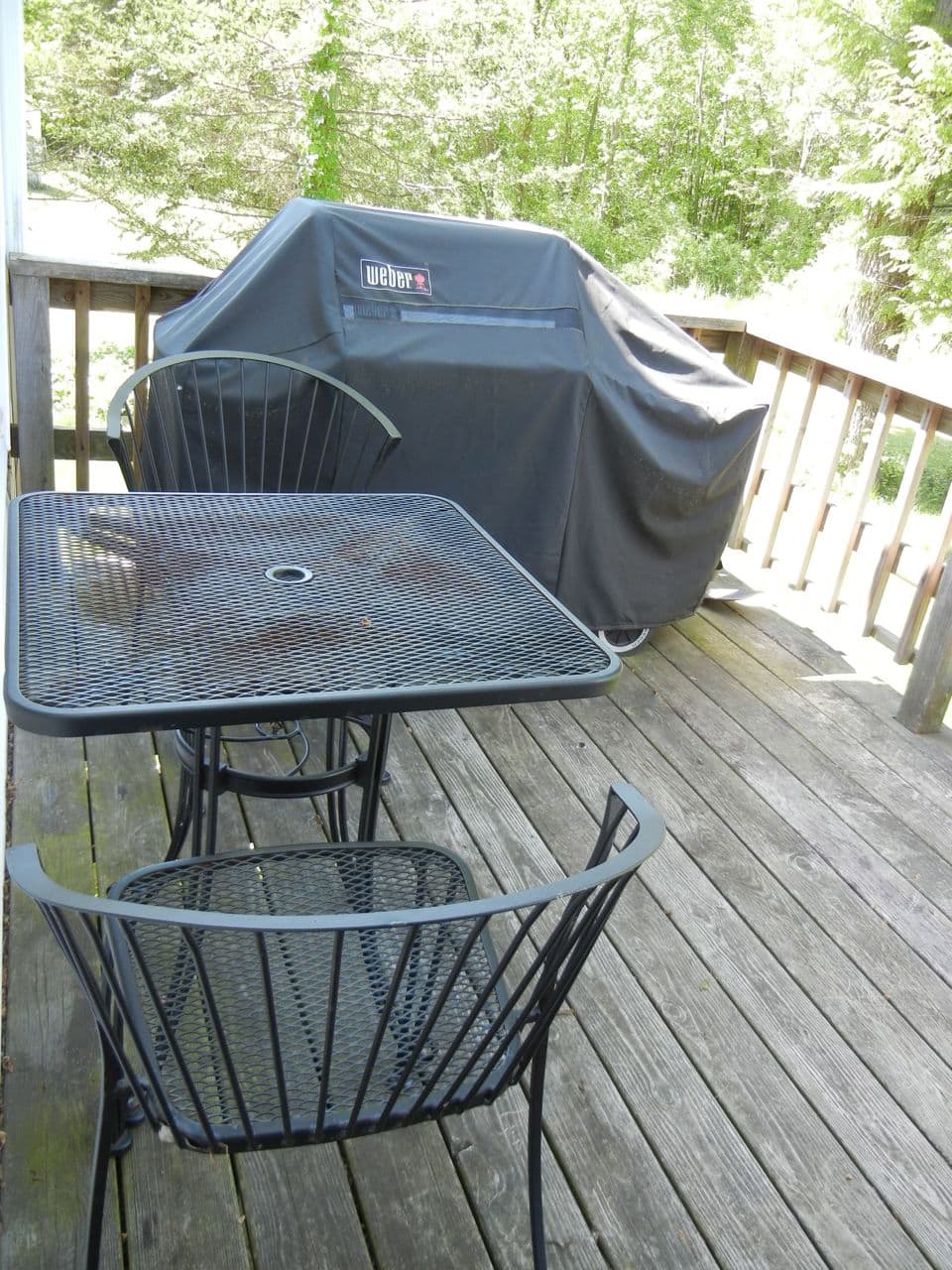 And after the tablecloth went on…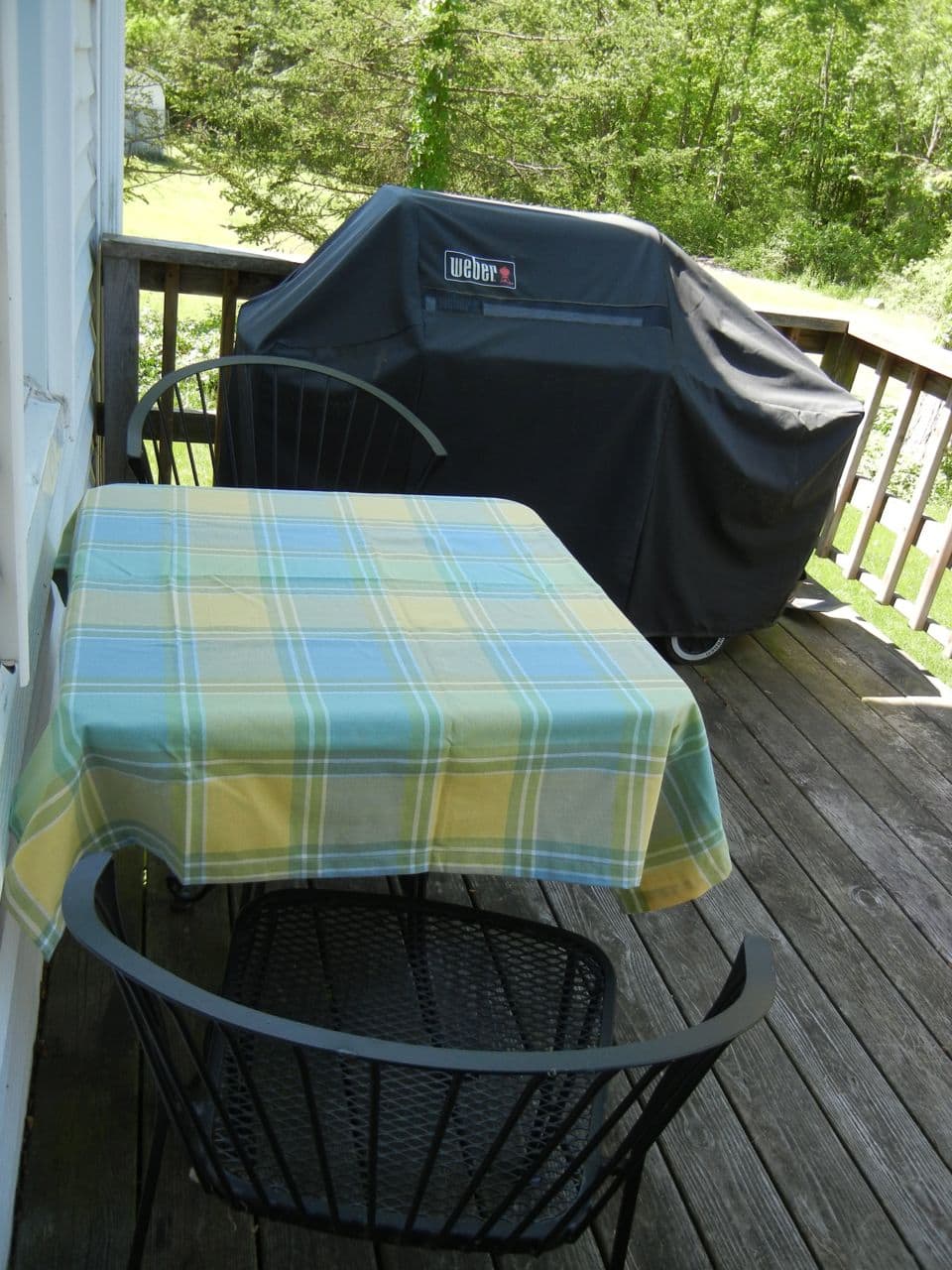 Looking better already! I love the colors. My planters and accents for the back deck are navy, green and chartreuse, so I think the colors will all complement each other nicely. Matt and I went to Cape Cod again just a couple of weeks ago (that trip post still to come) and while I was there, I hit up a newish gift store called Just Picked that has seasonal gifts and some cutesy accents at Christmas Tree Shop prices. It's pretty awesome. I've had my eye out for a lantern of some sort for a while now, and found one I liked for $12.99 at this gift shop. Score. It holds a tea light and I love how it looks on the table. Makes it a bit cozier out there.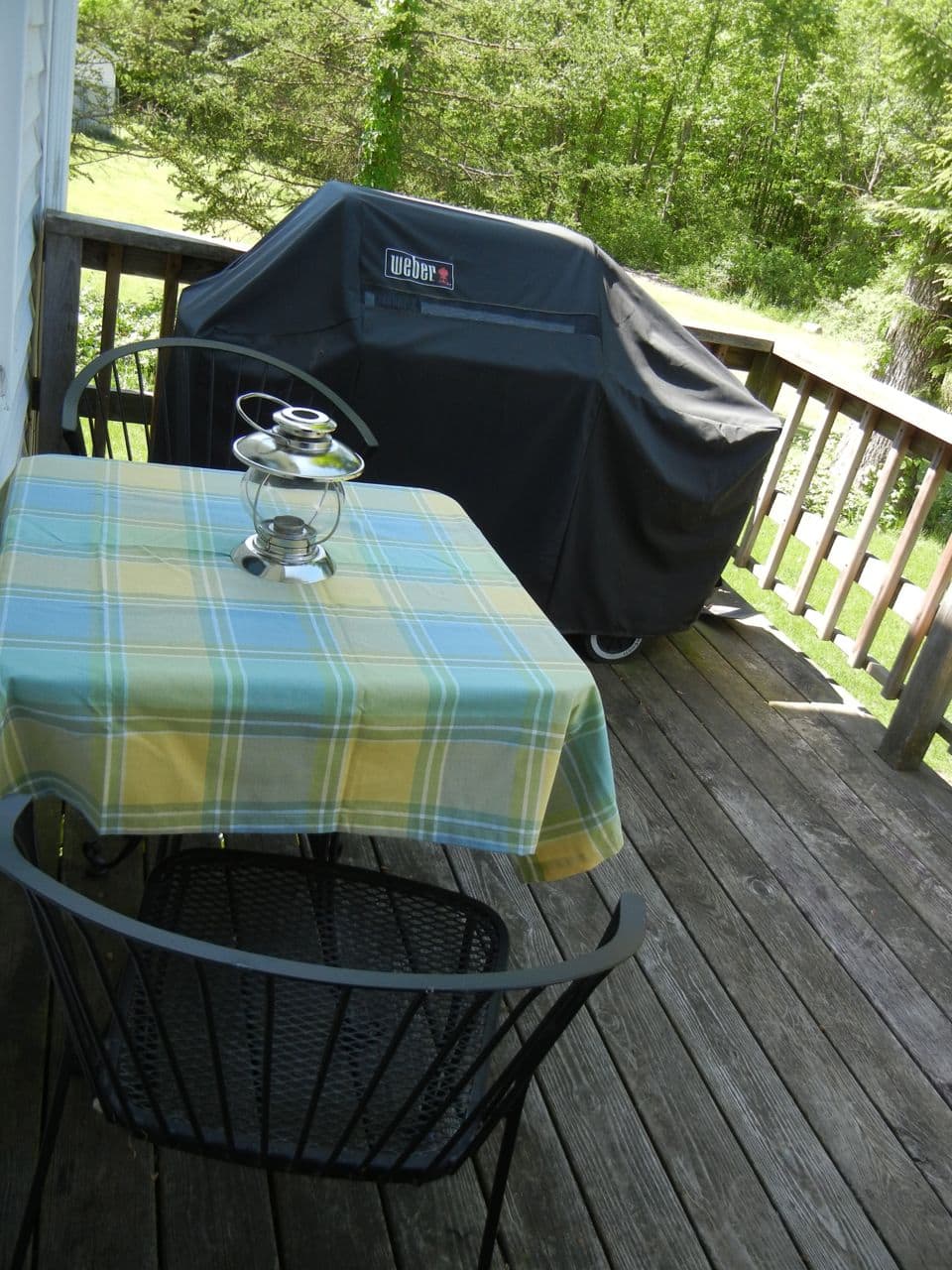 I ran in the garage and grabbed a couple of my outdoor throw pillows (snagged at Restoration Hardware on sale last summer) and the look was complete. Or, as complete as it's going to get until this weekend when I hope to tackle some deck floor refinishing and sanding/painting the railings. Stay tuned.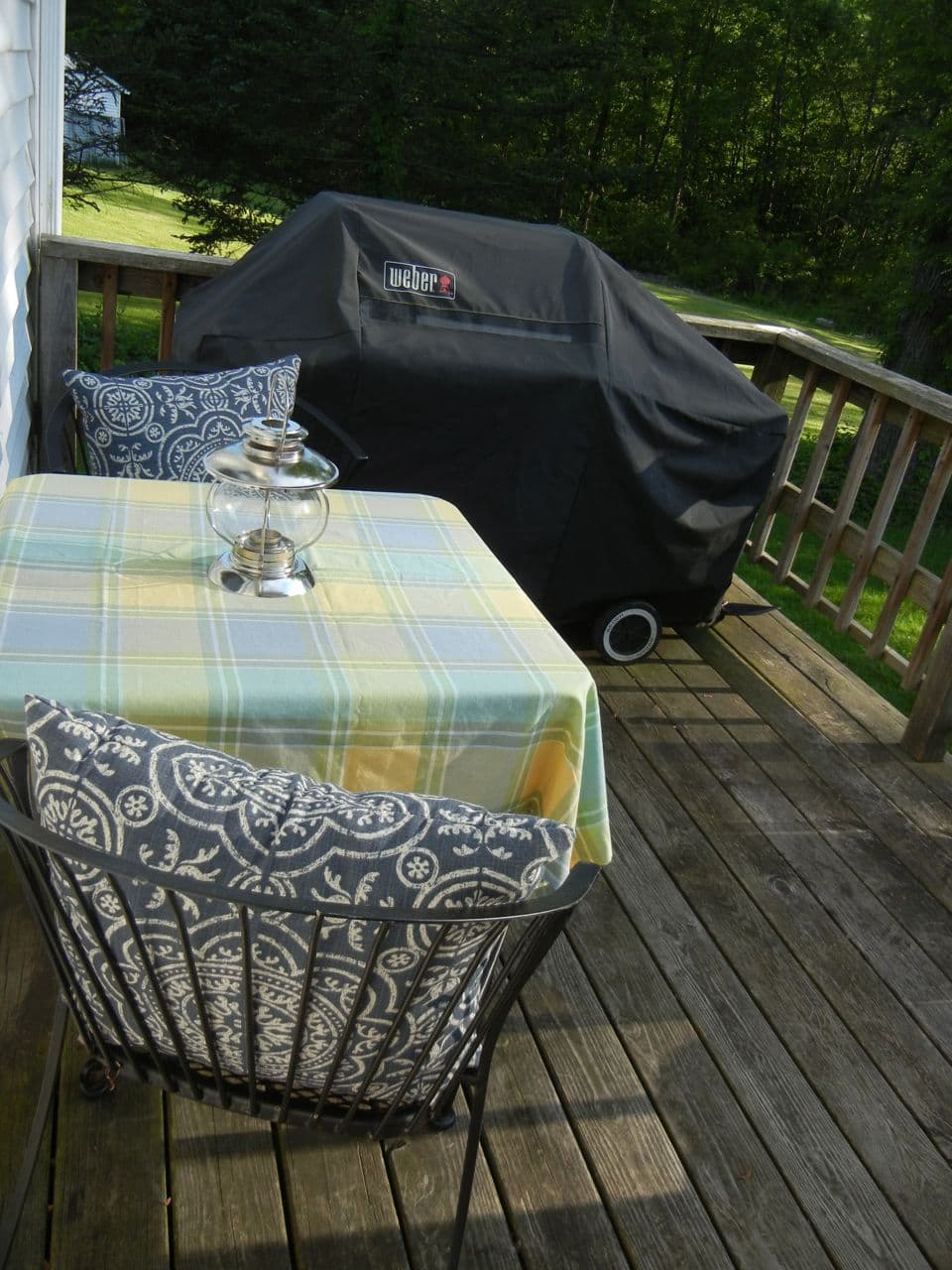 Total cost: Under $25. Love.