Oh, hey there, March. Where did you come from? February fleeeeeewwww by. We were partying too much, I suppose. We celebrated my Dad's 60th (with an epic surprise party about which he had no idea!). We celebrated Matt's 29th. We celebrated the engagement of my brother-in-law and soon-to-be sister-in-law. We celebrated life with a trip to Cape Cod to cap it all off. I want to share something I found while on the Cape because Lord knows that with all that partying, I have been doing nothing productive around the house.
I know I literally posted about my thrift shop finds about a month ago, but I have another find I'm digging. Here's a sneak peak.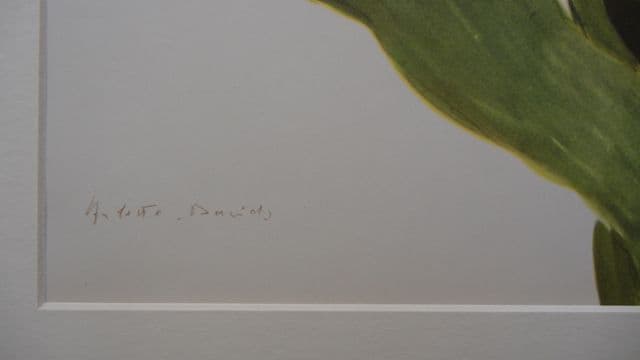 After all of the parties, my sister and I went up to Cape Cod for a few days to visit with my Nana. We've been going to the Cape our whole lives but this time around, I noticed a new store called "Antiques Center of Yarmouth." I asked Nana and Kim if they'd want to pop in and they were excited to look around, too! The store was filled to the gills with antiques! I didn't bring my camera in, but they had everything from vintage wedding dresses to milk glass and china to giant old wheels taken from actual sailing vessels. It was impressive.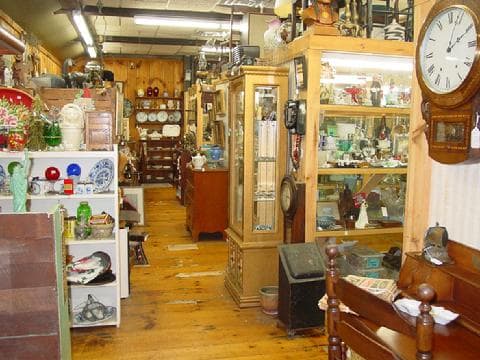 My Nana said a few times how walking through the store and eyeing some of the pieces brought back so many memories of her childhood and beyond. That alone was worth the trip. Then I stumbled upon this…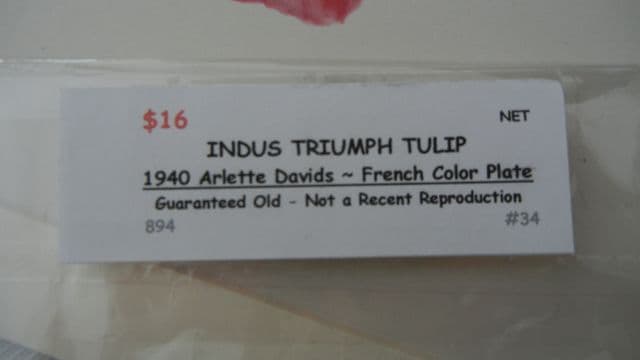 It was a 1940 Arlette Davids tulip painting. I didn't recognize the artist, but that didn't matter to me. It also didn't really matter to me that it was "Guaranteed Old" because for $16, I was getting a pretty matted print that I loved. I love tulips. They're one of my favorite flowers, but the deer are constantly munching on mine, so I don't plant many of them. Why not have a tulip displayed permanently in the home instead? My thoughts exactly.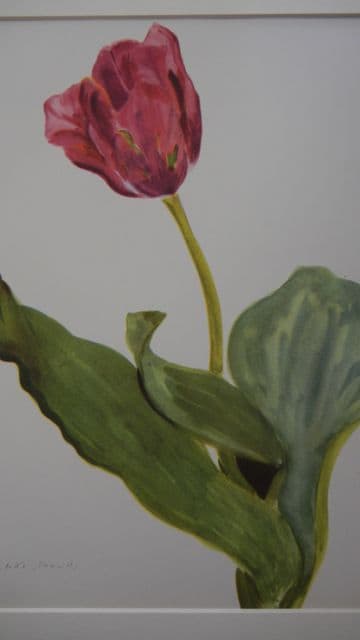 As I mentioned, it came matted, which was a bonus, because that would save me money. I love how the deep pink of the petals looks almost red. Perfect for my living room. It mentioned on the plastic overlay that it would fit an 11x14 frame. How fortuitous for me, as I had an extra 11x14 frame laying around. We use these frames a lot in our house, and they're sold at Costco for $19.99 for 2. Oh Costco, how we love you.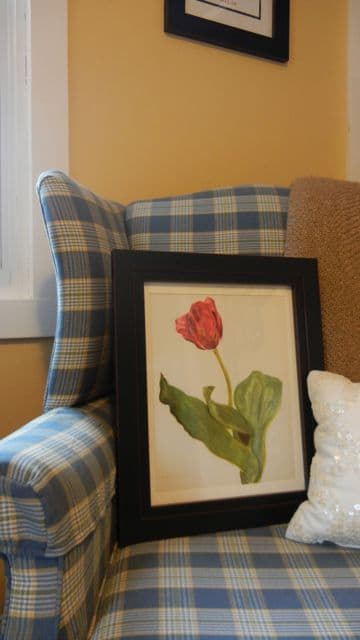 Once I had it in a frame, my curiosity got the best of me and I started researching Arlette Davids. I found out that she published a book in 1948 called Flowers Rock Plants using many of her hand-drawn creations.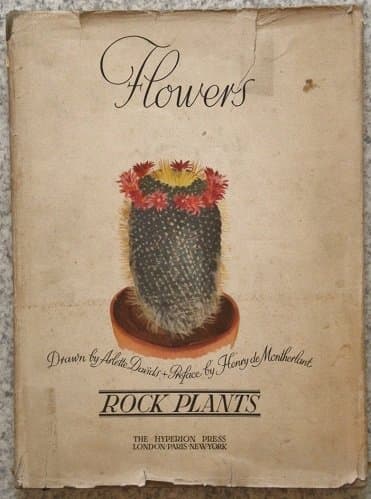 I can't find much else about her. I believe she was French. Much of her work fetches over $200. I doubt the $13.20 (20% off marked price) I paid for mine is worth more than that but I'm also not a savvy art collector. Hey, if it goes up in value over the course of my life, that's fine too.
This first edition of a yellow tulip by Davids sells for $288.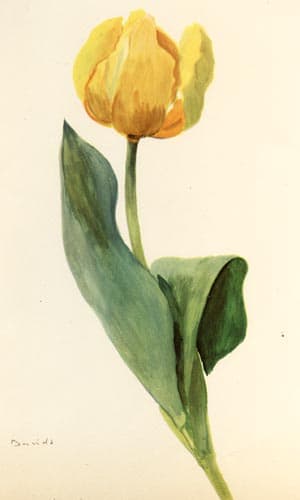 They were painted around the same time, and I think mine is equally as beautiful. I asked Matt to pop it up on the wall. I freak out hanging things in the living room because the walls are plaster and I fear a crumbling, plaster avalanche. He obliged, rocking his man slippers and all.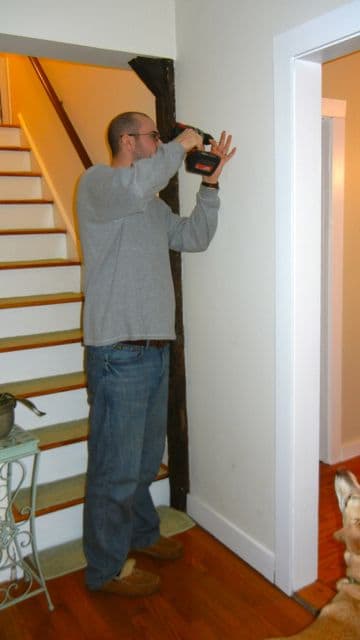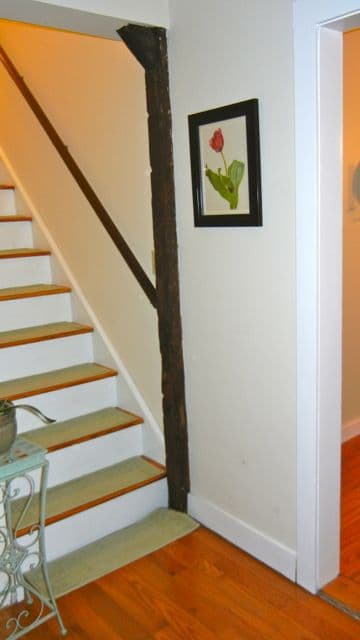 I love that I'm finally getting to decorate the walls around here, although now that beam and the railing are screaming at me. Baby steps.
Each time I walk by, I'll think of the trip to the Cape with Nana & Kim.
Does anyone else feel like February flew by? I for one, and happy about it. Bring on March, baby. I have a slew of spring projects planned for which I need some nice 60 degree days.