Finally! It's time to pop on some new countertops up in here. We've lived with the yellow laminate with "specialty brown veining" for long enough.

After an exhaustive few months weighing the pros/cons of granite vs. solid surface vs. laminate, we've decided to stick with laminate for a number of reasons.
1. We don't want to over-upgrade. Not that we're leaving anytime soon, but when we eventually move on to a larger house, we want to get everything back that we've put in. That's the goal, at least. We have a lot of counter space (45 sq. ft. of it!) and both granite and solid surface would run us over $4k. We don't think we'll see that in resale.
2. It's sanitary. I can be a bit of a clean freak (not that you could tell right now, with the contents of my pantry strewn about the house). That being said, with laminate, you can use "harsh chemicals" if needed and not worry about the effects on the surface. e.g. Bleach. Bleach is a harsh chemical*, for sure, but sometimes it's the only thing that works to sanitize the space after a winter get-together where everyone and their mother was coughing and sneezing all over your kitchen. *I generally use natural cleaners around here but it's nice to have the option to bring in the big guns if need be.
3.** It's maintenance free**. With granite, you need to seal it every few years and you have to worry about chipping around the edges if you're not careful. My nana has a beautiful granite in her kitchen, yet she has a few chipped edges and she's _very_ careful with her things. With solid surface countertops like Corian, a film can build up if you leave water standing too long on the counter. Yes, just plain ol' water. You need to be careful to wipe up spills right away. I don't want that kind of responsibility if I'm entertaining aforementioned guests. Laminate wins here, too. No maintenance at all. My kind of counter.
4. Price. This ties in to #1, but the laminate I like will run us around $1600, plus the cost of a new under mount sink if we choose to go that route. With the sink included, we're looking at a total of $2k, which is $2k less than the granite or Corian without the sink.
That being said, we are stuck between two options, and I need your help to make my decision.
Contender #1: Madura Pearl - Here is a picture of an actual kitchen with Madura Pearl. Keep in mind, our walls are a similar color to the wall color shown below, and our cabinets are white as well. Our appliances are black, for now. Our future backsplash will most likely be a white tile with black grout.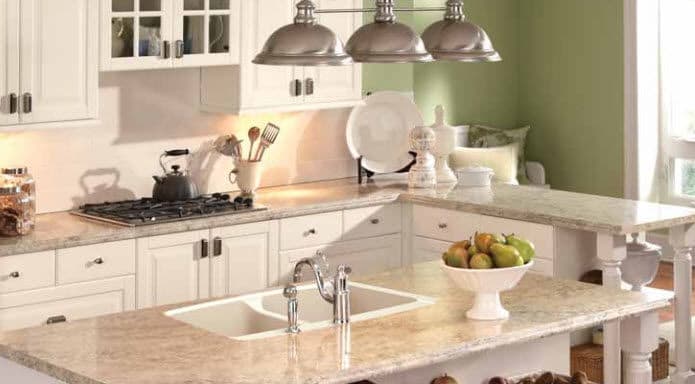 Contender #2: White Carrara - Here is a picture of an actual kitchen with White Carrara on the island. It looks to be almost a light shade of gray next to the white cabinets, which I anticipate with our kitchen as well, if we go with this choice. If you like this one, but think it's too much white, keep in mind that our floors are hardwood, our appliances are black, and the backsplash will have some sort of dark shade included, even if it's black grout.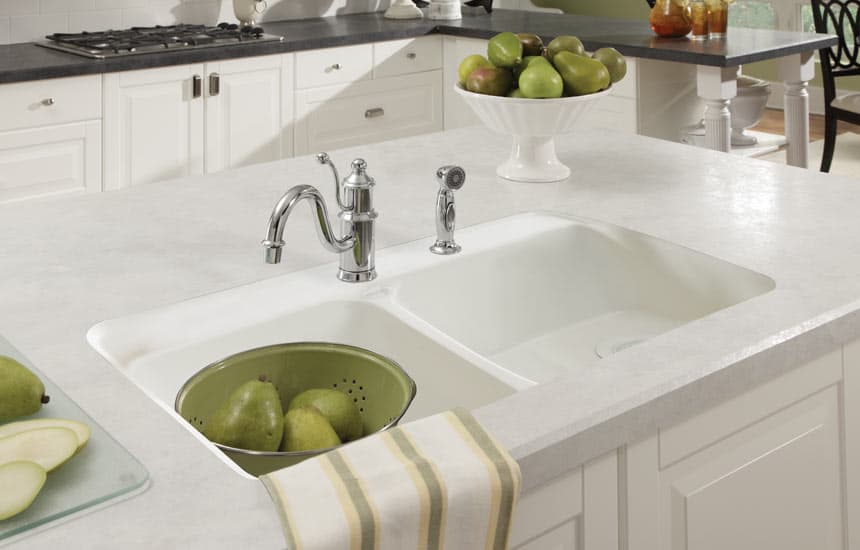 So, what do you think? We're going to order these soon so let me know your thoughts. They mean a lot! Tell me your choice in the comments section under this post, or go to my facebook page (Like "School House Rehab" if you haven't already) and let me know there.
Thanks for your input!!