There were a few loose projects lined up for this weekend. I wanted to paint a couple of interior doors, do a brake job on my car, and tend to some yard maintenance. Before we tackled any of the above, we took a ride to the Thomas Hooker Brewing Company in Bloomfield, CT (a suburb of Hartford) on what was mostly a dreary, wet Saturday here in CT. It really put the kibosh on any productivity that might have happened on Saturday because we had way too much fun.
We secured the reservations for the brewery tour and tasting a while back, and made the trip up with our friends Josh and Allison. We like to do these sorts of things with them for a number of reasons. A. They love beer as much as way more than me and know how to have a good time and B. They don't judge our vehicles laden with dog hair because they have two pups of their own. We love to bond over breweries and dogs. It's what we do. We rolled through the ghettos of Hartford to the little town of Bloomfield and were greeted by a lackluster entrance.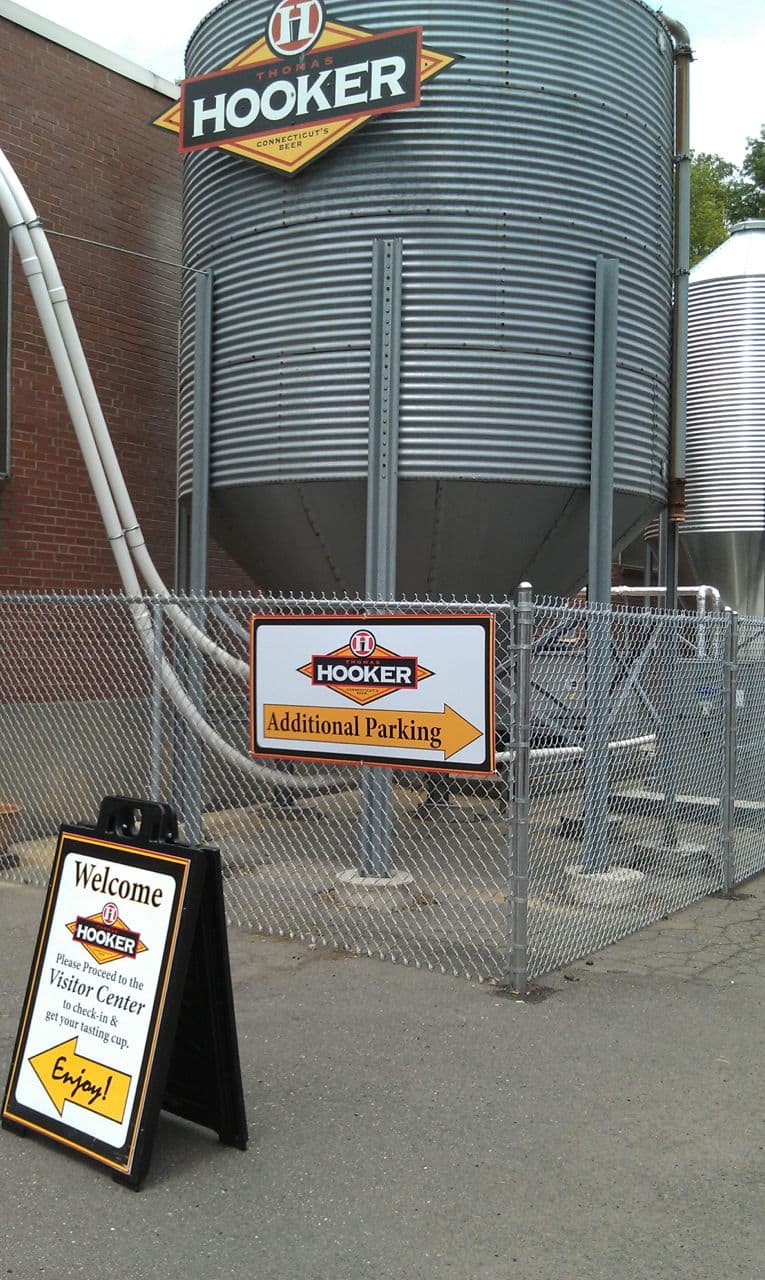 We weren't there to judge the facade, just have a good time and taste some local brews. We checked in once inside and slapped drink bracelets on, which allowed us 10 drinks (from tiny plastic cups). The task of drinking all 10 seemed easy at the time but halfway through proved to be quite daunting. The drinks aren't your run of the mill watered down Bud Lights but instead heavy, some very hoppy, craft brews. Alas, I'm always one to finish what I start, so I powered through like champ.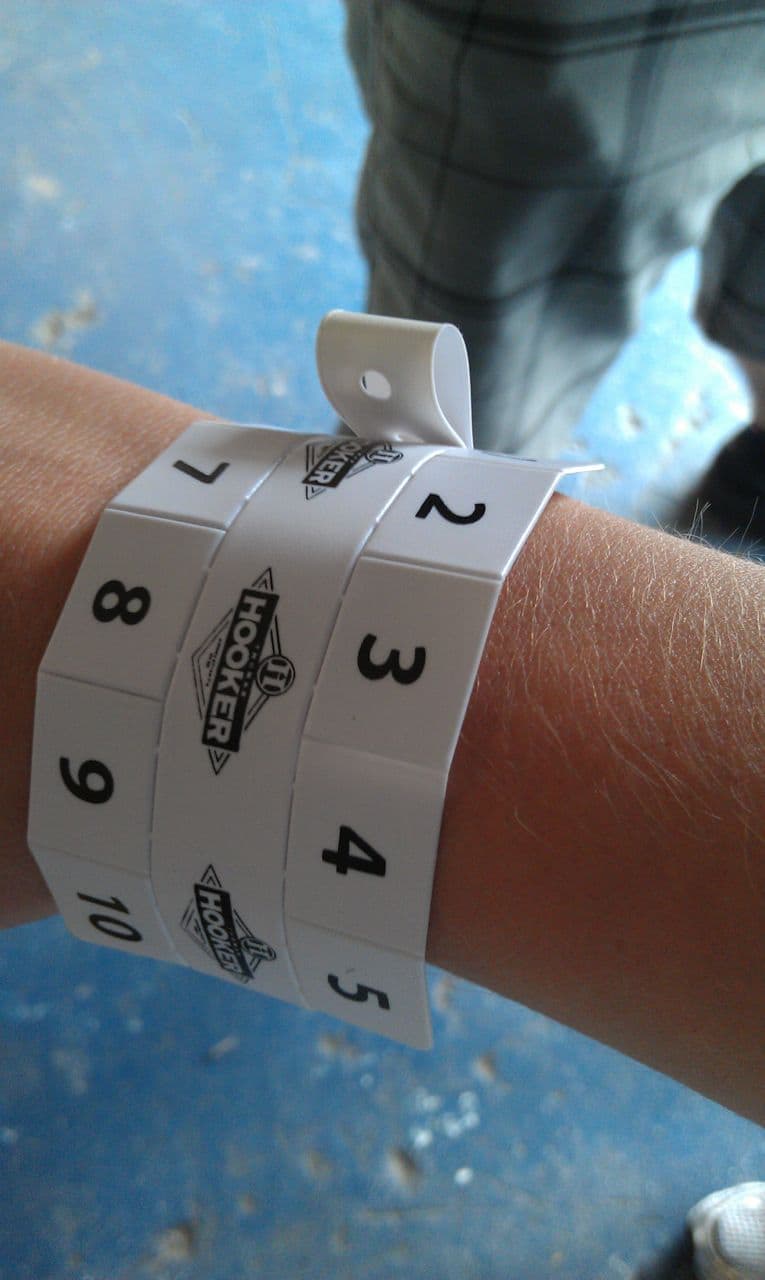 We were greeted by a colorful (by the way of hand-painted murals) bar at the entrance to the visitors center, which also housed another bar. The brewery is getting larger each year, so they just expanded their building to accommodate growing demand.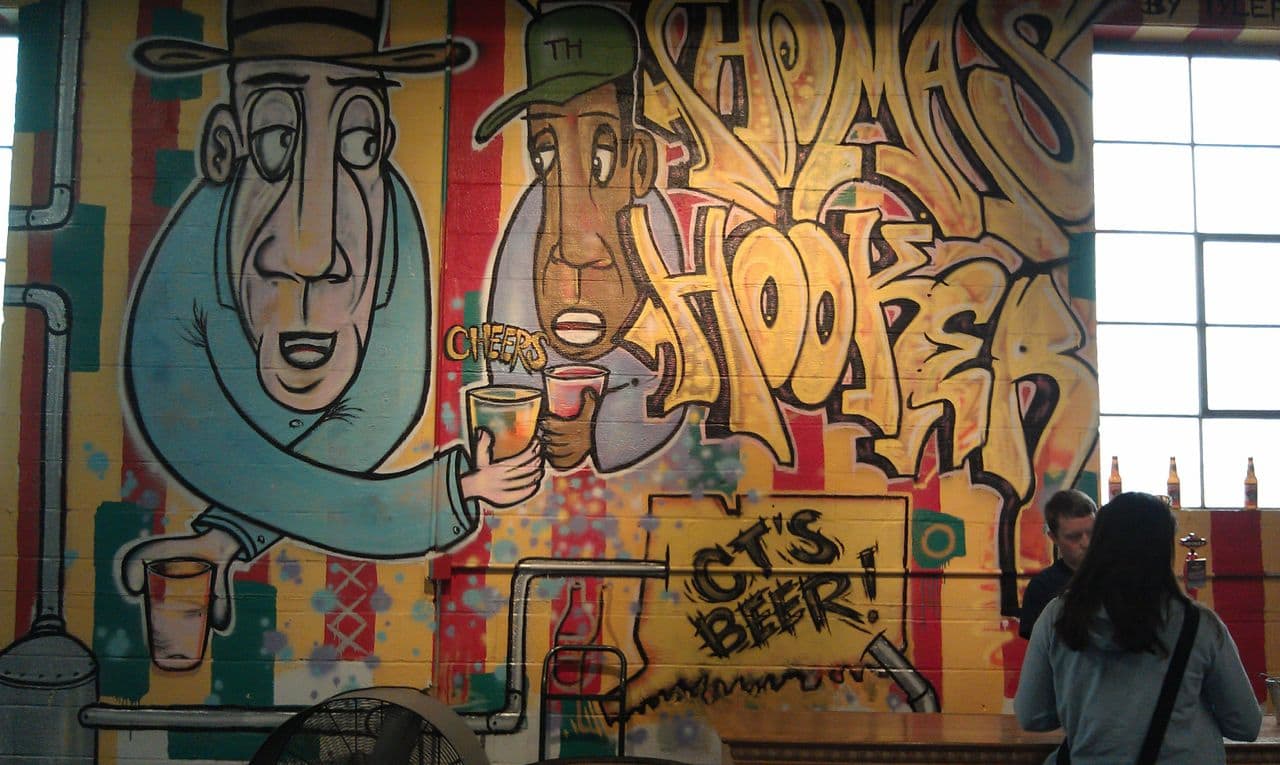 We started the tour, which gave a breakdown of the beer-making process as well as some history of the brewery.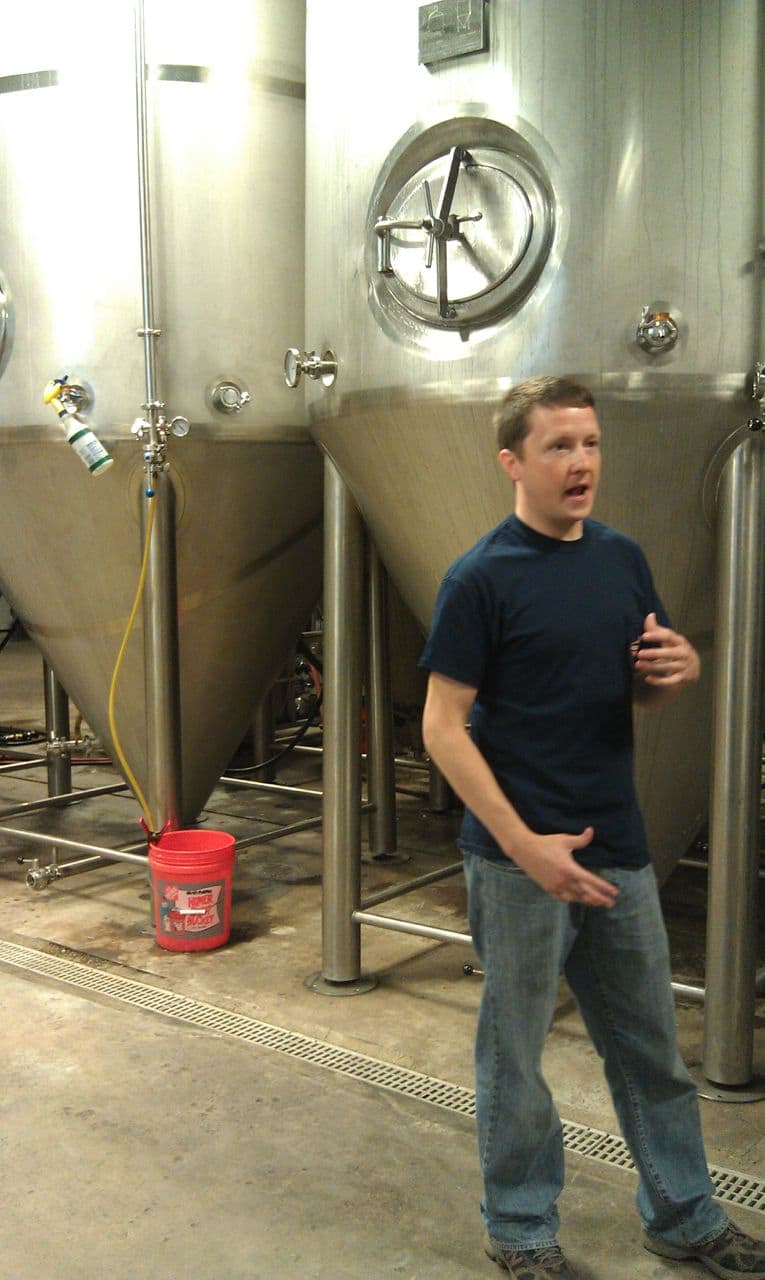 After the tour, (not my favorite part of the brewery trip) we headed into the visitor's center to read up on Thomas Hooker and cash in more of our drink bracelet tear-offs (definitely my favorite part of the brewery trip). Matt pointed out this sign, which really makes me feel much better about my beer consumption.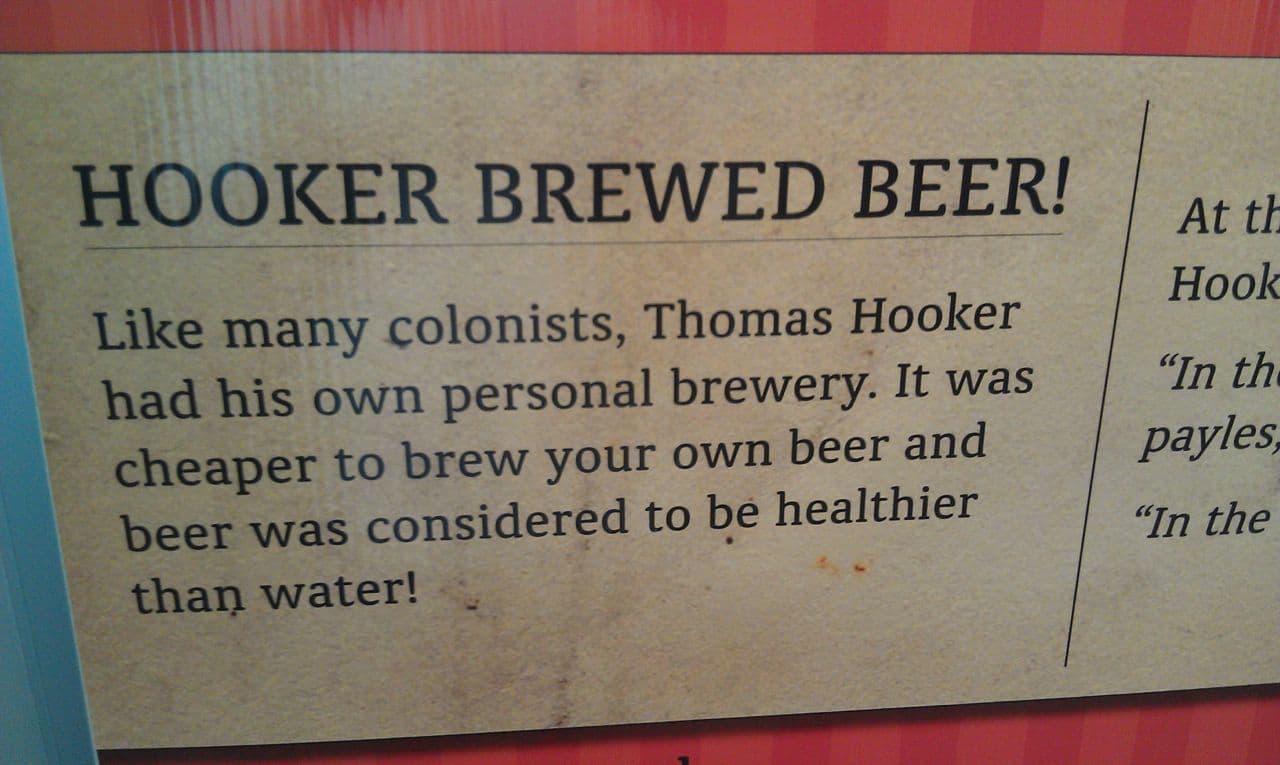 Here's a shot of the bar within the visitor's center. Matt and Josh are up at the front. Shocker.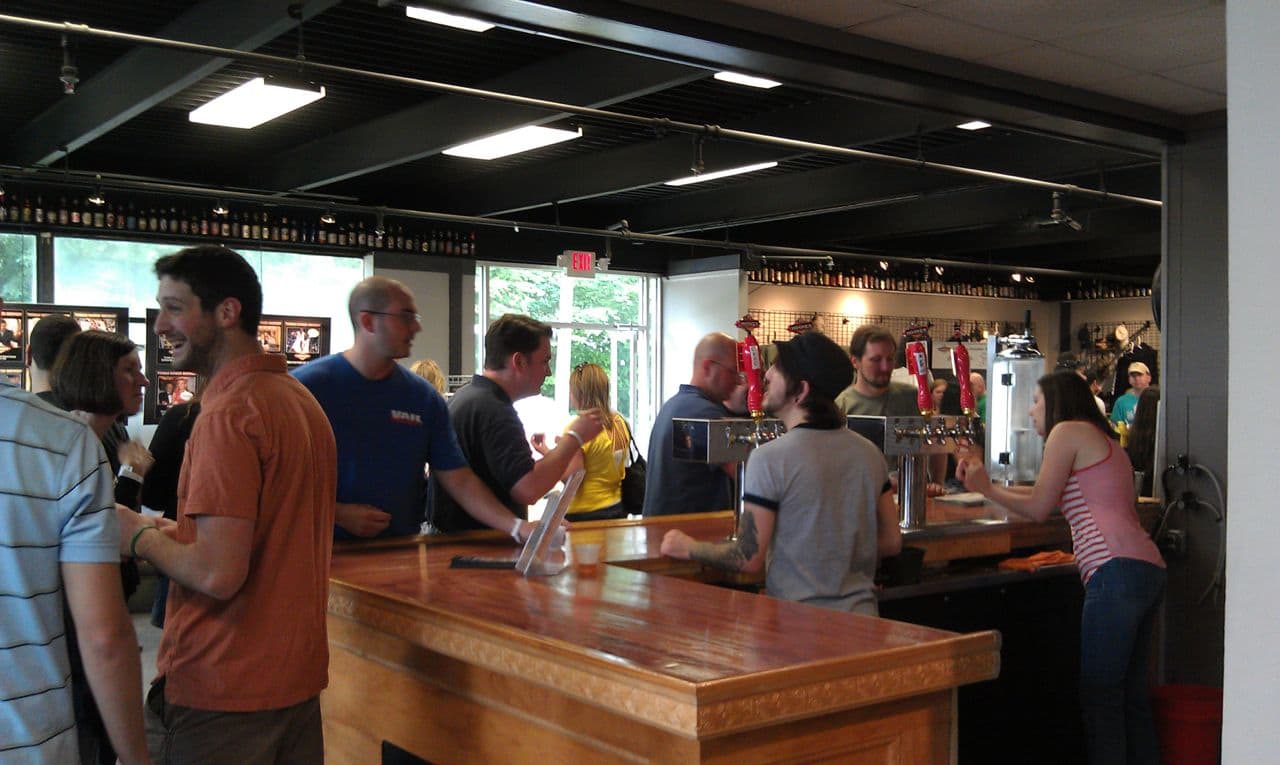 After we cashed in all of our tear-offs, we decided a picture was a good idea. I guess the beer just hits Josh harder than most people. One day he'll get his tolerance up.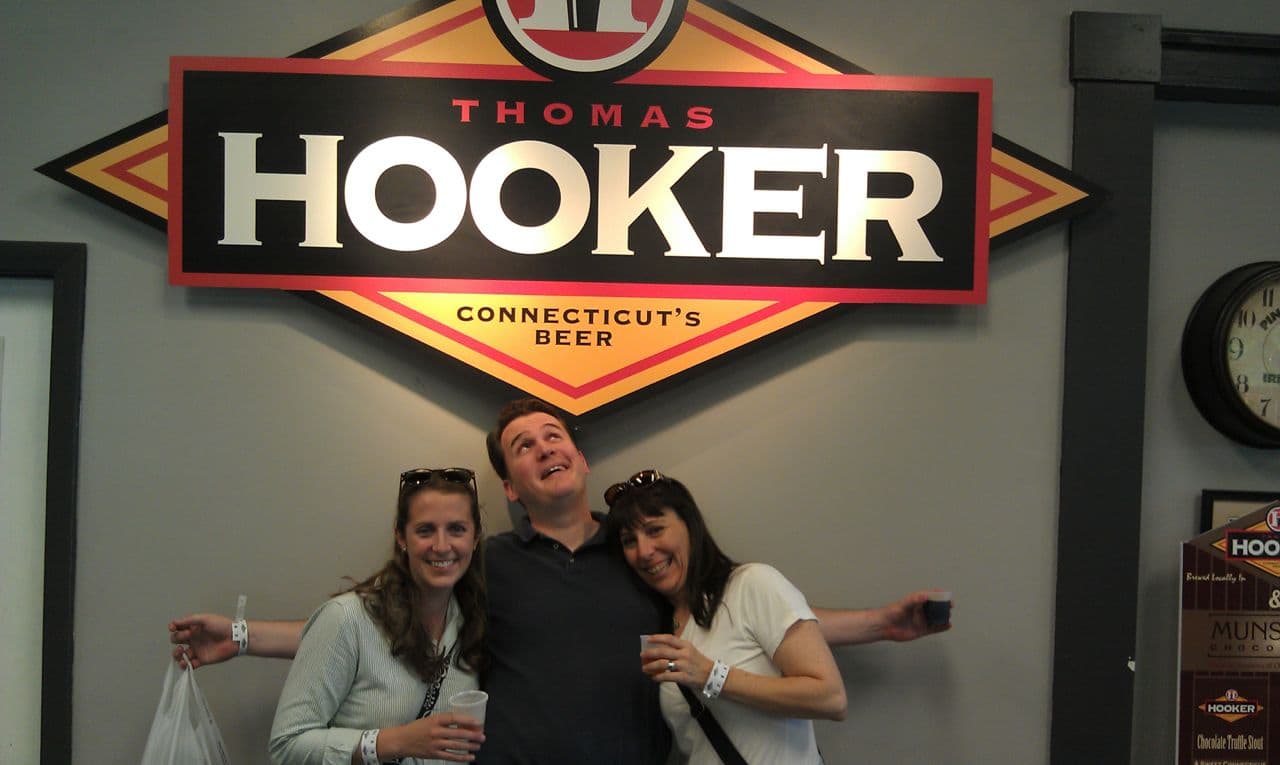 Before heading out to lunch/dinner, we stopped to check out the merchandise. They had a pretty good t-shirt selection with all of the taglines that poke fun at the "Hooker" name. E.G. "You are what you drink," "I'd tap that," "Always a happy ending," and the super classy, "Always to please and no STDs…" Matt and I walked away empty handed but had a good laugh when we saw this guy's bold fashion choice. We were in the middle of nowhere, people.

We were beyond starving at this point, and headed into downtown Hartford to a restaurant called Black-Eyed Sally's that came highly recommended by Josh and Allison for down-home BBQ. The rain had stopped at this point, but it was a bit humid and warm, so we passed on the patio and headed indoors to a booth.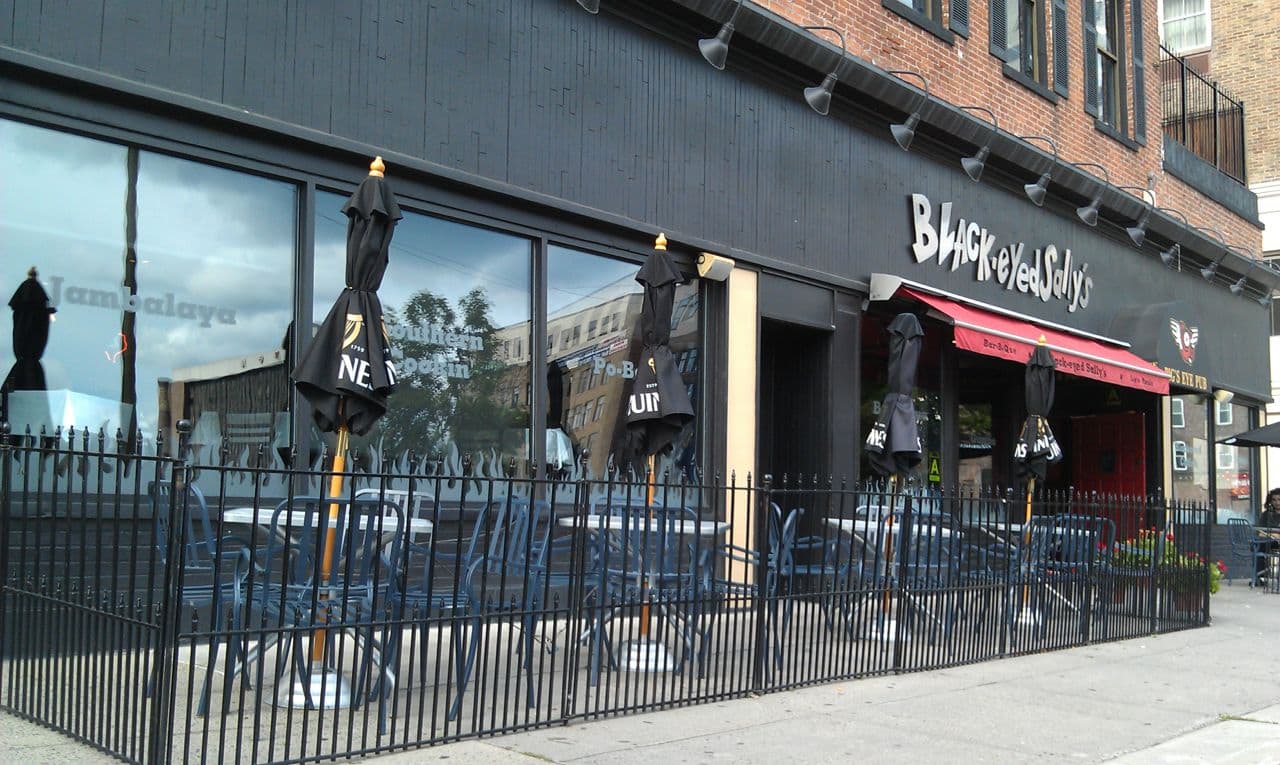 There was a wedding reception taking place inside, (it's Hartford…you never know what you're going to get!) so we had plenty of people-watching to entertain ourselves while waiting for our food. The booth we snagged also had restaurant-style graffiti on the walls so we had a blast reading some of those comments aloud.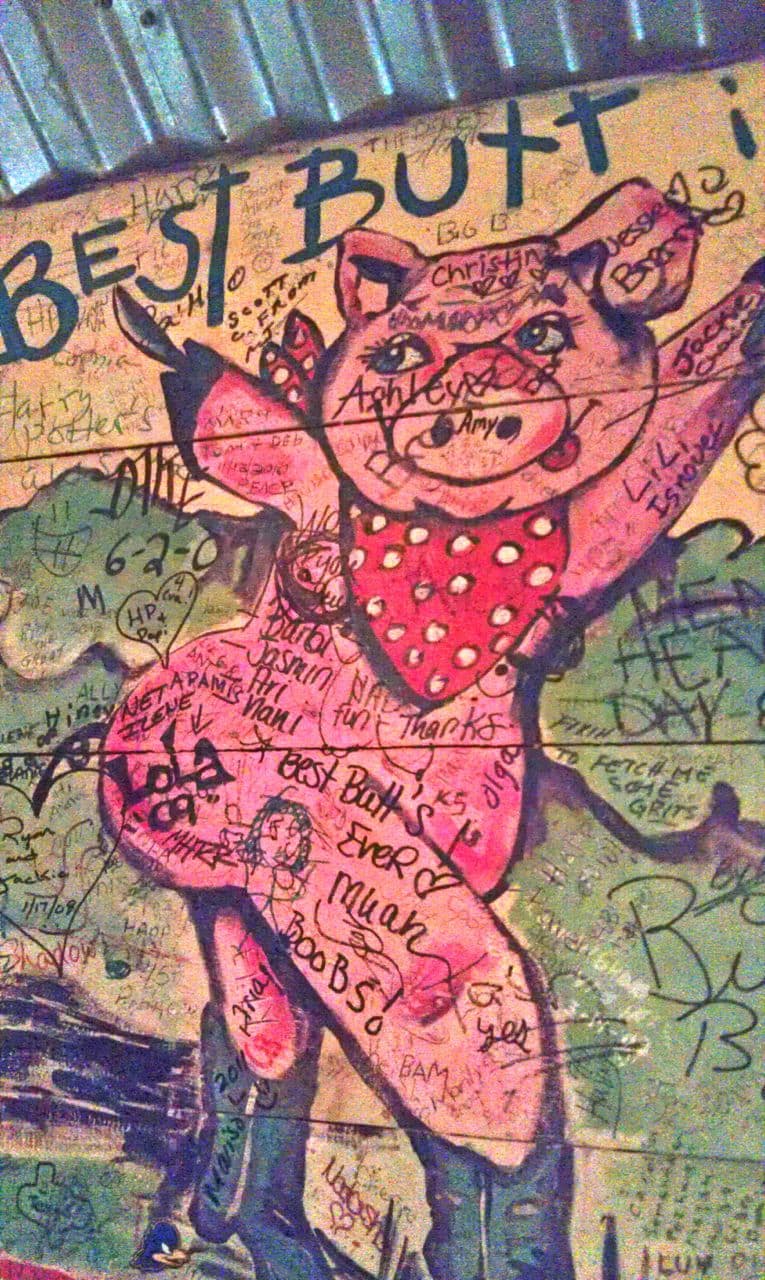 The food was unreal (just as Josh & AK had remembered it to be). Matt and I each got a burger sandwiched between two grilled cheese sandwiches. It was ridiculous. As in ridiculously good. We couldn't finish it all after gorging ourselves on chili and cheesy grits to boot, so we took a bit home. Next time you find yourself in the Hartford area, this restaurant comes highly recommended by four people who love to eat and drink. We made our way home for a quick playdate for our dogs, and chilled out the rest of the night. It was a great, albeit indulgent, afternoon with good friends and good fun.
When we woke up this morning, we knew we had to get something done so the weekend wasn't a complete wash. I didn't get to painting the interior doors but Matt did manage to get my back brakes done. He had a softball game in the morning that jump-started our day and the rest of the afternoon was spent steam cleaning the car upholstery, (nothing gross - it just hadn't had a deep clean in a while ever) mowing the lawn, working on the car, doing a major house clean and finally getting my "vegetable garden" planted.
The "vegetable garden" isn't reeeeally a garden at all, but instead a tiny collection of potted veggies. From the left you'll see sweet red peppers, plum tomatoes, and organic spring mix lettuce.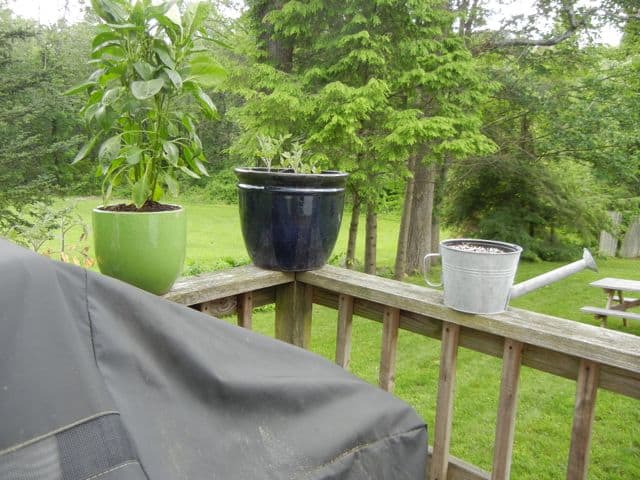 I have wanted a vegetable garden since we moved into this house (the idea of walking outside and picking your dinner steps from your door is so alluring to me) but we have yet to get it together. A number of reasons have us putting it off… we have a crazy wedding schedule this year, we lack a perfect location that has adequate light while still being out of the way, we have a pretty solid deer and bunny population so we have to go big or go home AND we are spending entire Saturdays at breweries and BBQ restaurants whooping it up.
Oh well, it can't be all work and no play, right? You've gotta live a little. Hope you all had a great weekend!! Thanks for stopping in.