Well, it's Sunday. That means it's time to cook.
This week, when Wednesday rolled around, I started looking at recipes that I wanted to try for this week. I stumbled upon a recipe for "Knotted Dinner Rolls" and was smitten. The picture made them look amazing, and this girl loves her carbs. I don't want to show "the professional" picture because it will make my rolls look bad, but you can find it and the original recipe here. However, since pictures (even low-quality cell pictures) make a post interesting, here's a sneak peak at my very unprofessional end result.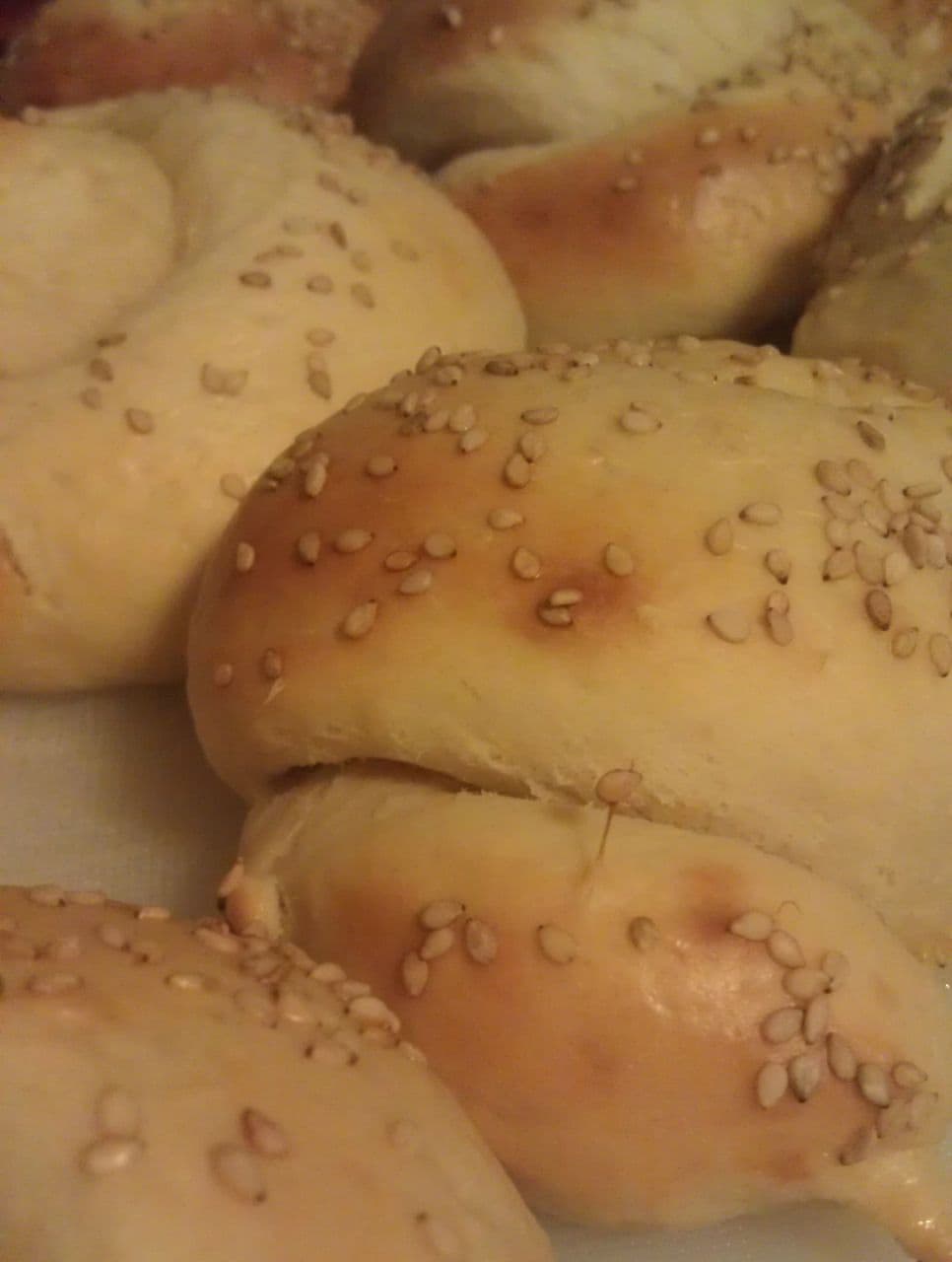 Even though they looked fairly normal, I was really skeptical at first. In the end, they came out really well, despite a few blunders along the way. I started out by organizing all of my ingredients. I always do this! It helps me organize the inevitable chaos that accompanies a baking project and helps to make it feel a little more "cooking show-ish."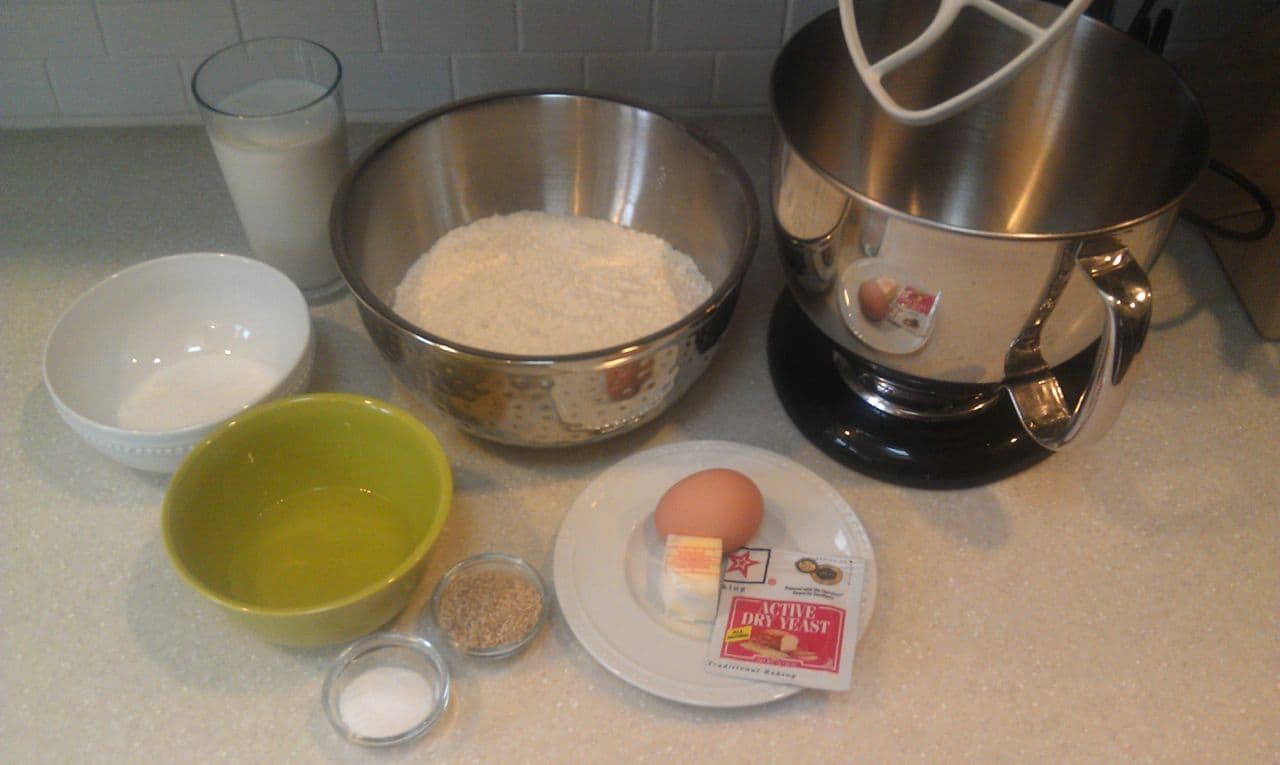 1-1/2 c whole milk
1 packet active dry yeast (This was a determining factor in my choosing this recipe - I wanted to try something new and I've never cooked with yeast. It was so scary to me before this cooking session, mainly because it was unknown.)
1/4 c vegetable oil
2 tbsp. unsalted butter
1/4 c granulated sugar
1 lb. 7 oz unbleached bread flour
2 tsp. kosher salt
1 large egg
cooking spray
1 large egg (for baking)
sesame seeds
I started out by heating the milk to 95 degrees. Of course, our thermometer crapped out, so I just had to very scientifically dip my pinky in to the milk to see when I thought it was 95 degrees. (Blunder #1) Once the milk was actually or estimated to be at temperature, I added in the active dry yeast. Such a gross-sounding ingredient but it makes such delicious delights! Also, not as scary as I thought.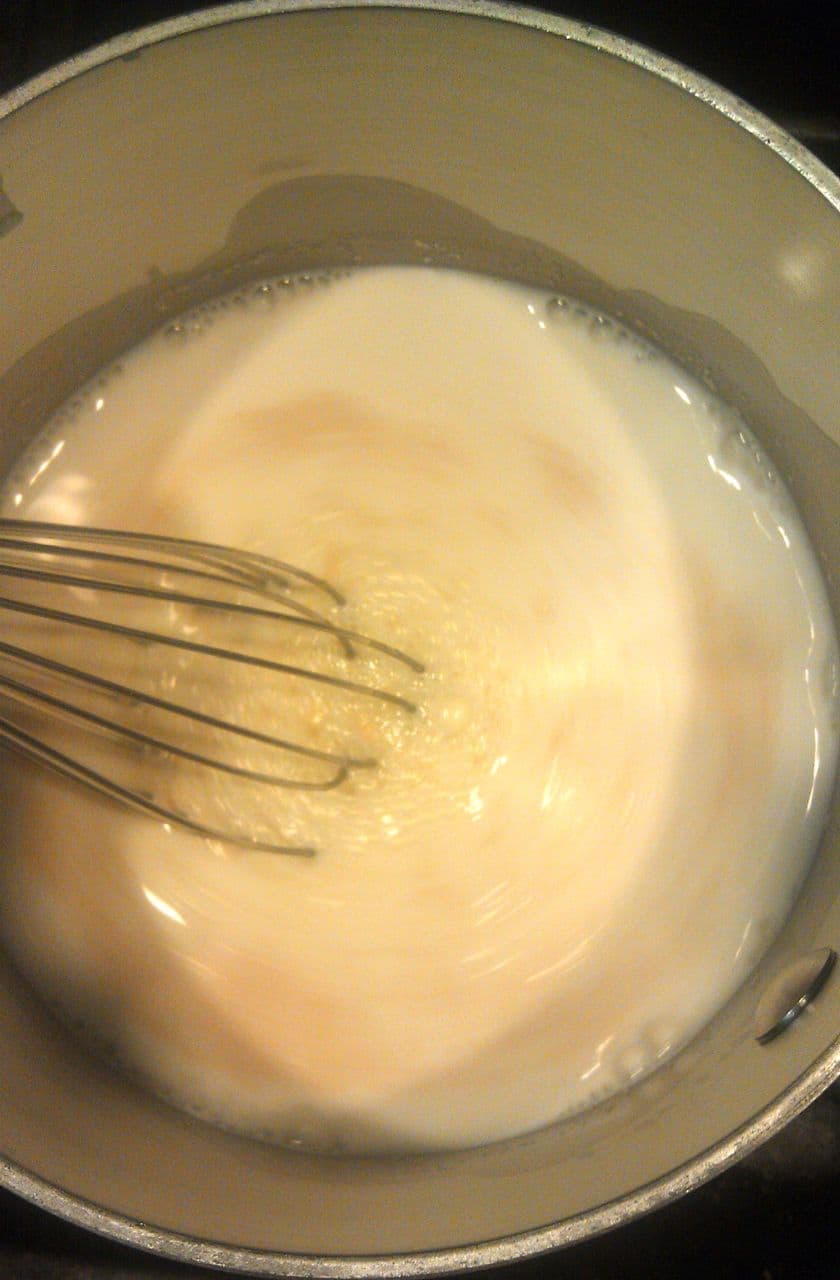 After the yeast dissolved, I added in the butter, oil and sugar. Then, I let it "rest" until the yeast rose to the top. I had no idea what that process was supposed to look like, but the recipe said it would take about 5 minutes for the yeast to rise, so I just set a timer for five minutes and was left with this after those five minutes. You can see the butter didn't melt completely, but the recipe said that was fine.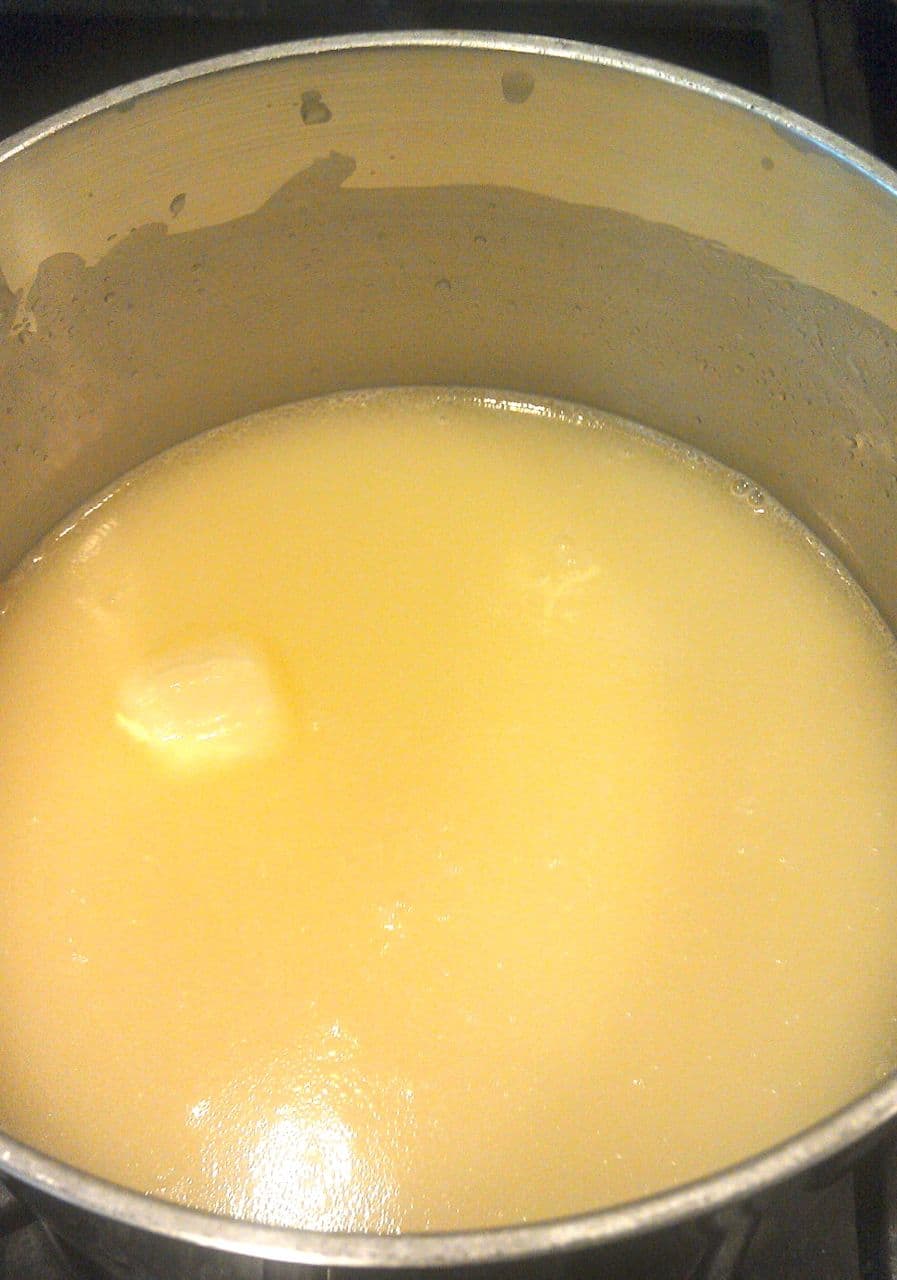 Then came the fun part: using the stand mixer to make the dough. I mixed the flour, salt and the egg using my paddle attachment, and I added the yeast mixture to that flour mixture. I let the mixer run for a minute before letting the combined dough rest for five minutes. After the five minute rest period, it looked like this up close. I have to admit, I wasn't impressed. I was convinced that this point that I had done something wrong.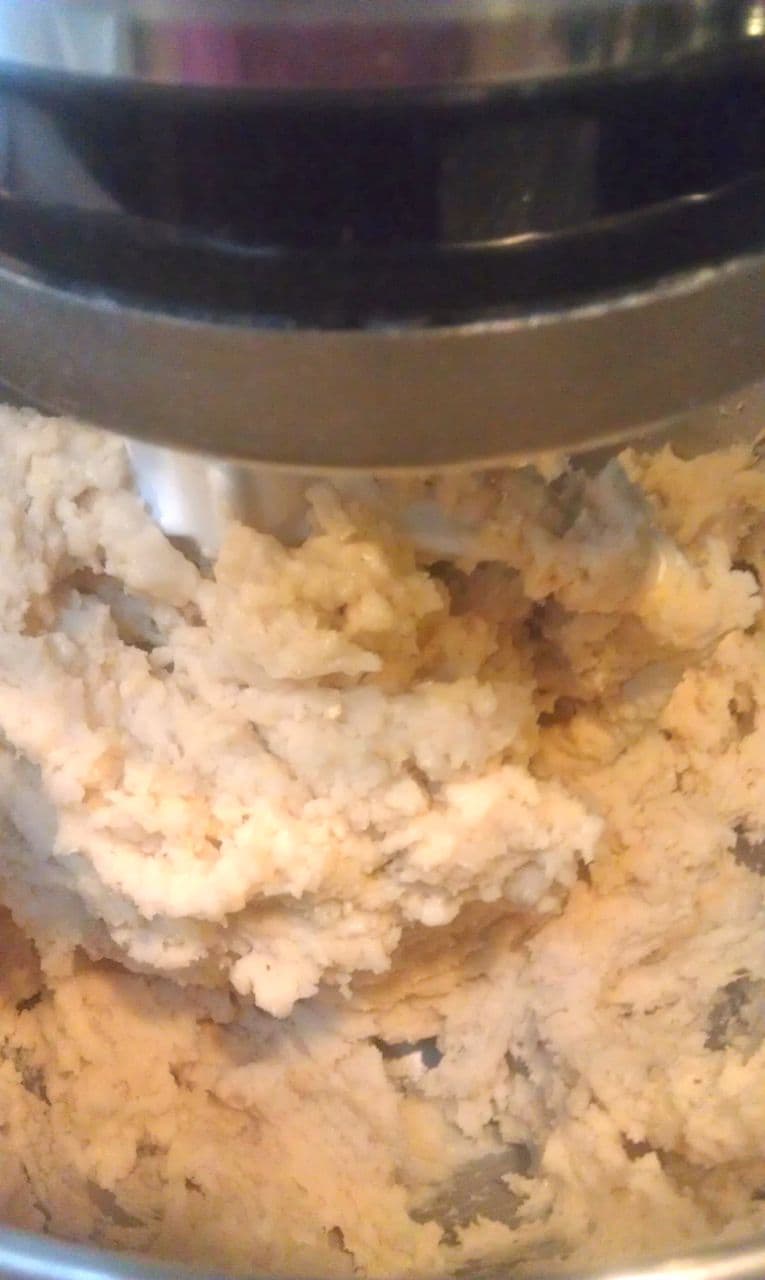 I swapped out the paddle attachment for the dough hook, and started the mixer one last time for three minutes. The five minute rest period did wonders for this dough, because it looked like actual dough afterwards!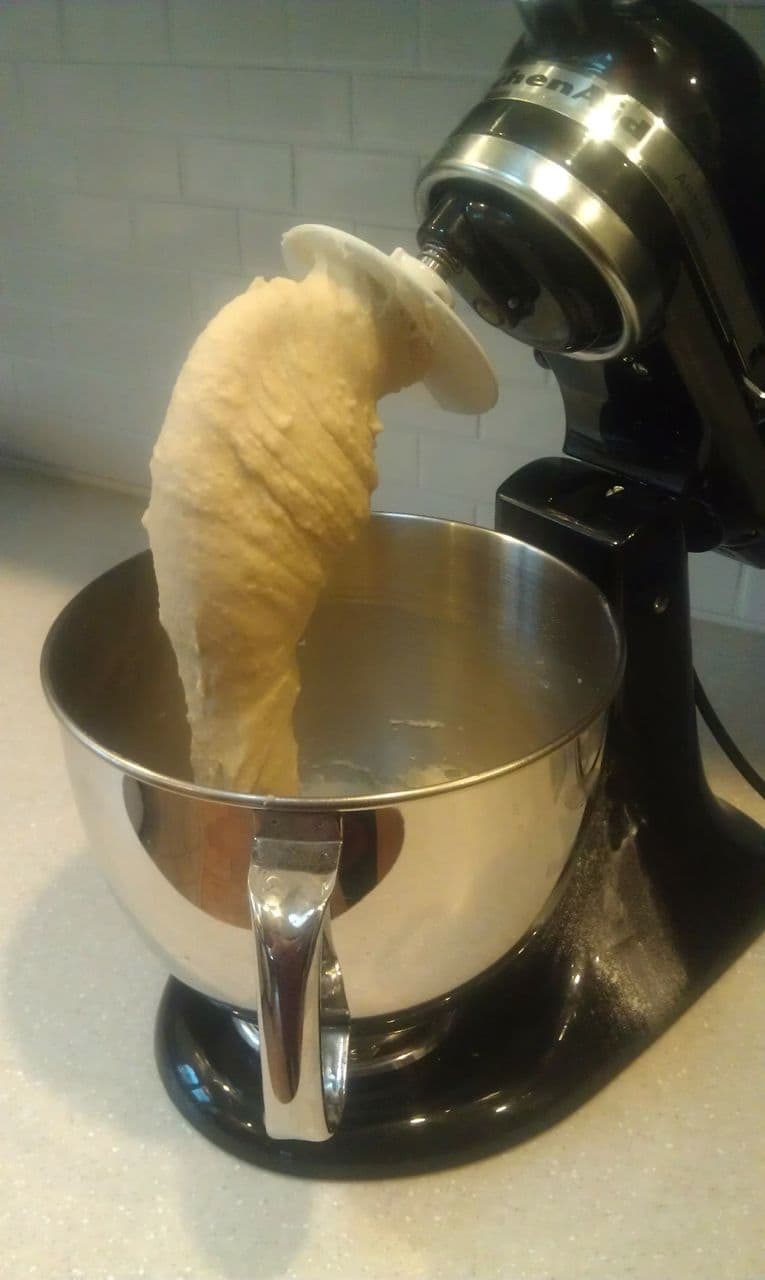 At this point, I was supposed to use vegetable oil to create an oily, 8-inch circle on which to place the dough. Ready for Blunder #2 and Blunder #3? While hustling and bustling around the kitchen, I knocked over the uncapped bottle of vegetable oil not once, but twice. It was a mess and I let loose a string of words that aren't blog-worthy. I managed to recover after almost shedding a tear over it and threw my dough ball onto my 8-inch circle of oil, pulling up each of the four sides to create a tight ball of dough.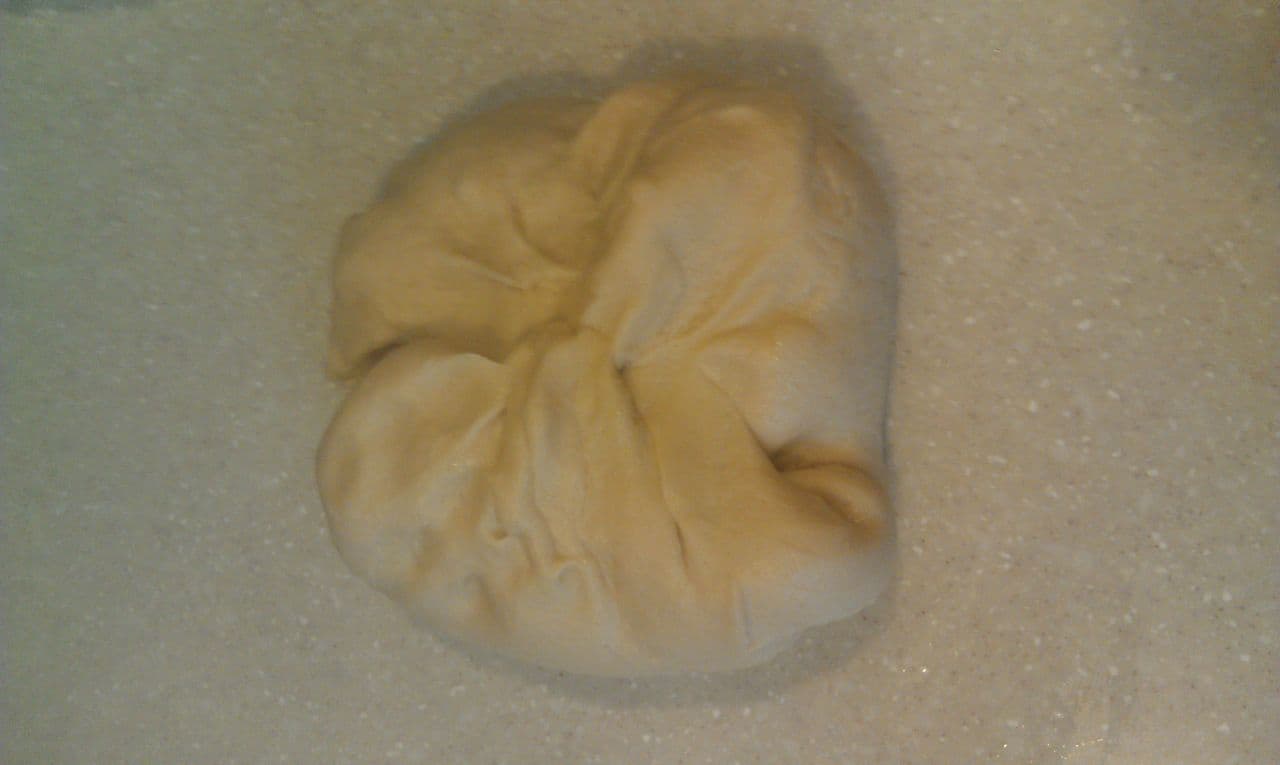 I placed the dough seam-side down into a bowl twice the size of the dough ball and covered it tightly with plastic wrap. Naturally, I poked a hole in the first layer of wrap, so had to double it up. (Blunder #4!)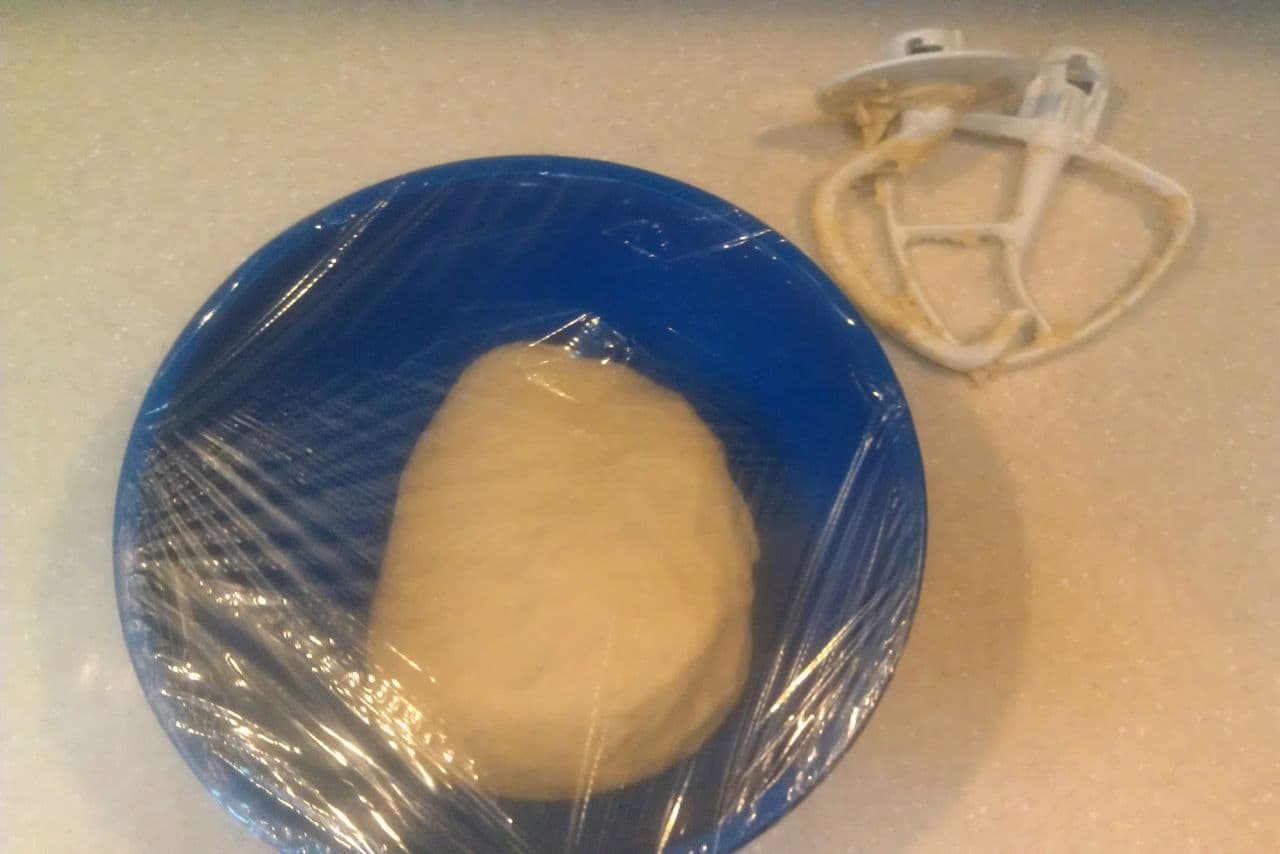 We were due at my Mother-in-Law's for a late lunch/early dinner at 2pm and a half hour before we had to leave, I stumbled upon the part of the recipe that said the dough had to rise for 90 minutes. Whoops. Blunder #5. I called to ask if I could bring my rising dough ball, and like that, this baking project got that much more complicated. Way more than 90 minutes later, I peeled off the plastic wrap to find my dough ball had in fact doubled! Woot! Go yeast!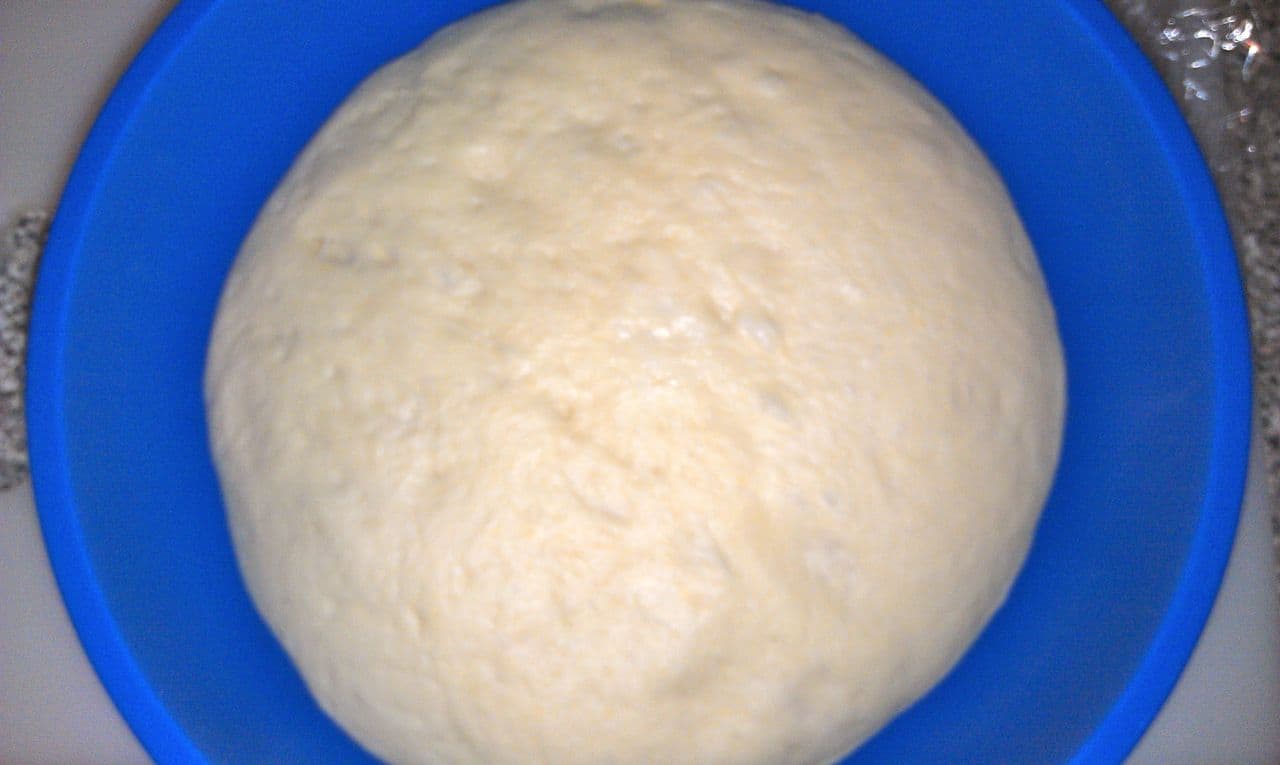 I recruited some assistants to help me roll out the dough into foot-long "ropes" that would be folded into little knots. I placed parchment paper on the baking sheets and lightly misted the paper with cooking spray. On went the knots and on went the egg & water wash to help grasp the sesame seeds we sprinkled on. Into the oven they went, with a little prayer that they wouldn't taste horrendous, since I had an audience at this point that wanted to try a bite, instead of just me and Griff.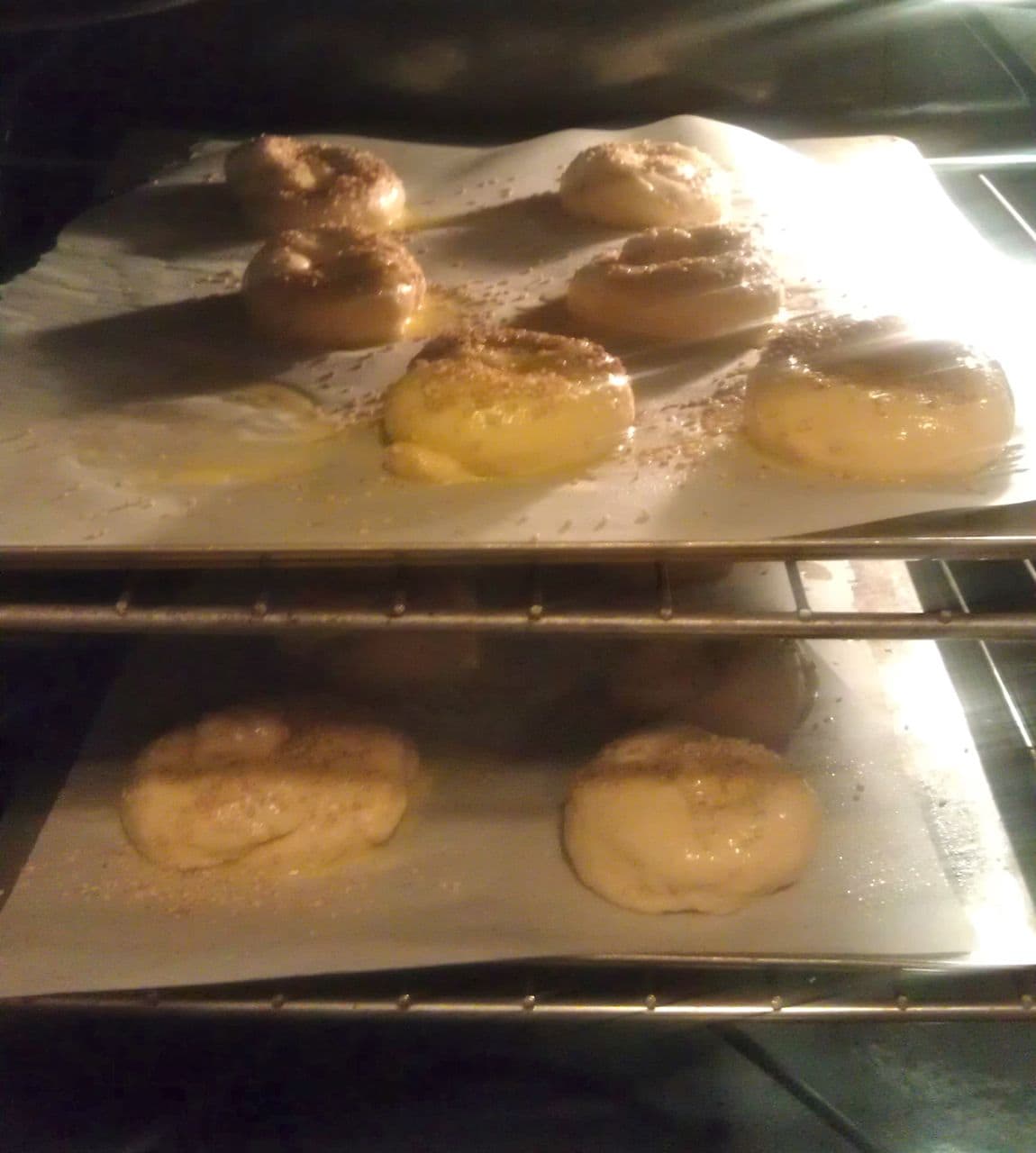 My dough ball must have liked the car ride or the change of scenery because they looked incredible coming out of that 400 degree oven.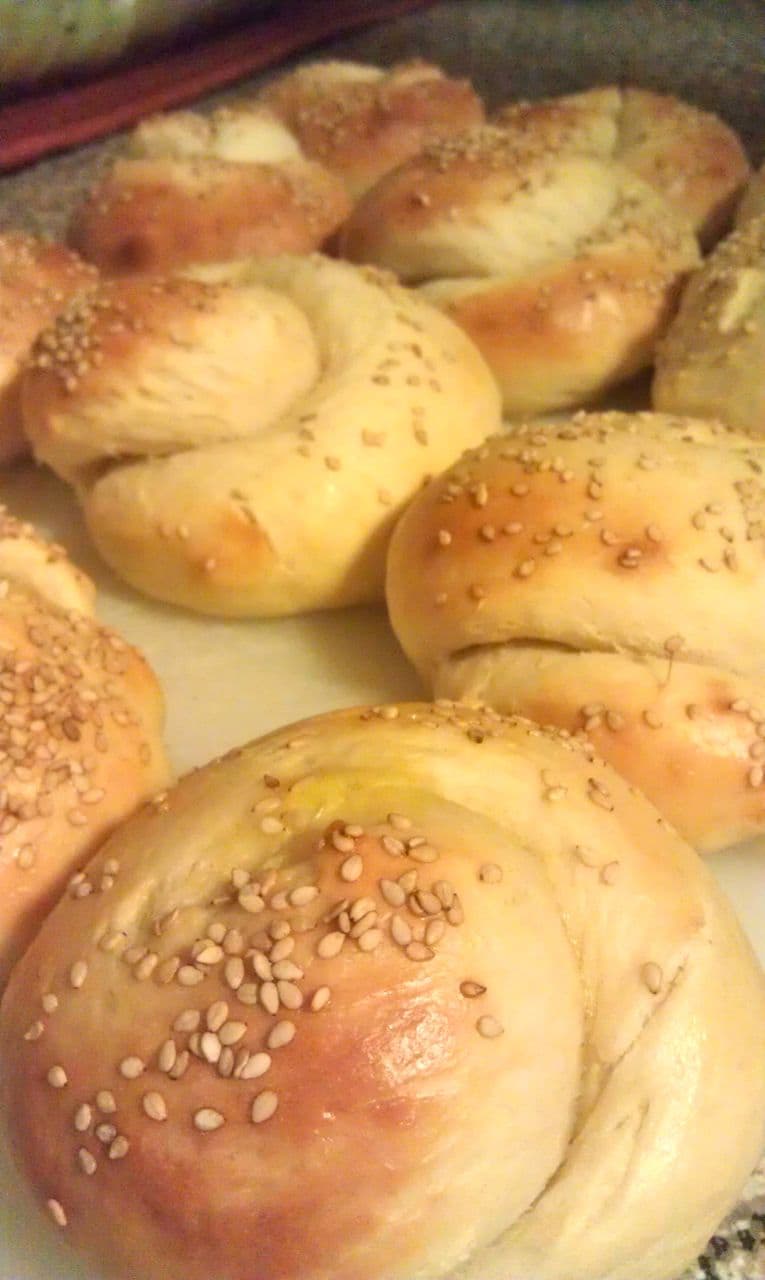 My assistants helped me taste test the fancy-looking dinner rolls, and the feedback was positive. Really though, what's not to like about warm bread fresh out of the oven - especially when it has a dab of butter melting into the doughy crevices? The only one that wasn't happy with the rolls was my Griffin - because he didn't get a bite. Poor thing.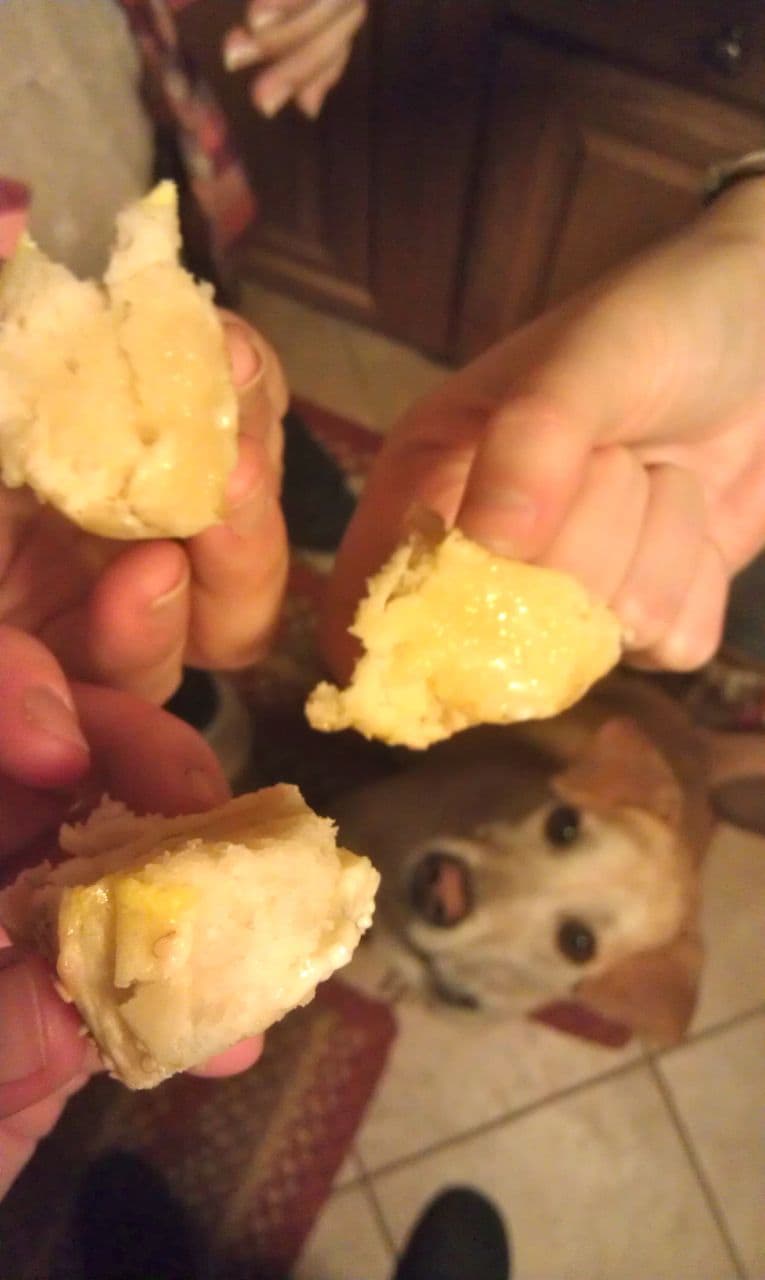 We had fried chicken to accompany the rolls, and he snagged a few bites there - so don't feel too sorry for him.
Besides for the 5 blunders costing me a kitchen switch and an entire roll of paper towels, I'd say this was mostly successful. I can't wait to slice one tomorrow morning, pop it in the toaster oven, and enjoy it warm with some butter and jelly after all of my breadventures… see what I did there? Breadventures. Ha.
How about you? Did you cook anything interesting this weekend?