I know what you're thinking. "Most Amazing Ever? How bold a claim." I agree with you. Really - I do. Yet, I've had two people (one is an incredible baker) tell me that these cookies are the best chocolate chip cookies they've ever had so please, be your own judge.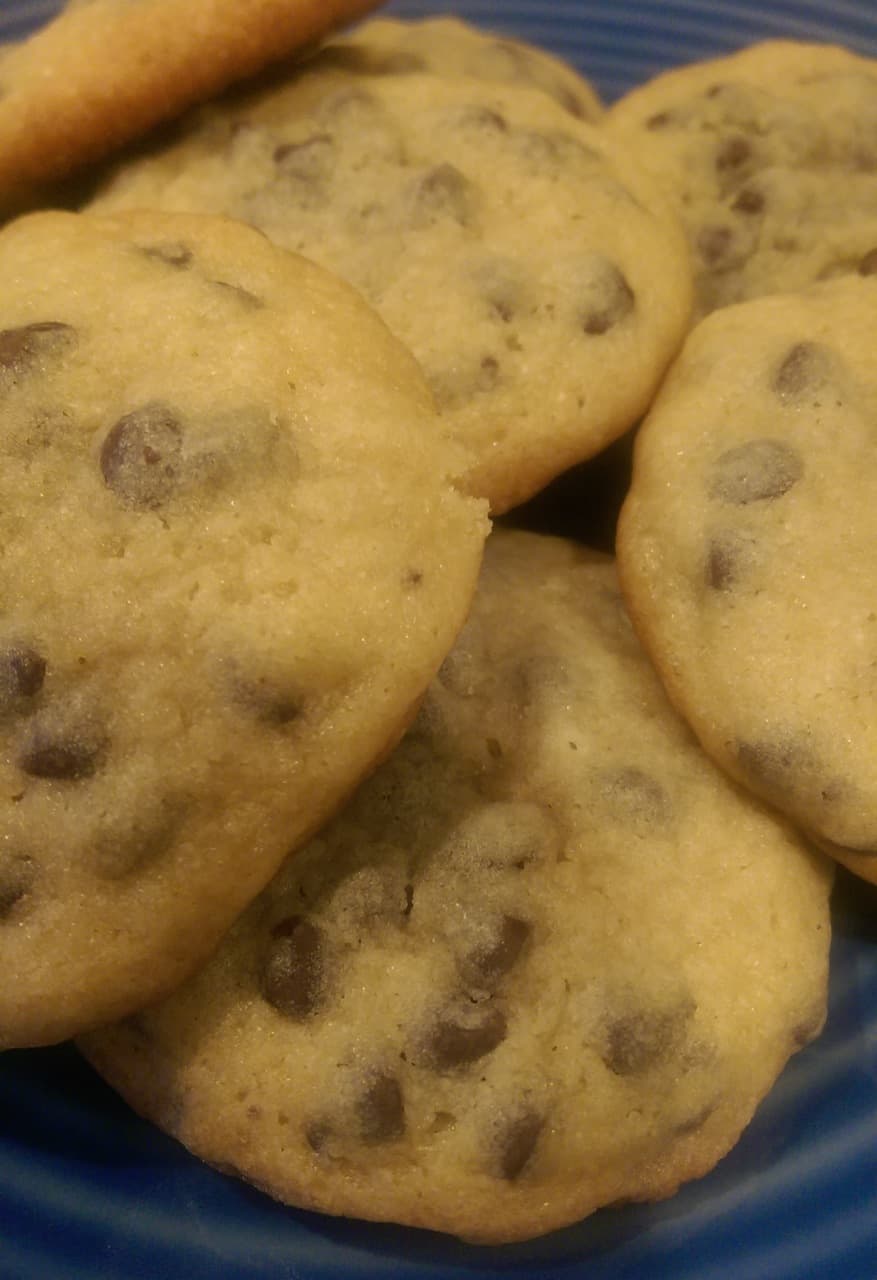 It started out as a basic Martha Stewart recipe but I've tweaked it here and there to make it my own. Without further ado…
Ingredients
2 1/4 c whole wheat flour*
1/2 tsp baking soda (Really make sure it's baking soda and not baking powder. If you're like me and you're rushing more often than not, beware. Been there. Done that.)
2 sticks (1 c) unsalted butter at room temperature (Don't overlook this. Don't use the microwave. Try to plan ahead. It makes a difference.)
1/2 c granulated sugar
1 c packed light-brown sugar (I buy the kind in the plastic bag - it stays fresher and somehow avoids the hard-as-a-rock fate that plagues most brown sugars.)
1 tsp salt
2 tsp vanilla extract (This seems like a lot - go with it.)
2 large eggs
1 bag (12-ish oz) mini chocolate chips**
Parchment paper***
Directions
Preheat oven to 350.
Combine flour and baking soda**. **Set aside.
In another bowl, (preferably that of an electric stand mixer) combine room temperature butter and both sugars until light and fluffy.
Add salt, vanilla and eggs to butter and sugar mixture.
Add flour and baking soda slowly (I do this in four different sections to let the mixer keep up). Stir in the chocolate chips.
Put the bowl of cookie dough in the fridge to chill for 30 minutes.
Taste test the dough. Don't skip this step. Obvi.
Roll small balls of dough (a heaping tablespoon) in your hands and drop onto a cookie sheet covered in parchment paper
Bake about**** 8 1/2 - 9 1/2 minutes. Let cool on baking sheet for a minute or two then place on a wire rack to cool.
Consume while warm and enjoy your little slice of heaven. Preferably with a glass of cold milk.
*This is one of the main reasons these cookies are the best ever. Everyone knows that whole wheat flour is healthier than all-purpose flour so these cookies are essentially akin to dieting. Guilt free, baby.
**This is the other reason these cookies are the best ever. Mini chocolate chips. Better chocolate distribution throughout. So unexpected. So delicious.
***I never thought this mattered. It does.
****Every oven is different. WATCH the cookies towards the end. Your oven may cook them in 7 minutes! At the first hint of browning around the edges, pull them out! They'll look undercooked. An undercooked cookie is far superior to an overcooked cookie.
I'm going to a cookie swap today so hopefully these are a hit. Don't worry, I saved a few for me and Matt. Fattening up for Winter is no joke around here.