Hi.
Happy October 15th, my love.
You just left for softball on our fifth wedding anniversary and just as I told you last week when you found out you had a game tonight, I'm not mad. After all, softball is a commitment, your team is counting on you and above all, the season is almost over. You told me that if I said the word, you'd skip the game but the way you honor your commitments is one of the 2,962,541 things I love about you. Lord knows I get more Matt than I can handle as soon as the season ends. Insert winky face here.
All day, people have been asking me if five years of marriage flew by. What do you think? In a way, it has, sure. We look so young in pictures from five years ago but I don't feel like that much time has passed for us to have aged that much. I think that's one of the most fascinating parts of living with another person. How the constant change equates essentially no change at all. Until you look back at pictures, of course. To me, your face hasn't changed a bit but when I look back at what we looked like on our wedding day or four years earlier when we met… wow. We were babies.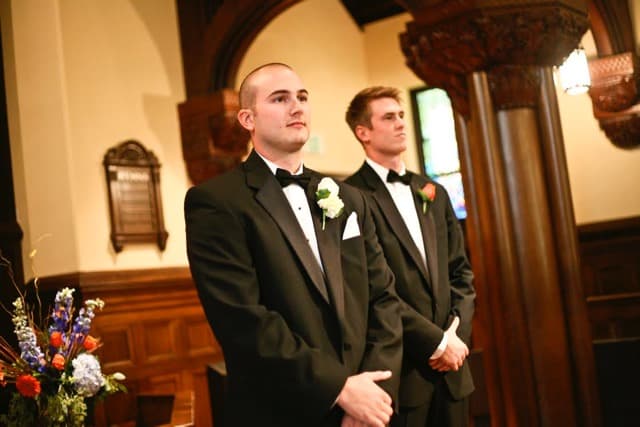 The last nine years have been the best of my life but the last five, since we took that solemn oath together on a drizzly, gray day at my childhood church… they've been without equal. We transformed our fixer upper and began to explore our sleepy little town. We became adoptive parents to our quirky, anxious, fiercely loyal speedster known as Griffin. We traveled to new cities and experienced new adventures. We tackled a scary diagnosis. We welcomed Harrison Mark into our open arms and had our world rocked beyond comprehension. I wouldn't trade any of it for anything, because it's all unfolding exactly how it's supposed to.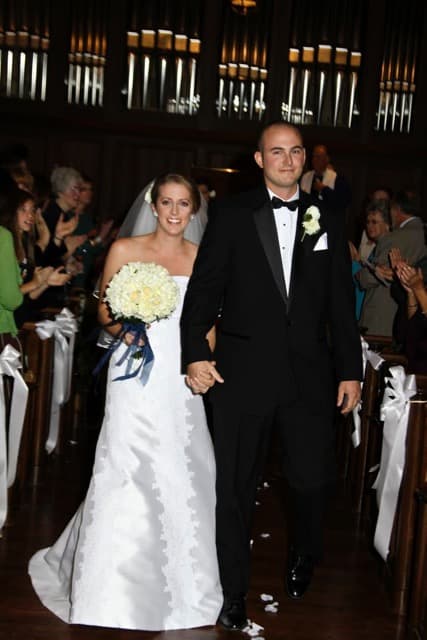 As you know, I am not indecisive, I make my mind up very quickly and I rarely second guess a decision once it's been made. Well, I fell in love with you very, very quickly and I've never once second guessed the process or the outcome.
There are indeed 2,962,541 (and counting…) reasons I love you but I don't have time to list them all right now. You just called to say you're ten minutes from home so since this is serving as your card, I better get going with what I can type in ten minutes or less.
I love how you love me. Above all else.**
I love how you sing to me while brushing your teeth and I love how you have to catch the toothpaste that falls out of the corner of your mouth as you do so. I love how the songs are mostly made-up and I have to let you know, your lyrical prowess impresses me.
I love how even though you don't want to do some of the many ideas that I bring up, you agree to do them anyway and I love that after doing them, you come to love them, too.
I love that your idea of a delicious meal is a grilled cheese sandwich.
I love that you don't like to dance in public (unless you've had a lot of drinks but you'll dance for me and Harrison. I love that you know how much I love to dance and are perfectly content to let me do so as you sit at the table/bar alone.
I love that even though you can afford something nicer, you drive the same beat-up Saturn so that we can save that much more money each month. I love that you don't care about what people think (about the beat-up Saturn or otherwise).
I love how you support our family in all the ways a good man should - you love, you defend, you protect, you care, you invest your everything.
I love how you make me laugh.
I love how you make me feel young.
I love how I still get butterflies waiting for you to pull into the driveway.
I love that you're literally the best man for me and beyond - when I dreamt about my dream man growing up and after each previous relationship fizzled, I was dreaming about you.
I love your infectious smile. I love how not many people know about your infectious smile.
I love how you have high standards for yourself and those you love.
I love how you get so unbelievably silly at home.
I love our home life and I love the life we call home.
I love that you're a homebody like me.
I love how you've come to love my family and I love how I've come to love yours.
I love how small my hand feels when it's nestled inside yours. I love how small my body feels when it's curled up against yours.
I love how easy our love is and I love how naturally we love each other.
I love how I miss you after just a few short hours. I love that being away from you for a night still makes me crazy.
I love how you ask me to put an outfit together for you if you're wearing anything beyond jeans and a tee and I love the way you look when you get dressed up.
I love everything about you and I even love the things I don't love, because they make you who you are.
**The way you love me is not really what I love above all else. The way you love Harrison is what I love above all else. You're truly the best father in the whole world. You listen to him, you read with him, you play with him and the best part is, you'd rather be doing those things more than any of the other things you love. Just like me, you'd die for him.
As I've said from the beginning and as I've written on every card I've ever written you, you're the center of my world. It's simple, it's right, and it's true.
Here's to another incredible five years and beyond.
Your girl,
Mand