Hit me! I haven't posted to this blog in 3 months and I owe it (and you) 3 definitive posts. I'm behind on our board & batten post (pre-Thanksgiving), our new front door post (pre-Hanukkah) and Harrison's 21-month letter (pre-Christmas). Oops. Here's an update on our front door while I get the other two posts together. Oh, and Happy Thanksgiving, Happy Hanukkah, Merry Christmas and Happy 2016. There. All caught up.
We first looked at this house in April 2009 and since April 2009, I've been dreaming of a new front door.
Our front door was nothing to write home about. I'd actually describe it as being sort of gross. Yet, as it is with most things when you're rehabbing a home project by project, there's always something in the hopper that's a little more "pressing" and the door didn't really come to the front of the line until this past Fall. It should have, but it didn't.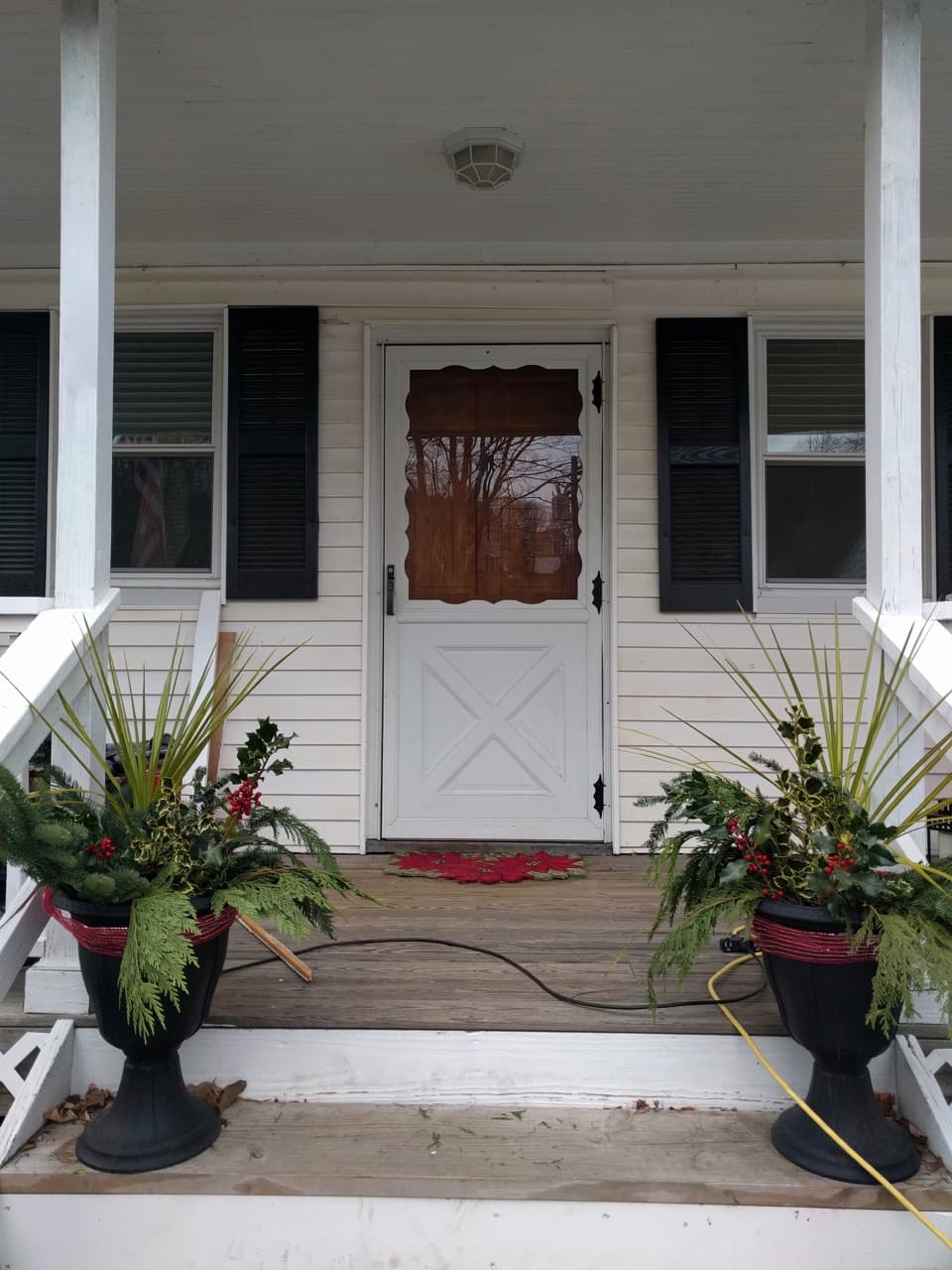 The storm door was dirty, dated and dented (what a combo!) and Griffin had to go through great balancing lengths just to be able to see me get the mail.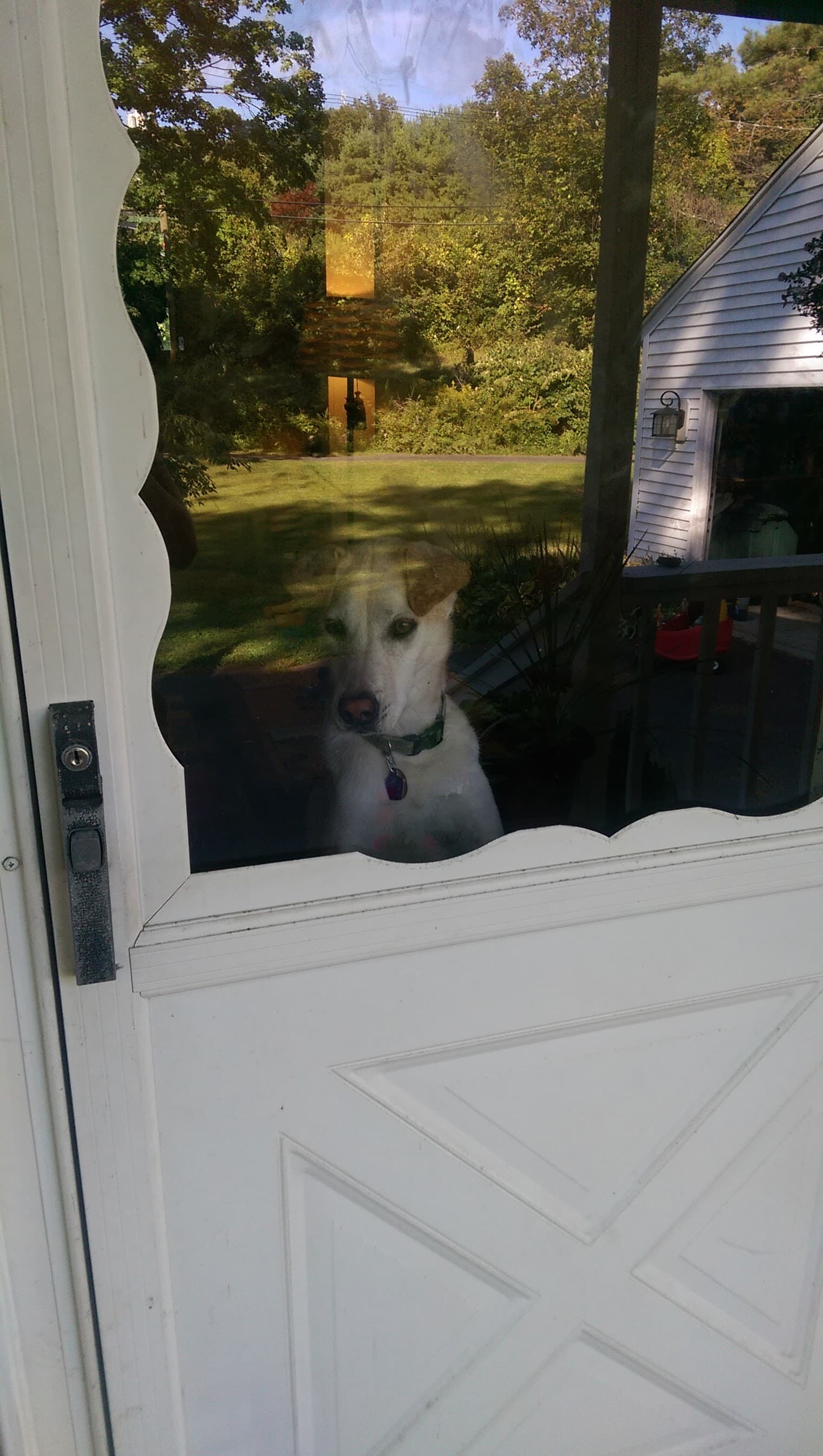 The door itself was never installed properly so it squeaked and leaked an incredible amount of cold air when old man Winter rolled around. You couldn't even call it a draft. It was a serious cold air stream assault. Our first step was to hit Lowe's to peruse our options and get an idea of what was out there, what it might cost us, and how fast it could happen. Matt was mostly concerned with the latter two where I was concerned with what colors were options. I had yellow in my head to match our back door, but it wasn't an option.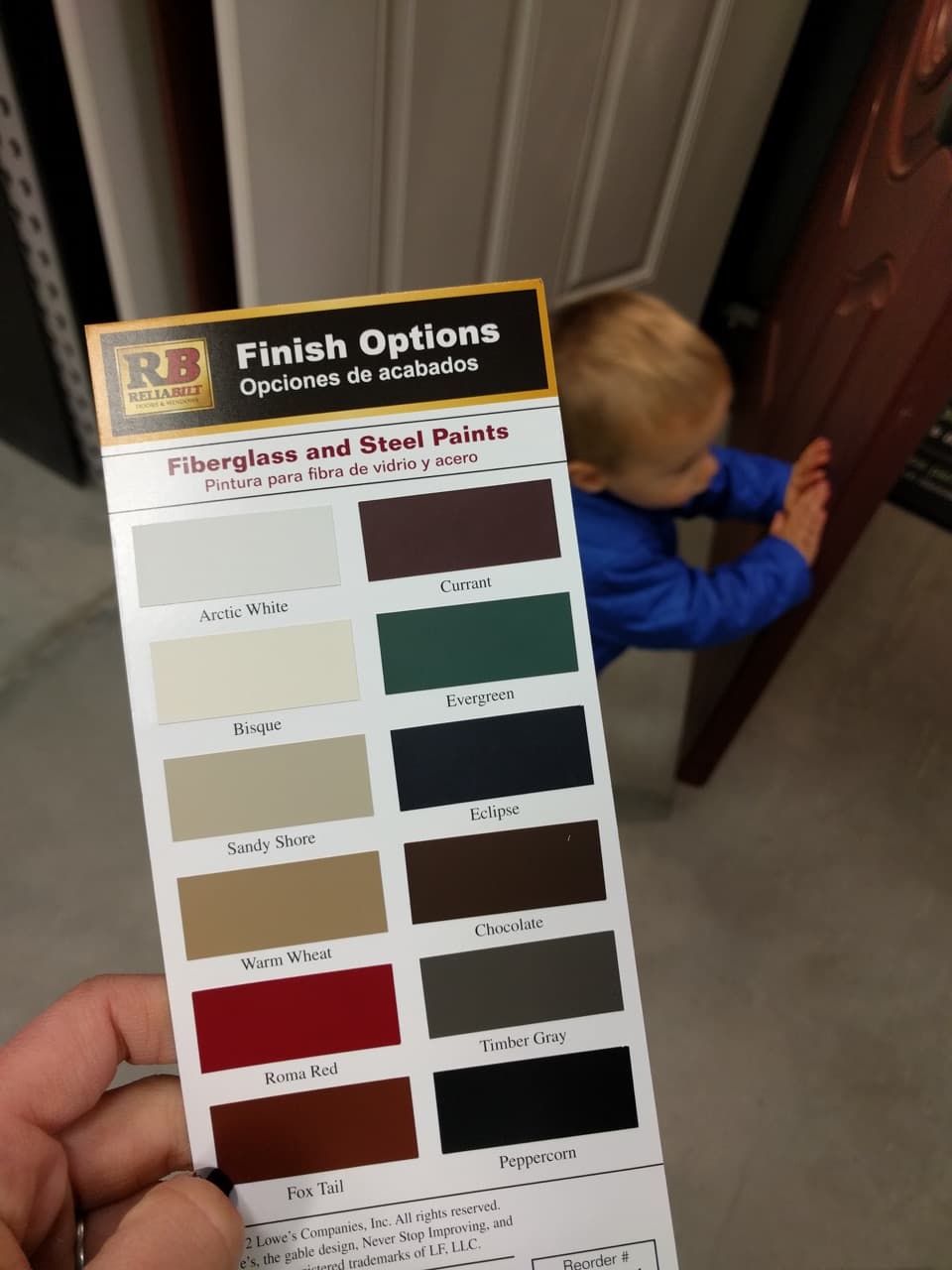 Then I got a soft green sage color stuck in my head but that option was an additional few hundred dollars. It got nixed. I was on the fence between Roma Red and Evergreen but ended up going with my gut.
Actually, we didn't go with my gut right then. We brought the color card home to think about and asked a few trusted locals for contractor recommendations. You see, we're DIYers, sure, but when you need something done as daunting and precise as hanging a front door, we readily admitted we'd need reinforcements. Matt had replaced our back storm door, but we were nervous of the door itself coupled with the age of the house. Enter Rich, a talented local guy who helped us out.
Rich took measurements, gave us a price and told us to call him when the door came into Lowe's so he could go and pick it up for us. When the door came in six weeks after placing the order with Lowe's, it didn't disappoint. I loved the red color and the smooth factory finish. We could have painted it ourselves and saved $200, but the factory finish was worth it.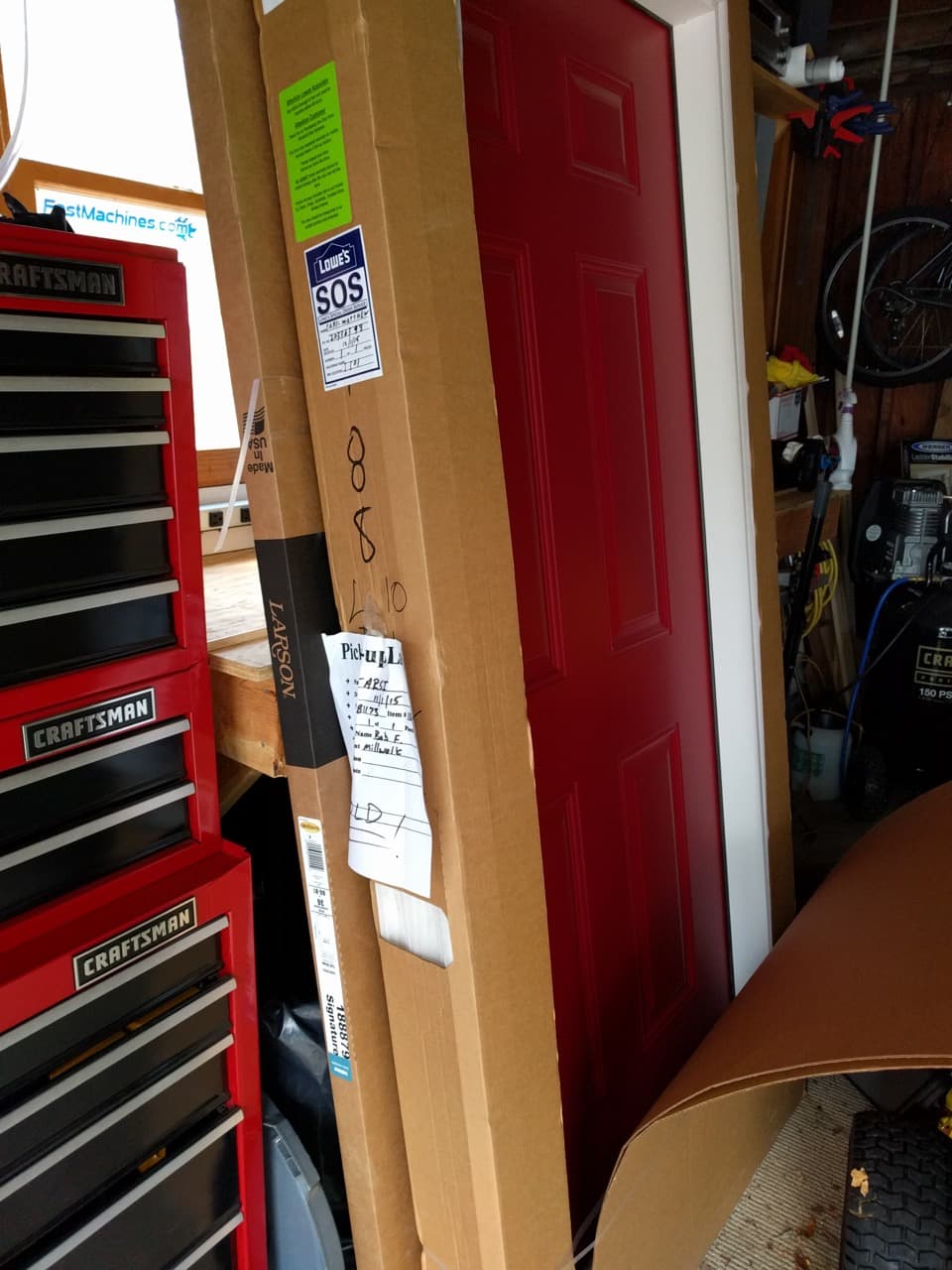 Six weeks after ordering it placed us in December for the delivery. Yep, December. Replacing a door. In December. When it's cold. Oy.
Rich had a few other projects he was finishing up and came by to start a few days later. We figured it'd take a day or two and he'd be on his merry way. On the morning he was slated to arrive, Matt started taking down some of the surrounding trim around the existing door and his little helper was never far behind with a hammer of his own.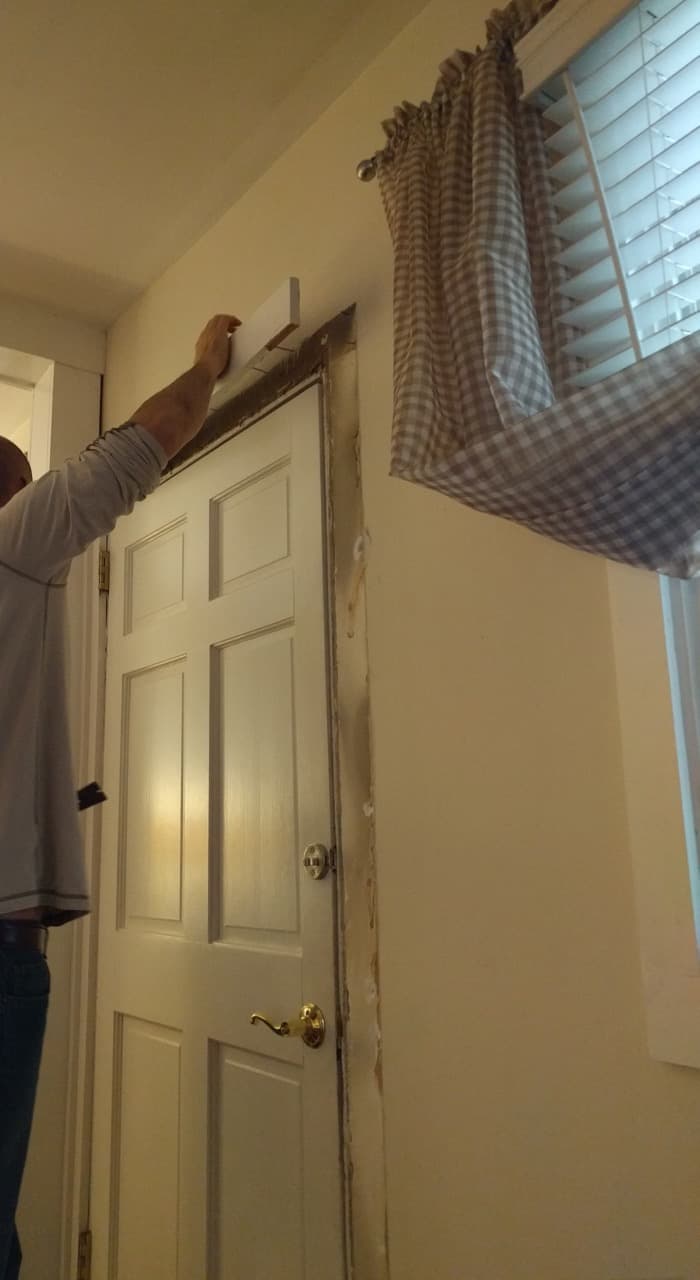 I took a final shot of our old door (cute model, right?!) and Rich got to work.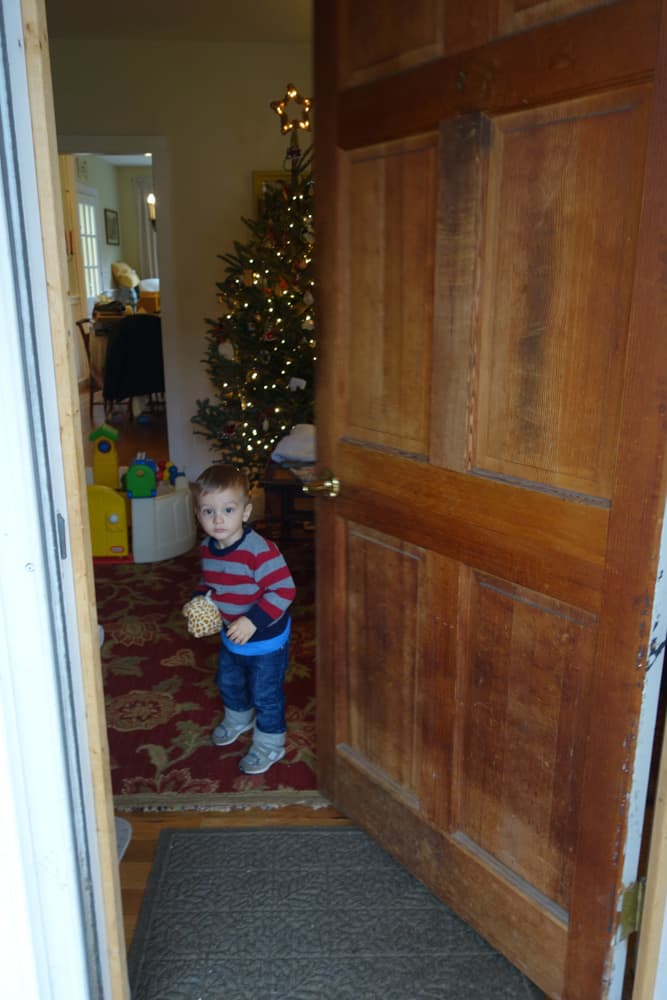 Once the trim was off, Rich was set up with his tools and a few hours later, we were without a door.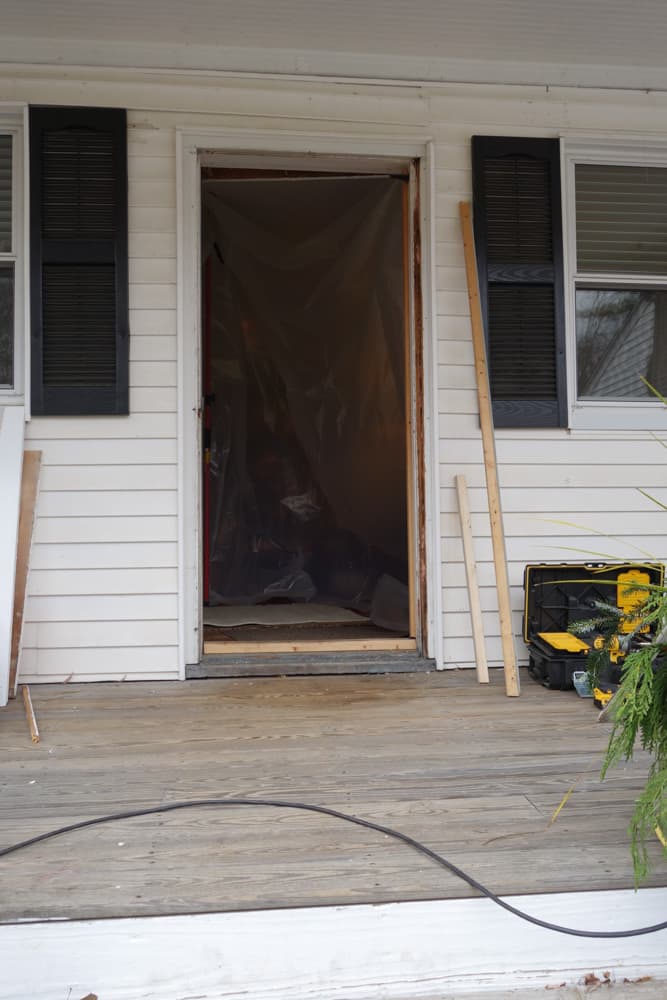 If it looks like there's a plastic bag inside, you're kind of right. Seeing as it was December, Rich set up a mini tent, if you will, to work within so as much cold air as possible would be contained.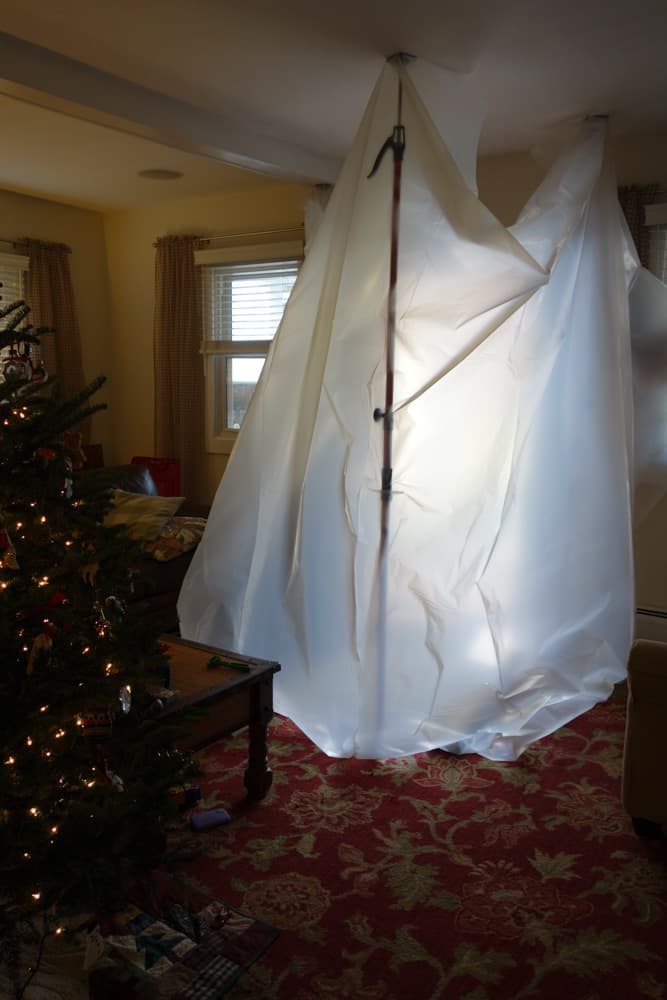 I was so grateful, however ugly it was. I was also extremely grateful for the 40 and 50 degree days we had while tackling this… the next door gets replaced in June.
Even before Rich started digging down into the bottom threshold to see what he'd be workin' with, he found some evidence that the door was never installed properly and further confirmed it was in dire need of replacement.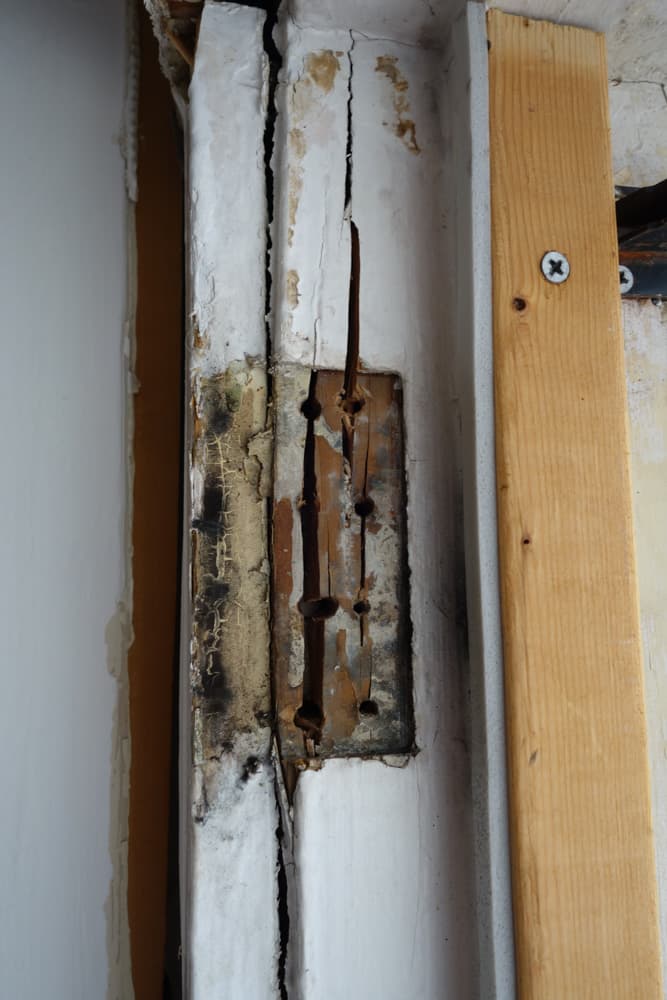 Yep, that's the side jamb CRACKING. No wonder we had a stream of cold air numbing our toes and hands each Winter! As the side jamb/old sill removal progressed, Rich called to my attention the beam that had supported the old door. You can see the top half of it under our hardwoods.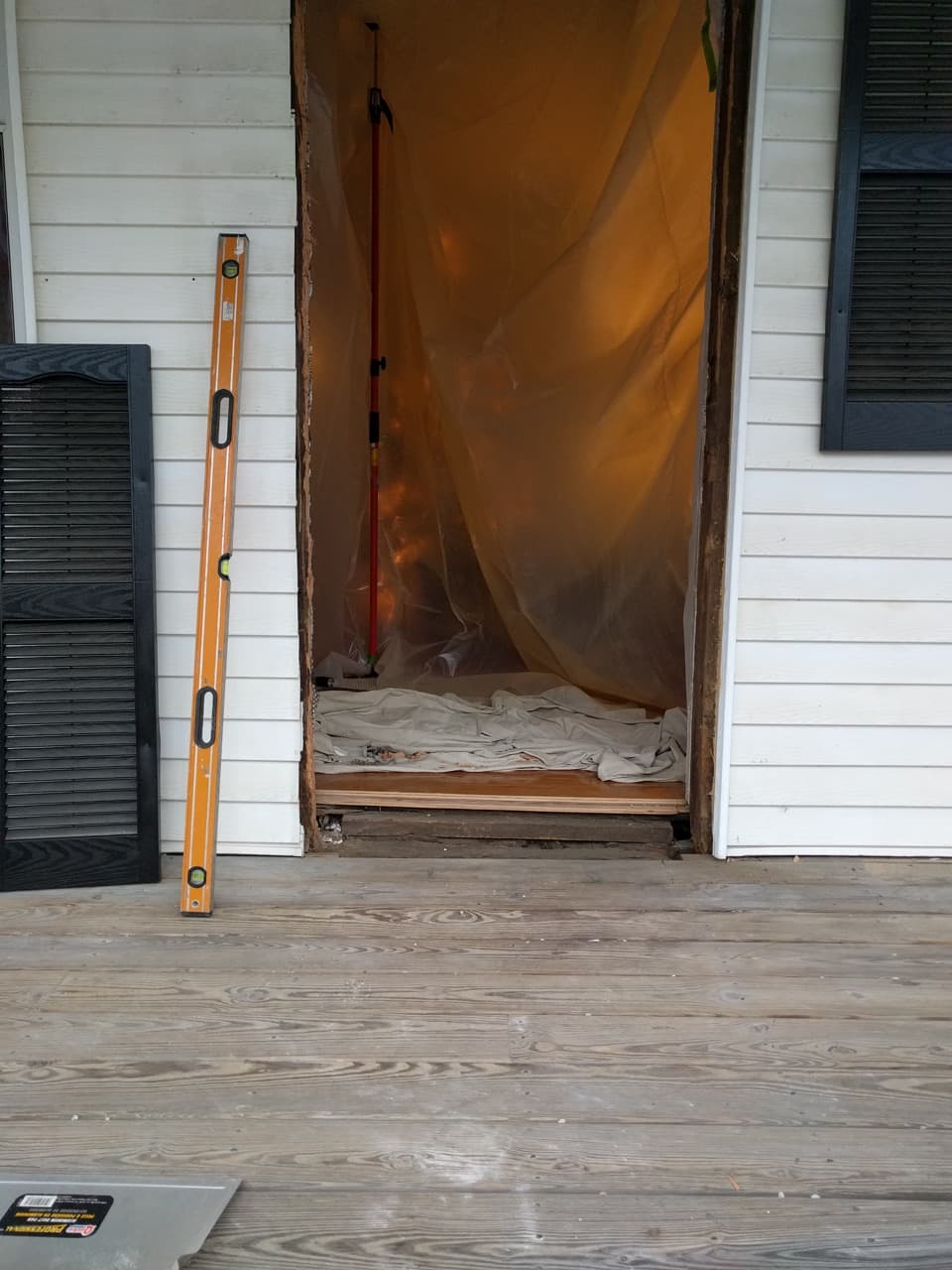 If you can't see well enough, here's a close up of the disintegrating beam.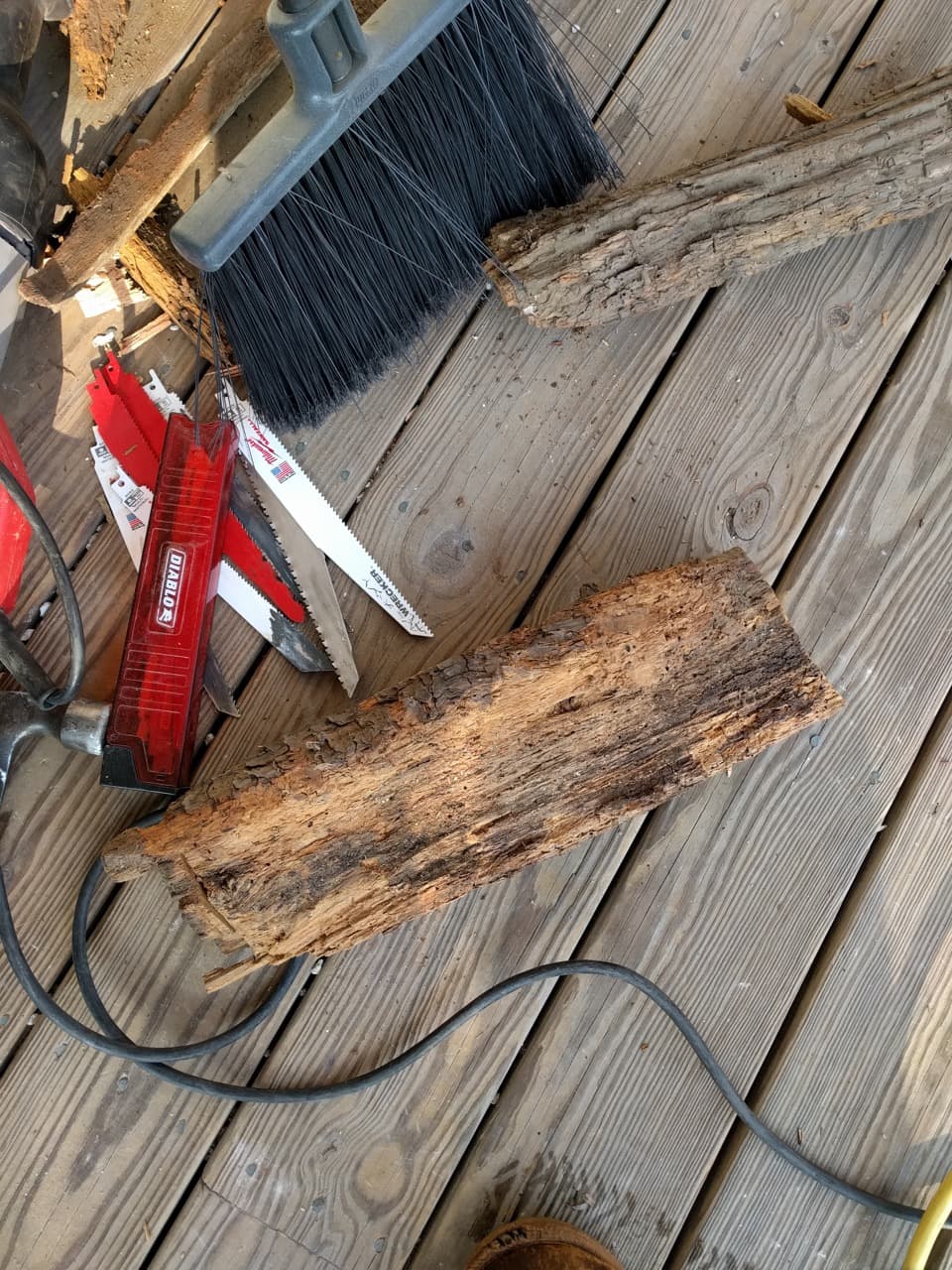 Rich explained it to me and basically, the "beam" was put in back in 1875 when the house was built to be a small school house in town. Between old termite damage (that previous owner's neglected) and age, the beam that sat on our stone foundation was essentially turning to dust and the constant movement as we entered and exited the house wasn't helping matters.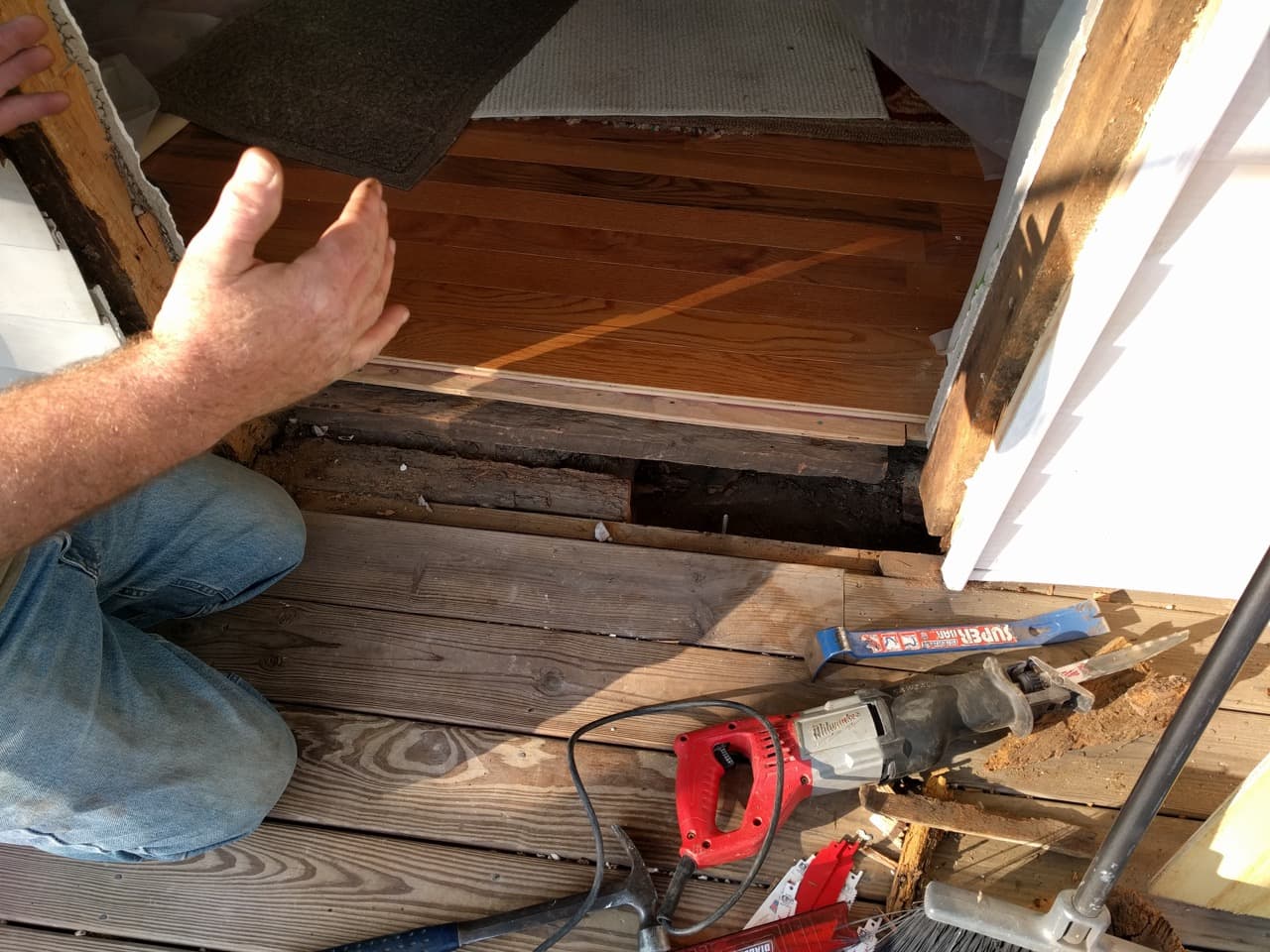 I called Matt at work, and he actually came home at lunch to see for himself and talk about the plan going forward. Obviously, we knew this would double our timeline of 1-2 days and increase the cost significantly.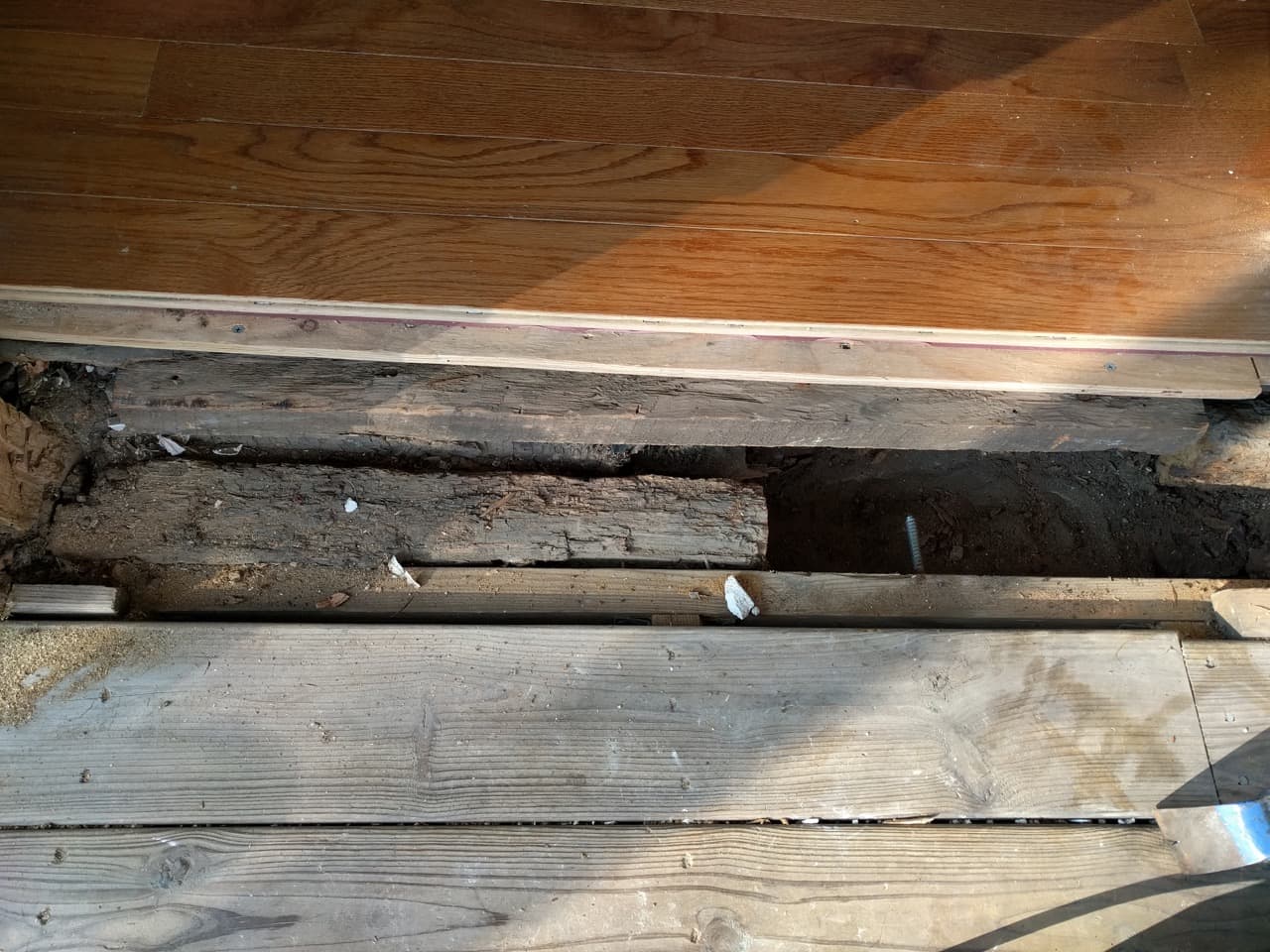 After a brief discussion, (we needed a door ASAP - we'd used a plywood door bolted to the frame each night) we decided to have Rich go ahead and remove the pieces of beam that had deteriorated and jack up as much of the frame as possible with pressure treated wood pieces and metal shims.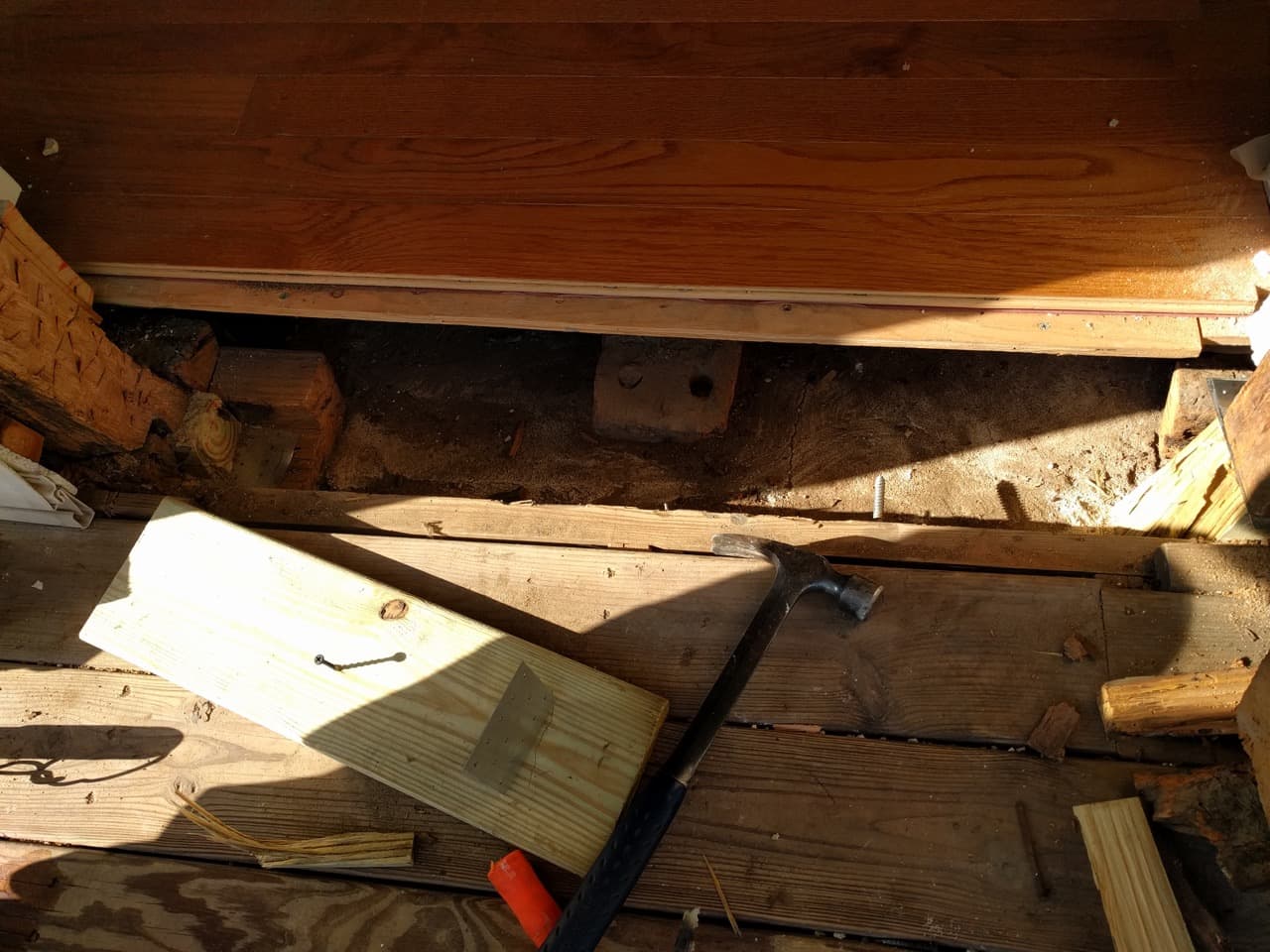 He'd then mix some cement and pour the cement into the opening, letting it seep into the gaps and crevices to create a solid foundation on which the door could sit. We weren't ready to have a structural engineer come in and tell us we'd need to pay $10k for a job for which we'd budgeted $1,200-$1,500. Rich assured us that it would be as solid as possible and while it may not hold for another 135 years, it'll do the job for a good long while to come. That was okay for us.
The cement took about a day to set and finally, we prepared ourselves to see a new door in the giant opening we'd now been staring at for four days.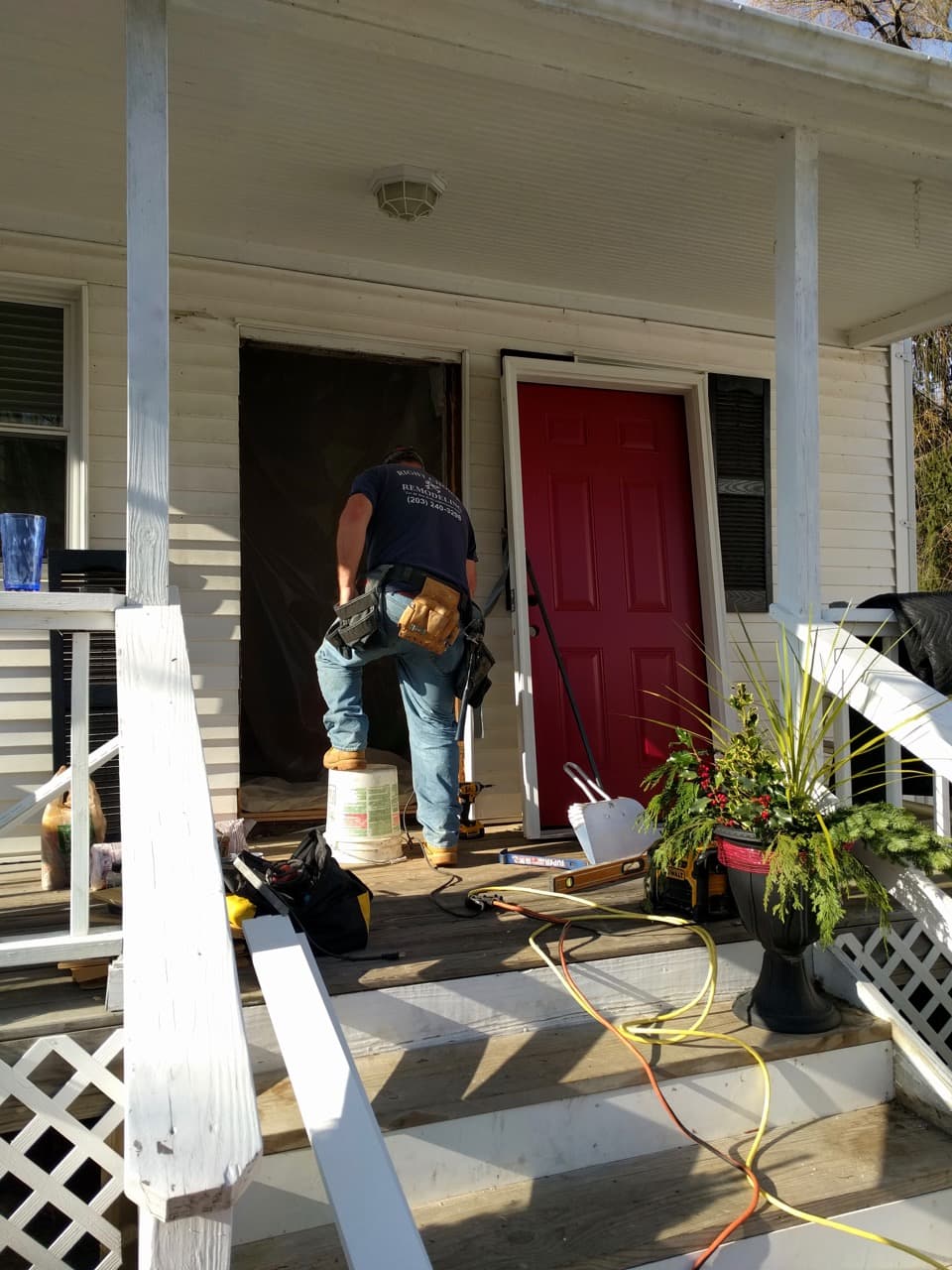 I fell more and more in love with the color once it was up near the black shutters and white (dirty and in need of a cleaning, but white) siding.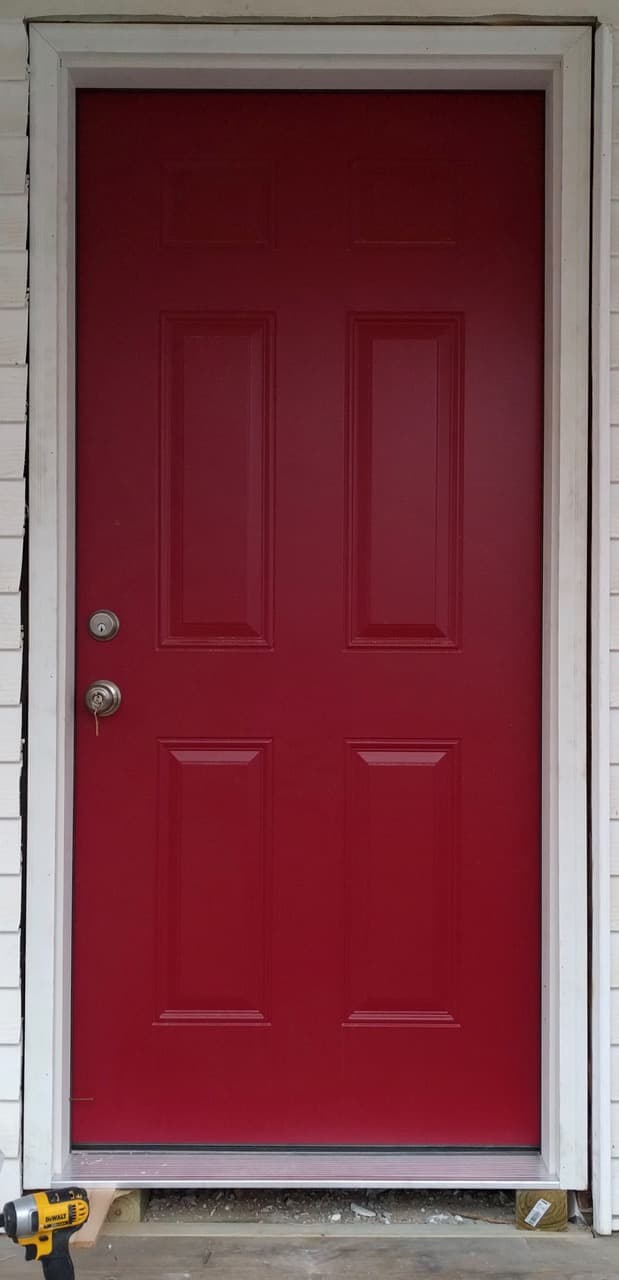 Rich did a beautiful job trimming out the whole thing and even replacing a piece of decking that was damaged in the process. Boy, was it a mess, though. Totally expected, but messy.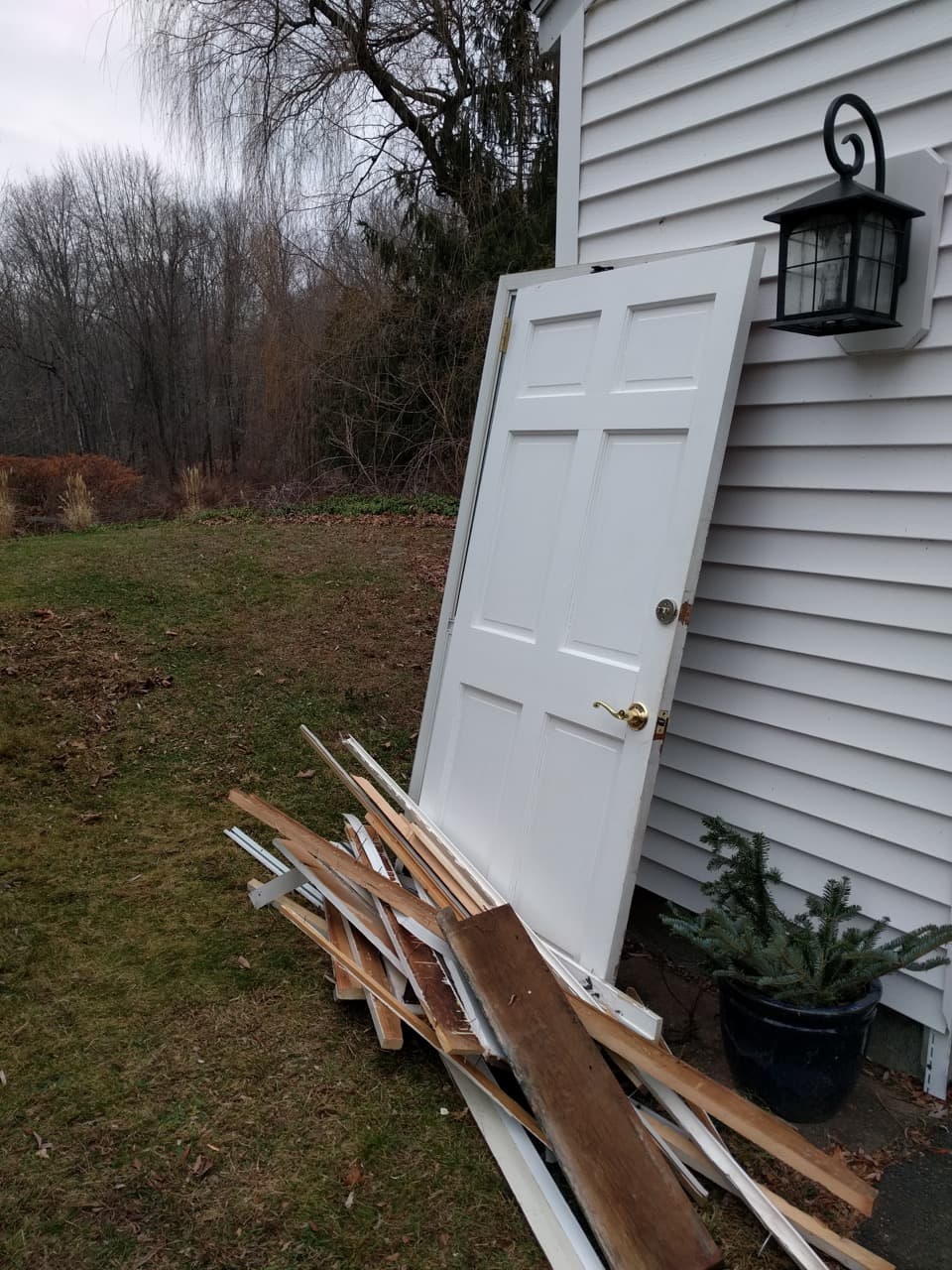 The total cost with labor and materials was just shy of $1,800 which was a little higher than we anticipated, but given the scope of the job once we started (literally) digging, it was worth every penny. With it installed and sporting new hardware and a new storm door, the fun part came: the Christmas decorating! As predicted, Griffin LOVES the full-view glass. Harrison thinks it's pretty cool, too.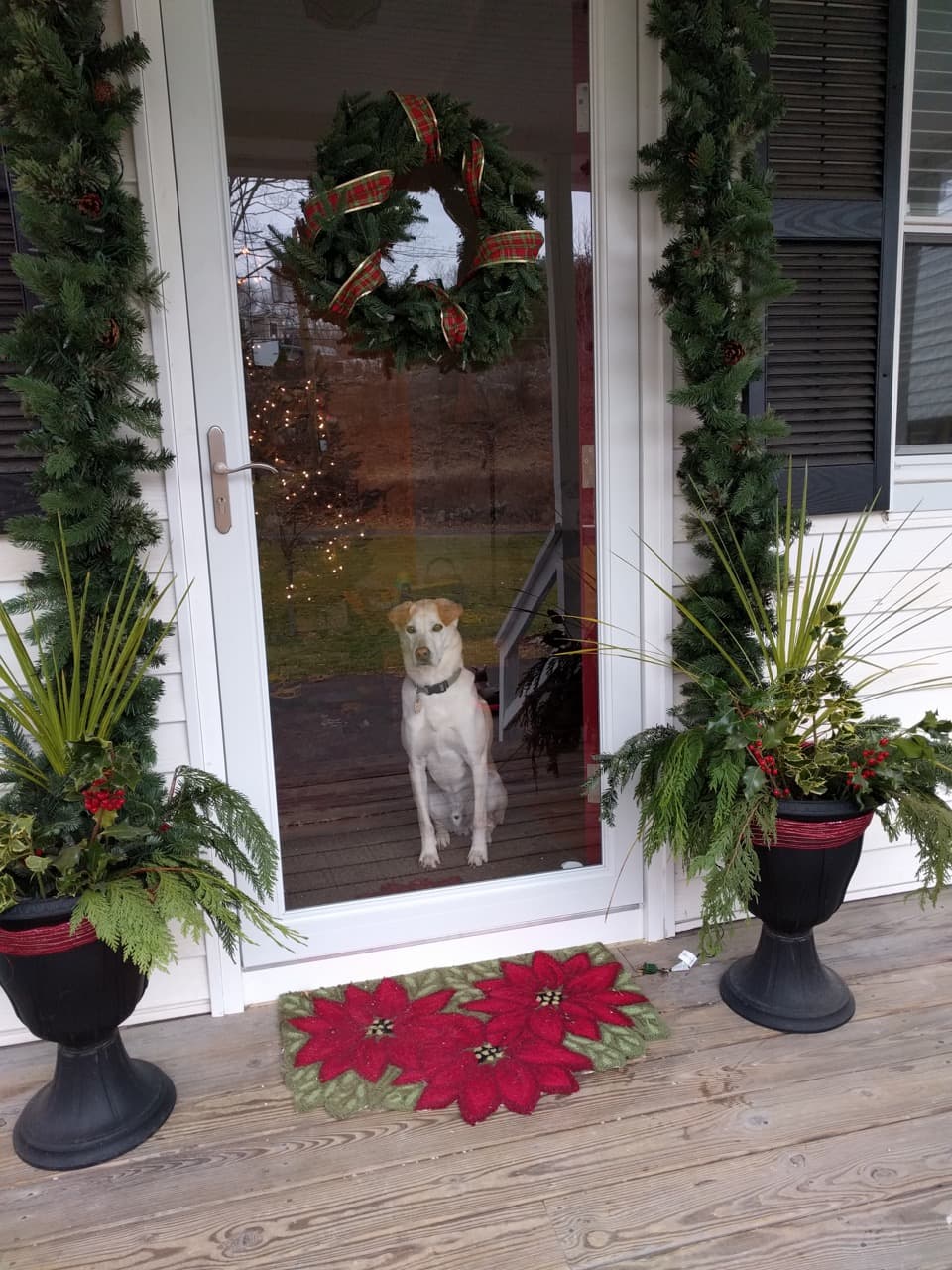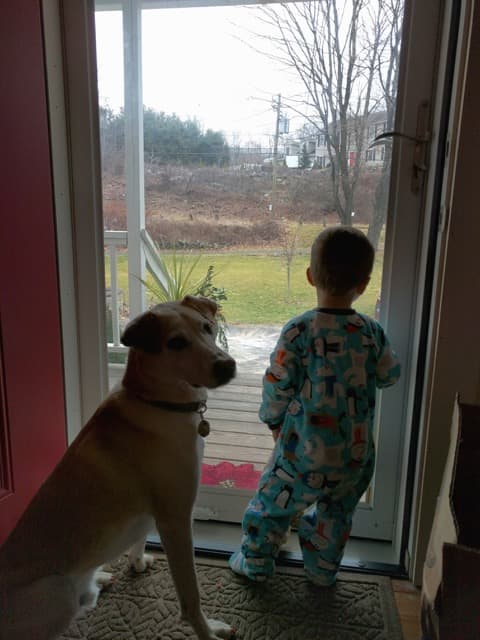 I love the final product.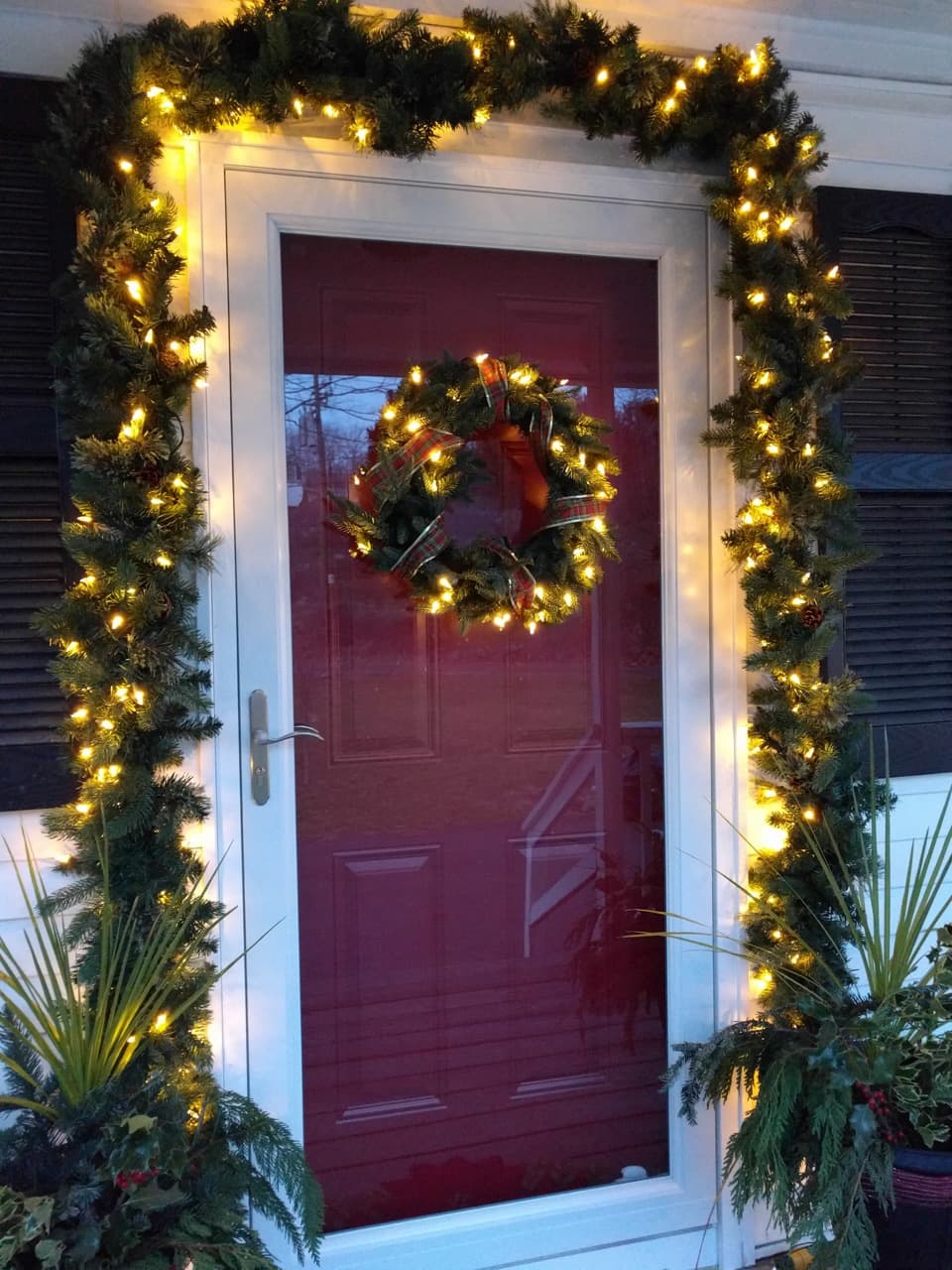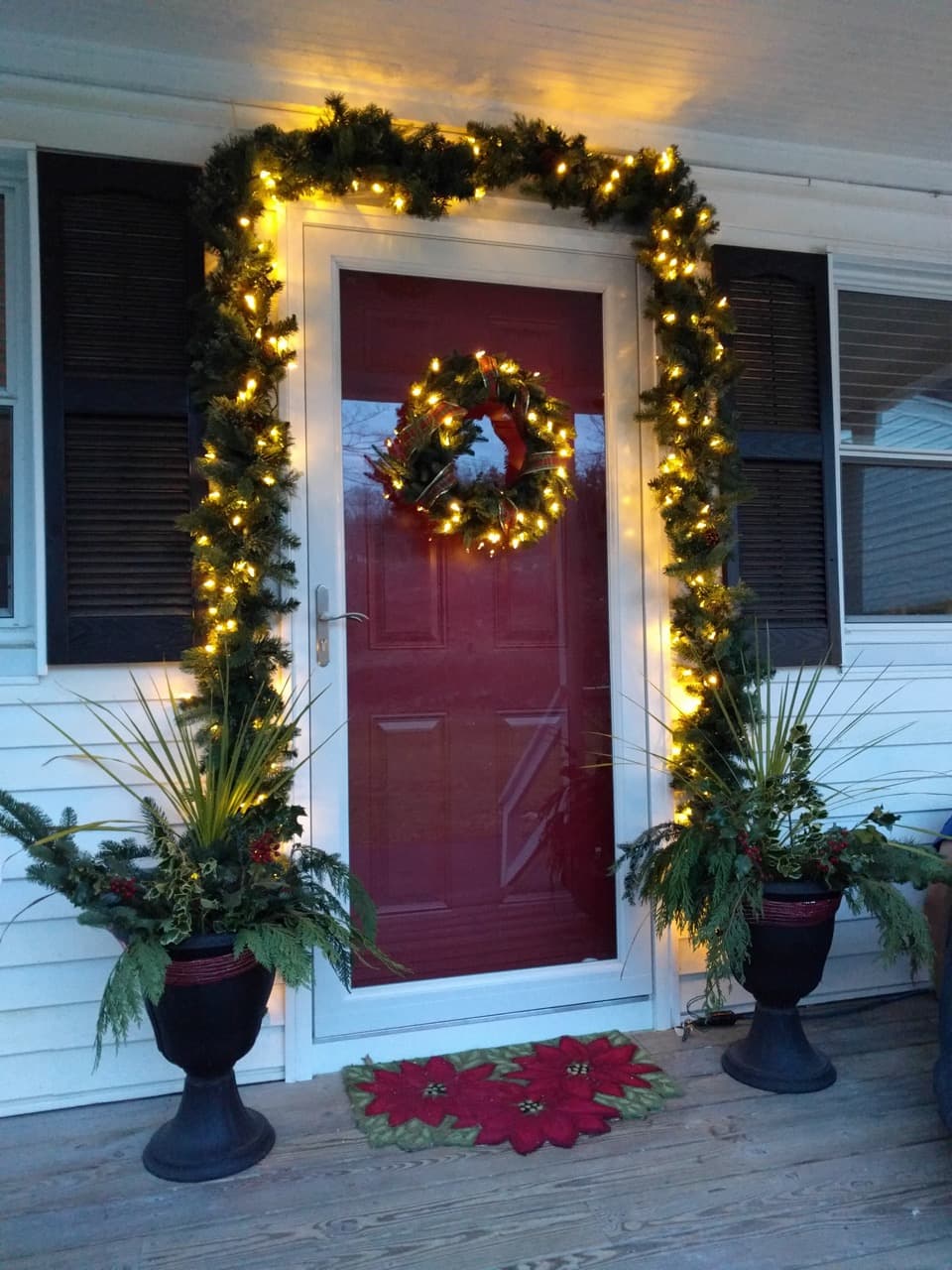 I can't wait to change out the decor with each season, feel the morning Summer sun streaming in and most importantly, enjoy toasty toes from November-March.