I haven't posted in nearly a month and it's driving me crazy. Have you missed me? I have so much to say and so much to share. I haven't been sitting on my bottom around here, I assure you of that.
After moving on from the non-alcohol related hangover of Harrison's birthday week, Matt and I started to really enjoy some of the gorgeous weather Connecticut has been afforded of late. We spent a couple of nights eating dinner at the picnic table and walking the estate with a beer in hand. Sounds nice, right? It was lovely, but after those couple of nights, (yep, just two) we dropped the beers and decided to tackle a giant mess of vines that we haven't touched in the 5.5 years we've been here. #neglect
Want to see the mess that I'm talking about? Here are a few "before" shots.
The mass of greenery to the right in the picture below (in front of the garage in the background) is ALL vines. Out. Of. Control.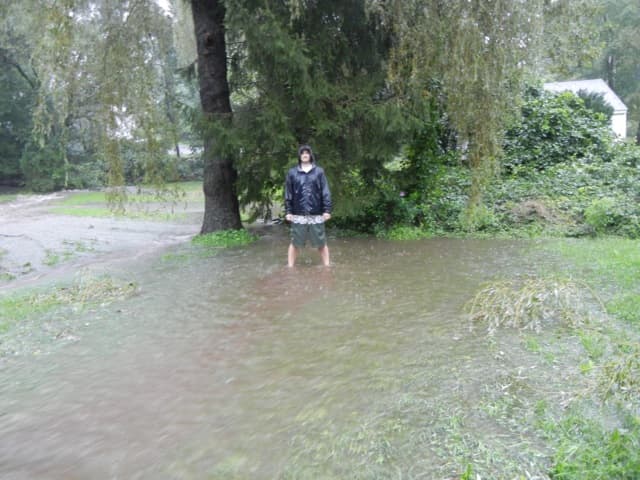 The water was a byproduct of Hurricane Irene way back when.
Here's a shot from the opposite angle, looking back along the side of the house from the driveway. See how tall they are? I wish we ripped the suckers down when we moved in. Oh well. This picture was taken in the Fall, so you can see some of the vine leaves were starting to turn yellow.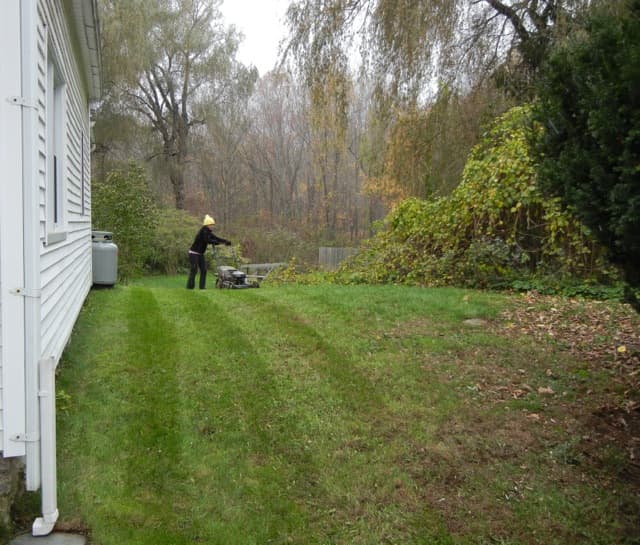 I'm mowing in winter gear because we had just realized we were getting a Halloween snowstorm and we had about an hour to winterize nearly an acre of land. Good times.
So anyway, you get the idea. The vines were neglected long before we moved in 5+ years ago, so we had quite the mess on our hands. I've been at it for a few weeks, snipping away during nap times and after dinner and I'd say I'm 80% done. Being 80% done with this undertaking, here are my tips for ripping out vines while keeping your sanity intact.
1. Have a "go-getter" attitude. I definitely looked at this project as me versus the vines and obviously, I wasn't about to let them win.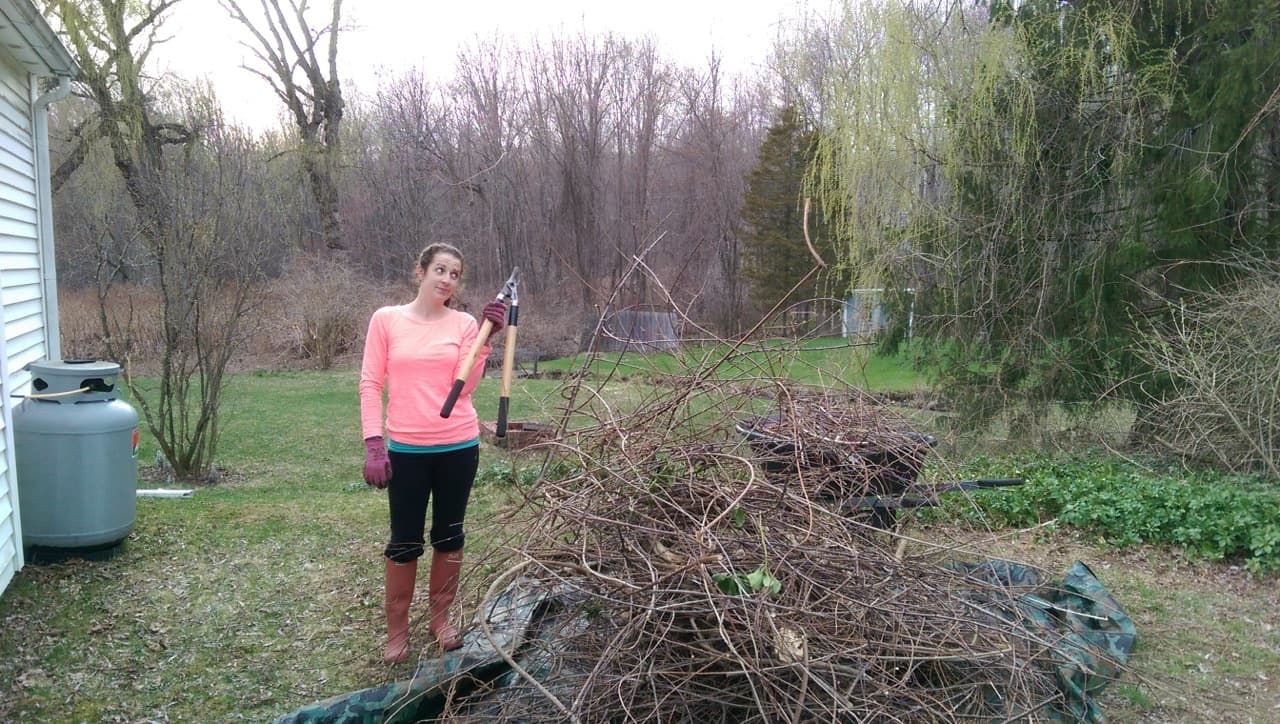 2. Have a beer beforehand. For some strange reason, a beer gets me motivated and takes the edge off of the "I'm totally going to see 10 snakes in this Pachysandra" feeling.
3. Wear tall boots. If you're like me and don't love the idea of snakes (who looooooove the twisty-turny nature of vines and Pachysandra) crawling up your leg or into your sneaker, wear tall boots. Enough said.
4. Know that you're going to get smacked in the face a few times with a vine that snaps. That just comes with the nature of the job.
5. Break the vines into small sections if you're carting to a refuse center. Otherwise, there is NO way you're getting them into your trunk. Also, you'll look like a complete idiot trying. We brought ours into the back woods via tarp and wheelbarrow. We dumped them as far as we could walk and up until this point (20% to go) we've made half a dozen trips back to haul the mess away.
Oh, and a partner helps. When we tackled it on a weekend day, Matt was right there with me. He would pull on the really thick vines, exposing the spot where their root entered the ground and I'd run over and lop it away. (I'm assuming "lop" is a real verb since I used loppers for the job.
During the week when Matt is working and Harrison is napping, it's a little tricker. I focus on smaller pieces that I can hand-prune and then maneuver the loppers between my knees to get at the really thick pieces.
I've discovered three tiny Lilacs in the mess and managed to save them by hand pruning the vines entangling the trees. I'll let you know if they bloom. Here's hoping.
Once I get the other 20% knocked out, I'll share some "after" pictures. Until then, the struggle continues but the reward is real.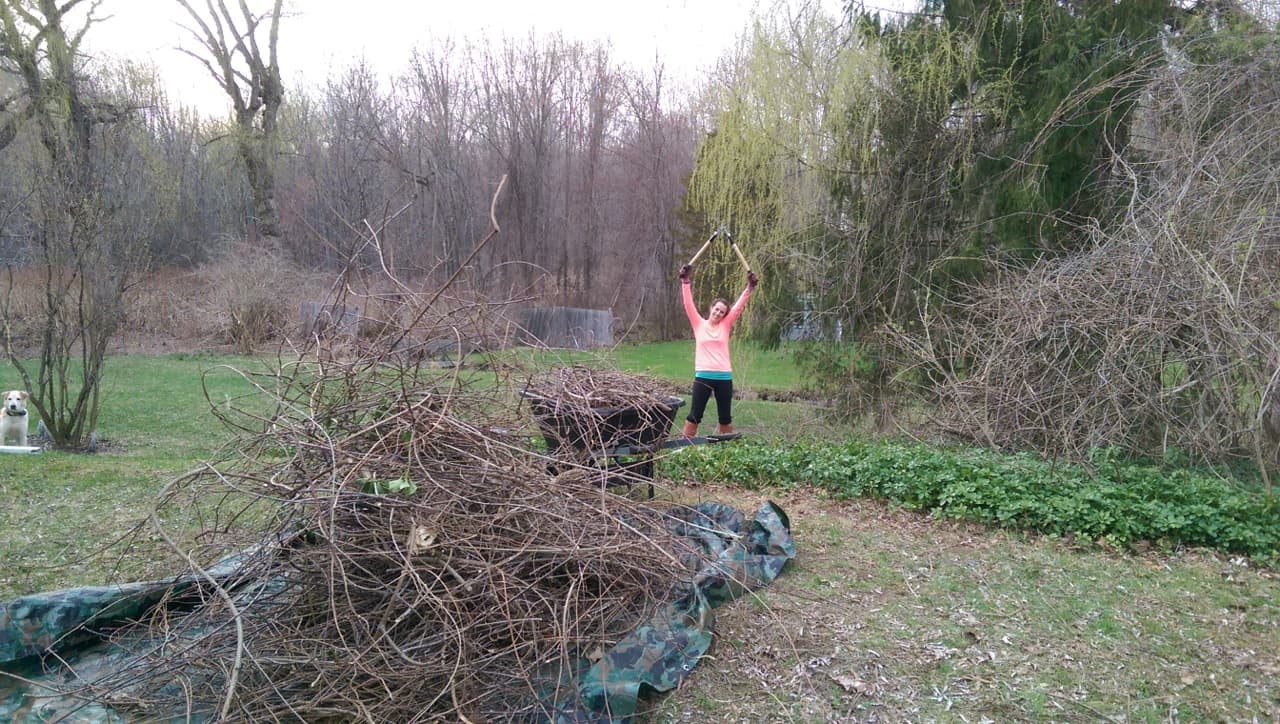 What are you tackling this Spring? Snapping vines? New plantings? Mutant bamboo?
Oh, and if you're wondering how many snakes I've come across as of yet, the answer is a shocking zero. I KNOW. I'm sure I've just jinxed myself for the rest of this project but come on, that's unbelievable because I see them a lot when I'm in the garden. Oh well. Here's to a cleaner looking yard* and space for my newfound Lilacs to breathe. Have a great weekend!
*A cleaner looking yard comes with a clearer view of the neighbor's house so we'll also be brainstorming about living hedges to block that out. You have any suggestions?