I wanted to take a break from our guest room overhaul to write a post about our fun time away this month!
Even though the fall projects are lining themselves up, Matt and I took a semi-spontaneous trip to Texas! Does planning it a few weeks before the fly date qualify it for semi-spontaneous status? I'm a bit of a planner, so it qualifies in my book.
Lately, we've had more than our fair share of police activity in our quiet, quaint lake town. The community was plagued by a burglary-turned-assault just days before it was rocked by a tragic, fatal shooting. The time away couldn't have come at a better time, and the change of scenery was a good chance for us to reflect on all we're grateful for.
My sister Melissa just made a big move from her digs in Denver, where she was living with our little sister Kimberly. She's living within the city limits of San Antonio and asked if we'd like to come down and help with some things to get the new house ready to rock. She wanted to run a few decorating & furniture placement ideas by me and I felt so honored. Apparently, this blog is making me out to seem like I know what I'm doing in those departments. I'm totally flying by the seat of my pants, here. Melissa knows it, too, but I think she appreciated a second opinion on some of her ideas for the house.
Of course, we had some non-house related activities planned, as well. Matt tagged along, so our activities had to appeal to the male population a little bit, too. He kept plenty busy with Kenzie, (Kim's dog - who was taking an extended Texas sabbatical while Kim hunted for her new apartment) basketball, pool time, beer, and football. The man has the life, right?
We were given the official new house tour on Friday night, after guiltily gorging ourselves on Wendy's fries and frosties. It's amazing what air travel does to one's diet. Right out the window!
Saturday morning rolled around, and we went to a Mexican restaurant. At 10am. For breakfast. In San Antonio, that's how people roll. It's not your typical diner-style huevos rancheros, either. Melissa said it best while describing it as "real, authentic, Mexican dinner entrees…with eggs." It was strangely delicious, though. Who knew I craved refried beans at ten in the morning. Travel really does teach you more about yourself!
After breakfast, Melis asked us to help her remove her "Catch-a-Kid," a mesh fence of sorts that surrounded the pool from the previous family. Yes, the real name was "Catch-a-Kid." The family had 5 kids and the mother must have been just a weeeee bit overwhelmed. Here are a couple of shots of the pool before removing the fence.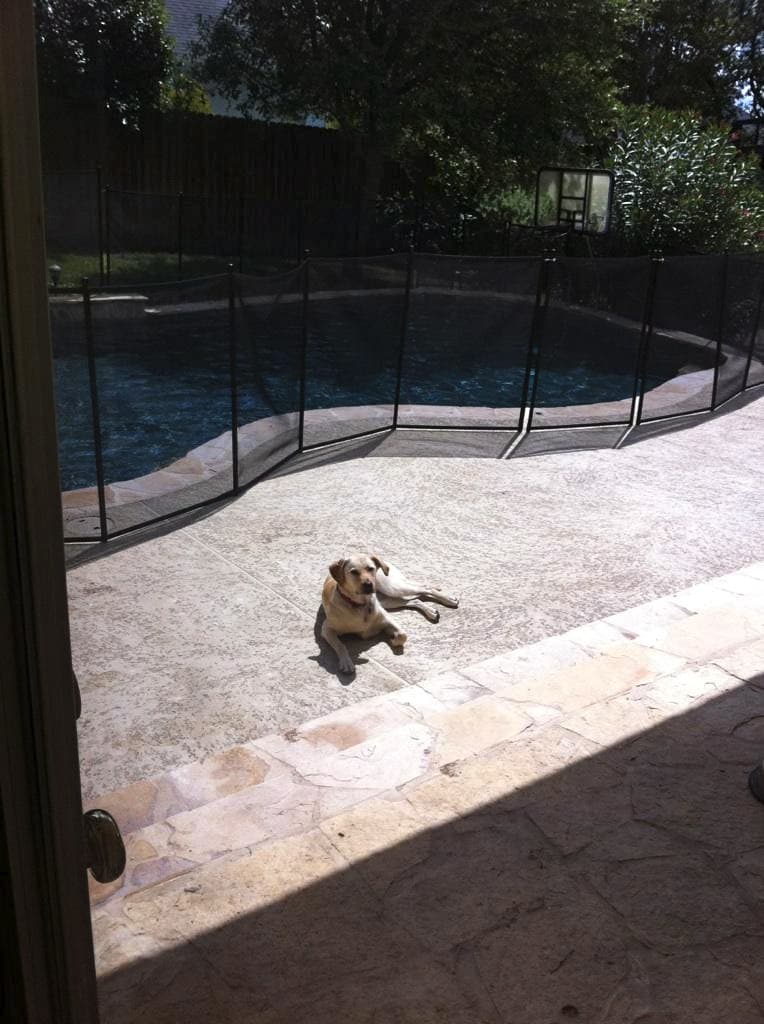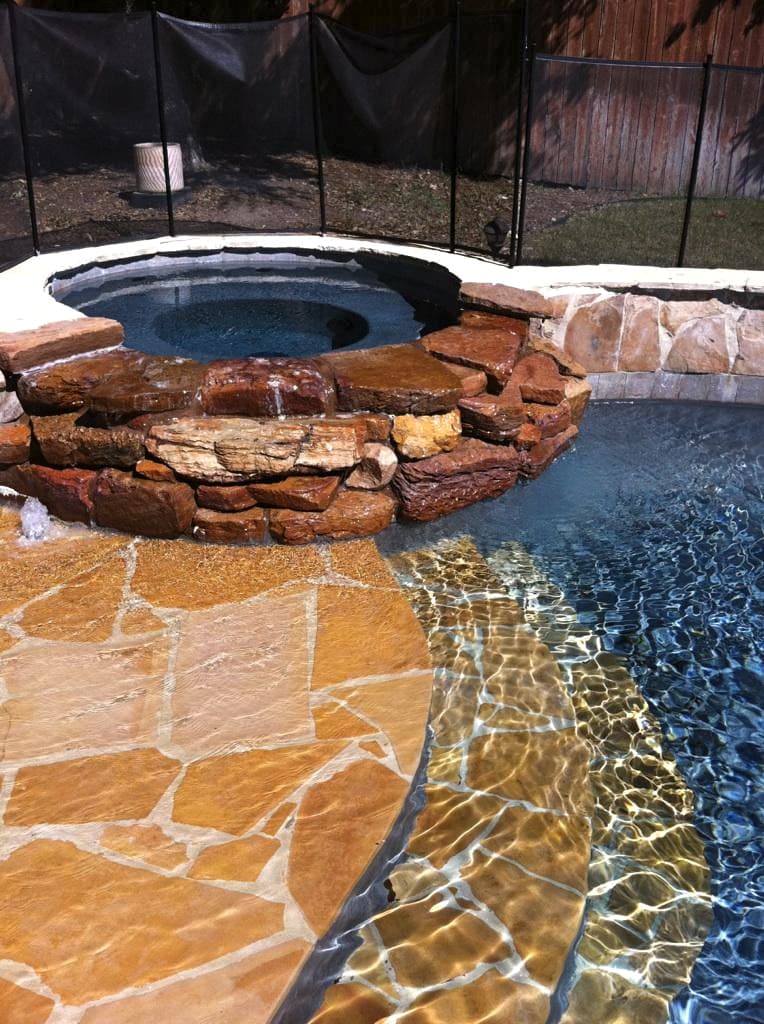 Melissa had actually attempted to remove the fence herself before we arrived, but was unsuccessful on more than half of the posts. She even bought a rubber mallet to help get them up a bit easier. Matt and I said we'd love to help, and Melissa thought it might take an hour or two to get the job done. Well, what do you know? That husband of mine plucked out those Catch-a-Kid posts like they were straws in a soda can.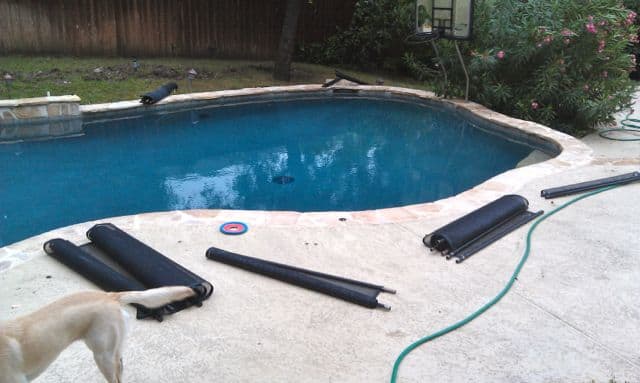 Fifteen minutes later, we Matt had the whole fence disassembled and we hauled the fence up in the garage, hopefully never to be seen again. :) After our morning project, we had a great chance to explore the backyard, and Matt especially loved one aspect of the space.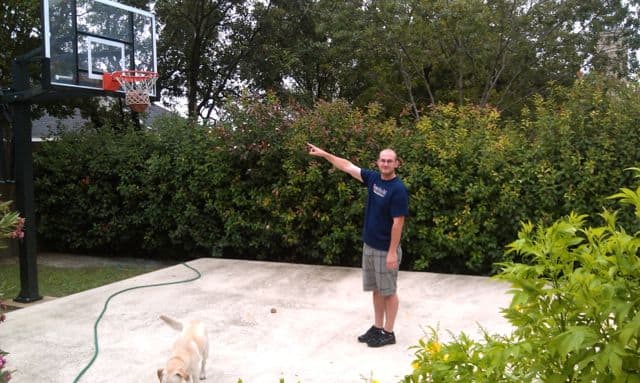 While we were hard at work, Kenzie moved from her post in the backyard to a more comfortable spot.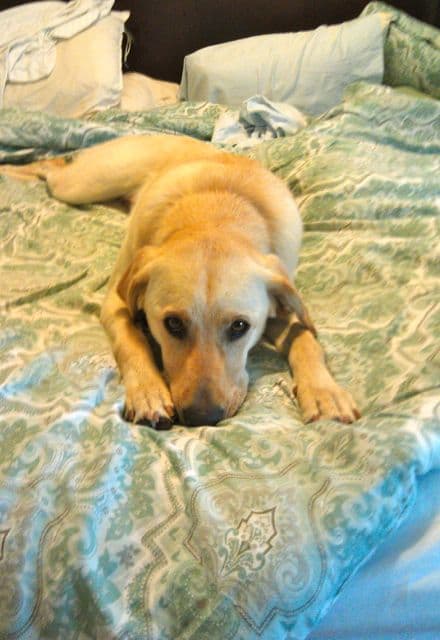 We had about an hour to kill before we wanted to get out for some shopping and lunch, so we talked a bit with Melissa's contractor, and he asked us to go around the house and mark any spots the painters would need to touch up. Each of us wandered around, smacking blue painter's tape on anything we noticed that needed fixing. Matt found a wall that needed a second coat, and this ensued: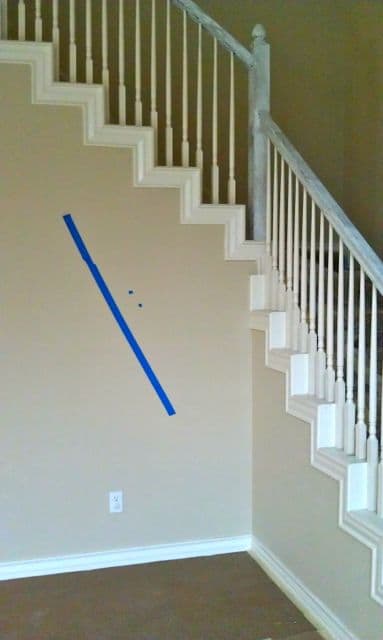 Melissa and I hit up some local stores, and she stocked up on bath mats and some cute accents. I walked away with a little Texas souvenir that I'll hang somewhere in my house this week. I'll keep you posted on what I bought and where I put it I have Matt hang it.
After our shopping excursion, we had a chance to lounge by the pool.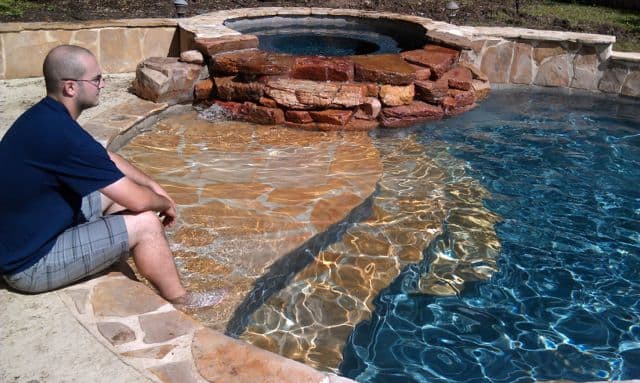 Growing near the pool is a Meyer lemon tree. I was jealous. Really jealous. I want to grow lemons in Connecticut!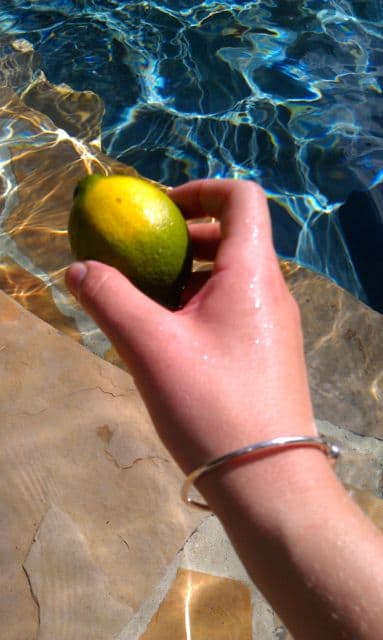 It was finally time for lunch so we stopped in at World of Beer for some local brews and grub. Once we ordered our drinks, we realized that World of Beer establishments don't serve food. Whoops. Luckily, local restaurants delivered to the brew house, so we opted for that. My beer aficionado hubby was in heaven.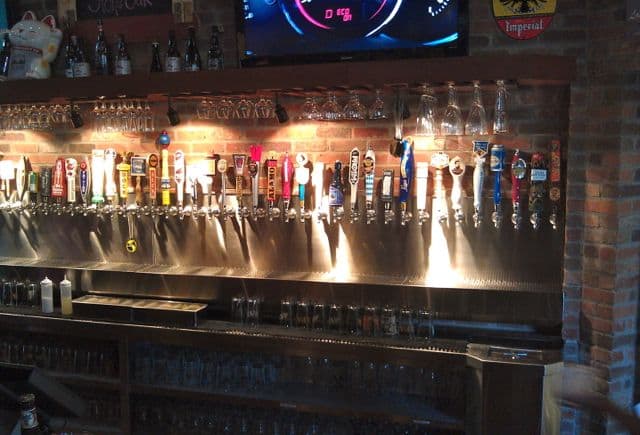 After our lunch, we went home for a quick hot tub session and a shower to get ready for our night out on the town. Matt and I were treated to an amazing dinner at Boudros, a hot spot on the Riverwalk in downtown San Antonio. The food was amazing, and the prickly pear margaritas weren't too shabby, either.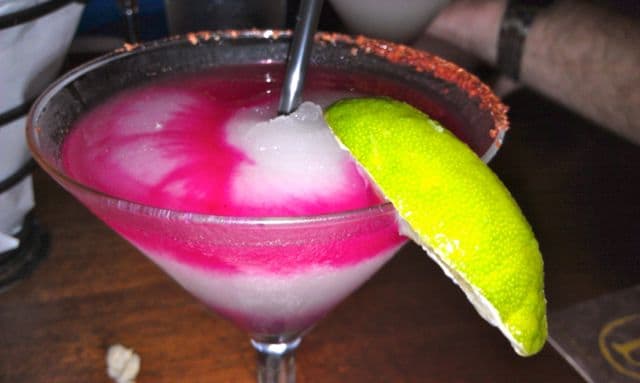 I was so stuffed afterwards, I could hardly walk. This is me looking stuffed and prickly peared.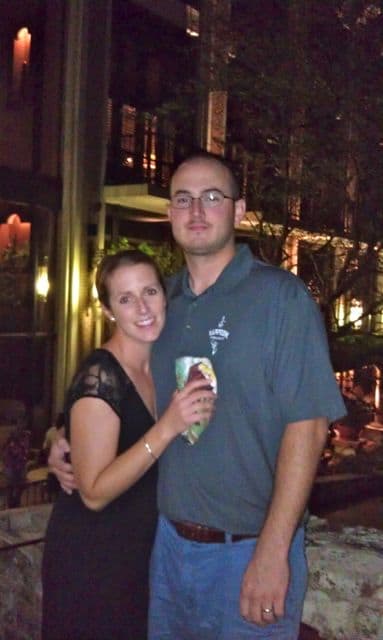 The next day would be filled with history, Costco craziness, and a Selena wannabe…I'll fill you in during part two!
Hope everyone had a great weekend!