I haven't been happy with the curtains in our living room since the day I bought them. I mean, they were alright. They were inexpensive and readily available, while matching with my overall color plan for the space. They worked with my hasty decorating plan, but they're just not working now. The color is right for the space, but the length isn't right for the window and the lack of detail is a bit boring. This is our most formal room (which believe me, means close to NOTHING) but nonetheless, should the opportunity arise to wine and dine Kate Middleton, I want something a bit more dramatic, while still being neutral and approachable. Does that make sense outside of my head? This is what we're working with as of right now: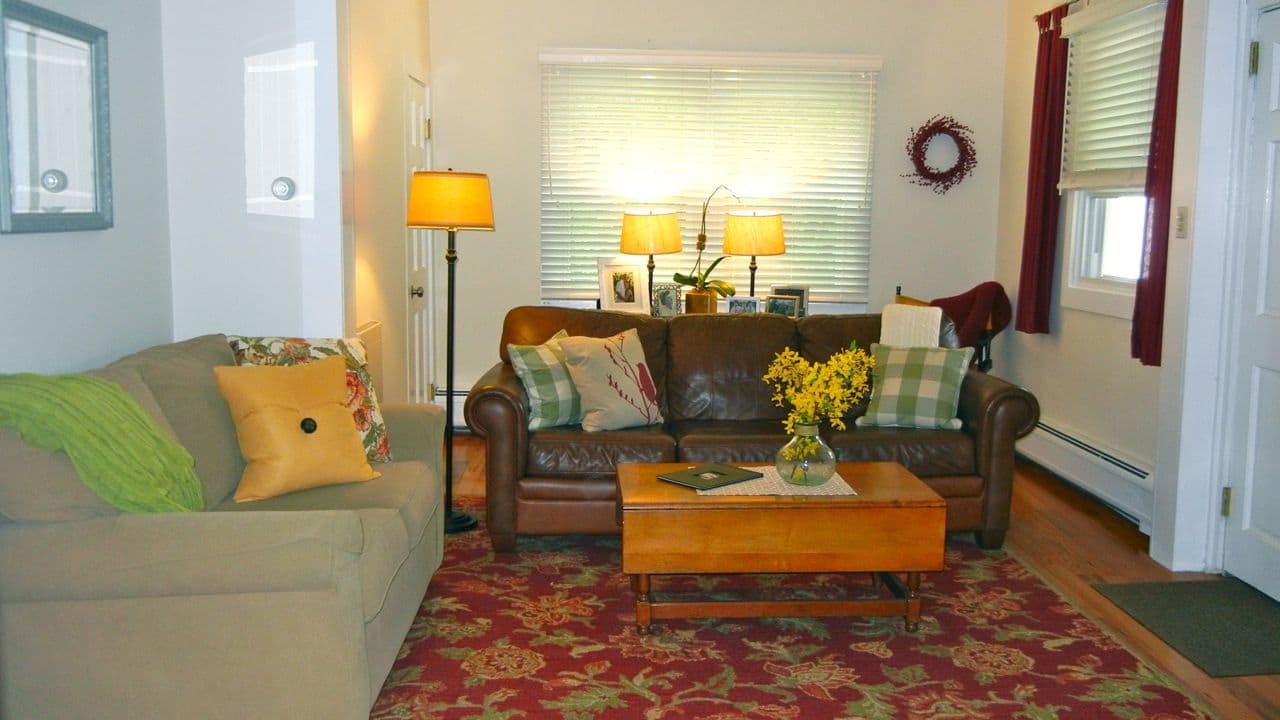 After a few tireless months of perusing catalogs, I was struck by two new offerings from Country Curtains. Both play off a classic gingham check that never goes out of style and I'm all about buying something that I will be able to use forever. I am often drawn to trendier patterns (especially geometric prints), but I always come back to the classics, and my practical side knows I'll eventually tire of trendy. Without further ado, let me introduce you to the contenders…
Option One:
The first set of panels that caught my eye was the "Tonal Check" line. It's a heavier curtain than what we currently have, but I loved that the buffalo check style would play in with my buffalo check throw pillows (as seen on the leather couch above). I love that they're all cotton, made in the USA and machine washable. Machine Washable = Score. My momma would never let me buy dry clean only! The only thing I didn't really love was the price. For the 3 windows in need of a facelift, I'd be out about $400. I wasn't really looking for that kind of outlay for a curtain upgrade. Here they are: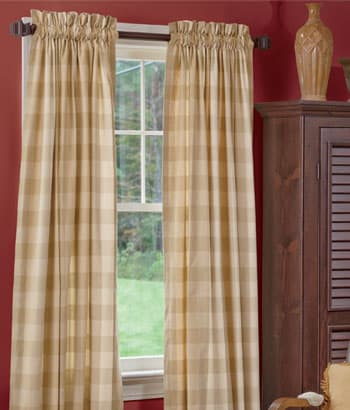 Keep the above in mind while we look at…
Option Two:
The second set of panels that caught my eye was a "Gingham Sheer" classic design. Sheer, bright and airy, these panels would fit in with my white, wooden blinds already on the windows while creating the light and fresh look I love. These are NOT made is the USA (my dad would so not approve) but they ARE machine washable. Score again! Also to be taken into consideration, it would cost $180 to outfit the room's windows compared to nearly $400 for the "Tonal Check" in option one. And arguably the best feature of the "Gingham Sheer" is the sheer quality of the fabric - this would work best with our baseboard radiators while keeping the air flow relatively unperturbed. Here's a look: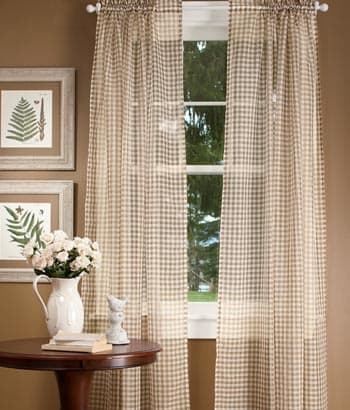 I'm going with floor-length curtains this time around, so the images above are pretty accurate to what they would look like on my windows. So… what do you think?
Option One: The USA made, double-the-price, larger check with a slightly more formal feel?
or
Option Two: The imported, more-than-half-the-price, smaller-checked sheer fabric that keeps everything light and airy how I like it?
Let me know what you would buy in the comments section below. I'll keep you posted with what I end up with and I'll definitely share a new room picture when the new curtains are hanging proud!!