This is the last of the nursery posts… for now. Let's take a look at the transformation before jumping into the budget breakdown and the source list!
When we bought the house, the room looked like this…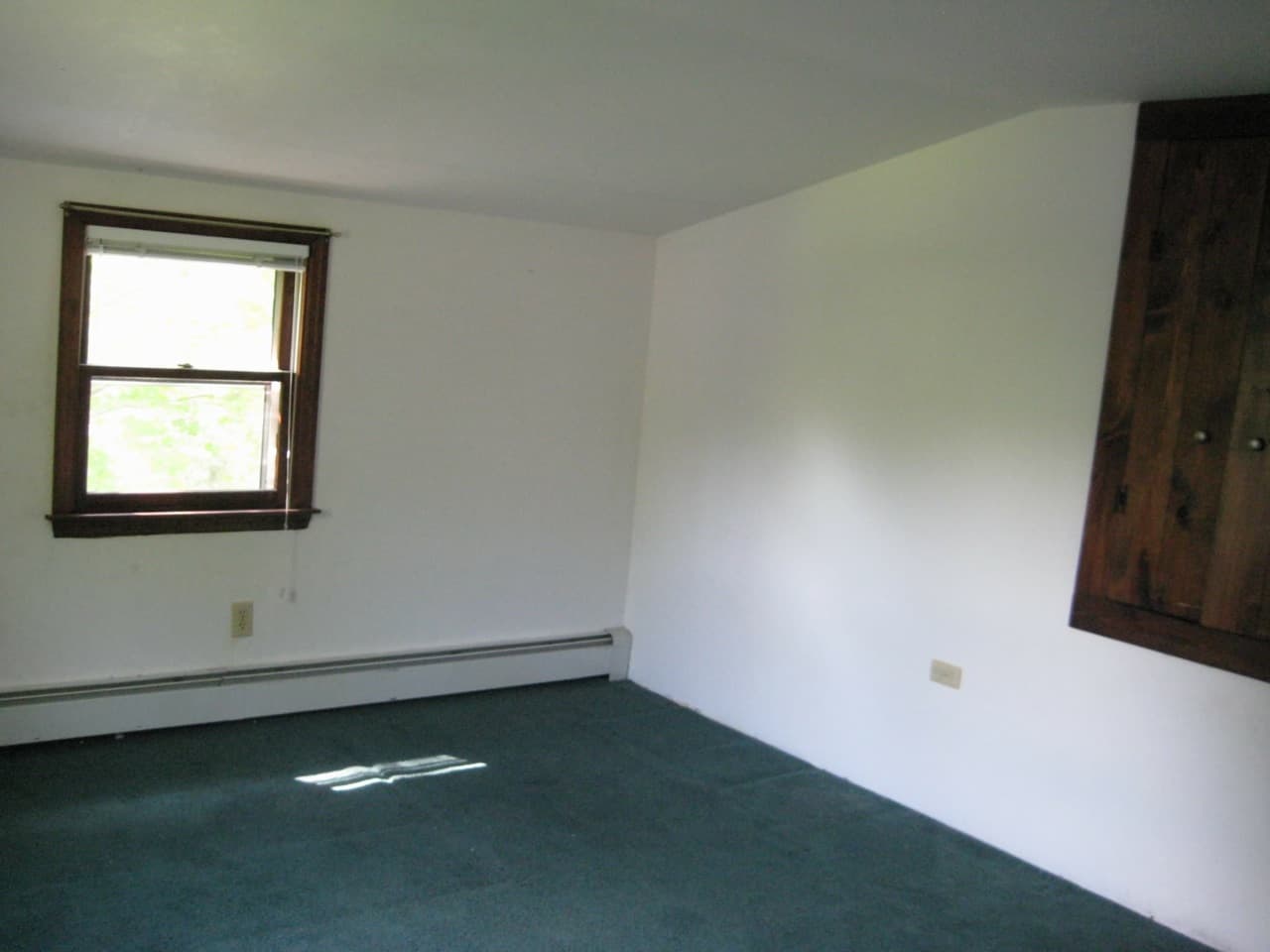 …painting the trim and laying hardwoods were high on our priority list…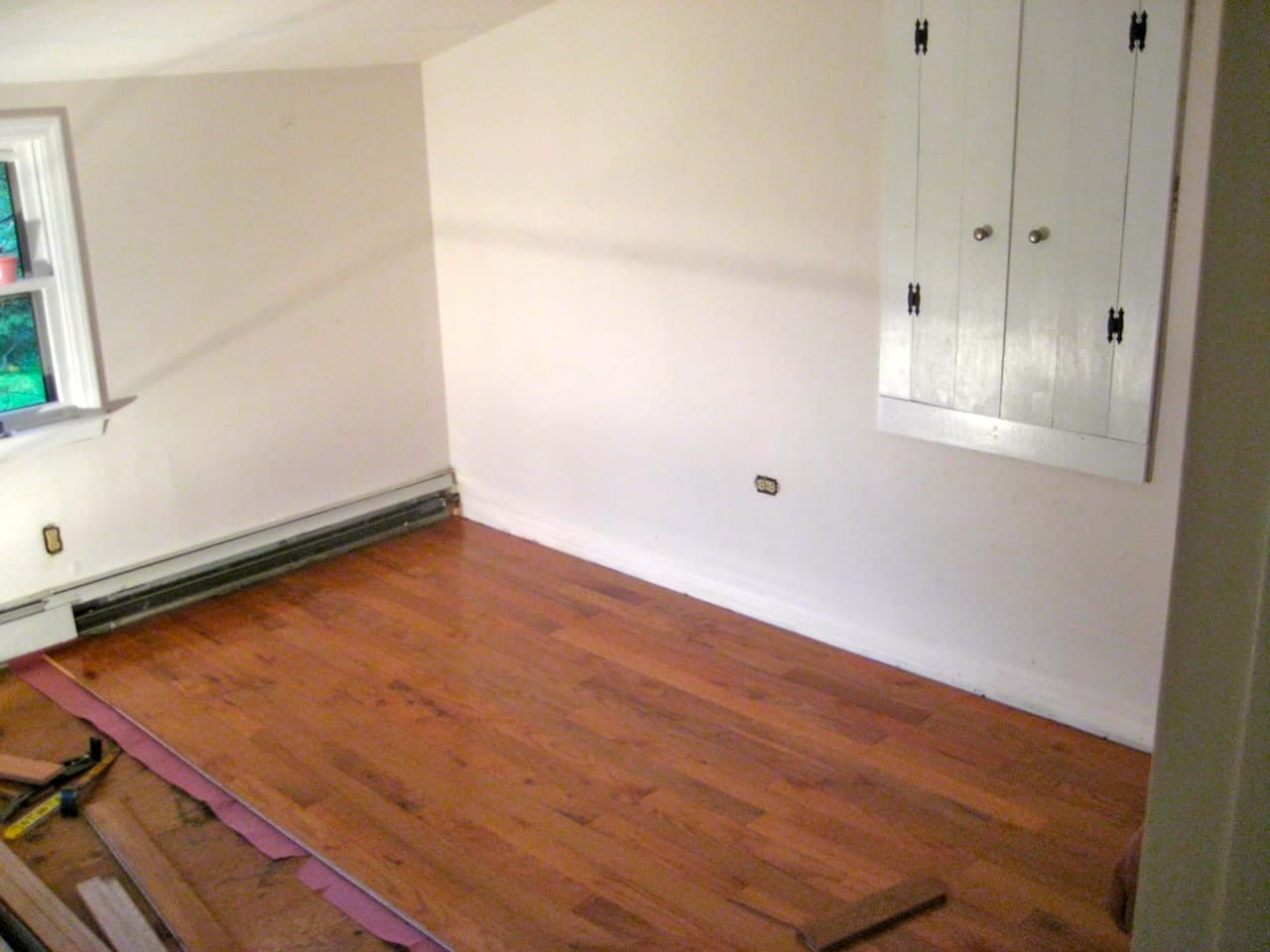 …then came paint and new baseboard trim…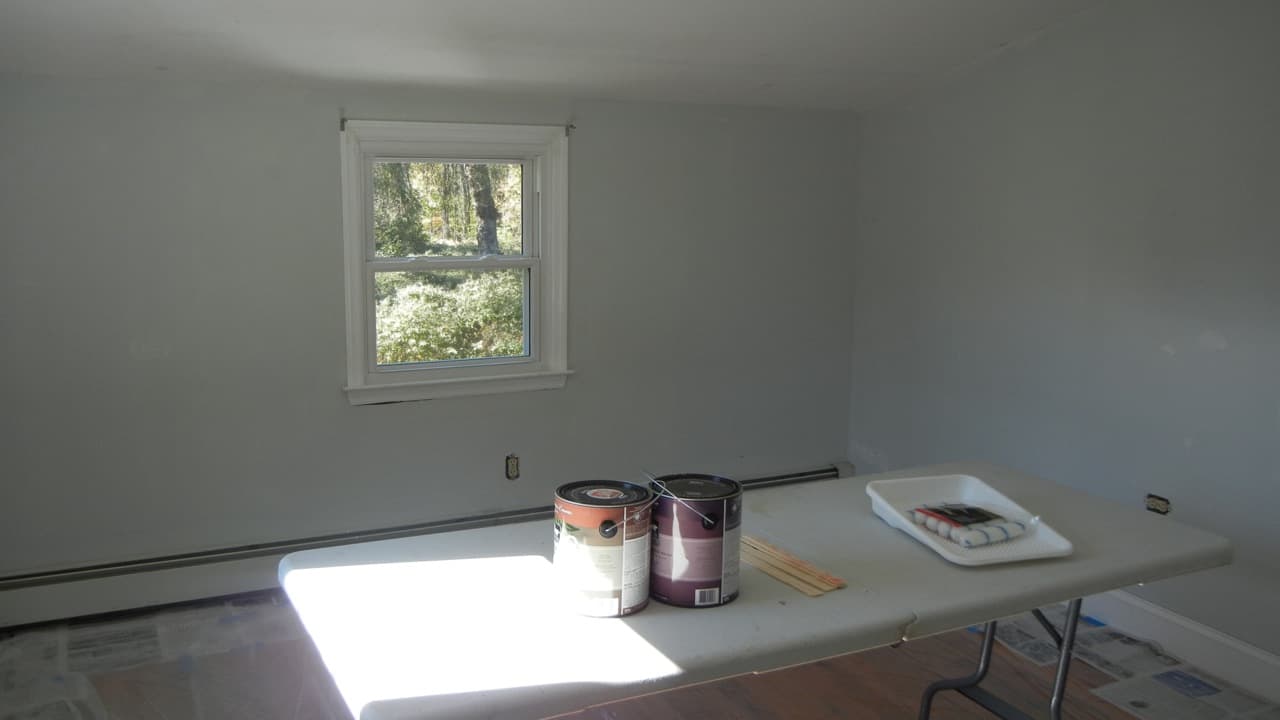 …followed by guest room furnishings…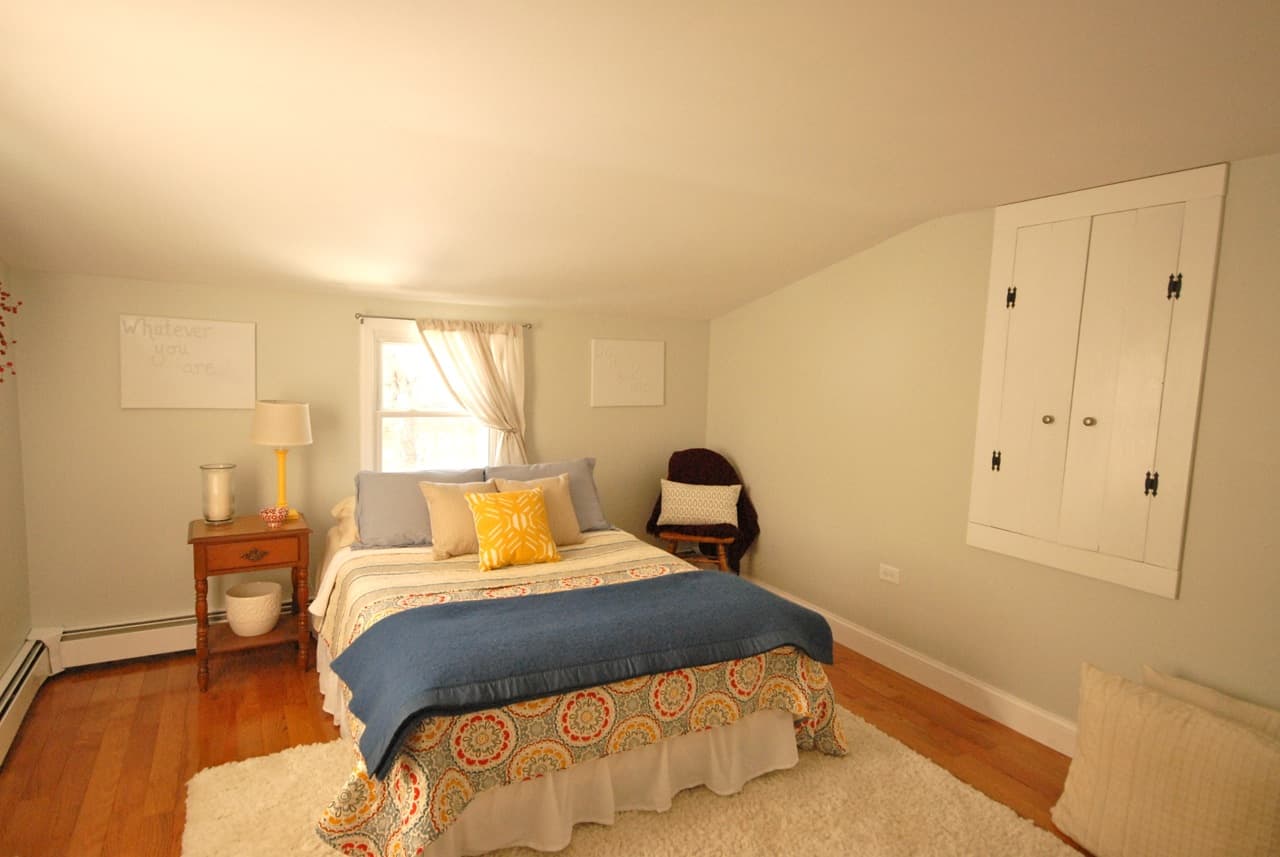 …at which point we realized we had a baby on the way, so it quickly became a storage room…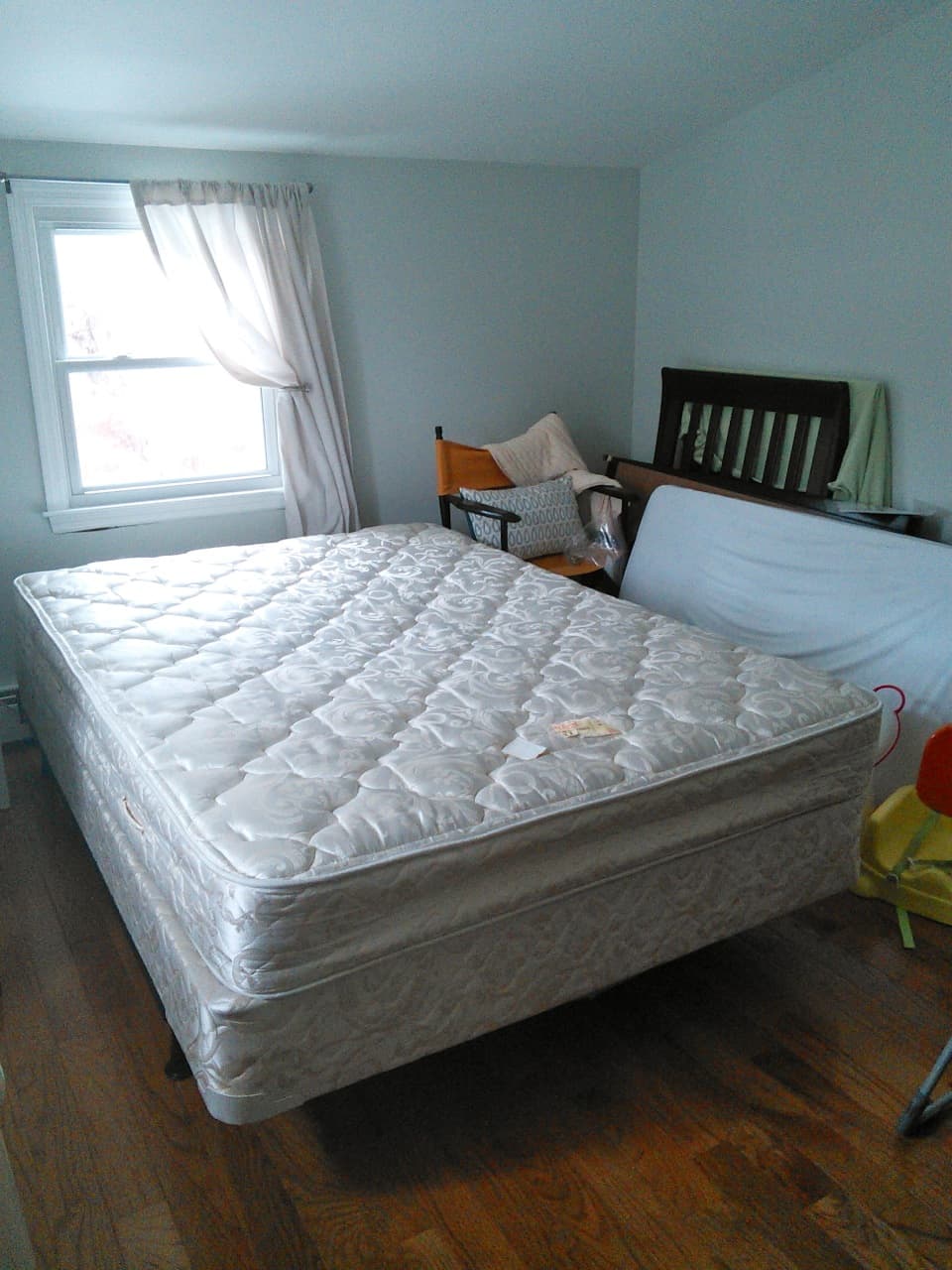 …before donating the bed and turning the space into a sweet nursery for our boy! (Pardon all of the ellipses. I get carried away.)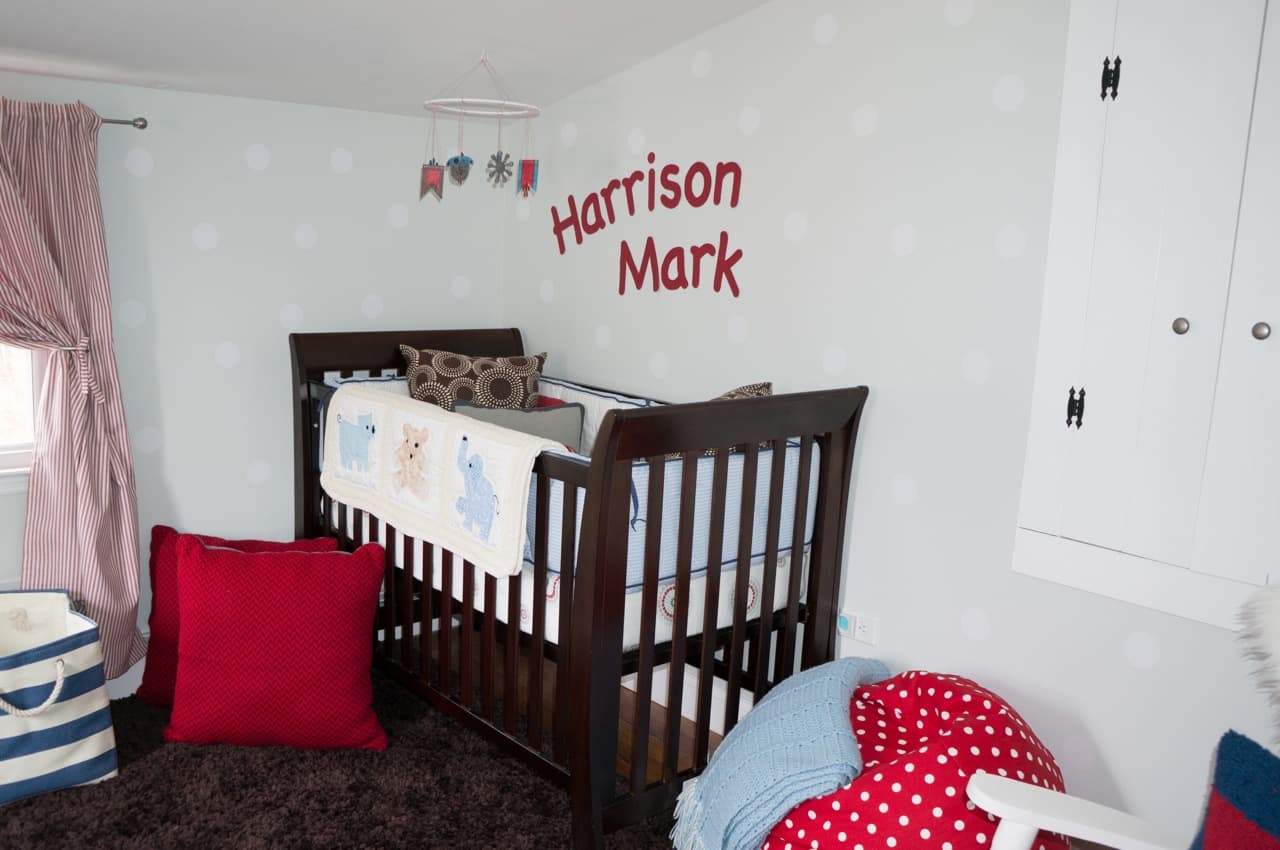 So, do you think I did it all for under $750 as I set out to do? We'll see…
Rug: $199
Curtains: $27
Rocker: $270
Paint for Rocker: $39
Pillows: $65
Dot Wall Decals: $25
Mobile Materials: $7
Harrison Mark Materials: $1.50
Wall Frames & Mats: $20
Drum-shaped stool: $40
---
$693.30
I did it with money to spare. :) Of course, without all of the hand-me-down goodies and gifts from my baby showers, I would have totally blown that budget. We are so lucky to have so many loving family and friends to hook us up with so many beautiful things!
I've also included a source list (where I got everything!) for those interested. This room is the only room that's close to 100% "done" in our home, which is funny. They say you put your child before yourself, right? That's the case with us - our master is so un-master like and completely untouched.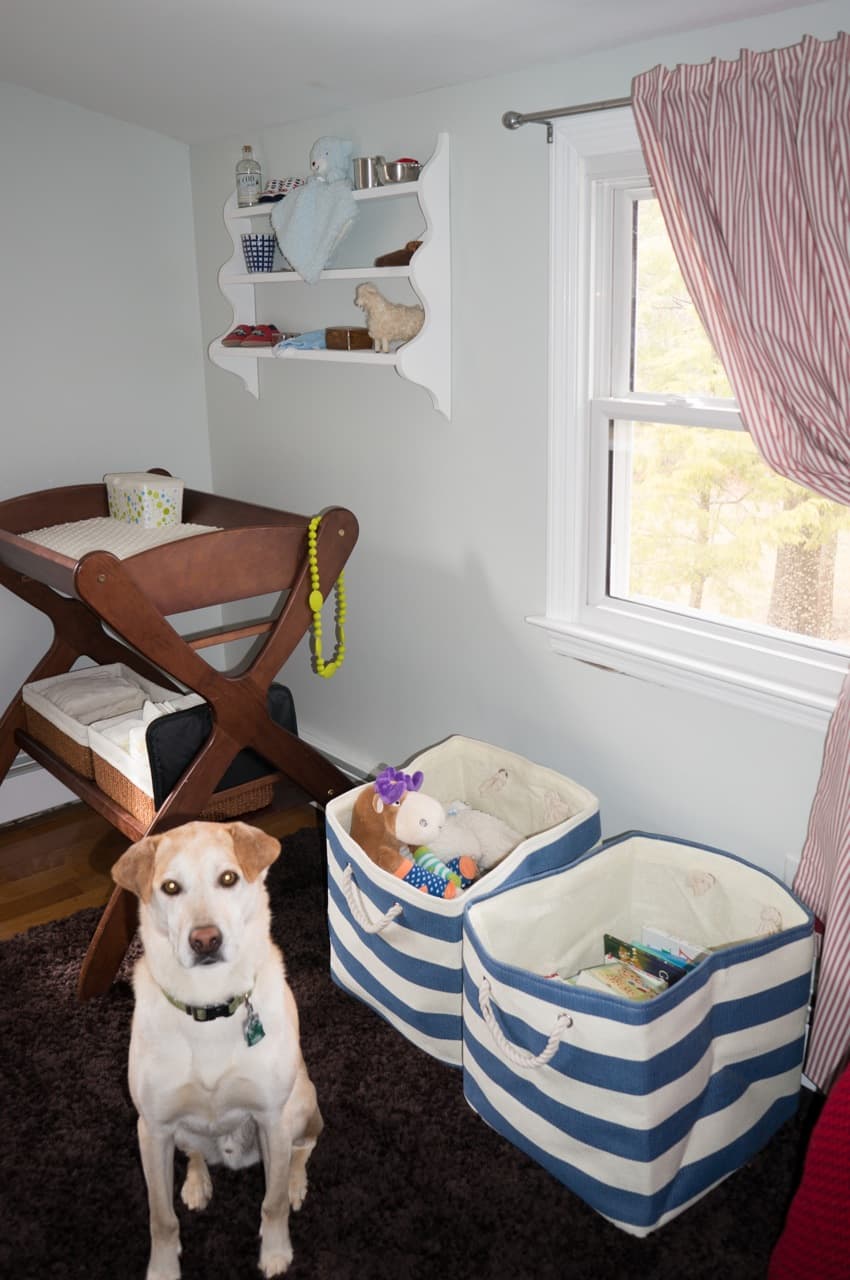 Blue and white striped floor bins: gifts from Land of Nod, rug: Costco, changing table: hand-me-down from Land of Nod, white shelf: an antique find that I updated with Annie Sloan's "Pure White"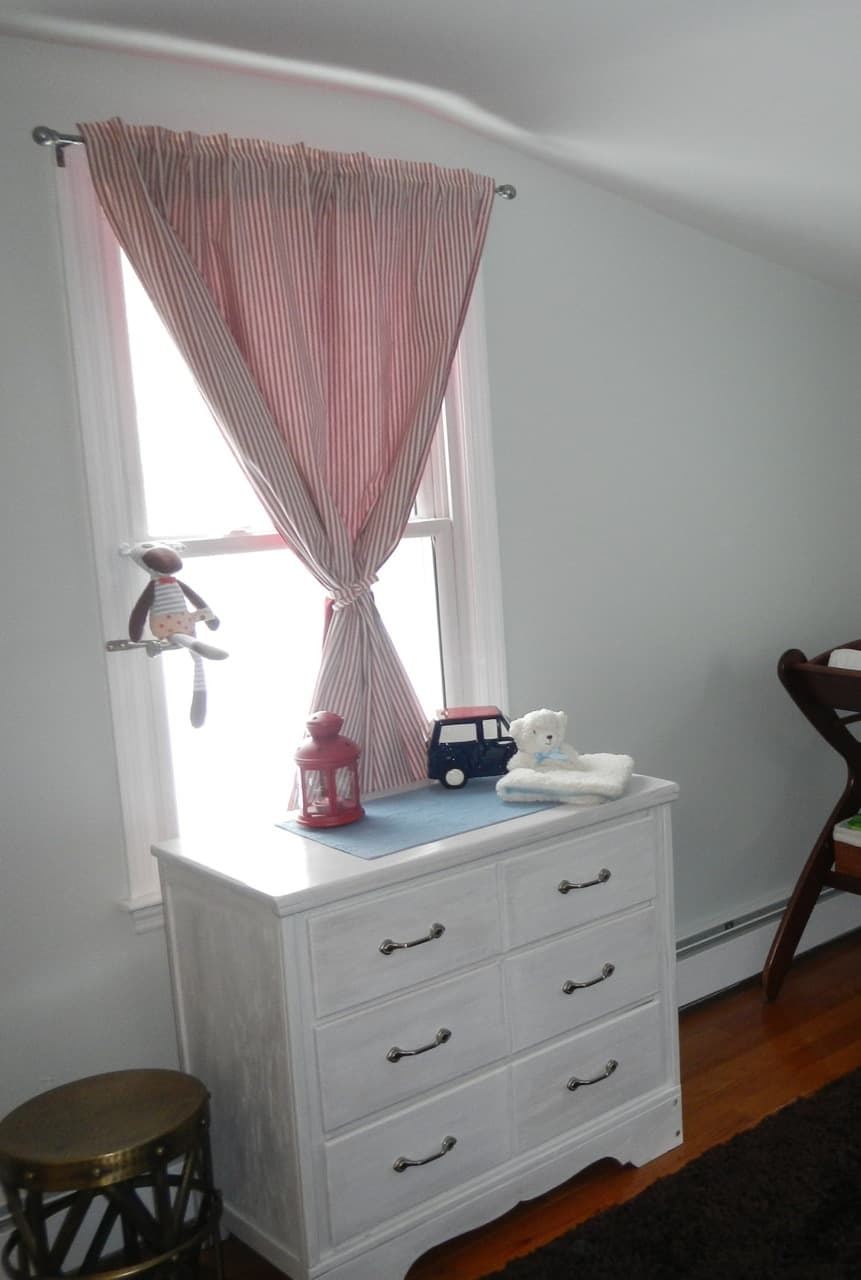 Dresser: my dad's childhood dresser that I refinished with a Minwax pickling stain and hardware from Lowe's, red lantern: a gift from IKEA, curtains: I made them here using Timeless Ticking fabric in Nautical Red, drum-shaped stool: Homegoods, hardwoods: Bruce Hardwoods from Home Depot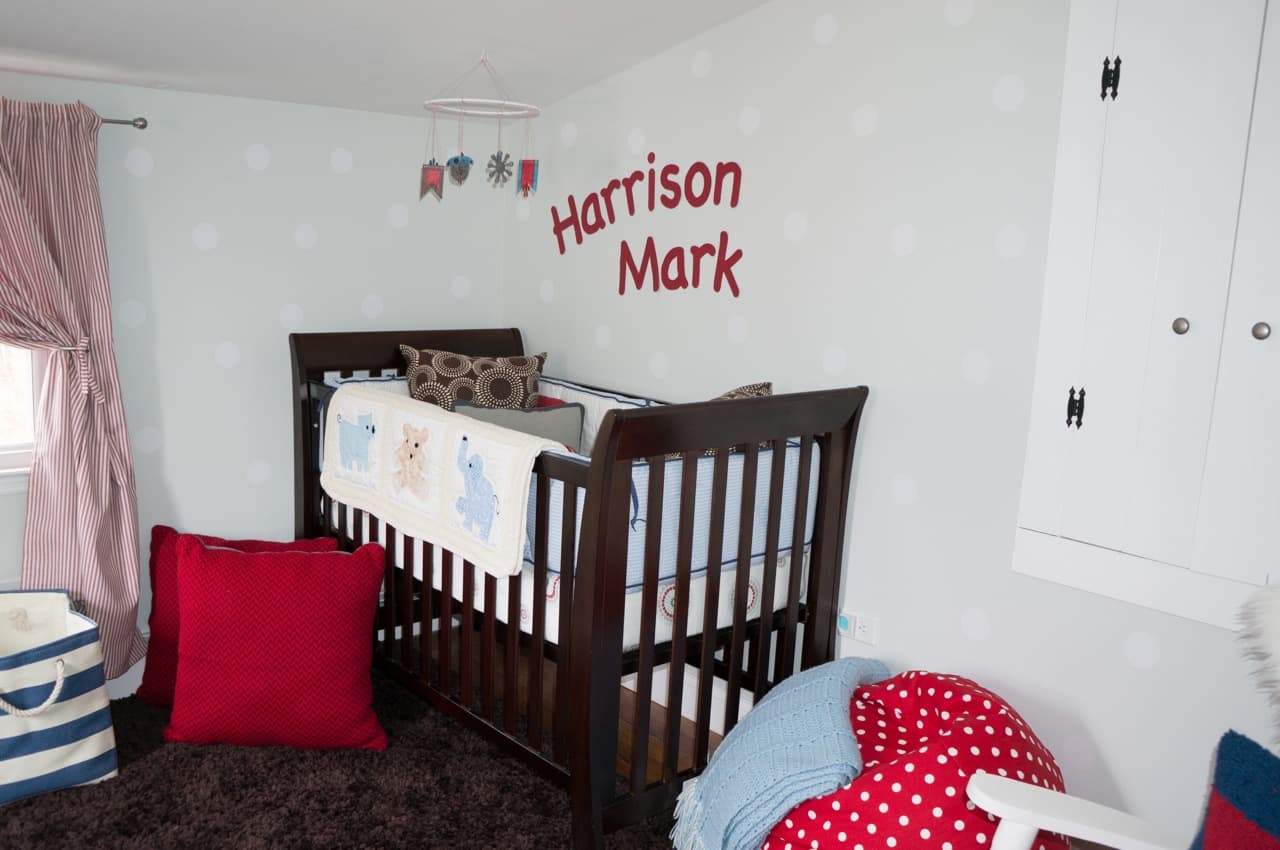 Crib: hand-me-down from Munire Furniture, polka dot bean bag: a gift from Overstock.com, blue crocheted blanket: a handmade gift from Matt's Grandma, red floor pillows: Target (For so cheap!)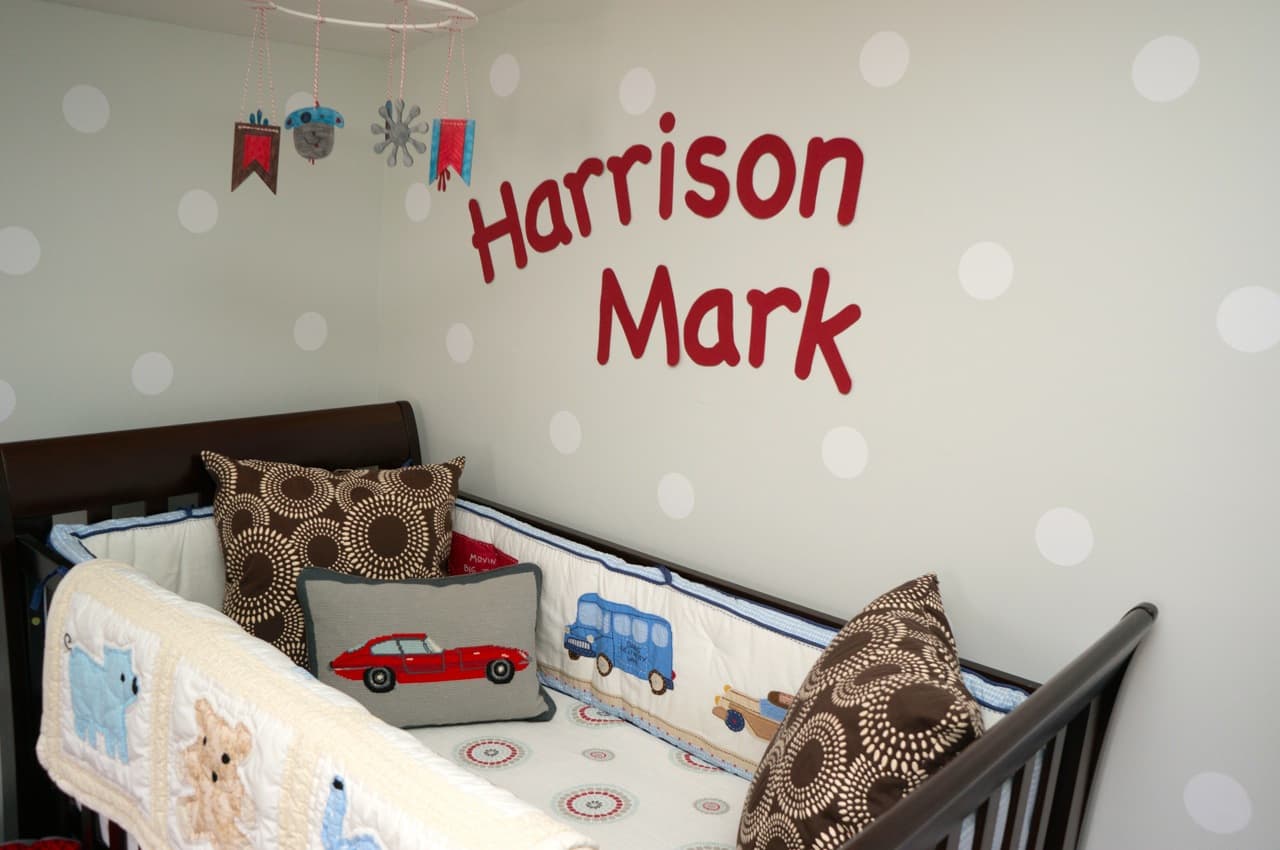 Crib bumper: hand-me-down from Whistle and Wink, brown pillows: Homegoods, car pillow: a gift from Jonathan Adler, animal quilt: a handmade gift from Matt's Grandma, mobile: homemade, letters: handmade from red cardstock, white vinyl decals: Land of Nod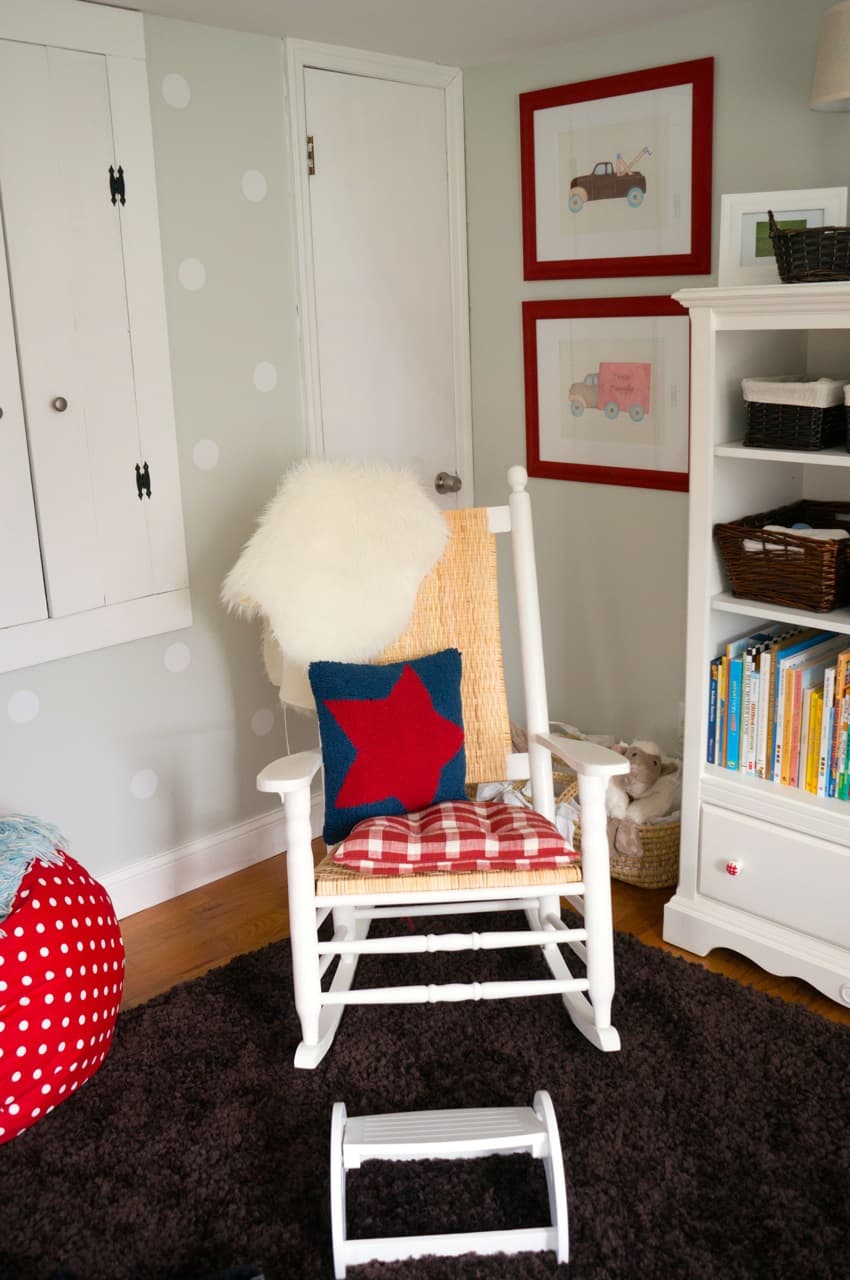 Rocker: painted with Annie Sloan's "Pure White" with cane work by LaSilla Design, nursing stool: a gift from Amazon.com, seat cushion and star pillow: Snow's of Cape Cod, red frames: a tag sale find that I painted with Annie Sloan's "Emperor Silk," truck art: custom art by my brother-in-law, white rug: a gift from IKEA, Moses basket behind rocker: a gift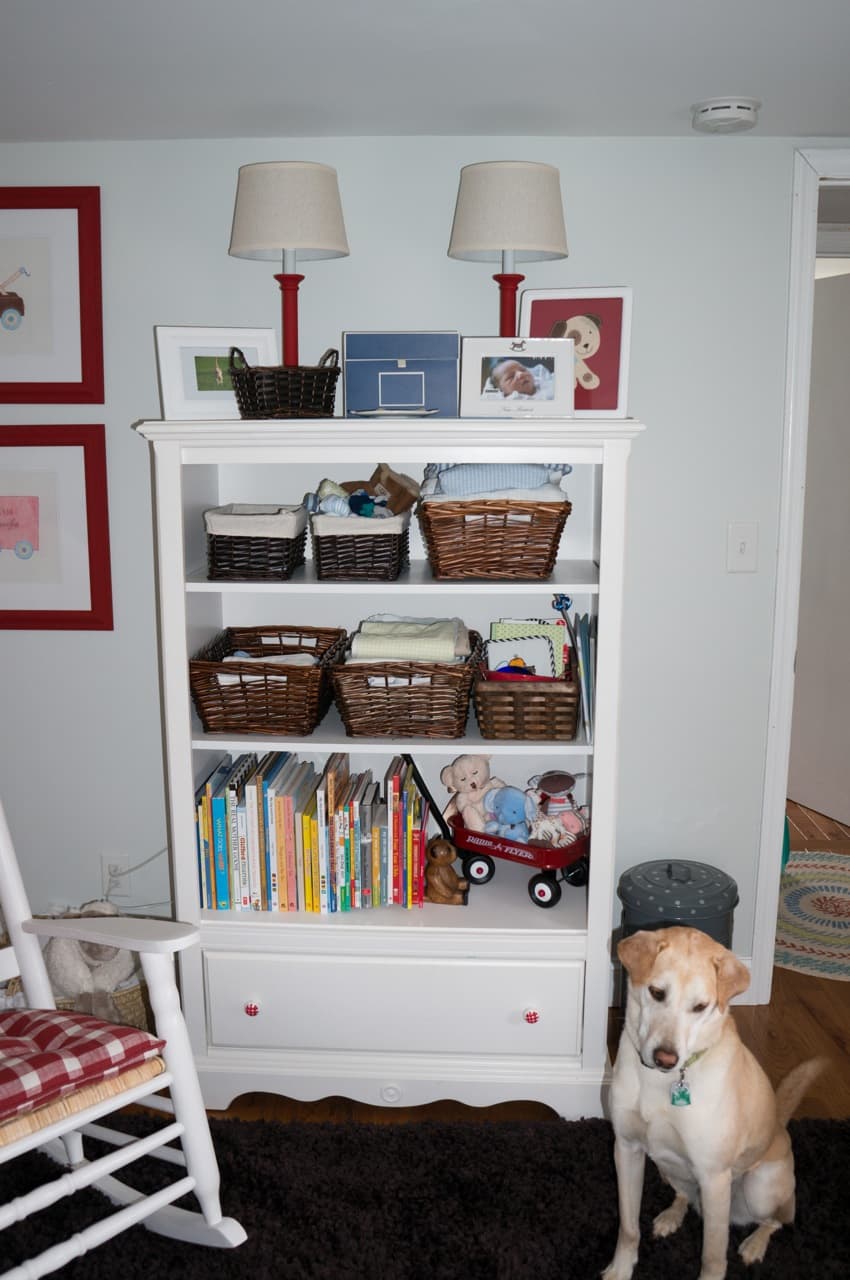 White cabinet: hand-me-down, baskets: gifts and hand-me-downs, frames: gifts that I painted white and filled with photos and art on cardstock, red lamps: I refinished them here and topped them with shades from Target, metal bin behind Griff: a gift from Land of Nod
So… I think that's it. We can officially call this room done. Well, "pretty much done" I guess. I still want to fix up the inside of the closet by building and painting shelves, as well as fix one small gap near the windowsill apron, but since those are non-essential to the room being enjoyed by Harrison, "pretty much done" works for me.