Did you notice the "sort of" in the post title? I added it to let you know I didn't quite make a custom clock. I modified an existing clock to make it cuter. So that kind of counts, right? We started with this bad boy.. ($9.98 - Amazon)…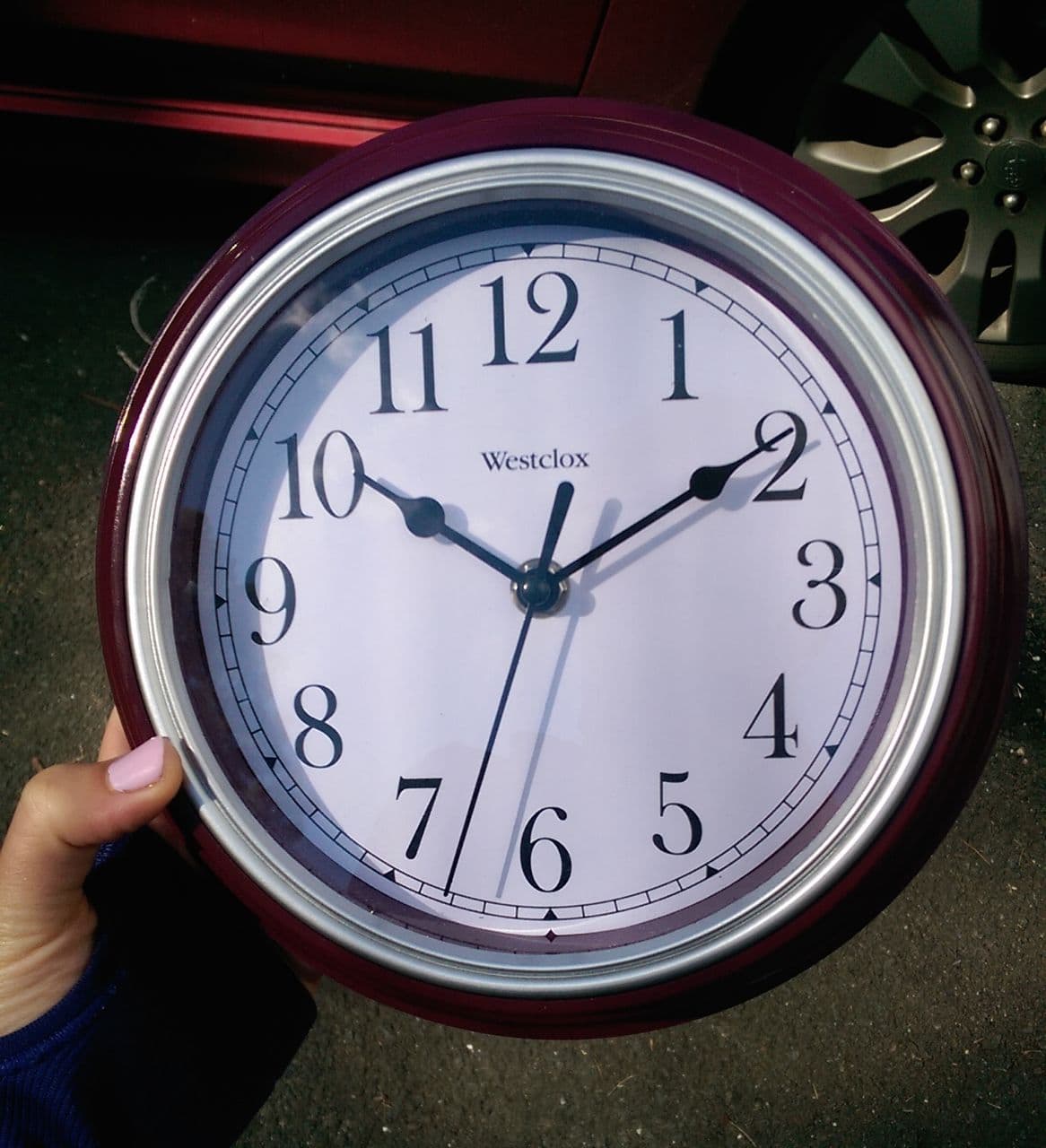 …and ended up here.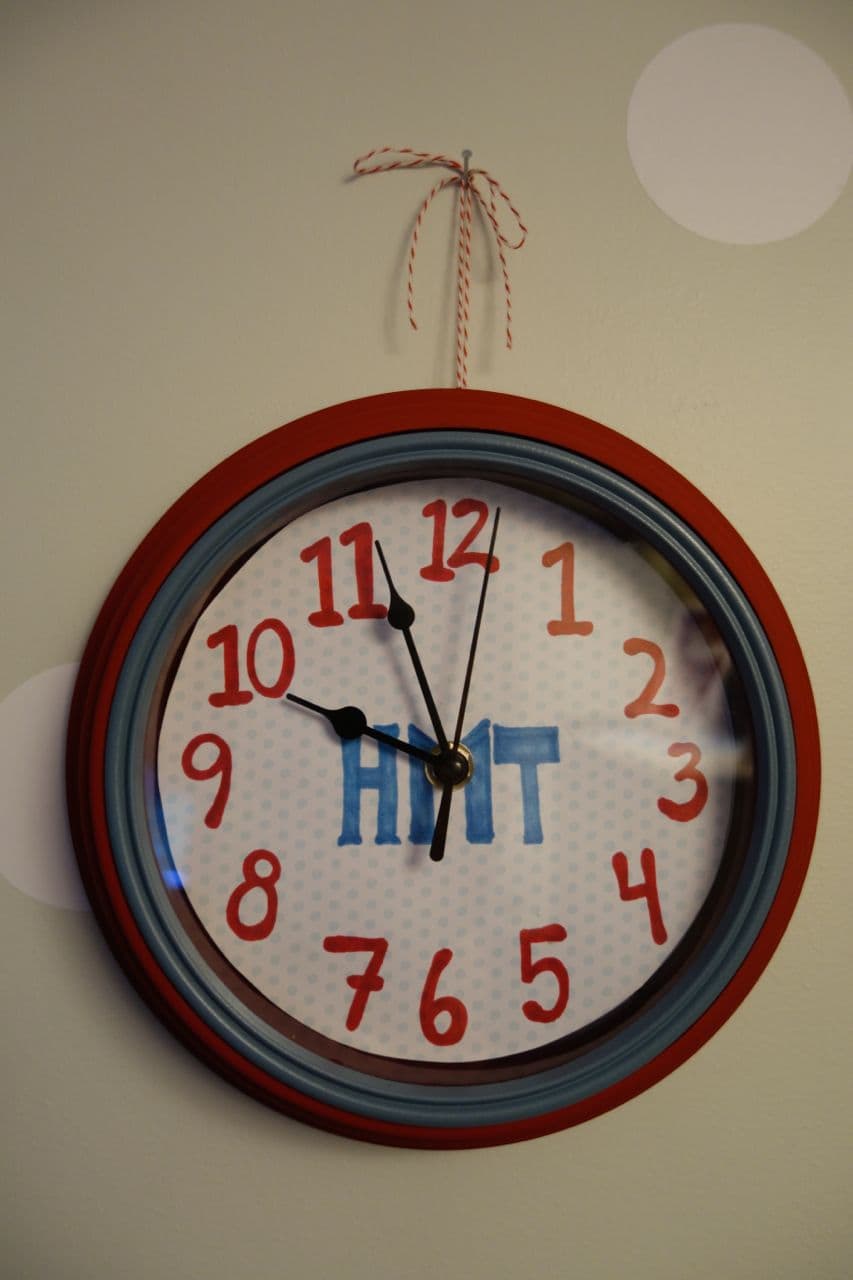 When I told my mom that I was "making a clock" for Harrison's nursery, she promptly replied: (in an impressed tone) "Wow, that sounds involved." It wasn't really…
If you turn the clock over, there are four screws to remove. They hold the silver "trim" in place, which in turn secures the glass over the clock face.
I removed the silver "trim" and the glass.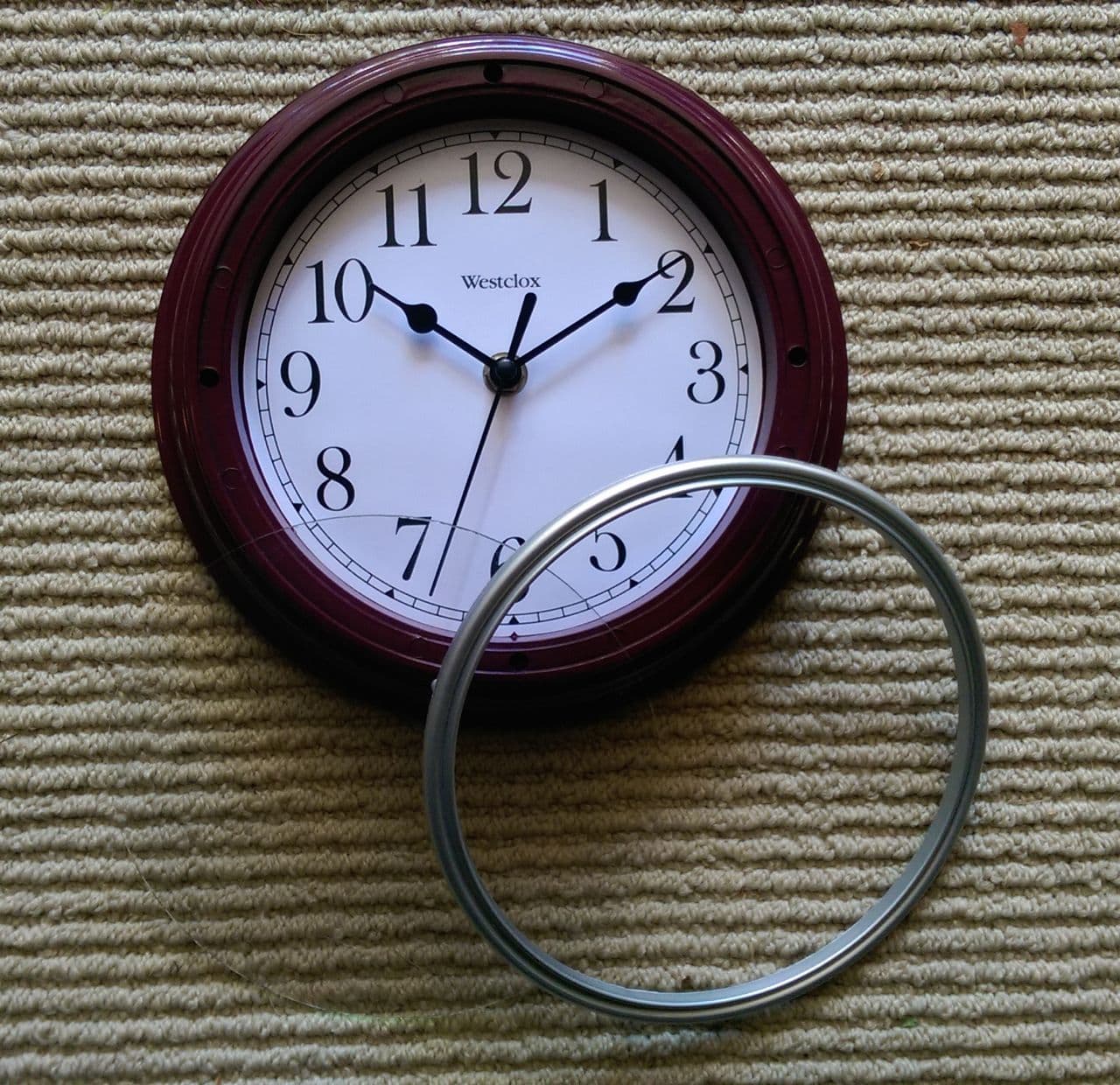 Using a pair of pliers, I slowly loosened the nut that held the clock hands in place.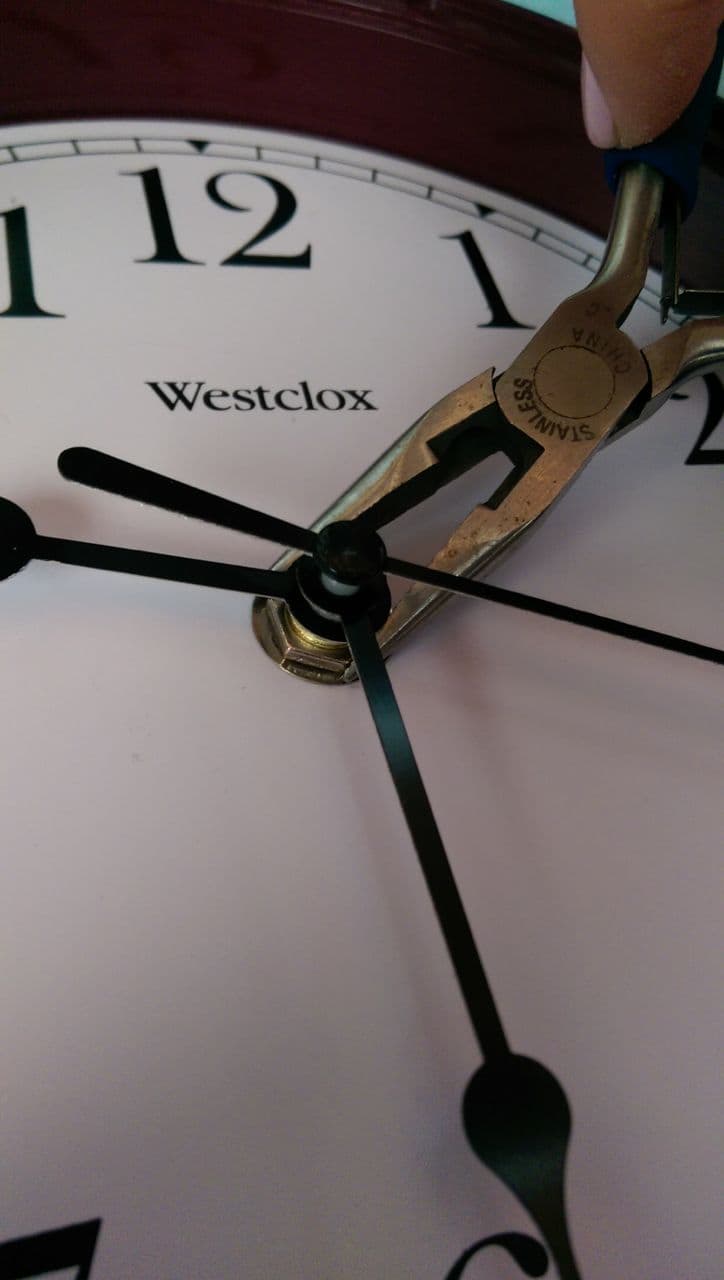 With that loosened, I was able to take off the second hand with a hard pull.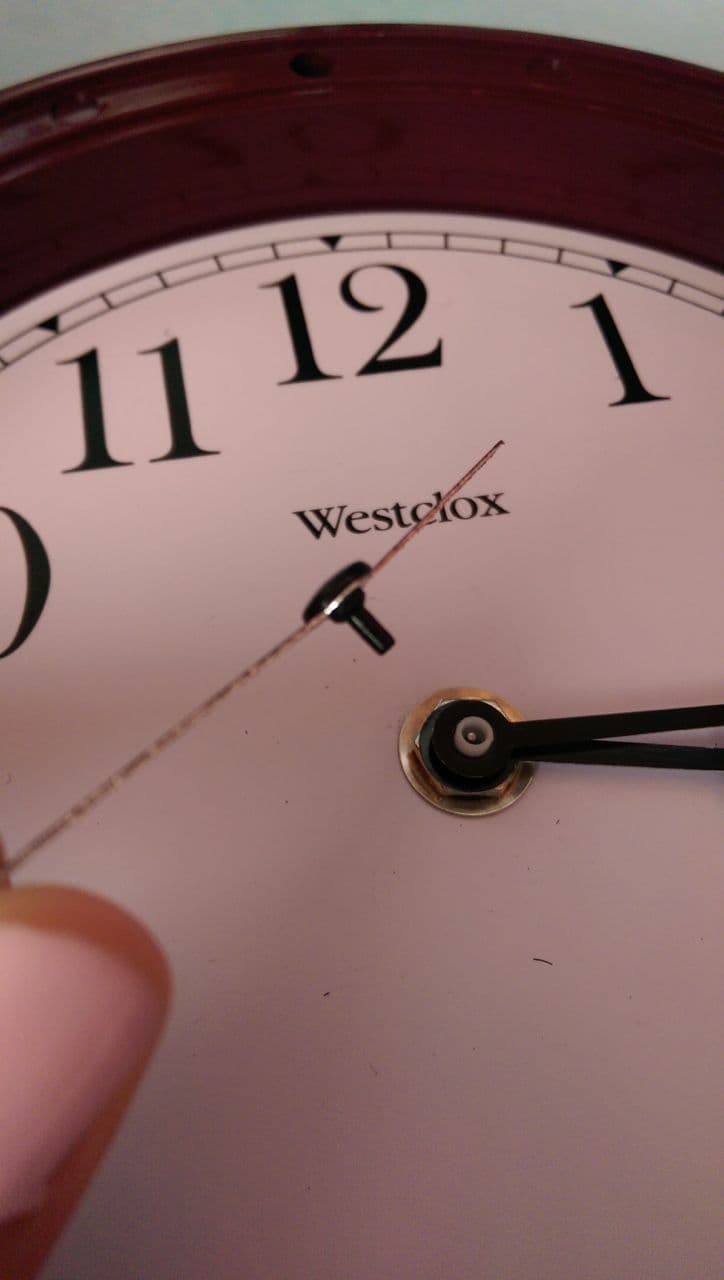 With the second hand off, the minute and hour hands slid off easily, followed by the nut, washer and eventually, the bolt-battery piece (from the back of the clock).
With that taken care of, I grabbed a sample pot of Annie Sloan's Emperor's Silk. (Yes, the same $13 sample pot I used on the lamps in the nursery.) In three quick coats, the paint helped to transform the clock from maroon to a brighter red that matches more of the stuff in Harrison's room. Oh, and while the clock itself was drying, I took the silver "trim" out to the grass to hit with a couple coats of Rustoleum's Slate Blue.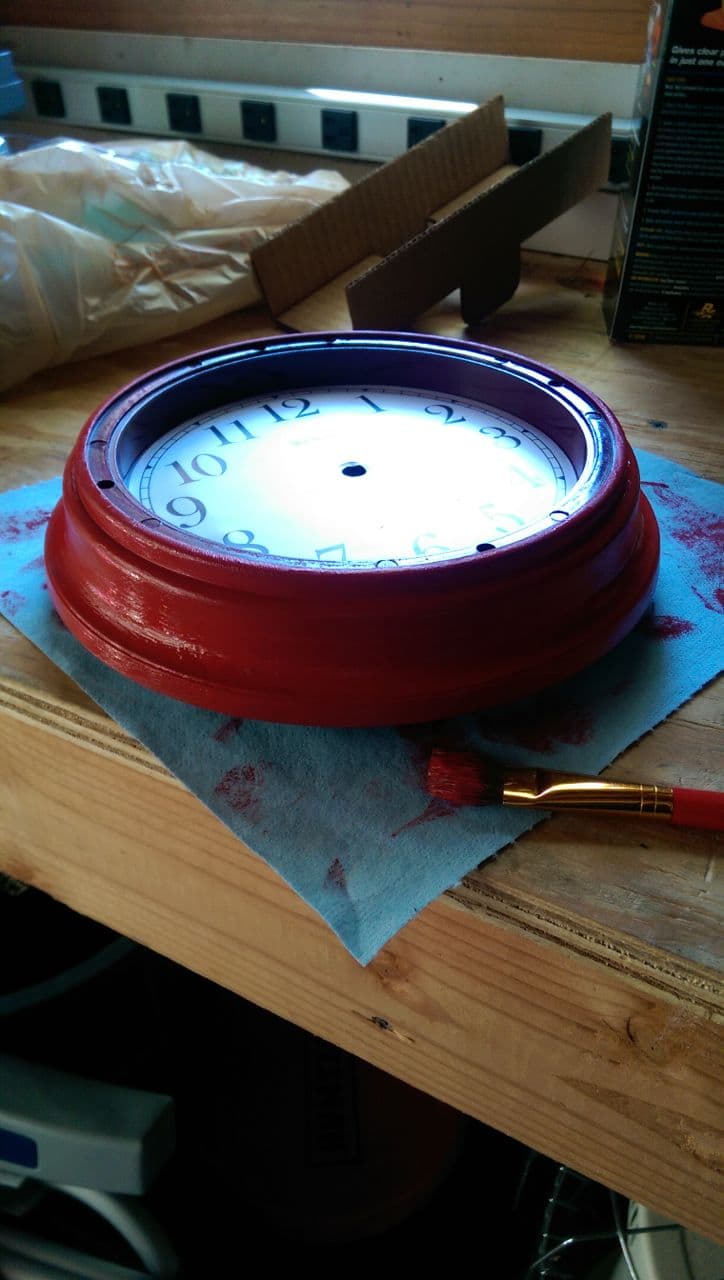 While the paint dried, I ran up to the guest room where I keep all of my crafting supplies. I picked out a few pieces of patterned paper that I thought would work as the clock face and brought them downstairs to evaluate.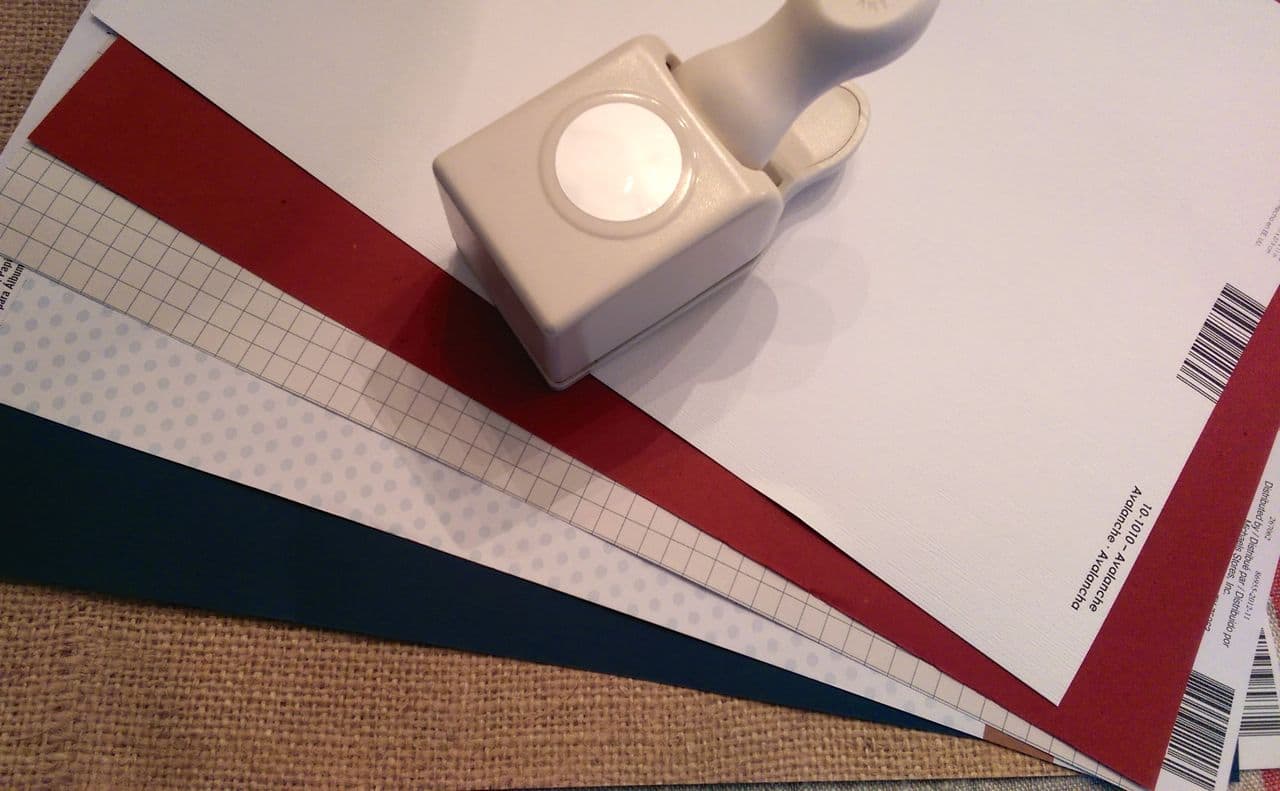 I also grabbed the circle puncher you see above because I figured I could use two different types of paper to give it "more interest." Turns out that "more interest" was too busy. Ick.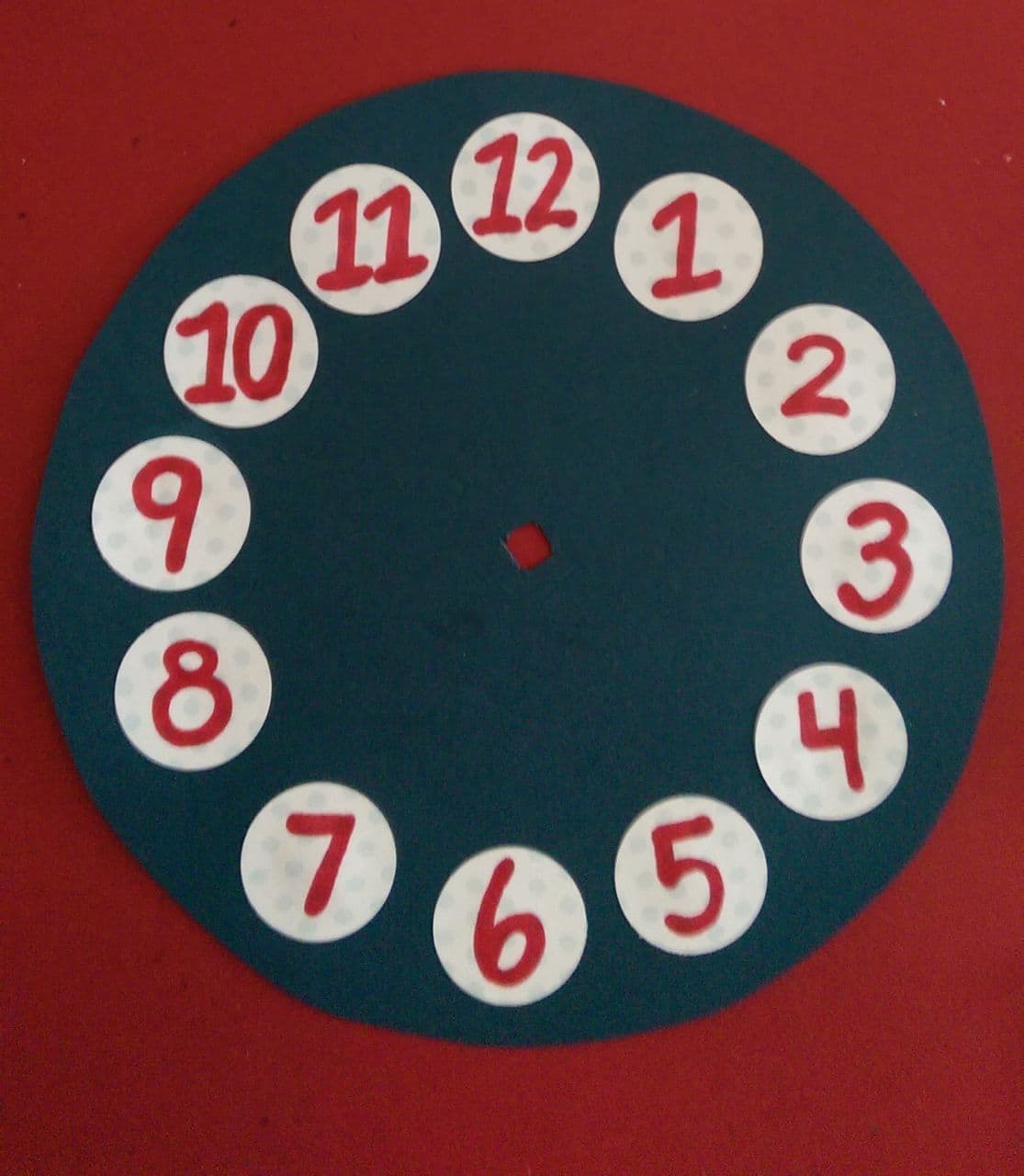 I ended up using the paper that was white with subtle polka dots all over it. With Sharpie markers, I drew on the numbers and a makeshift monogram. I like it so much more than the first "clock face" I made.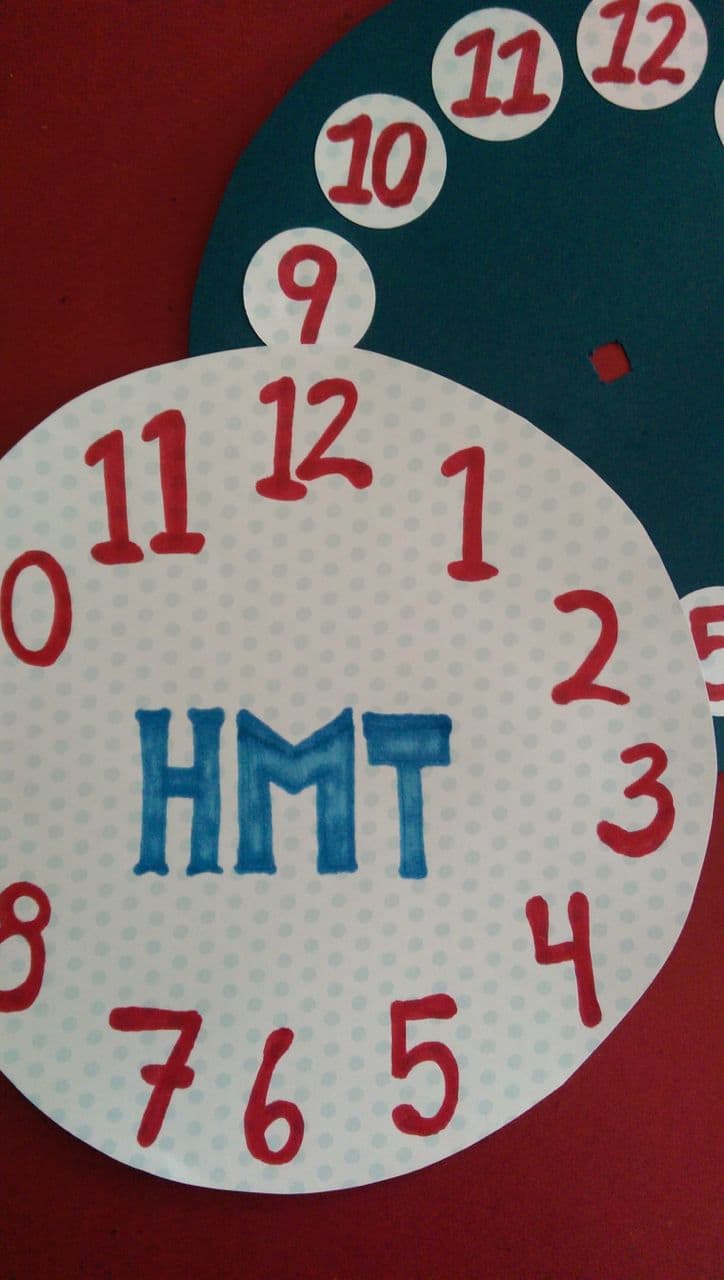 I reassembled it and decided I wanted to hang the clock from string instead of placing it straight on the wall. That required making a pilot hole but DON'T WORRY, I had help.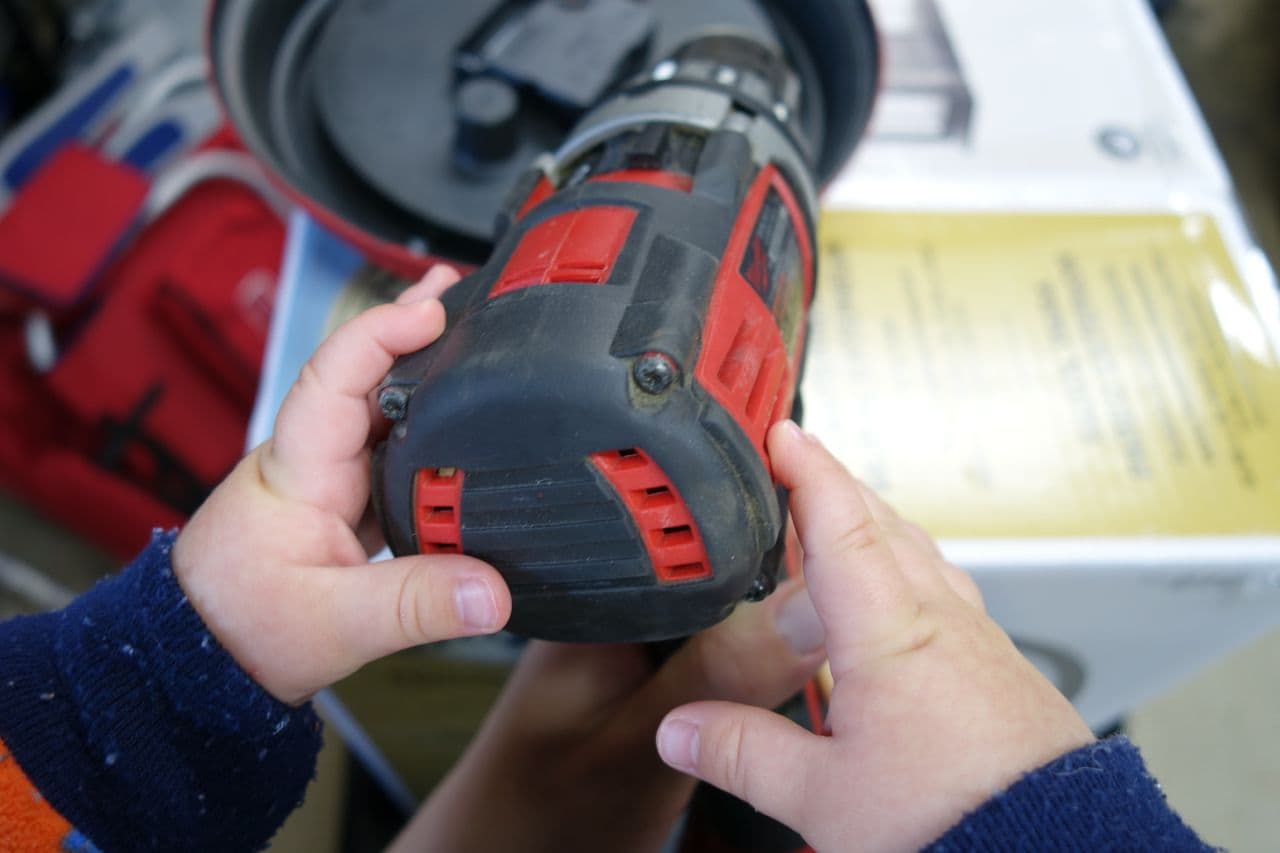 Stop for a minute. How adorable is that?! When I showed Matt, he flipped. Power tool love. Like father, like son.
Using the same red & white baker's twine I used on the homemade mobile, I hung the clock on a nail and called it a day. I still need to get a battery though, ha.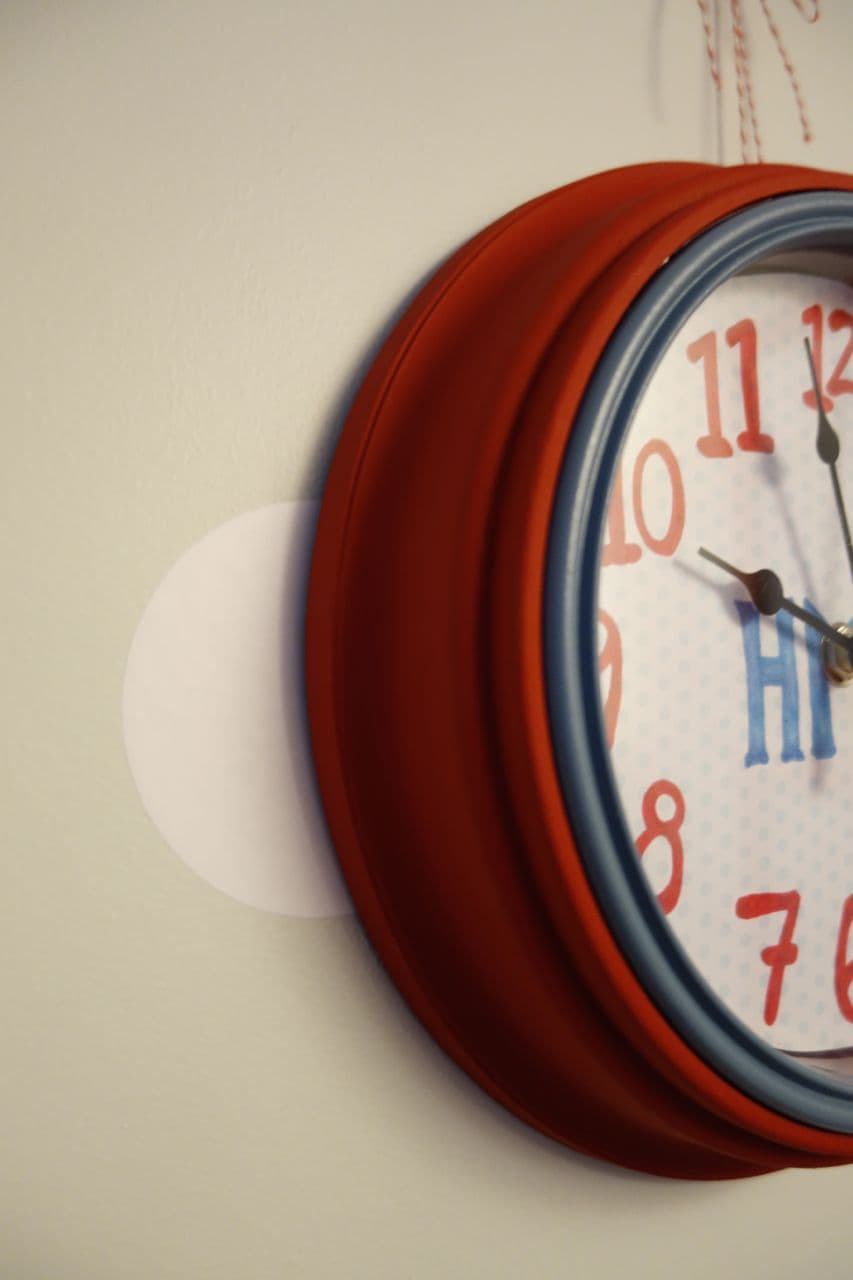 I hung it so it was more or less in "the middle" of the two frames that hold my Harrison's beloved custom nursery art. P.S. I took these pictures moments before I put H to bed, so I apologize for the poor lighting. Sigh. I'll take better pictures of all the rooms one day.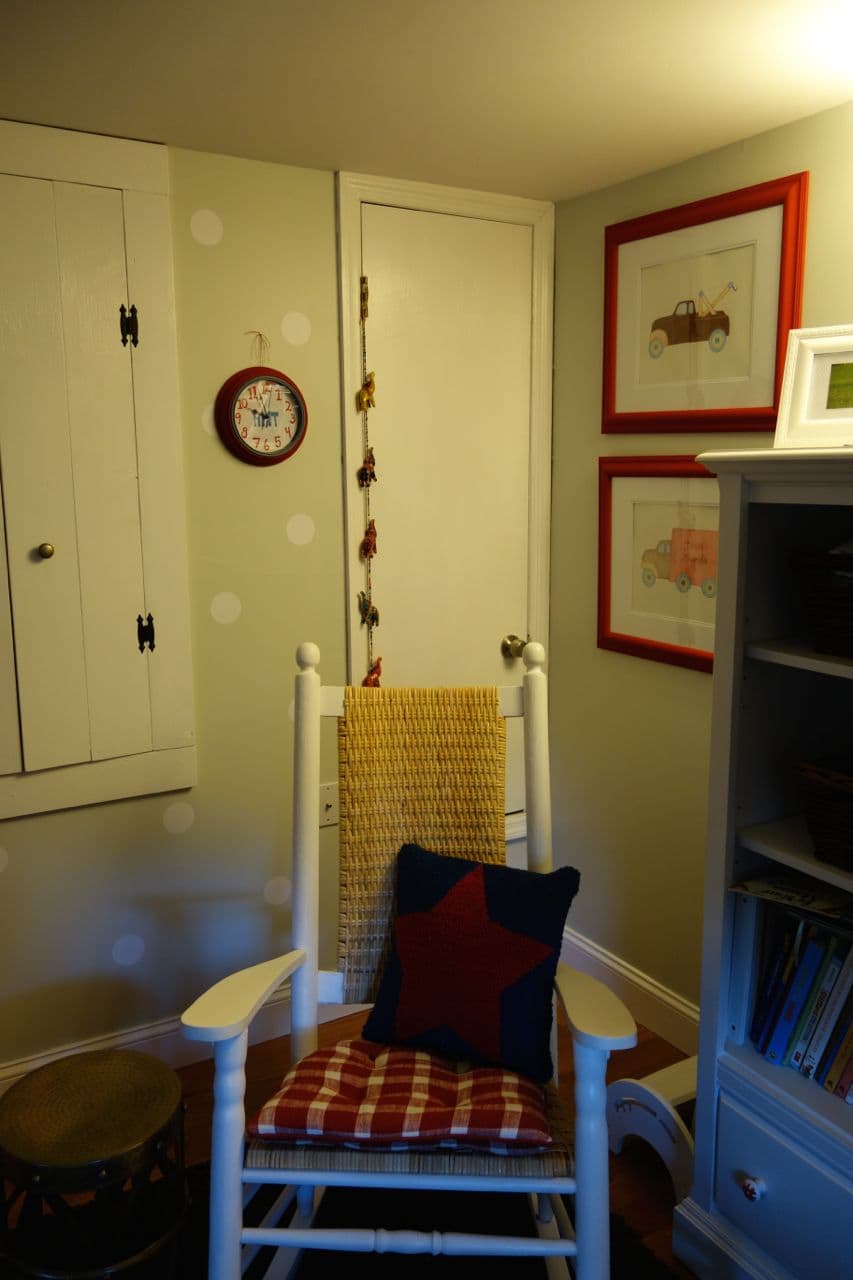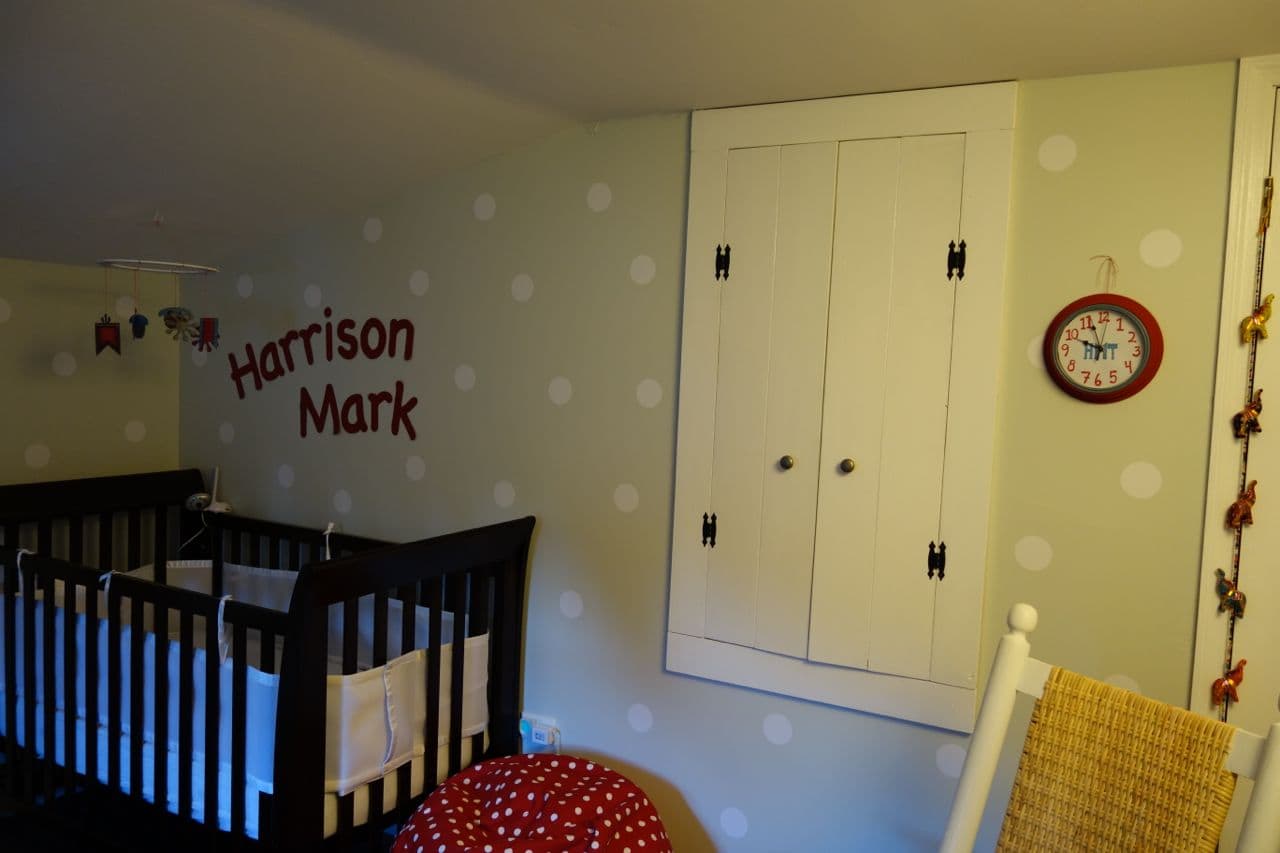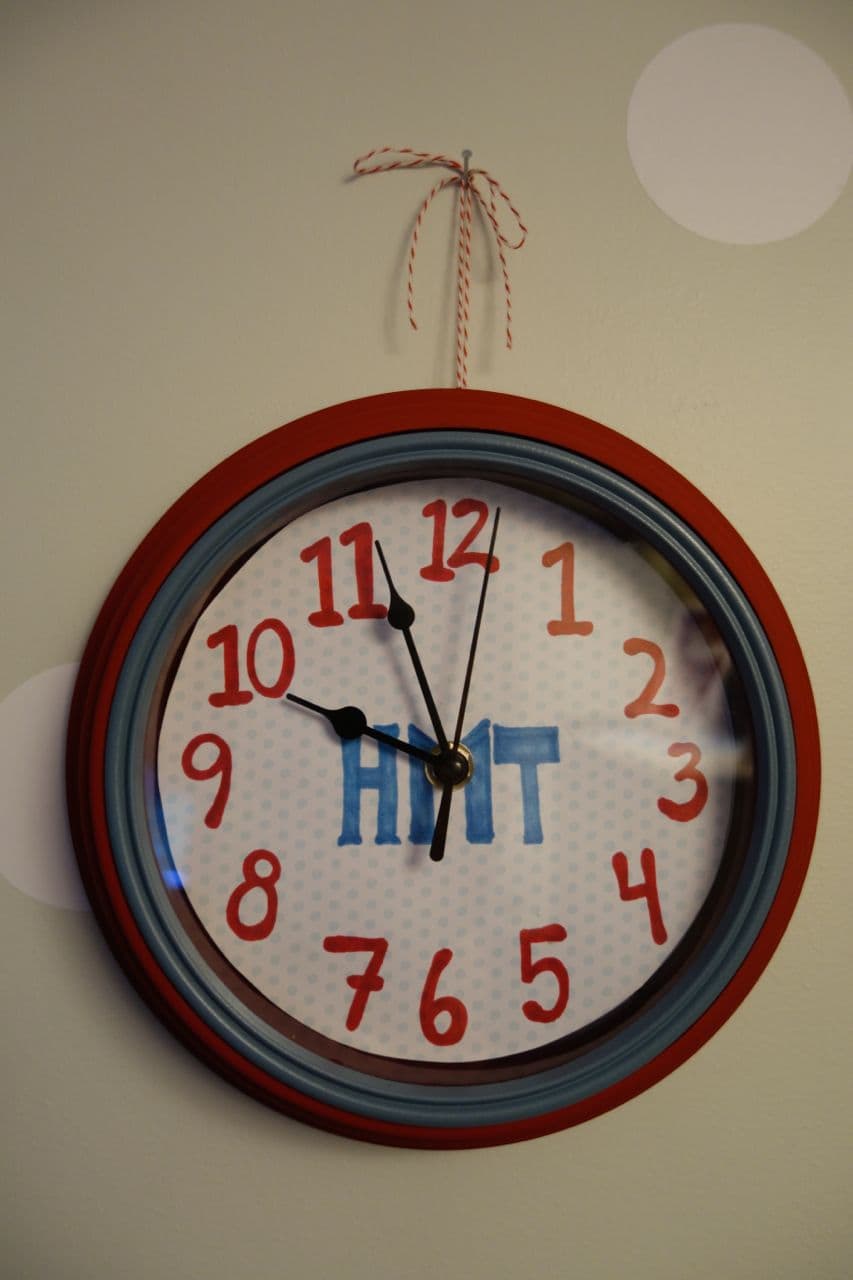 I'm digging it, even though the paper that sits behind the glass isn't perfectly circular. Harrison won't notice so it's all good. Overall, not bad for $10, right? I feel like this would be a cool project for kids of all ages. Toddlers could scribble and teenagers could express themselves, all while customizing their space.