Wow. Hey there, 2013. This year's going to be a good year. (Sing that last sentence in the melody of Black Eyed Peas' "Tonight's Gonna Be a Good Night.") As I mentioned in my New Year's post, I'm done with the monthly to-do list. Yes, I've only tried it once in November, and I had fun making it, but I knew at the end of the month that it wouldn't work for me. The method with which we tackle projects is too sporadic to stick to a detailed list.
Instead, I've opted to create a list of 10 completely random goals for the year. These are not all of them by a long shot, but instead, 10 things off the top of my head that I want to get done before 12/31/13. Big or small, the projects on this list will serve as the main focus for our school house rehabbing throughout 2013, and we'll fill in the little projects as we get to them. I've added a budget symbol at the end ($ for under $50, $$ for $50-$250, $$$ for $250+) to give me an idea of how to spread the "$$$" projects apart as we move through the year. Here we go!
1. **Replace kitchen counters! **$$$ Ooooowee! Beyond exciting! I've been over the yellow counters in this house since… yeah… since we first saw the house. I'm anticipating replacing the countertops in the next couple of months but we'll see where we end up!
Current Counters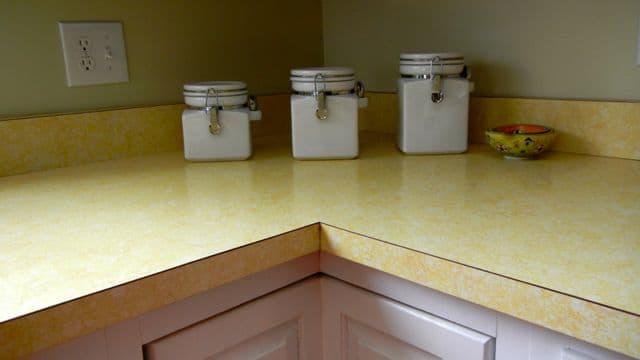 2. Paint all of the remaining almond-hued baseboard heating units white! $ We have done nearly all of them already (the kitchen, the living room, one of the guest rooms) so this leaves a small amount of work at the top of the stairs and in the other guest room.
Current Baseboard Heating Units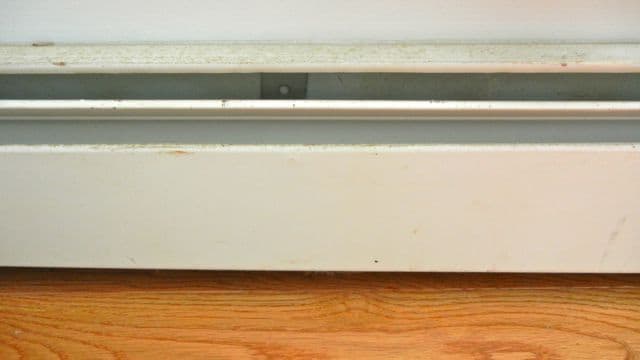 3. Re-paint the guest room and outfit with new trim (also to be painted)! $ We have yet to tackle the smaller of our guest rooms with new trim and updated paint. Consider it on the agenda for 2013.
Current Trim & Paint Situation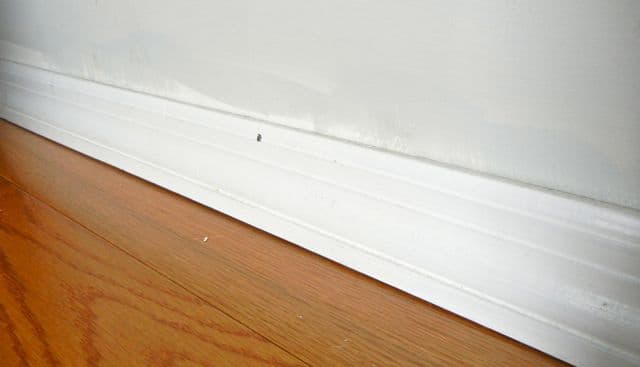 4. Overhaul the front porch & stairs. $$$ This is a biggie. And a goodie. The stairs leading up to our front door are beyond dilapidated. You can hardly tell in the picture below, but they are most definitely concave. I worry about falling through each time I step on them. Matt assures me they'll hold until spring. I still hold my breath as I bound up them. In addition to building a new set of stairs, we need to rip down the existing porch ceiling (not shown) and the porch light (not shown on purpose because of how disgusting it is) to add a new ceiling and quarter round, as well as a pretty new light fixture. I also want to replace the existing lattice (on a diagonal) with wood lattice that is straight, boxing it out with trim, if possible. Oh, and maybe I will stain the porch floorboards. Phew. Like I said, a complete porch overhaul.
Current Front Porch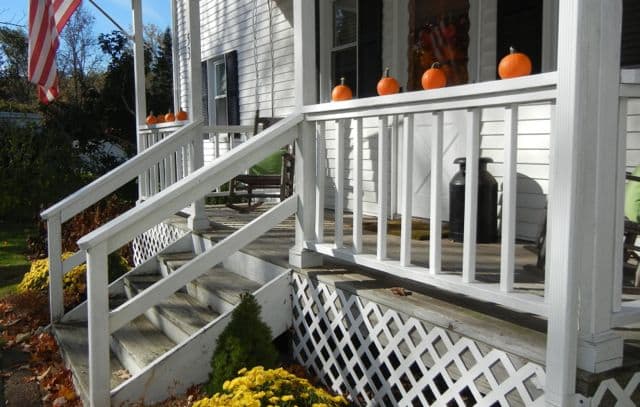 5. Figure out a new pantry door solution. $-$$ Below is our pantry door. Yes, we painted the cabinets and trim white, but this baby is still rocking the same color and hardware as move-in day. It doesn't close all the way without a good shove, and we need to determine if it needs just a good planing and paint job or replacement.
Current Pantry Door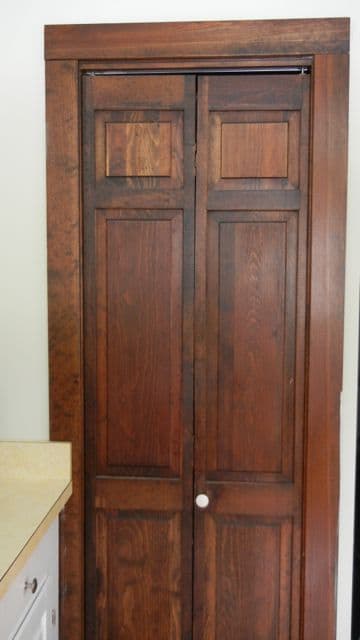 6. White-wash the beams! $ We have exposed beams in the kitchen and in the doorway leading up the stairs (shown below). This is a project I want to do this winter, before the outdoor projects fill my hypothetical inbox. I'm not sure if they need to be sanded down and then white-washed with a stain from the hardware store, or if I should just paint over the existing wood. Still researching this bad boy. Leave a comment if you have a hint on how to approach this!
Current Beams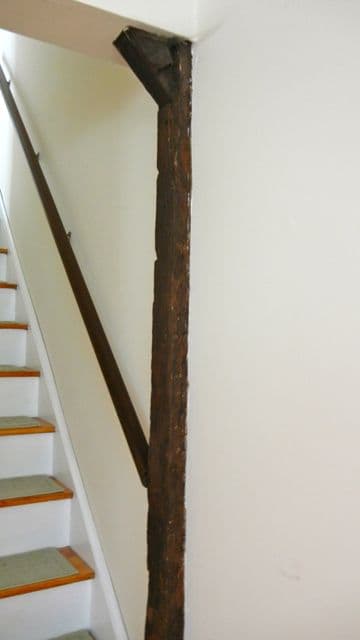 7. Paint the back deck railings & seal the back deck floor. $-$$ This is something that I started way too late in the season last year. It's definitely a late spring/summer/early fall project, so what prompted me to start in November is beyond me. The deck is old, but in pretty good shape, so I want to paint the railings white with an outdoor stain and seal the floorboards with something like a Restore deck resurfacer.
Current Back Deck Railings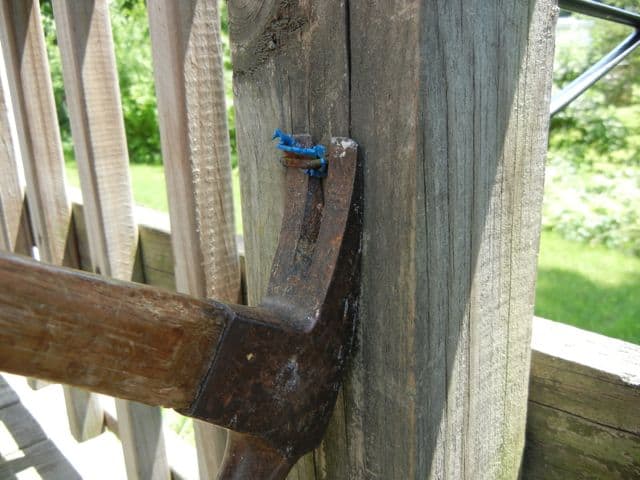 8. Create a garden for the weird turn in our yard up near the top of the driveway. $-$$ We have a spot in the front yard that serves as a turnaround for cars that pull into the driveway to back out when they're leaving. Does that make sense? Our road is on the busy side, so backing out into the road isn't an option most of the time. Instead, we back out around two large trees and pull out forwards into our road when leaving the house. Something has to be done about this spot. Carving out a garden is on my spring idea list, complete with new bushes (preferably resilient bushes that pop back up if they're run over) and mulch. In the (snowy) picture below, you can see the "turnaround" I tried to describe in the upper right hand corner. We back out around the two large trees, then hit the road.
Current Turnaround
9. Replace bathroom vanity top. $$ The look of our vanity doesn't bother me as much as how hard it is to clean that thing. I want a vanity top that has a seamless sink so that cleaning is easier and it looks neater, overall. The faucet needs to go too, but that might be a bigger "overhaul" for 2014 ;)
Current Bathroom Vanity Top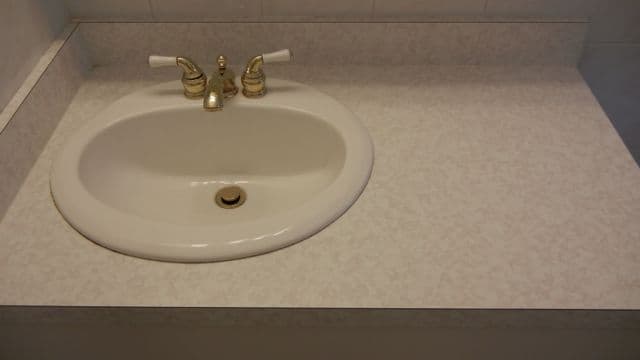 **10. Keep doing what I'm doing! **Blogging, that is. I promise to keep you updated on all the happenings around here, from the big stuff like the front porch overhaul and the countertops, to the tiny stuff, like craft projects and seasonal decorating. It's so much fun for me, and I am so happy you're along for the ride.
Current Blogging Station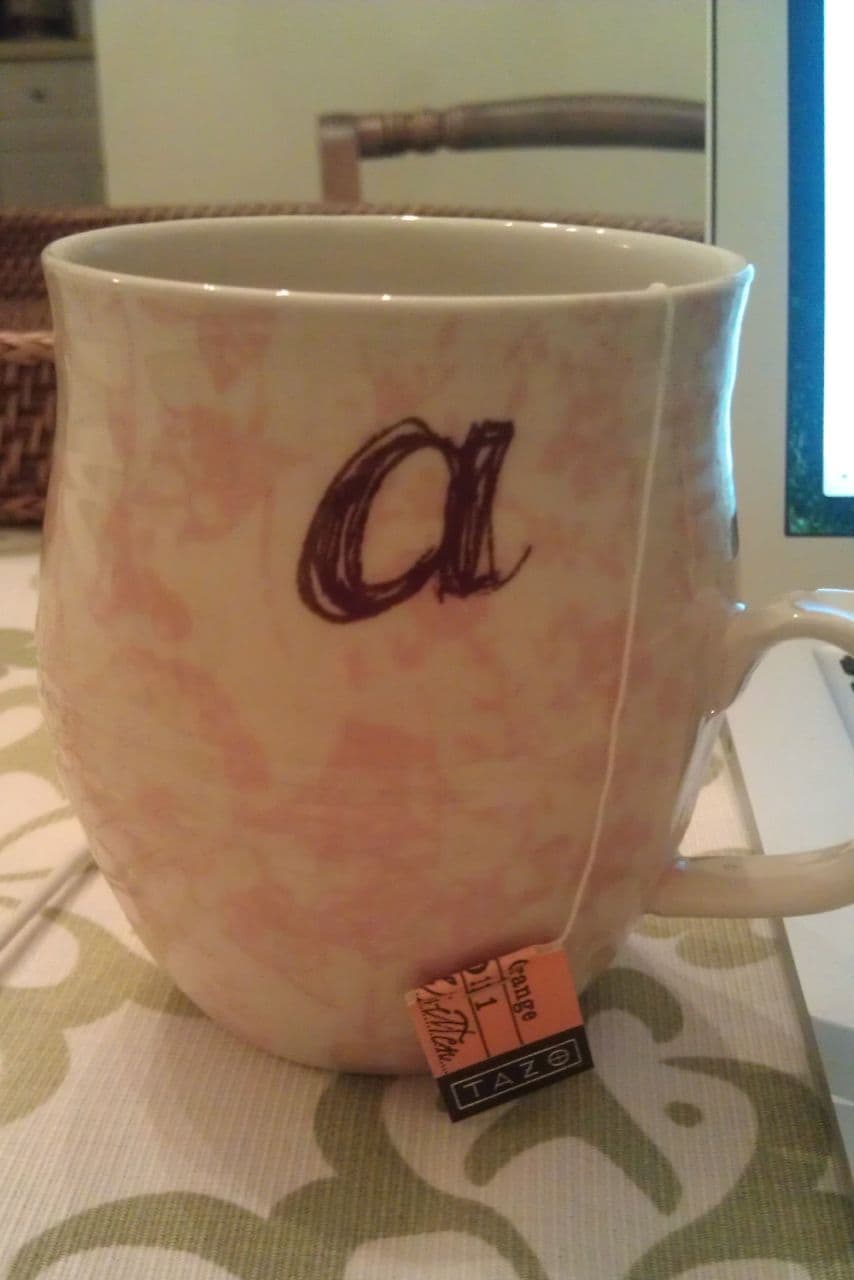 :)