I've done one of these "15 Minutes to Functionality" posts before, when I organized my gardening space in the garage (the tiny space my husband allots me). Basically, I write these types of posts to share what I (and you!) can get done in 15 minutes. I'm digging it. It really works for me. Think about it: you have 15 minutes to kill at any given time of day, and the organizational possibilities are endless. At least in my house. It makes me feel so accomplished afterwards. This time around, I tackled the wrapping paper section of one of our guest rooms. Did I mention it was a hot mess?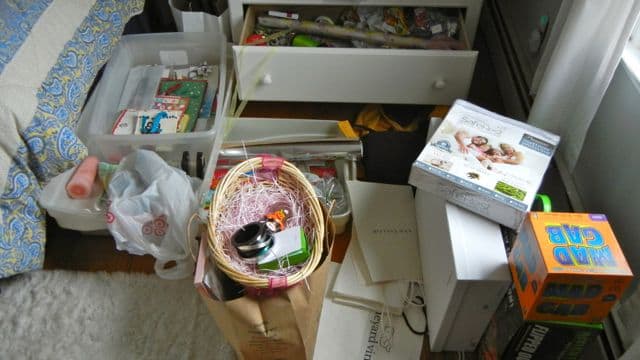 We have a wardrobe-of-sorts in this guest room that has open shelving on top and a drawer on the bottom and as you can see from the picture below, I threw all of my random gift wrap supplies into said drawer. Part gift wrap, part note cards, part ribbon, part bows, part gift bags - half of it was Christmas-related and half miscellaneous (think baby gifts, wedding, birthdays, etc).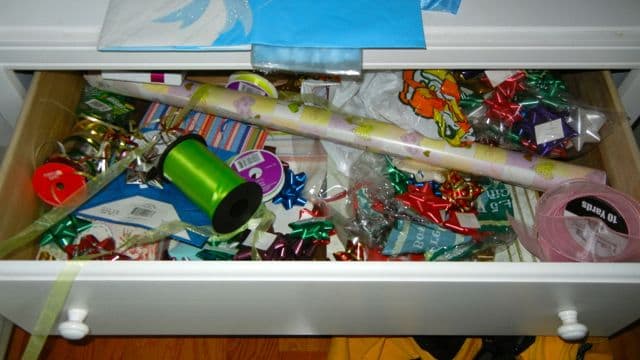 It was super messy and with the holidays fast approaching, I needed a plan, and a fast one at that. 15 minutes was all I had. I dove in right away, dragging the under-bed storage bins out to figure out how much space I was workin' with. I separated everything into piles: gift wrap, gift bags, bows, ribbon spools, note cards. I then separated the Christmas stuff from everything else and gave it it's own bin. This is where I was 2 minutes in to my 15.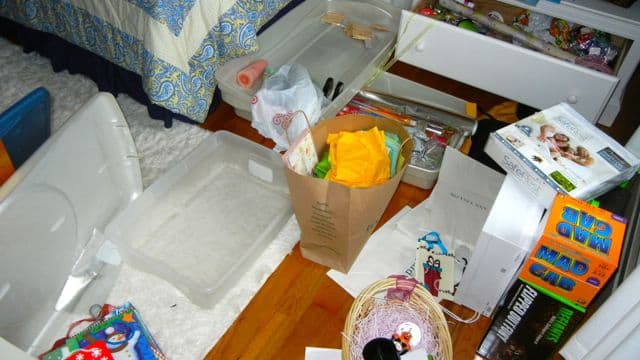 I made a ton of headway the last 10 minutes and breathed a little easier.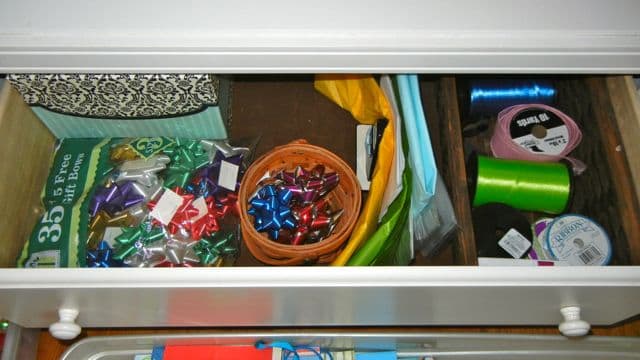 I found a basket laying around unused and popped that into the drawer (on the right side above) to hold the ribbon spools. Another random basket holds some of the bows, and an old letter sorter corrals the tissue wrap. The box in the top left of the picture above holds all of the cards I keep on hand for various occasions.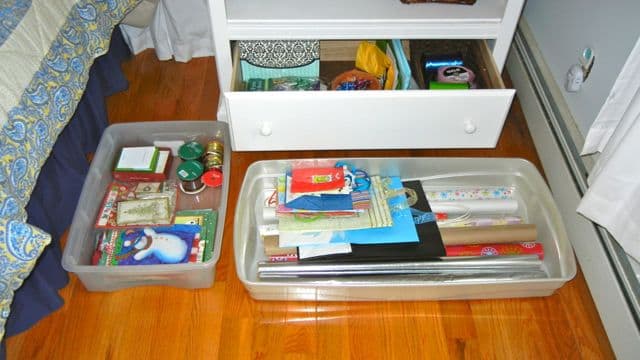 All of the Christmas tags, ribbon & gift bags went into the small bin on the left, and the gift wrap and gift bags all sit in the larger bin. I can now say it's a pleasure to wrap gifts, without my neglected command center looking like a party bomb went off.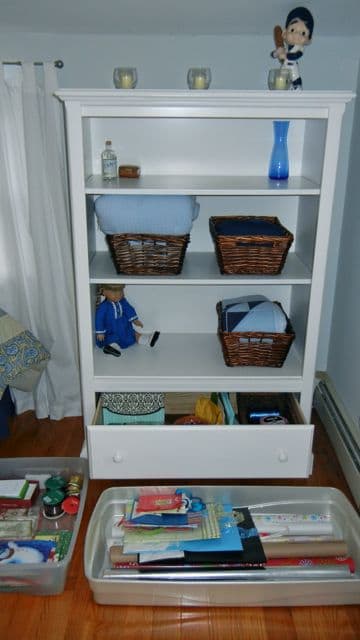 You're welcome. I'm sure you're all motivated now to hit up a spot in your home and give it your all for 15 minutes. ;) I have literally 10 other spaces that need this treatment - this was the one getting in the way the most. Any spots in your house that need 15 minutes to get back to a functional state? Do share! My linen closet is up next!